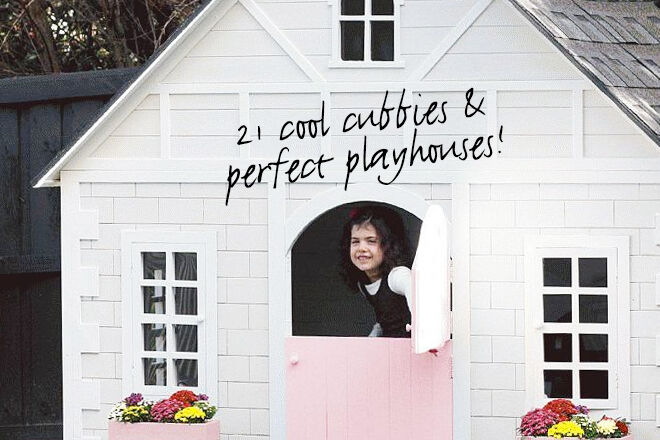 For kids, the great Australian dream starts early: every child wants a place to call their own! We've rounded up 21 of the cutest and coolest cubbies houses to give your kids a dose of domestic bliss. From huge multi-level constructions to small-but-sweet play tents and creative cardboard versions. Your child's dream home is just a click away!
1. Hip Kids Jack's Place Cubby
Start tinkering with those mini ride-ons in Hip Kids Jack's Wooden Cubby House ($1,099), which makes a great garage, fire station, or workshop.
2. Custom Candy Coloured Cubby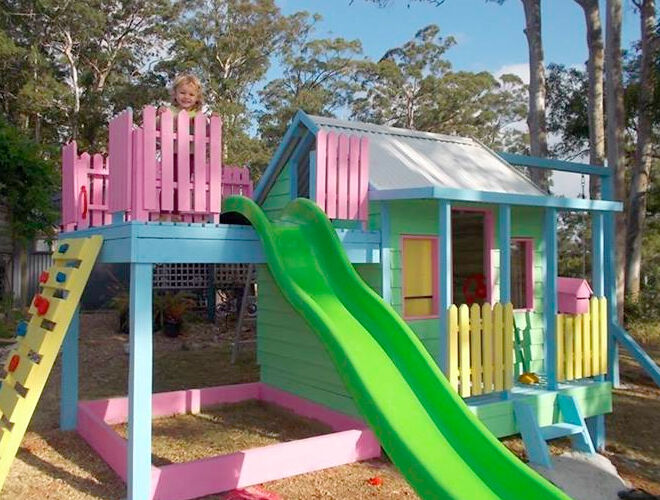 This custom candy-coloured cubby was designed by DFR Outdoor Timber Creations. The delicious paint job might give you a toothache, but the kids will adore it.
3. Caravan Cubby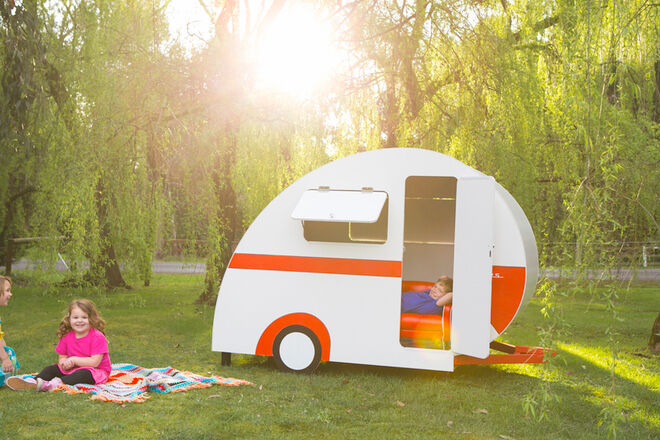 Take a retro ride in one of these awesome Caravan Cubbies ($1,995), which look like they've come from the coolest trailer park ever.
4. Step 2 Adventure Fort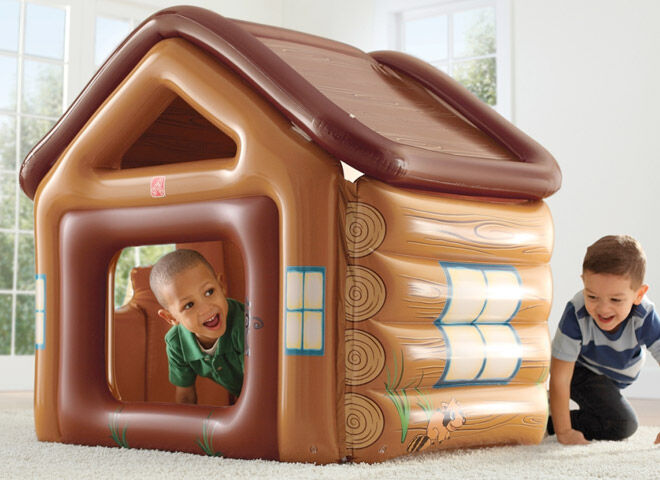 Inflate your own woodsy cabin with the Step 2 Adventure Fort ($45.99)
5. IKEA KURA Bunk Bed Hack
We love this IKEA hack. The KURA Bunk Bed ($299) has been converted in to a cubby with some DIY fabric magic.
6. Willow Pavillion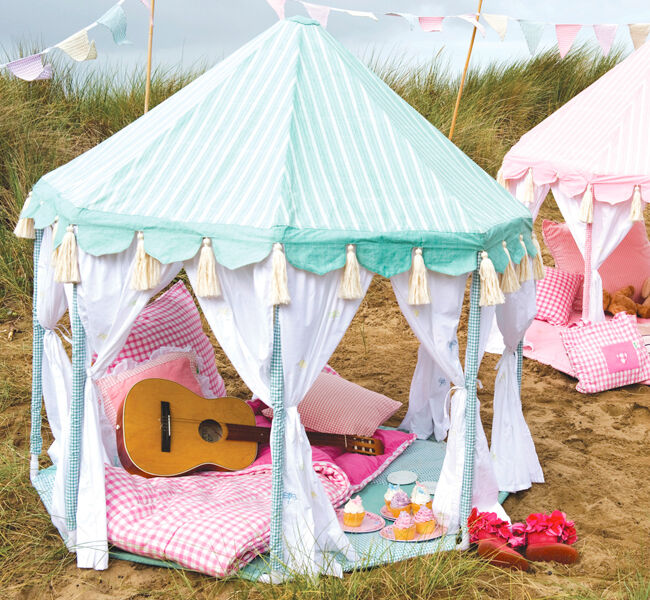 This dreamy Willow Pavillion ($589) is where magical tea parties will happen, secrets will be shared, best friends will be made and delicious cupcakes devoured!
7. Mushroom House Play Tent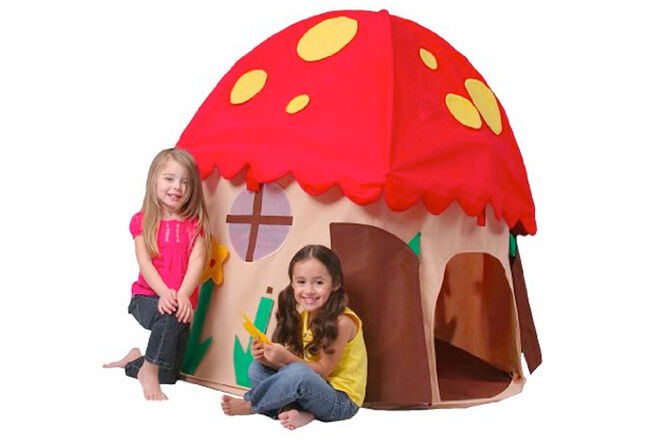 Pretrend you've shrunk down to fairy size when you take up residence in a Bazoongi Mushroom House Play Tent ($149).
8. Step 2 Nature Station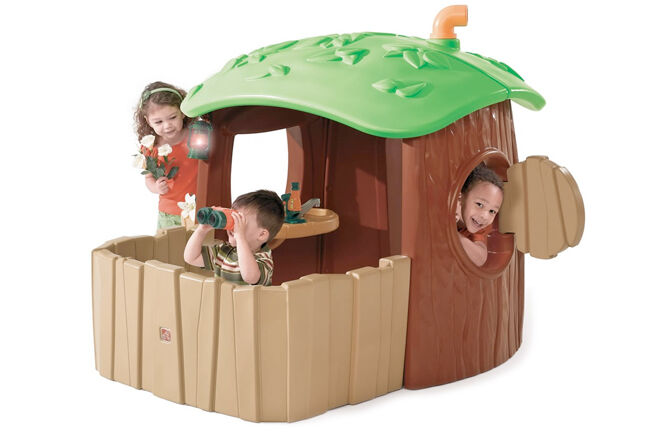 This amazing Step 2 Nature Station ($249.99) comes with a bug collector, butterfly net, working lantern, a microscope, binoculars, tools and even a periscope!
9. Crazy Forts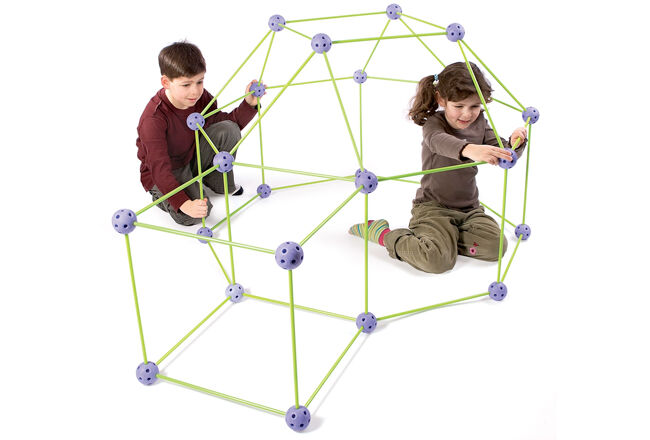 Create instant cubby magic with Crazy Forts ($99.95). Let the kids come up with an architectural marvel and then throw some sheets over for a DIY fort.
10. HABA Lilli's Villa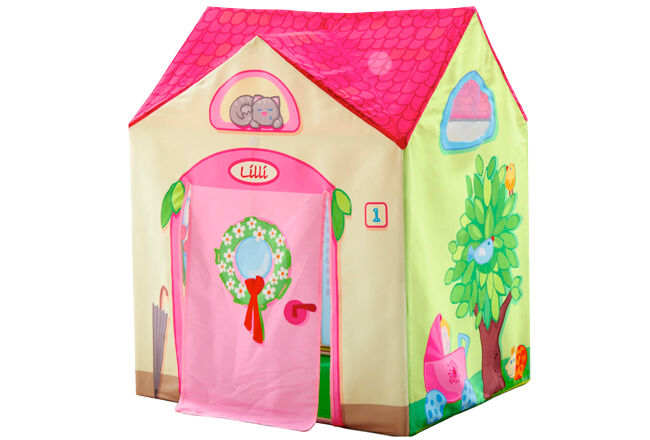 This super sweet indoor play house is by HABA. Lilli's Villa Play Tent ($179) can be packed away easily and is great for small spaces.
11. Little Tikes Home & Garden Play House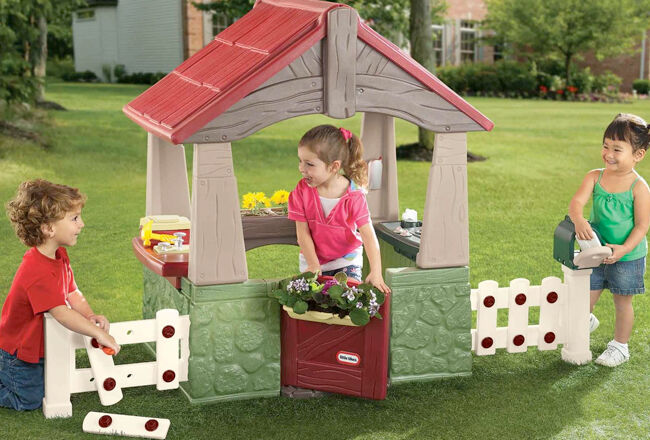 With muliple play areas inside and out, the Little Tikes Home & Garden Playhouse ($299.99) has a workbench, a kitchenette and even a flower box to grow real plants! We love the picket fence with removable struts that can be 'built' with pretend tools.
12. Cubby Central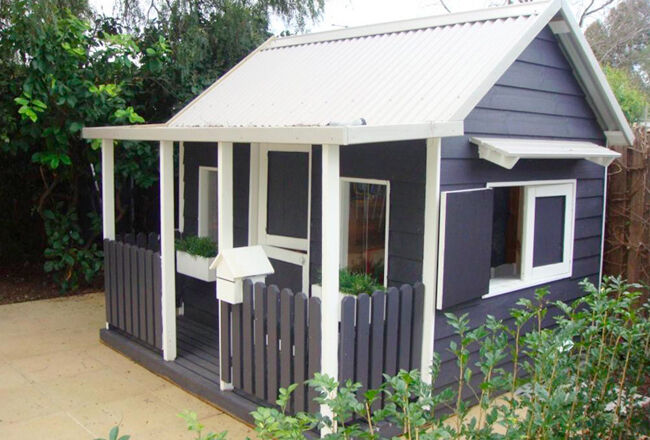 The Flagstaff Cubby (from $1,400) is just one of the many chic designs on offer from Cubby Central. With working doors, sliding perspex windows and a front verdandah, you can also add a shop, a slide, rockclimbing wall, sandpit and lots more.
13. Workshop Playhouse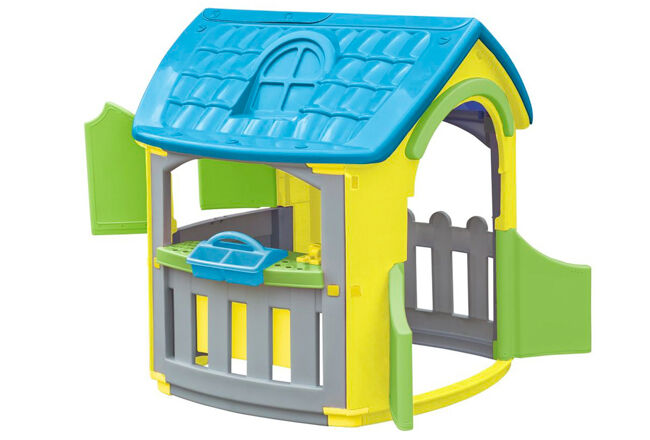 Could this be your child's very first man-cave? The Workshop Playhouse ($96) comes with a tool tray and vice for toddler DIY.
14. Action Cubby House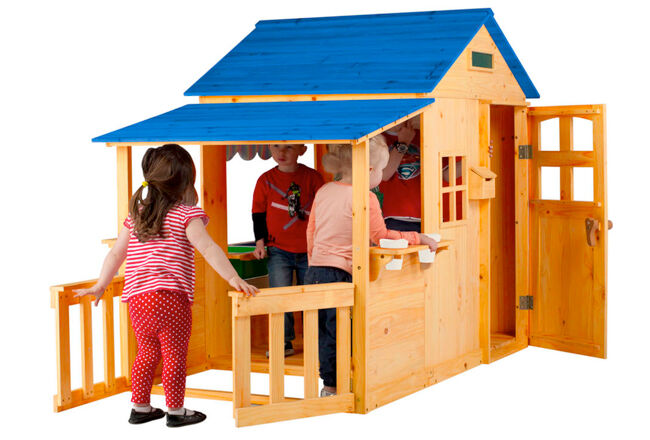 The Action Cubby House ($598) has a patio, two entrances, and a play bench with plastic buckets for sand and water play (or domestic duties). One rule: the pretend cook doesn't pretend wash-up.
15. Mocka Play House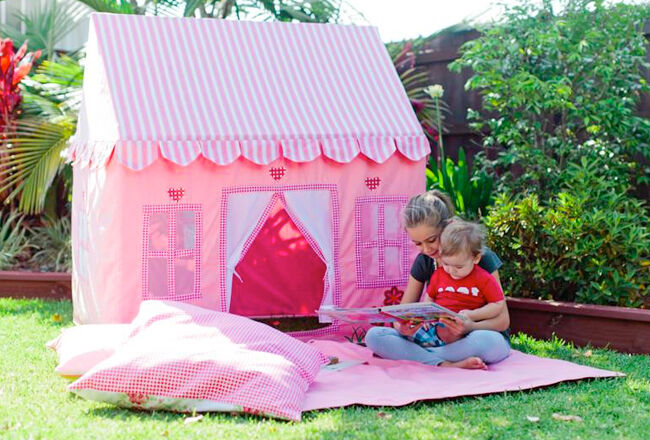 This sweet fabric tent is ideal for the playroom or for moving outside on a gorgeous summer day. Picnic time! Mocka Play House ($149.95)
16. My Escape Table Tent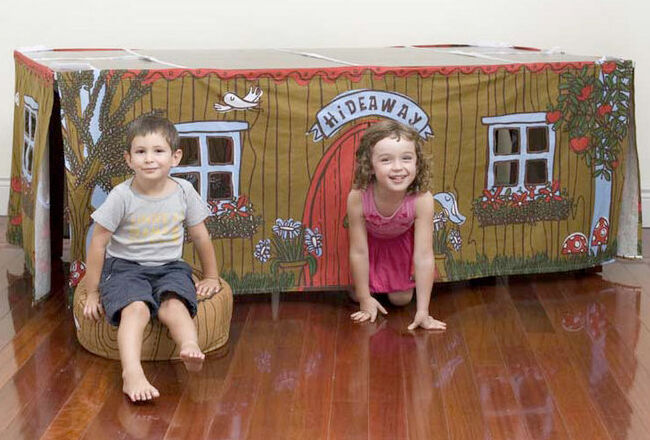 If you've got a table, you've got a cubby. My Escape Table Tent ($89.95) turns your dining setting in to a cosy cottage.
17. Home Sweet Cubby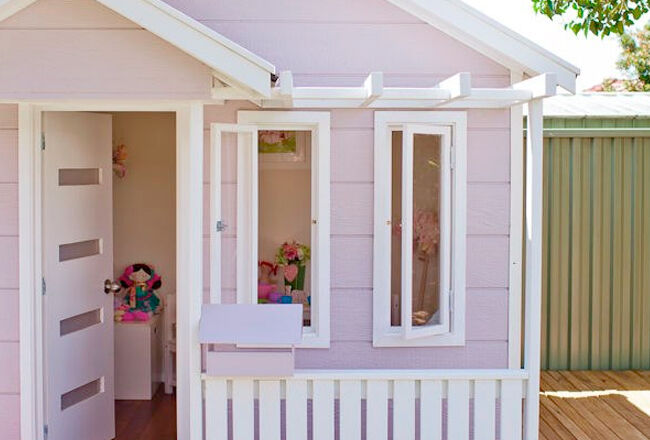 These one-of-a-kind cubbies built by Home Sweet Cubby might just be better than your real home. Amazing details like wooden flooring, pergolas and hinged windows make this luxury cubby a cut above. They can even model your cubby on your existing home or make a mini house for your pooch.
18. My Cubby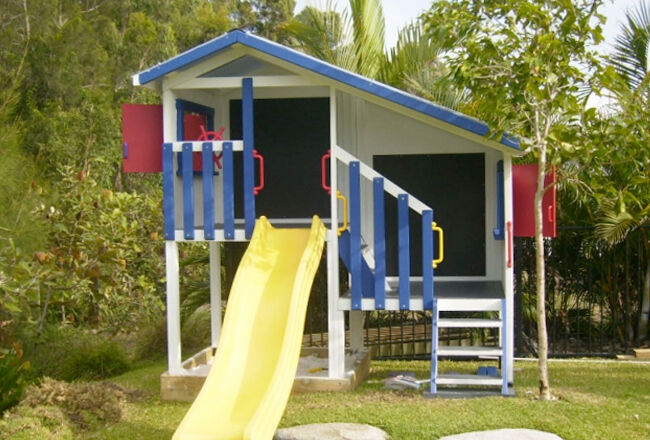 The open design of My Cubby play houses (from $1,755) lets you keep an eye on your tiny tearaways while they enjoy their split-level pad.
19. Tinyfolk Cardboard Cubby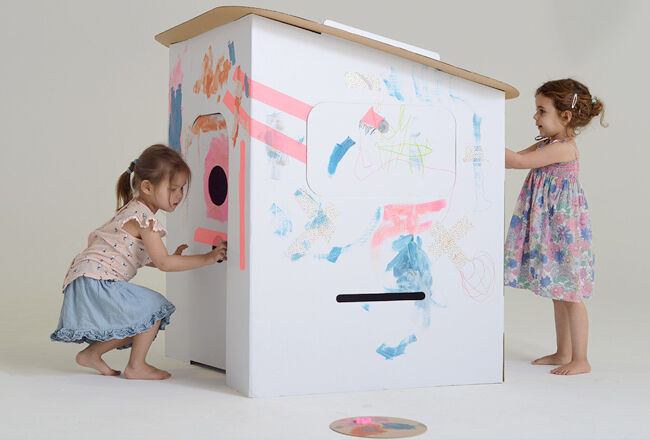 Decorate a Tinyfolk White Playhouse ($59) and make it anything you want – a shop, a fairy house, a doctors office, a cafe … the kids decide! With peep holes, windows and slots for posting letters, there's no restriction on play. It also flat packs in minutes when you need space for other games.
 2o. Crooked Cubbies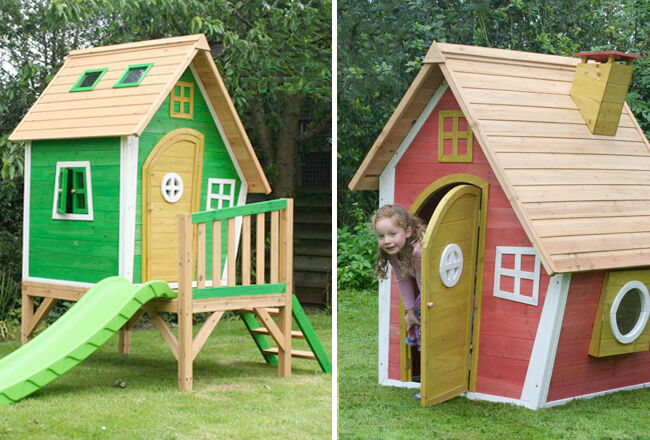 These wooden houses look like they've landed straight out of a Dr Seuss book and the kids are going to love them. All manner of creative silliness will ensue as your kids get fired up for pretend play in a Crooked Cubby (from $975).
21. Hip Kids Alice Cubby House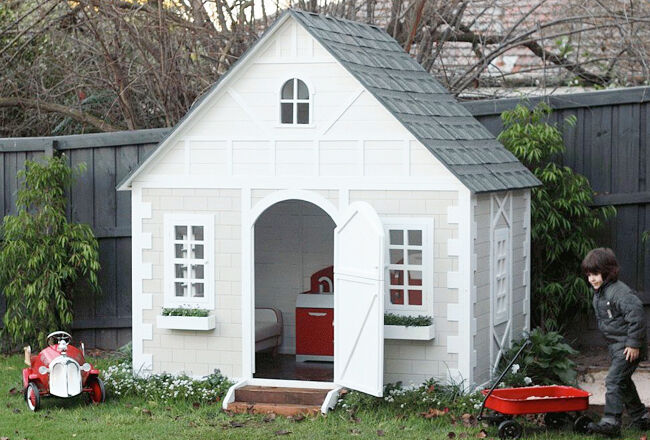 Sweet as pie, like something straight out of a storybook, Hip Kids' Alice Cubby ($1,099) is a miniaturised English cottage for the bottom of your garden. With a slate-look roof, wood panelling and twee picure windows with planter boxes. Adorable!