I certainly can't say I have a huge amount of this theme in my life but I am a fan of the versatility that black and white creates. It always looks classic and elegant whilst still somehow being fresh and modern AND when it comes to using it for the kids I love that it never goes off trend so if a decent cost can last the ages.
1. Custom Name Wood Blocks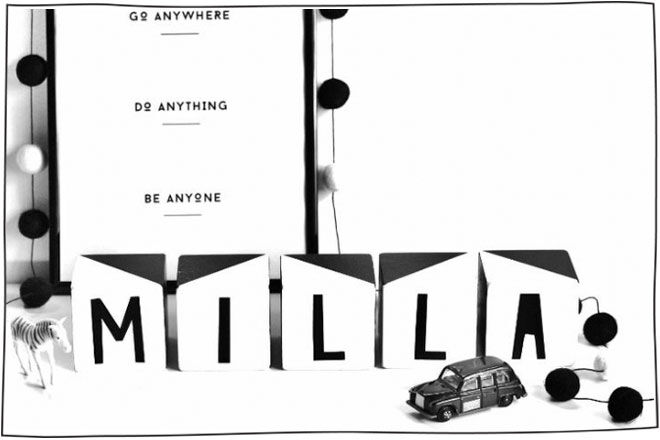 Personalised and monochrome, these Letter Wood Blocks ($9 each) would happily sit on the bookshelf amongst all the coloured spins of children's books.
2. A Trio of Batman Prints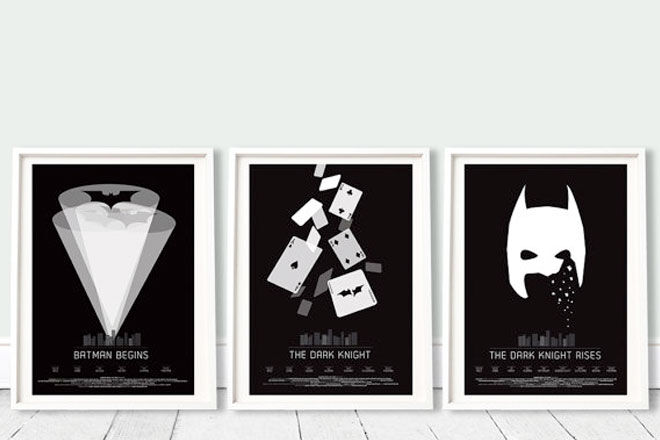 Batman is hot property at the moment and I adore the vintage feel of this Dark Knight Trio ($49) as I think they would be as popular with the dads as much as the kids.
3. Cotton On Cushions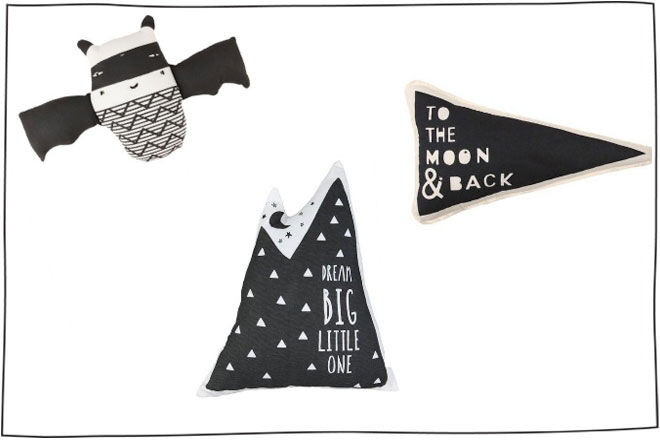 I know being from Cotton On they are not so unique but they are oh so fun and affordable. The Dream Big Cushion ($19.95) has such a fab message and Moon and Back ($14.95) is such a cute saying and Batting Mad ($19.95) is just plain goofy!
4. Ikea House Hack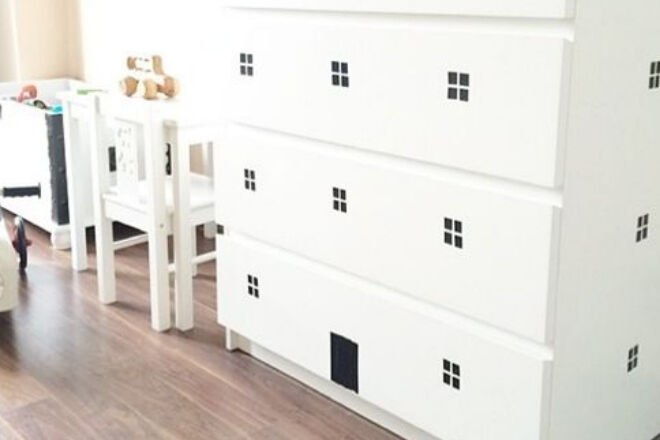 I LOVE this ever so simple DIY from Mommo Design. Black tape PLUS a white set of drawers and ta da you are done. You could use this on any lighter coloured box too.
5. Santa Monica Cushion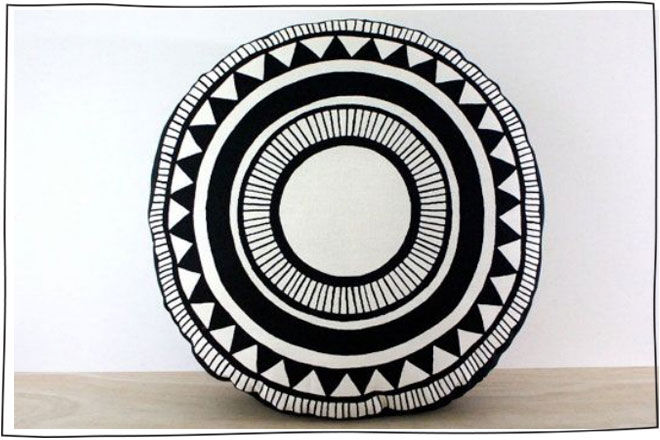 Fresh and with a little touch of the Aztec Trend this Santa Monica Cushion ($83) is 47cm so it's a good size for a kids floor cushion that could then be on a king single bed as they get older.
6. Stormy Quilt Set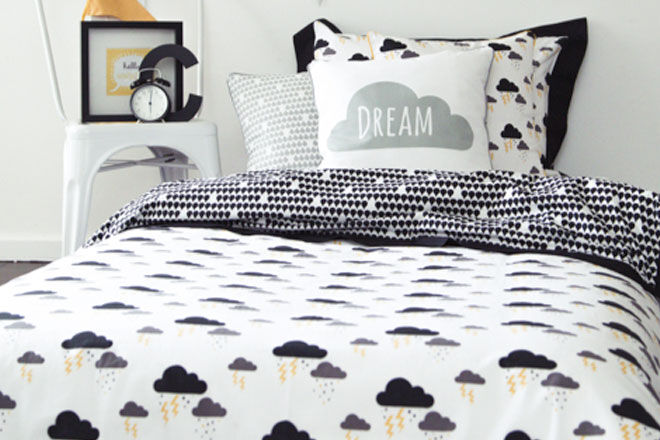 I often hear that boys bedding is so hard to find and that is always just car or robot themes. Well this Stormy Quilt cover set ($190) goes against all that and would be just as good for a girls room as a boys.
7. Hey Mr. Spaceman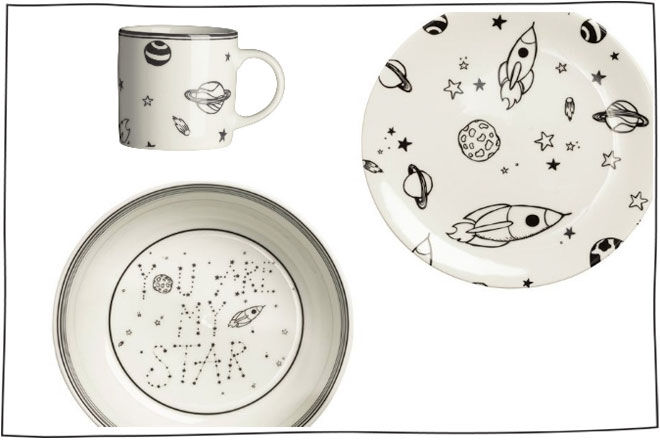 My kids are now at an age that I can trust them with crockery and I have been slowly replacing all my plastic pieces. These pieces from H&M ($7.95 each) are a definite on my list.
8. Knitted Bean Bag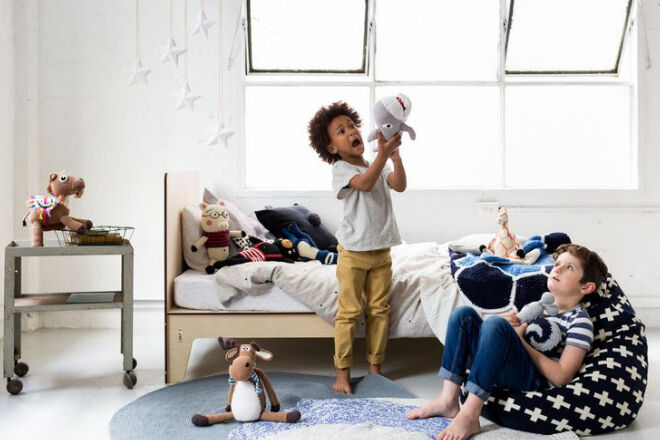 La De Dah have an awesome range but the knitted bean bag ($129) is a stand out for me.
9. Storage Bricks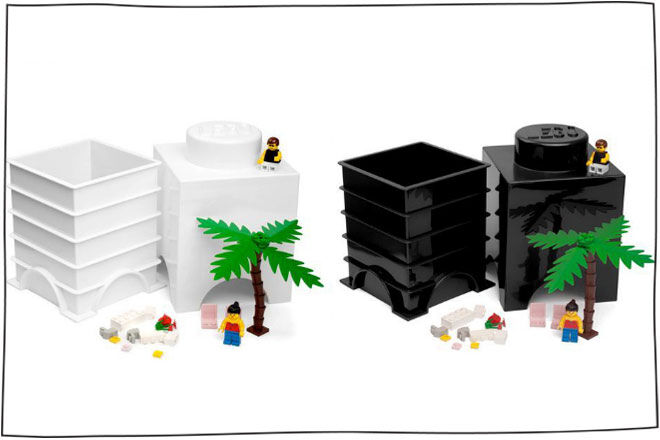 Stack them up or scatter them around these Stud Storage Bricks ($15) come in an array of colours and sizes. Lego never goes out of fashion huh?!
10. Monochrome Blankets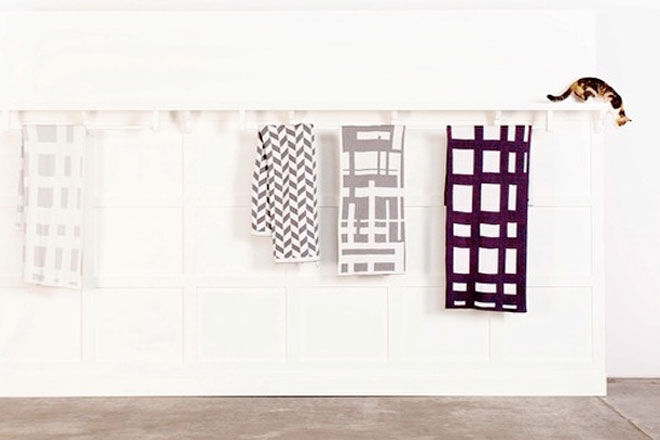 Kate & Kate are all about generous sized blankets and they have quiet a few designs in black and white. My favourite is the Jagger ($119) and the Geometric ($119) comes a close second.
11. Geometric Cross Decor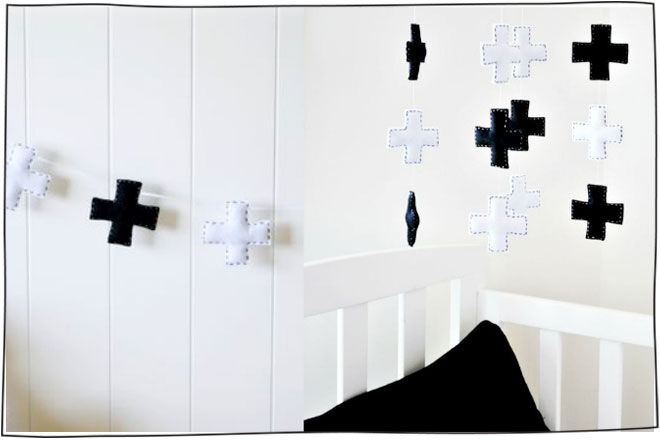 We can start them early on the monochrome path with this beautiful cross geometric mobile ($135) and the banner ($75) to match.
12. Batboy Pillowcase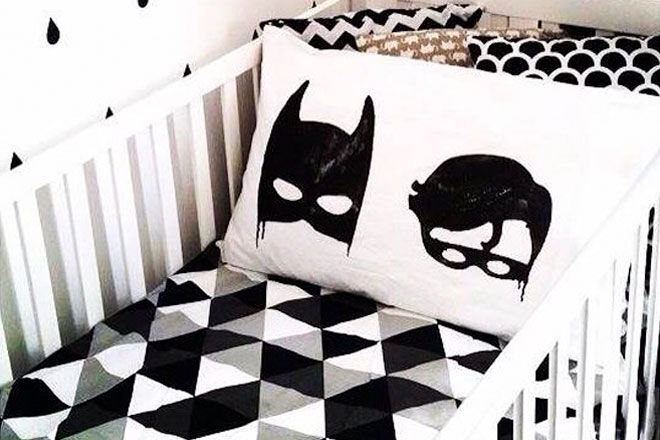 I couldn't resist rounding off one more Batman piece, after all he is the master of all-in-black superhero. The Batboy Pillowcase ($31) is just the best. I already have it on my sons bed with the girls version on my daughters.