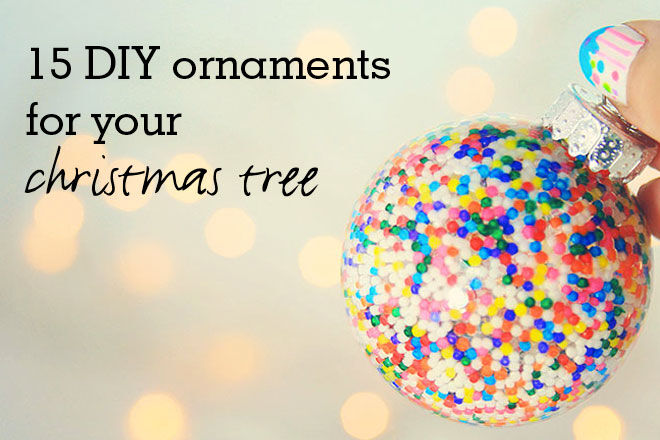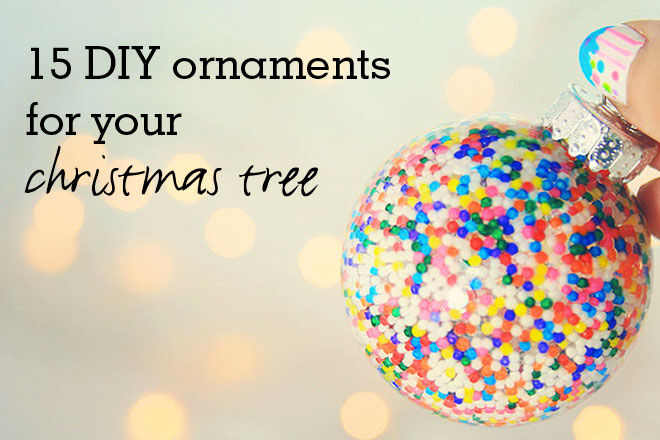 Decorating the tree is one of the most fun parts of Christmas, and it's a chance for you and your family to really make your tree into YOUR tree.
Christmas decorations don't have to break the bank, as almost anything small and colourful can become a tree ornament or a garland with the help of some string and glue, or a needle and thread.
READ MORE:
• 10 DIY Christmas baubles to make with the kids
• 9 Christmas tree decorations for mini makers
Take a look around your house with new eyes, and see the potential for DIY Christmas cheer!
1. Modern paper ornaments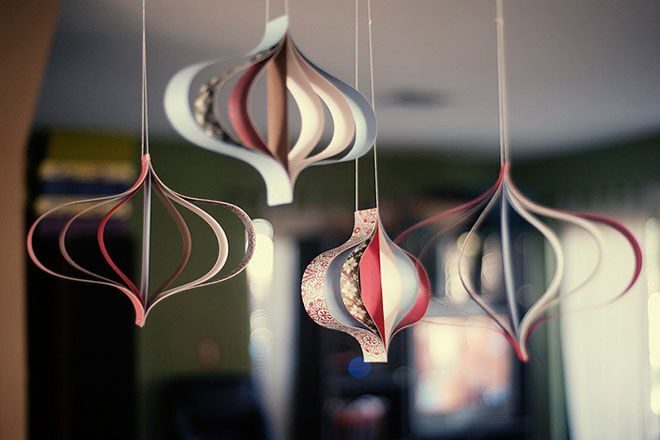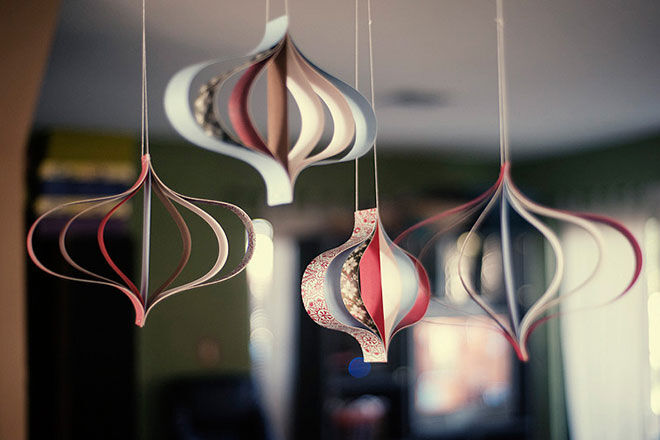 These stunning decorations from Design Sponge are crisp, modern and ludicrously easy to make. We loooove any ornament that can be knocked up in 10 minutes with scissors and a stapler. These ones are massive, but just use the same measurements in cm instead of inches for teeny-tiny tree decorations! They'd also look fab with wired ribbon. (via Design Sponge)
2. Stained-glass window cookies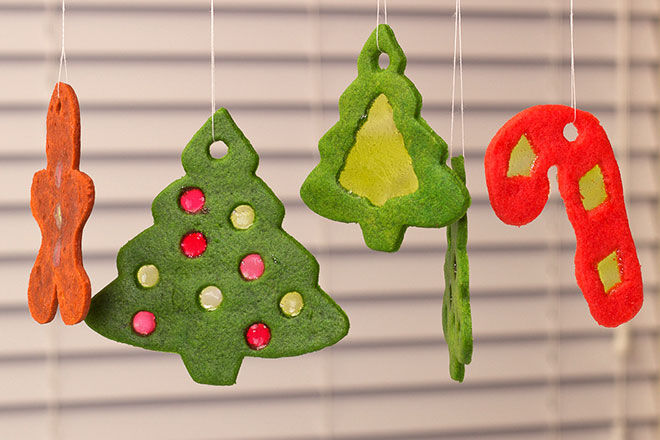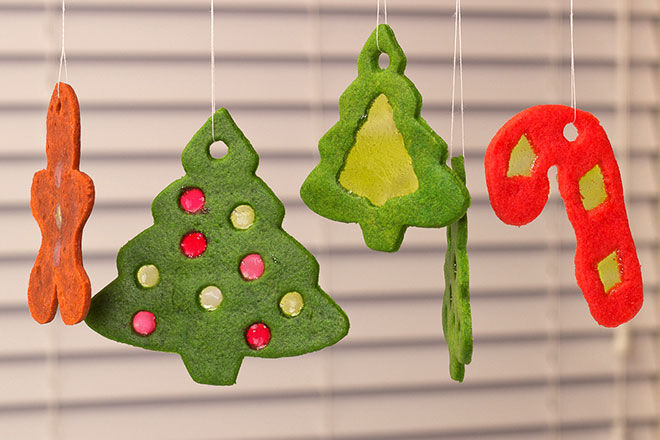 There's something wizardly about making stained-glass window cookies. Melting sweets into your biscuits? Madness. But if you follow these step-by-step instructions you'll be rewarded with bright, colourful, extremely tasty tree ornaments. (via Sugar Kissed)
3. Fabric scrap baubles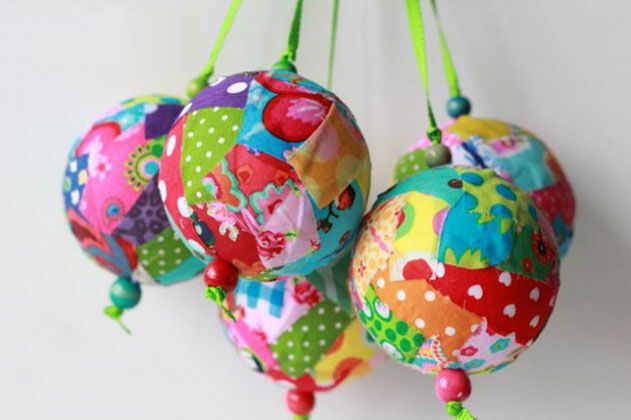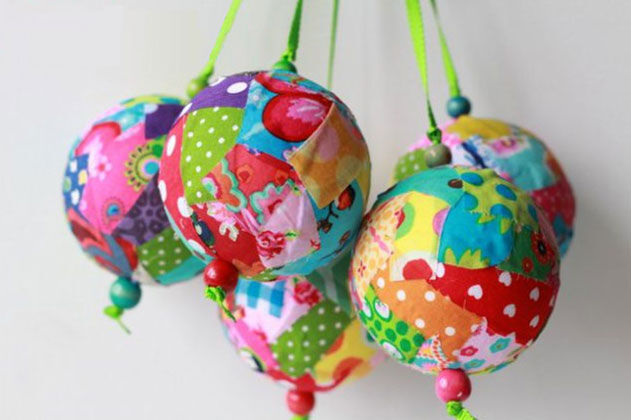 Are you a fabric hoarder? It's time to take that beautiful stuff out of storage and put it where you can enjoy it. We love this great fabric bauble idea – It's quick and easy to make with craft styrofoam balls, fabric squares and glue. Kids will love helping make these, and they're almost un-ruinable! (via Jillian in Italy)
4. Dried orange slice ornaments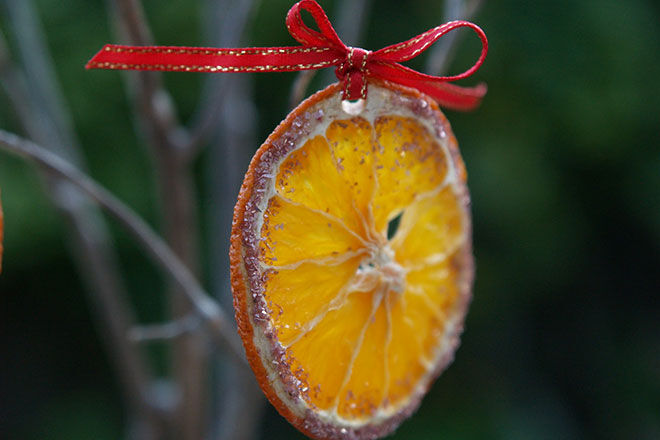 This is a traditional Christmas tree ornament that dates back to times when children still thought oranges were exciting – and it's a surprisingly beautiful decoration for the tree. These dried oranges can be eaten (provided you don't cover them in non-edible glitter) and  look even more spectacular if you put them right over the top of a fairy light! Find the recipe here. (via Window on The Prairie)
5. Fill your own clear glass baubles!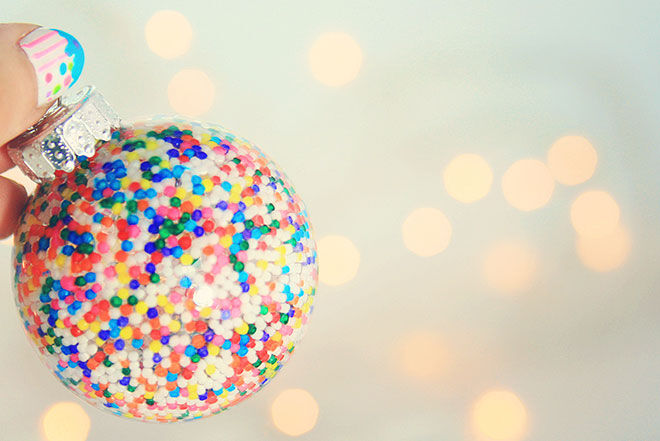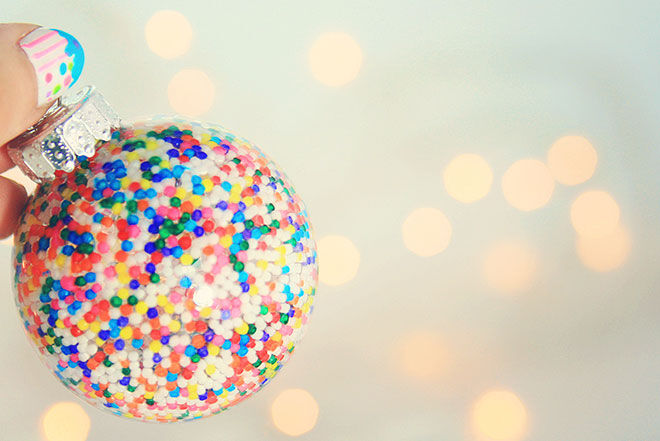 There's no limit to the possibilities of the clear craft bauble! These can be bought from craft and fabric shops like Lincraft, or you can grab some online. You can do some great things with these baubles – fill them with paint, glitter, tiny snowy scenes, paper snowflakes, make them into little Santa bellies, and our favourite, sprinkles! (via Little Gray Fox)
6. 3D paper snowflake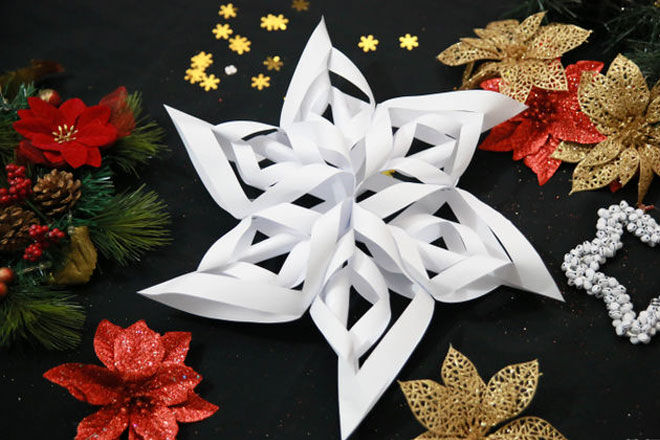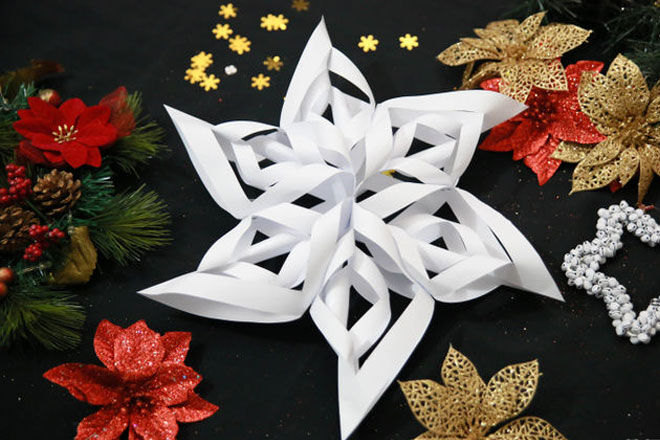 How stunning is this 3D paper snowflake? Because obviously you need a reason to buy more origami paper. Your duty is clear. You should probably go right now. (via WikiHow)
7. Felt ball baubles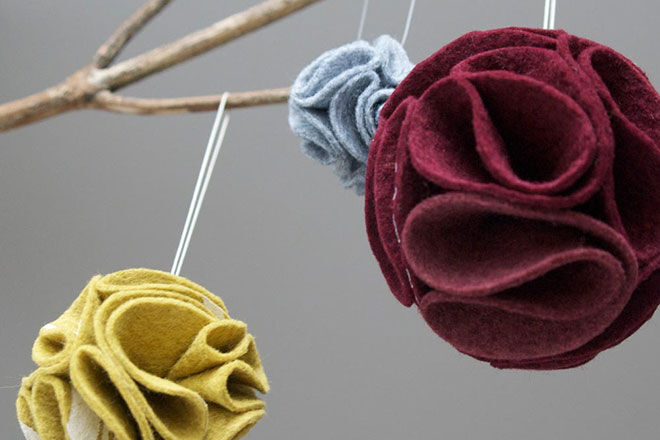 These lovely felt baubles have a warm, friendly feel, and a stylish swirled design that's nearly architectural – and they're perfect, safety-wise, for kids who are at the cramming-things-in-mouth stage. (Kid-proofing the tree itself is up to you.) (via Meghan Burch)
8. Forget the tinsel – get garlanding!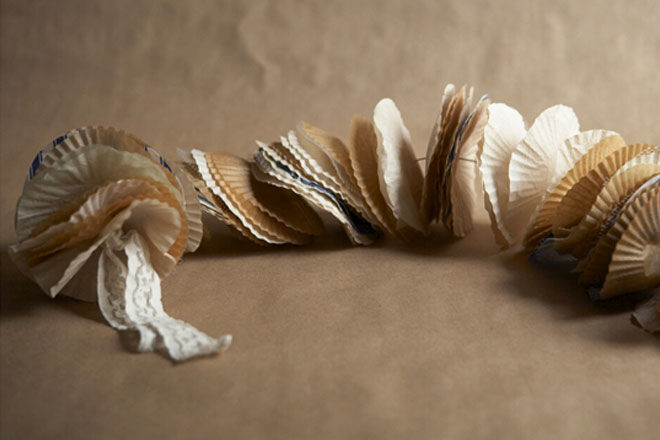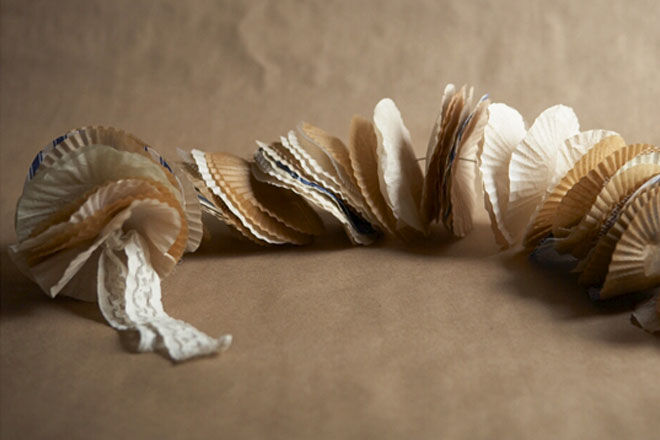 Almost anything can make a fantastic garland! Get creative with lollies, popcorn, op-shop necklaces, cocktail flags, old playing cards, buttons, ribbons, bells, mini craft pegs, tassels, pom-poms, lucky paper stars and anything else you can find round the house or in the supermarket! How cool is this version using cupcake wrappers? (via 100 Layer Cake)
9. Celebrate summer Christmas with ice cream ornaments!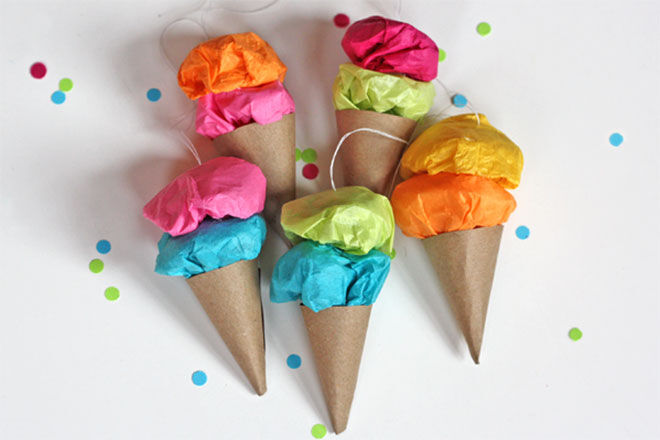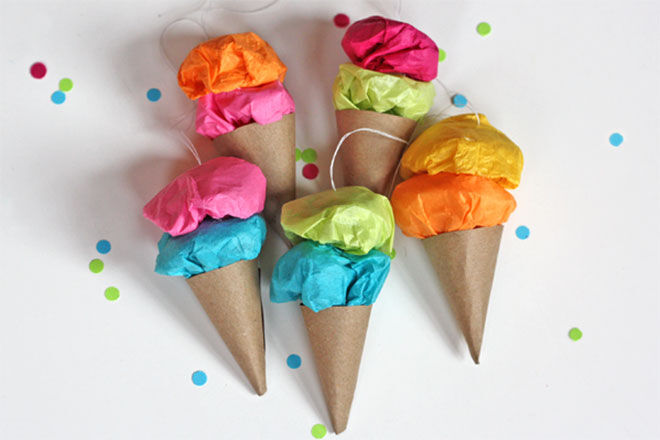 These paper ice cream ornaments are super-easy: just some brown paper, scrunched-up tissue and a bit of string and glue – and they're bright, festive and (unlike the usual snowmen and fur-trimmed hats) seasonally appropriate for summer! (via How About Orange)
10. Origami gems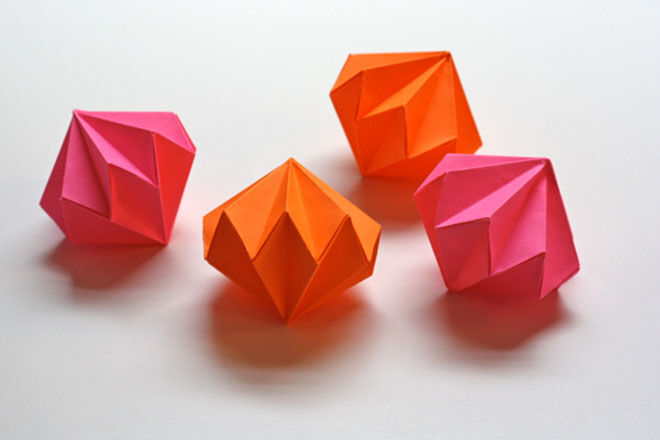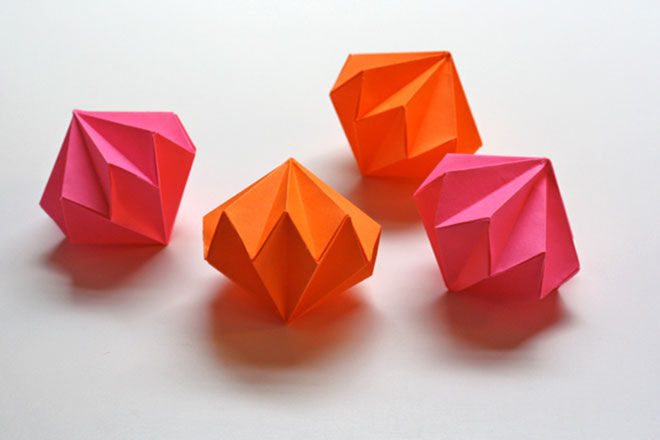 If you've got nimble fingers – or a kid who's obsessed with origami – these elegant paper diamonds from are an easy winner! Fold two pieces and glue them together, add a wire hook and maybe decorate them if you're feeling fancy. (via Design and Form)
11. Tree slice ornaments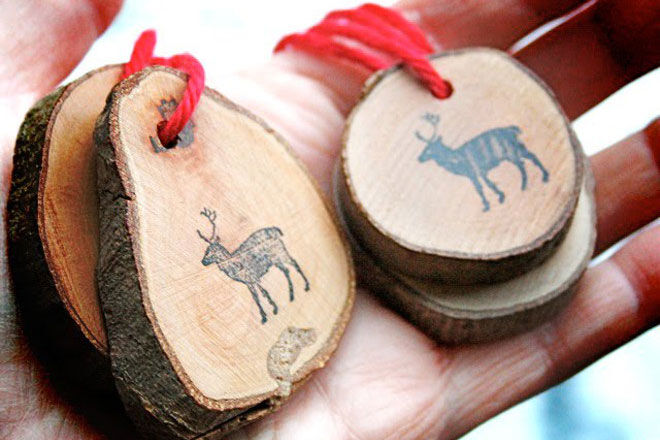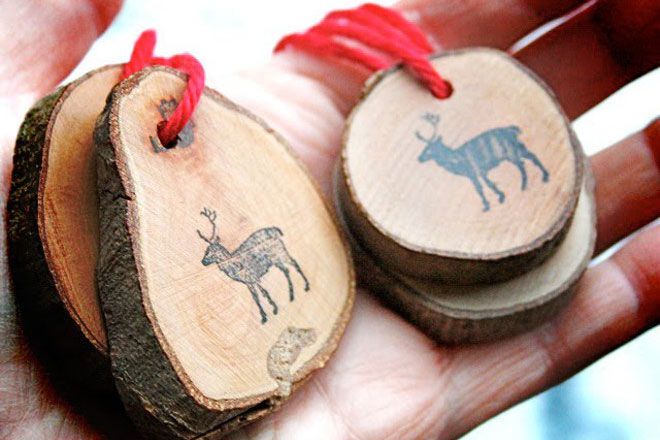 Kids will love making tree slice ornaments as much as you do – there's drilling, drawing, stamping and gluing! If you happen to have a circular saw – every mum's best friend – you can slice up a tree branch yourself, but it's probably easier to just grab some tree slices from a craft supply shop. You can draw, stamp, decoupage, sticker or transfer onto each wood slice for exactly the look you want, add a protective coat, then drill a hole in the top for a ribbon and voilà! (via Mom In Madison)
12. Recycled PET bottle snowflakes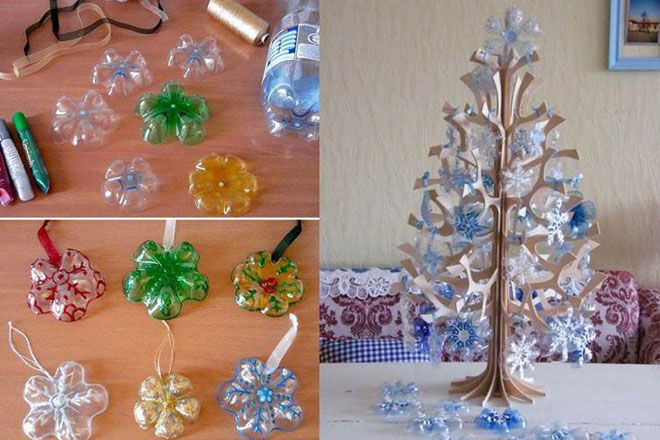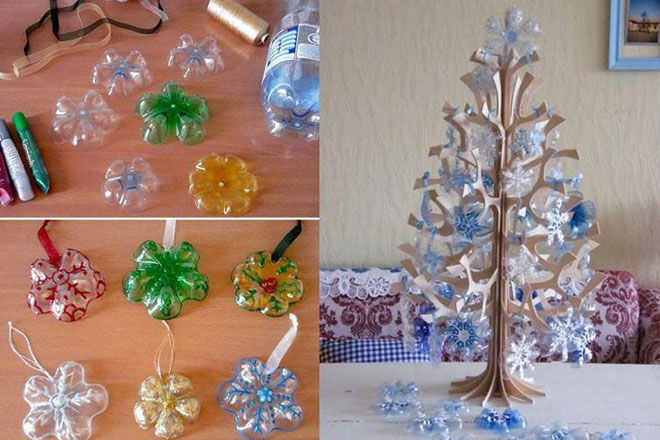 We know, we know – snowflakes usually have six points – but these are so pretty, and a great way to teach kids about recycling – or as we crafters call it, upcycling. (via Artesan)
13. Button ornaments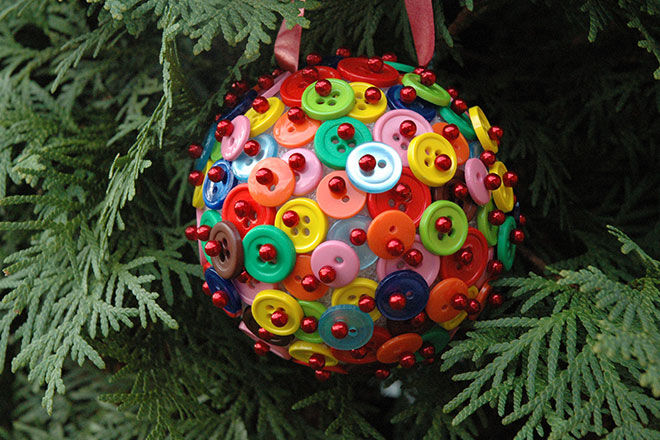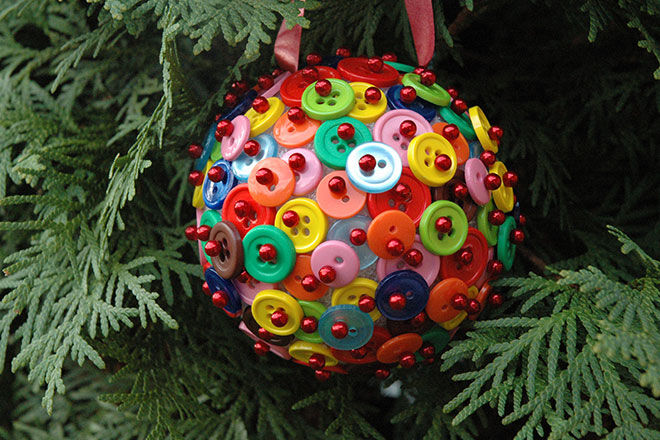 Now's the time to crack open your button collection and get those beauties out where people can see them! With these easy-schmeasy dressmaking-pin and foam ball ornaments, you can't go wrong. (via I Am That Lady)
14. Paper pine cones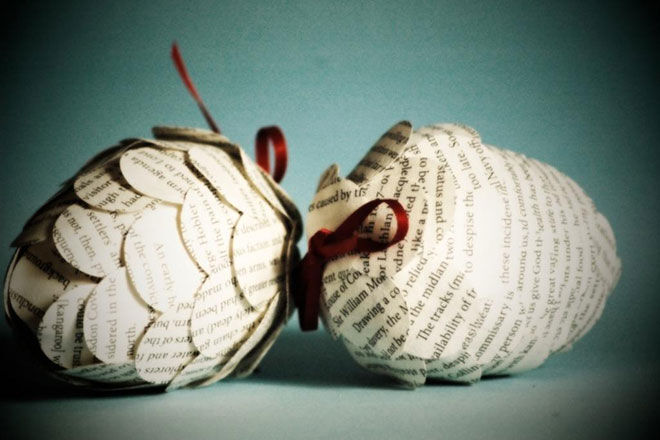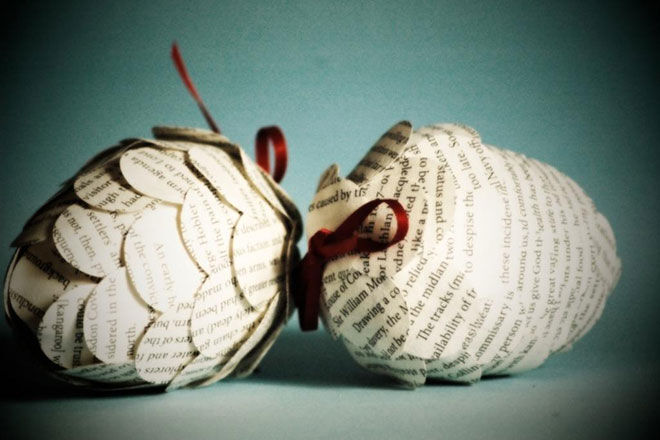 You can make these paper pine cones out of whatever paper you like best – scrapbook paper, wrapping paper, old books, magazines, sheet music or even an old street directory! (via Felt)
15. Chocolate coin ornaments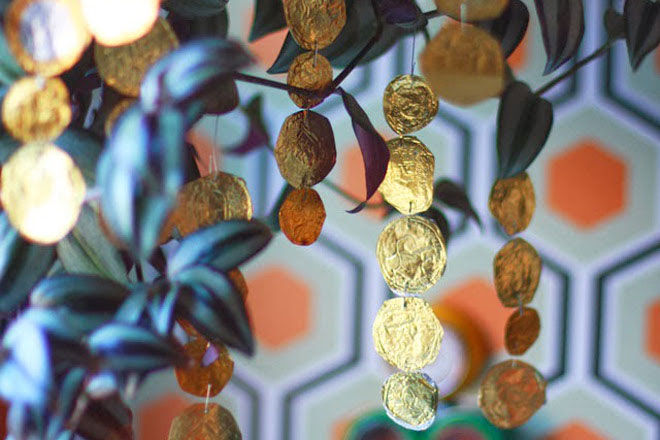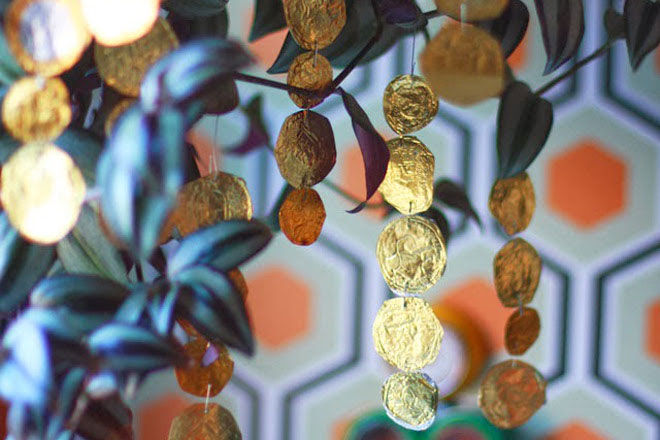 Bring a bit of Hannukah to your Christmas tree with some delicious choccy coins! You can stick a wire or string hanger to the coins with sticky tape and hang them straight on the tree, or let the kids eat the chocolate first and turn the wrappers into these striking chocolate coin ornaments. We think you'll probably get a number of small hands up for option two. (via Aunt Peaches)