There's no doubt about it, we're spoilt for choice when it comes to beautiful beaches. People might rave about the warm, tropical waters of Thailand and Bali – but why head overseas when there are endless stretches of golden sand to explore on our own shores?
That said, while we have thousands of kilometres of sand and surf, finding safe, fun and kid-friendly beaches can be tricky. So just in time for summer, here's our pick of Australia's top family-friendly beaches, exceptional for their calm, clean waters, shady picnic spots and great amenities.
Horseshoe Bay, New South Wales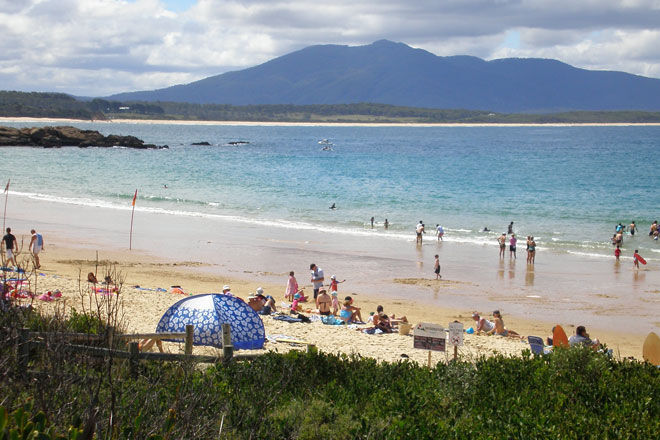 The far south coast of NSW between Narooma and Tathra is spectacular and remote; definitely worth considering for a summer road trip.
There are dozens of secluded bays and estuaries to visit, but one of our favourite spots to pick up a bucket and spade is at Bermagui, a pretty fishing port off the Princes Highway.
The seasonally patrolled Horseshoe Bay Beach is right in the heart of town with a playground and camping area nearby.
The north-facing beach with its crystal clear waters (it's called the Sapphire Coast for a reason!) is perfect for a relaxed paddle, while the rocks at either end provide great snorkelling and sometimes a meeting with a local seal. (Image via Wikipedia)
The Basin, Western Australia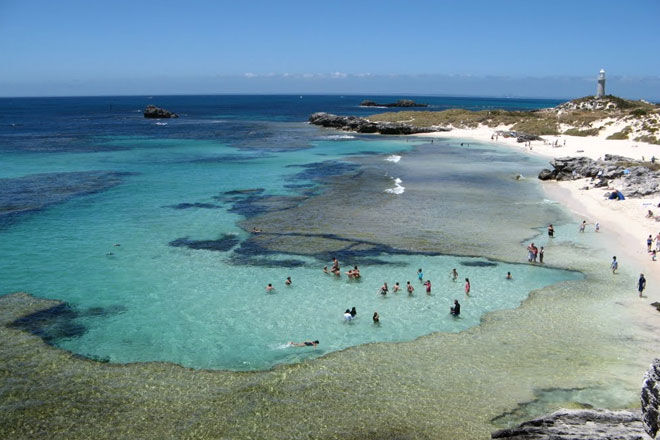 There are 63 beaches to choose from on Rottnest Island, an idyllic car-free island a 25-minute ferry ride from Freemantle, but we can't go past the luminous green of The Basin.
This delightful swimming and snorkelling spot is cut out of a platform reef. Toddlers frolic in the shallows, while older kids and adults can walk further out (it's nice and smooth) and plunge into the cool water.
It does get busy so get there early in the day. (Image: Sabine Dollinger)
Honeymoon Bay, Tasmania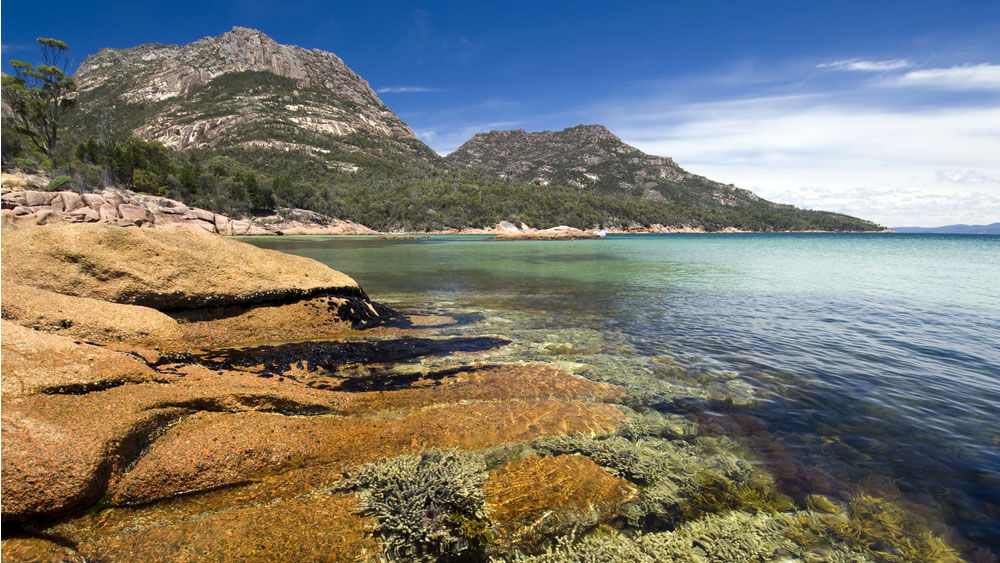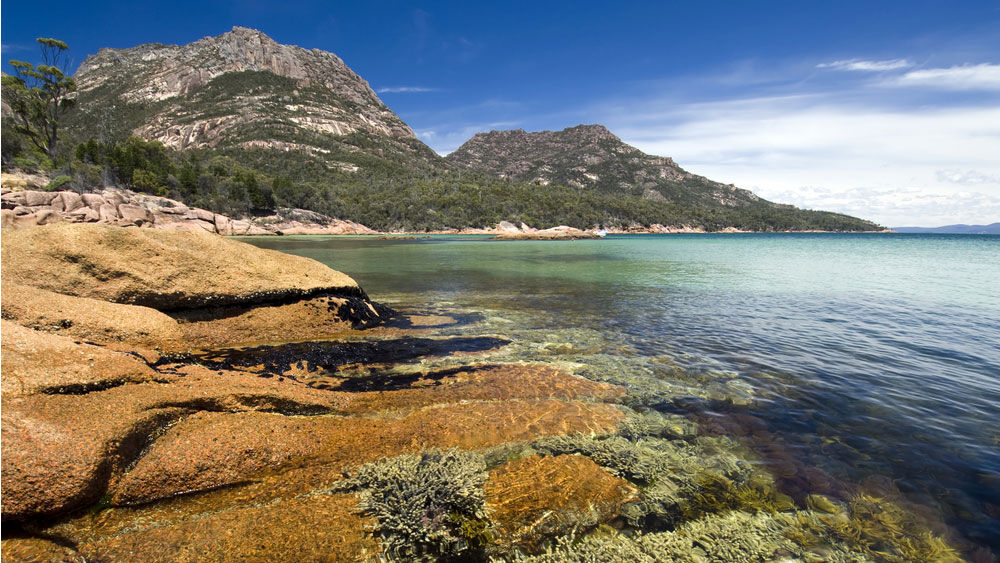 With pink granite mountains falling away to dazzling white sand beaches and sheltered coves, the breathtaking Freycinet Peninsula on Tasmania's east coast is a wonderful spot to set yourself up for a couple of days of beach action.
While bush walking is required to reach many of the beaches in the park, there's easy access to Richardson's Beach and the enticing Honeymoon Bay. The Bay is protected from the both the sea breeze and the easterly winds meaning incredibly clear water that is perfect for snorkelling.
You can camp at both these beaches, but because the area is so popular over the Christmas-New Year and Easter period a ballot is drawn for sites each August; check the Tasmanian Parks and Wildlife website for details. (Photo Image/Shutterstock).
Currimundi Lake, Queensland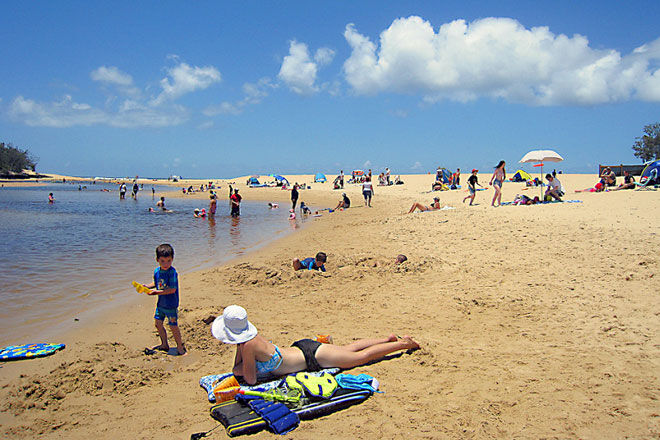 Kid-friendly stretches of sand are dotted all the way up Queensland's Sunshine Coast, and many are perfect for castle-making, shell-foraging and rock pool paddling.
For something a bit different we love Currimundi Lake, located between Caloundra and Maroochydore. At this kiddy mecca, where the calm lake waters meet the surf beach, you can rent kayaks (there's a terrific canoe trail to follow) and stand up paddleboats or even throw in a line for a whiting or bream. (Image via Spiritland)
Port Campbell Cove, Victoria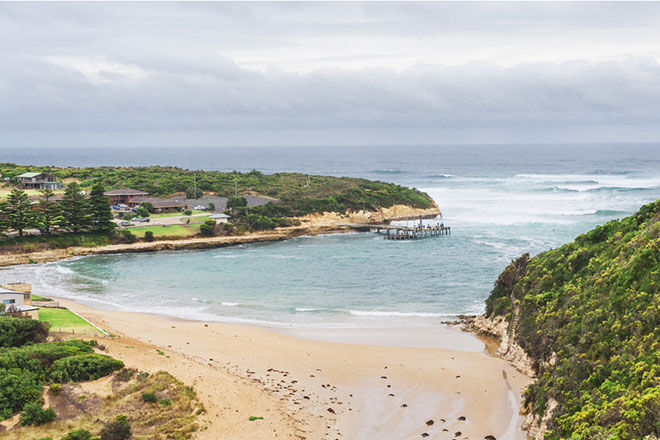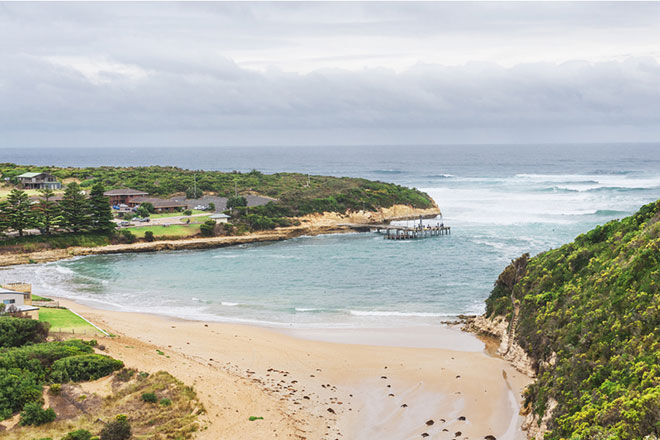 Rugged coastline, pristine beaches and lush, wild forest… not to mention the splendorous limerock stacks of the Twelve Apostles.
But while the Great Ocean Road is heaven for surfers, there are few beaches between Apollo Bay and Warrnambool that are safe for swimming with kids.
A wonderful exception is the snug cove at the village of Port Campbell.
Surrounded by national park and only a few minutes drive from the iconic Apostles, this sheltered bay has an attractive sandy beach and lots of grass and shade for a lunch time pit stop. (Lev Kropotov/Shutterstock)
Carrickalinga Beach, South Australia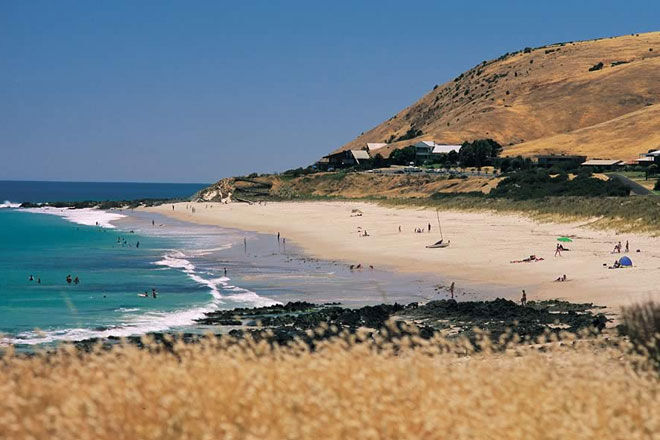 This quiet beach on the Fleurieu Peninsula southeast of Adelaide is one of the city's best-kept secrets, with shallow aquamarine water and marvellously white sand.
Kids will love pottering in the rockpools and dolphin spotting, while adults will no doubt enjoy the proximity to the McLaren Vale wine region. The only downside is the lack of shade, so be sure to bring an umbrella or beach shelter.
You can also escape to the cafes in nearby Normanville in the heat of the day. (Image via fleurieupeninsula.com.au)
Miriam is a long time guide book author and travel writer who is also the co-founder of Seven Suitcases, a website offering comprehensive destination guides and timely, honest advice for intrepid world travel with kids. Miriam lives in Sydney where she enjoys eating and exploring (preferably at the same time) with her daughter Pearl and planning their next adventure.