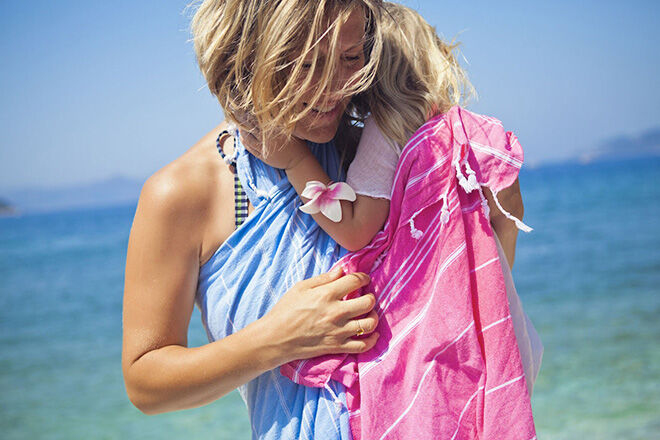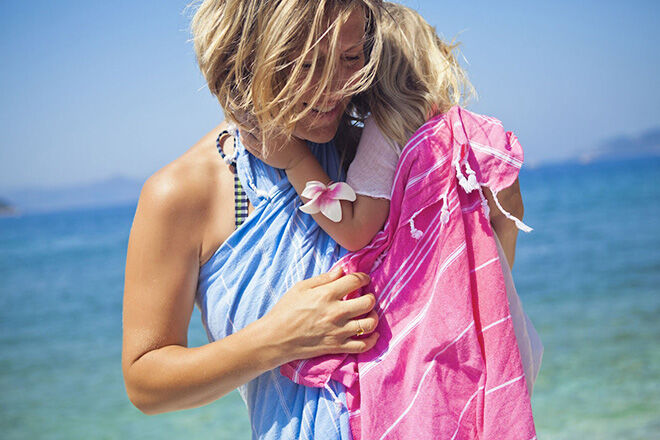 It's a shore thing: an Aussie summer means sand and surf! But just like sexy beach hair, the reality can sometimes fall a bit short when your seaside sojourn is hit by a tsunami of stress, sunburn and sand in all the wrong places. So we put together a list of life preservers to keep you feeling and looking as cool as a cucumber at the beach.
1. All about the bass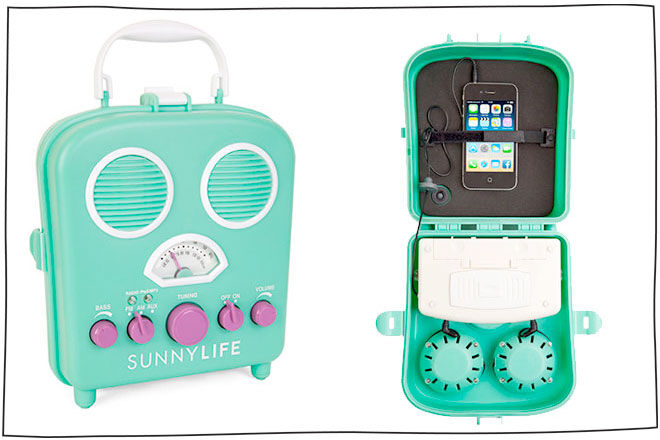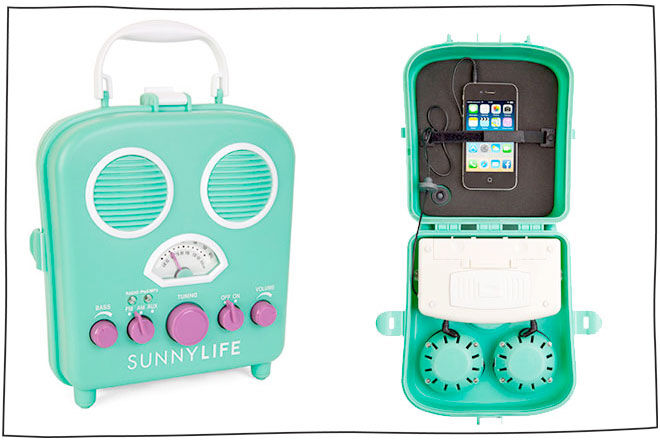 Rock out on your next surfin' safari with Sunnylife Portable Speakers ($56.95). It's an old school AM/FM radio with a twist – plug in your smartphone, tablet or portable music device and you'll never be without your summer beats.
2. 50 shades of summer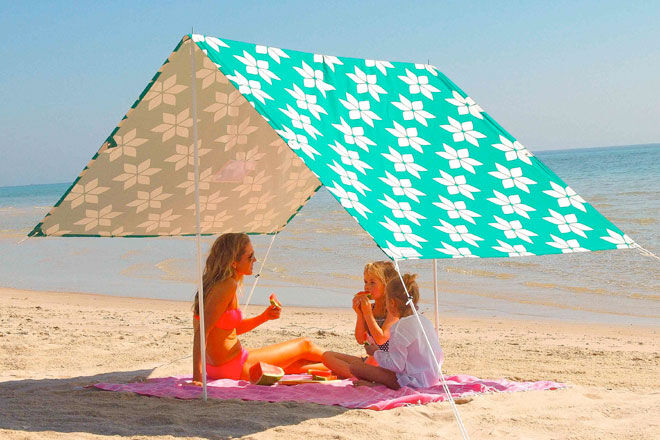 Staying cool has never been so hot. Hide out from the sun under these stunning Sombrilla shade tents from Hollie and Harrie ($198). Large enough for the whole family and clever enough to easily adjust as the sun moves, we love the bright and beautiful summer prints.
3. Spike your drinks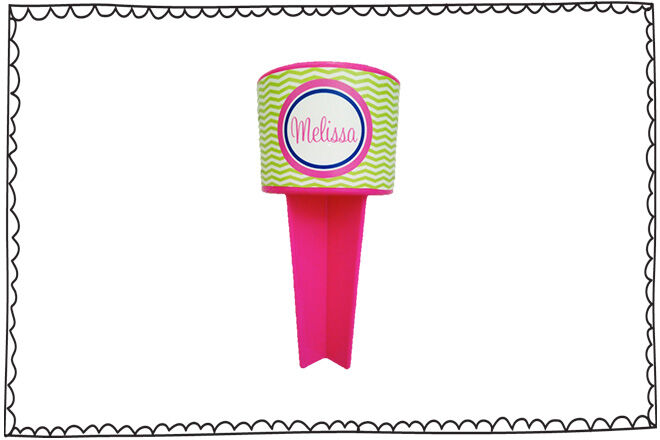 Never suffer a sandy bottom (of your drink, that is) again with this crafty Beach Spiker (approx $15.00). Add your name to the cup holder for a personal touch, and get a few extra for your sunnies or sunscreen.
4. Just keep swimming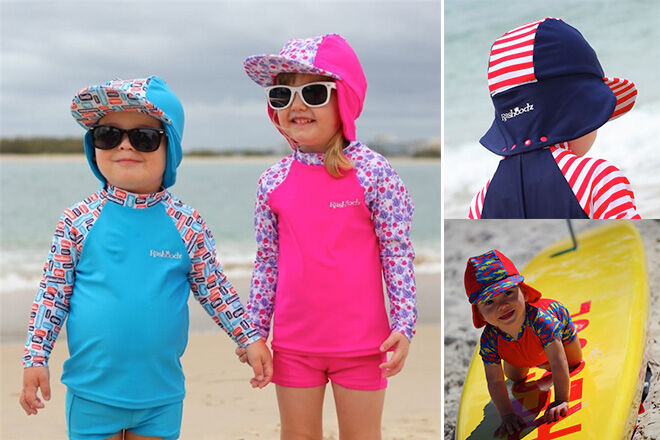 The press stud is a gift to all mums and Rashoodz Swimwear (from $44.99) puts them to great use. The baby swimsuits have clips in the crotch for easy-access nappy changes and all suits come with an attachable hat. Now mum can spend more time enjoying the water and less time chasing lost headwear.
5. Breaking wind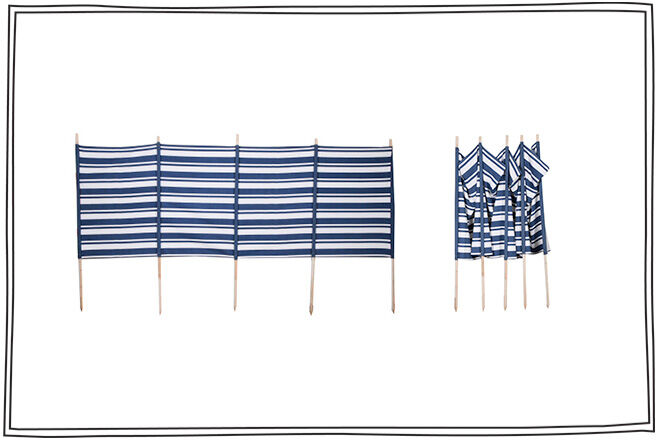 Stake out your favourite sandy spot and banish the breeze with this must-have Beach Windbreaker ($99.95). At almost 3m long and 1m high, you'll feel as though you own the place.
6. Knockout poncho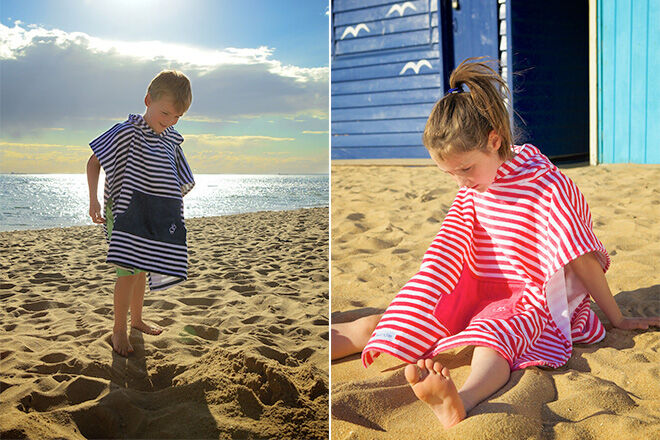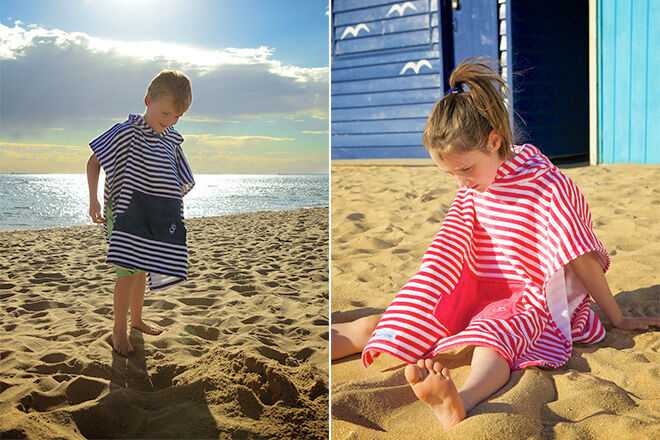 Your little nippers can both dry off and cover up with these super-soft snazzy-striped ponchos ($39.95) by Aussie-owned French Soda. We love those kangaroo-style front pockets!
7. Anchors away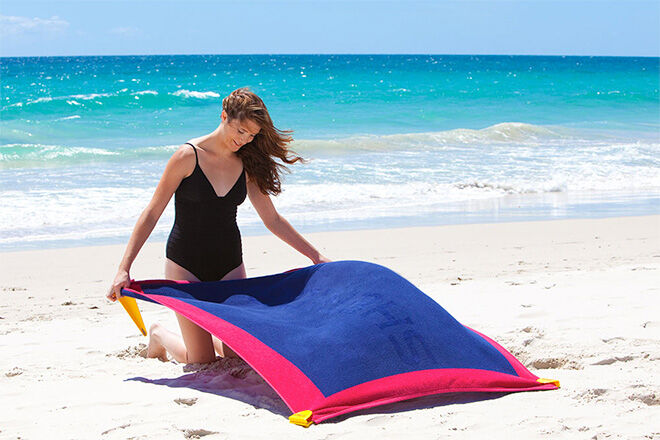 Don't let that summer breeze whip you into a towel-wrestling frenzy – anchor down with these handy Beach Towel Pegs ($34.50 for a set of 4). So simple but oh so smart.
8. Sit back and relax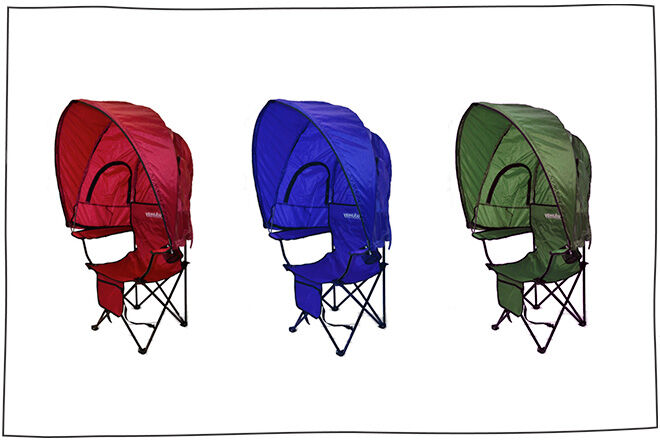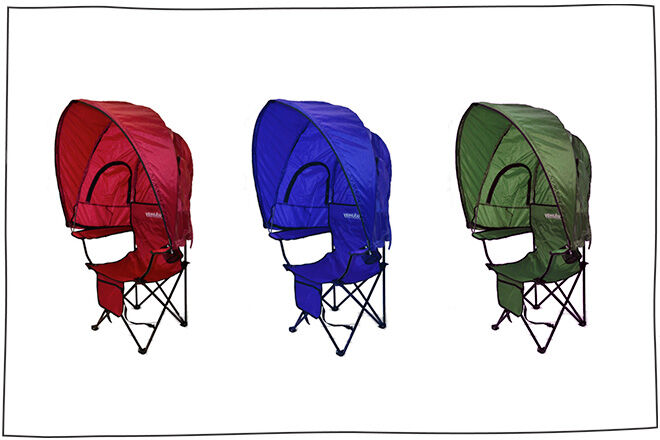 Enjoy your own private beach bubble with the Tuckaway Shade Chair ($69). Settle into shady comfort, with the handy cup holder and storage pouch keeping everything you need within easy reach.
9. No more sand between your toes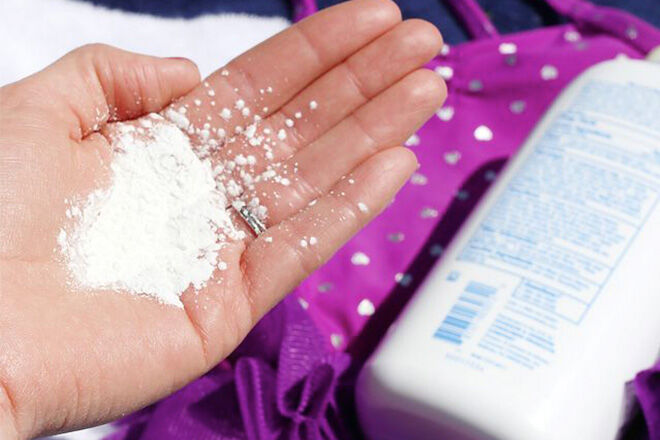 We're not sure whether this is magic or science, but if you want to avoid bringing half the beach home with you at the end of the day, get out the talc. Give the family a good sprinkling and, presto, they and your car will be sand free. Ok, it is science – the talc absorbs moisture, drying the sand and making it easier to brush off. But who doesn't want to believe in magic?
10. It's a wrap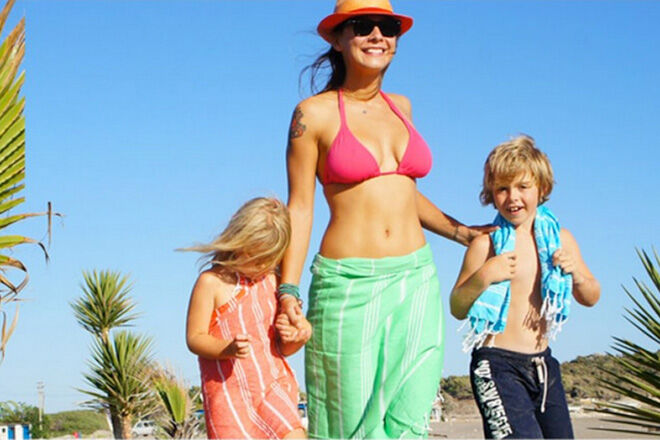 Is it a towel? Is it a sarong? It's both – and it's fabulous. Hammamas Cotton Towels (from $39) are super absorbent, lightweight and look great wrapped around the whole family.
11. Burn free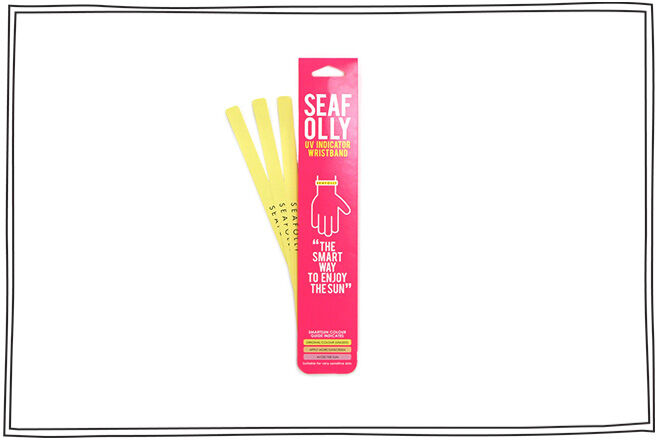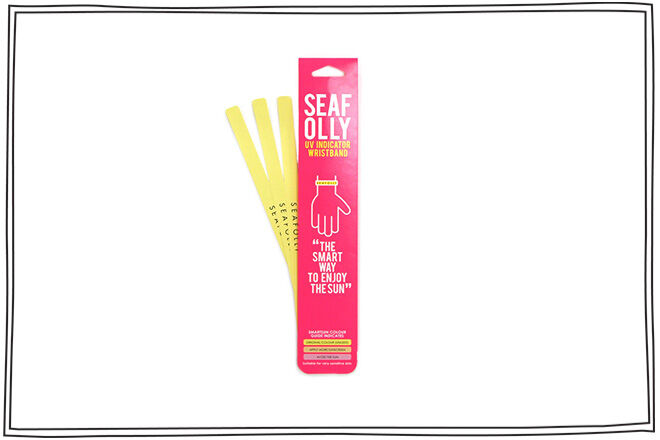 Sunscreen at the beach is a given, but it's all too easy to forget to reapply during a day of summer fun. The crazily clever Seafolly UV Indicator Wristband ($9.95) measures the amount of sun (and most importantly UVA and UVB radiation) you get during the day and changes colour to tell you when to slap on more sunscreen or avoid the sun altogether. Genius.
12. Ice, ice baby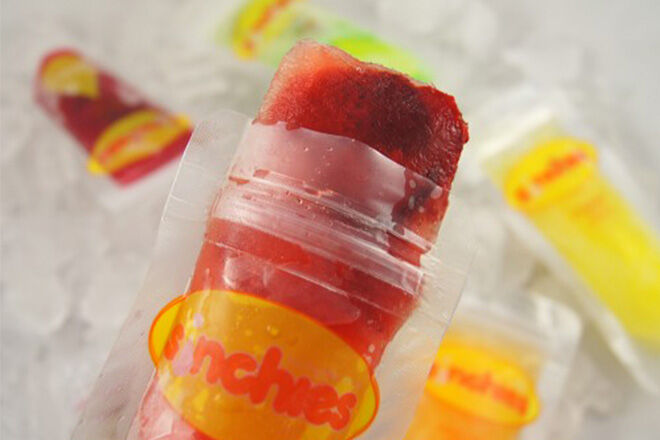 Make your own icy poles for a cool summer snack with Sinchies Reusable Icy Pole Pouches ($9.95 for a pack of 10). Just pour in your favourite ingredients, freeze and it's summer on a stick – without the stick! No fuss, no mess, no stress!
13. Think zinc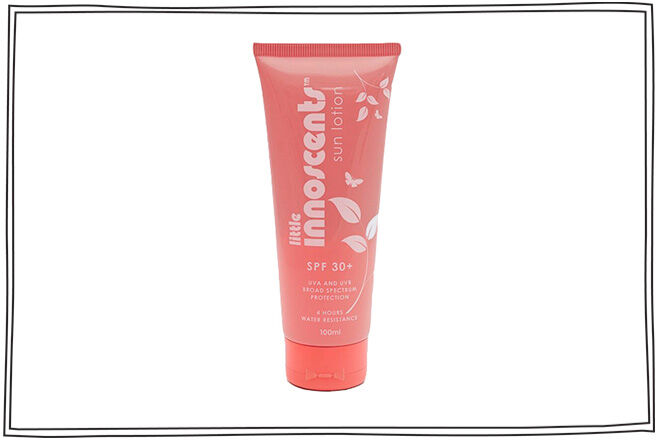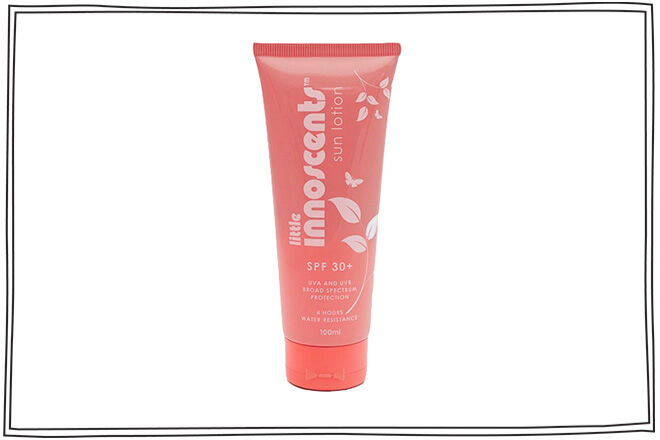 Protect your kids' skin with Little Innoscents Natural Sun Lotion ($19.99). The zinc-based lotion is free from chemical absorbers, and contains aloe vera, vitamin E and calendula for a soothing and safe natural alternative.
14. A smartphone went to sea, sea, sea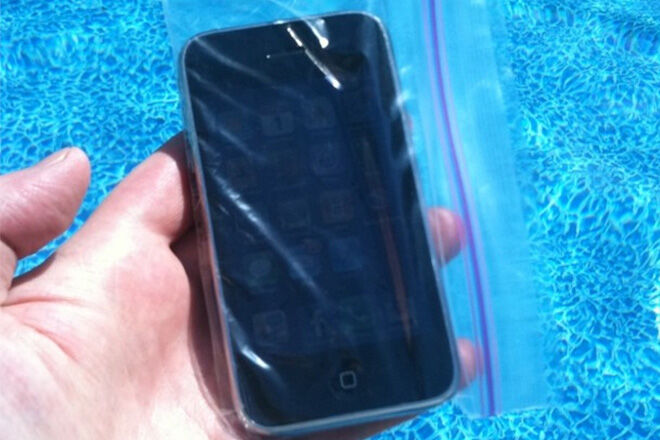 Smartphones and water don't mix, which makes it kind of tough to take them to the ocean. Before you go to the deep blue, find a plastic ziplock bag in your kitchen and pop your phone inside. While we wouldn't recommend swimming with it, it will protect from surprise splashes and you should still be able to swipe your screen through the plastic. (Image via: Officezilla)
15. Snazzy digs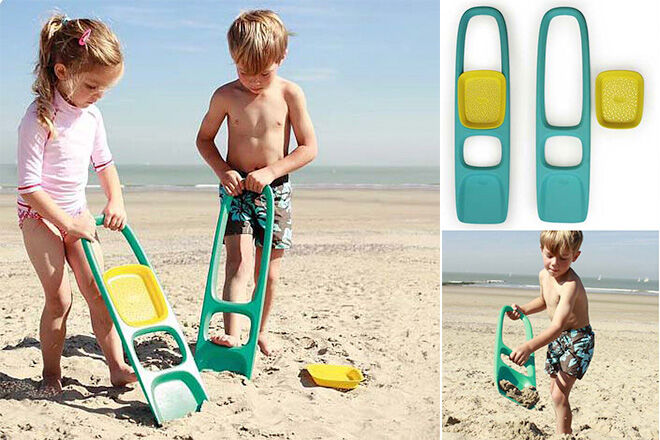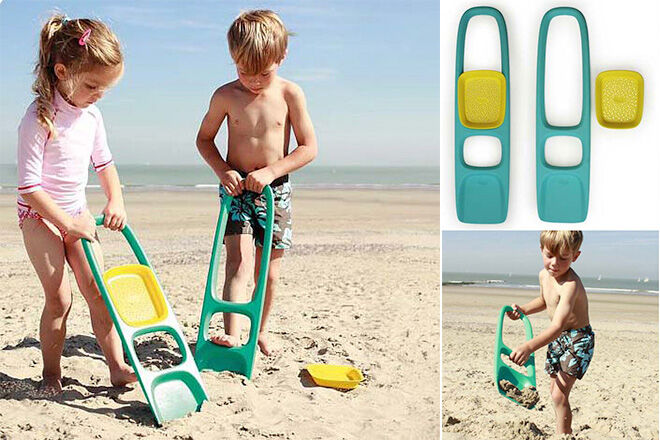 Can you dig it? Yes you can! The Quut Scoppi ($29.95) plastic spade let's your little dune buddies dig with both their hands and their feet, making sand moving a cinch.
16. Handy towel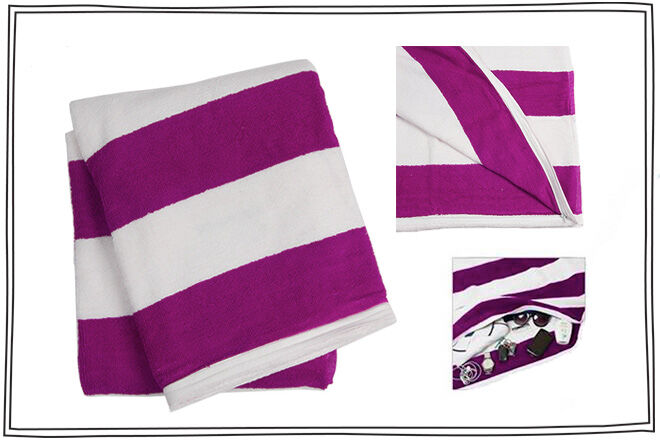 The Beachnick Beach Towel ($29.95) is the most cunning towel we've ever seen. Hidden in the corner is a waterproof pocket to stow your essentials while you're splashing in the surf.
17. DIY beach locker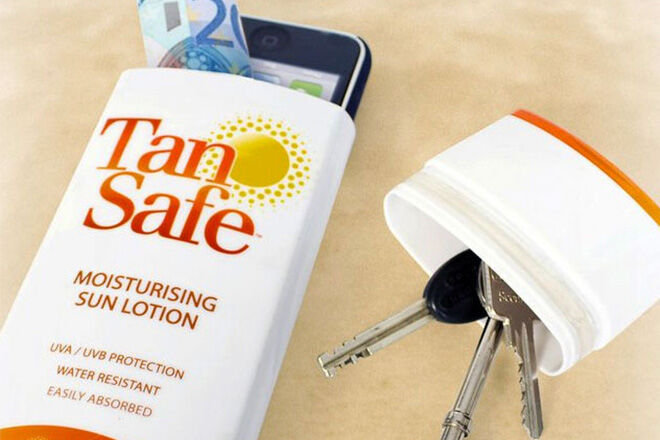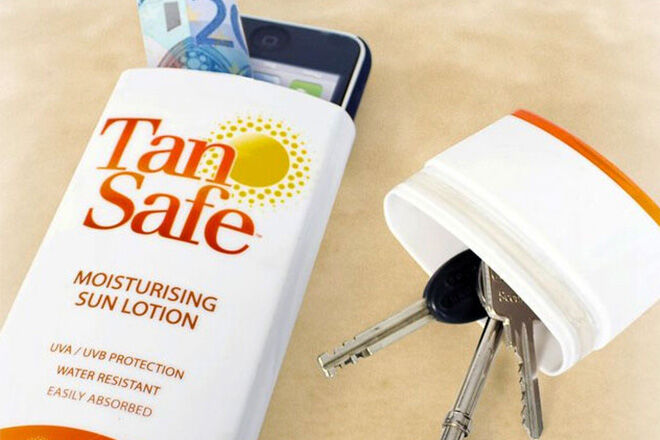 Keep your valuables hidden in plain sight with this quick trick. Empty out an old sunscreen bottle, cut the top wide enough to fit your phone, keys and cash, put the lid back on – and you have your very own beach locker.