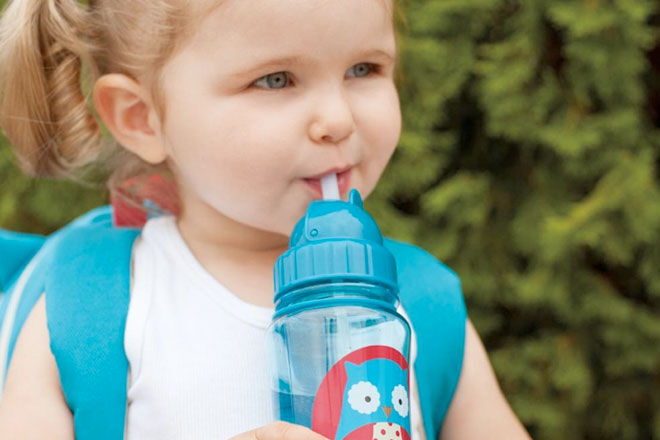 Updated January 2019
It's summer, and that means hydrate, hydrate, hydrate! It's always a good habit to have a drink within arm's reach, but as the Australian sun beats relentlessly down upon us, it's become imperative. Our selection of dainty kids drink bottles will ensure your small fry keeps cool at school all day long.
Scroll to the end to spot the top 6 drink bottle picks as voted for by you!
MontiiCo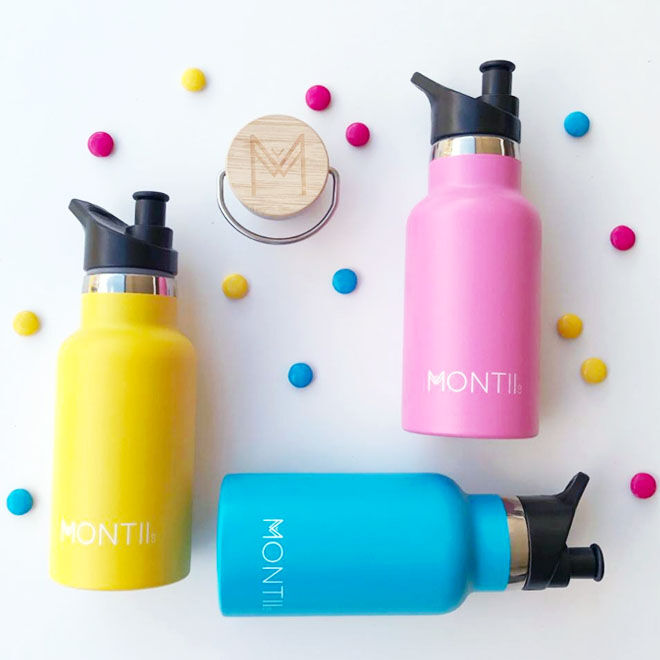 MontiiCo Insulated Mini Drink Bottle ($22.95): With fun retro colours, these super stylish, double walled stainless steel drink bottles are built tough. The sports pop-top lid is easy to sip and they are the perfect size for little hands.

---
Love Mae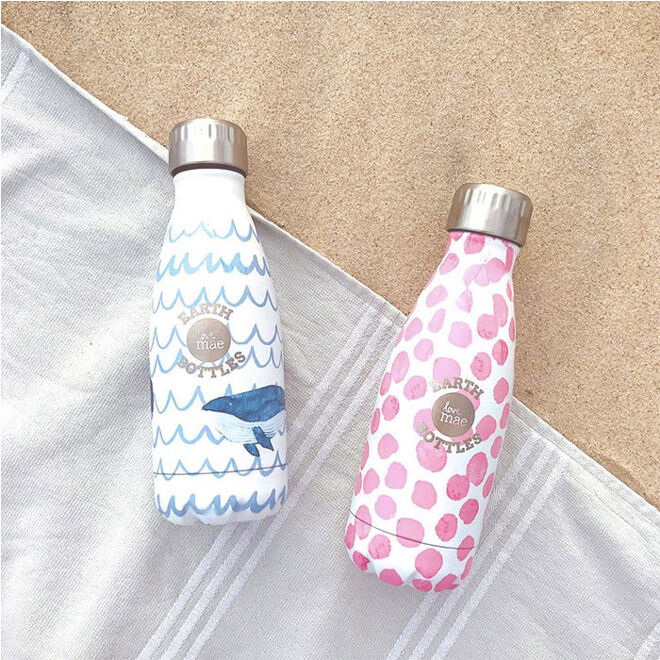 Love Mae Drink Bottle ($34.95): Reusable, durable and leak-proof, this double insulated stainless steel drink bottle is perfect for school or for going out and about. Plus we love these gorgeous graphics.


---
b.box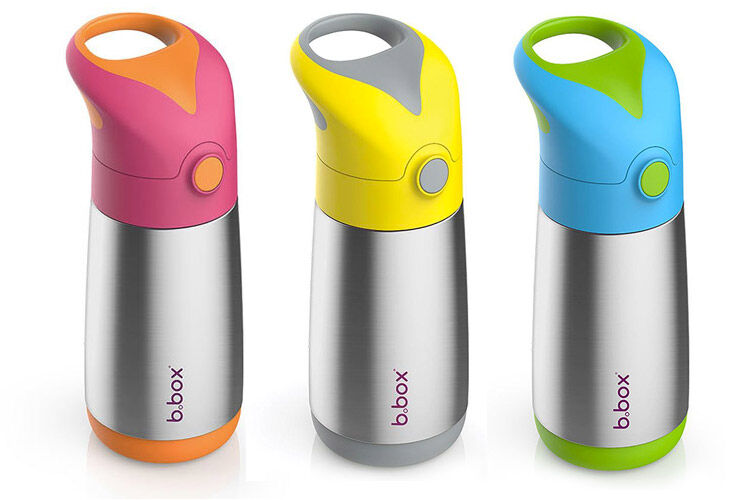 b.box Insulated Drinking Bottle ($29.95): These brightly coloured stainless steel drinking bottles are double walled to keep drinks cold for up to 7 hours and warm up to 5 hours.

---
Bobble Art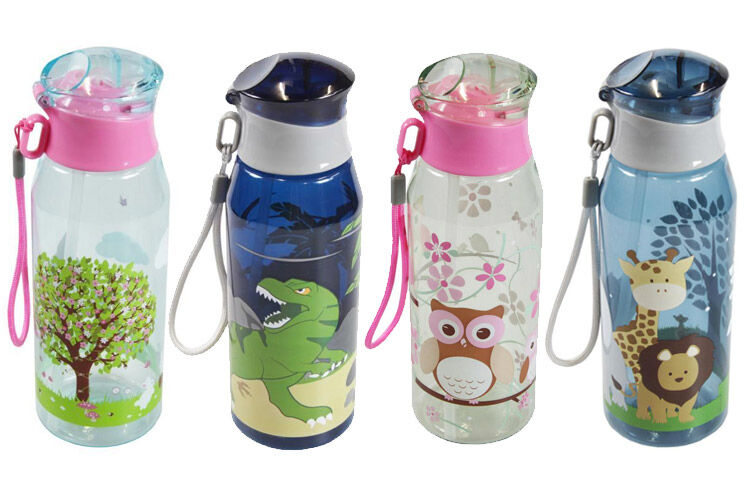 Bobble Art Drink Bottle ($19.95): Choose from one of the too-cute Bobble Art themes, these 500ml bottles have an easy to use flip top and soft silicon drinking straw plus they are 100% BPA free and phthalate free.

---
Contigo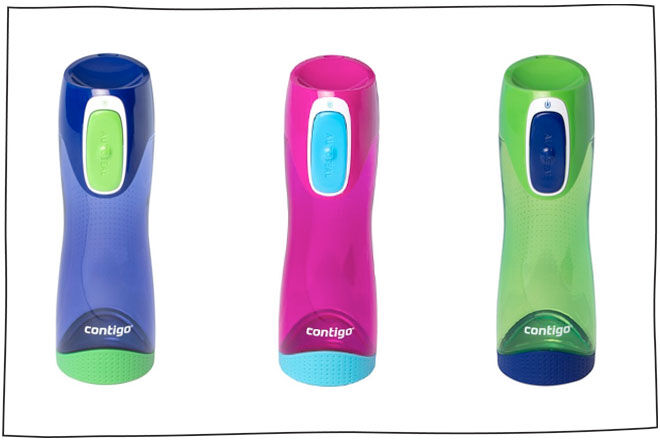 Contigo Swish Autoseal Drink Bottle ($24.95): These drink bottles have a cool retro-futurist look about them and a unique, leak-proof "push to sip" design. They also got a big thumbs up in our reader poll (see below).

---
Kathmandu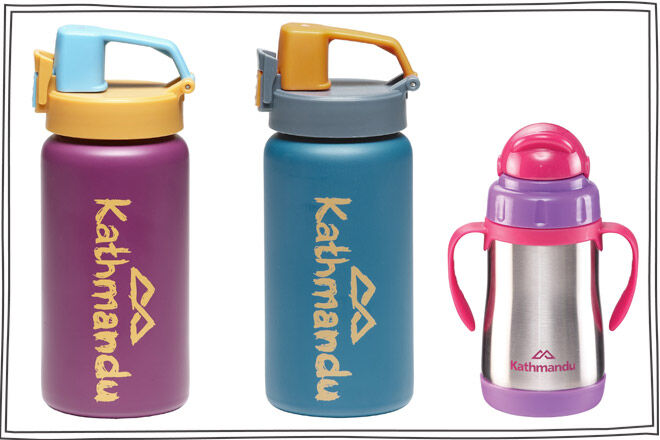 Kathmandu Stainless Steel Drink Bottle ($24.98): Adventuring is thirsty work! For the child who likes to climb on top of the monkey bars, these stainless steel drink bottles are for you.

---
Smash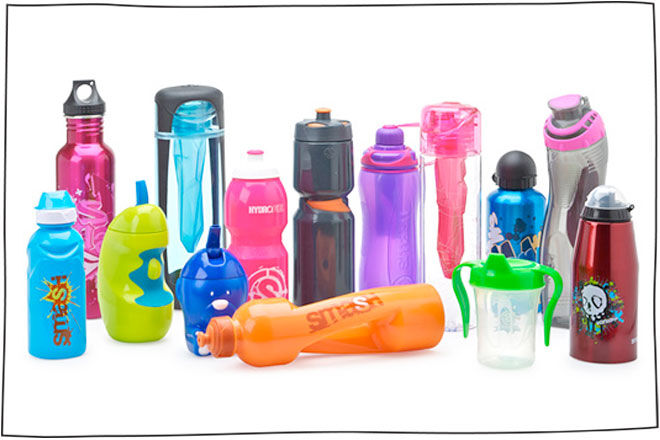 Smash Drink Bottle (from $2): Smash bottles come in all shapes and sizes, and rated highly in our reader poll (see below).

---
Mr Men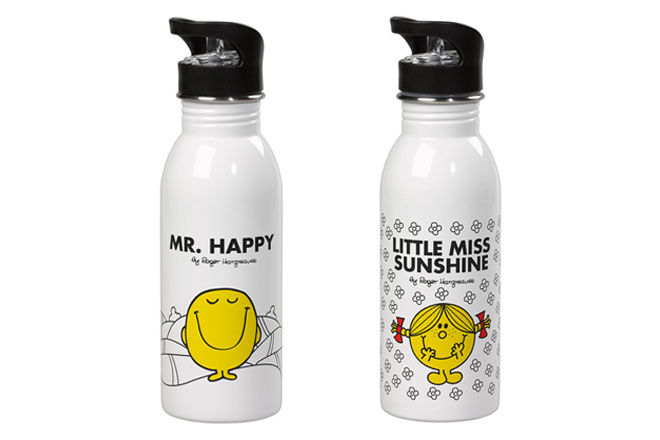 Mr Men Stainless Steel Drink Bottle ($20): Water makes us feel good! Brighten their day with Mr Happy and Little Miss Sunshine.

---
Ecococoon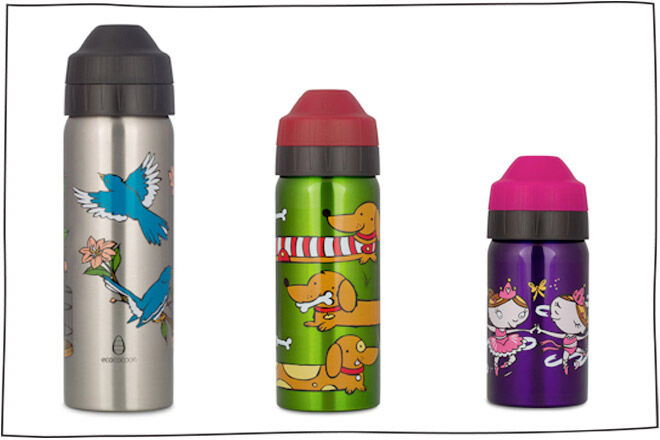 Ecococoon Drink Bottle (from $32.95): These double-walled, stainless steel drink bottles will keep liquids insulated and cool. Available in 600 ml ($42.95), 500 ml ($39.95) and 350 ml ($34.95).

---
LifeFactory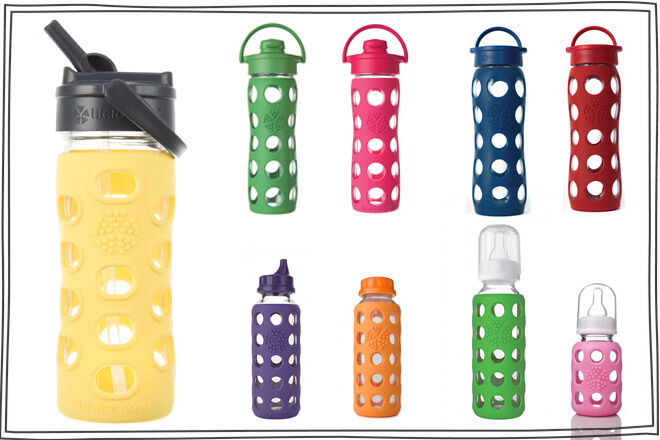 LifeFactory Drink Bottle (from $34.95): Made from glass with a protective silicone sleeve for a non-slip gripping surface and to help prevent breakage. They come in every possible size and colour and every possible variety of cap, from straws, to flip tops, to loop caps to teats.

---
S'well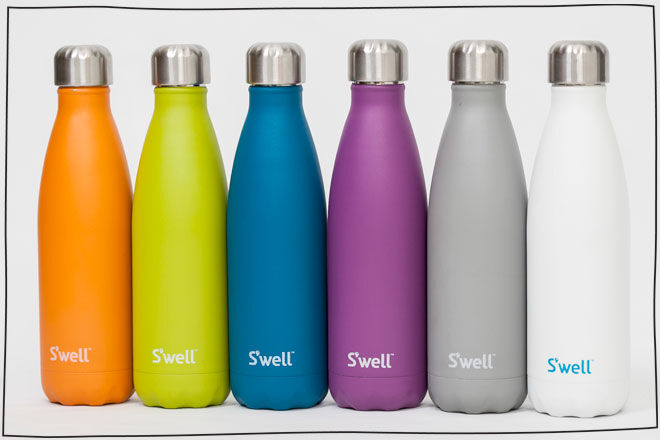 S'well Drink Bottle ($49.95): For older kids who want something cool and sleek, the S'well drink bottles are the perfect way to stand out from the crowd. Designed in New York, the insulated bottles have a unique shape and screw top cap. Plus, they'll keep drinks cool for 24 hours.

---
Thermos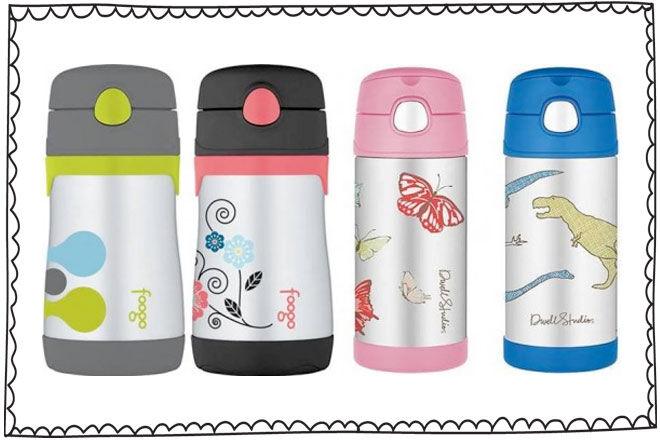 Thermos Drink Bottles (from$22.95): Available in simple and clean stainless steel or covered in cool patterns – what mood are you in? These babies were winners in our community poll.

---
Skip Hop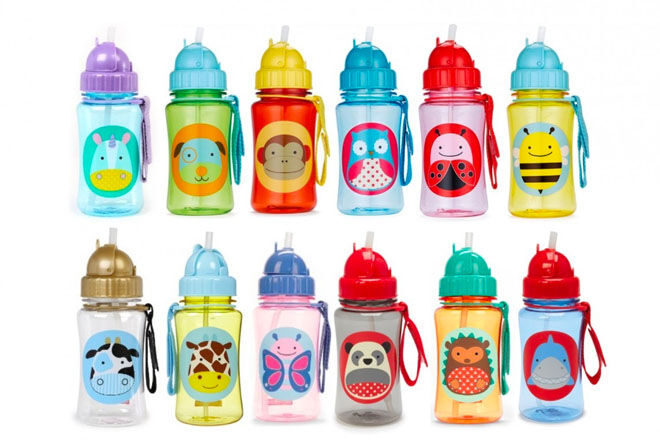 Skip Hop Drink Bottle ($14.95): Complete your collection of Skip Hop Zoo range goodies with these plastic drink bottles with a straw and a flip-top lid (from $14.95).

---
Klean Kanteen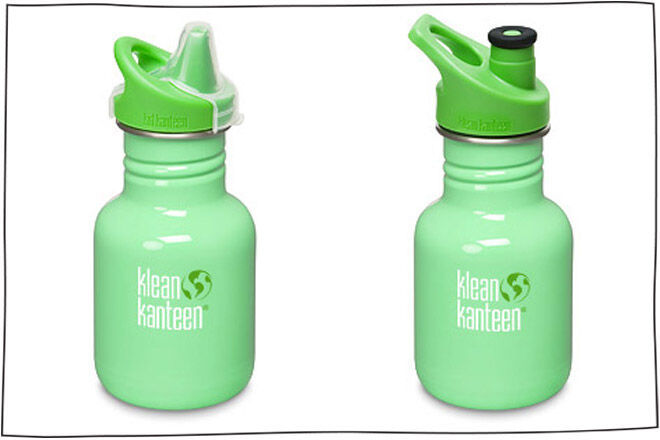 Kleen Kanteen Drink Bottle (from $28.95): The classic Kleen Kanteen kids drink bottles come with either a sippy cap or sports cap. Available in lots of different colours, the Kleen Kanteen is one of the original stainless steel drink bottle designs.

---
Crocodile Creek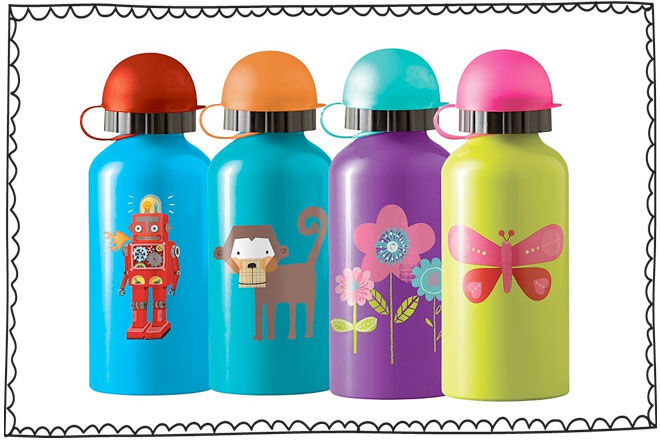 Crocodile Creek Drink Bottle ($12.95): There's something a bit whimsical and lovely about these drink bottles. A light-hearted take on children's classics such as horses, flowers and firetrucks, there's a storybook charm to Crocodile Creek's designs.

---
Spatz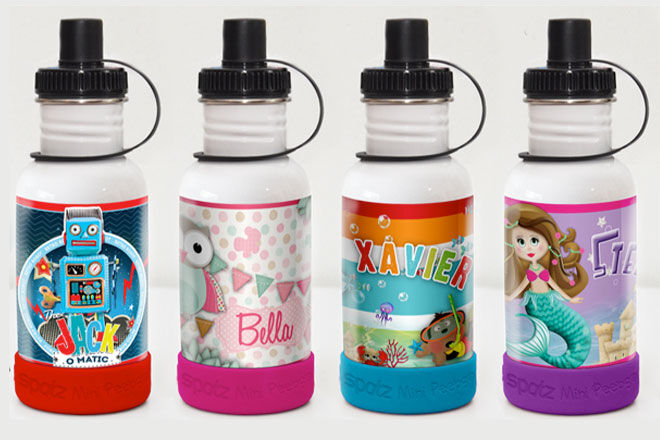 Spatz Stainless Steel Drink Bottle ($24.95): Full of personality and come with a nifty non-slip base protector. Make yours unique by selecting a wrap-around design and add your name.

---
Sistema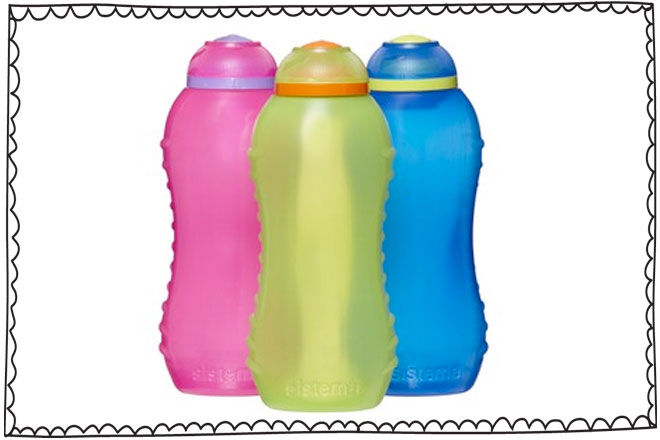 Sistema Bottles ($3.00): These cheap and cheerful bottles with a practical plastic twist-top rate highly with our readers (see below).

---
Stuck on You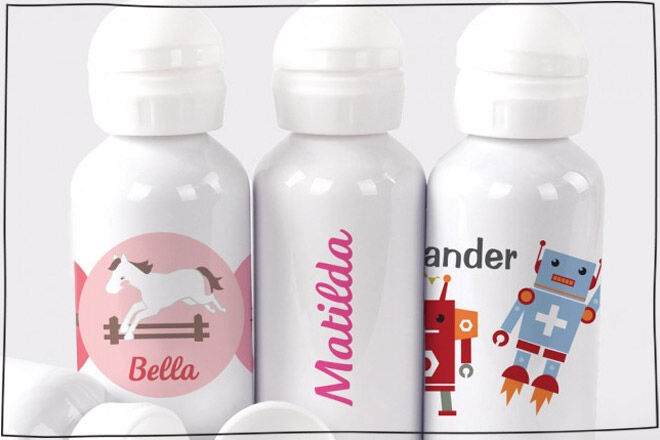 Stuck On You Kids Designer Drink Bottle ($24.95): These chic stainless steel water bottles can be personalised with bright colours and original designs.

---
Penny Scallan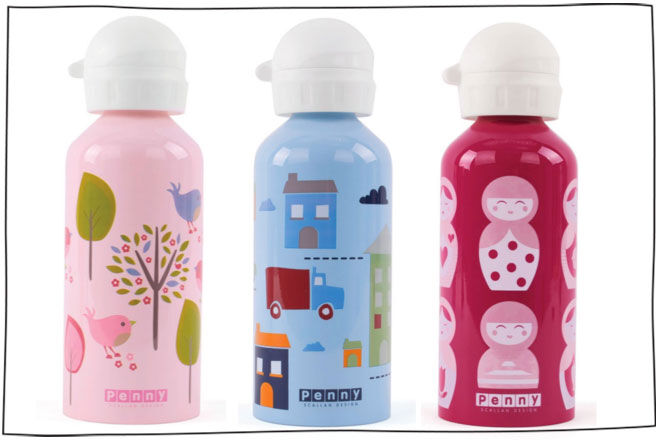 Penny Scallan Drink Bottle ($19.95): Hydration station with a vibe that just screams "style".

---
Stephen Joseph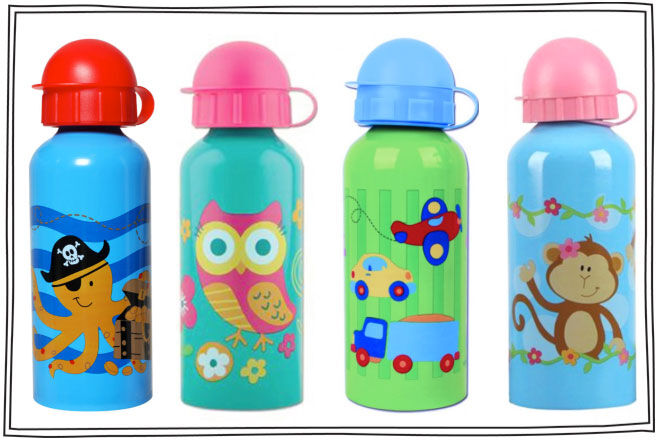 Stephen Joseph Drink Bottle (from $13.95): We love the mix-n-matchiness of these stainless steel drink bottles. Grab a blue bottle with a red lid or a green bottle with a pink lid. It's great to see pink and blue mixing it with other colours!

---
ME-ME sippy cup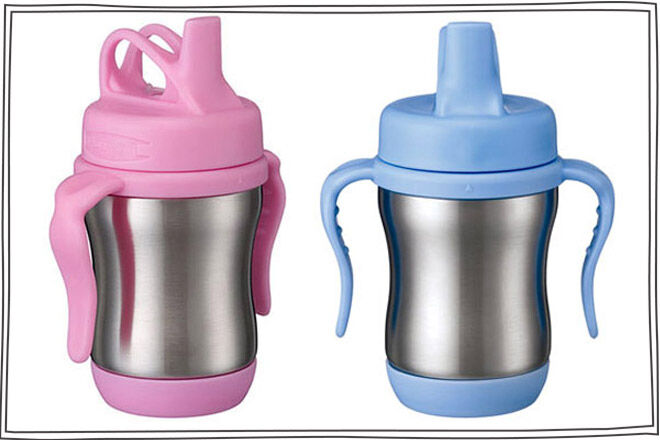 Me-Me Gripper Sippy Cup ($22.95): Features an ergonomically shaped, easy-sip, spill resistant spout with inner silicone valve to control the flow rate. Available in pink, blue and green.

---
EarthLust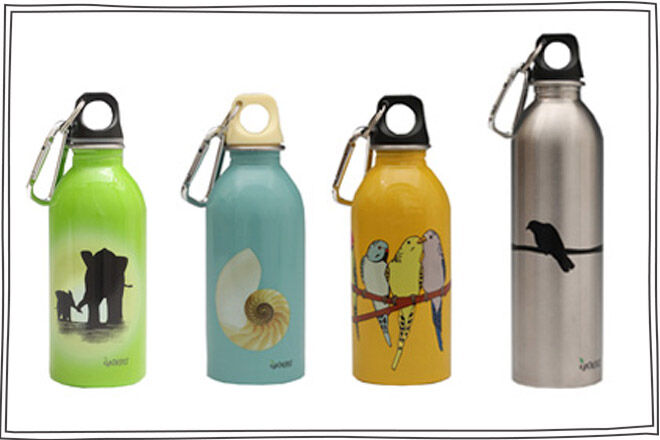 Earthlust Drink Bottle (from $19.95): Featuring images of nature in a hand-drawn style. When did hippies get this hip?

---
Pura Kiki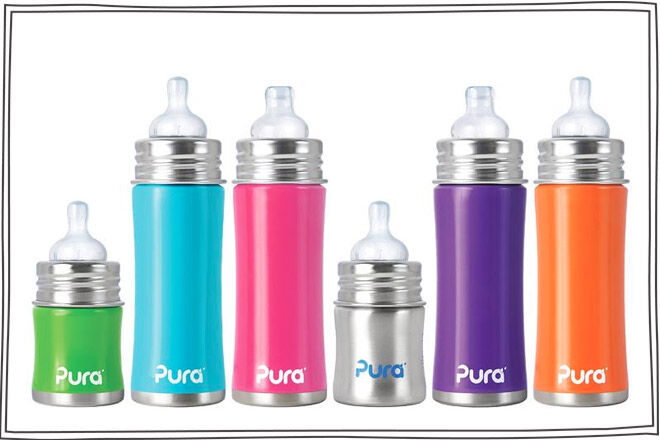 Pura KikiStainless Steel Sippy Cup (from $34.95): We love the chic, modern design of these drink bottles. The Kiki infant bottles can be transformed into sippy cups by simply removing the nipple and adding a spout. So, you can keep these gorgeous bottles as your child grows!

---
Fuel Storm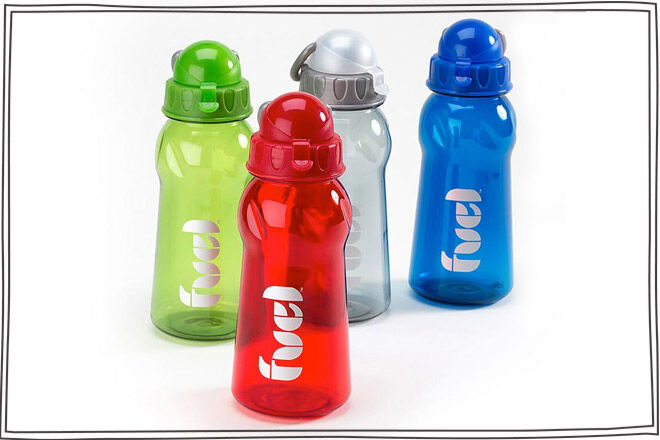 Fuel Storm Sports Bottle ($5.95): A cheap alternative to the more expensive drink bottles but still tough enough to take on the dishwasher.

---
H2Onya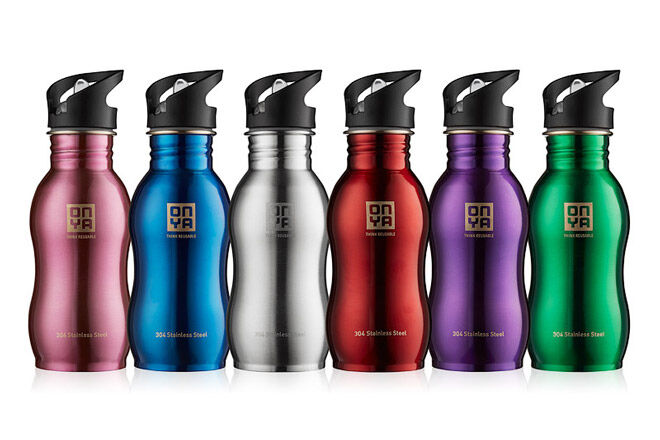 H2 Onya Stainless Steel Drink Bottle ($19.95): Cute curves that are easy for little hands to grasp and a flat base so it won't knock over easily, these are designed for your little one.

---
ECOtanka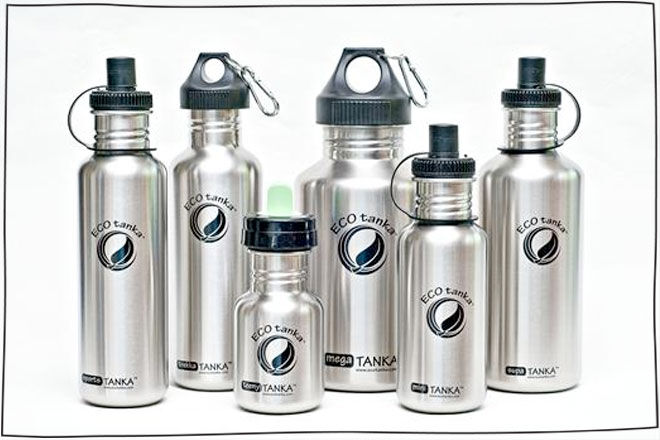 ECOtanka Bottles (from $18.99): High quality, safe and strong, these shiny vessels won votes in our reader poll (see below).

---
Identity Direct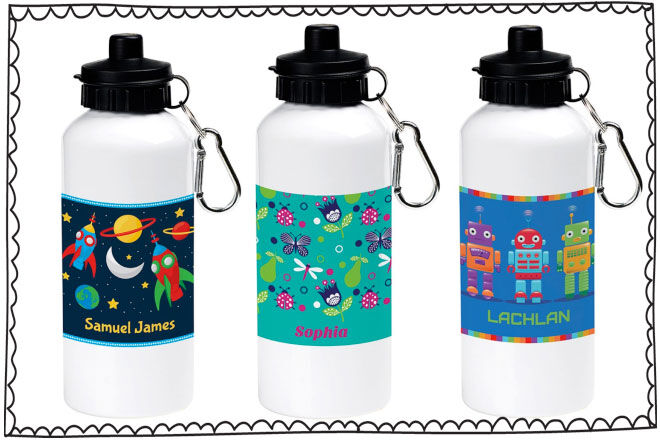 Identity Direct Personalised Drink Bottles ($24.99) offer you a white stainless steel surface as your canvas and then it's up to you to create the design! Add your child's name and then select from dozens of different templates.

---
Cheeki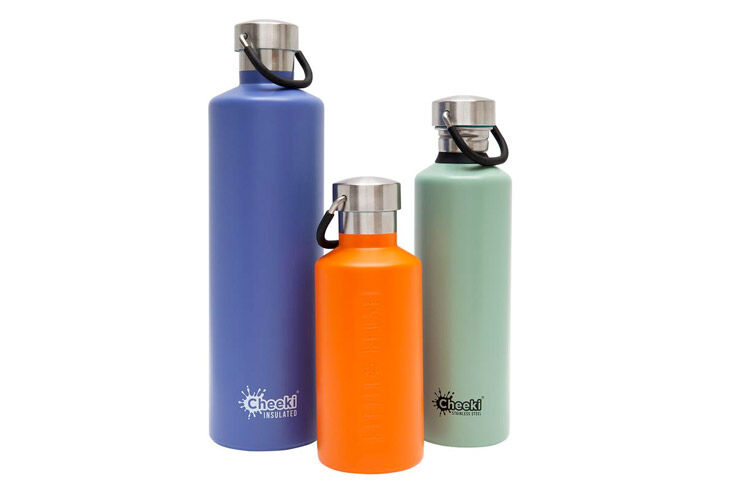 Cheeki Drink Bottle (from $24.95): Lightweight and eco-friendly, these double-wall vacuum-insulated stainless steel bottles will keep iced drinks cold for 36 hours and hot drinks at hot for 24 hours. Wowee!

---