Happy Australia Day people! Everyone loves the weekends, especially when they're made even longer. If like us, you're caught up in a lot of crazy right now and haven't yet decided how to spend your days, we've got a few tips that could steer you in the right direction. Whether you're thinking of heading to the beach or staying at home for some family fun, here's our Destination Weekend Australia Day activities special edition just for you.
Brisbane Bites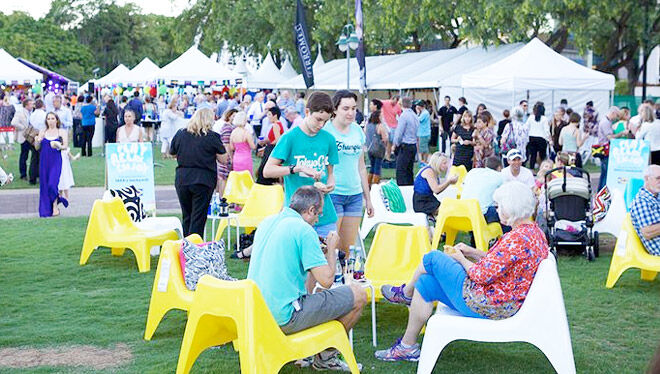 For this weekend only, Brisbane's River Quay will be transformed into a food extravaganza. Brisbane Bites is set to celebrate the best in modern Australian cuisine. And don't worry, there'll be plenty to go around. Running from Friday through to Sunday, the weekend event will feature pop-up food stalls, live music and lots of local entertainment so you can sit back and soak it up. Entry is FREE so head down with the kids and satisfy those tums! (image via Queensland Government).
Adelaide Parade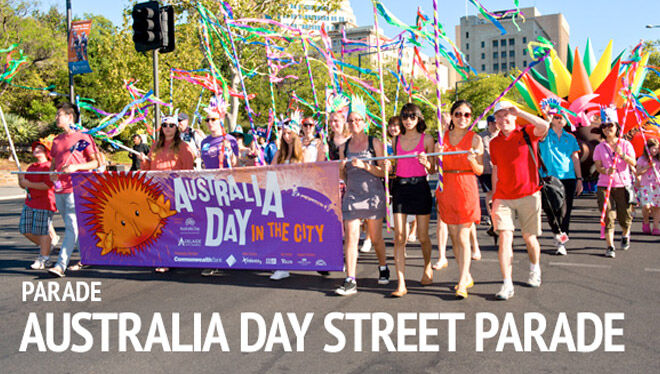 A parade, concert AND fireworks? What more could you want! Adelaide get ready because Australia Day in the City is going to rock your socks this coming Monday. Featuring live performances from Brothers 3 and Sneaky Sound System, it's time to get up on your feet and start moving! The show kicks off from 6pm and it's FREE!
City of Perth Air Show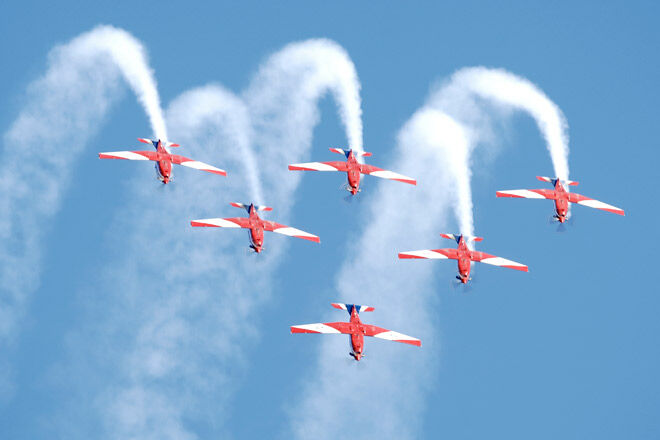 Look up to the sky! From 3.30pm this Australia Day, you lovely people of Perth are in for a treat as The City of Perth Air Show flies in for another year. Featuring hovering helicopters, vintage aircraft and planes flying in formation, the fast paced display will be hard to beat. If there's a flying fan amongst your fleet, this is a show not to be missed!
Nova Slidestreet, Sydney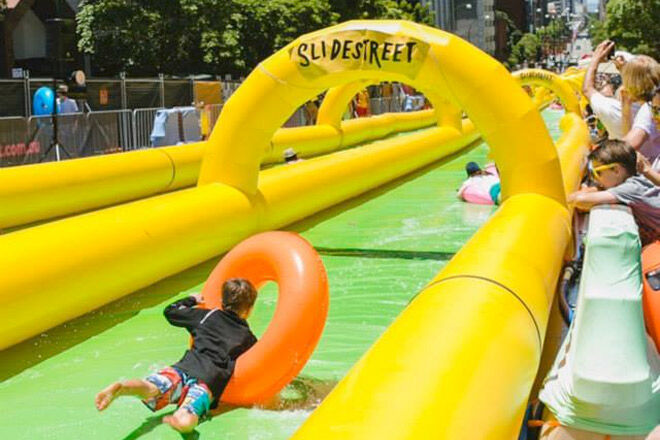 Slidestreet has been doing the rounds this year and this Australia Day it's headed straight for Sydney. People get ready, as the biggest inflatable slide you will ever see is about to line the city streets and turn you all into silly sliders! If you thought the days of sliding around on plastic sheets and lots of detergent were long gone, then think again. Open to both adults and children, Slidstreet Sydney starts at 9am Australia Day and will be handing out slippery fun all day long. Watch out if you're in Melbourne too, as the famous inflatable is heading your way on Saturday! Check the website for details.
RACV Australia Day Picnic, Melbourne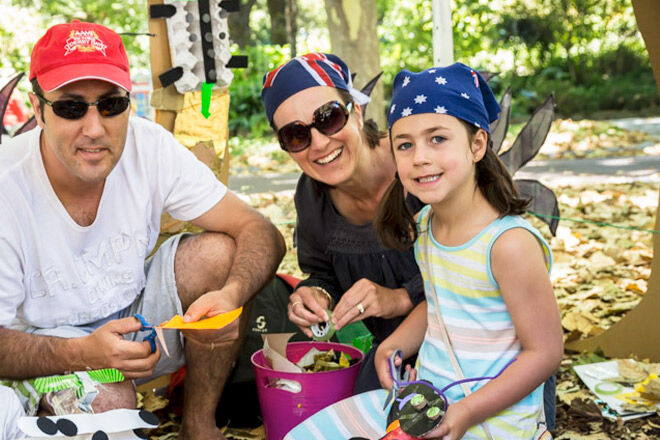 From 10am this Australia Day RACV host their annual Australia Day Picnic in Kings Domain, Melbourne. Now this is no ordinary picnic. With activities and events sprawling all over the gardens, there will be no shortage of fun and entertainment! From badge making and cooking classes to wildlife displays and boomerang workshops, just deciding between them will work up your appetite! And when it comes to food…pack your own picnic or take advantage of the masses of food trucks ready to flood through the gates.
Darwin Fun Run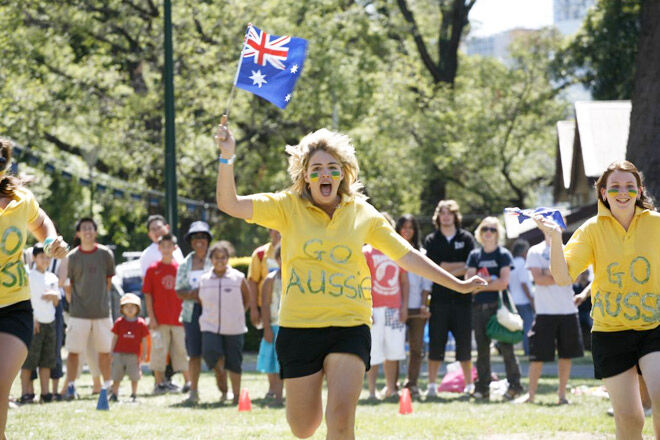 Rise and shine early this Australia Day, lace up the sneakers and race on down for the annual Australia Day Fun Run at Darwin Convention centre. The clock starts at 7am so you'll have to get in quick to make your mark on the starting line. With sausage sizzles, balloon twisting and face painting in store once the race is over, you won't be in a hurry to run back home!
Havaiana's Thong Challenge
Coming to you from popular beaches around the country, the Havaianas Australia Day Thong Challenge has become a National favourite. Every year the states battle it out in an attempt to break the world record of inflatable Havaianas in open water, and it draws in massive crowds from all over. This year the challenge celebrates its 10th anniversary and it's going to be thong-tastic!
Image via Australia Day
If you want to steer clear of the crowds over the weekend here are a few ideas for a DIY Australia Day celebration.
Go for a picnic in the park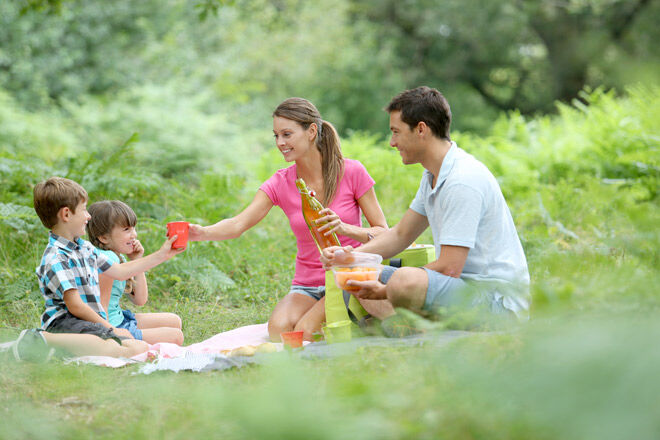 For a day of fun in the sun, pack a picnic along with some ball games and head to your local park. Wherever you go this weekend you're bound to bump into lots of other families giving the kids lots of new friends to play with! Find a good spot up high and you could have yourselves a sneaky spot for the fireworks.
Play cricket at the beach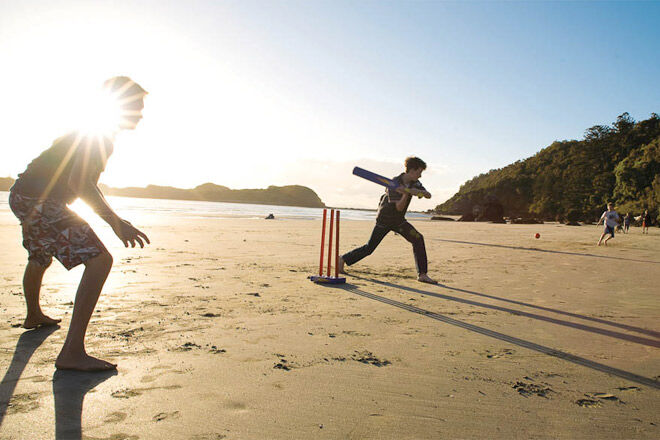 Nothing says Australia like a game of cricket on the beach. Rally a few family friends and get the kids' stuff ready the night before. There's so much fun to be had near the water and it's a great opportunity to steer clear of the crowds. Just remember the snacks, sunscreen and swimmers and you'll be off to a flying start. (image via Australian Traveller).
Listen to the hottest 100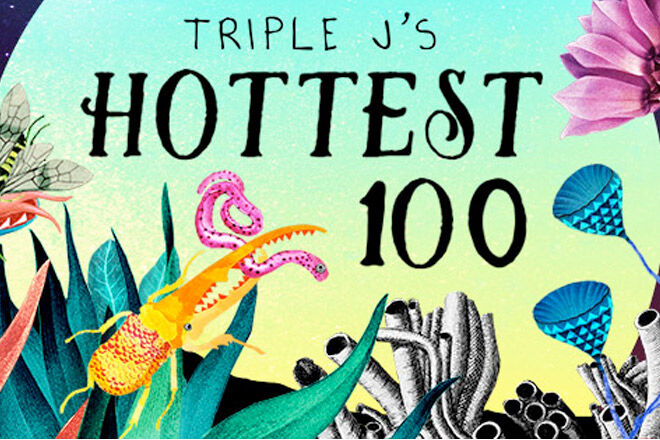 Australia Day just wouldn't be Australia Day without listening to Triple J's Hottest 100. You may not be the biggest muso out there but blast the tunes loud and you've got yourself a free party. If you don't want the pressure of hosting an entire event, try a progressive party. Spend the first 25 songs in one friends house and then move on to the next. You could theme each venue differently too.
Sizzle with a BBQ

Stock up on shrimp and put it on the barbie! If work, kids and life in general is a bit hectic right now then make the most of the extra day and take things slow. Enjoy some time outside in the sunshine by having the ultimate Australian family BBQ. Take a 'no-fuss' approach by asking guests to bring a dish along and you'll be laughing.
FOR MORE IDEAS  visit www.australiaday.org.au