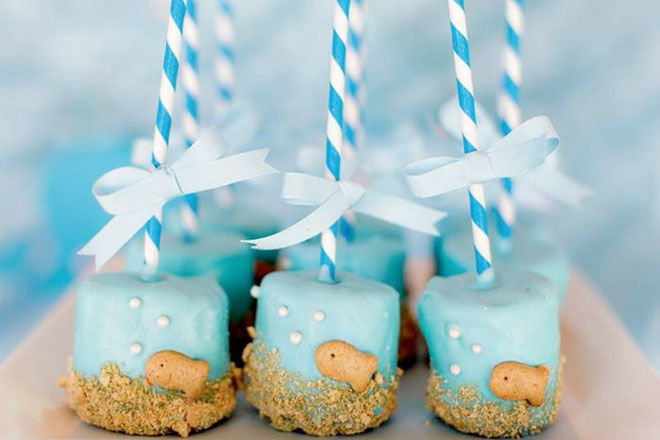 Marshmallows; fluffy white clouds of sugary indulgence. No summer campfire is quite right unless there's a stick of these beauties toasting away; and when winter rolls in, your hot chocolate just isn't complete without them. Here at MGV we're a sucker for the sweet stuff, so we searched high and low to see what else we can do with these squishy little treats.
Here are 21 awesome makes with marshmallows for you to try at home.
Pretty pinwheel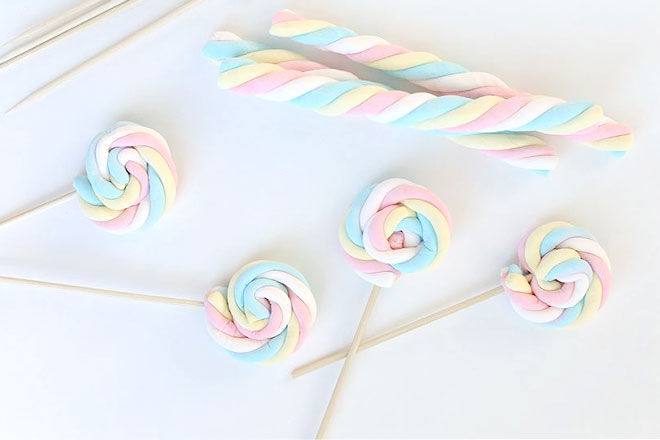 Say Yes does a great job of turning these twisted marshmallows into a fun treat for all!
Bunny loving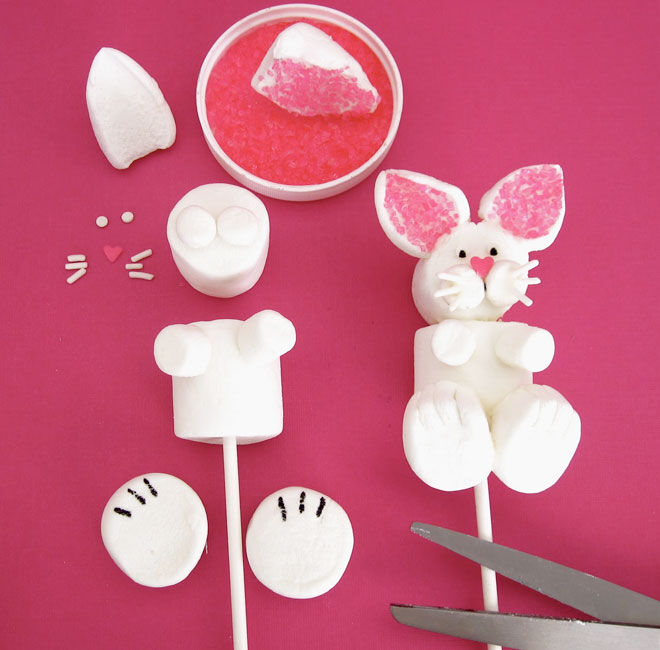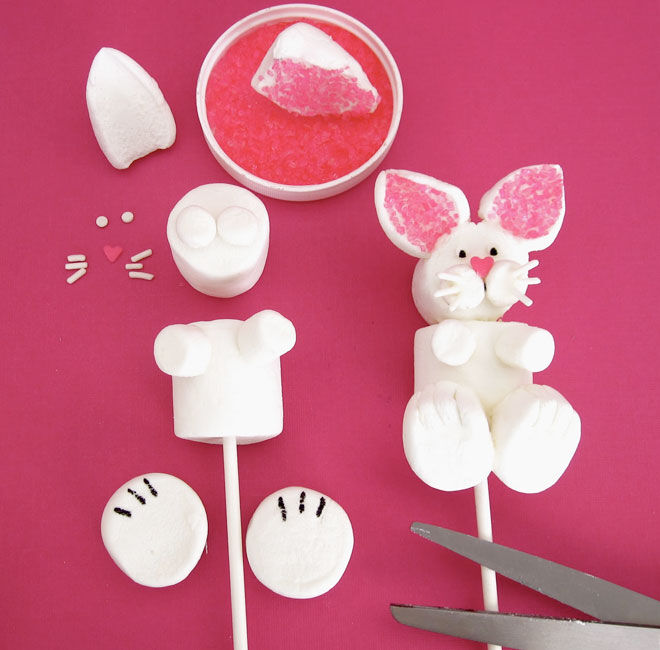 Hop to it! Doll House Bake Shoppe shows us how to create a whimsical Easter bunny with the help of wooden sticks and pretty sweet dips.
Taste the rainbow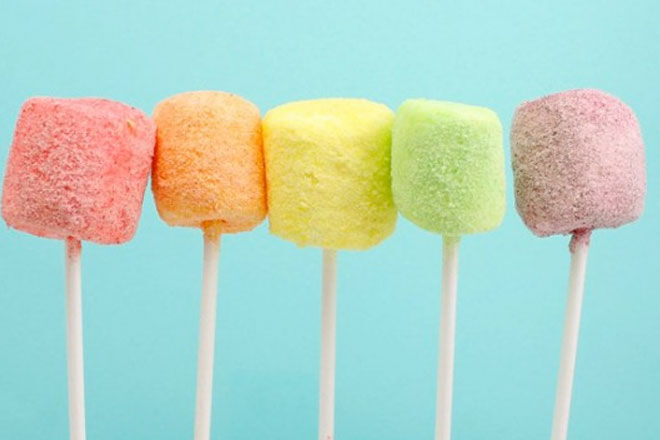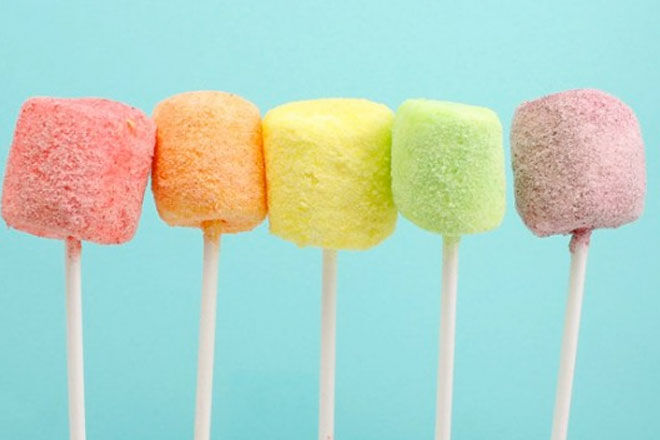 Fancy adding a flavour sensation to your marshmallows? The Decorated Cookie blitzed up a few of her favourite Skittles and then used them for dunking. Delicious!
Creepy crawlies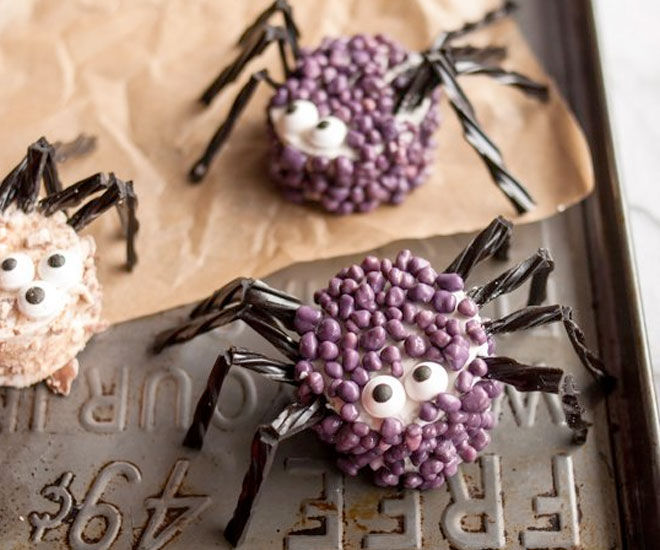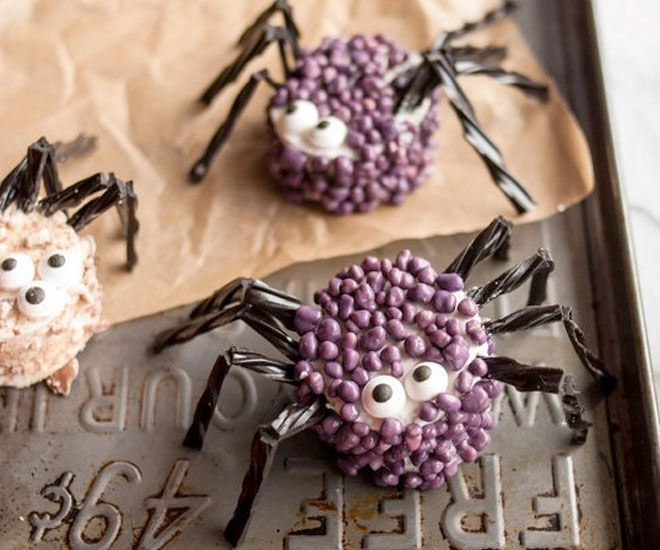 Perfect for Halloween, The Kitchn created these creepy crawlies from marshmallows and a few simple extras.
Valentines cookies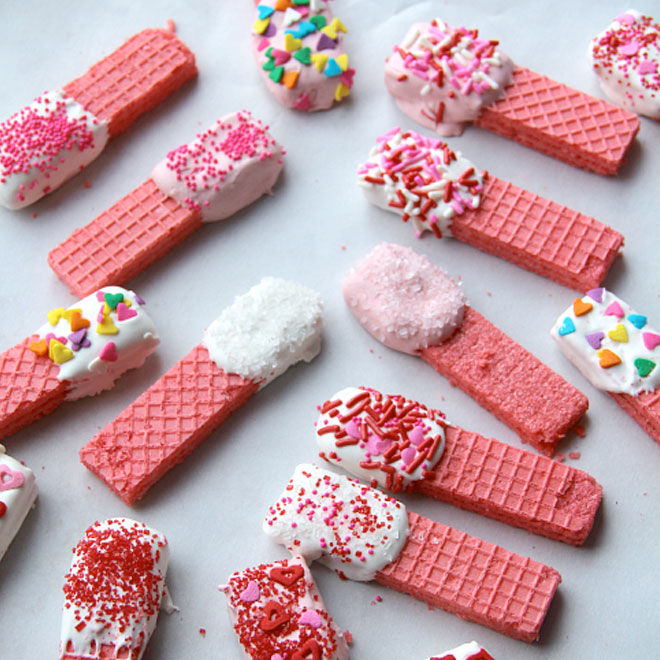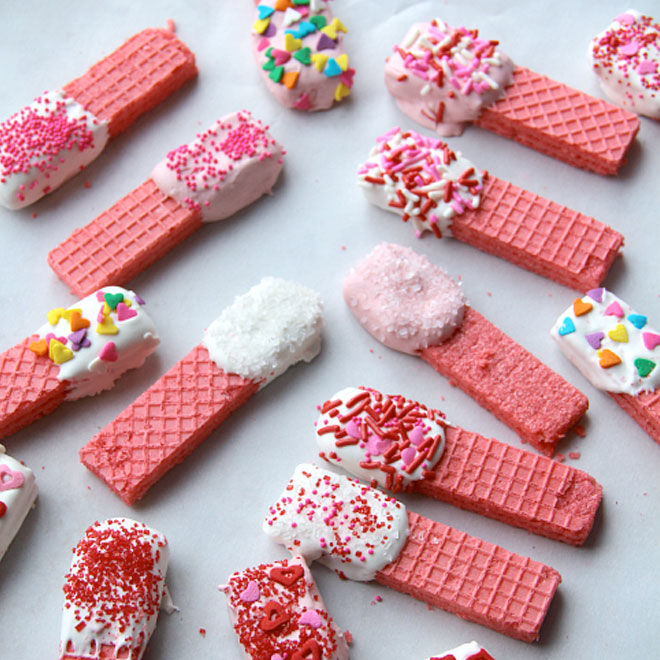 Marshmallows, just not how you know them. Family Fresh Meals have taken marshmallows to the next level with these Valentine's Day cookies. A tub of marshmallow 'fluff' is a sweet fondue for you to dip pink wafer cookies into!
Lego heads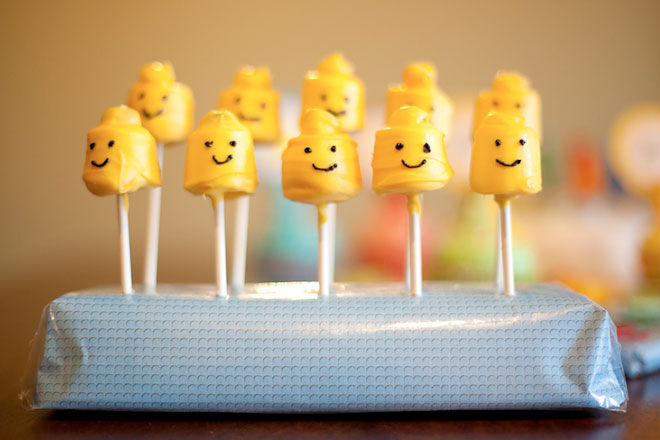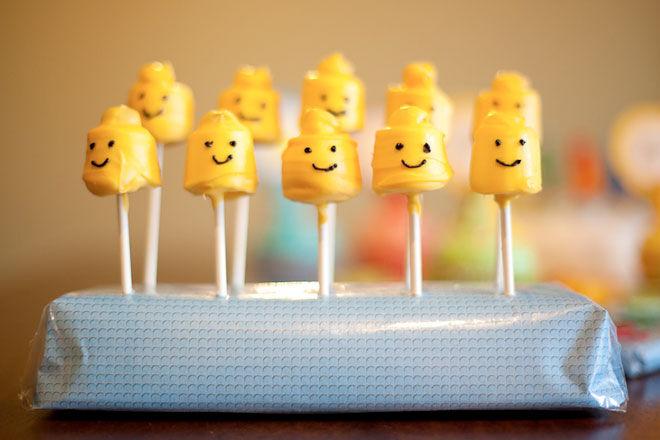 Is there a Lego lover in your family? These Lego head marshmallows are a great idea for birthday celebrations – just make sure you have a steady hand for drawing all those smiley faces! Image via Pinterest.
Mini mug pops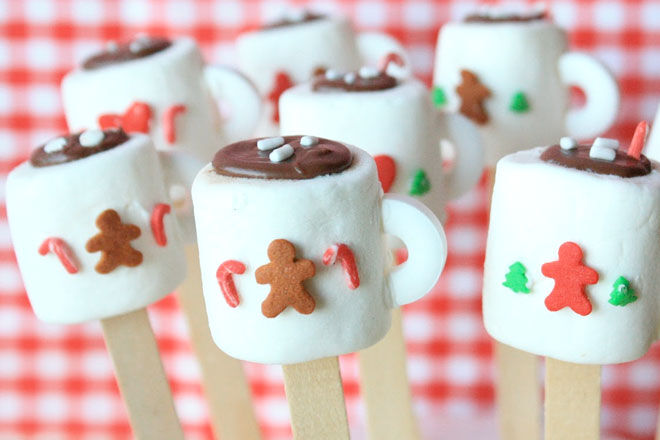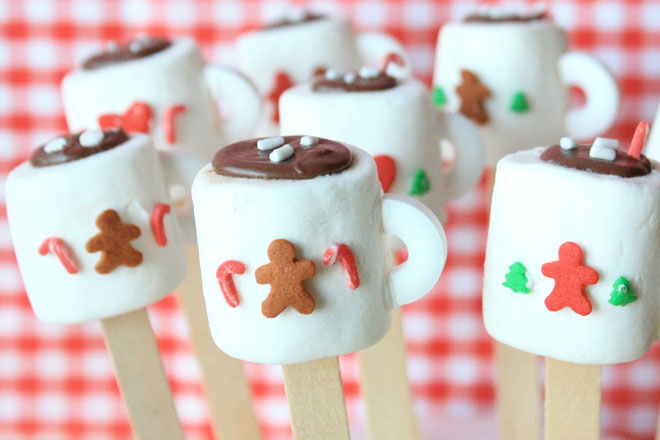 Munchkin Munchies made these adorable 'mini mug pops' for when your mini-me has their own mini hot chocolate. Too cute? Never!
Cute colour dip
We love this idea from the Idle Wife. These dainty dipped marshmallows make the perfect treat for a girlie get together. Think baby showers, afternoon tea and pink pamper parties!
Gooey goodness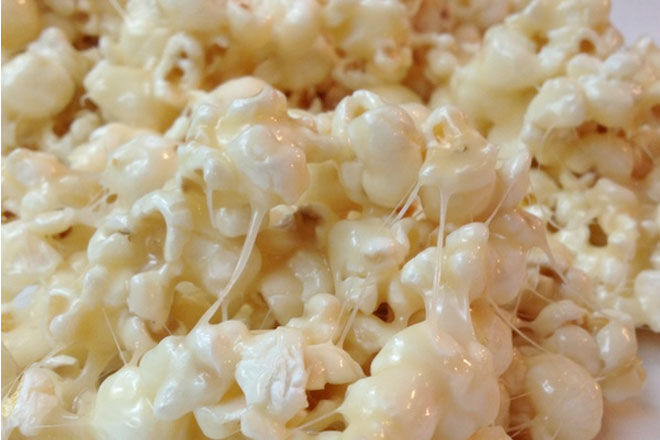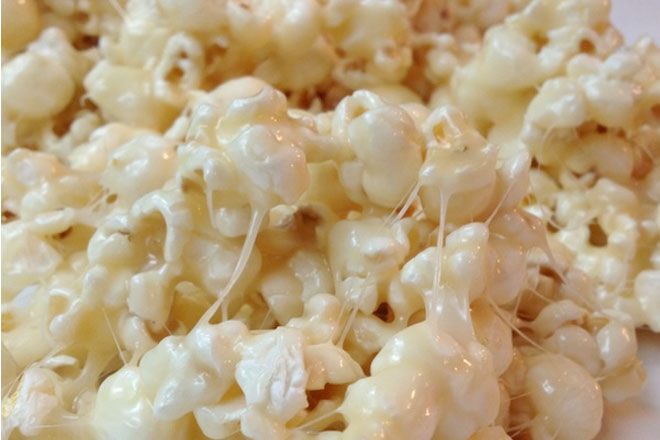 Oh my days! Shabby Chicks have pimped popcorn to the max and we can't stop drooling! This is what happens when butter, sugar, marshmallows and popcorn combine – not the healthiest of snacks but we won't tell anyone if you don't.
Neon nerds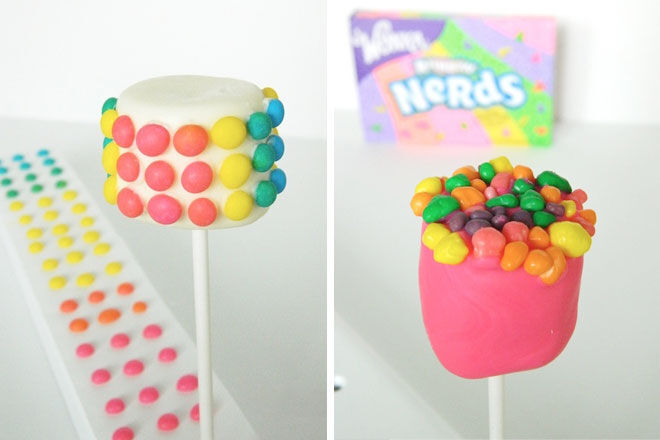 Add a pop of colour to your squishy white treats with these awesome ideas from Pop Cosmo. Go crazy with 100's & 1000's, Nerds, popping candy and more. It's a sure-fire way to make your marshmallows stand out on the sweets table.
Under the sea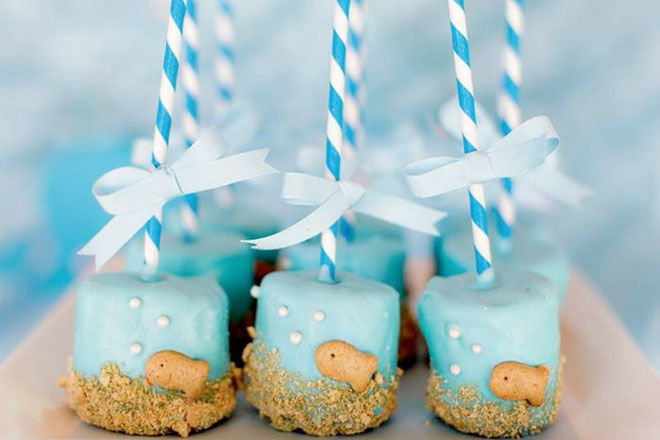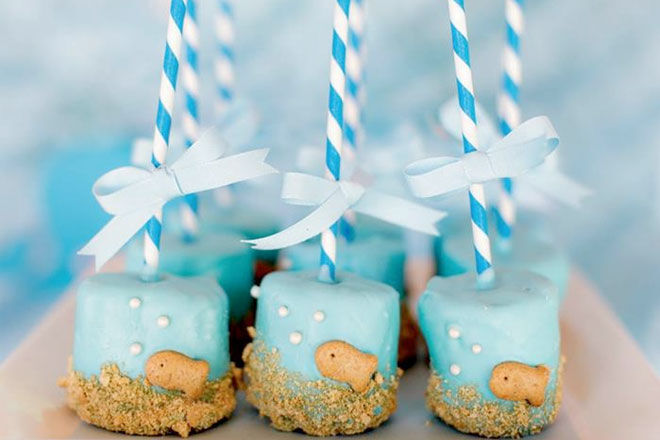 Thinking of hosting an under-the-sea birthday party this year? Don't go past this DIY from Karas Party Ideas. Simply dunk, dip and decorate!
Dem bones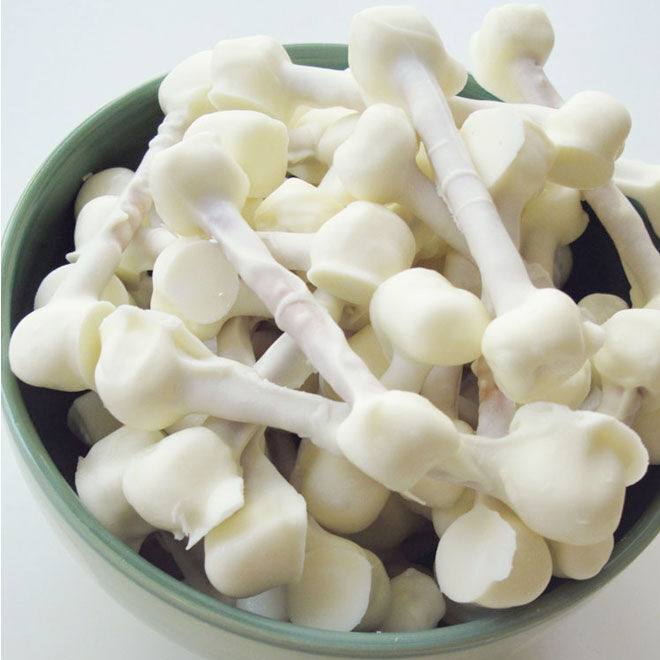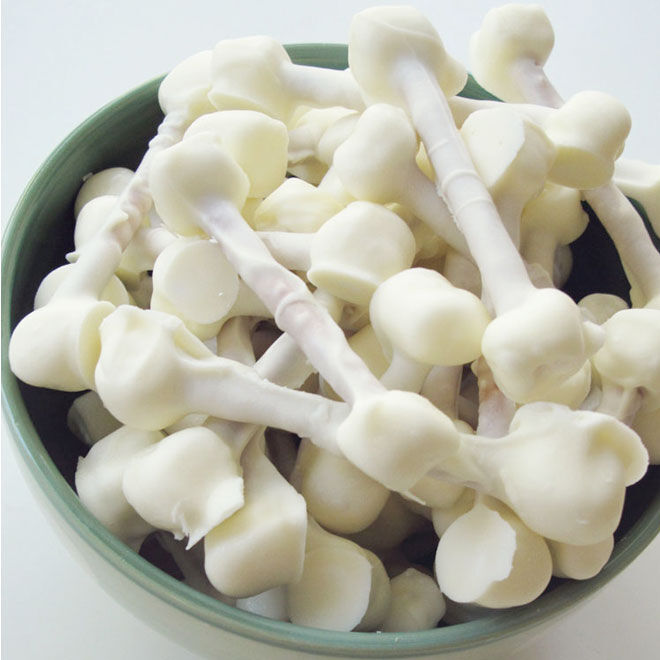 Simply Being Mommy shows us how to use marshmallows, twiglets and layers of white chocolate to create this bowl full of bones. A definite must for next Halloween… we love it! (Image via Inspire Co)
Easter bunnies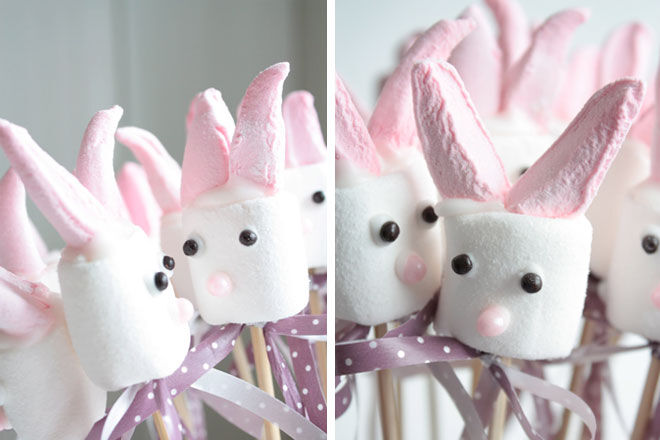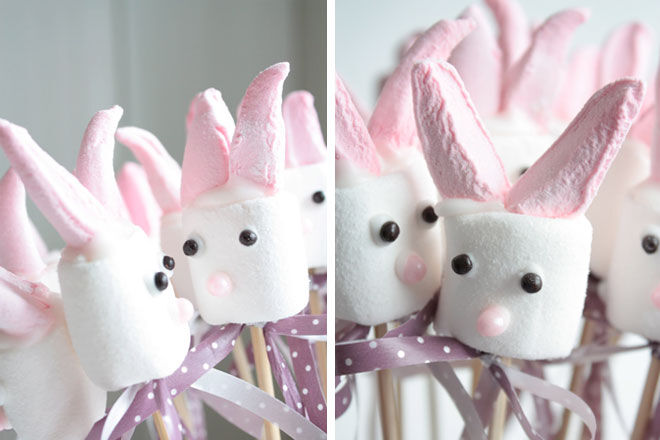 There's a little bit of crafting involved in creating these Easter bunnies, but make an afternoon of it with your little ones and the time will fly.
Delicate decorations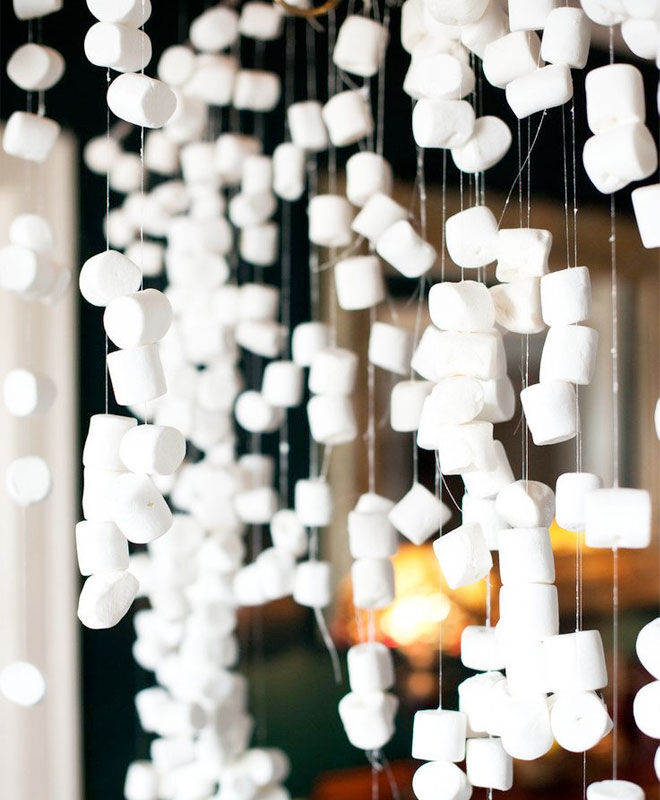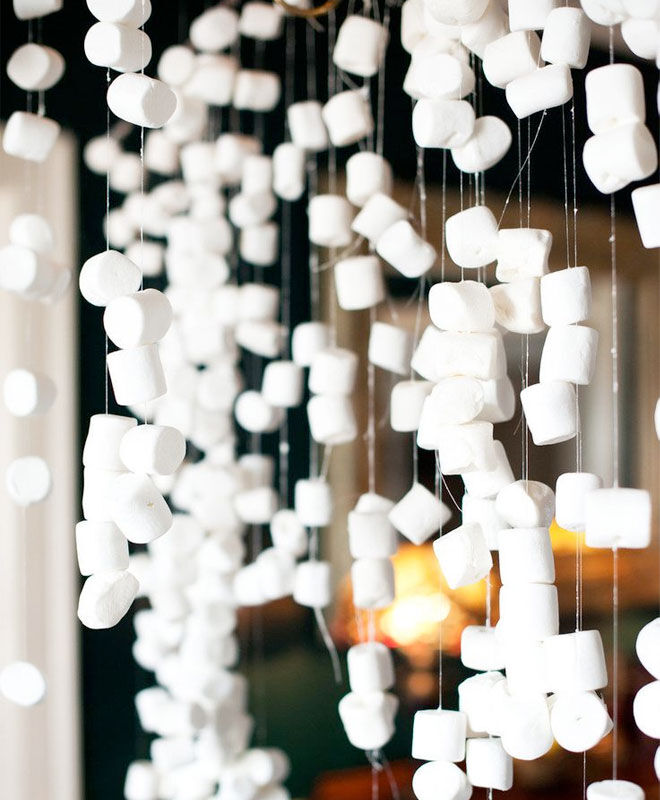 Ever thought of using marshmallows to style your next event? Neither had we until we saw this awesome idea from Style Me Pretty. To create your own at home, thread plain white marshmallows onto fishing wire and simply hang from above.
Christmas candy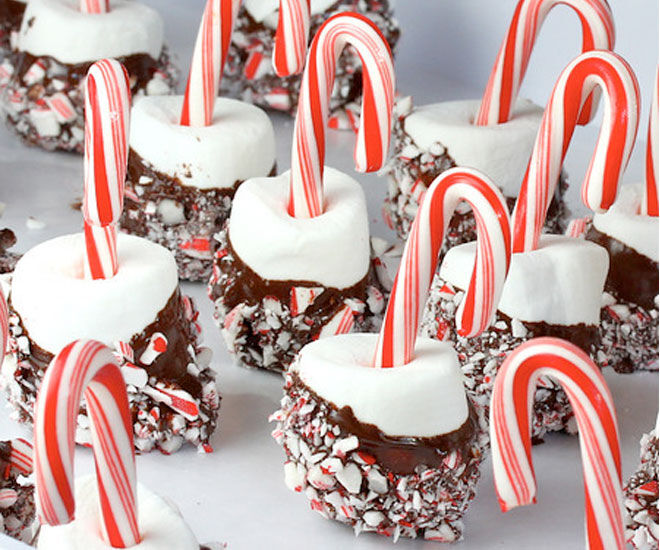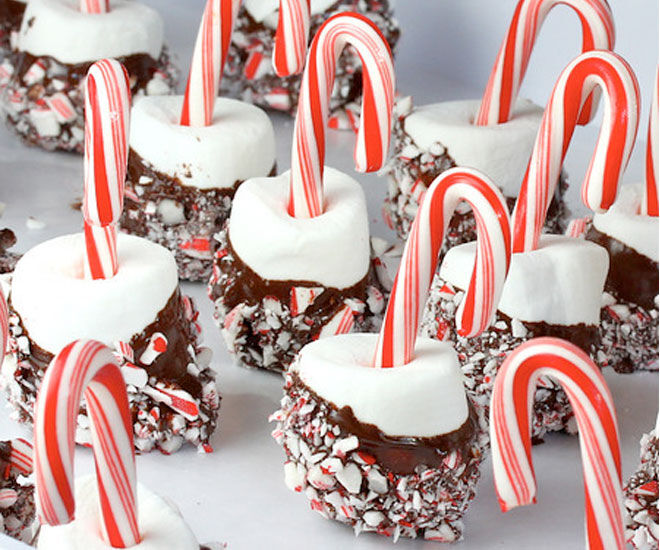 Live Life have given marshmallows a festive makeover! You only need candy canes and chocolate for this one – and lets face it, neither are in short supply at Christmas time.
Underwater world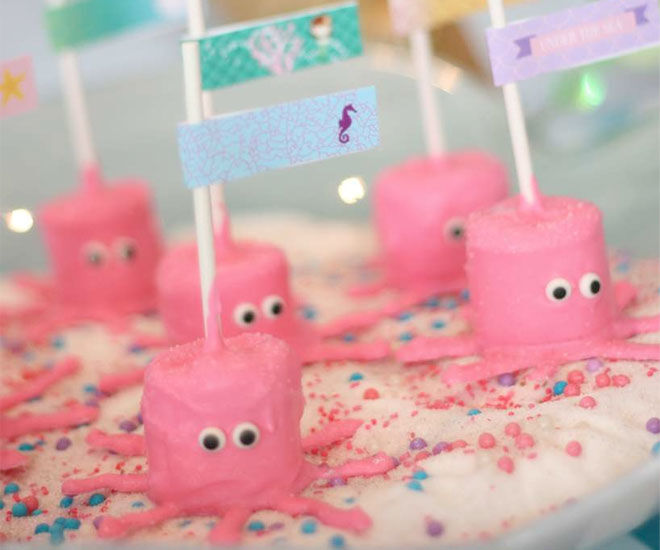 Edible underwater creatures? Yup, that's right! Catch My Party created these awesome mini octopuses by dipping marshmallows in pink chocolate and sitting them on a bed of edible 'sand'.
Fun pops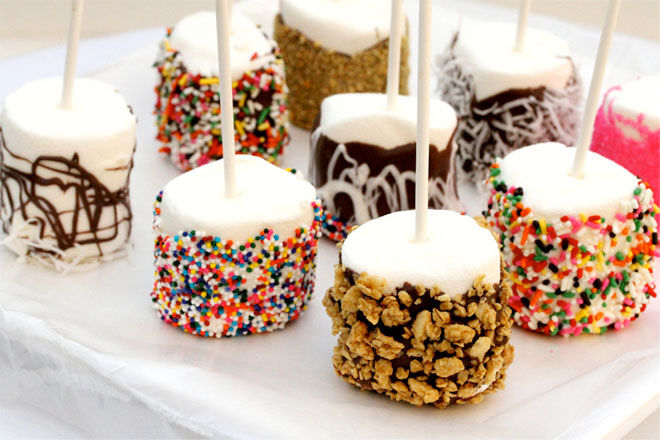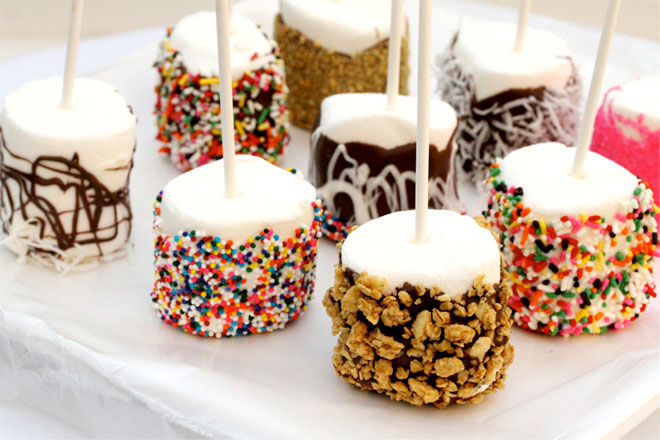 Create a pick'n'mix of toppings at your next bash and let the kids dunk marshmallows into all their favourites. Pizzazzerie used white and milk chocolate for the first delicious dip then went crazy with colourful coatings.
Toasted marshmallow ice cream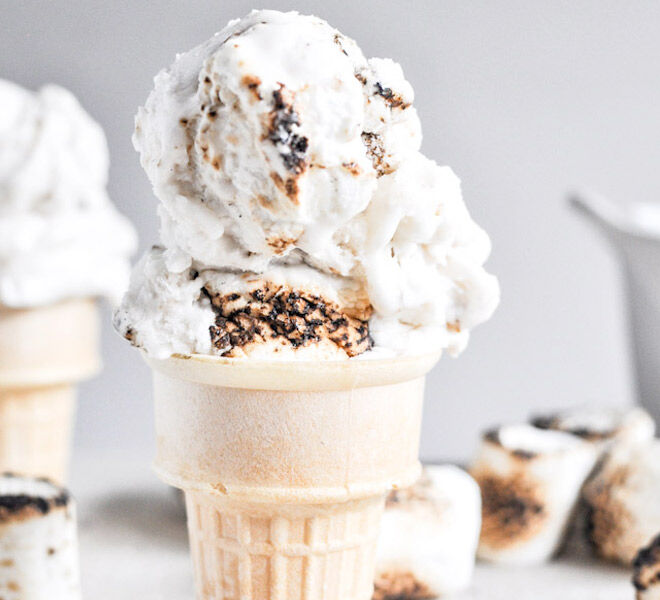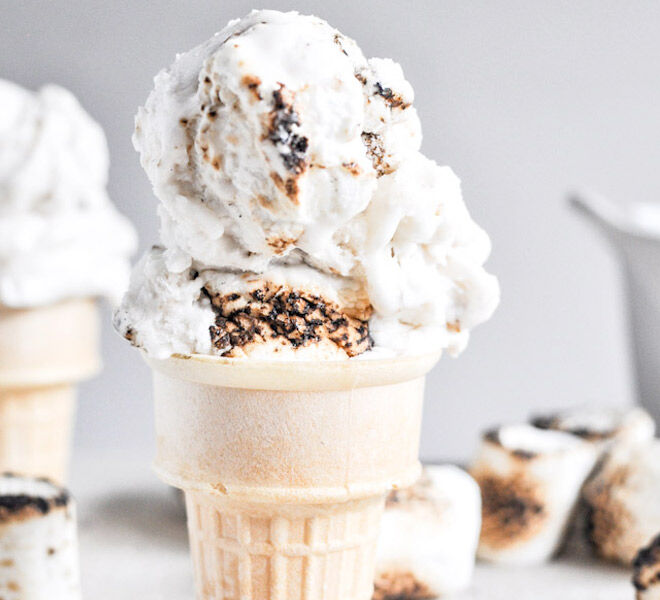 Our mouths are already watering at the sight of this toasted marshmallow coconut ice cream! Make your own batch at home and see how long you can resist licking the spoon. Get the recipe at How Sweet Eats.
Birthday blowout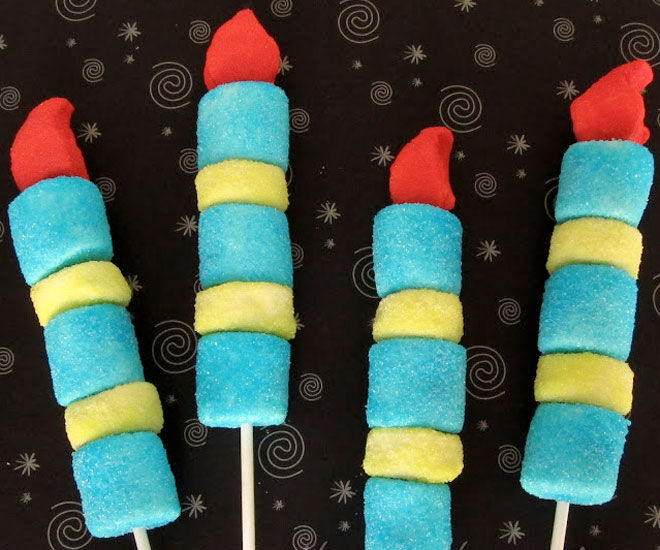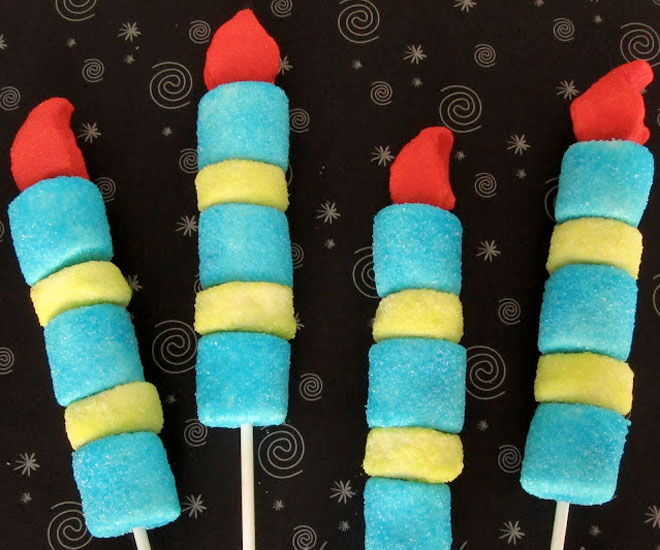 We love this idea from Hungry Happenings. You may have to get a little crafty cutting up marshmallows, but we think it's worth it for a birthday blowout like no other.
Ballerina beauties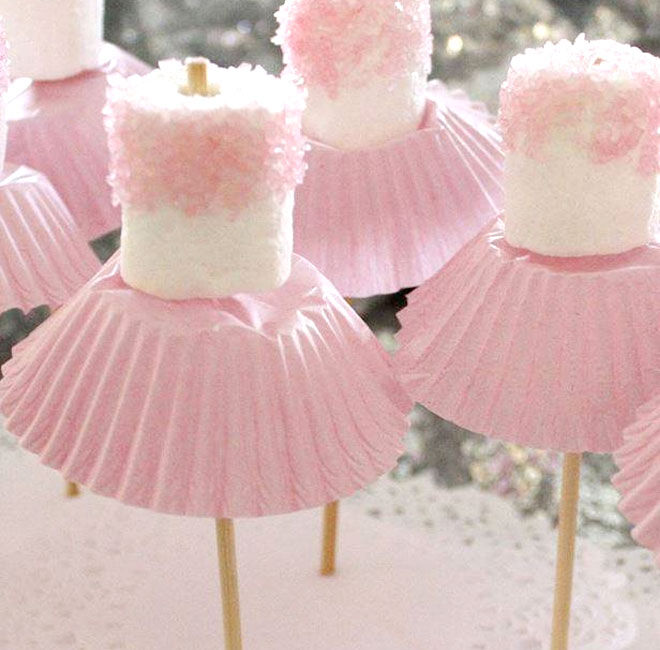 If marshmallow bunnies and pretty pinwheels weren't cute enough, these ballerina beauties may just top the lot! You'll need a few wooden sticks, pink cupcake cases and a sprinkling of pink sugar to put these pretty little treats together. Image via Fun Craft Kids
Tempting toadstools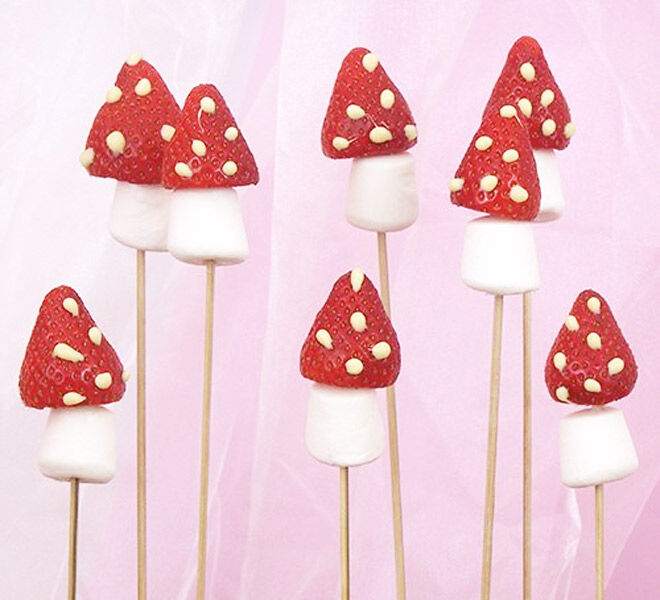 It's amazing what you can make with marshmallows, strawberries and a drop of white chocolate. These toadstool treats found on Party Ideas UK would be wonderful for a woodland party!