It's almost the end of summer. Boo! You're pregnant. Hooray!! Now is the perfect time to take advantage of the summer sales and grab yourself some key pieces for the months ahead. We all know  how uncomfortable pregnancy can be, especially if the clothes you're wearing just don't fit the bill. With baby getting bigger by the day, and the change in heat playing havoc with your hormones, it's important to find stretchy fabrics and flattering, cool cuts that you can layer when the seasons change.
Whether your bump is subtle or of the more advanced variety, our list of 10 sale pieces should see you through whatever, the weather.
1. Ripe Maternity lace sleeve tee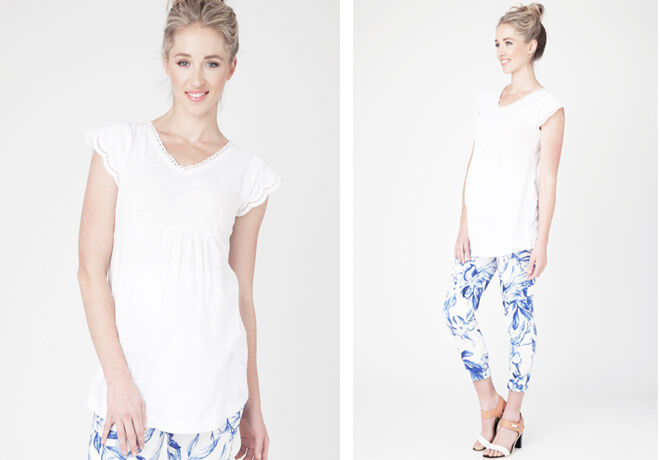 While it's tempting to fill your closet with bright beautiful prints, an embellished White Cotton Tee, like this one from Ripe Maternity, will anchor your wardrobe and be a great go-to piece when the baby has boggled the outfit selecting bit of your brain. Picture it, if you will, with the next item on our list. Was $64.95, now $39.95.
2. Kate Kosek x Gorman diamond pant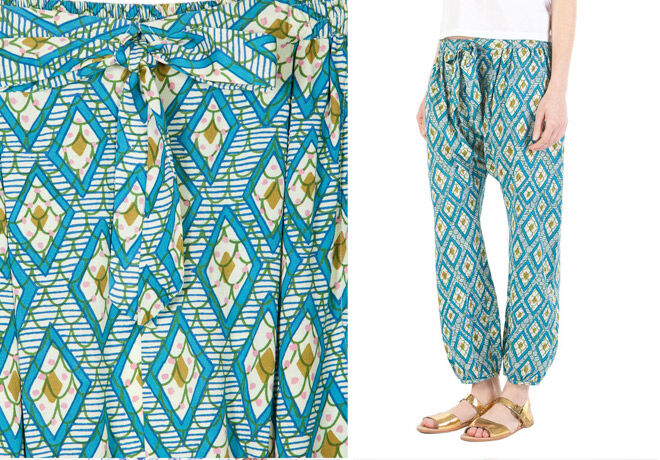 Ah the controversial harem pants. Are they flattering or reminiscent of nappies? We firmly believe that in the right cut, they're adorable, and Gorman have nailed it with their Diamond Pant, part of a collaboration collection with Brooklyn artist, Kate Kosek. Ankle skimming, just the right amount of slouch and a print that's to die for. Swoon. Was $189, now $94.50!
3. Gorman bungalow dress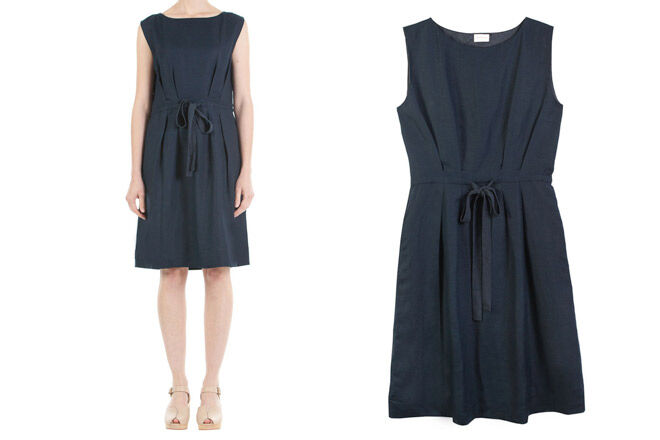 While not technically maternity wear, we heart Gorman for their flowy dresses and tops, like the Envelope Dress, that let a pregnant girl wear her familiar old size all the way through her pregnancy. It's good for the ego, really. Was $229, now $169.
4. ASOS Japanese floral print kimono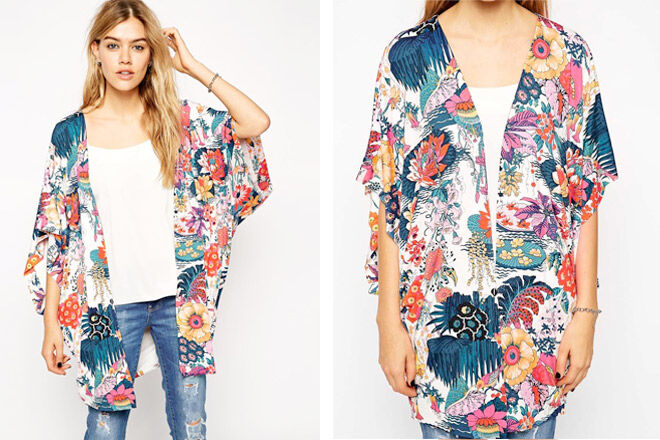 You simply must have a kimono. It'll protect your skin from the sun, it'll elevate an otherwise everyday outfit, and incidentally all the cool kids are wearing them. We adore this pretty Floral Kimono from ASOS. Was $74, now just $44.
5. Ripe broderie beach dress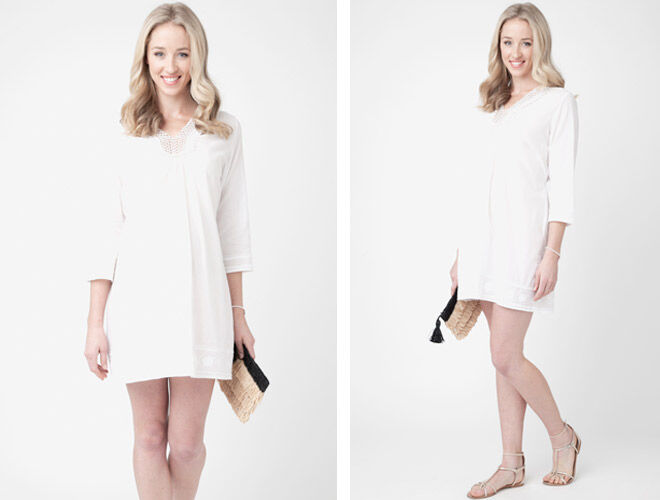 Imagine trailing your toes in the resort pool while savouring a platter of chocolate covered strawberries and reading a trashy magazine. Where's your partner? Who cares! A handsome pool boy is fanning you with a palm frond, and the white Broderie Beach Dress from Ripe Maternity is really setting off your tan. Fun fact: did you know that pregnancy can make you have crazy dreams? Was $99.95, now only $59.95.
6. Oksa printed maxi dress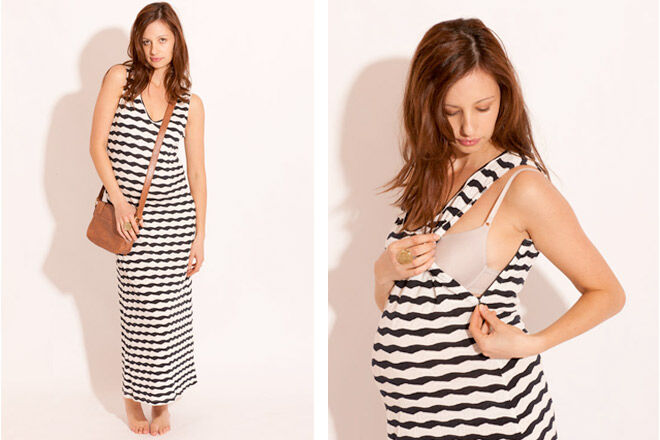 Don't be fooled by the model's expression. This Ripple Dress from Oksa is beautiful and incredibly versatile. It's casual enough for those days out and about but could easily be jazzed up with classic accessories. The side zip for breast feeding is a massive thumbs up too. Perk up model! You're looking pretty darn snappy. Was $119.95, now just $55!
7. Angel Falls Tunic dress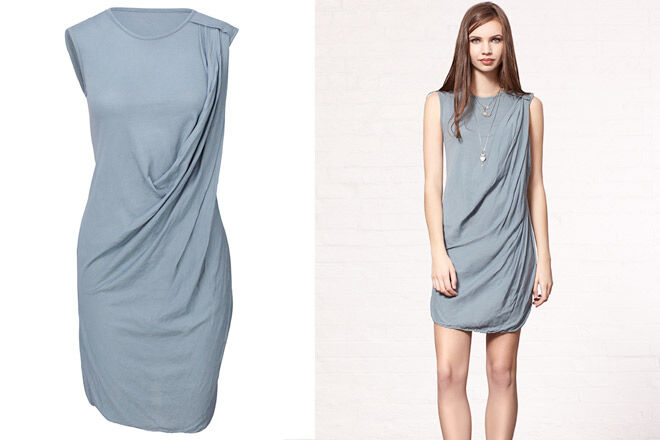 It's hard to imagine that something as comfortable as tracky dacks could be so stylish, but the Mesop Tunic Dress is just that. We wonder if this can be worn by non-pregnant ladies? Was $139, now just $89.00
8. Eve of Eden chambray maternity dress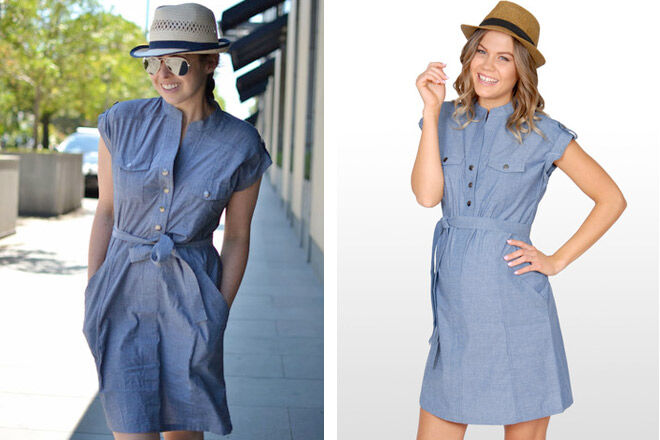 An easy Chambray Dress like this one by Eve of Eden is perfect for those frustrating days when it seems like you have absolutely nothing to wear. Was $101, now only $73
9. Soon sienna maxi tank maternity dress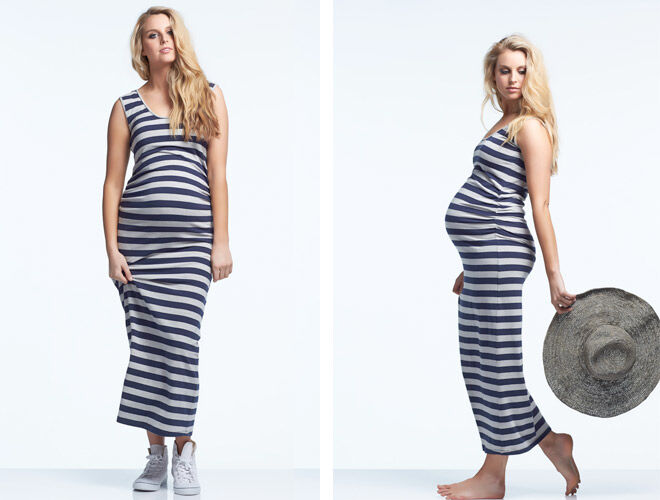 All the mums worth their salt know that horizontal stripes and Cons make up the must have outfit for the playground. Get in with the crowd in the Sienna Maxi Tank Maternity Dress from Soon Maternity. Was $119.95, now $99.95
10. Maternal America Pyramid Dress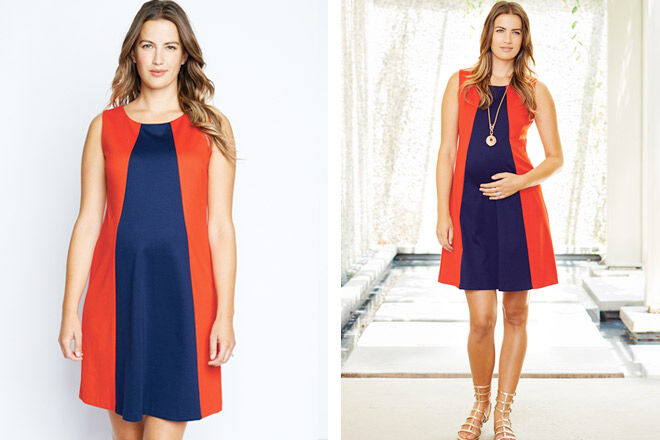 Who said pregnancy can't be elegant? Float with grace in this exquisite Pyramid Dress from Maternal America. Was $129.95, now $89.95.
We make every effort to make sure that stock and prices are correct at time of publishing. Due to the nature of this type of article pricing and availability will change over time.