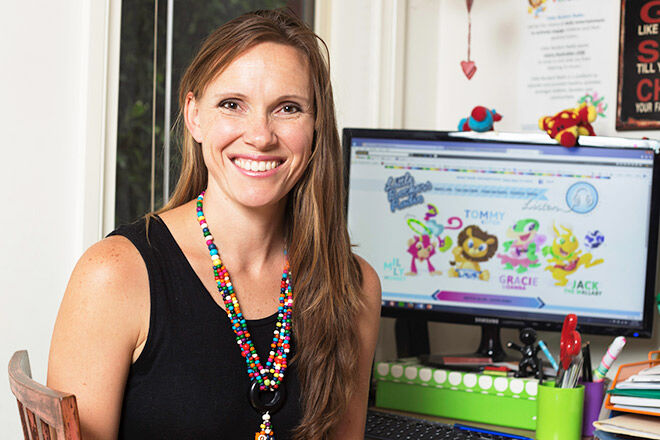 When we first heard about Little Rockers Radio we knew we just had to meet Sarah Morrissey, the visionary behind Australia's 24/7 online radio station streaming music, stories and yoga dedicated to kids from birth to 6 years old.
A mother of two (Jackson, 8 and Grace, 5), Sarah's radio station is more than just children's music. Little Rockers Radio aims to entertain and educate kids as well as support families and communities. There's also a lot of interaction that encourages physical activity away from a screen. Sarah's received a lot of positive feedback from grateful parents who tune in to do 'fun-key' yoga with the kids or lull their babies to sleep each night.
We caught up with Sarah to find out how Little Rockers Radio began.

Q. Where did the idea for Little Rockers Radio come from?
My children were younger and I was in the car looking for music to entertain them. I had listened to the same CD for about the 30th time and was 'over it!' I flicked through the radio and couldn't believe there wasn't a station dedicated to children. I went home that night and told my husband about my 'idea' and then did nothing for 2-years, before I finally decided to give it a go.
Q. How long did it take you to get it off the ground from idea to launch?
Once I finally decided to give it a go, it took a year of researching and learning (as I did not have an IT or radio background). I really had to figure out how on earth you streamed music on the Internet, as my knowledge didn't extend past putting a CD in a CD player. I also had to learn about music licensing requirements and everything else involved with getting a business up and running.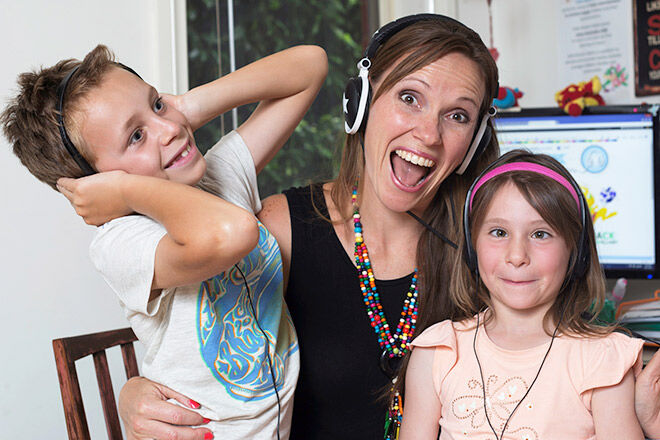 Q. What does a typical day look like for you?
It really varies. I always start with the school drop off & a take-away coffee (I'm not a 5am morning person). If I have any meetings I generally try to arrange them for the morning. In the afternoon it's a range of things like music listening and scheduling, yoga scheduling, managing social media, web updates, arranging competitions, doing the books, planning for what's next, music reporting for licensing, arranging expos/outdoor events, etc. I pick up the kids at 3.30 and spend quality time with them through to their bedtime at 8.30-ish. After that I'm back to work until 11pm most nights. I finish off by reading in bed (more learning with business magazines/books) until about midnight.
Q. What's been the biggest challenge in starting a radio station so far?
There's a new challenge all the time. Initially the challenge was 'Can I do it?,' then 'Will people listen?' (which they are, at 30,000+ listener sessions every month) and now it's more around how I make it financially viable, as I can't run it off my own funds forever. The other challenge is finding the time to fit it all in… But I think many mums find this a challenge!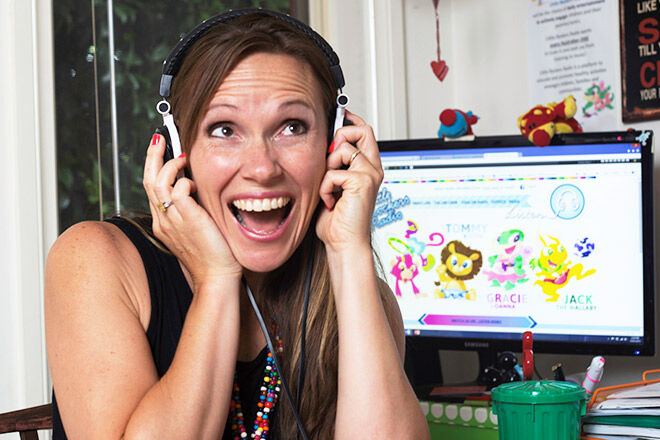 Q. How do you select the playlist?
I listen to every song I play and my kids listen to a lot of them too. I always had this idea on how I wanted Little Rockers Radio to sound; fun, fresh, educational and entertaining, so I choose songs based on this sort of criteria. I have been surprised by how many amazing artists have contacted me since launching and their music is just gorgeous. It's nice to be able to play a range of well-known music from the Wiggles, Hi-5 and Sam Moran alongside other artists that are not yet as high profile like Zoo Boyz (who's music I love), Amanda Lynette McKenna and more!
Q. What are your favourite top five songs?
Oohhh, it's hard to narrow it down! I probably have 10 favourites, but top 5 would be Shake it like a Jellyfish (Zoo Boyz), Twinkle little star (Jewel), Thankyou (Amanda Lynette McKenna), ABCs of Eating (Sam Moran) and Hakuna Matata!
Q. Do you get feedback from listeners? Is there a story that stands out?
Yes! I get so much feedback from listeners about how the daily music keeps them entertained, how they love the yoga or how the night-time lullabies help them to settle their little ones. Many changes to the station have been made based on listener feedback. I introduced the lullabies right through the night based on mums and dads asking for it, as well as Yoga daily at 2pm as I had loads of requests for yoga.
The feedback that stands out the most is the first comment I received after I arranged to play the lullabies right through the night. A Mum contacted me to say 'OMG, thank you' as her 1-year old had slept through for the first time (along with her 4-year old) and she had her first good night's sleep finally! She was over the moon!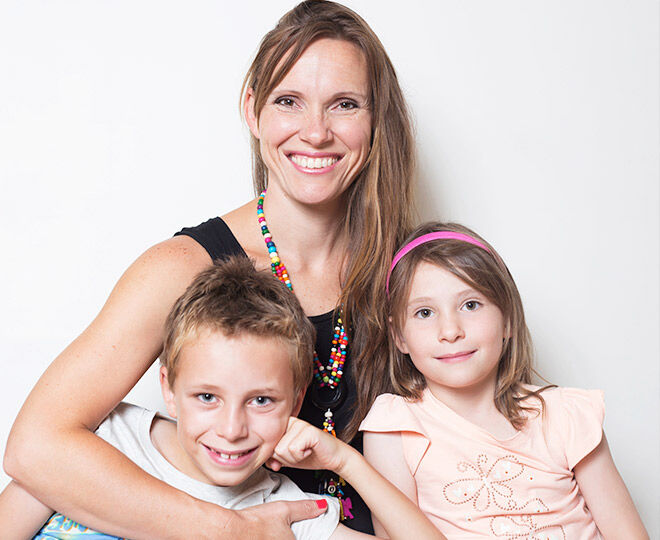 Q. Where to next? How do you see the future for Little Rockers Radio?
I have so much that I want to do. In March this year I am launching 'How does your family grow?' which is an on-air/online program that's focused on educating children on where real food comes from, the environment and physical activity – all in language that's perfect for little ears. There will be lots of yummy recipes for mums and dads involved too. In April I am launching 'Story Time' where stories from children's authors will be read on air daily as part of the show. I am really passionate about raising awareness and funds for SIDS and Kids (my nephew passed away from SIDS at 16-months) and this year I hope to launch the Little Rockers Radio 12-hour disco event, which will raise money for SIDS and Kids. Finally, I want Little Rockers Radio to be more easily accessible to more people so am looking at ways I can do this while I grow the business.
Eventually I want every Australian child to switch us on and seek joy from listening to music, and every Mum/Dad/Carer to see us as a supportive tool to help them with raising happy, healthy children.
Q. What is your number one parenting hack?
I don't know that I have a 'hack' as such but I am very focused on teaching Jack and Grace how food fuels us and good nutrition is very important for us to grow. I constantly tell them when they achieve a sporting feat (jumping high, running fast) that it must be the broccoli, or the meat, or the eggs that helped them to do this!
When they were younger I used to tell them that the red light in our alarm was Santa's elves watching them to report back to Santa, so they had to behave!
You can stream Little Rockers Radio any time of the day or night from their website or download the LilRockers App on itunes or Google Play for free.