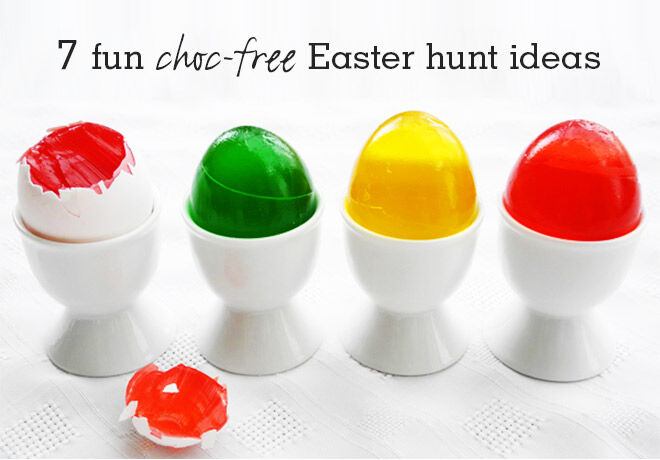 Easter is almost here and we're getting pretty darn egg-cited! With the weather on your side an Easter egg hunt is the perfect way to get the kids hopping around outdoors. Your little bunnies may already have their chocolate treats in mind, but we reckon a hunt can be just as fun without even a whisker of the sweet stuff (Image above via Oh Happy Day).
Here are 7 choc-free Easter hunt ideas that will get the kids scrambling for eggs in no time!
 1. DIY Kinder Surprise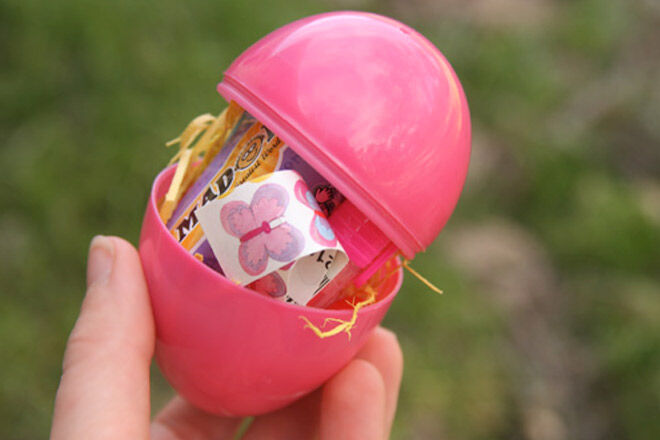 Snap up a set of plastic eggs and fill them with goodies for your mini hoppers. There's no limit to what surprises you can squeeze in there; think cute bunny softies, hair pins, stickers or mini packs of bubbles. Once the kids suss out the DIY Kinders they'll soon spring into action! (via Givers Log)
2. Scramble for clues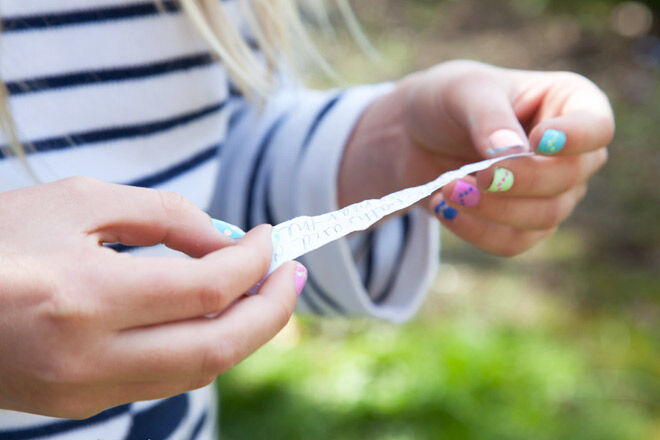 Reach for the trusty pen and pad and start scribbling. A scavenger hunt will get their brains ticking and make getting to the end 'prize' so much more egg-citing! Keep clues fun and engaging for the older kids (see examples here) and use cute images or symbols as directions for the younger ones. Play indoors or outside, or do a mixture of both to really keep them on their toes! (via Roux 44)
3. Tasty nibbles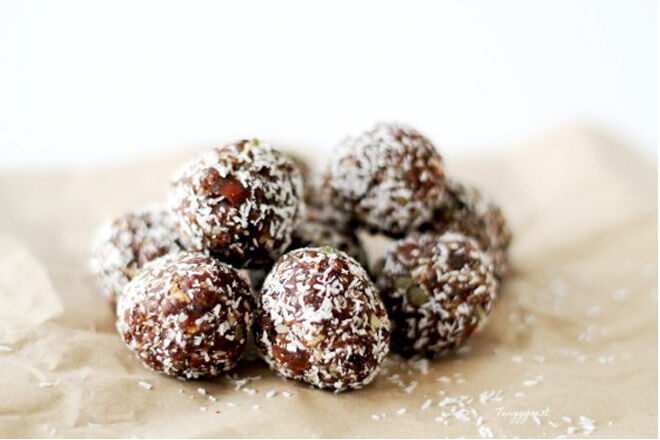 Hunting for mounds of chocolate isn't ideal, so have them hunt for healthy alternatives instead. You could individually wrap homemade bliss balls (you can go nut-free too), make mini 'rabbit food' mixtures from dried fruit such as apricots, apple rings and dates, or make a batch of homemade oat biscuits for the munchkins to bite into. Just because there's no chocolate involved doesn't mean Easter can't be delicious. (via Twiggy Nest)
4. Egg eggs-travaganza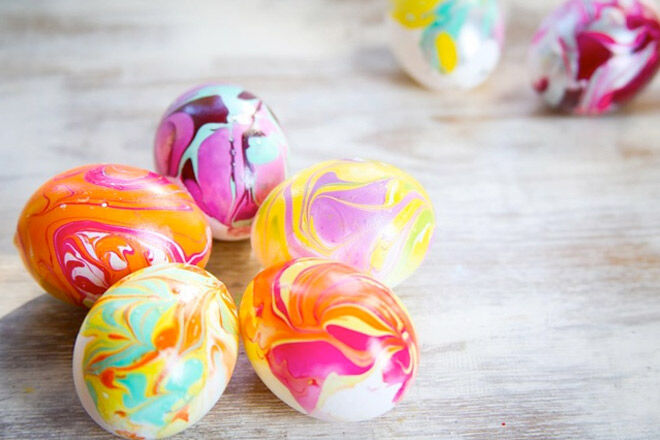 Create your own eggstra-special eggs using cool colouring techniques, then hide them in the garden. Use nail polish to master this funky marbled effect above, use rubber bands to bring in stripes, dip into food colouring for pretty pastels, go fabulous with glitter or try making your own powdered paint and baking soda for dunking. To avoid the mess altogether you could just polka dot your eggs with paper! (via Hello Natural)
5. Pieces of the puzzle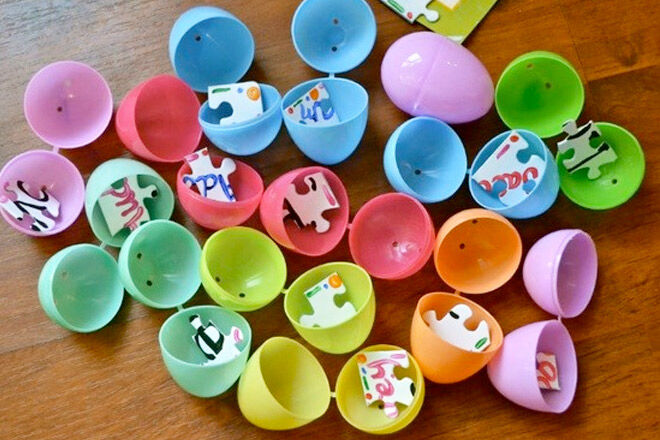 Give them a real puzzle to solve by placing individual pieces of a new jigsaw into mini plastic eggs, then hide each egg in secret places around the house. Tell the little hunters to come back with their eggs after every find to gradually piece bits together. Why not make the search eggstra-special with a personalised puzzle! (via Make the Best of Everything)
6. Coupon crazy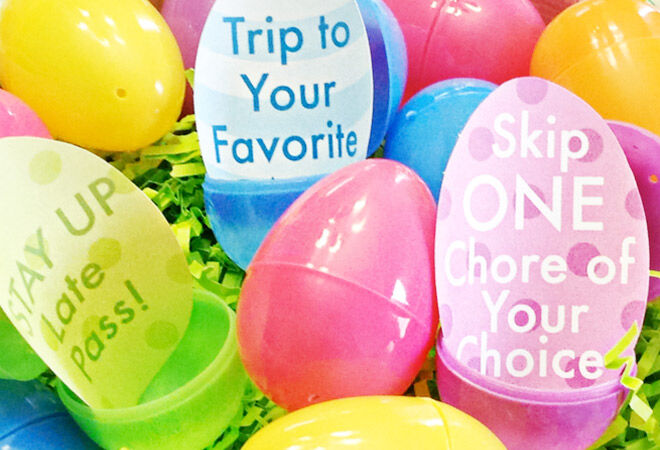 Make the fun of Easter last a whole lot longer by giving the kiddies coupons as part of their happy hunt. The coupon can be anything from 30 minutes extra iPad time to a fab family trip on the weekend. Make the hunt egg-specially for them by tailoring the coupons to each of your bunnies; think about the activities they like doing after school, their favourite film or a book they love to read. These colourful coupons from U-Create Crafts are just the ticket! (via U-Create Crafts)
7. Something egg-straordinary
And finally, have a little fun of your own this Easter by playing a few mind games on the mini rascals. A clever egg-hack will definitely shake things up a little – we can't go past the cuteness of this 'cupcake egg', and reckon a few jelly-eggs would really leave them scrambled! (via Cupcake Project)
Top tip! – Bring your Easter hunt to life with a trail of footprints from the Easter bunny. Make a simple paper stencil of then dust over with flour to create the magic marks. Simple!
---
Read these roundups next …
Find more fun Easter ideas in our groups
Looking for more Easter craft ideas to enjoy with your little ones? Join one of our Facebook Groups and ask thousands of other mums what they recommend.
Click here >> Mum's Grapevine Facebook Groups << to join your group today!