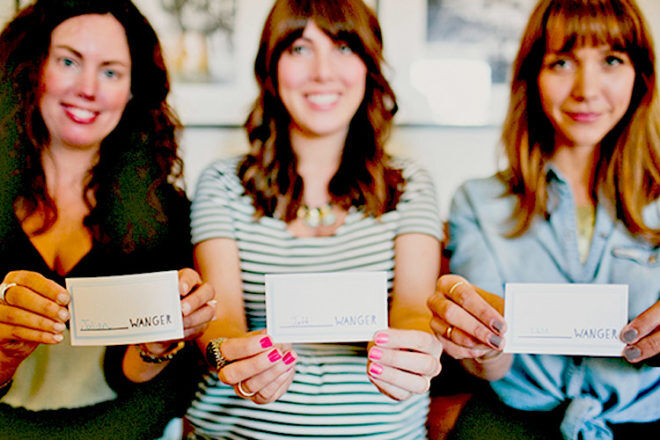 You've got the food, drinks and decorations sorted, but what baby shower games? What will you all be doing for two hours?
Avoid a serious case of the awkward's with some clever entertainment planning – remember, your friends all know you, but they don't necessarily know each other. Baby shower games are a great way to break through the party nerves and get people chatting, laughing and having fun.
Entertaining, embarrassing, hilarious, disgusting and even educational, we've found a selection of 9 baby shower games that will get the party started in no time!
1. The name game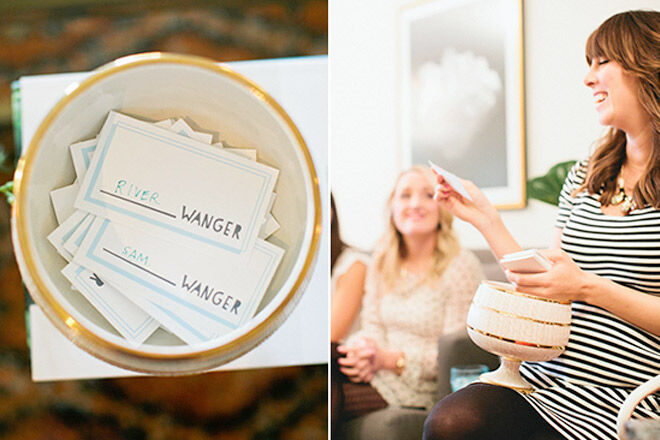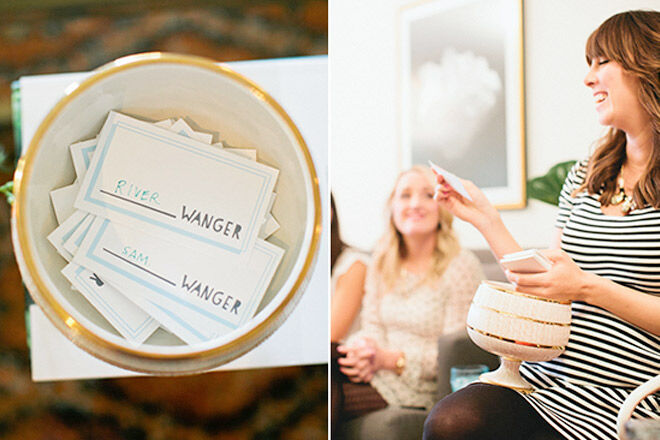 This the is the second question every pregnant woman is asked (after 'Do you know if it is a boy or a girl?') For some inspiration, we love this idea from Max and Margaux's baby shower. Get your guests to write down what they would call your mini me and pop all the papers into a hat. Pull out each one and you might just find yourself being inspired to name your little peanut (via 100 Layer Cakelet).
2. Baby, what's that song?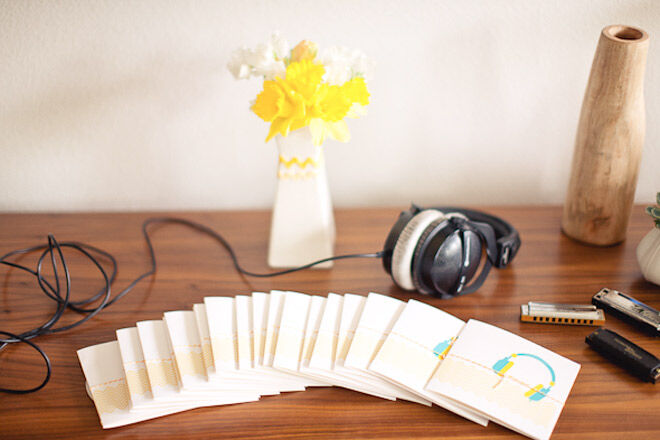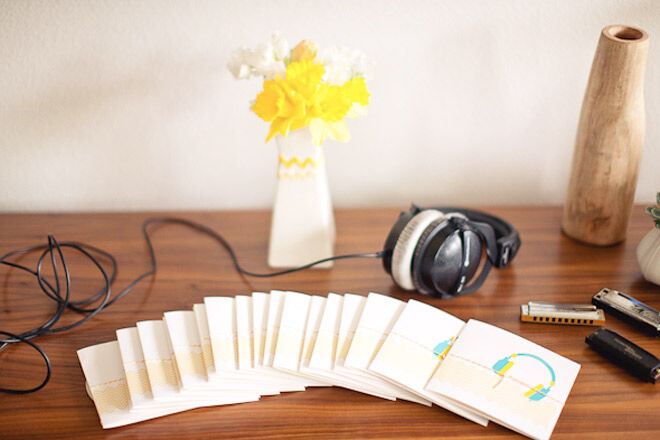 It is amazing how many songs have the word 'baby' in the title. Play your guests snippets of a selection of 'baby' songs, and see who can guess the titles. Even more songs have 'baby' in the lyrics, if you want to make it really tricky (via Inspired by This).
3. Who's that baby?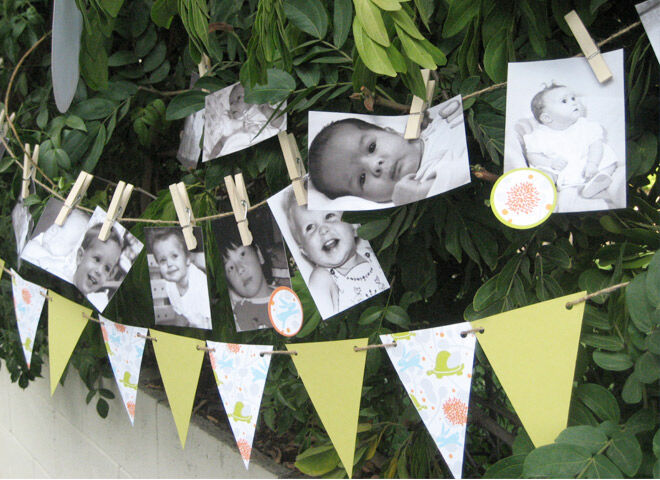 Were you a cute baby? For a fun little game, ask all the guests to send you a baby photo of themselves. On the day of the shower, ask everyone if they can tell who is which baby. You might be surprised how some people resemble their 3-month-old selves (via Tonality Designs).
4. Powers of prediction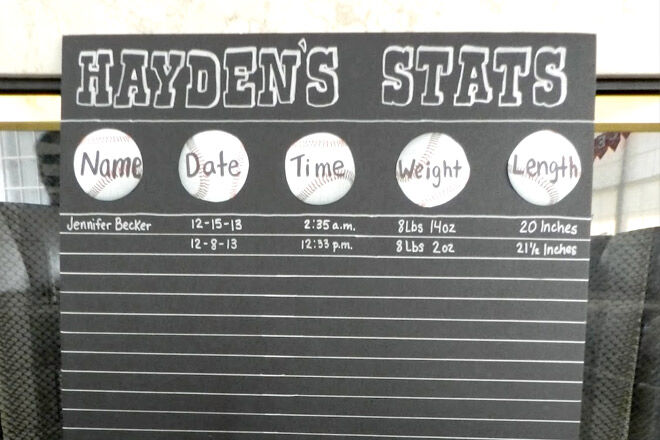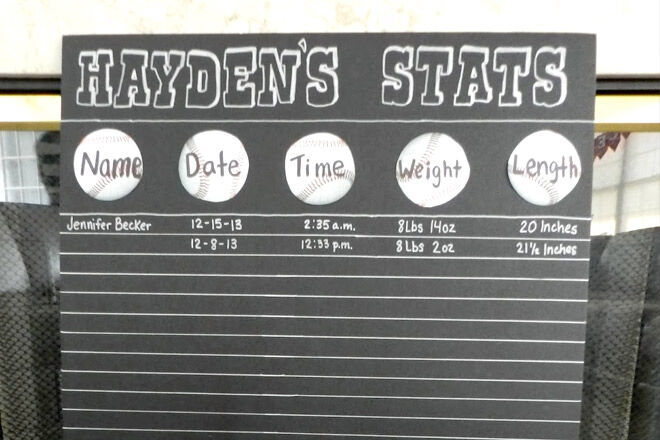 Care to wager on that? We love this idea from Life With The Beckers. Ask guests to write down estimates of what they think the baby's weight and length will be at birth. You could add the sex too, if mum hasn't already found out. With the mum-to-be's prior approval (we've warned you, you don't wanna touch the bump unless she says it's OK!), you can also get guests to guess the circumference of 'the bump' (via Life with the Beckers).
5. Spit the dummy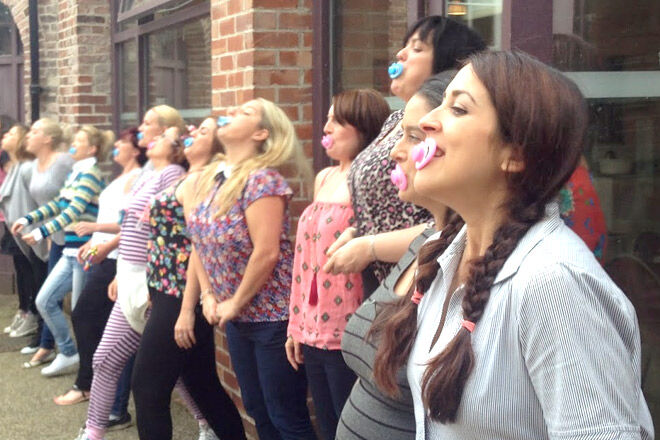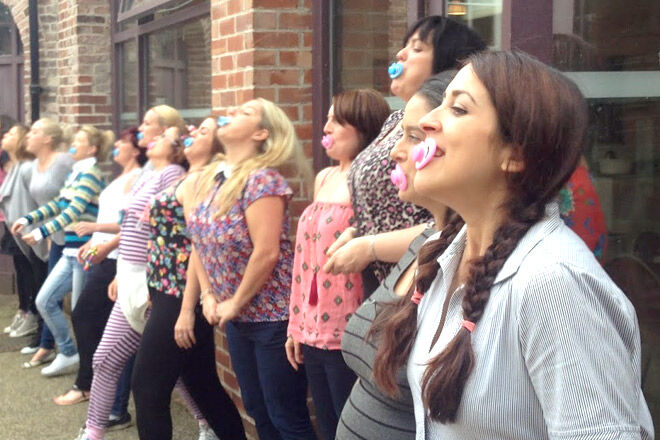 Remember when your parents thought you'd have a dummy forever? Maybe that was just us. This Spit the Dummy game is a great icebreaker as it gets everyone feeling silly and laughing together. Everyone puts a dummy in their mouth and has to spit it as far as they can. Measure up the distances, and see who can spit the dummy the farthest (via Mrs Browns Stuff).
6. Bobbing for nipples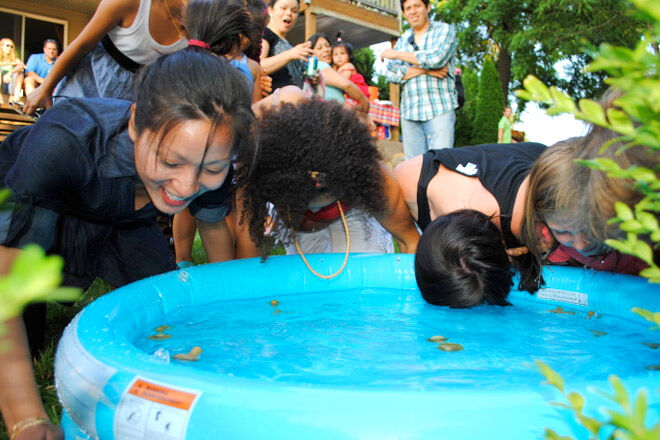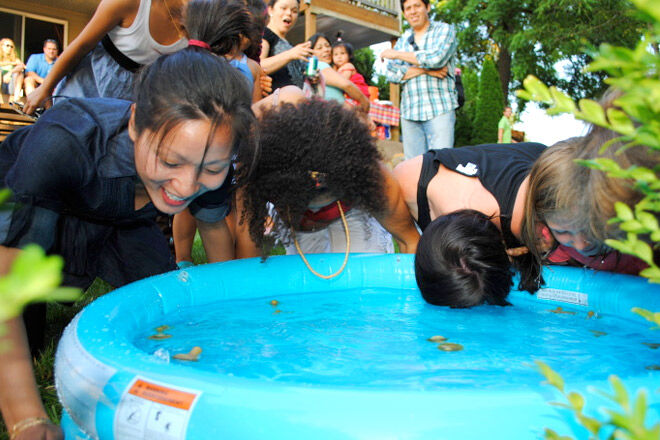 Just like bobbing for apples… without the apples. Instead, get the silicon teats from baby bottles and float them in a tub of water. If anyone wants a real challenge, try picking up two nipples at a time (via Pinterest).
7. On the block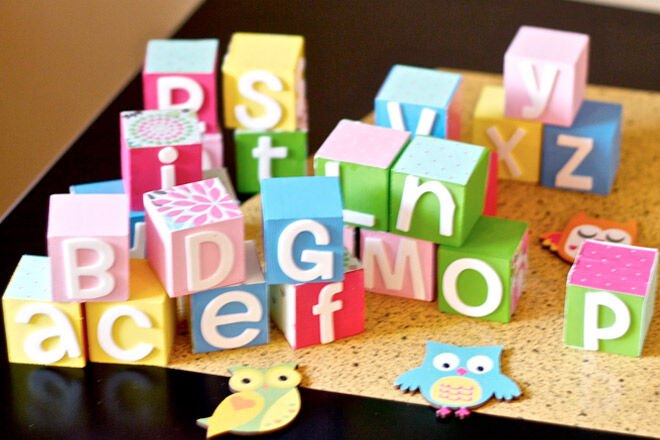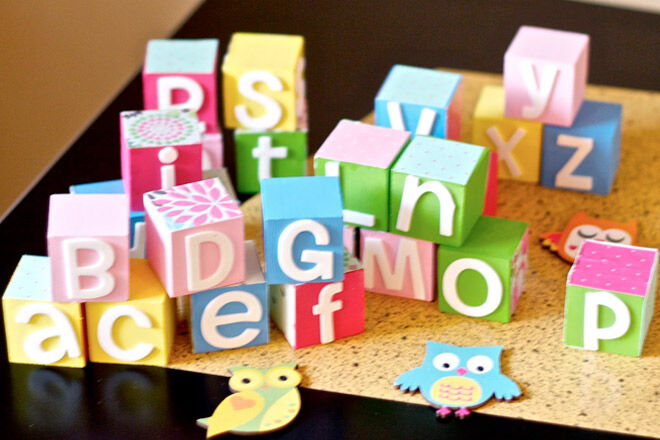 Got the craft bug? The tradition of personal, homemade gifts can start now with these DIY Baby Blocks. Get some plain wooden blocks and some permanent markers. Each guest can choose a letter and decorate their block. This will make a beautiful keepsake set for your baby, and will last for many years. (via Chasing Davies)
8. Rub-a-dub, three men in a what?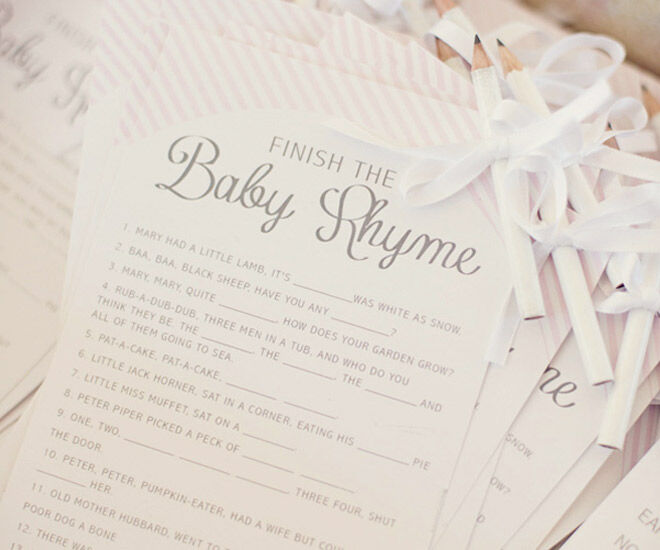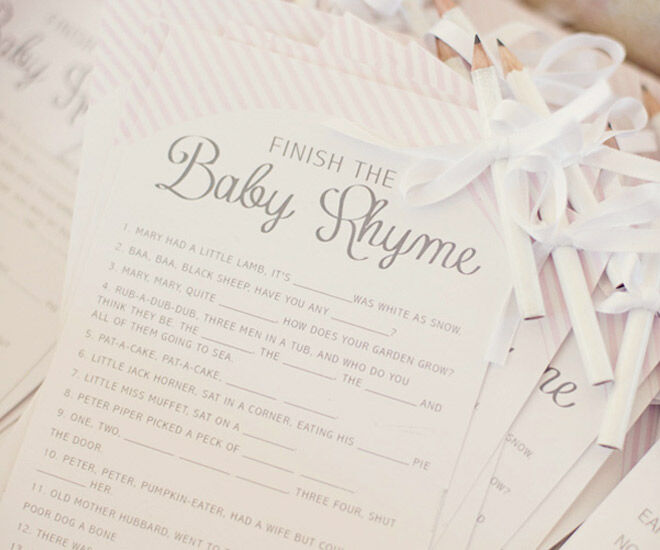 We all think we remember those nursery rhymes from childhood. But with all the variations and adult-only versions of these rhymes, can people really remember the originals? Give guests the first two lines of a nursery rhyme and see who can finish it off correctly. No need for obscure rhymes – these will be harder than you think (via Hostess with the Mostess).
9. Human's baby, bear's cub, shark's pup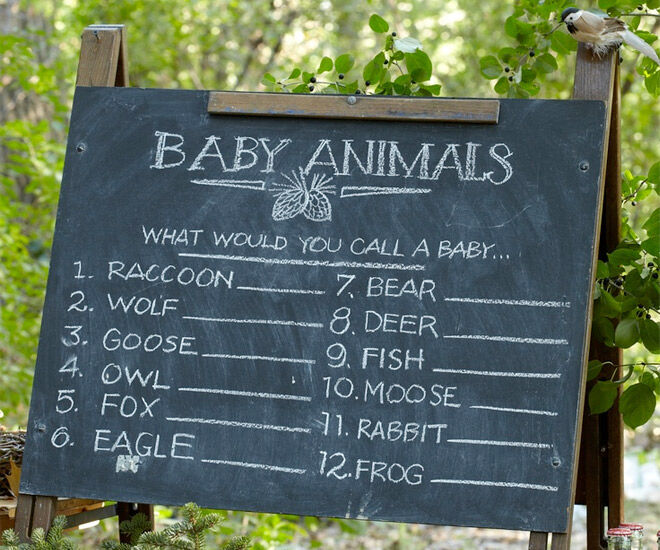 Another brain-teasing game idea. Give each guest a pen and paper, and call out the names of different animals. See if your guests can write down the baby of that animal on their paper. There are some tricky ones, so see who you can trip up. Did you know a baby alpaca is called a cria? (via Huggies Wonderland Baby Shower)
READ MORE:
• The ultimate baby shower gift guide
• 8 creative ideas for your baby's gender reveal
• How to host an easy peasy baby shower