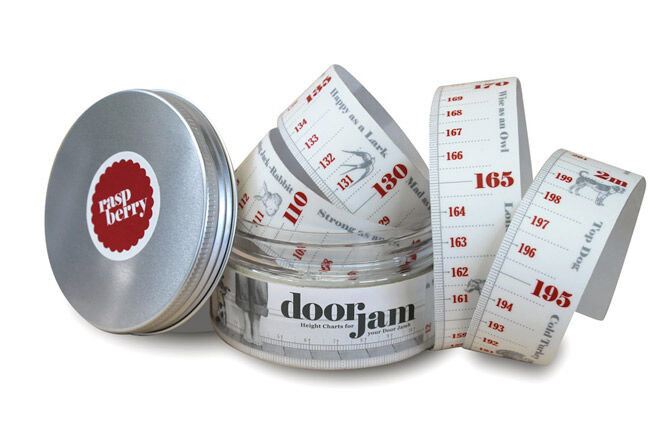 Growing, growing, gone! Kids grow up so fast that every family should have a growth chart for recording those precious milestones that pass us by. For those who don't want to make a mess marking walls or hammering nails there's lots of adorable options to chose from. Whether you decide to buy or DIY, here's 15 height charts you should set your sights on.
1. Do the robot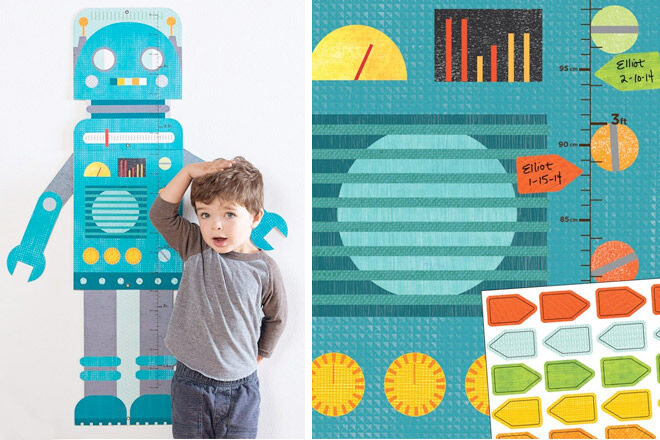 The little ones get a new friend with this Robot Growth Chart ($29.95) by Petit Collage. With over 20 colour stickers included you can mark the milestones in style!

2. Fold up growstick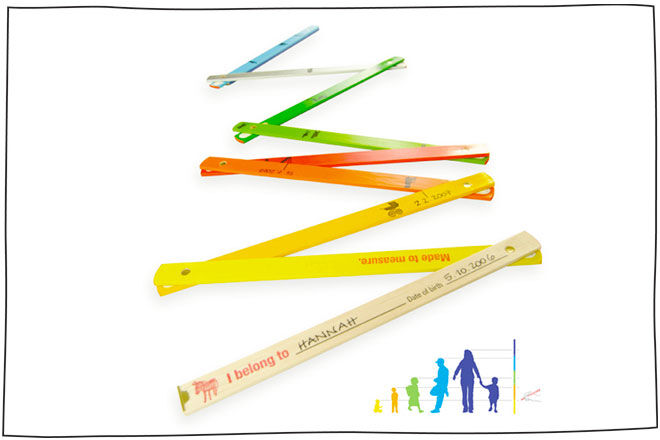 We love this foldable yardstick ($21) from Donkey Creative Lab. Perfect for a family that's always on the move, you can take this piece of family history with you everywhere you go.
3. Taller than a…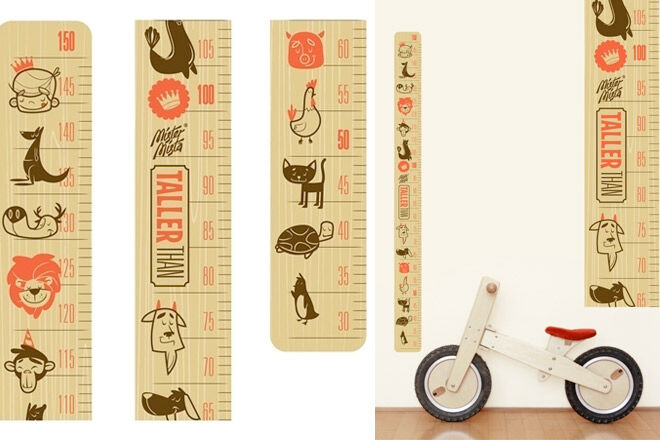 Watch as they grow taller than a cat, a dog and even a monkey! It may be a long time before the little ones catch up with mum and dad, but this Taller Than Height Chart ($29.95) by Oliver's Twisty Tales makes the journey a lot more fun.

4. Space saver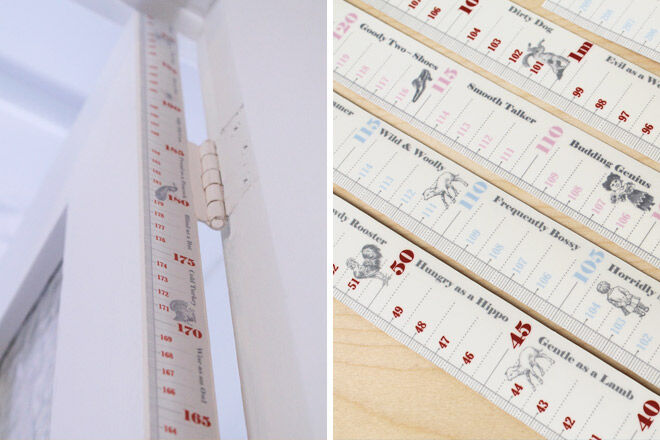 Running out of space at home? This adorable Door Jam height chart ($28.00) by Fool House will take up no room at all! The self-adhesive height chart is available in four style ways with different colours and  funny 'tales'. Watch them grow from 'gentle as a lamb' to a 'rowdy rooster'. We love it!
5. Thomas & Friends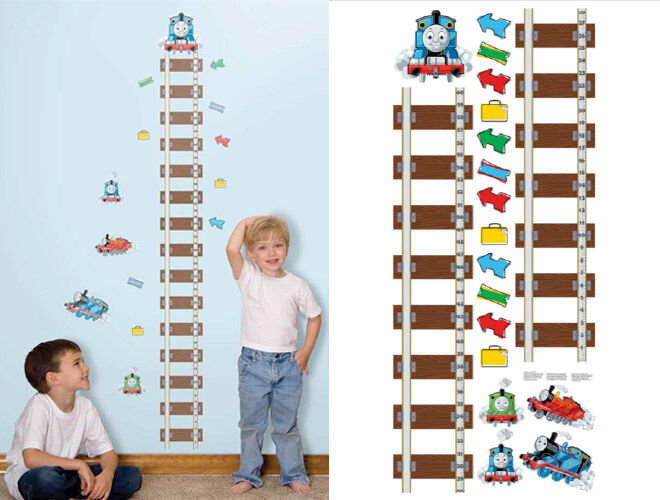 There's almost one in every household. Now all Thomas enthusiasts can measure themselves against the tracks with this Thomas & Friends height chart ($42) by All Posters. Mark your height with stickers from the pack or keep these for decoration around the bedroom.

6. Family measuring tape

Here's a DIY idea for you! Artist Dominic Wilcox spray painted a measuring tape white and used it as a diary, but we think doing the same thing for a family growth chart is a brilliant idea – and super-portable! Use drawings, cute notations and keep forever. (via Variations on Normal)
7. Personalized and on trend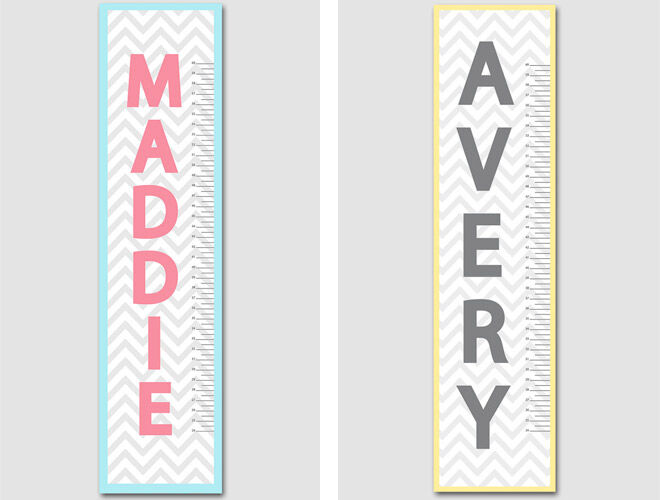 Here's a stylish addition to the kiddies bedroom! Personalised height charts offer something that extra special for the growing babes and we can't go past these gorgeous chevron growth charts ($56.79) by Etsy seller The Bear and The Bug Shop.
8. Fantasy Fields by Teamson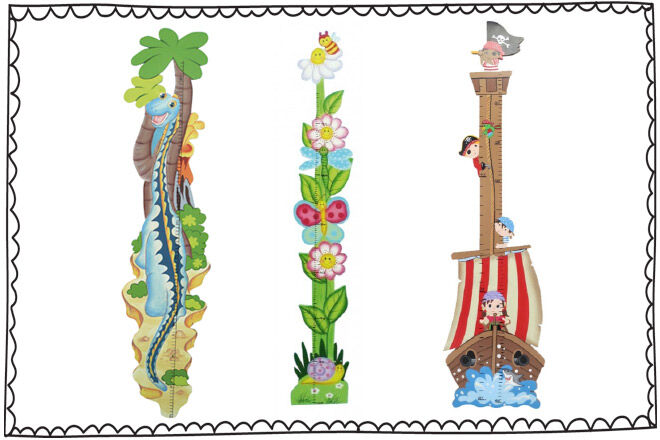 If your mini me has a vivid imagination they're going to love the range of Fantasy Fields growth charts ($47.95) by Teamson. Take your pick from the Magic Garden, Pirate or Dinosaur designs, mount on the wall at home and let the adventures begin!
9. Wee Gallery
Watch your kids grow like a tiny seed with the Wee Gallery growth chart ($59.95) by Pepe's Paperie. The handwritten numbers let you and your little one mark their height at each birthday up to ten.
10. Hippo blue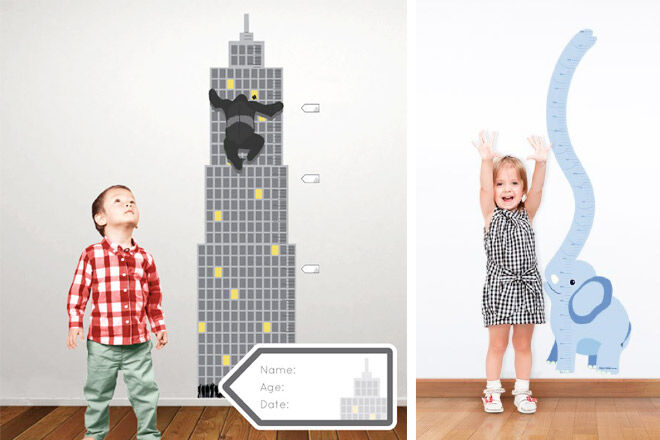 Get colourful and creative with your own customised height chart ($39.45) from Hippo Blue. With over twenty designs to choose from these cute and quirky height charts definitely get our vote. Did we mention they're rip resistant too!

11. Winnie the Pooh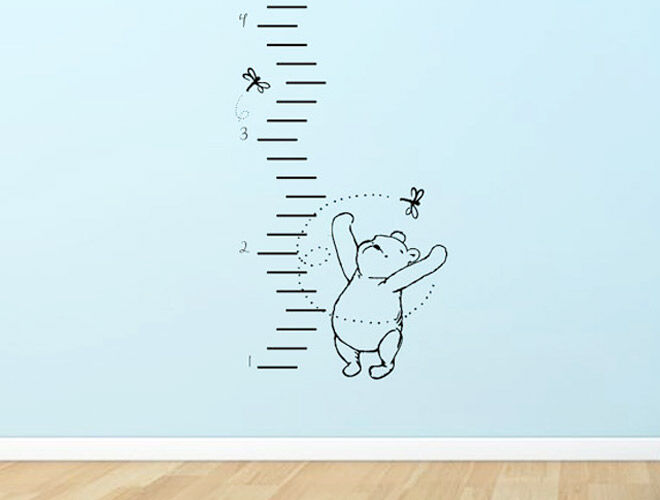 Bring an old classic back to life in your nursery with this adorable Winnie the Pooh growth chart ($55.53) from Etsy seller Grabers Graphics. Easy to apply and easy to remove, this super sweet decal is available in 28 colours so you're sure to find one you love!
12. Distressed DIY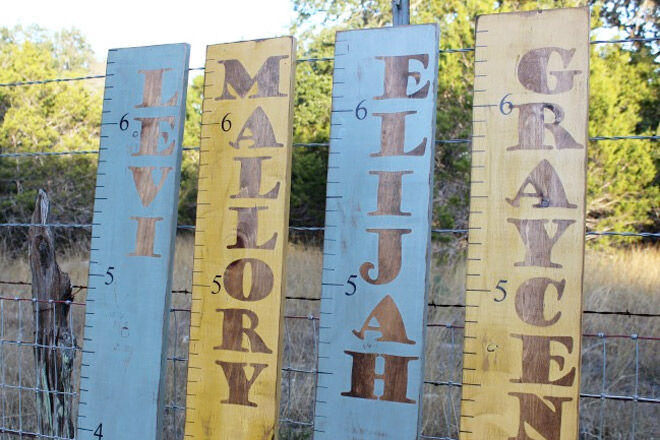 Watch and take note! Domestic Imperfection has a great DIY tutorial for making your very own growth charts at home. We love the distressed wood look and think the stencilled letters finish these to perfection. (via Domestic Imperfection)

13. Funky Little Darlings
Ok, things just got cuter. The beautiful Woodland Friends height chart ($70) from Everything Begins is ticking all our boxes – It's simple, it's playful, it's cool. We want one!

14. Linen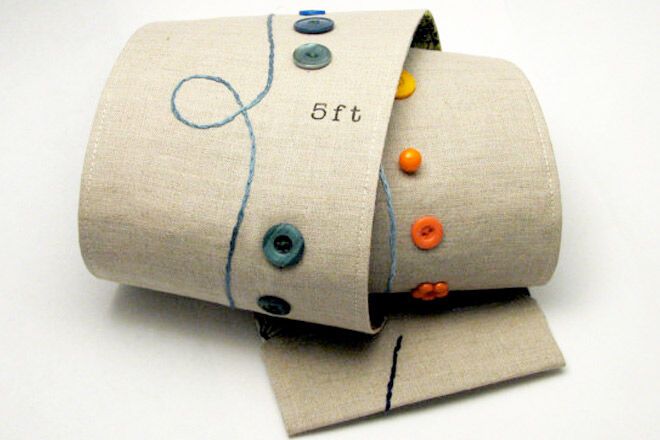 This beautiful linen growth chart ($79.33) from Etsy seller aewilder can be customised for your special little person. Have your child's name stamped in typewriter font and chose buttons in every colour of the rainbow.
 15. Playful and pretty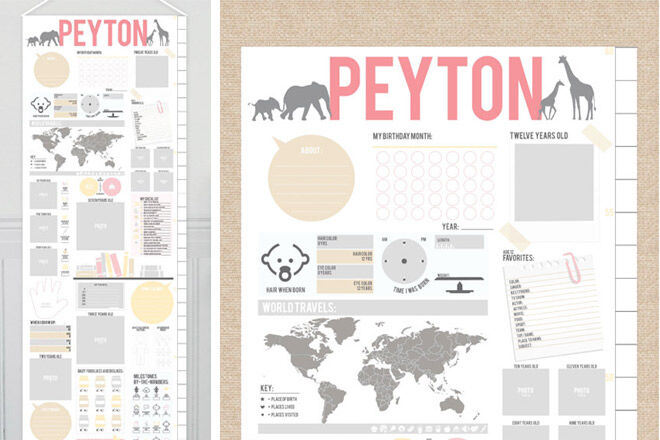 Combine the art of scrap booking with tracking the growth of your child using this clever Interactive growth chart ($64.79) by from Etsy seller Paper Ramma. Write down notes, add photos and remember all those funny moments for the whole family to look back on.