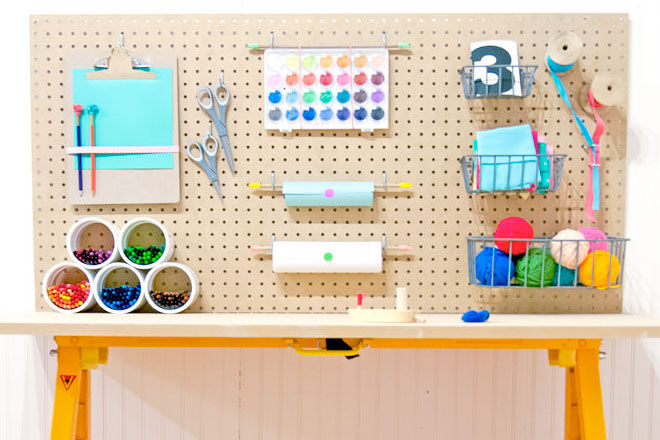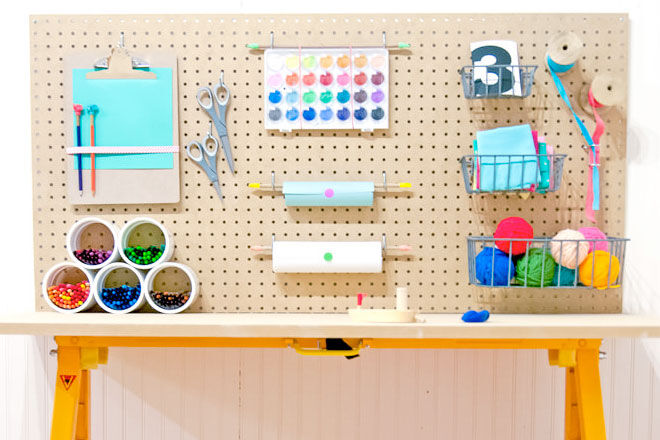 If your kids are creative little creatures then it won't take long for crayons, glue and glitter to rule the roost! To keep the house (and your sanity) in check, here are 14 storage ideas to keep the kids crafts organised.
1. Tin time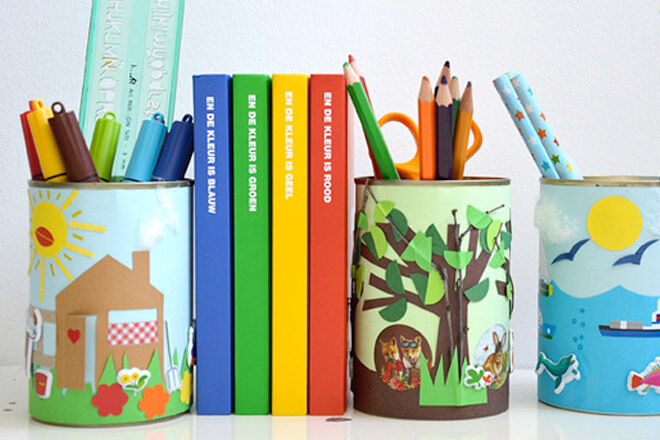 Wash out tin cans after use and cover them in colourful paper. You can make go as simple or as creative as you like. We're digging these 'story time' tins for brightening up a busy area – it's a craft activity in itself! (via Mood Kids)
 2. Dino DIY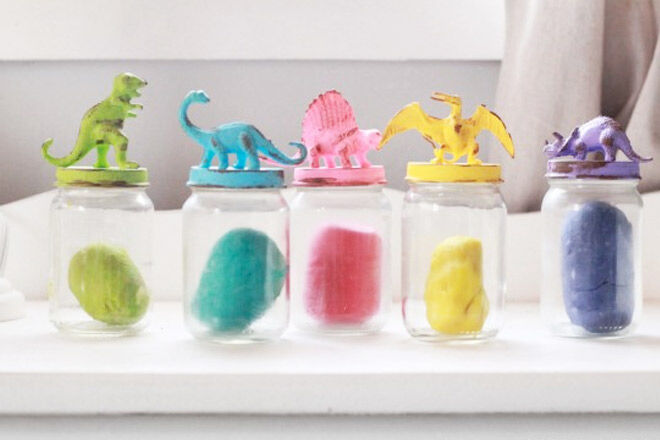 Organise your play dough and get a fright with these DIY dino jars! The kids will love showing them off to their friends and it may even encourage them to tidy up at the end of playtime! (via Lolly Jane)
3. Fun on wheels

This cool 'art cart' is the result of a very clever IKEA hack. If you don't have the space for a craft table in the kitchen or living room then crafts on wheels is the answer! Label your containers, load with paper and you're good to go. (via Making Lemonade)
4. Muffins anyone?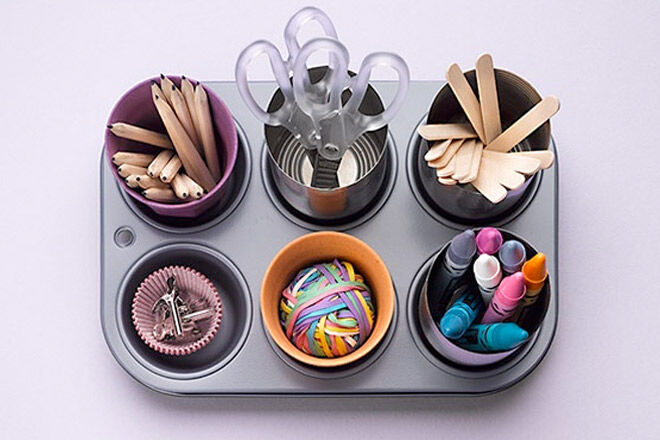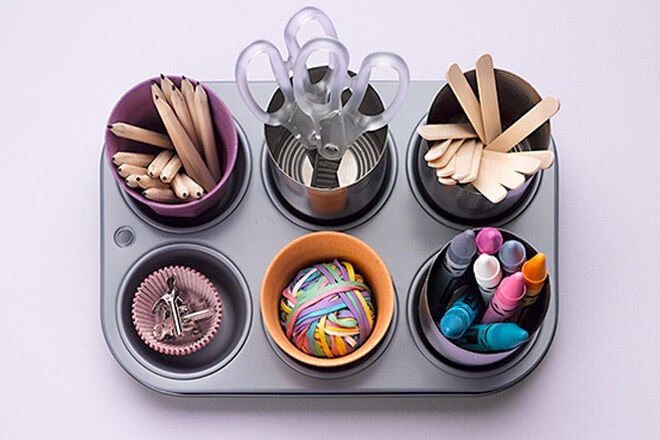 Want a multi-purpose storage solution? Welcome the muffin tray! You can pick these bad boys up from the two-dollar store and solve stacks of supplies taking over your station. (via The Guardian)
5. Collect your cardboard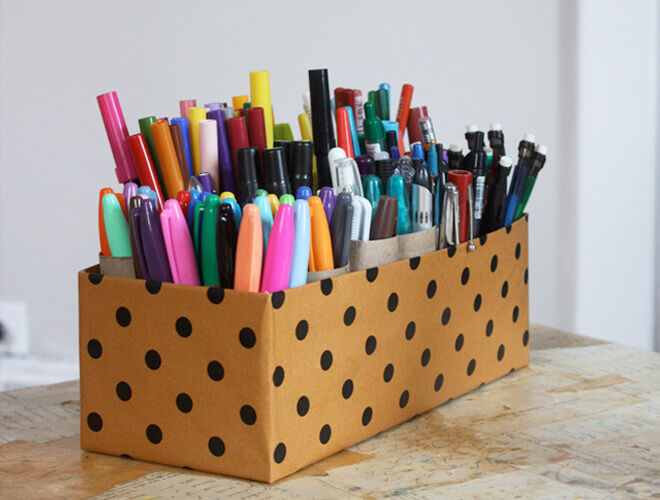 If it's easy and eco-friendly we like it! Nothing could be simpler than this recycling shoebox idea, could it? Keep a box on standby and collect toilet roll tubes over the week. Cover your box in cool craft paper and hey presto! The perfect penholder at your fingertips! (via Aunt Peaches)
6. Crafting station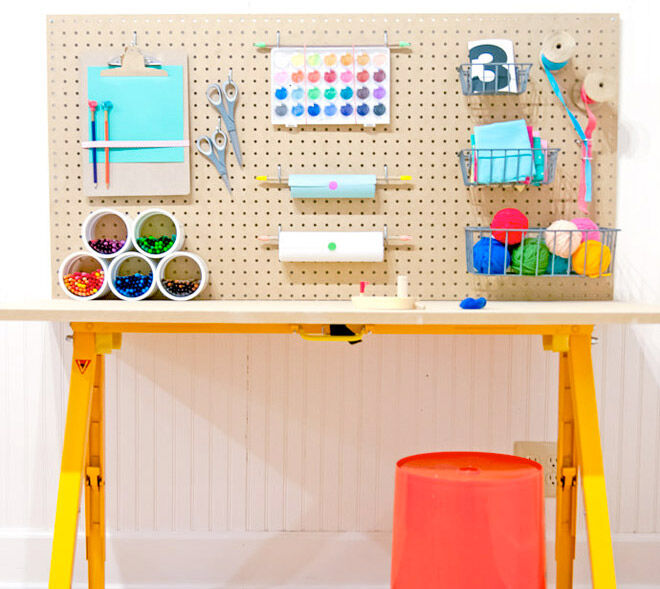 A trusty pegboard isn't just for the garage. Store the kids' crafts in a way that they'll enjoy by building them their very own 'craft station'. There's enough room for the messiest of projects and keeping everything in sight means you'll know when it's time to re-stock! (via Handmade Charlotte)
7. Spinning storage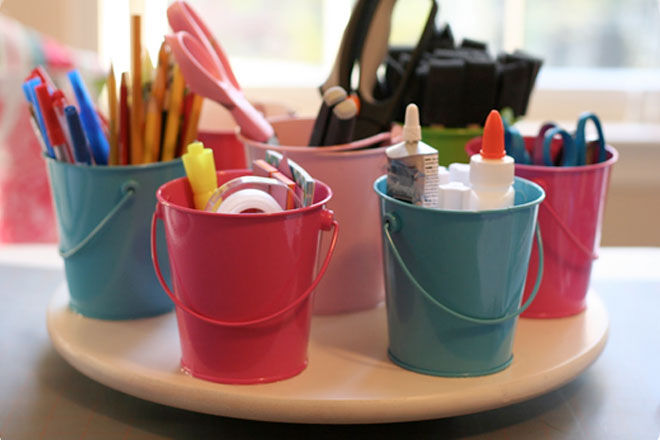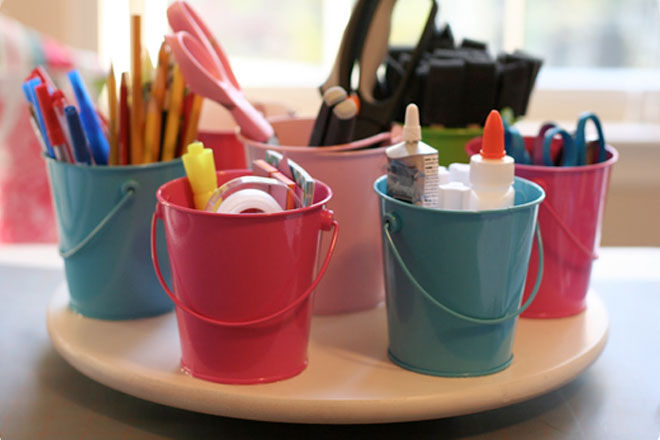 This 'Lazy Susan' makes a great table top tidy! Fill the pots with pens, crayons and scissors then simply spin when you need to change supplies – Perfect for when there are lots of little hands at the table! (via Knock Off Decor)
8. Tidy table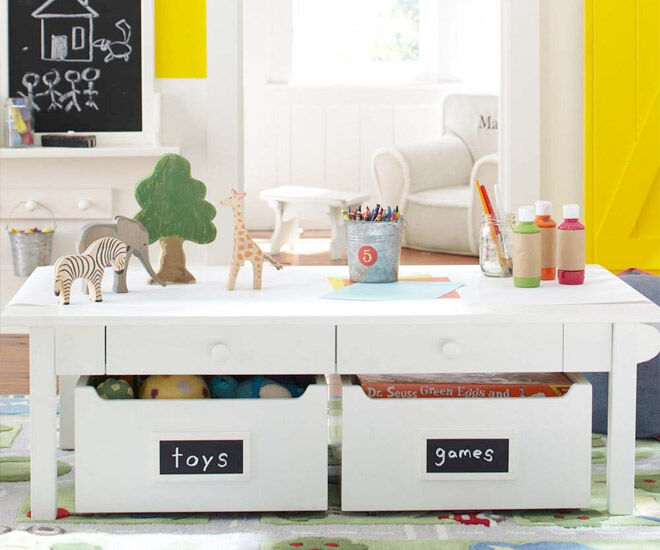 Pottery Barn struck gold with this one! The Carolina Grow with You Craft Table comes complete with two large drawers, a paper roll on the side and two sets of legs so it can grow with your little one. Genius! For those of us who dread the kids outgrowing the furniture, this is for you.
9. A craft rack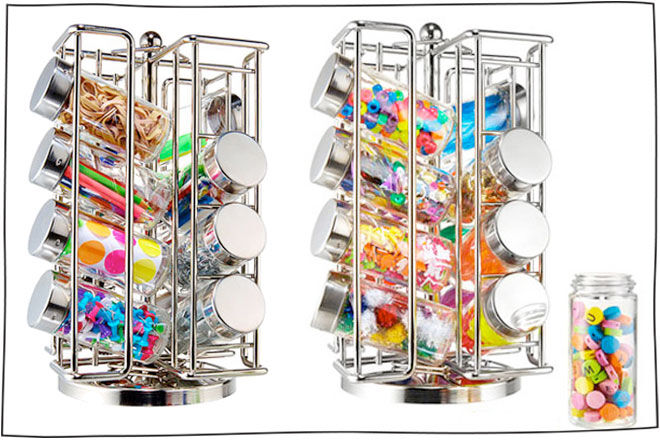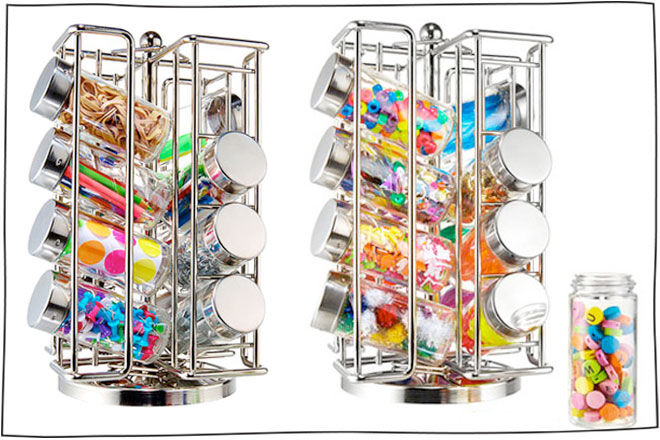 Swap herbs and spices for beads and buttons with your very own craft spice rack! Red Book Mag put this in their 'top 12 clutter cures' and we love it. For anything teeny tiny, this is the best way to keep them in sight. (via Red Book Mag)
10. Up-cycle the baby crib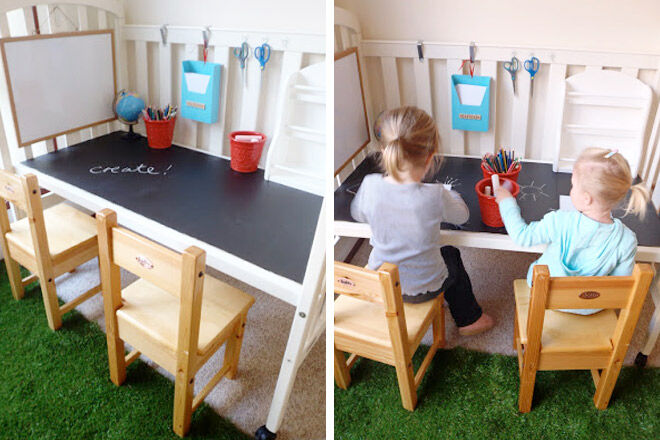 When the bubs have finally outgrown the crib, up-cycle like a pro using this handy tutorial. You'll be saving the pennies while giving them a very original craft table! (via A Little Learning For You)
11. Batch together the bits and bobs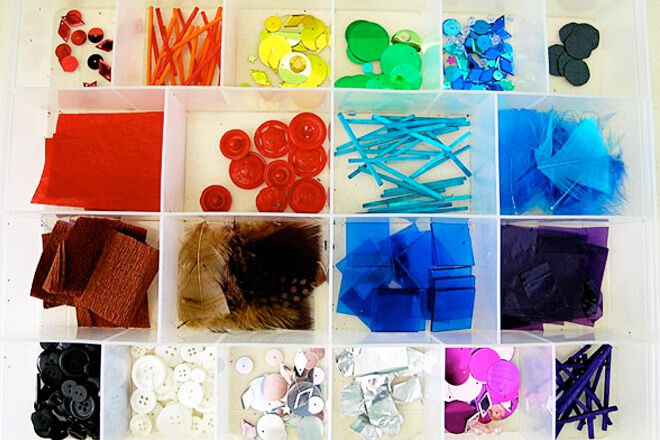 If you're not sewing as much as you used to, hand down your dressmaking accessories to the kiddies! Here's how a sewing organiser works wonders for keeping all those teeny tiny bits and pieces from getting lost around the house. With clear lids and sides, the organisers will make the hunt for those sparkles and sequins a little bit quicker! (via Childhood 101)
12. Mason jar madness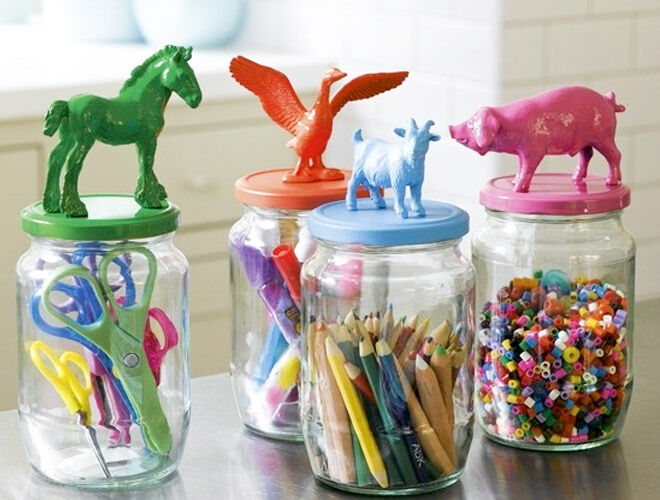 We love a good Mason jar makeover! Transforming the lids into animal art will keep the kids entertained and separating the supplies will save the rummaging arguments come play time! (via Itsy Sparks)
13. Sassy salt shakers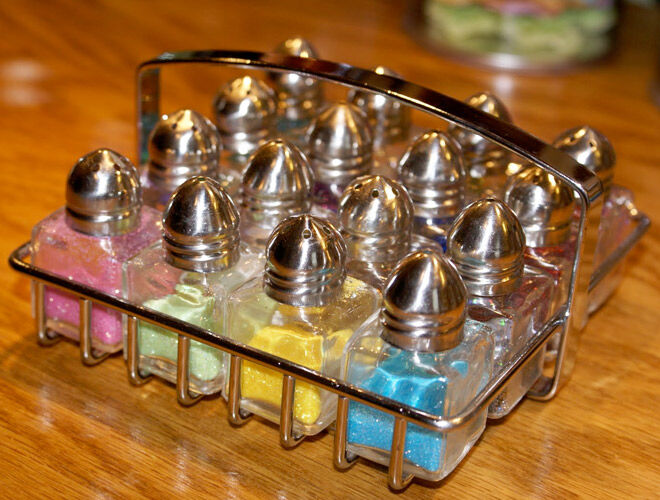 Once you've lost the lid to the glitter, you know you're in trouble. Save the mess (and yourself) by storing your assortment of glitter in cute little salt shakers! The bottle holder means glitter can be moved from the table as soon as crafting is over. Bonus! (via Organise Things)
14. Over the door organiser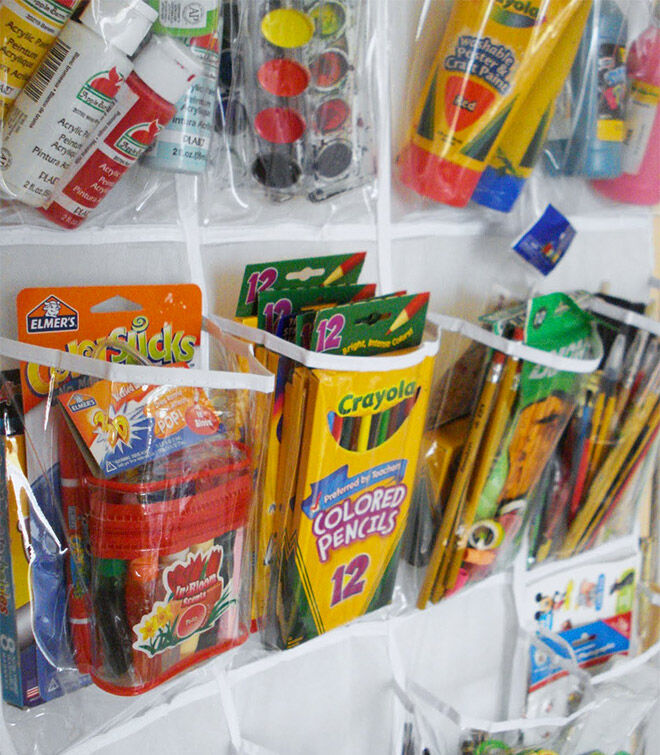 Over the door organisers are a great way to store many things including everything from pens, to paper, pom poms and more. (via Cuddles and Chaos).