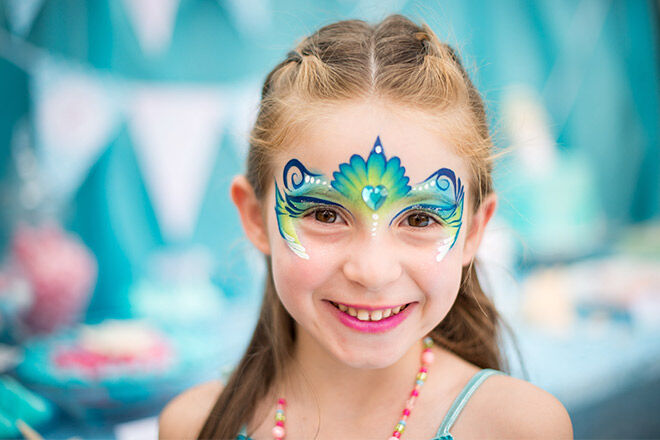 If your kids are crazy for sea creatures and mesmerised by the world under water then you'll love this pearl of a party!
Our party guru Jen Henderson of Love JK shares with us how to style a Mermaid Party full of fun inspiration. Photographed by the team at My Little Tribe, we captured all the treasures you'll need to create a fabulous mermaid party at home.
READ MORE –
• 5 fun mermaid party games
• 6 show-stopping mermaid cakes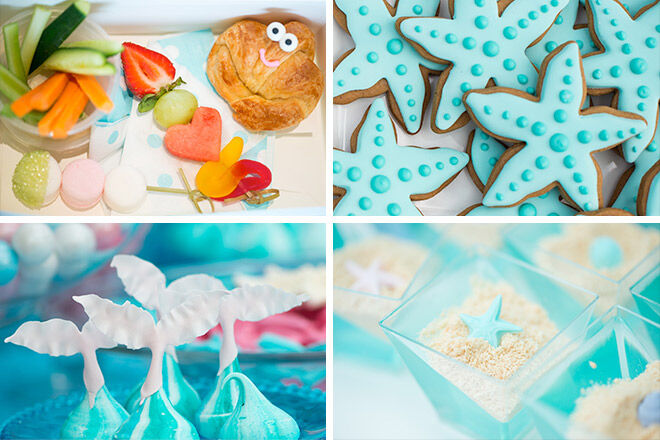 To create our ocean backdrop we draped aqua satin fabric from above and framed it with giant balloons and paper lanterns from The Party Parlour. Personalised happy birthday bunting from Love JK decorated in pink and blue scales tied our 'deep sea' look together nicely.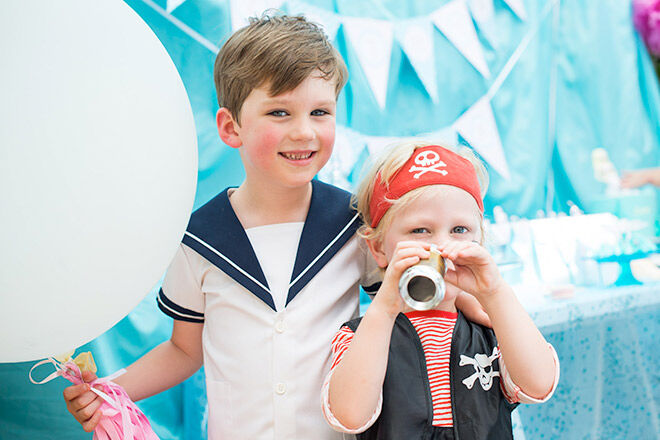 We hired party tables along with pastel coloured party chairs from Mini Party People to create our underwater kingdom. Giant white balloons floated from above and shimmering blue fabric with sequins and sparkles imitated reflections of the ocean.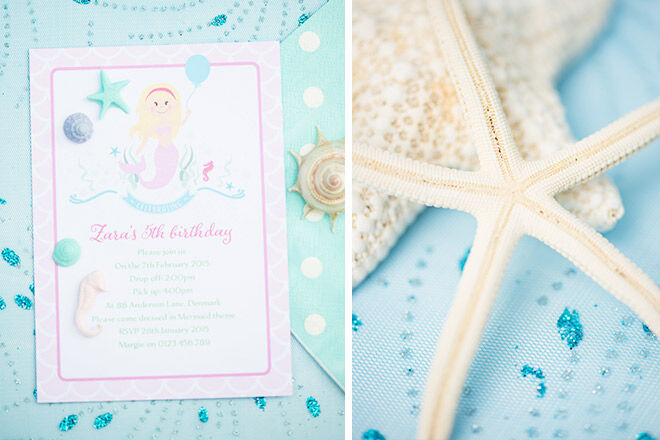 With the feel of the water well under way we brought natural treasures from Simply Shells ashore. Starfish and seashells scattered the tables, turning them into a giant ocean floor.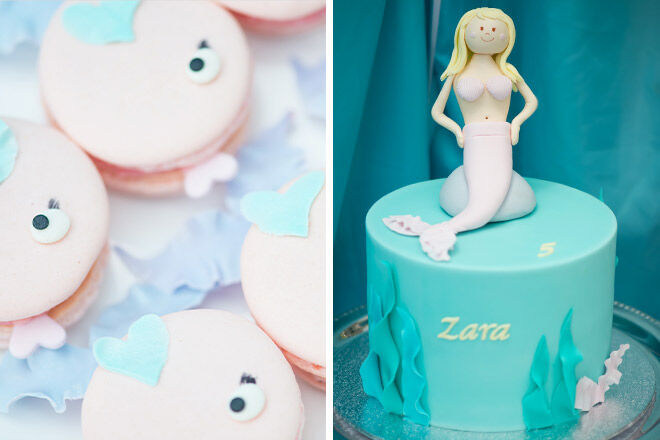 The team at Burnt Butter created a feast of deep-sea delights for our mini mermaids. Playful fish faces (macaroons) and fun flapping tails (meringue kisses) definitely caused a splash!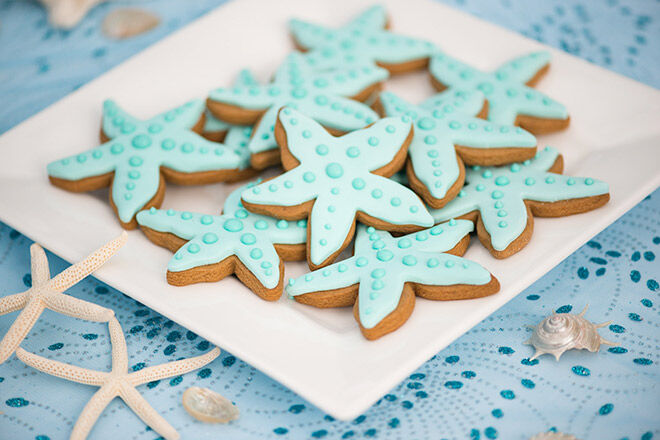 Party guests we transformed into creatures of the sea by the incredibly talented Jenny Saunders of Pixies Face Painting. Jenny's box of beauty wonders worked absolute magic in bringing our entire party to life.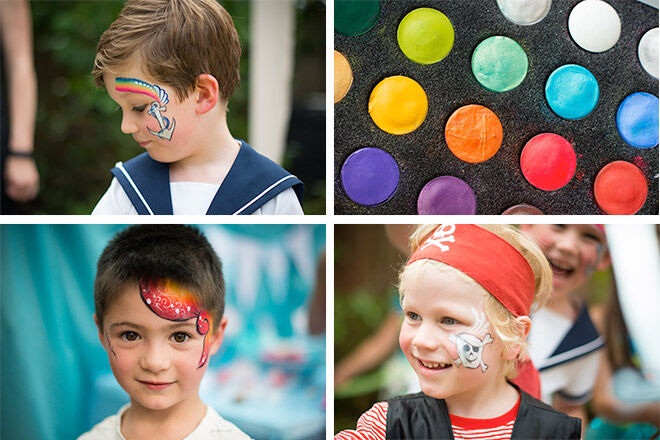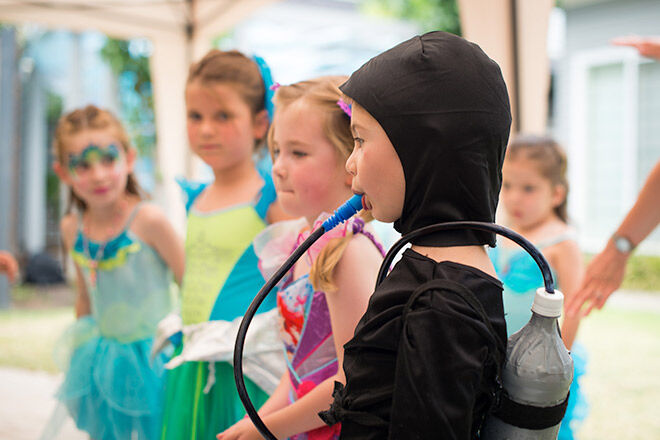 With the party now an ocean of colour, it was time for more mermaid fun! Our guests blew giant bubbles, played 'pin the tail on the mermaid' and told stories of underwater kingdoms in the garden.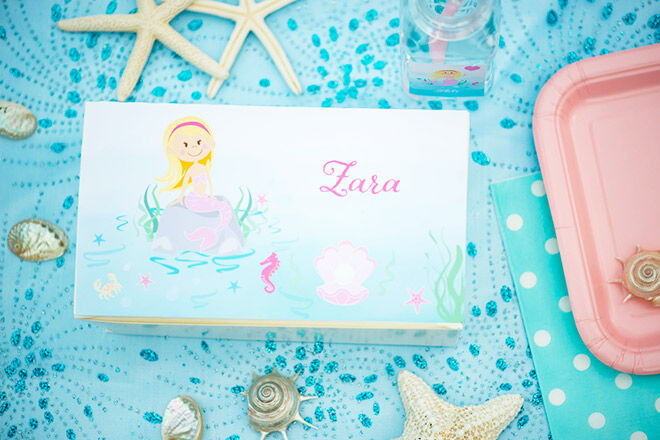 In between games and story telling our partygoers swam to the surface and came up for air. Each guest was given their own personalised party lunchbox from Love JK filled with delicious mermaid food ideas.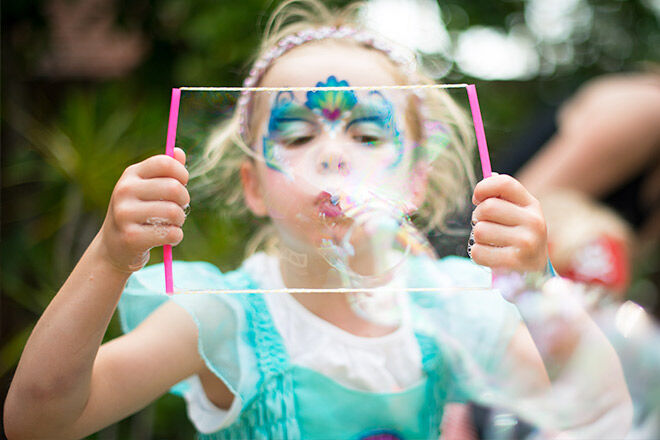 Burnt Butter made everyone smile with fun ocean themed treats such as crab croissants (baked by Swan Street Bakery), fruits of the sea, starfish cookies, sand and sea cups (ocean coloured jelly) along with squirmy sea snakes on sticks. Everyone had a bottle of seawater (mineral water) to sip on too!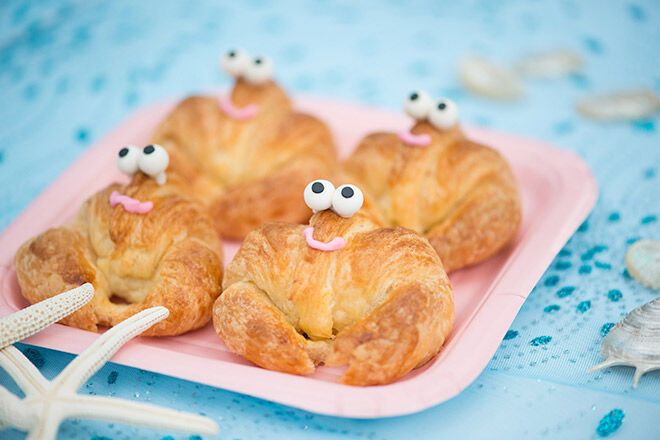 Before saying goodbye we filled blue and white treat boxes from The Party Parlour with thank you favours and decorated them with personalised thank you tags from Love JK.

Here's a nifty little tip for any outdoor mermaid party. Make magical mermaid tails for your party people by simply tying a beach towel around their waists (use ribbon to hold in place) and wrapping the ends with elastic bands. Sound crazy? Check out our towel tailed mermaids below – colourful and cute to the max!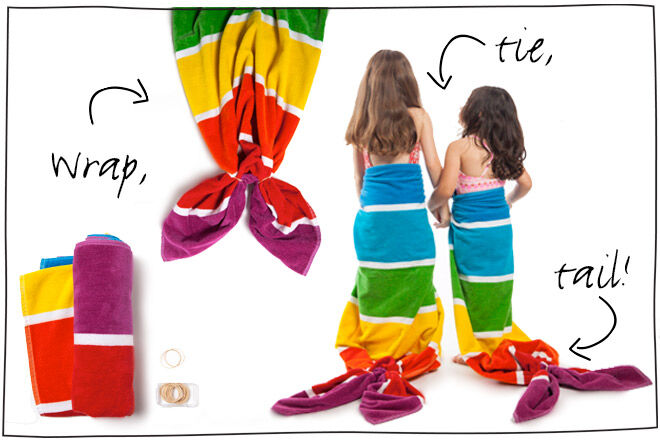 Creating a mermaid party at home can be a breeze! Using inspiration from our party you're bound to find everything you need for a perfect party under the sea.