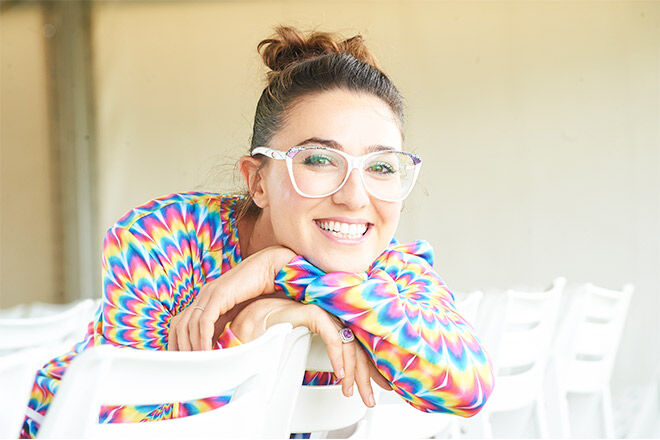 Meet Alice Zaslavsky, a.k.a Alice in frames. She's the teacher turned Masterchef contestant who likes to live life with a pinch of crazy, and jumps at the chance to get messy in the kitchen. We first saw Alice in the 2012 series of Masterchef, and now 3 years later, the Melbourne based foodie can add TV host and published author to her mix of awesomeness too.
Alice is nuts about food (anything involving eating really), and her new book Food A-Z is jam packed with foodie facts to encourage the kids to get cooking!
We caught up with Alice at the launch of her new book to take a sneak peek and find out what's next for this food-loving lady.

Q. Your Food A-Z is a fantastic read not only for kids, but for adults too! Can you tell us how the whole idea for this book came about?
Thank you… It's taken me so long to finish (almost 3 years) that sometimes, even I'll flick through the pages and be amused by the contents (especially the puns)! Deciding what to write about was easy – I've always loved food facts, and I wanted to write something that engaged kids in food in the same way I used to engage them in class – through humour and fun.
Q. What was the first dish you ever made by yourself? Do you still make it the same way today?
My grandfather, Boris, taught me to toast sunflower seeds and then we'd share them while I sat outside watching him potter around in the garden (which he had populated full of fruit trees). He passed away when I was quite young, but I still find toasting sunflower seeds and grazing on them when I'm on a deadline extremely comforting.
Q. What does an average day look like for Alice?
Haha! There's no such thing as an "average" day these days. I'm either rushing about like a headless chook between appointments, shoots, cooks and demos or I'm strolling around the dog beach with my fur baby Leopold Tolstoy (a 16 month old Rhodesian Ridgeback who's about the size of a 12 year old child).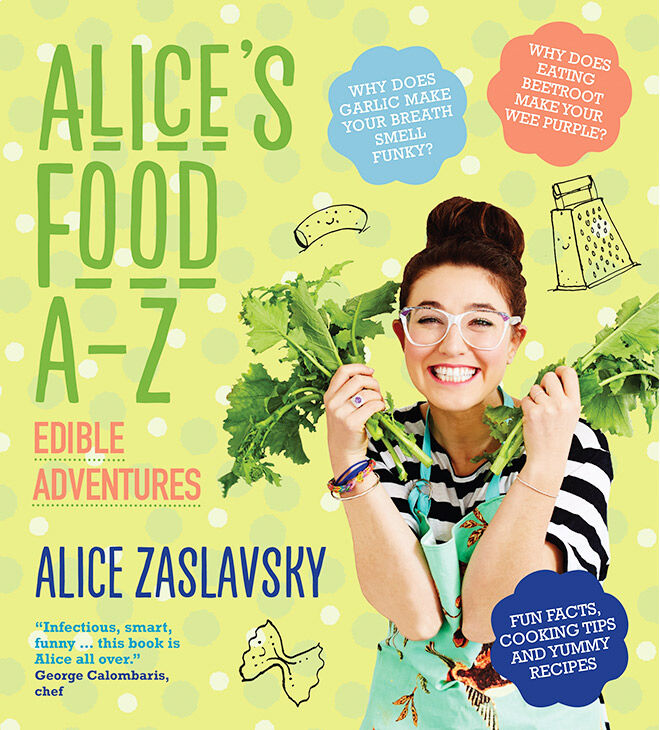 Q. What would you say are the best dishes to introduce kids to cooking? Where should mums start?
Anything that will get their hands dirty is a good place to start. Making dough, rolling meatballs, cracking eggs. You want them to see the kitchen as a place of freedom and expression. I like to say that a messy kitchen is fantastic because it means cooking is happening! I also find that making the connection between "making your own" and "eating your own" usually gets them in there quick-smart.
Q. What was the most difficult letter of your food A-Z?
The most difficult part was actually figuring out what to leave out!! My original manuscript was about 10,000 words longer than the one that made it to print. I was most disappointed that "Gerbil – not a food" didn't make the cut.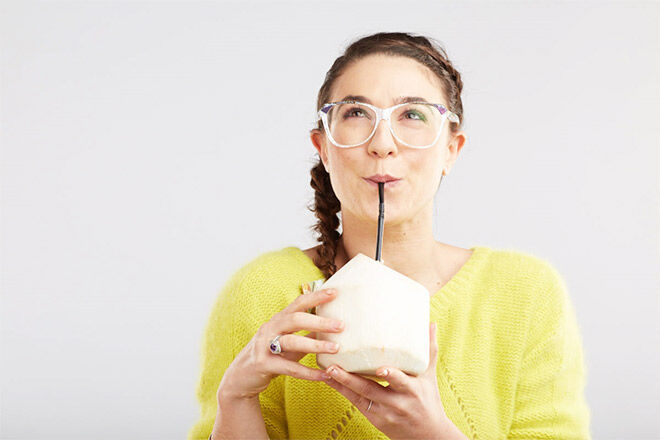 Q. What has been your biggest kitchen disaster?
Haha where do I begin! Maybe the time I lit my Thermomix lid on fire within 24 hours of receiving the machine? I'm a big klutz in the kitchen – disasters happen regularly! I'm just lucky my husband Nick is patient and more than capable of picking up the slack (he's the baker in our household).
Q. What are your top 5 recipes for hiding fruits and veggies?
Eeek! Don't hide them! Teach kids to embrace them! I think we're often victims of our own self-doubt. It's all in the delivery. When we present unusual ingredients or dishes to kids, we've got to do it with confidence and excitement. Making kids look forward to trying new things will work much better in the long run than hiding anything. The last thing we need are trust issues (haha!). BUT if they're being particularly picky, I find that wrapping anything in dough (even getting them to help you make vegetarian dumplings with store-bough wonton wrappers) works a treat. Especially if you can cap it off by telling them what they just ate after they say how delicious it is.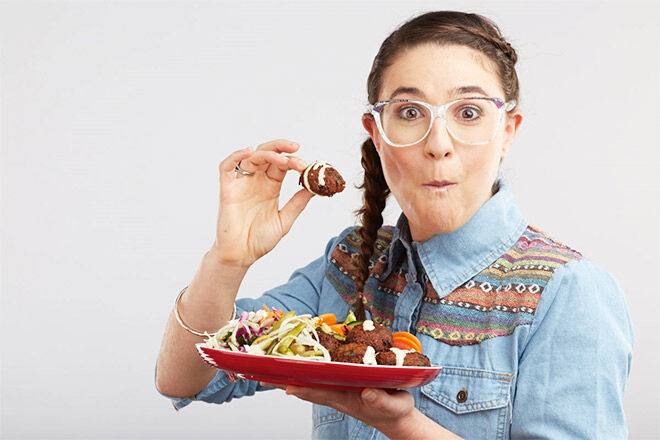 Q. What's next for Alice?
Oh boy! I'm already thinking about book 2 – which should hopefully take me less time now that I'm down with the process… Still so much more to say! The new season of my kids' game show Kitchen Whiz is about to kick off on Channel Go! in May.  I'm continuing and building on my work with Prahran Market, looking to extend it to more school excursions, so that I can get kids familiar with the fresh food hall. Speaking of schools, I've also just started work on FOOD-ED, an educational resource hub for teachers to help them access interdisciplinary food resources for the classroom. Right now though, I'm off to take Leopold to the dog beach… a mother's work is never done.
You can get you're own copy of Alice's Food A-Z here!