Stuck for gift ideas for Mother's Day? Don't worry – The special day may be fast approaching but there's still plenty of time to make a thoughtful gift. Whether you're crafting something for your own mum or enlisting hubby to get creative with the kids for you, we've scouted the very best DIY gifts to make this Mother's Day extra special.
Here are 16 easy Mother's Day makes for a great homemade gift.
1. Flower fresh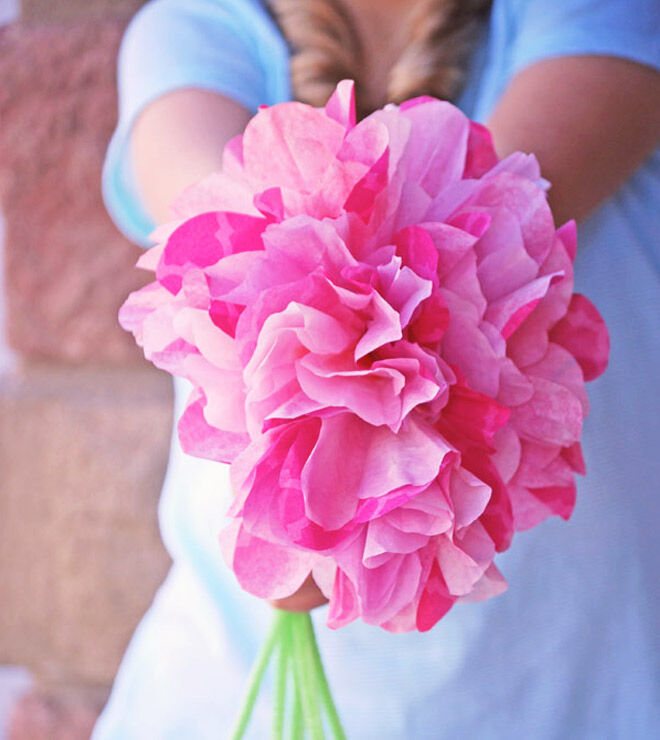 Make mum's morning a whole lot fresher with a fancy bouquet of coffee filter flowers. You'll need coffee filter papers, pipe cleaners, tissue paper, glue and your paint colour of choice before you fold and scrunch to get a pretty floral bunch. (via One Creative Mommy)
2. Hands-on in the kitchen
Whether you're making a gift for grandma or something memorable for mum, they'll both beam when they receive a personalised handprint apron. Capture the kiddies' prints while they're still tiny (and willing), and this pinny will be part of your family forever. (via Simply Kierste)
3. Say it with soap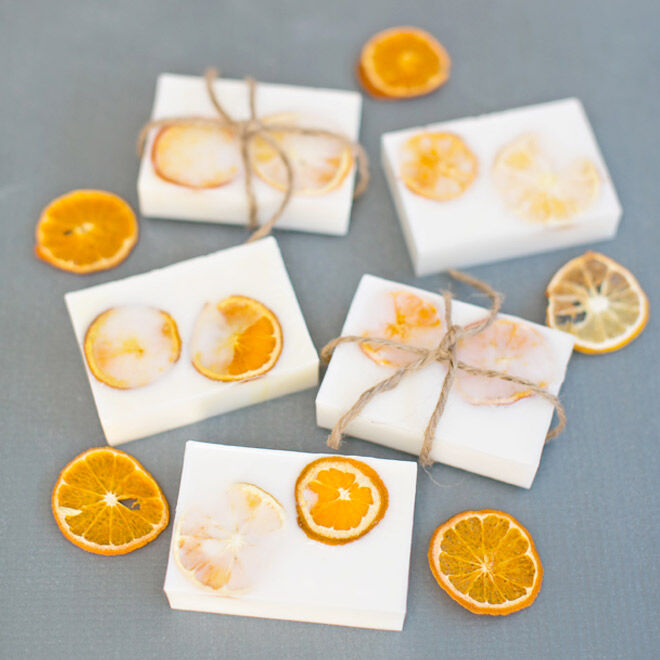 For a homemade gift that will really melt mum's heart have a go at making these handmade soaps with citrus. Not only do these slippery suds look incredible, they smell pretty darn sweet too. Soak up some craft time with the kids on the weekend and see how you scrub up. (via Hello Wonderful)
4. Great for gardening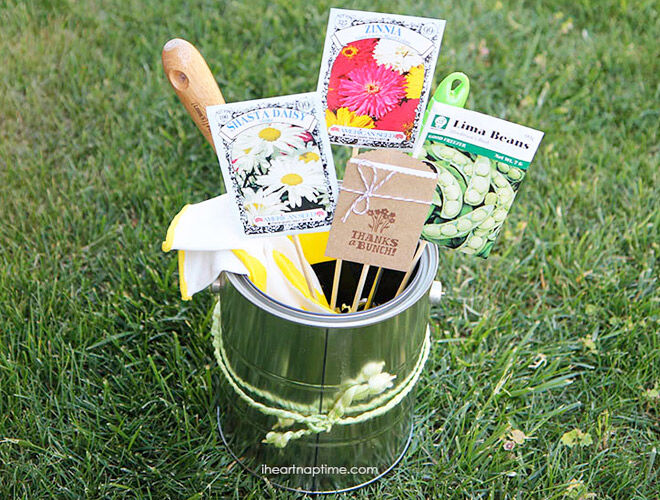 If mum fancies herself as the green fingered fairy she'll be delighted with this DIY gardening gift for Mother's Day. Fill a bucket with the seeds of her favourite flowers, gloves and a tool or two before tying with a pretty ribbon to seal the deal. (via I Heart Naptime)
5. Pop-up love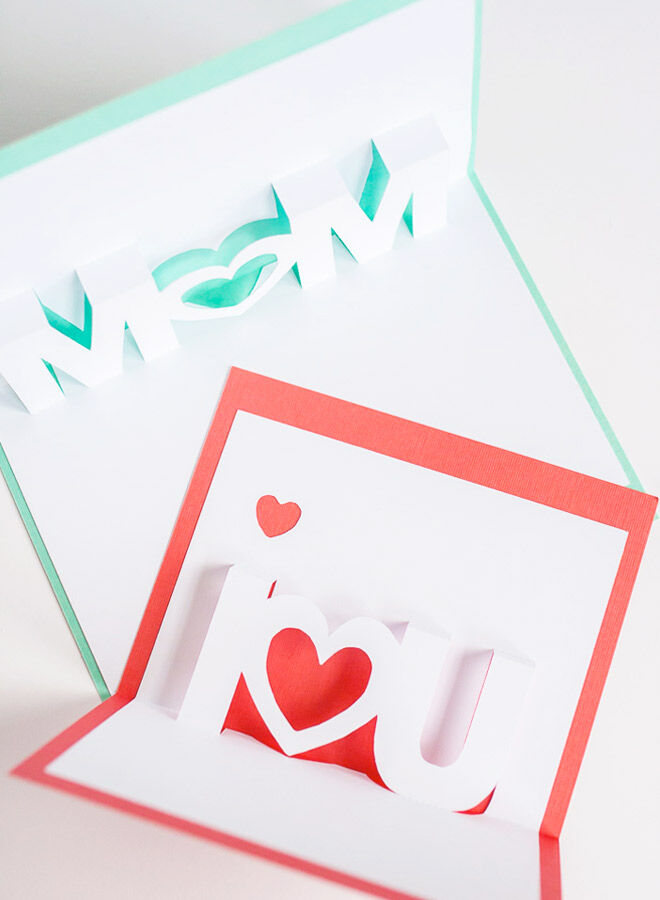 There's no need for messages when the card itself can say it all! We love these clever pop-up-cards and can't wait to try them at home. Download the template here to craft your own this Mother's Day. (via 1 Dog Woof)
6. Keyring keepsake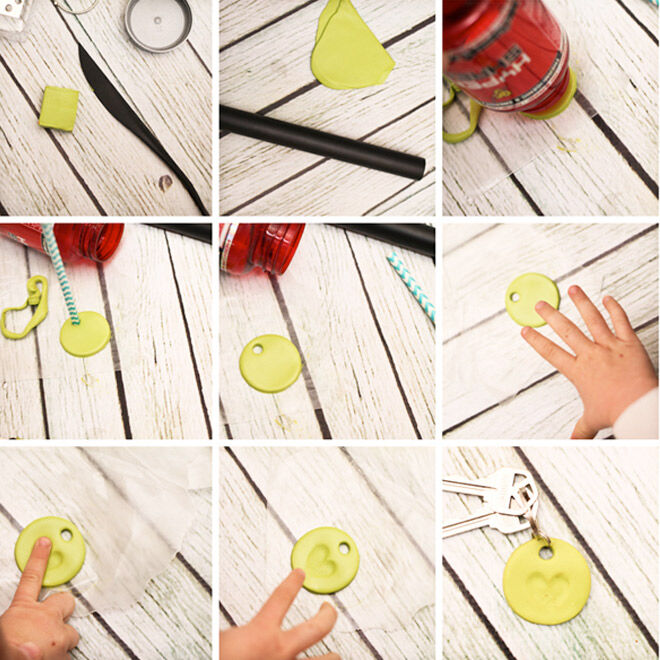 How can something so simple be so cute? This keyring keepsake is the perfect way to press bubba's prints and keep them forever. Grab some clay, a bottle cap, a plastic straw and (of course) your tot, then press their finger into a shape she'll love. Bake the clay for 30 minutes and allow to cool. Dads listen up – this is a winner! (via Lolly Jane)
7. Beads at the ready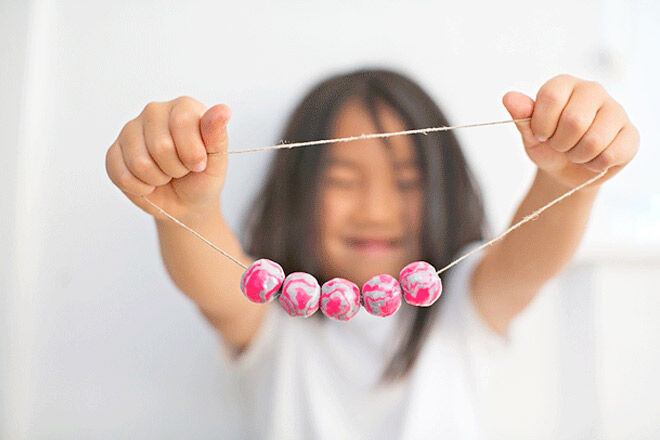 Gorgeous! Polymer clay necklaces are popular as ever and this cute kiddie version is just as cool. Rather than make beads from scratch, this tutorial shows you how covering wooden beads in clay has the same effect. Get the little ones to mould and make while you take care of the cooking. String the beads onto twine, ribbon or a glitzy chain for a Mother's day gift ready for the runway. (via Hello Wonderful)
8. Hands up who loves you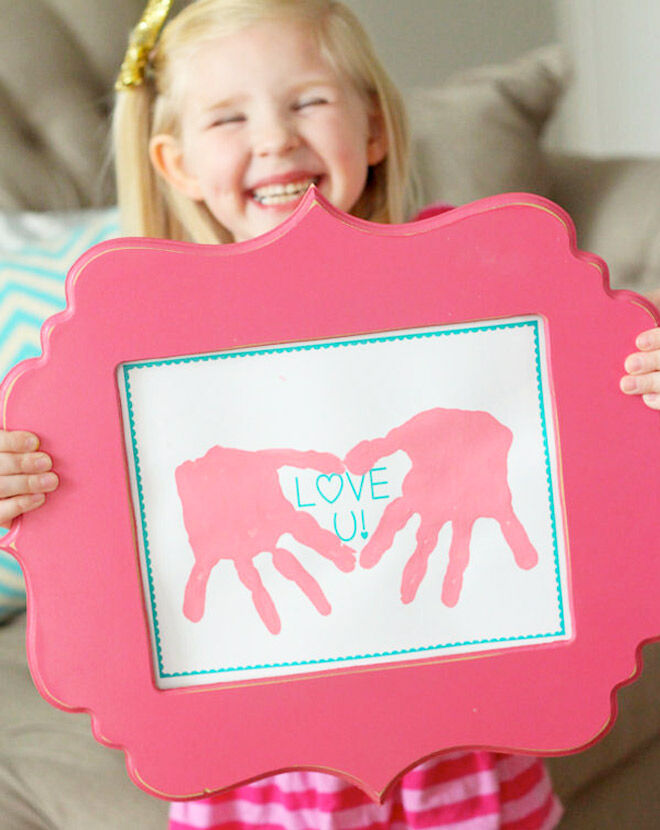 Some paint and their palms are all you need for this fabulous Mother's Day print. Pick a colour that will really pop before heading hands first for the paint. Press onto plain paper with a handwritten note or download the free Love U template from above. (via Lil Luna)
9. Love scrub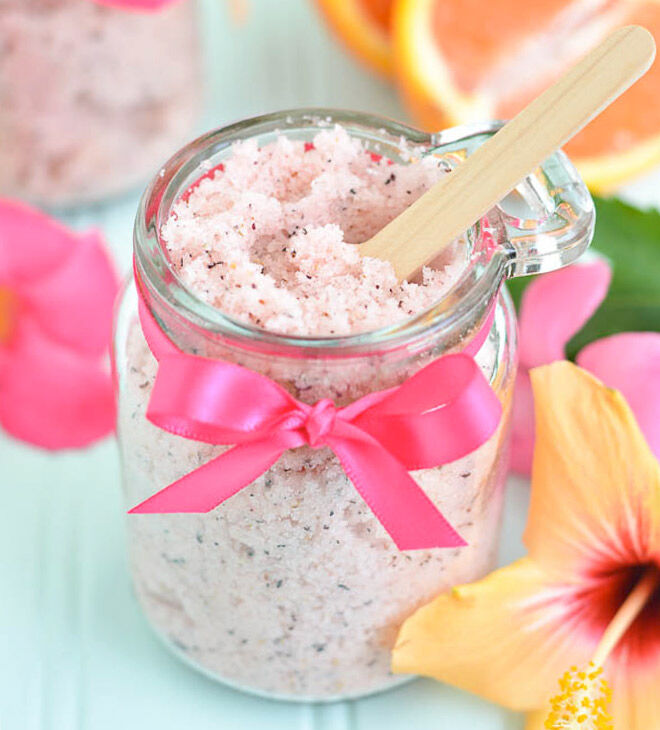 Make bath time more like a journey to the tropics with this homemade passion tea sugar scrub. Made from pantry items and essential oils, this citrus-y gift will leave mum feeling refreshed, energised and like a whole new mumma when she steps out the tub. (via A Pumpkin and a Princess)
10. Easy peasy planters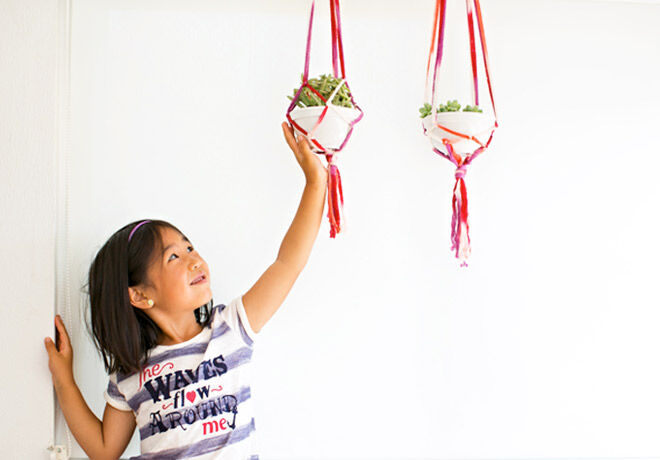 Macrame planters? Yes please! If you know someone who's been eyeing these bright babies for a while you're about to make her one very happy lady. Make for mum, make with the kids or make for yourself; either way, this kid-friendly tutorial for macrame planters means you'll be hanging your plants in style quick smart! (via Hello Wonderful)
11. How much I love you?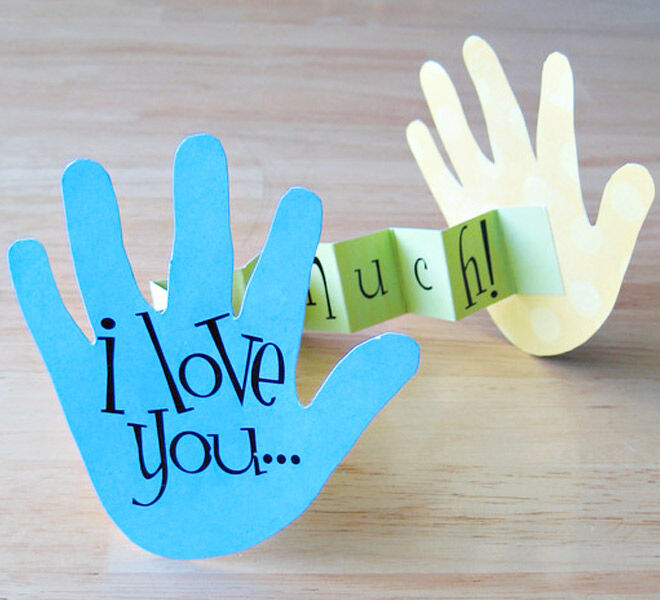 Show them how much you care with a card that says it all. Literally. Trace the kiddies hands and cut out two copies before making an accordion-style strip of paper. Add a message that means the world for a Mother's Day card they'll remember forever. (via A Day in my Life)
Breakfast in a box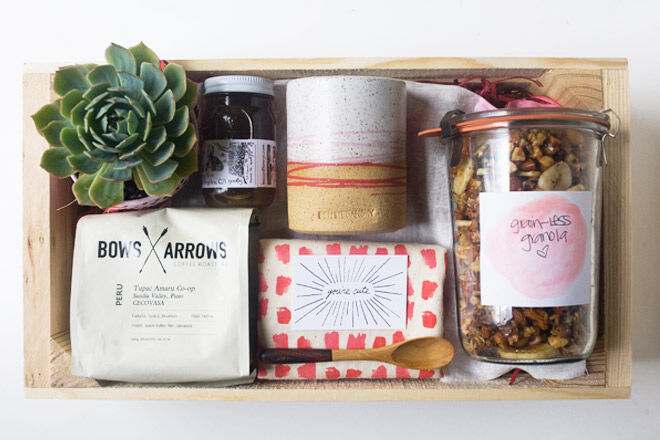 Breakfast in bed is awesome, but when it comes packaged all pretty in a box we're pretty much spent. Bowl mum over this Mother's Day with breakfast in a box filled with her favourite morning munchies. Coffee, granola, delish! (via A Cozy Kitchen)
Happy planters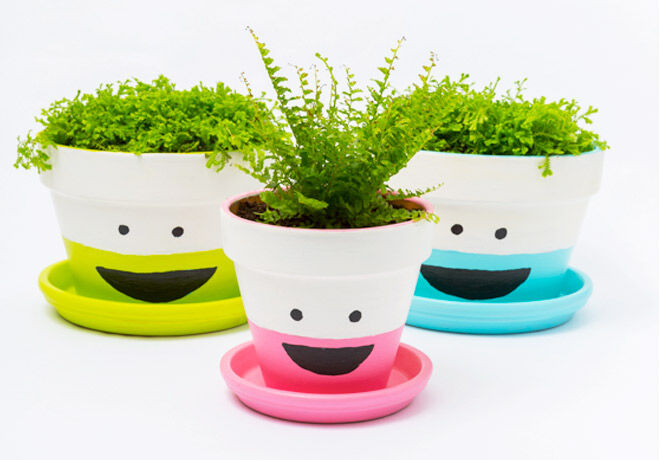 Everyone get happy! Bring a breath of fresh air into the home and heaps of happiness with these smiley planters! Pick up a couple of inexpensive plant pots from your local garden centre and get happy with the paint brush. They're sure to make mum smile! (via Classic Play)
Cards from the kitchen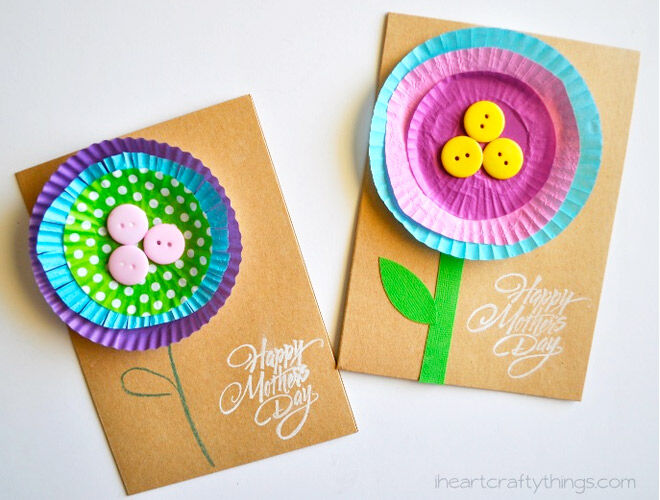 Empty the kitchen cupboards to whip up this adorable Mother's Day card in minutes. Made from colourful cupcake liners and a selection of dainty buttons, nothing says homemade gift like this cheery little number. (via I Heart Crafty Things)
Big love from tiny hands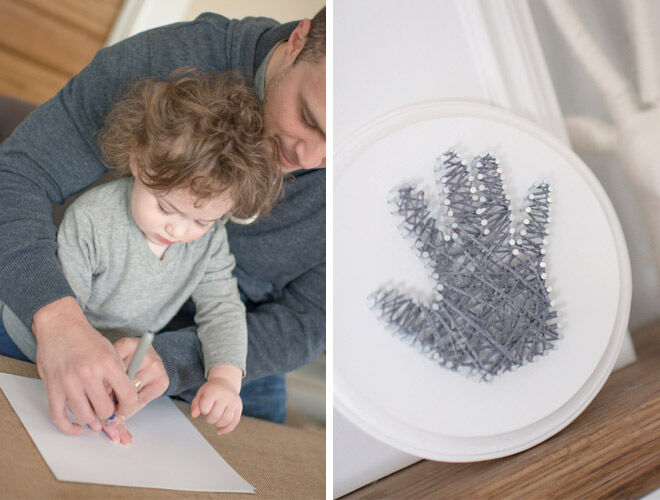 Their tiny hands won't stay that small forever, so make the most of those precious paws with a darling piece of hand string art. It's super easy to make at home – just keep little fingers at bay when it's time to tap in those nails! (via Southbroad and Crew)
Bottle to bake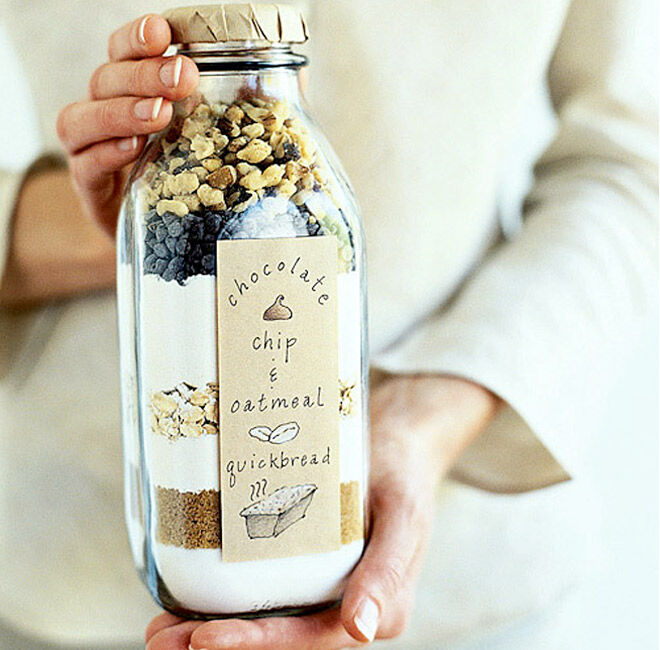 Nothing beats the smell (or taste) of freshly baked bread. FACT. Give mumma this quick bread in a bottle so that when she finally has the house to herself she can indulge without having to worry about those tiny little mitts swiping every slice. (via Sunset)