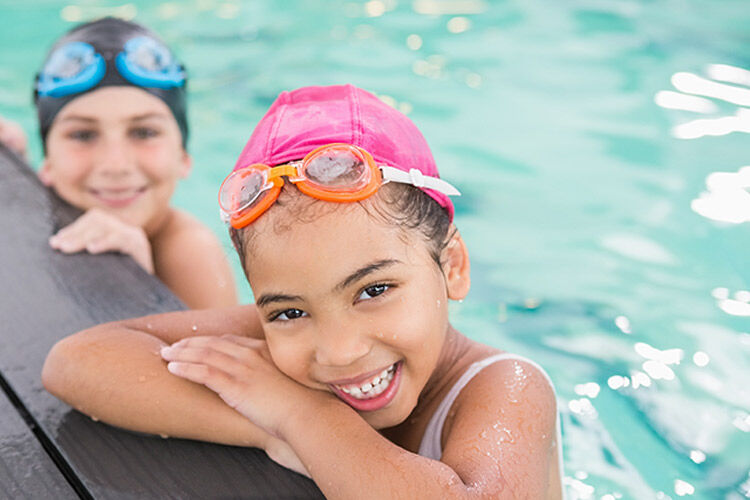 Packing for a pool trip can be like planning an expedition to the south pole. Except you'll need to take twice as much and face double the trouble! If you're carting the kids off to weekly swim school lessons, you'll soon become a seasoned pro. But why take the hard road?
We've made the trip there a little easier by putting together a swimbag of tricks and tips for a happy and safe journey.
1. Grab bag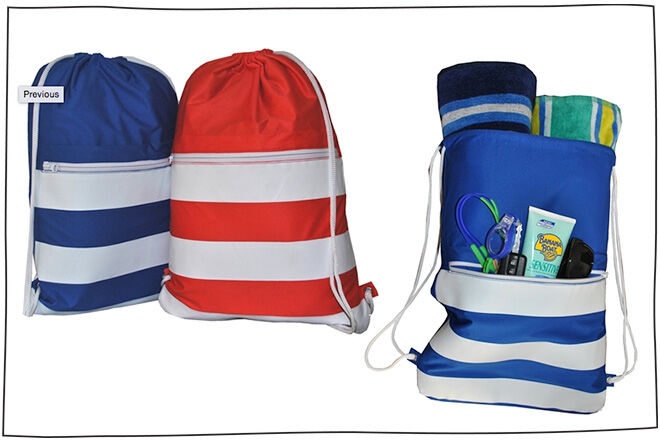 Of course, you need a great bag to carry the load to the pool and, more importantly, back again. Which means one thing—waterproof. When the good people at Smelly Bag call a product waterproof, they mean it. Their product line started as bags for dirty children's clothes (yes, that kind of dirty).
The bag proved so versatile it gave rise to its big brother, the Swim Sports Bag ($18.50). You know that if it's safe enough for smellies, it's got to be safe for soggy swimmers. So you can sling it into the car care free after the lesson.
2. Get sneaky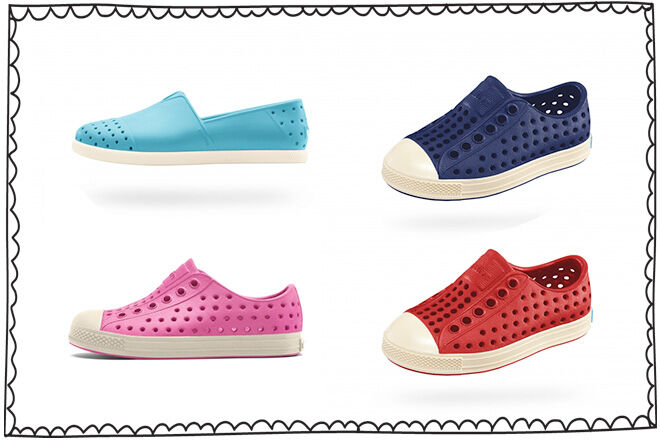 Wet feet and sneakers don't mix, until now. Waterproof and odour resistant, Native Shoes (from $55) have all the cool of Converse with the all-purpose comfort of Crocs. Some seriously pumped up kicks for the trek poolside!
3. Cover up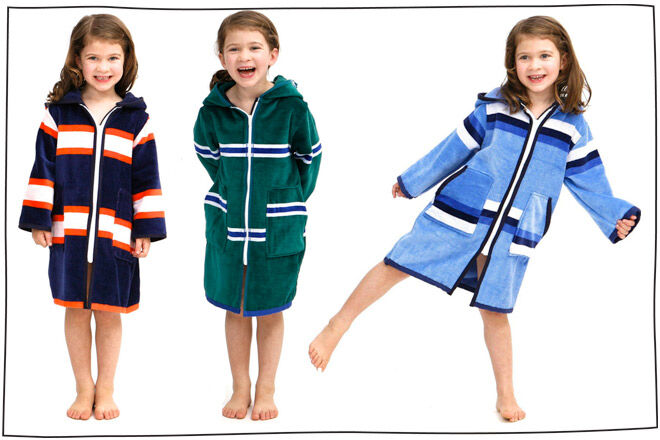 Whether you're the swim-and-go type or you like to linger after your little one's lesson is over, have a Terry Rich hooded swim robe (from $39.90) on hand to wrap them in once they're out of the pool. Thick and thirsty, they do double duty as both towel and after-swim wear.
With options for short or long sleeves, zip front or poncho style, there's something for everyone—even a day spa-inspired robe for your pool princess.
4. Cap-tive audience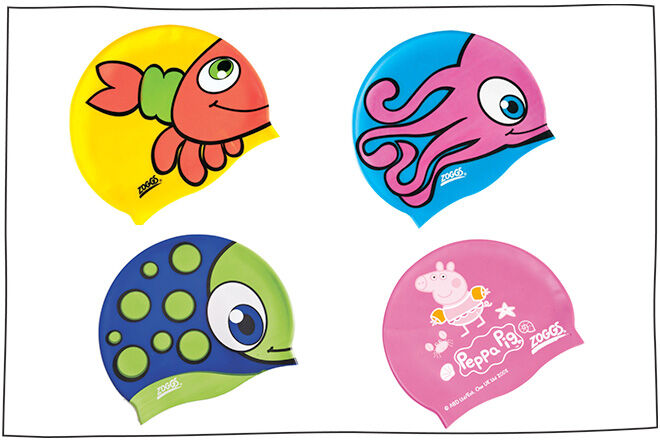 In the fashion stakes it's pretty hard to rock out a swimming cap. But this super cute range of Zoggs swimming caps (from $17) put the style in freestyle.
5. Take the plunge
Who would have thought the secret to fitting a swimming cap in a flash would be to fill it with water? Just open it up inside out, dunk it in the pool, lift it above your swim star's head and drop. Yep, you're practically water-bombing your kiddo's head but, if they're up for it, you're both sure to get a giggle out if it. And it works, as this fun video shows.
6. Goggle it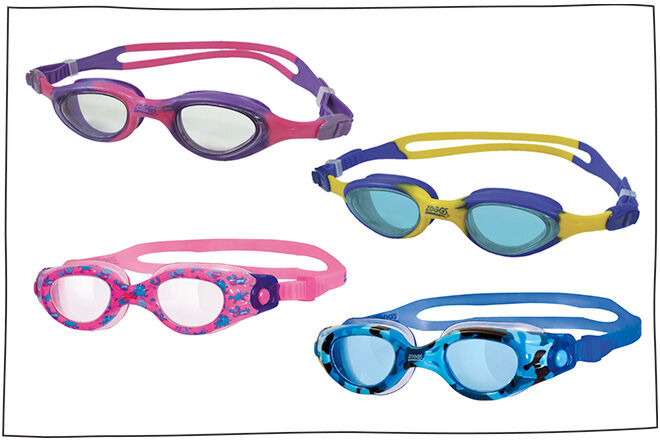 If you'd like to protect your little swimmer's peepers from the pool water, pop them in a pair of kid-friendly Zoggs goggles (from $12). Made for 6 and under, they're a perfect fit for little faces.
7. In a spin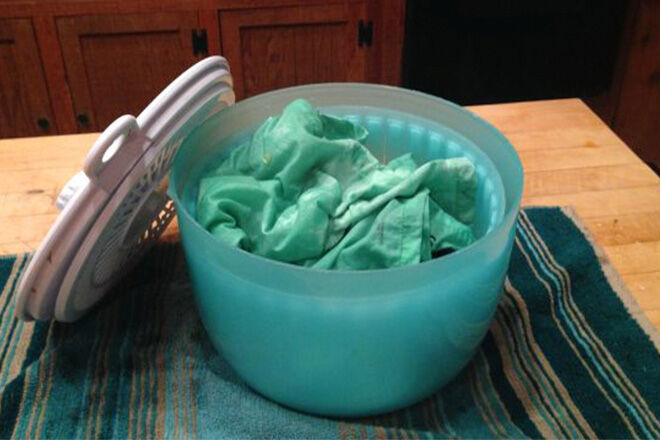 We've all been there—it's swim class day and you've only just found last week's stinky swimsuit stuffed in the bottom of your little person's swim bag. You've got to wash and dry it, fast! Easy, just whip out the salad spinner. Rinse and wring out the suit, toss it in the spinner and crank like crazy.
It might not get it perfectly dry but it will be close. Then wrap it in a spare dry towel to absorb that last of the moisture. When you're in a pinch, give this Lifehacker trick a whirl!
8. Ear buds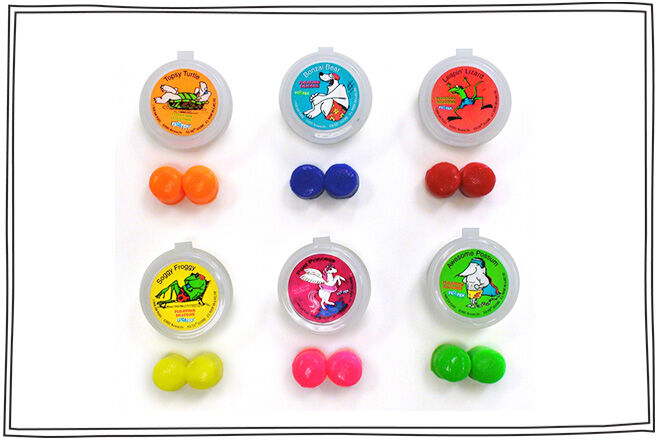 Ok, ear plugs aren't even remotely cool, but swimmer's ear is totally uncool, so we know which we'd rather. The Putty Buddies Floating Ear Plugs ($1.75 pair) will help protect your water babe's ears and they're almost impossible to lose—they come in a variety of bright colours and, unlike any similar ear plugs, they float in water.
9. All ears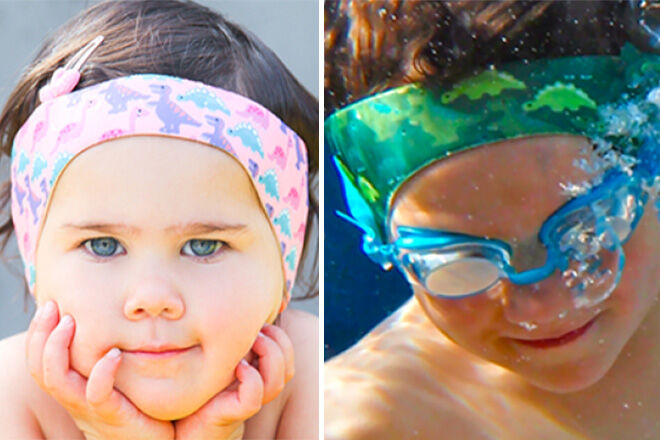 If your little dear has troublesome ears, you might worry that getting grommets means the end to swimming. Never fear, Little Grommets ear bands ($19.95) are here to save the day. Worn with ear plugs, these waterproof bands will keep your child's ears dry and come ENT recommended for use while swimming with grommets. Yay!
10. Swim with confidence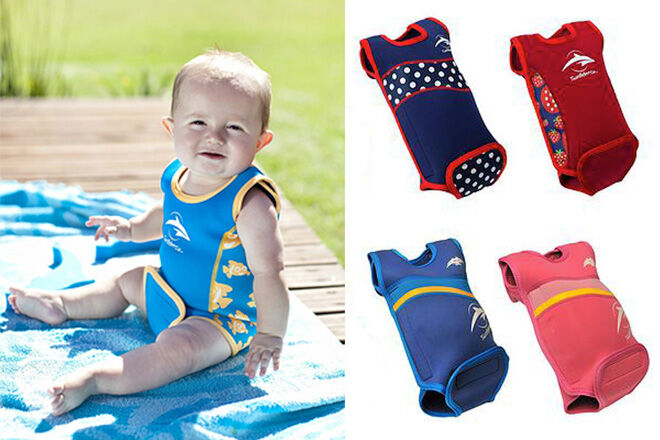 Even in warmer weather or heated pools, bubs can feel cold in the water. The Konfidence Babywarma Baby Wetsuit ($44.95) will help keep your water baby snug by wrapping them up tight in a soft neoprene fabric. It's like a warm hug in the water. And, even better, the simple wrap-around design for babies and over-the-head style for toddlers makes changing time a cinch.
11. Dust them dry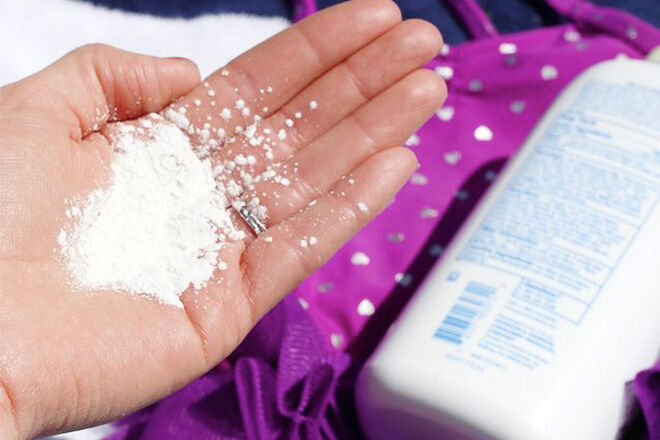 If you like to do your swimming at the beach, be sure to pack the baby powder. It works a treat to clean sandy feet. When drying off, dust it over your beach babe and it will suck up the moisture that's sticking the sand to their skin, making it easier to brush off. Cool, huh?
12. Top to bottom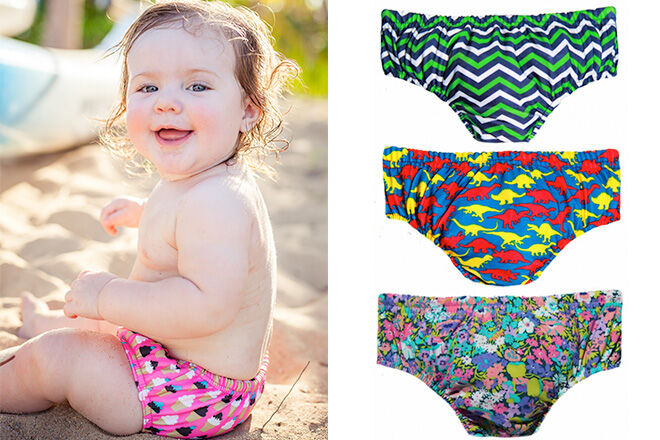 Swim schools politely refer to it as an 'incident' in the pool. Parent's call it their worst nightmare. The number 2. Swim nappies are just a must for lessons and the award winning Rashoodz Reusable Swim Nappy ($15) are real lifesavers that can be used again and again without fear of any scary leaks. These bottom covers are tops!
13. Fin fun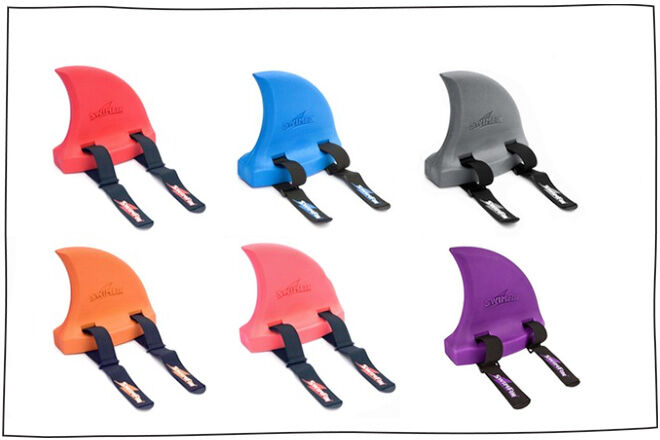 Just when you thought it was safe to go back in the water… it is! Swimfin ($52.62) is a super-fun swimming aid that's adjustable for all ages and abilities. Your little shark will love it.
14. It's not easy being green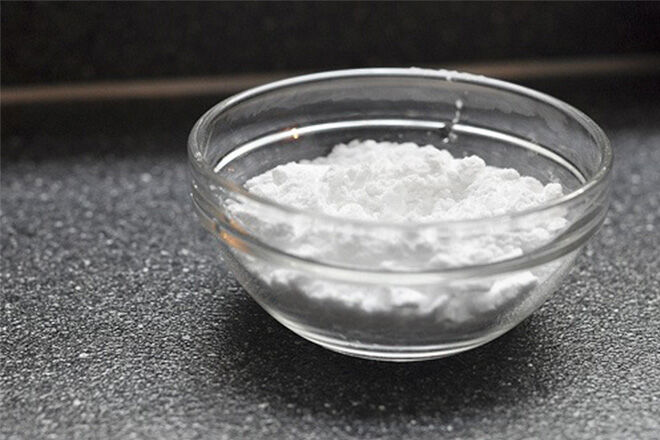 If the pool has your little fish looking more like a little frog, try using baking soda to remove the green sheen from their hair. Make it into a paste and rub it through their wet mop before they hit the showers, or just mix a little into their shampoo. Babes In Hairland can step you through it. (Image via: Kitchen Stewardship)
15. Play it by ear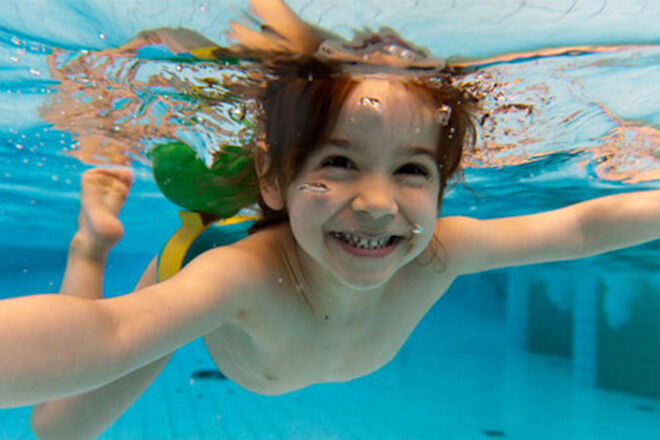 Vinegar isn't just good for putting on your fish and chips, it can help your superfish avoid swimmer's ear. Make up a bottle of white vinegar diluted with either water or rubbing alcohol.
Once your fish is out of the water, give them a good dry and then pop a few drops in each ear to help prevent this common painful problem. A great home remedy from MNN.
16. Cap it off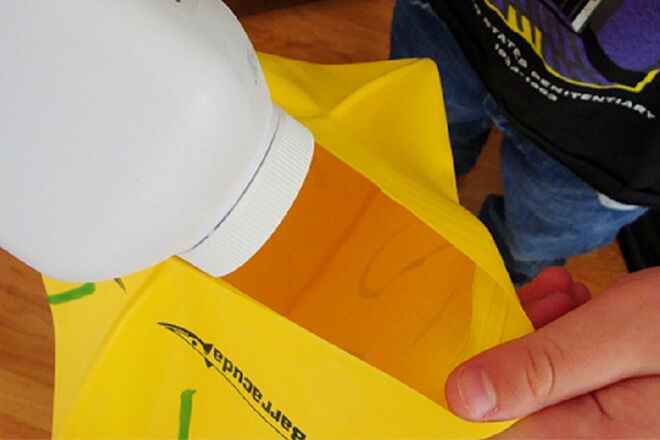 It's important to give your child's cap a little TLC between outings. After swimming, rinse the cap in clean water, dry it and sprinkle in a little baby powder. It will absorb the last of the moisture and help prevent bacteria (ew!) from growing. And it might even make the cap a little easier to put on next time. The Swim Outlet has the full guide. (Image via: Team Whimsy)