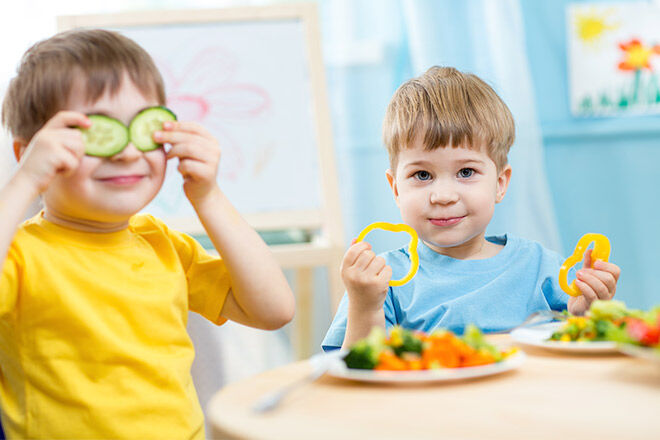 There's a reason why The Wiggles sing Fruit Salad, Yummy Yummy. Because Steamed Broccoli, Mmmm Mmm doesn't draw the crowds. Despite what Curtis Stone says, most of us (even those blessed with the best eaters) are going to face the battle of the vegetable at some stage. Unfortunately our little troopers have an indefensible secret weapon—the floor. You can ask, demand, reason, threaten or bribe, but once your kiddo declares war on a vegetable it's bombs away.
But luckily we know something our little ones don't—the battle begins well before sitting down at the dinner table. Stealthily getting your kids familiar with veggies through play time and encouraging positive associations with healthy food can actually make for more productive and peaceful meal times. We call it Operation Fussy Eater: 17 ways to have fun with vegetables.
1. Picture perfect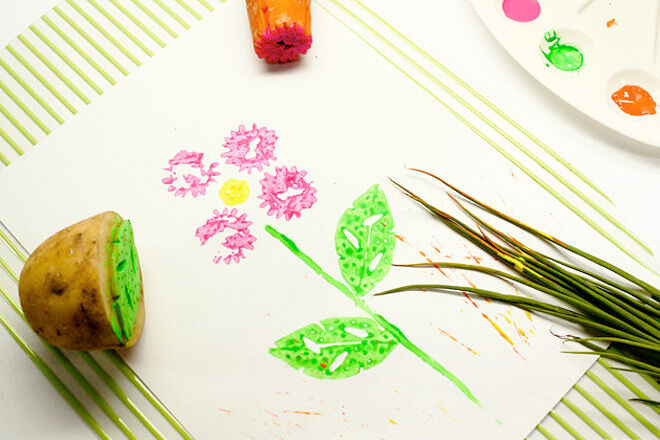 If you're feeling crafty, get painting. Ditch the brushes and raid your veggie bin to dip in the paint. Look for vegetables that can be carved and used as a stamp, like potatoes and carrots, or ones that have an interesting shape when cut up, like beans and okra. Just get creative—an asparagus makes a great paint brush, use a corn on the cob as a roller or cut a capsicum in rounds for a circular stamp. (via wikiHow)
2. You can make friends with salad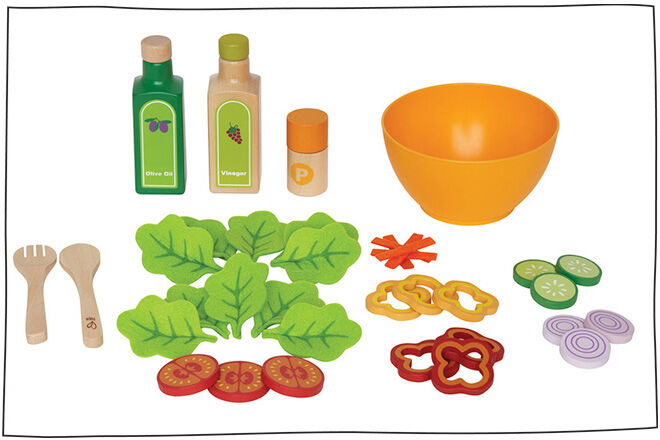 Encourage your budding masterchef even if you're not quite ready to let them in the kitchen! This cute wooden Garden Salad set by Hape ($34) lets your little one create their own gourmet salad for play time. They can even dress and season to taste. Because nothing disappoints the judges like not enough dressing.
3. Stick 'em up!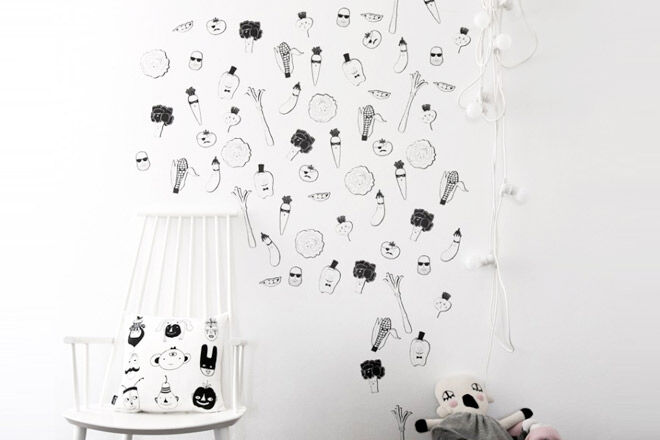 Don't know what to do with that blank wall? Turn it into a vegetable adventure with these fun Green Mob wall stickers ($29.95) by Sack Me. Matching linen is also available if you'd like to give your veggie-muncher's room a makeover.
4. All cut up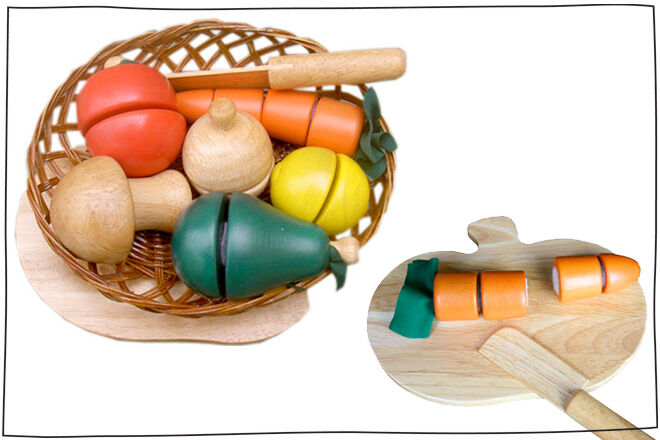 If your kiddo is complaining they're bored with vegetables, get them a board with vegetables! This Cut Up Wooden Fruit & Vegetables set ($36.95) comes with a basket full of goodness that your little kitchen helper can chop and put back together again and again.
5. To market, to market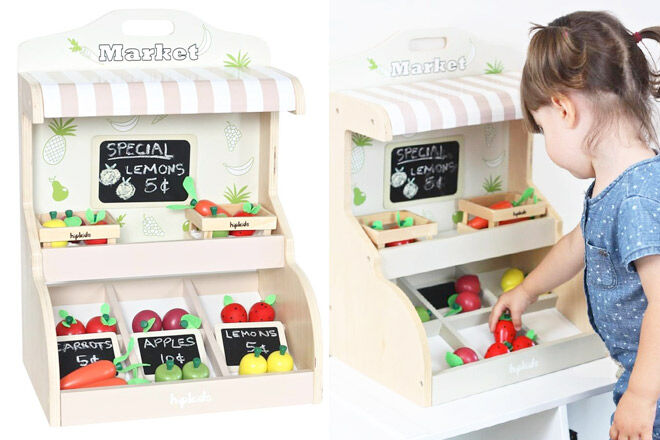 Bring back some good old fashioned fun with this quaint Fruit & Vegetable Market Stand ($79.95) by Hip Kids. It comes with everything your little grocer needs to play shop including wooden fruit and veg, produce crates and even chalkboard pricing plaques.
6. Veggie bin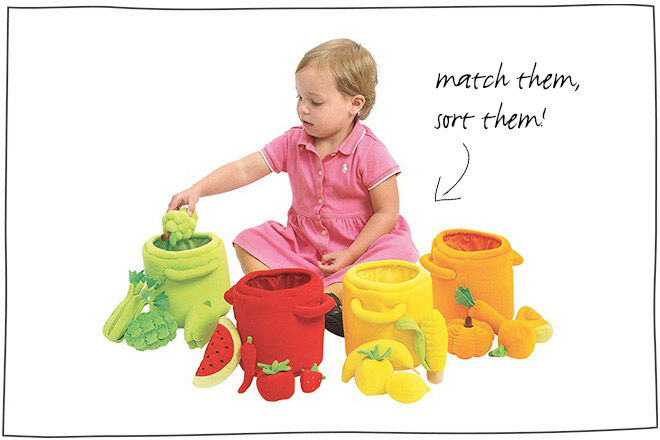 This Plush Fruits And Veggie Sorting Set ($71.39) is like five toys in one. As well as having a veggie good time, your tot can practice matching, sorting, counting and colour recognition.
7. Magnetic attraction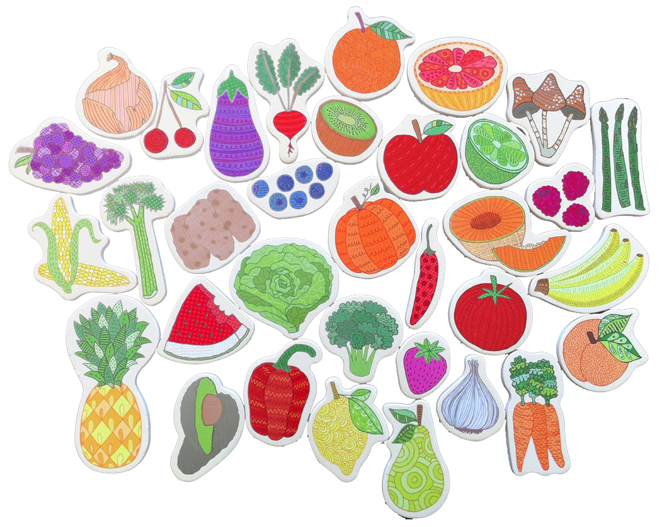 If the kitchen is the heart of every home then the fridge is the heart of the kitchen. What better place to teach your little one to love the good stuff? Do it without even opening the fridge door with these cute Mudpuppy Wooden Magnetic Fruits & Veggies ($30.00). As an added bonus they'll keep their little hands busy while your hands are full getting dinner ready.
8. Harvest time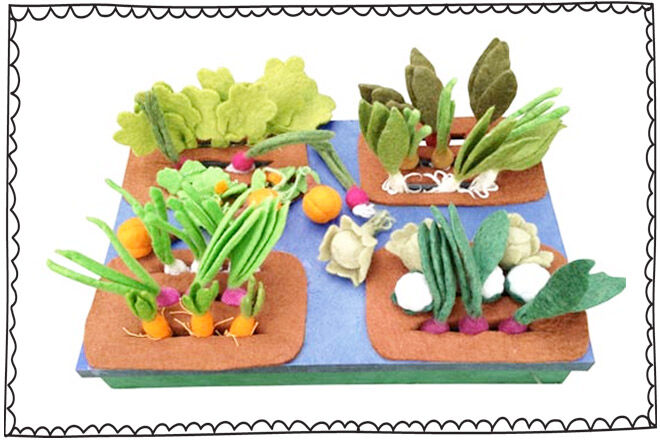 Little Peter Rabbit would have a field day in this gorgeous Grow a Garden felt veggie set ($199.95) by Eco Toys. Handcrafted in Nepal, this garden comes with stacks of veggies and four separate beds for planting out your harvest. It's even raised so your little bunny can peek at what's growing under the soil.
9. Veg head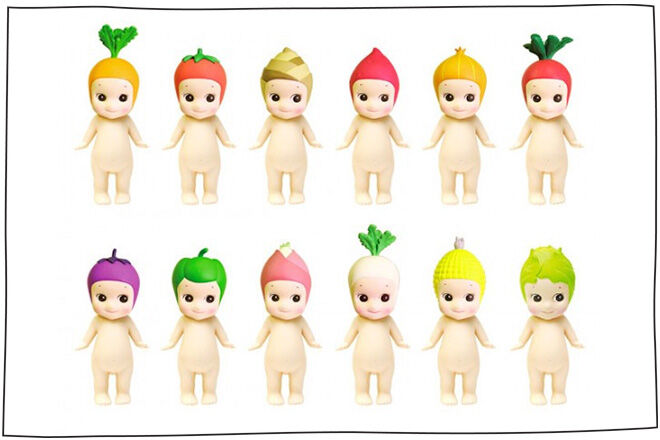 If this bunch of sweetness doesn't get your sweet pea champing at the bit for their veggies, we don't know what will! These Sonny Angel Doll Vegetable Series ($9.05 each) are exactly what they look like—kewpie dolls with veggie hats. Crazy but oh-so-cute.
10. By the book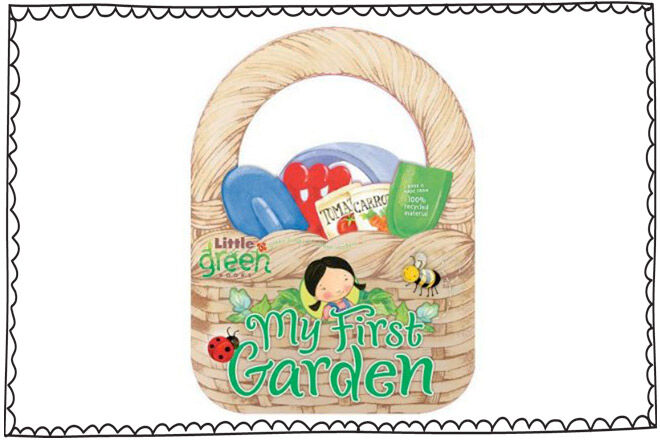 The Little Green My First Garden book ($12.95) tells the story of a mother and daughter planting a garden and watching it grow. Full of colourful and delicious vegetables, if your little bookworm loves the story they're one step closer to loving their veg at dinner time.
11. Making faces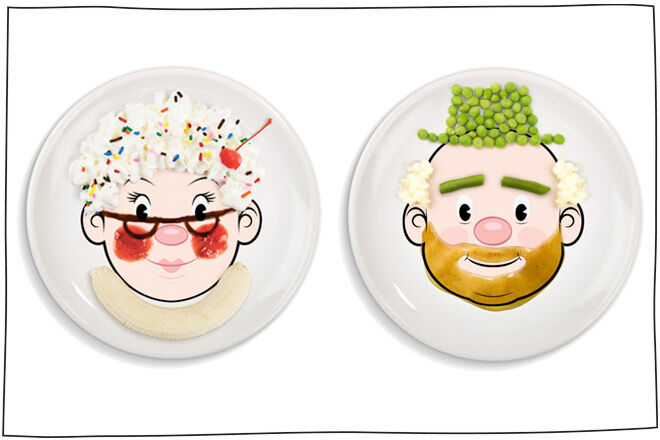 Who says kids shouldn't play with their food? Enourage them to enjoy seeing vegetables on their plate with a Food Face dinner plate ($24.95). From a broccoli beard to eggplant eyebrows, your kids will have so much fun they might just forget they're eating veggies.
12. Fancy threads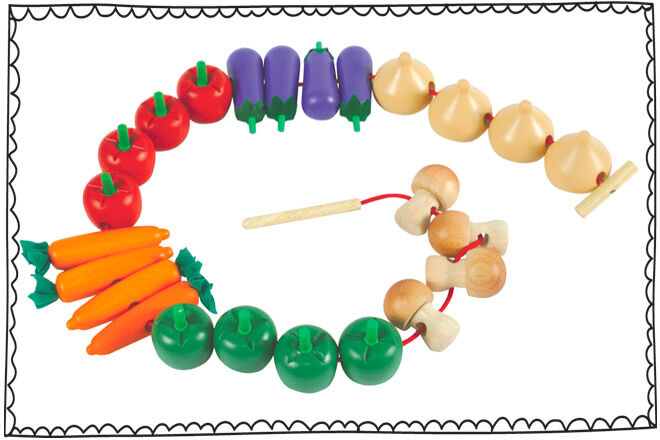 Practice fine motorskills, patterns and sequencing with this gorgeous wooden Threading Fruit and Vegetables set ($59.95). Your kiddo will be concentrating so hard on what they're doing, they might not even realise you've got them enjoying their veg.
13. Fake it til you make it

Play dough is a cheap and simple way to enjoy some veggie fun with your little one. You could grab some veggie shaped cutters, or just roll up your sleeves and shape the play dough yourself into the veggies of your choice. Check out this Hoopla Kidz video for some tips on how to DIY.
14. Dominoes delivery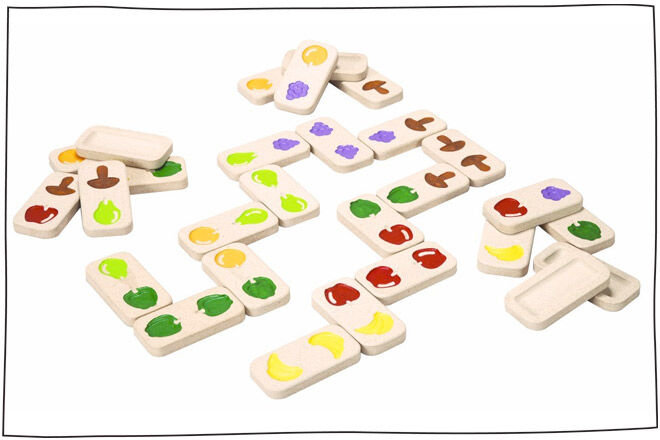 No, it's not pizza time, it's play time! Made of sustainable rubberwood, these delightful Fruit and Veggie Dominoes ($79.99) by Plan Toys are easy to hold for little fingers and easy to use—just match them, rack them or stack them.
15. Sugar SNAP peas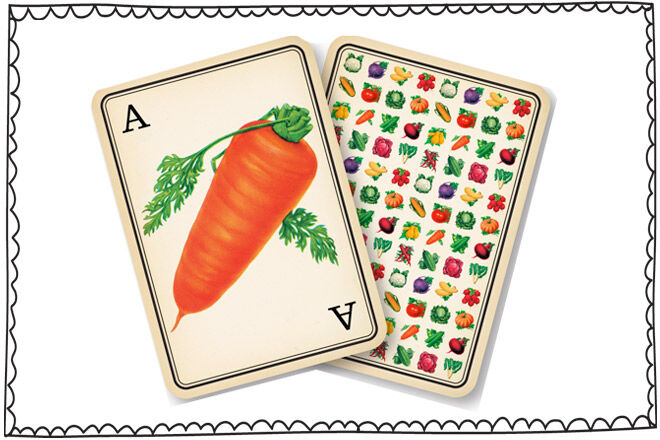 Turn snap into a friendly game of mashed potatoes with this awesome pack of veggie playing cards ($10). For days when rain stops any outdoor play, bring the veggie garden inside!
16. Veggies in underwear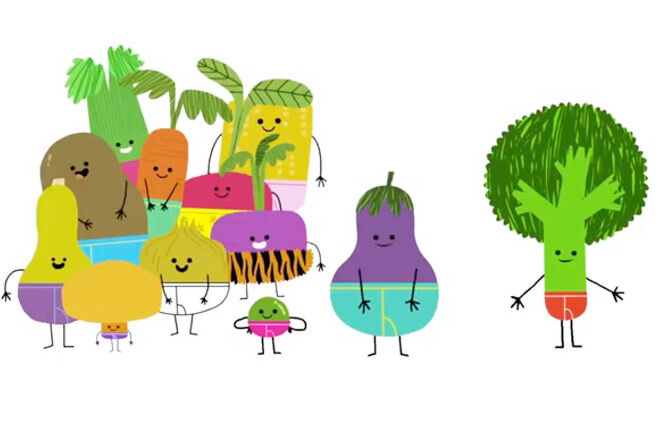 Vegetables In Underwear ($19.50) has got each and every one of us on the floor in fits of giggles! This charming tale of leafy greens, root veg and salads without their unmentionables will leave the kids belly laughing. They say laughter solves everything and we think this little book may have just solved our fussy eater syndrome!
17. A-Z of yum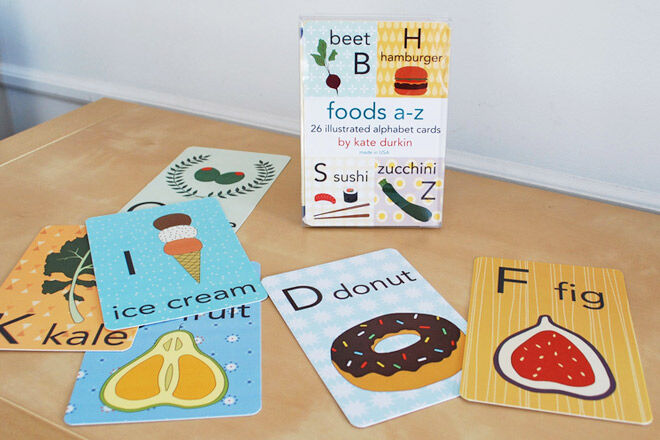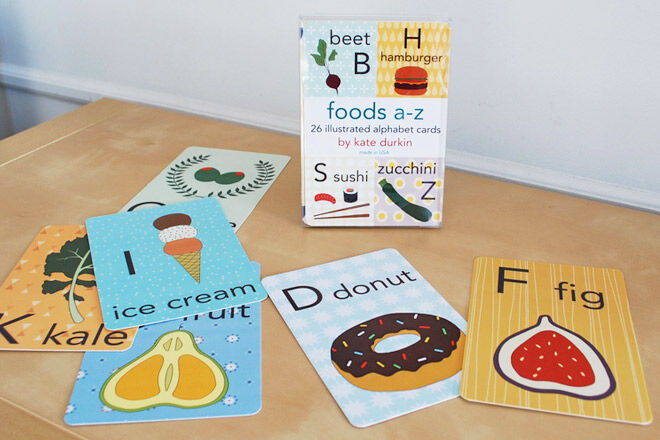 Combine teaching tots about the goodness of veggies with beautiful flash cards for the playroom or nursery. The Food Alphabet Flash Card Set ($29.95) is a complete A-Z of fabulous food, with each card beautifully illustrated by Kate Durkin.