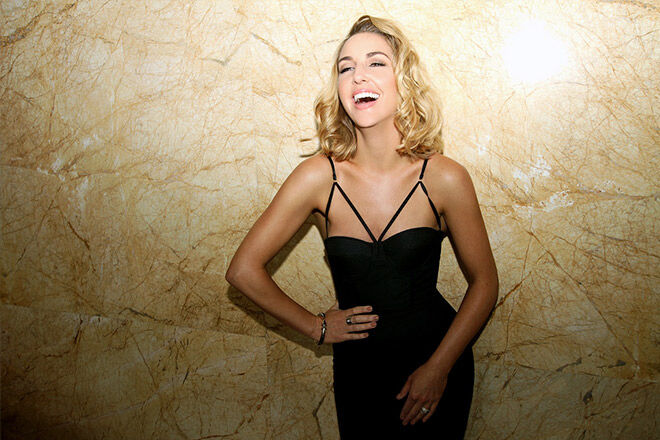 Meet Jules Sebastian, fashion stylist, mother of two (Hudson, 3 and Archer, 1), and wife of Australian Idol superstar Guy Sebastian. This year is set to be huge for Jules – as well as launching her own You Tube series 'Tea with Jules', the Sydney based mamma has also been announced as the official ambassador for PlayKids Australia – the one-stop app for educational games and shows for kids. Oh, and did we mention a little thing called Eurovision too? Phheeww…we're exhausted just thinking about it!
Earlier this week we caught up with the lovely lady to talk life as a busy mum and her tips and tricks for keeping the kids entertained at home and on the road.

Tell us a bit about PlayKids Australia and why you decided to become an ambassador.
I was already using the app for Hudson before PlayKids asked me to become an ambassador. I can say I'm a true advocate! I just liked how there was an educational side to it as well as it being entertaining. It is easy to navigate for him and the shows get updated each week so it is not the same thing over and over. It captures his very short attention span so that works for me!
How do your kids interact with technology?
Archie is a little too young right now but Hudson is starting to get into it. He doesn't have his own device or anything like that, but he uses my phone when I give it to him. I am huge on the kids getting outdoors as they are super active, but for those moments (when you need a shower, or want to drink a hot cup of tea, or travelling), technology can be a God send!
You must always be travelling with the tots in tow. What are your tips for travelling with kids?
Try not to bring too much stuff! I used to make the mistake of bringing EVERYTHING with me on a trip, but if you don't have it with you, more than likely you can buy it at the other end if you really need it. I try and book flights around nap times and try not to fly or travel too late in the day. Kids tend to fall apart if it gets too late and that is fun for no one! Oh and make sure all technology devices are fully charged before you leave the house!
What are some of your favourite apps for kids?
Playkids is a definite favourite. It has a great mixture of education and entertainment. Hudson has learned his colours, shapes and sounds from the app and there is even a game that teaches you how to clean up your toys! Winner! There are lots of toddler programmes for him to watch to and the best part is that you can be out an about it does not chew up any of the data on your phone. You download it all before you leave the house then you can watch it from anywhere. Perfect for travelling!
What app have you found useful as a parent?
There is an app called Baby Monitor which is a great one for where you are at a friends place and decide to put your babies down for a nap. It sets up your phone to be a monitor, put the monitor on then set it to call somebody else's phone (that is in the room with you of course!) when the baby makes a noise. So, when the babies cries or makes a sound, it activates you phone in the room and makes a call to the other persons phone. It has been a stress reliever many times for me and means you can relax knowing that your child is sleeping (or not sleeping) down the hall.
What does a typical day look like for Jules?
Arghh!! I wish I have a straight answer! No two days are ever the same work wise, but kid wise it's like clockwork. The both of them are up by 6am then the morning routine starts. By about 8.30(ish) we are about set to start the day and all we need to get done. I try to set the days were I work so I can spend set days at home with the kids too. I make sure my days ends around 4pm when I am working so I can be with the kids for dinner, bath and bed time. Then the whole thing starts again!  The nature of my job, is that I don't have set hours or a set schedule so I am lucky enough to be able to pretty much set my time up to work and be a mum.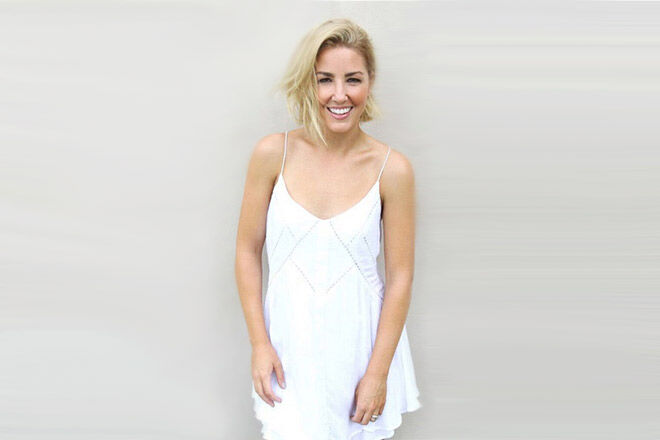 You've been given 3 hours away from work, the kids and everything else. What would you do with 3 hours of 'you-time'?
Feel guilty. Then go for a massage. Get my nails done. Try not to look at my phone. Eat food while flipping through a magazine at a café, then probably start to miss my kids!
Where to next? What's next for Jules Sebastian?
Good question!! I am working on a You Tube show right now called Tea with Jules. It is a sit down chat show with awesome and inspiring people who have been successful in their field. I am absolutely loving it and I feel so inspired by people's stories. Just search Tea With Jules on YouTube to find it. Guy and I also have a foundation called The Sebastian Foundation where we are helping families in need. This is ongoing and we are looking to help even more families this year. Apart from that, trying to get some sleep and trying to keep up with whatever Guy is doing!
PlayKids Australia (free) is available from iTunes for iPhones and iPads, and on Google Play for androids