Every baby is born a little Bob the Builder. Whether it's during playtime on the mat or stacking cheese cubes at lunch, it seems as soon as they can sit up they want to stack up. And the best bit? What goes up must come down, of course! To keep their little hands busy and little minds busier, here are 13 super stacking toys for babies and up.
1. Easy as A, B, C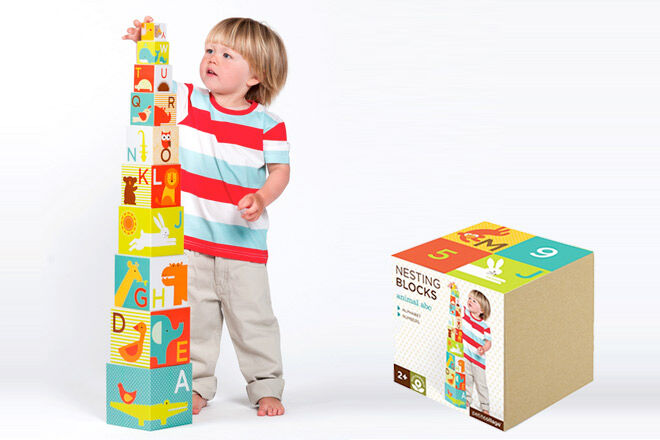 A is for awesome! The Petit Collage Nesting Blocks ($29.95) is an A-Z of stacking fun. Your small stacker can learn their 1,2,3 and A, B, C while admiring the colourful creatures of the alphabet.
2. Rainbow connection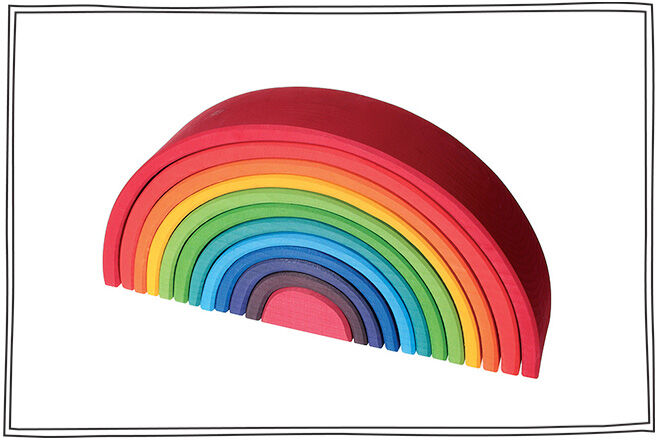 Forget the pot of gold at the end of the rainbow—we've struck gold with the Grimm's Large Stacking Wooden Rainbow ($159.95). Your little leprechaun will enjoy stacking and nesting the arcs at first, but as they grow they'll use them for so much more, like building tunnels, bridges, see-saws, caves and creative shapes. Smaller sizes are available but we love the large—it would look amazing in any room.
3. Fancy a cup?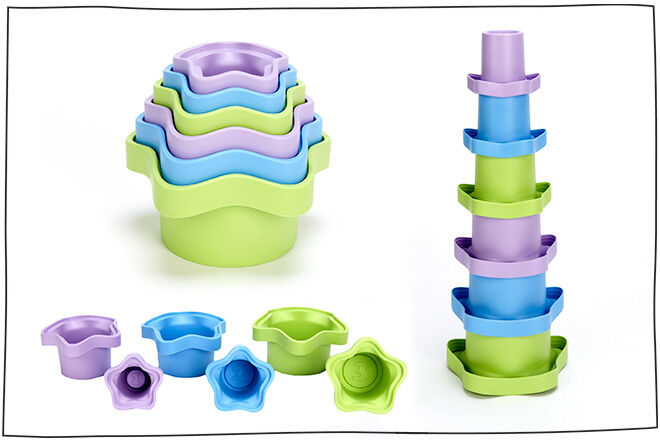 It's the classic stacking cup with a difference. The Green Toys Stacking Cups ($26.95) are made from 100% recycled plastic and their unique shape makes them great for small hands to grab and stack. Also great in the bath, they're even 'volumetrically accurate' which means if you fill cups 1 and 2 with water it will equal the volume of cup 3. Clever!
4. Tobble to and fro
Build bub's brainpower with the bright and bold Tobbles Neo stacking toy ($59.95) by Fat Brain Toy Co. With easy-grip sides great for little fingers, each sphere-like shape is weighted differently to allow endless balancing possibilities.
5. Mag-neato!
Invest in a basic Tegu Magnetic Blocks set (from $63) and we're pretty sure your collection will grow as your children do. From a simple stack to a teetering tower, even robots and cars, the combinations are endless. And because they're magnetic, they take stacking to new 'heights'!
6. Top tweets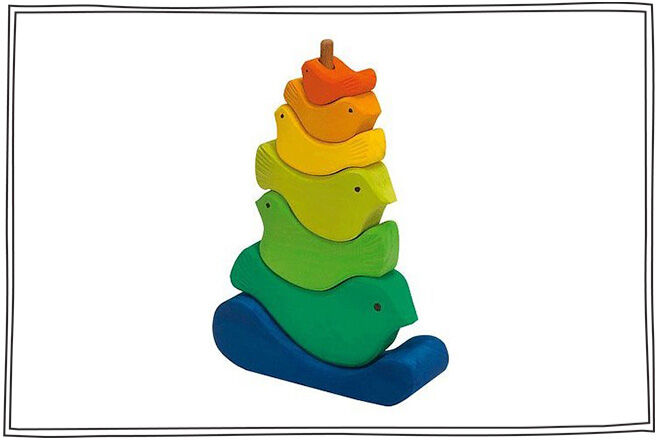 Feather your nest with this beautiful Birds Stacking Tower ($58.70) by Gluckskafer that will have your baby bird chirping with delight.
7. A soft touch
If you're looking for something on the softer side, this Melissa and Doug Soft Rainbow Stacker ($43.85) is a safe bet. Cute and cuddly, the brightly coloured pieces also rattle, jingle, squeak or crinkle for some extra fun.
8. Oh, nuts!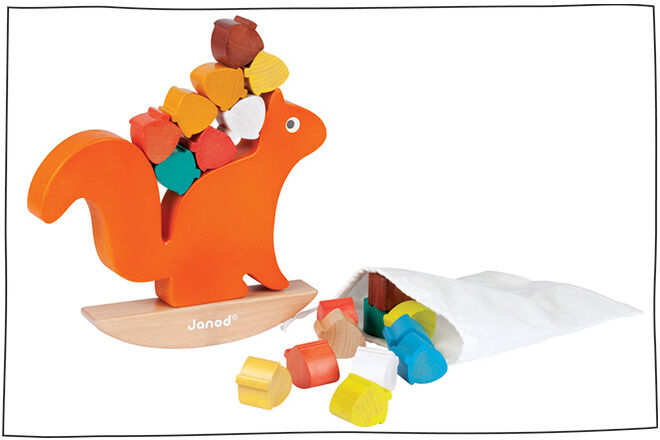 You might need to squirrel this one away until your tot is ready, but when you crack it open they'll go nuts for it. The Janod Nutty Squirrel Balance Game ($54.95) may prove a bit of a challenge at first for your rugrat but just let them know that mighty oaks from little acorns grow!
9. Rocket man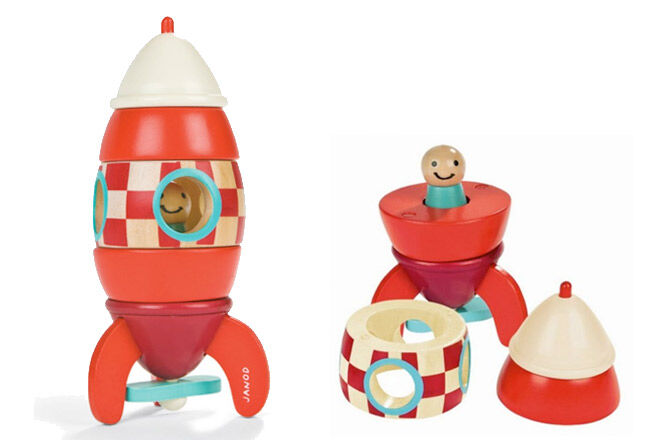 Zoom, zoom, zoom! We're going to the moon in this stellar Janod Magnetic Stacking Rocket ($37.95). Inside, three happy little space travellers (not all human!), are ready to blast off! 5, 4, 3, 2, 1…
10. A star is born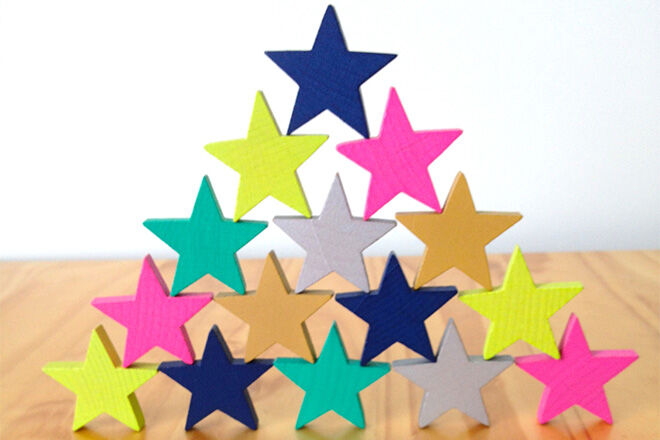 If your tot is a building superstar, it's time to take it to the next level. Put a little razzle-dazzle into playtime with a Tanabata Star Domino set ($59.99) and they can enjoy stacking the brightly coloured stars flat at first and then end to end for a really impressive display.
11. Balancing act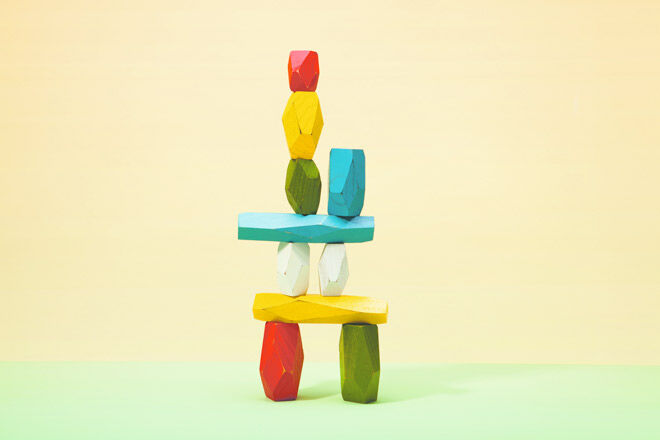 They look like something the Flintstone kids would play with, and they're carved from natural oak. So instead of stressing about your Pebbles or Bam Bam stacking stones outside (and probably trying to eat them), give them these balancing blocks ($67) inside and you can relax as they play happily.
12. Ready Mr Music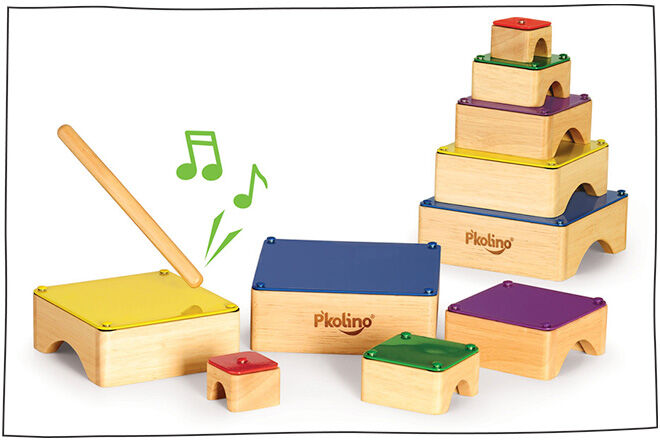 It might look like a simple stacking toy, but take it apart and you'll hear sweet music (yes, we use that term loosely). Your miniature muso will love the fun and versatility of the P'kolino Playful Xylophone ($59)—stack it up, bang out some tunes or nest the pieces together at the end of the set.
13. We built this city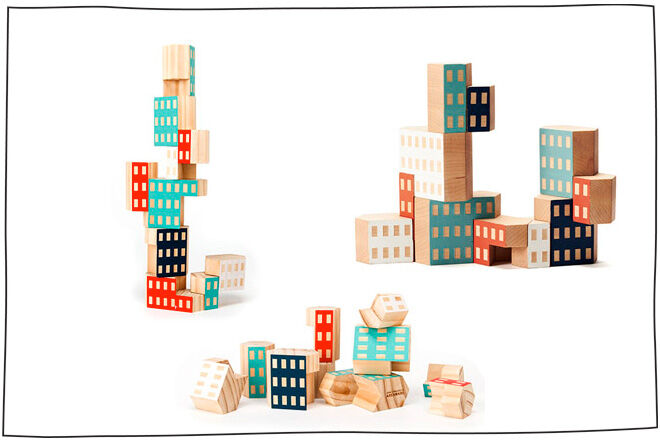 With cantilevered and nesting hexagonal blocks, these hand-painted creations are where art meets science. So your little builder will probably need to have mastered the building blocks of block building before taking on the Areaware Blockitecture set ($49.95). But that shouldn't stop Mum playing! You can enjoy building the city of your dreams while your baby Godzilla can enjoy knocking it all down.
---
Read next …
Looking for more toys to keep toddlers busy? We list some of our favourites in the articles below: