Birthday, bar mitzvah or baby shower; we think celebrations big and small deserve a mighty-fine cake to get your guests swooning. But if you're no natural in the kitchen, don't fret. Fancy frosting and dainty decorations aren't the only way to cause crazy cake envy. Welcome the mighty cake topper  – a fun and affordable way to add jazz and pizzazz to your party cake without spending a second in the kitchen (and doesn't that sound awesome?).
Here are 16 cake toppers for you to feast your eyes on
Super cake!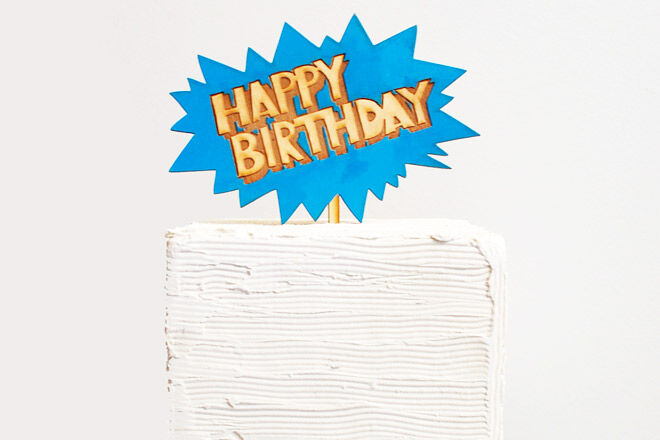 Boom! Pow! What better way to celebrate their big day than with a whopping speech bubble that says it all. We love these wooden cake toppers and think your little superhero will too! (via Brit & Co)
Hip Hip Hor-Yay!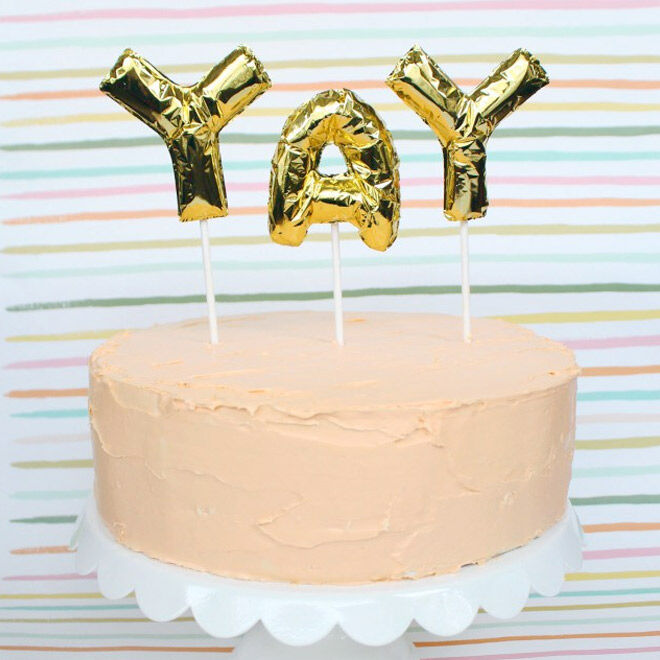 Hip Hip YAY! Birthday, baby shower or even last day of school; whatever the celebration, if it deserves a mighty loud YAY then these DIY mini letter balloons are flippin' fantastic. Get the tutorial here. (via A Joyful Riot)
Birdie banner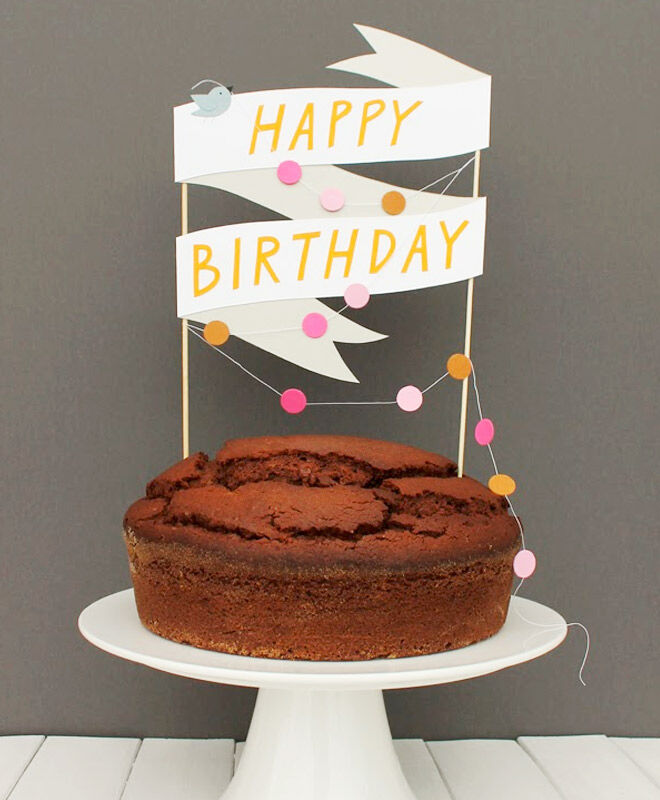 With a paper cake topper this adorable there's no need for frosting (and we don't say that likely). Seriously; a paper garland, a banner and a little birdie too? We can't handle the cuteness! (via Giochi di Carta)
You little gem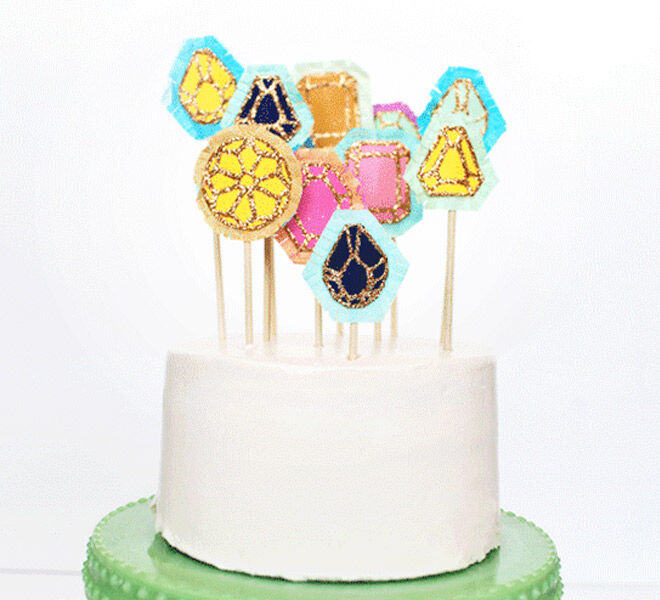 Even if your keeping the celebrations low key this year, there's no reason your super dooper cake shouldn't sparkle! These DIY gem cake toppers are glitz and glam to the MAX. (via Design Love Fest)
Flying high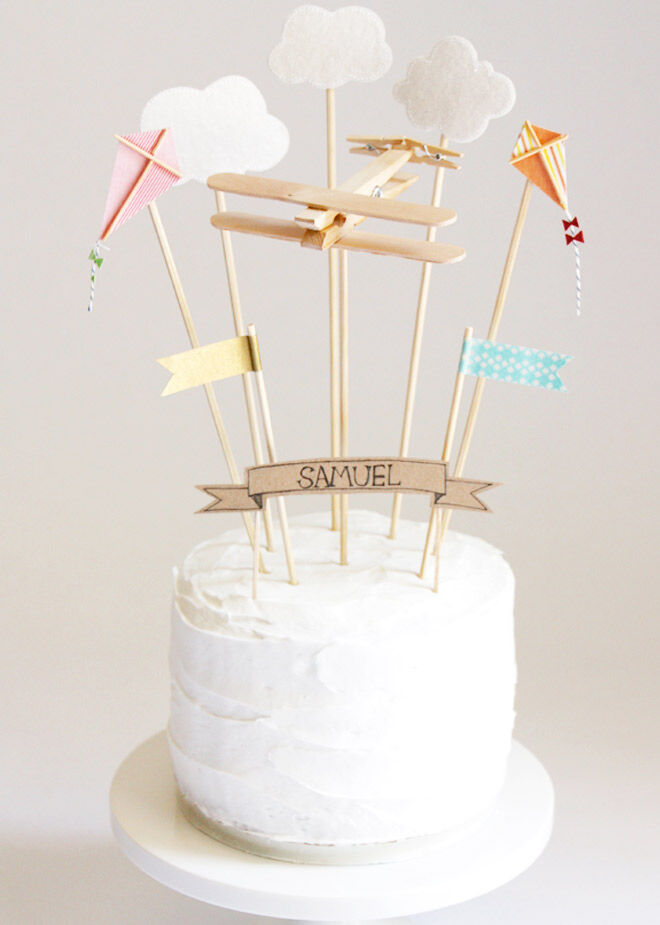 If you've got a wannabe pilot mad about planes or crazy for kites, they'll be blown away by these awesome cake toppers from Sammy's sky party. We're officially in love. (via We Have Aars)
Confetti by numbers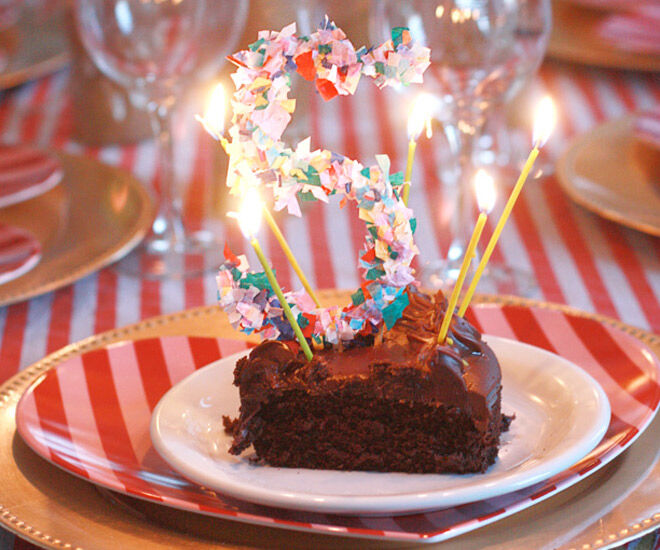 Really pushed for time? These DIY confetti cake toppers take literally five minutes to rustle up and add a pretty pop of colour to the party! Grab a hot glue glue, confetti and a tooth pick, and you're half way there. (via Aunt Peaches)
Big cake, little candy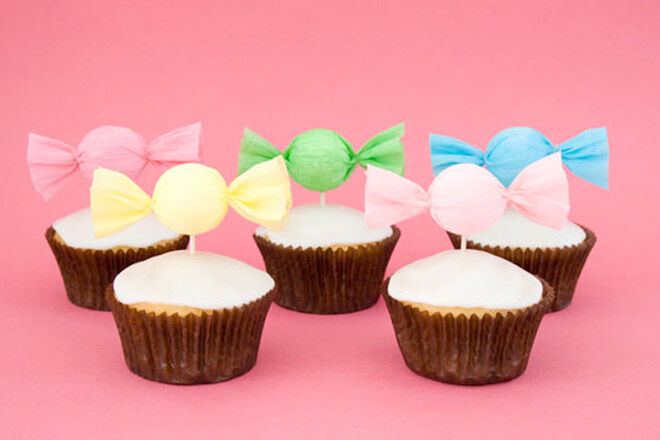 For a super sweet addition to your celebration cupcakes these DIY candy cake toppers are perfection! Crafted from small styrofoam balls, crape paper and tooth picks, it really can't get much simpler than this. Just a shame we can't eat them after. (via Cake Journal)
Herding for the cake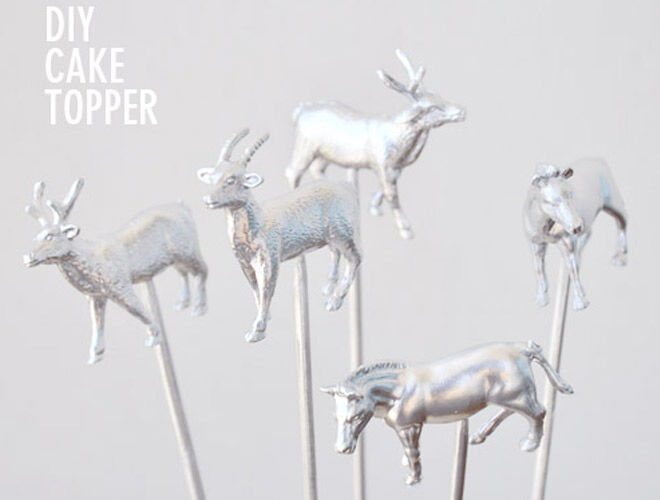 If it's a farmyard, safari or zoo themed bash these DIY animal cake toppers will herd the party peeps round the cake no question. Scour the house for your favourite plastic animals, attach your skewers and spritz with a shiny shimmer. Done! (via Visual Heart)
Artistic flags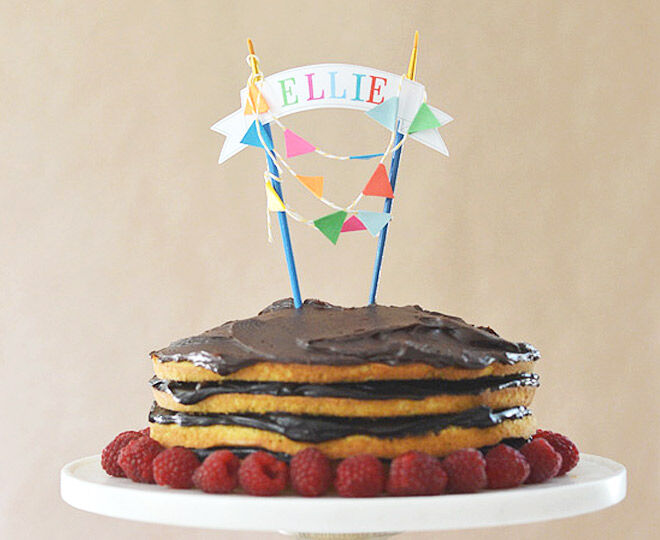 Simple yet insanely pretty. This iddy-biddy DIY cake topper is set to cause a hum of 'aawww' amongst the party guests and you get to take all the credit! Get your template here. (via Art Bar Blog)
Time for tassels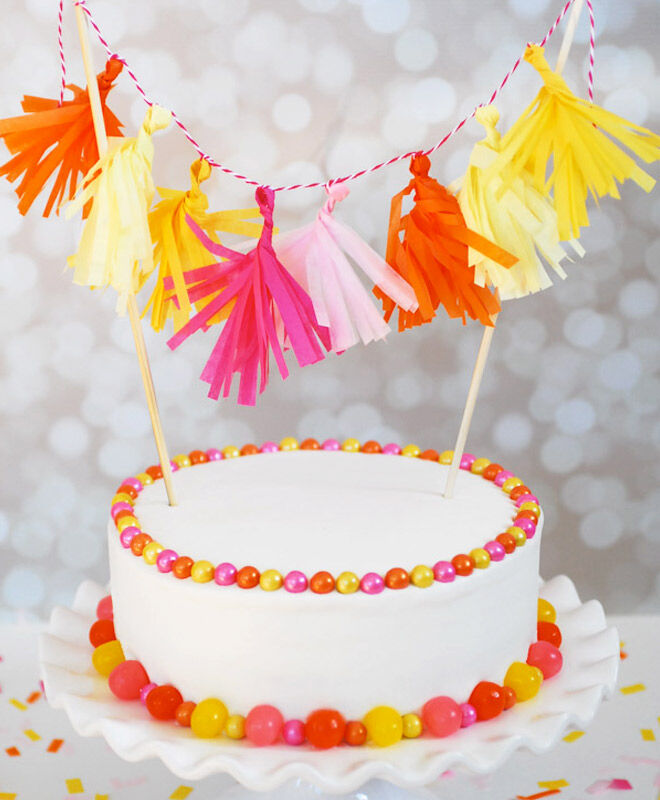 Bright, bold and beautiful, this DIY mini tissue tassel cake topper gets top marks from up (get it?!)! And yes, the afternoon of crafting is totally worth it. (via My Paper Crush)
Pom pom perfect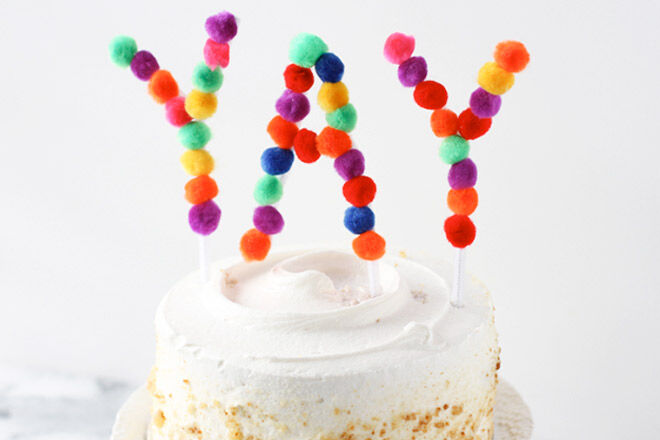 Nothing says party more than pom poms, which is why we're totally crushing on this pom pom cake topper and it's super simple DIY. (via Momtastic)
Blowing in the wind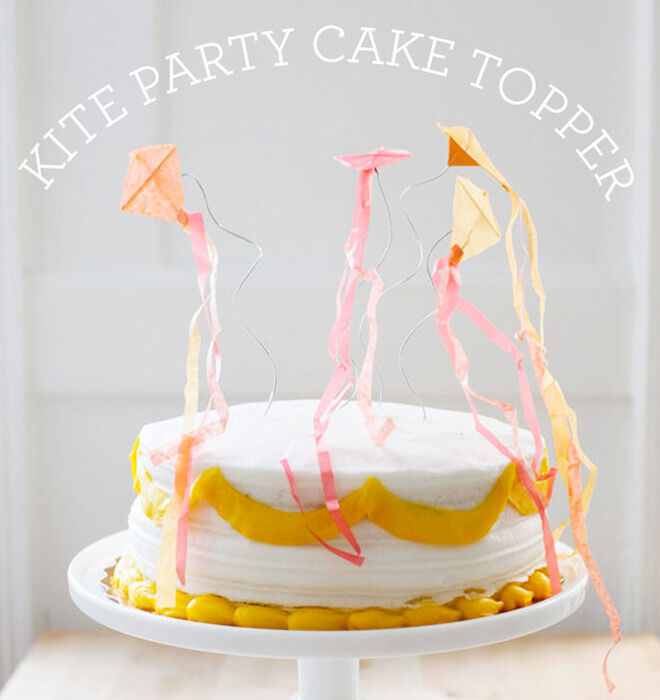 Bring a little magic to the shindig with these mini kite cake toppers that blow in the wind. The tutorial may be a teeny bit fiddly, but hey, when the end result is this charming we're all for it. (via Oh Happy Day)
Party hats for party cakes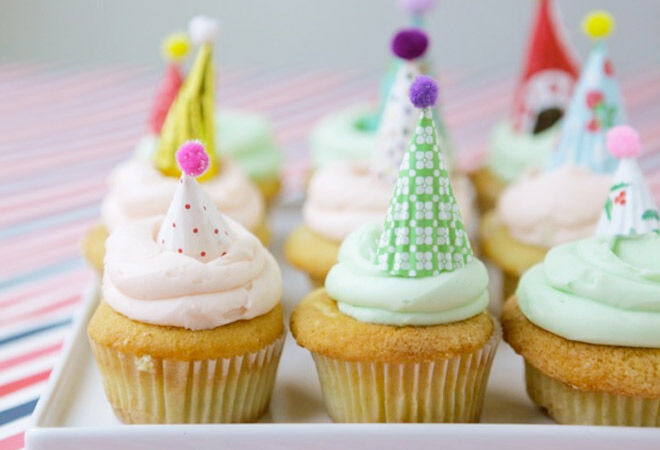 Just when we thought cupcakes were already TOO tempting these guys went and gave them all mini party hats! Turn sweet morsels into a fashionable feast with pint-sized pom poms. (via Oh Happy Day)
Spinning sweetness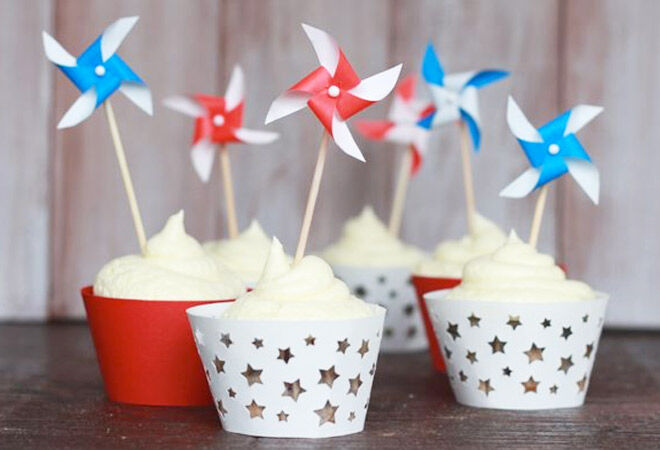 These DIY mini pinwheel cupcake toppers will send little ones into a spin (and probably the adults too!). A darling addition to the everyday cupcake, these cake toppers will steal the show for sure. (via Alyssa and Carla)
Feather love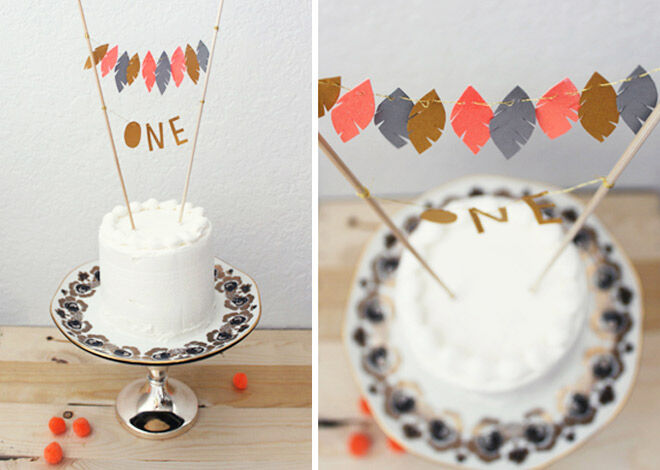 If Pocahontas had a birthday cake, it would look something like this. Delicate little feathers and golden string shoot this DIY feather cake topper to the top of our favourites. (via Kelli Murray)
Taste the rainbow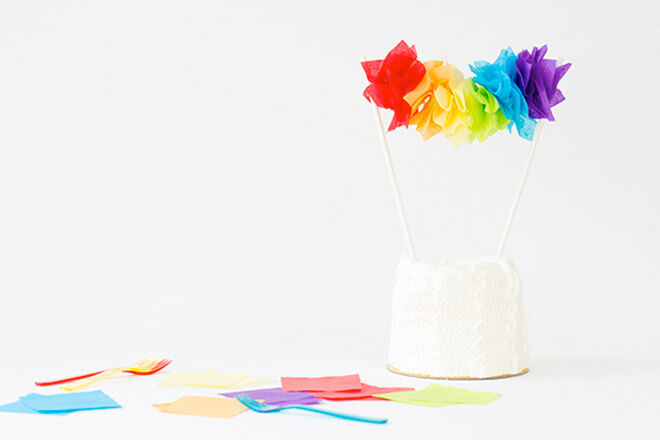 To prove that simplicity definitely doesn't mean boring this DIY rainbow garland takes the cake. With a rainbow cake topper and cake this pretty, who needs a pot of gold? (via eHow)