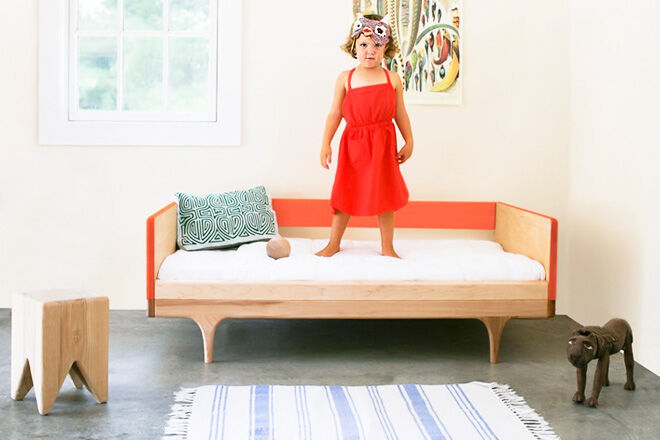 A good night's sleep is that special secret ingredient that helps recharge our kidlets, and it all starts with a top notch bed set up. When it comes to cots, it pays to invest in items that have longevity; cots that convert to toddler beds can not only save you money in the long run, but also provide a sense of comfort to toddlers transitioning from their safe and comfy cot to the independence of a 'big' bed.
Here are 10 of the best cots that turn into toddler or junior beds. Let us know if you figure out the secret formula for how to keep them in bed all night!
Aussie genius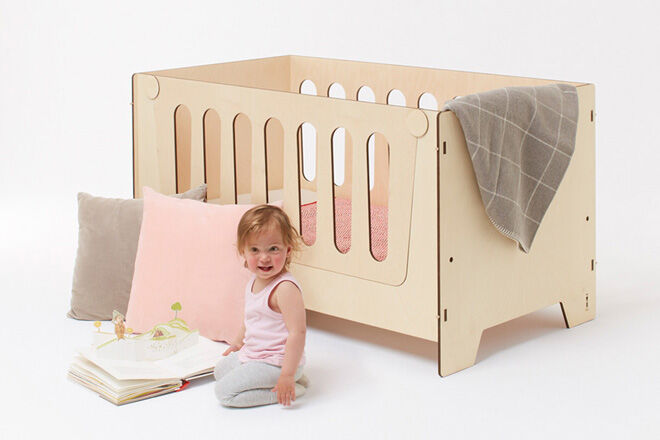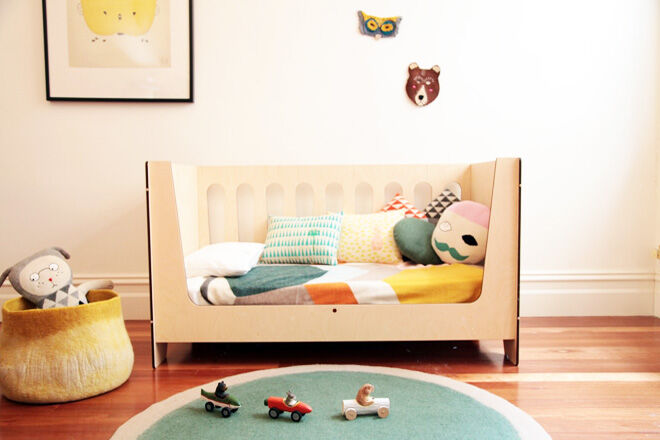 Plyroom Ava Cot ($1595): This easy to assemble Aussie cot converts into a toddler bed without the need for extra components – score! It doesn't stop there though, the clever little bunnies over at Plyroom have designed this cot so that it even turns into a desk for your poppet once they've outgrown the toddler bed. Smart move.
Cool kid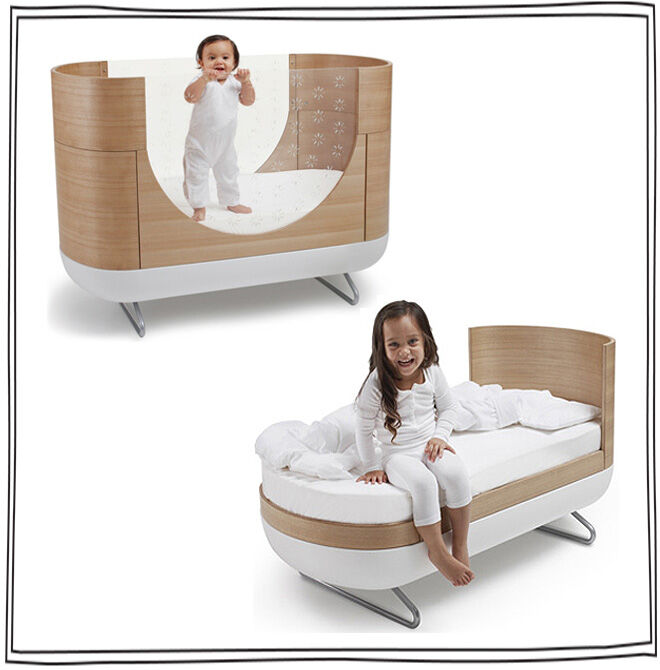 Ubabub Pod ($1899.95): Look, if Bey and Jay and Kim and Kanye all think an acrylic cot is the bees knees, who are we to disagree? OK, we don't have a spare 4K to drop on the cot they picked up for Blue Ivy and North, but we'd gladly take this stunning acrylic cot which also converts to a toddler bed, all for less than half the price.
Timeless beauty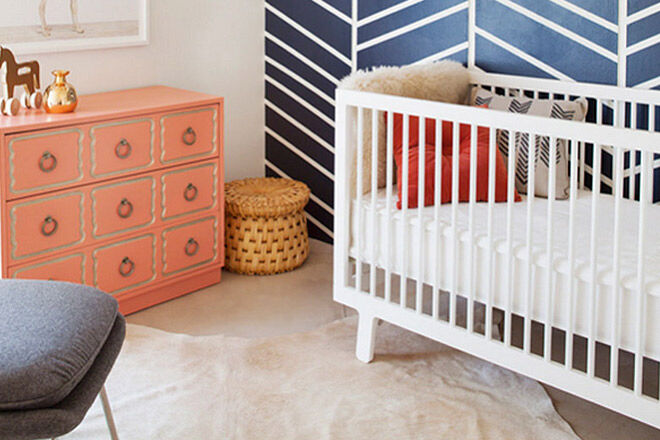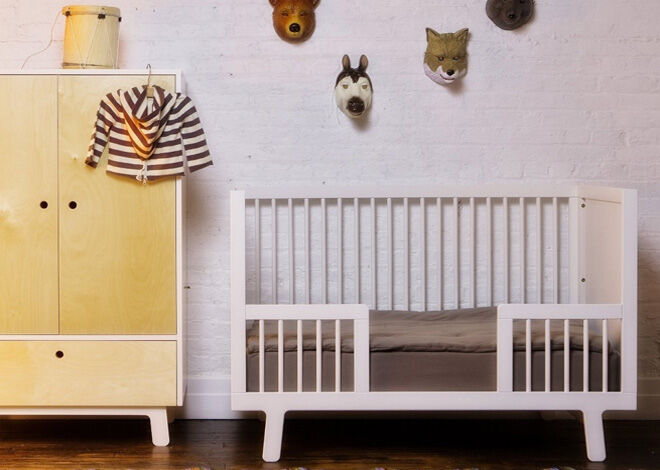 Oeuf Sparrow Cot ($1299) + Conversion Kit ($359): Simple, classic and timeless – the perfect design combo for such a statement piece. This design-savvy cot converts to a designer toddler bed with a low mattress position that allows your tot to hop on and off safely.
Sleek and simple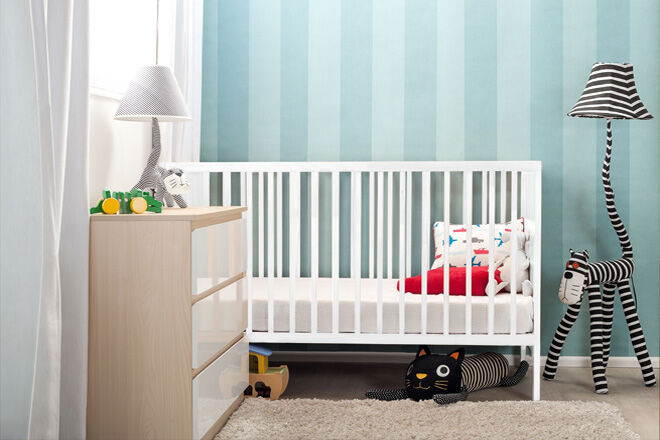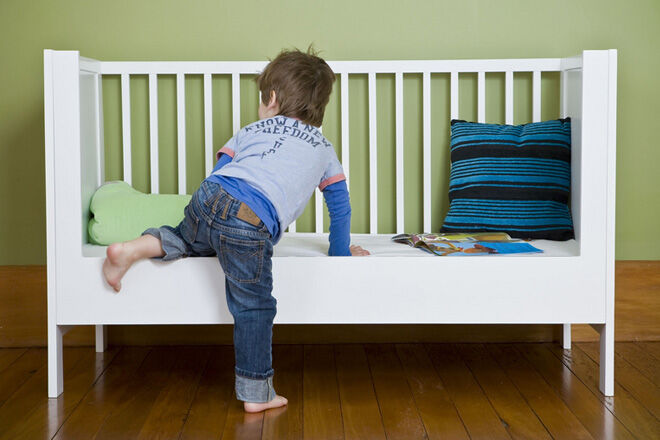 Mocka Aspiring Cot ($179.95) + Conversion Kit ($49.95): We all love a great bargain and this sleek, contemporary cot is one of the most affordable cots on the market. You can extend the life of the cot with the equally affordable conversion kit – cha-ching!
Pop of colour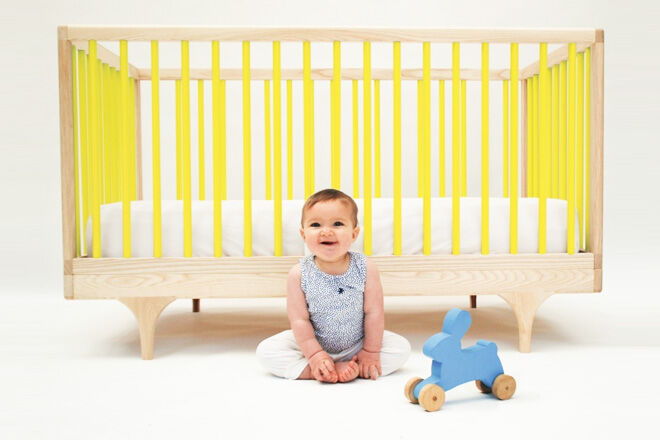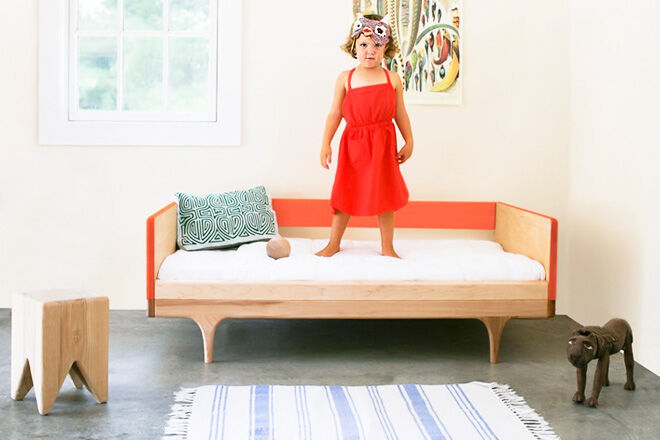 Kalon Caravan Cot ($1299) Conversion Kit ($645): There's nothing like a pop of colour in a kid's room and you can really make a statement with this gorgeous Caravan cot. Available in a whole bevy of cool colours, the classic form of this cot is made contemporary via its bold use of colour, plus, it's made from sustainable maple wood.
French provincial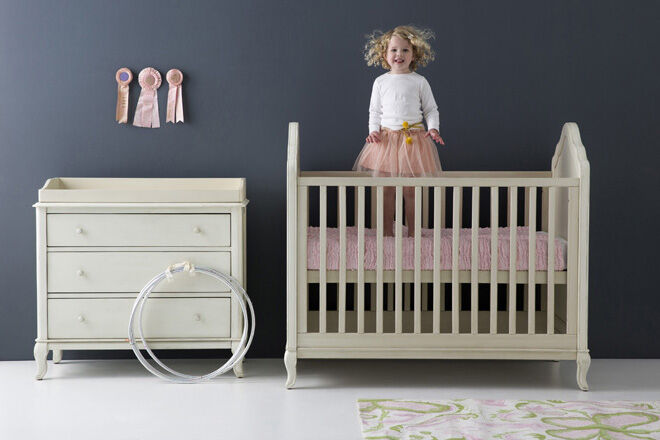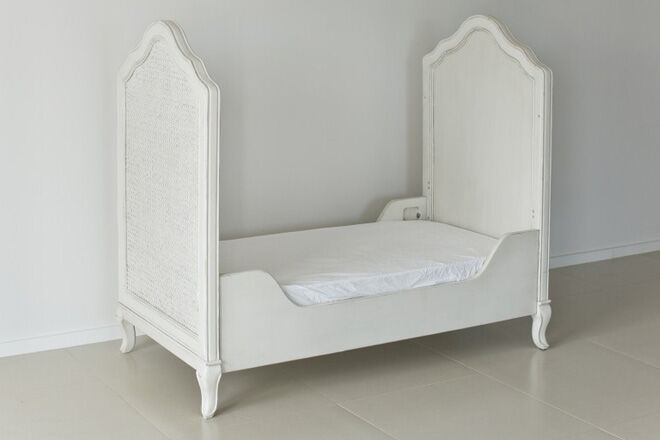 Incy Interiors Jemima Cot ($1248) + Conversion Kit ($149) If you have a fondness for all things French (pass the croissants and crepes, please) you're going to love this traditional,  French provincial style cot. Oui, oui!
Swedish Saver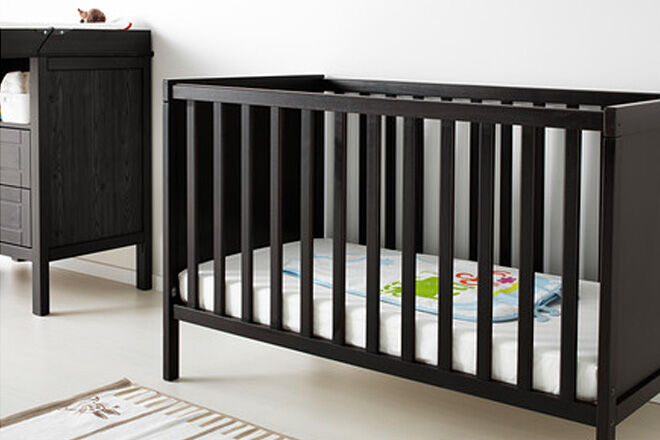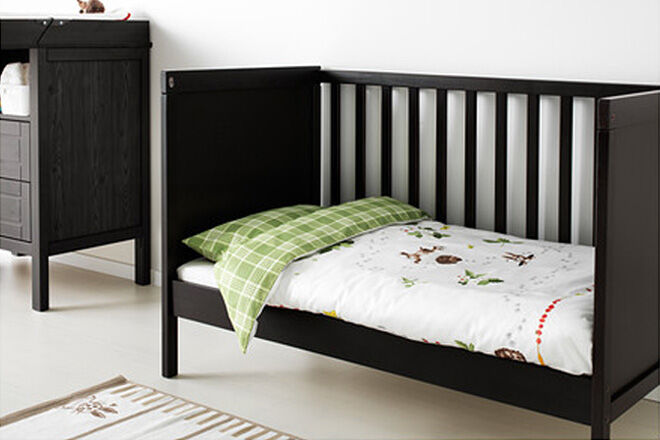 IKEA SUNDVIK  Black/Brown Cot ($119): Trust the Swedes at IKEA to provide super style at a MEGA budget price. Also available in white, this Nordic number includes the conversion kit at no extra cost and has a heap of coordinating furniture available for separate purchase.
Scandi style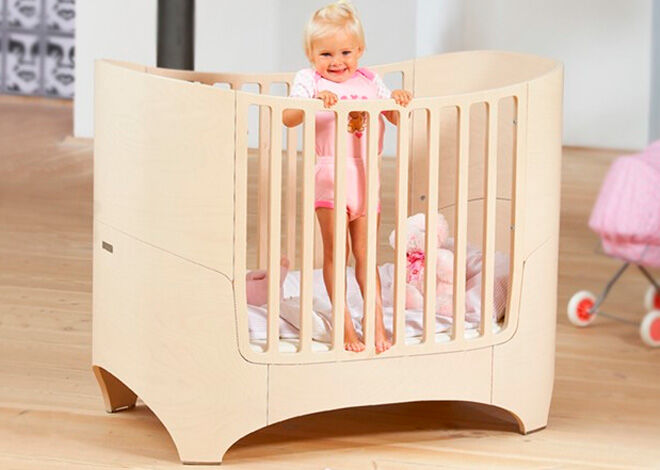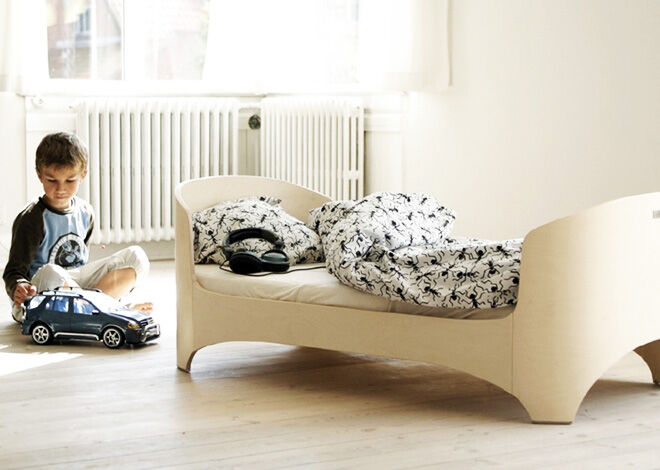 Leander Cot & Bed ($1699): Simple, clean Danish designs are often paired with natural timber to create pieces that are in high demand and always on trend. The Leander cot is a perfect example of Danish design; it adapts to the needs of your growing poppet by transforming from a cot to a junior bed in five stages.
Royal charm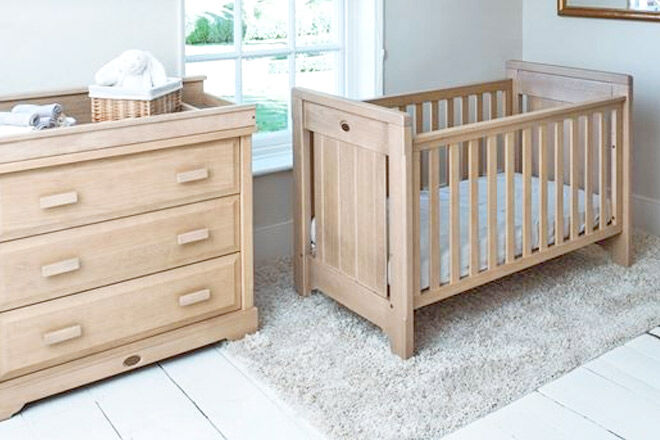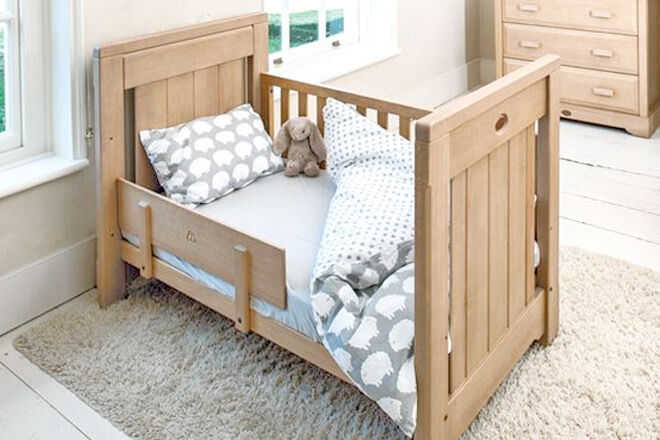 Boori Pioneer Royale ($799.95): Talk about extending the value – this flat pack cot converts into a toddler bed with a nifty side guard to give the munchkins a cosy cocoon for sleeping until they're ready for a big kids bed.
Oval office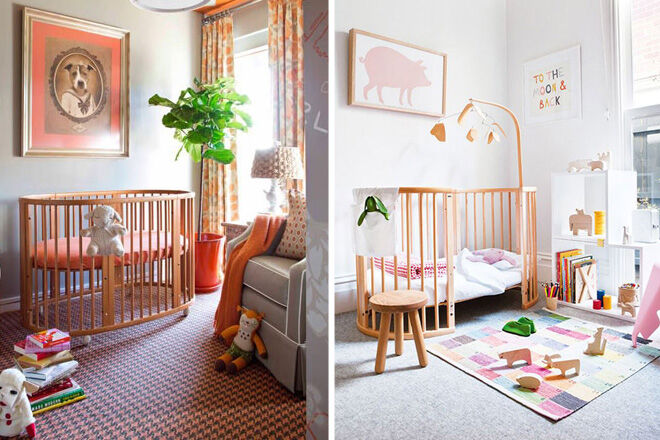 Stokke Sleepi Mini and Sleepi Bed Extension ($1909.97): The Stokke has a distinct oval shape that is coveted the world over – even Brangelina chose this curvy number for Shiloh! This cot also grows in length as your child does, turning into a junior bed suitable for kidlets up to 7.