It's 9pm, the dishes are done, the kids are in bed and our bottoms are well and truly sunken into the sofa. In comes snack attack fairy; nudging us to serve up something ludicrously tasty. To save you hunting for heavenly recipes we've scouted some of the best five-minute treats to transform your well-deserved sofa time into sticky mummy heaven (just in time for the trashy TV to start).
Here are our top 5 minute recipes worth missing the ads for.h2>A cup full of carrot cake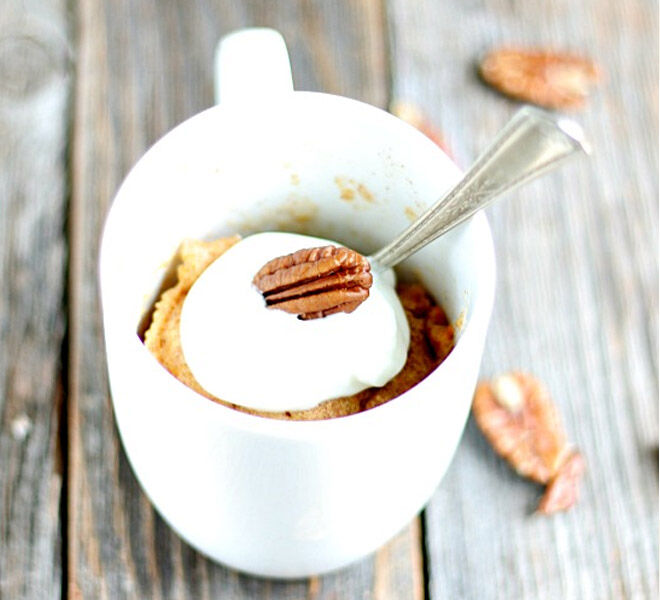 Are you a sucker for a super sticky carrot cake? Look right this way! This quick carrot cake in a mug will leave you feeling fully satisfied with flavours of cinnamon, nutmeg and vanilla before your spoon even scrapes the bottom! (via Heathers French Press)
Brownie in a beep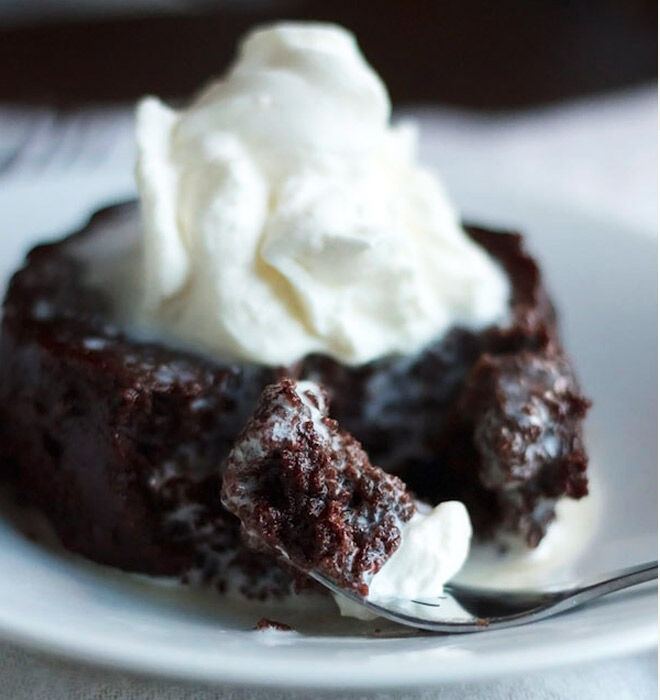 Ready, set, GO! This three-minute mug brownie has all the credentials for a fab late night chow down. With a prep time of two minutes and a cook time of one minute, it's the quickest way to freshly 'baked' brownie heaven. (via Lauren's Latest)
Apple nachos. Nuff said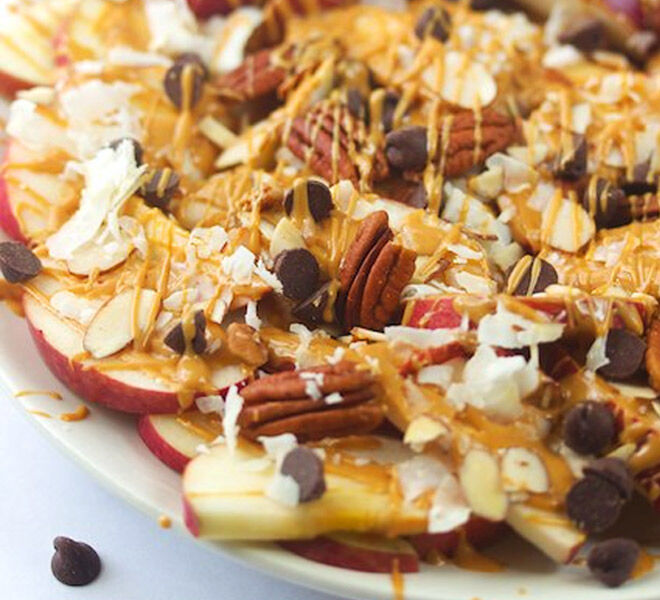 Want to at least look as if your making healthy choices? These apple nachos will do the trick. Simply cut thin slices of your favourite fruity bite and sprinkle with an assortment of nuts, chocolate chips and peanut butter. Ok, so maybe do just a light sprinkle. (via Allyson Kramer)
Caramelised nuts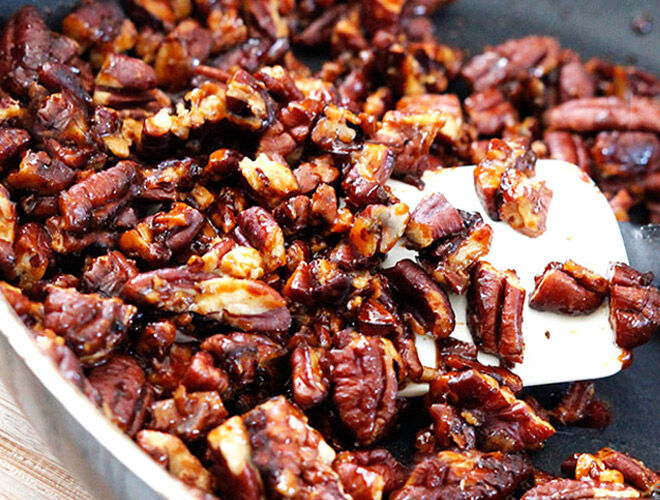 YUM! If you thought snacking on raw pecans was good, where have you been? Take your nutty nibble to the next level with these easy caramelised nuts. Ready in just five minutes, it seems so silly not to! (via Carl's Bad Cravings)
Frozen yoghurt in five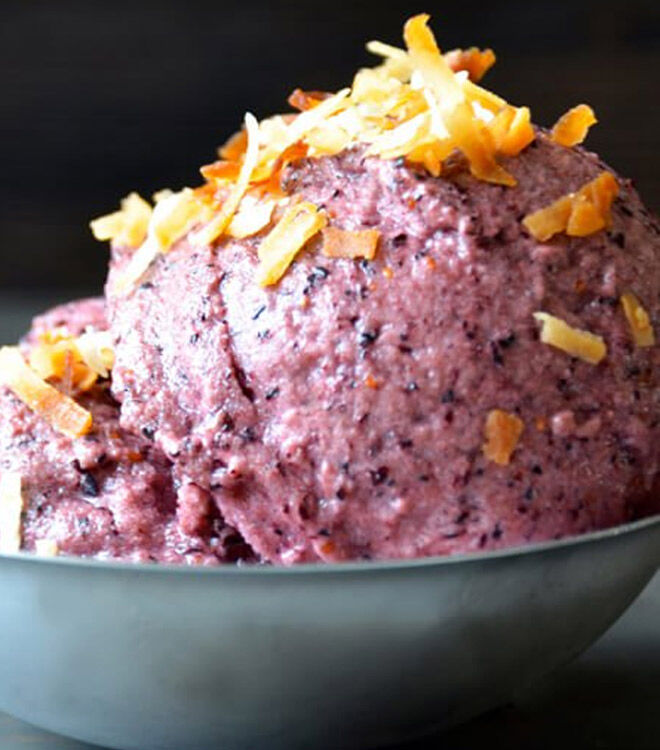 Don't sit there dreaming of your local fro-yo digs when you can make this bowl of awesomeness in your very own kitchen. Place frozen blueberries, coconut yoghurt and honey in a food processor, and you'll have this fruity frozen yoghurt faster than you can say "tub or cone"! (via Kitchen Aid Blog)
Roasted rosemary cashews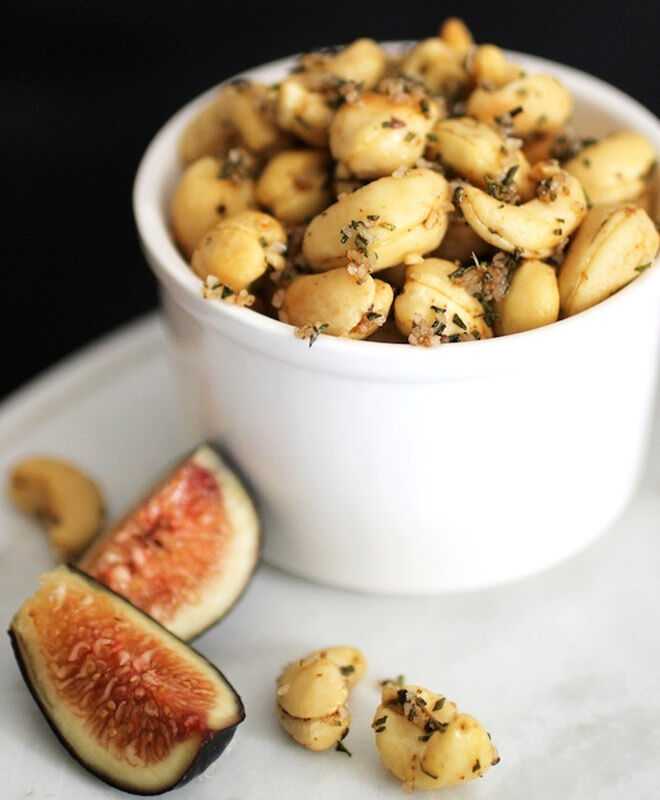 If you're more into the savoury snacking kind, these rosemary cashews will have you salivating! Quickly roast your cashews until lightly browned before coating in a mixture of rosemary, cayenne, salt and butter. Divine! (via Evite)
Tummy tempting toast
Holy moly! Were you seriously considering a 'normal' round of toast tonight? Don't settle for boring butter when you could indulge in grilled cinnamon chocolate toast instead! It's warm, it's chocolaty and best of all…it's all ours! (via Half Baked Harvest)
A cracking crumble for one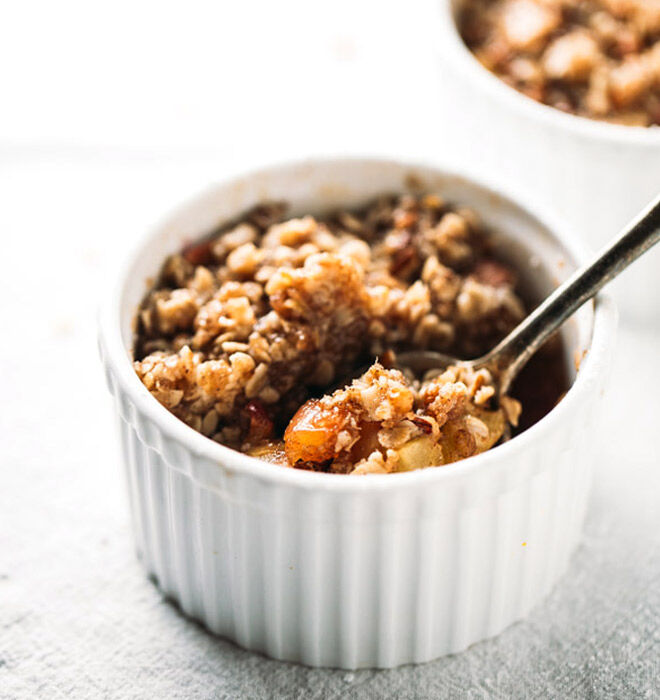 Yep, that's right. An amazing apple crumble for ONE. Treat yourself to an autumn favourite with this delicious apple crisp; complete with oats, pecans and cinnamon. You could top with ice cream too if you fancied, and yes, that would totally be worth the extra 30-seconds making time. (via Pinch of Yum)
Flamin' fruit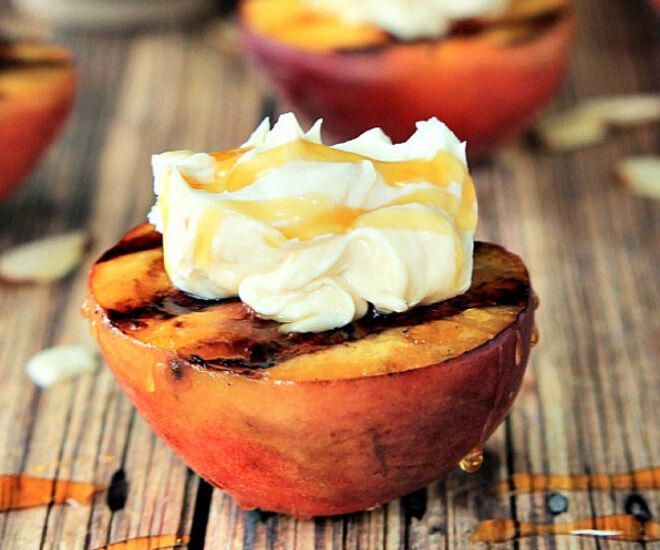 We can't take our eyes off this fruity little number! For a lighter, but still incredibly heavenly late night snack, simply cut peaches in half, grill for a moment and top with whipped mascarpone and flaked almonds. Get in our belly! (via Joyful Healthy Eats)
Salted caramel and apple spice in one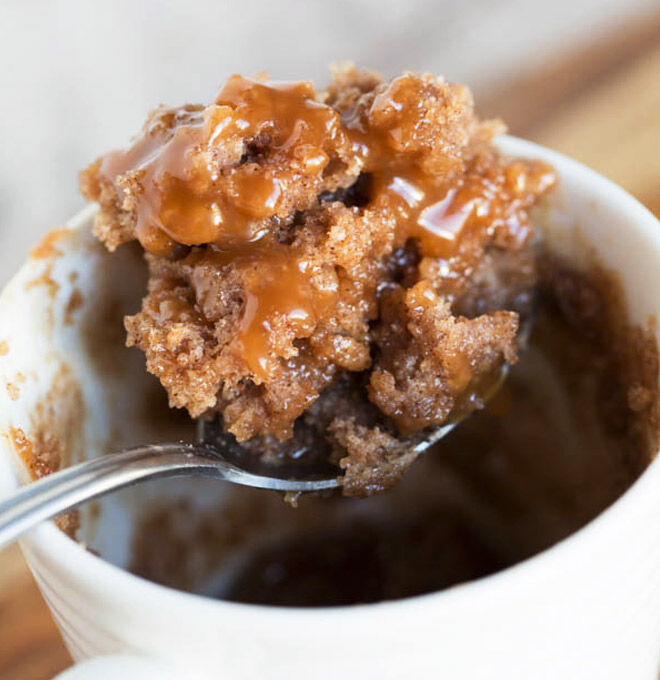 Did someone say salted caramel? Those words usually mean two things; that our tummies are going to be extremely happy and that we will almost, definitely, positively be coming back for seconds. For a late night snack you simply can't miss this salted caramel apple spice mug cake wins hands down. (via Table for Two Blog)
A little bit of honey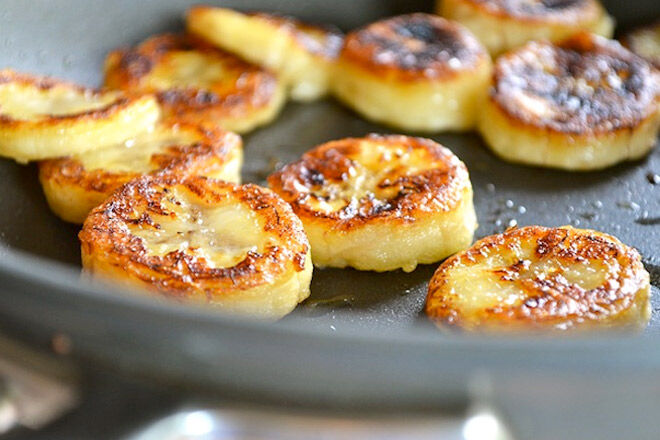 Give your banana a yummy crispy boost with this ooey gooey recipe for fried honey bananas. With just four simple ingredients, (and yes, the banana is one of them) you can turn your everyday fruit into a decadent dessert for one. Yes please! (via Rachel Schultz)
An apple a day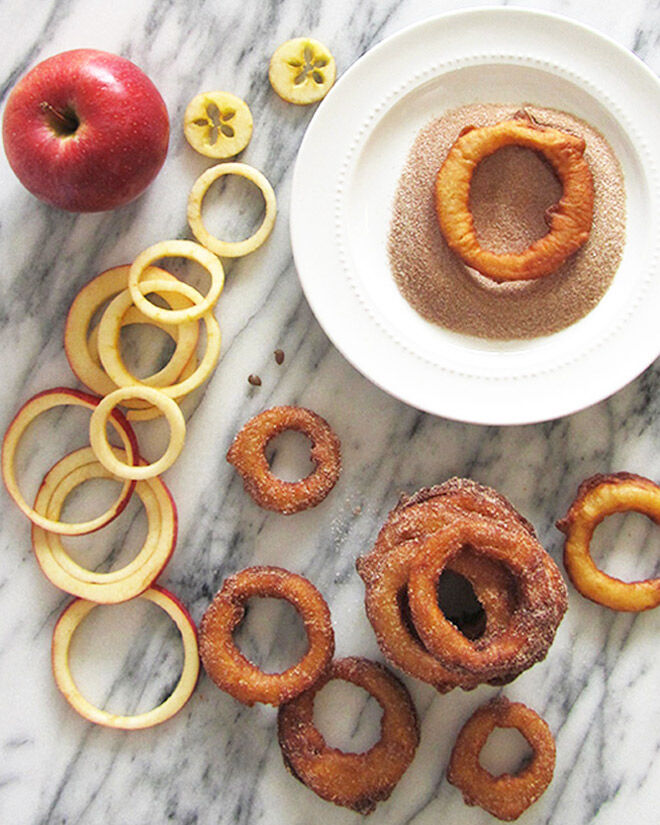 Ok, imagine you had an apple pie in one hand, and an onion ring in the other. Put your hands together, get rid of the onion and coat your fried flavour frenzy in sugary cinnamon-y goodness. These right here are cinnamon apple rings and we're totally in love. (via Fortune Goodies)
Microwave, mug, mine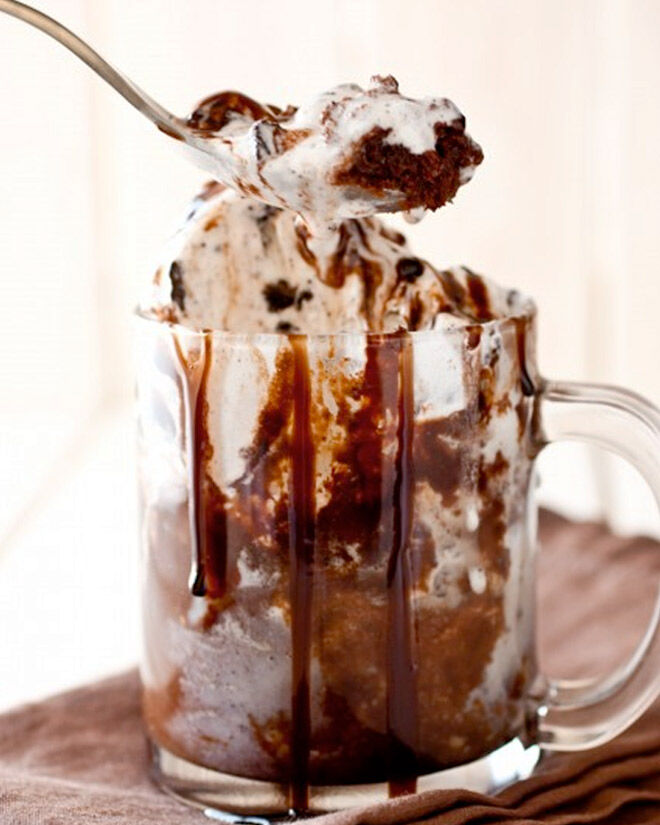 Dear microwave mug brownie, why must you be so darn tasty! We're all for the 'make in a mug in the microwave' movement and this little beauty just goes to show why. Top with lashings of ice cream or a dollop thick cream, because… why wouldn't you? (via Cooking Classy)
Doughnut bites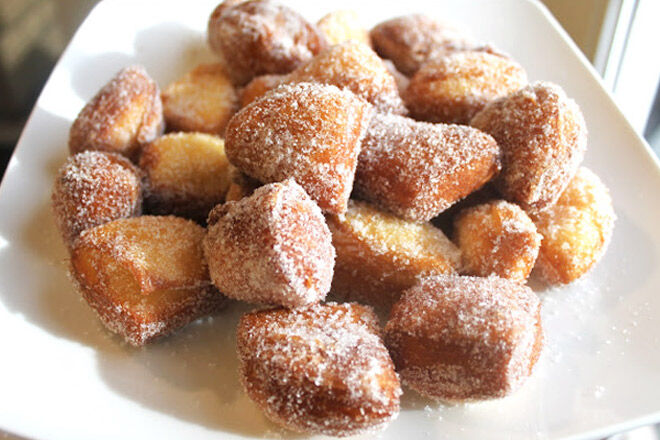 These 3-minute doughnut bites should come with a warning. They. Are. That. Addictive! The 'canned biscuits' are deep fried before being rolled in sugar to make them even more tempting for the taste buds. Can't get your hands on canned biscuits? Try having a go with cookie dough instead, you won't regret it! (via Fun Cheap or Free)
Zesty fritters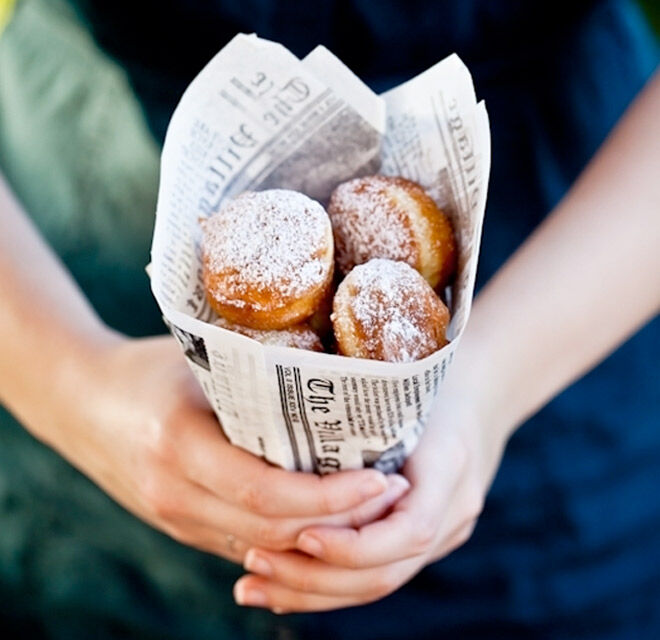 Hold the phone! Lemon…Fritters? We need a lie down. Whip up a batch of mixture to get 20 – 30 small fritters, or say NO WAY to being good this evening and cook up five big ones instead. Either way, you're in for one hell of a ride.
Read next …
If you are still looking for yummy inspiration for a quick snack we have lots more recipe ideas including these three articles
• 5 surprisingly clean sweet treats you'll want to make more than once
• 13 ways to pimp your potato
• Recipe: Five ingredient chocolate torte