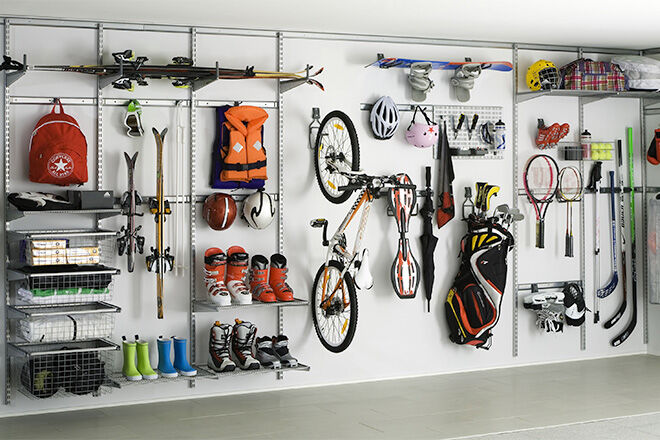 Sport is great for all the family. It keeps your little and big kids healthy, positive and strong. But all the gear that comes with it is not so great for the family home. From the dirty old cricket bag of Dad's glory days to the endless balls, bats and bikes that a growing kiddo needs, sports gear ends up everywhere. Don't throw in the towel! Go for gold with these 13 winning ways to organise your sports gear.
1. Got you pegged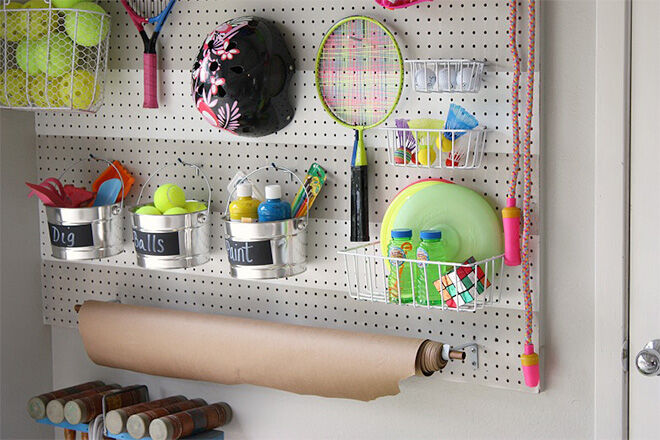 To kick it off, let's keep it simple. Use a basic pegboard to create a sports station in your garage. Jazz it up with a lick of paint and add some funky hanging buckets for smaller bits and bobs. Too easy! (Via: The Creativity Exchange)
2. Pop up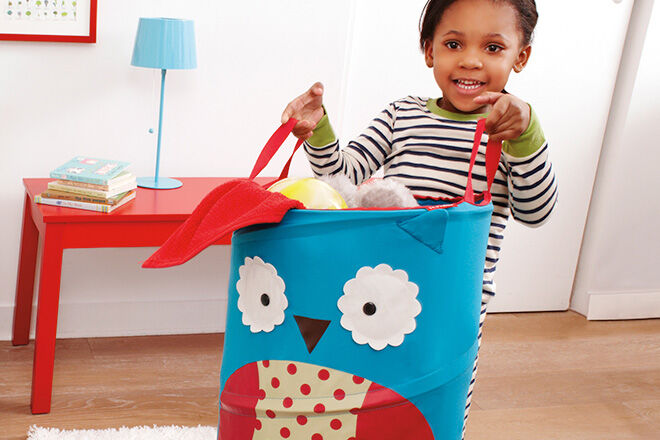 There's no need to go out and buy expensive specialty bags and boxes—just look in your laundry. A large mesh laundry bag or laundry hamper is the perfect way to store balls and soft items. For the cute factor, you can't go past an adorable pop up hamper ($24.95) by Skip Hop.
3. Refined pallet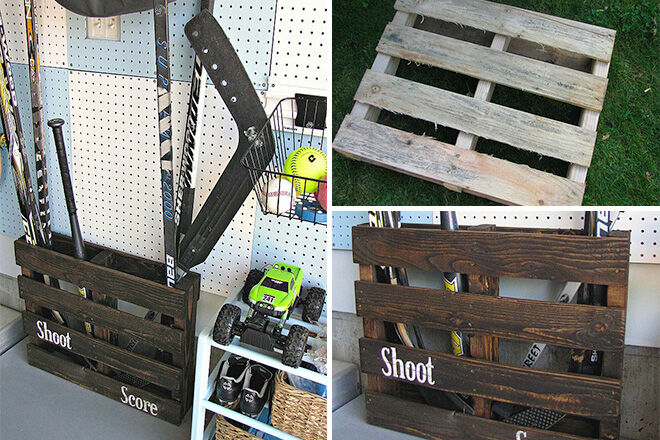 Whether you're a DIY pro or new to the game, upcycling a pallet is always a win. And this one is the easiest do-it-yourself project you will find. All you need to do is grab a pallet, stand it on its end and you've just scored yourself some instant storage for big items like bats, hockey sticks or random golf clubs. Stain the wood and stencil on some words of inspiration for bonus points. (Via: Clean and Scentsible)
4. Extreme sports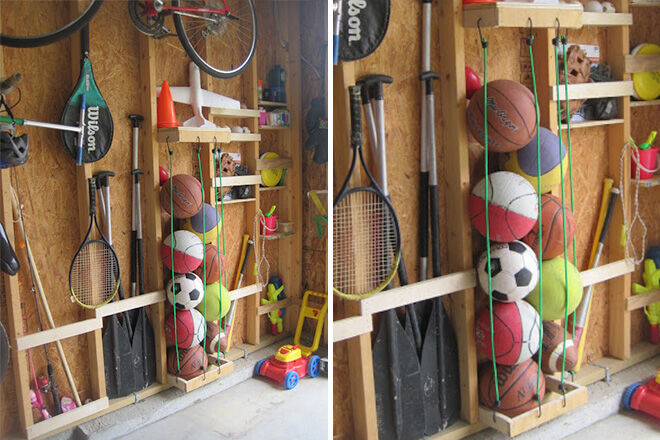 Let's bungee! No, we're not telling you to jump off a bridge, just raid your car for some bungee tie-down cords. Stretch them between two shelves and you have yourself the perfect spot to store balls. (Via: Designed To Dwell)
5. There's a cot over here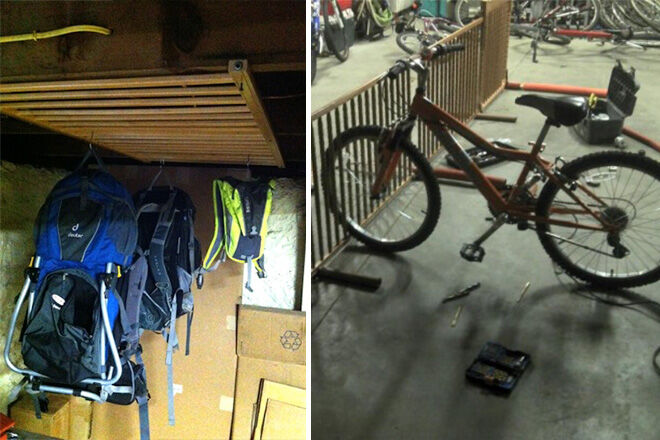 Kill two birds with one stone—say goodbye to that old baby's cot taking up room in your garage and hello to some new storage. If you're feeling handy, turn an old cot into a bikerack, or simply secure a side to your garage ceiling and use it as hanging space.
6. Building blocks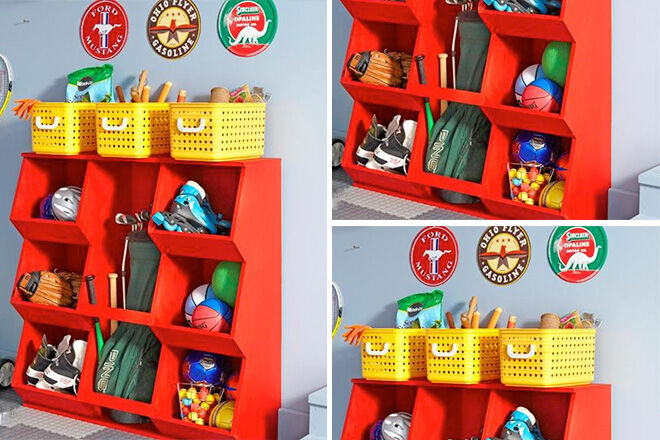 If you're up for a bit of building and enjoy an excuse to fire up the power tools, follow this tutorial and make your own sports storage unit. Or, for a quick and easy option, grab some plastic stacker bins from your local $2 shop to get the same look.
7. Fast track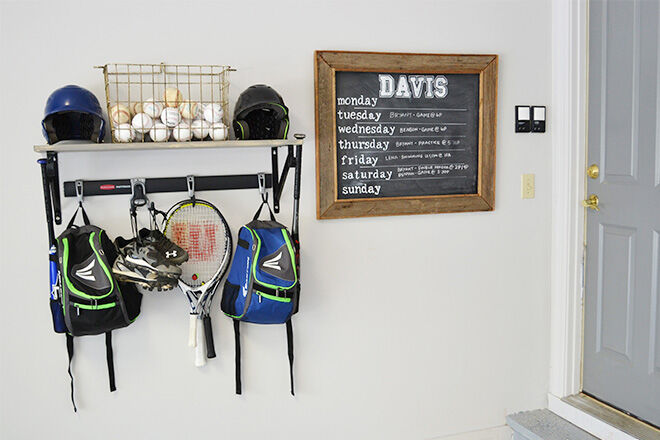 Keep the whole family on track with this sensational sports station. Pop up a shelf and a great hanging rack like the Rubbermaid Fast Track. Pair them with a DIY blackboard schedule to keep your sports stars running on time. (Via: Sincerely Sara D)
8. Rack 'em up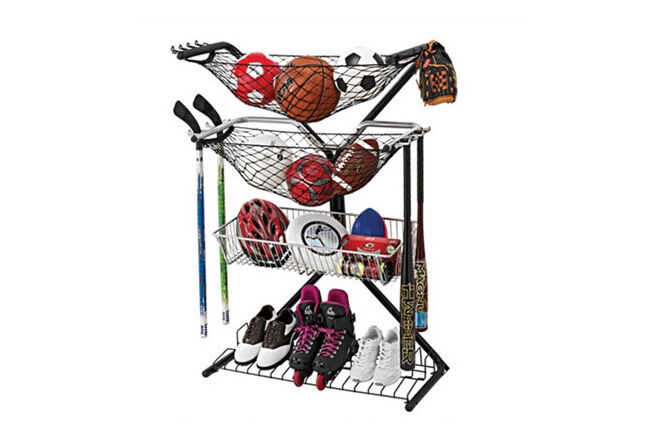 Pop up a Racor Sports Rack ($199.95) for a quick and easy way to keep all your bats, balls and boots in order. Score!
9. Under the bed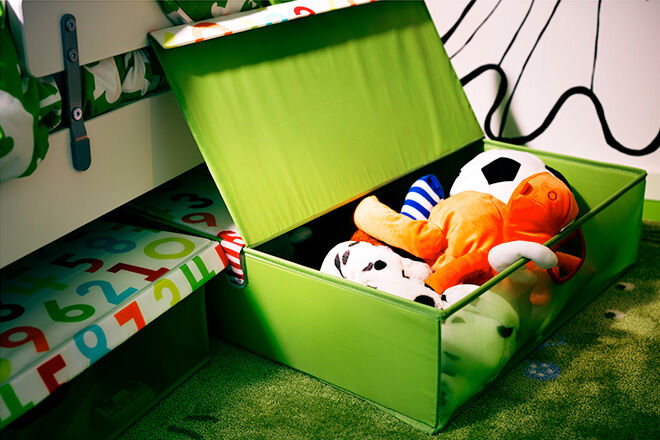 Don't waste the empty space under your kiddo's bed. Grab a great under bed storage box like the Kusiner ($14.99) from IKEA and your little sport has an easy access spot to stow their gear.
10. Stairway to heaven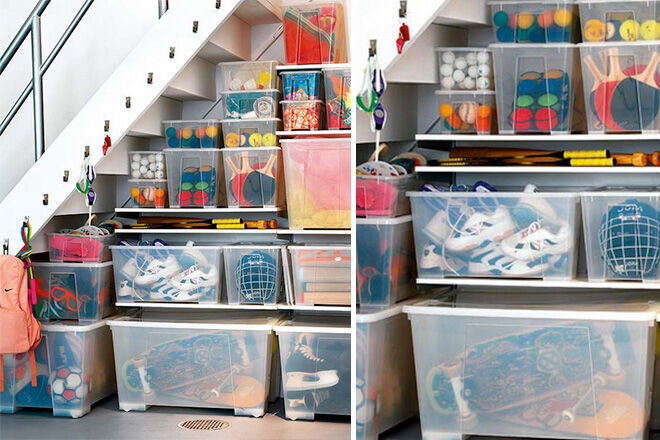 Take the stairs from drab to fab with this amazing under stair storage idea from Shelterness. Grab yourself a stack of plastic tubs in various sizes, pop up some shelves and hooks, fill it up with your gear. Heavenly!
11. Behind closed doors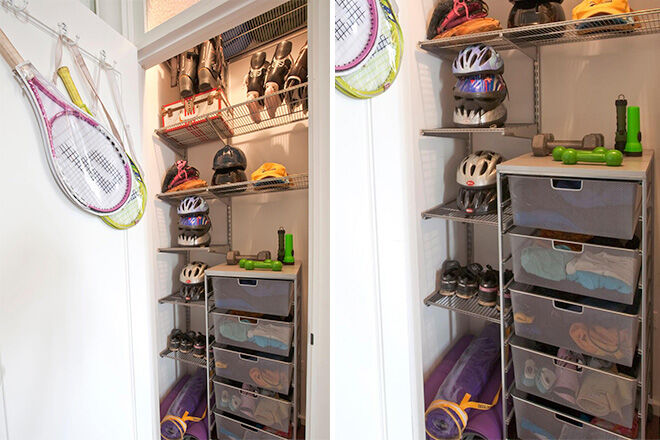 Tackle that overflowing closet next washed-out weekend and make your own sports centre tucked neatly behind a closed door. Just fit your own shelves, hooks and wire baskets to suit your storage needs and it's job done! (Via: HGTV)
12. Wonder wall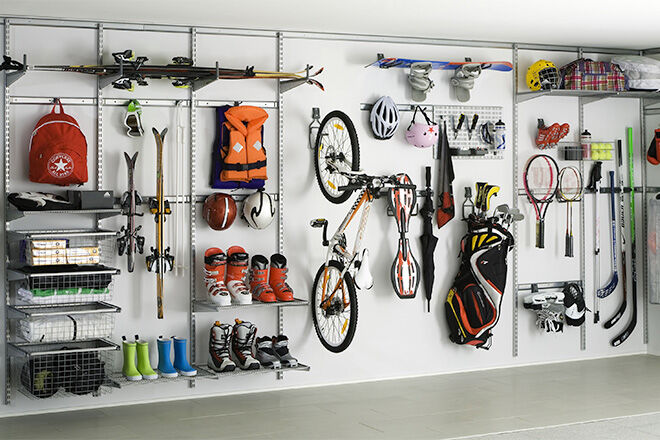 For the serious sports family comes some serious storage. The Elfa storage system is a customisable shelving and hanging package built to hold practically anything you throw at it. It's not cheap—you pay per bracket, shelf and hook—but look at the result! It's so pretty you won't want your kids to touch it.
13. Helping hand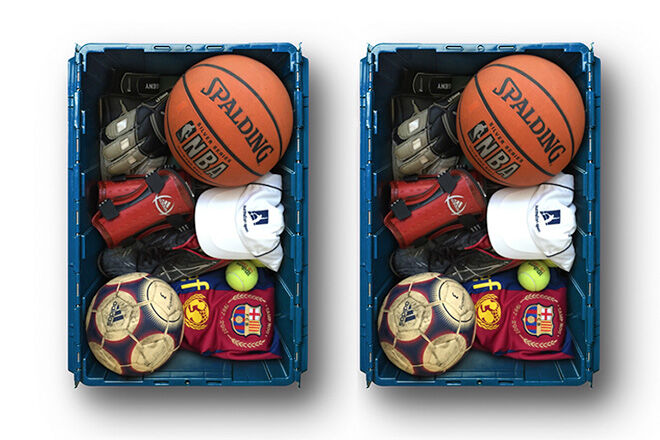 Finally, the easiest answer to your storage problem—just outsource it! Boxly is an amazing new service that allows you to put your gear in storage at a fraction of the cost of hiring your own shed and you don't have to leave the house. Boxly bring you their sturdy storage boxes to pack and return to pick them up when you're done. They're also happy to store larger items that don't fit in the box, like bikes, skis, golf clubs and luggage. When you want them back, just let them know and they'll bring them straight back to your door. Get organised from as little as $12 per month ($6 per box with a 2 box minimum). Visit www.boxly.com.au.