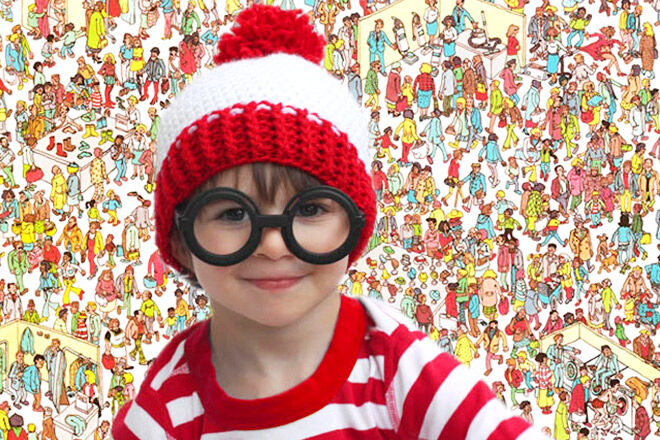 In it's 70th year, Book Week celebrates all those books our children love and have grown up with. It also means costume day at school!
No need to search for great dress up ideas because we have do the work for you. Here is 12 bookalicious dress ups to inspire you. From the easy to the more advance we have all skill levels covered. We even have one for those who are reading this the night before.
No more late nights trying to get a costume to stay together and the kids will certainly wow the friends when they turn up in these book week costumes!
Going wild
I will eat you up I love you so! If you have read Where the Wild Things over and over again why not create your own mini Max. You can find all the instructions on how to make this costume at Tell Love and Chocolate. Definitely a must try for all those wild ones.
One apple but he was still hungry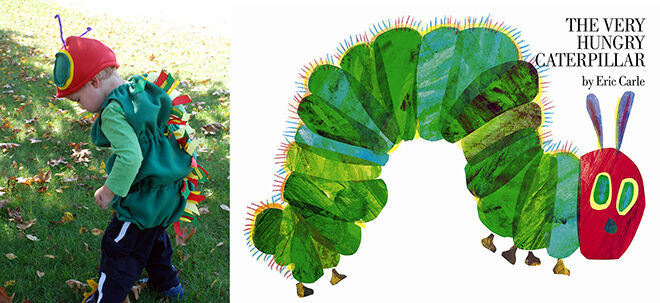 Is your child always eating? Why not dress them up appropriately as the Hungry Caterpillar. Step by step instructions can be found at The Craft Nest and if you are a sewer this will be a sinch.
Climb the beanstalk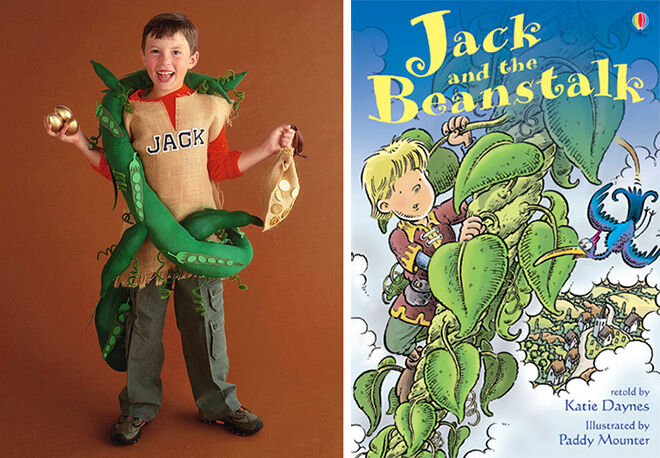 Stick with the traditional stories and try Jack and the Beanstalk. The outfit is just two pieces of burlap sewn together and the stalk is made from green tights. All the instructions are on Better Homes and Gardens.
Where's your child?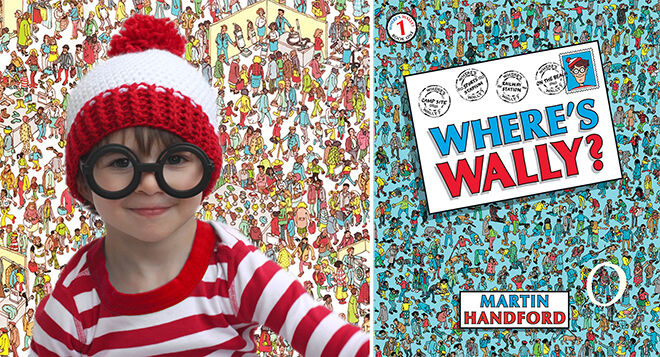 Left it to the last minute to organise your costume. We have the solution – Where's Wally or Waldo (depending on where you live). Just grab a stripped shirt, the red and white hat add a pair of jeans and you are done. If you want to go to some extra effort the Repeat Crafter has instructions on how to crochet your own hat.
And he went BUMP!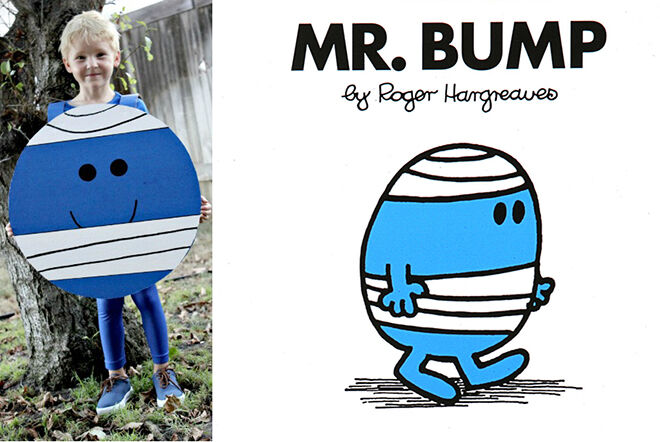 The Mr Men books lend themselves to so many different and easy dress up ideas. Create, Celebrate, Explore has created a very simple Mr Bump costume. Made from a big piece of cardboard painted blue and white it really couldn't get any simpler.
Take the Hogwarts Express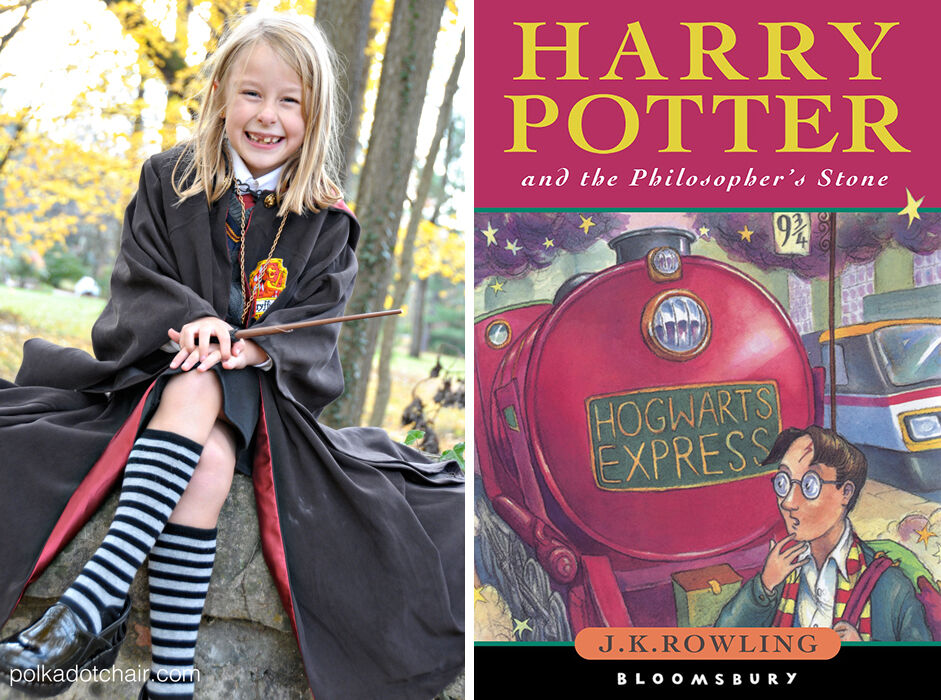 Got a Harry Potter wannabe? Or maybe a Hermoine? Get step by step instructions on creating these quidditch robes at Polka Dot Chair. Based on a regular robe pattern you will be hard pressed to get a die-hard fan back into normal clothes.
Green eggs and cute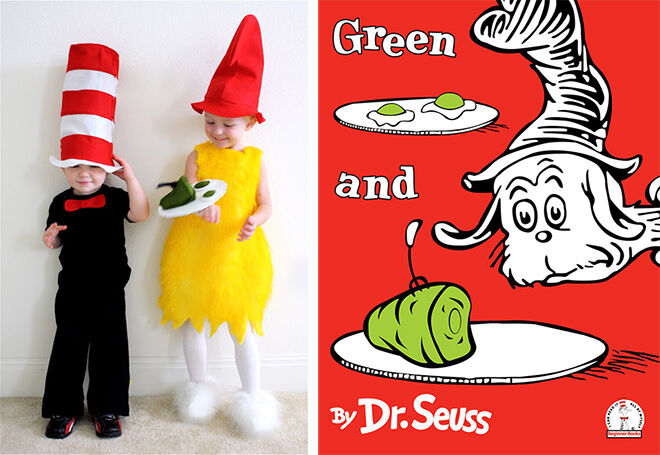 You may like them you will see….you may like them in a tree! Why not try a Green Eggs and ham outfit. Dana Made it has instructions for both characters as well as the cutest plate of green eggs and ham. They may like to wear them on a boat or on a train or in a tree, they are so good so good you see.
Such a grug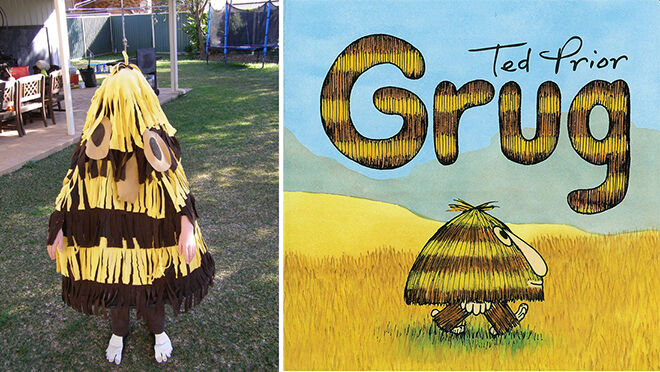 Definitely not one of the prettiest costumes we found but it certainly makes a statement. From Instructables this Grug costume is made with a bed sheet and yellow and brown polar fleece cut into strips. Then felt for the eyes and nose with a hola hoop in the bottom to keep the right shape. Not at all practical if the kids need to sit down during the day.
Quick like a fox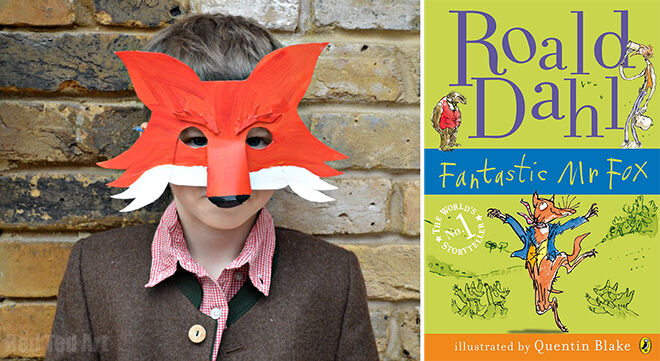 You can't go past the Fantastic Mr Fox for a classic book character and an easy dress up. Red Ted Art used a cereal box and a printable template to make this mask. You just need to glue the two templates together and paint it red. You don't even need to add a tail because we all know what happens to that!
Swimming in a rainbow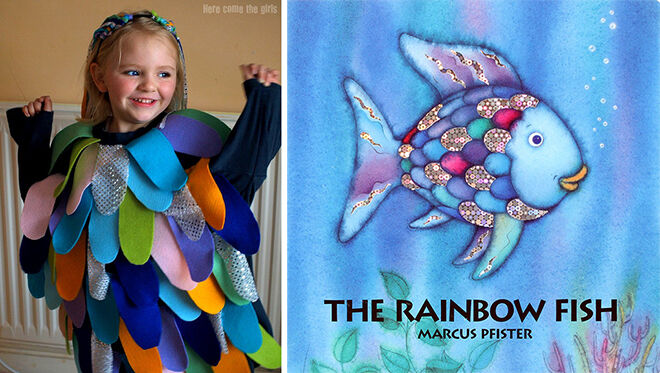 Your child really will look more beautiful than everyone else in this Rainbow Fish costume. Here come the girls has all the instructions on this simple DIY costume. It is just pieces of felt sewn on to a shirt and ribbon attached to a headband. Swimmingly easy!
Why what big ears you have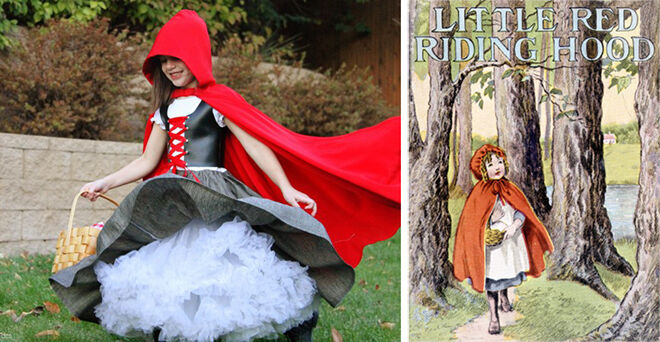 Go back in time to a classic fairytale with a Little Red Riding Hood costume. This one was made by Make it Love it and she has step by step instructions and photos. This would take some serious time to put together but we can see it being worn over and over again. A worthwhile investment in a classic fairytale dress up.
Oompa Loompa fantastic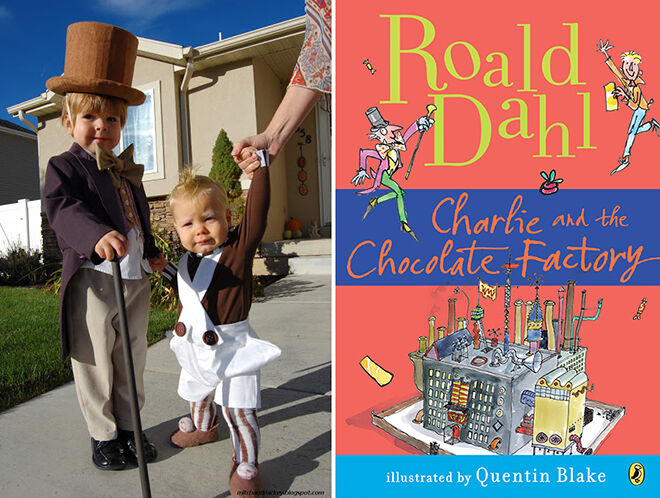 If you are wise you'll listen to me! Get your kids to dress as Willy Wonka or an oompa loompa. Two great characters from the classic Roald Dahl book Charlie and the Chocolate Factory. More than words can describe purchased regular clothes for this costume except the hat which she shows you how to make. Sweet fun that won't rot your teeth!
Read next …
Need more creative inspiration? Check out our other book week costume articles …
• Best DIY book week costumes (2018)
• Best DIY book week costumes (2017)
• Best DIY book week costumes (2016)
• Best DIY book week costumes (2014)