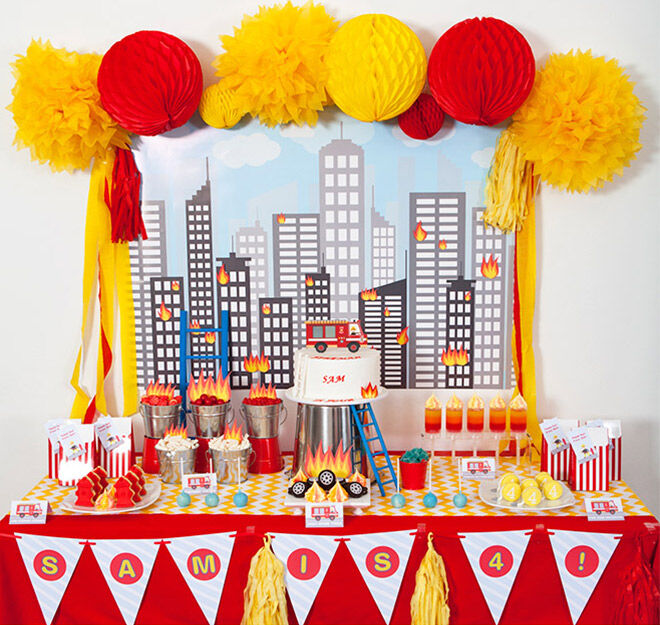 If your little one lights up at the thought of water hoses, fire trucks and flashing lights, a Fireman Party is an absolute must for their next birthday.
Whether you're hosting a party for five, or a celebration for 20 or more, a fireman party can be easily adapted to suit the number of little heroes joining in the birthday fun. With a colour palette of fire engine red, flaming yellow, burnt orange and cool blues, it's super easy to put together and the perfect celebration for any age group.
To help inspire your inner fire chief, we've put together the ultimate guide to planning a fireman party, including our top tips for venues and some of our favourite party food ideas for the recruits to enjoy.
Invitations…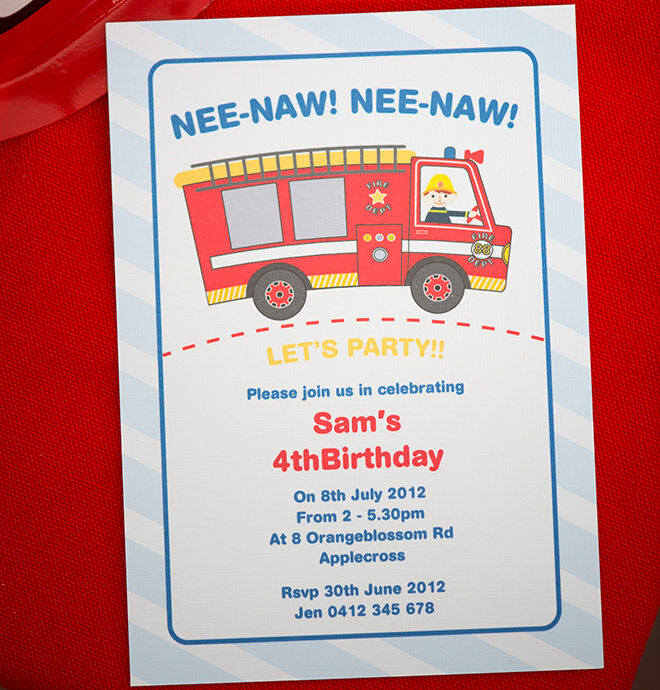 Personalised invitations ($1.49 each): Sound the alarm and tell the peeps it's time to party! With Love JK you can personalise your invitations online and have them shipped the next day, giving you and your guests plenty of time to prepare for the big day.
Venues…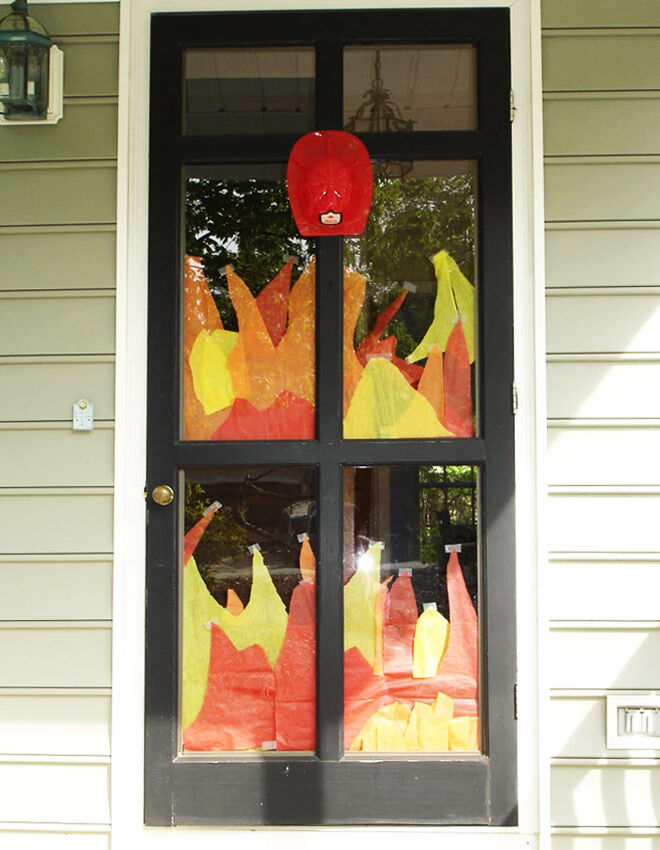 You've got the option to host the party indoors or outside if the weather's warmer – fireman parties are incredibly versatile. Venue possibilities range from local parks and playgrounds to hiring an authentic fire truck to come visit the tots at home! Simply work a little magic on the front door at home to get the kids excited about what's in store. (via Natalie and David's Blog)
Other venue alternatives for fireman party are:
Children's party venue
Scouts hall
Local playgrounds
Decorations…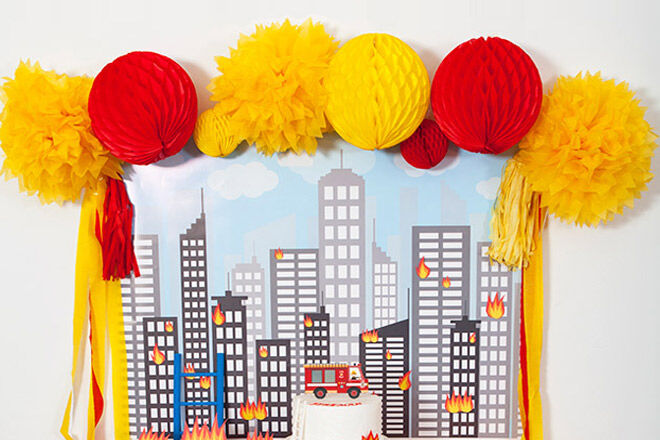 Paper party stationery is easy to hang and looks fantastic when grouped together in different colours. Decorate your party space with a combination of reds, yellows and oranges and you will really make their fireman party pop! Think orange paper garlands, yellow and red streamers, red honeycomb balls, yellow pom poms and fireman bunting. With a stand-out backdrop in place you can add a few special touches if and where you like;
Mini buckets
Small wooden ladders
Giant balloons
Cut-out flames
Cityscapes
Flashing lights
Games and Entertainment…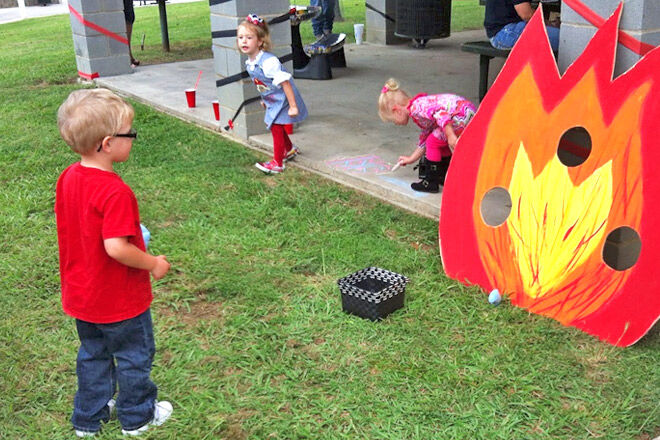 Start the festivities with a variety of lively party games. Keep it fun for all ages with a game of 'pin the hose on the fire truck', 'hula hoop the hydrant' (hula hoop an upside-down bin) or 'stop, drop and roll' musical statues. If the weather's warmer create an obstacle course in the back garden with fake fire flames and water hoses, or play a game of 'douse the house' with water balloons. (via Krafty Karen 921)
Party food…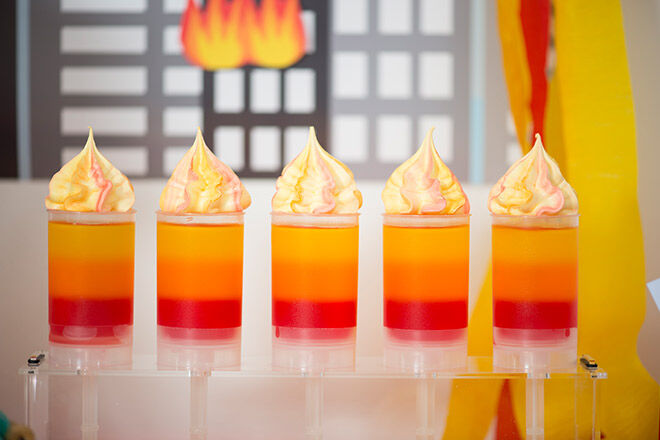 Playing for hours will mean your fire fighters work up a hefty appetite. Re-fuel the munchkins with a party feast to remember and have bottles of H2O ready to go. For fun fireman treats think – red fire hydrant cookies, cake pops with a cool blue icing, cupcakes with yellow and red sprinkles, mini hot dogs, fire jelly push pops and Oreo 'spare fire truck tyres'.
Party favours…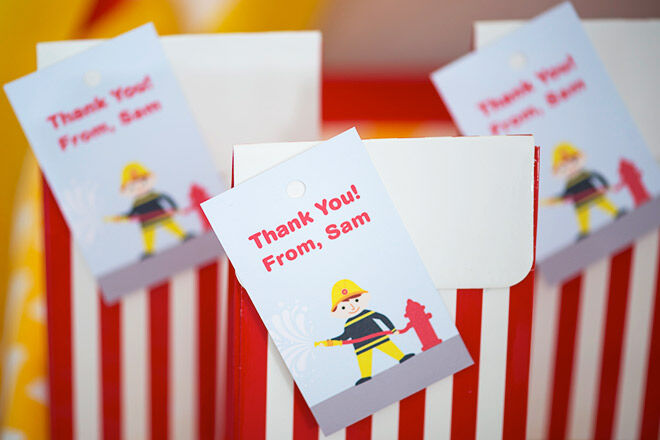 Thank you tags ($0.99 each): To thank your party recruits for a blazing good time, send them home with fireman-themed party favours. A selection of red lollies along with a slice of birthday cake will keep them smiling, or for party favours without the sweets, take a look at our ideas below: