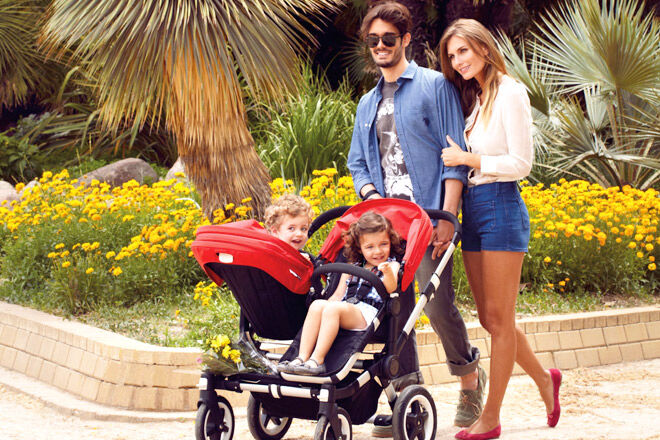 They say they are double trouble so when you have twins or two kids close together you are in for a wild ride. So whether you want to go out trekking or just cruise around the local shopping centre we've found the perfect side by side double pram for you.
Here are our top ten side-by-side double prams to get you out and about.
Double donkey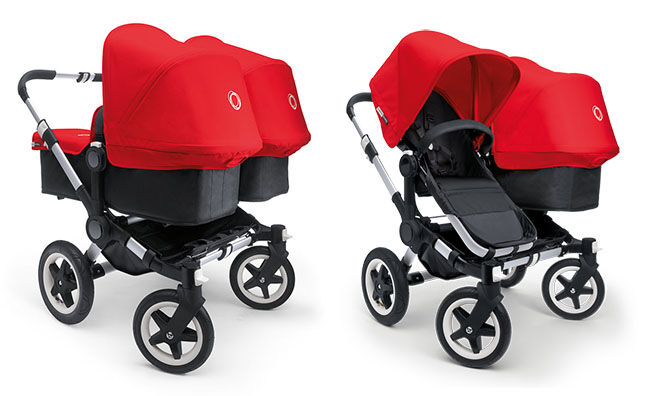 Bugaboo Donkey ($2,275): When it comes to luxury prams you can't go past the Bugaboo Donkey. With 17 different seat combinations this pram will suit lots of different families and lots of different kids. There is storage, swivel wheels and rear air tyres so you don't feel the bumps. It also meets all safety guidelines so you know your precious cargo will be safe.
City style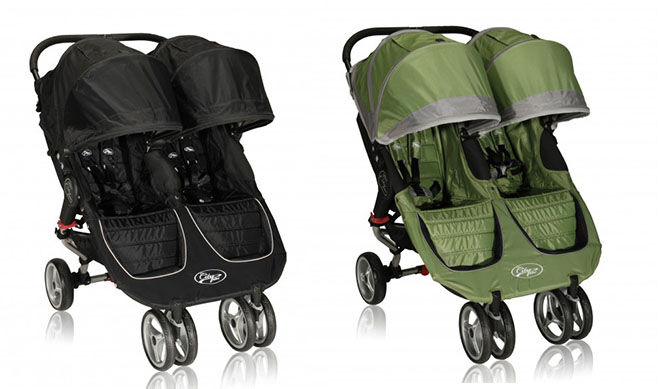 Baby Jogger City Mini Double ($699): The Baby Jogger is one of the easiest strollers to use. With a patented Quick-fold system it's easy to throw in the boot of the car and off you go. Both seats lie to a near flat position so you can use it from birth right through to when your kids reach 45kg. There are also vents for air flow, a three stage canopy and a weather cover so it won't matter if showers hit. A great pram for city living.
Compact and stylish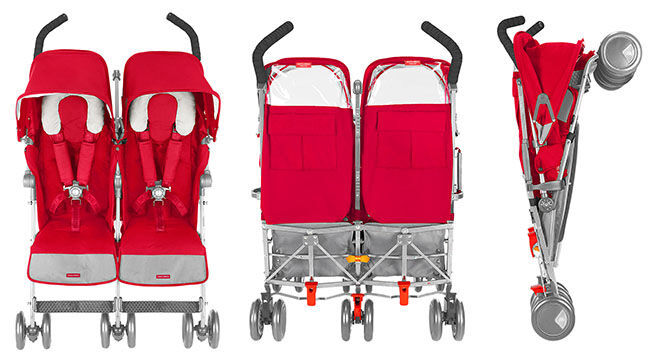 McLaren Twin Techno ($689): One of the greatest concerns when buying a side by side pram is how wide they are. The Twin techno fits through a standard doorway so you won't ever get stuck. It also has 4-wheel suspension and can be used from birth to when they reach 30kg. The seats can lie flat or be upright for different children and includes a 5 point safety harness. When it inevitably gets dirty just remove the seat covers and throw them in the wash.
Buggy explorer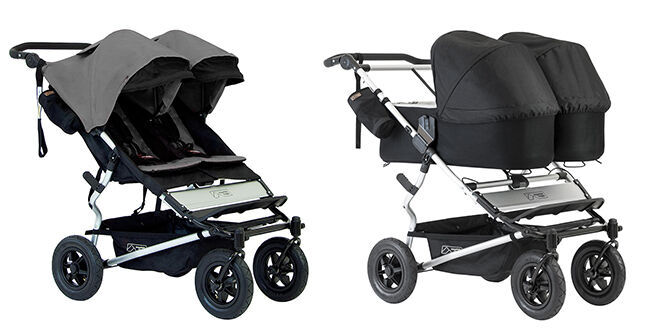 Mountain Buggy Duet ($749): The Mountain buggy is the pram that will take you from city to beach without skipping a beat. With air tyres it absorbs the impact of bumpy terrain and the front wheels have the option of swivelling or locked depending on where you are. At just 63cms wide the Duet is the same width as a single seat Mountain Buggy. Once you are done it will fold up easily with one hand – ready for the next adventure.
Love N cruise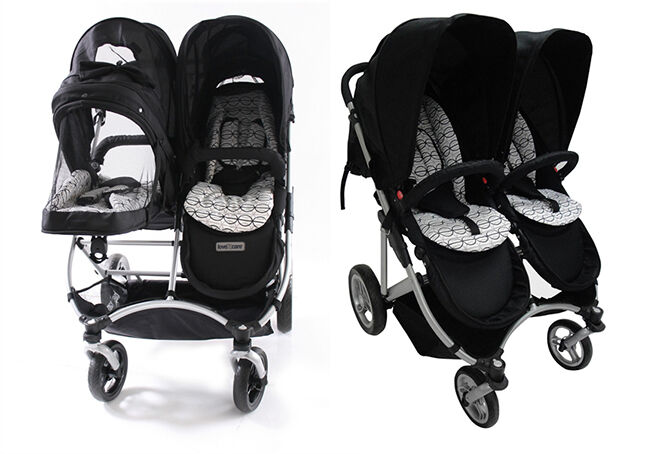 Love N Care Twingo ($599): From a fully Australian owned company the Twingo makes a great choice. The seats can be moved around to be facing forward, backward or one each way. It comes with cute little pram inserts and the whole seat cover comes off to be washed. The frame is light as a feather to make it easy to fold up and pop in your boot. Suitable for use from newborn this pram will be with you for the long term.
For the adventurer

BOB Revolution PRO Duallie ($799): If you are planning on lots of treks and mountain climbing this is the pram for you. It has a hand-activated rear drum brake which gives added safety when climbing the steepest hill. It has a built in suspension system so no matter how bumpy it gets they feel a smooth ride. While the large canopy can protect them from the elements as you go. It still folds up easily and each seat can be adjusted so the kids are comfortable.
Light and easy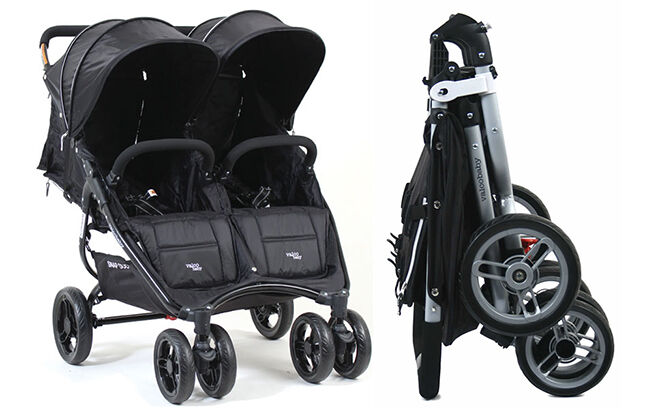 Valco Snap Duo ($499): At just 9.8kg this pram is perfect for anyone concerned about lifting a heavy pram in and out of the car. Using the same technology as the single prams it can be turned around corners with ease. Suitable for newborns the seats can be adjusted individually to suit different children. Once folded down it is extremely compact making it a great pram for those who are planning on get out and about often or have a small car.
Shopaholics dream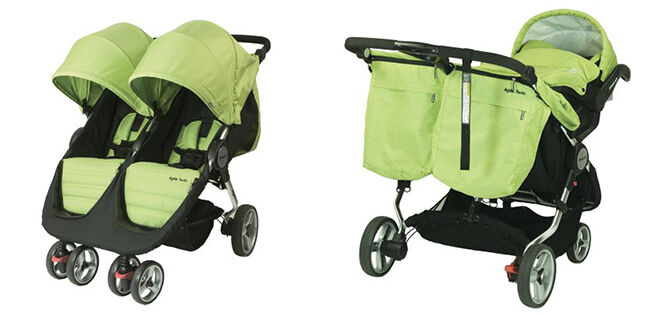 Steelcraft Agile Twin Stroller ($649): If you like to shop then this is the pram for you. Not only can it hold two kids each weighing 20kg but it can also take 6kg of shopping underneath. It is suitable from newborn and the seats can even be adjusted if the kids fall asleep while sitting up right with a one hand squeeze. The wheels can be on swivel or locked depending on the terrain and it comes with a rain cover. Available in black or forest green you will love shopping with this pram.
For your little ladybug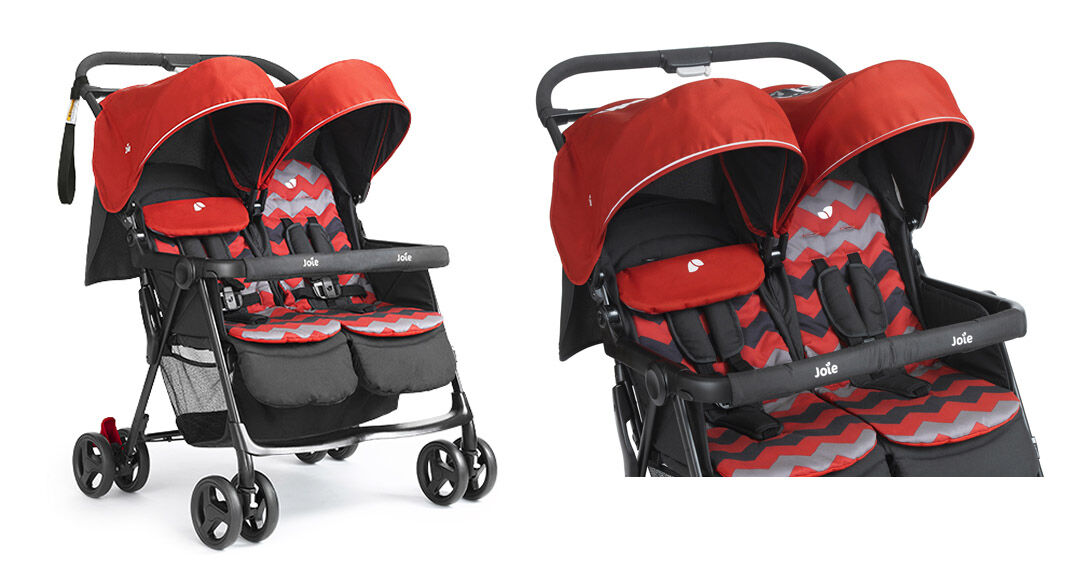 Joie Aire Twin Stroller ($399.95): If chevron is your thing then make sure you check out the Joie Aire. With the reversible seat liners it not only makes the pram look cute it also keeps bub cushioned and protected. Suitable from birth, the aluminium chassis gives this stroller the ability to take on rough terrain with ease.
Cheap and cheerful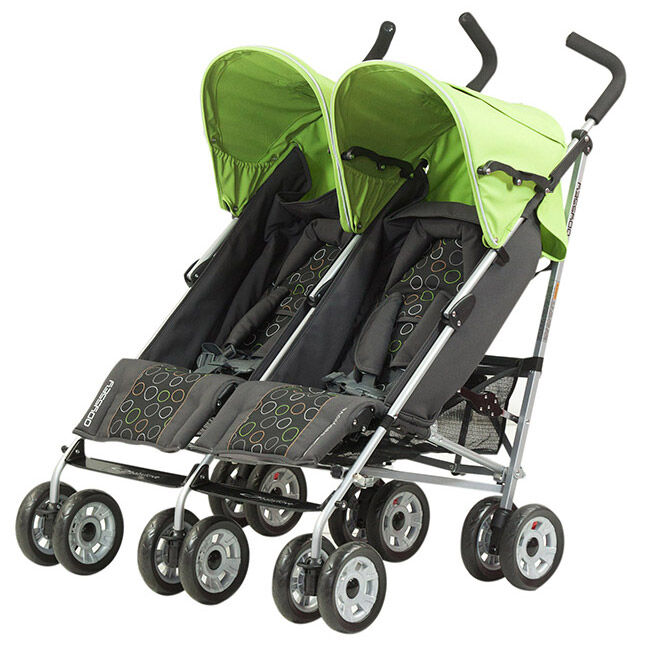 Babylove Twin Odyssey ($177): If you're looking for a light weight stroller then you can't go past the Babylove Twin Odyssey. It doesn't have all the bells and whistles of some of the other prams but it certainly is compact and light. The perfect stroller to keep in the back of the car for when you have to duck into the shops or into school to pick up older kids. The seats are able to be reclined and the leg rests are adjustable so you can use it from newborns to 17kgs. The perfect second stroller.