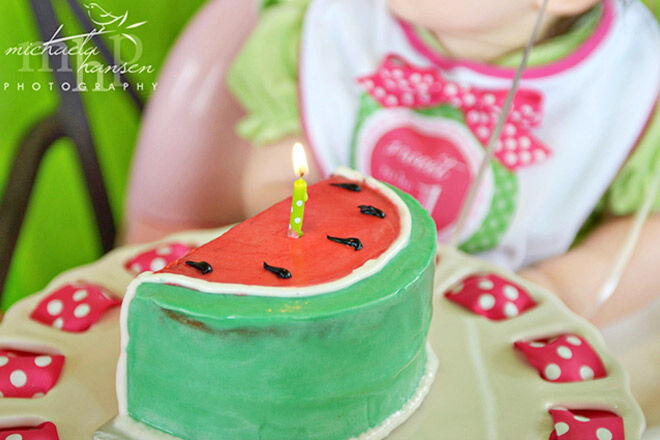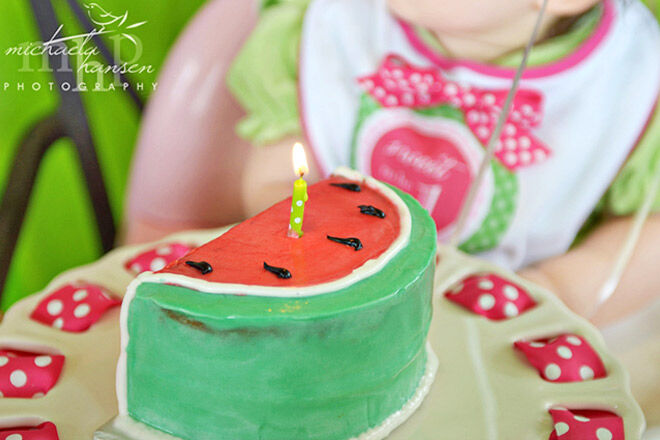 Watermelon…watermelon…I love…you love….watermelon! Holding a party is all about good food and having fun and there is nothing tastier than a slice of watermelon. Just add some watermelon decorations and a few games and you have yourself an awesome party.
Slice yourself a piece and take a look at our picks of the juiciest watermelon party ideas going round.
Please accept my invitation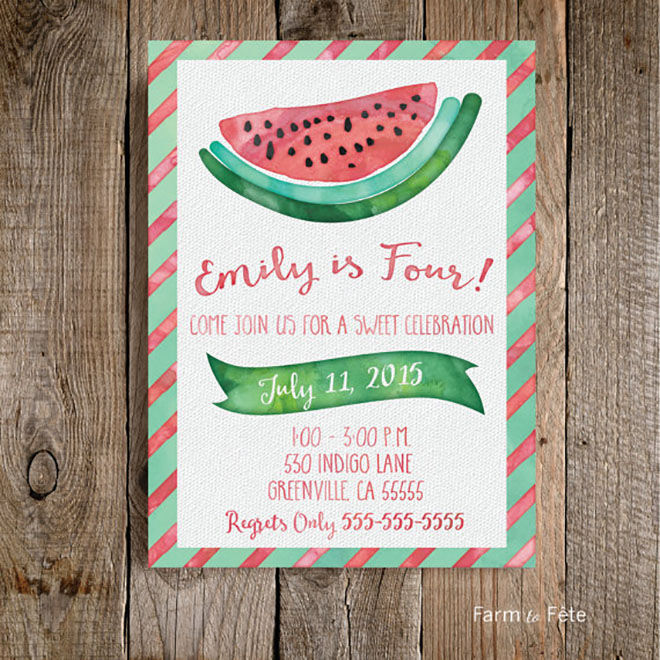 Personalised Invitations ($16.57): Every good party starts with a beautiful invite. Farm to Fete on Etsy will personalise this invitation for you and then send a PDF you can print yourself. This gorgeous invite is both front and back and will certainly wow your guests before they even arrive.
Start the decorating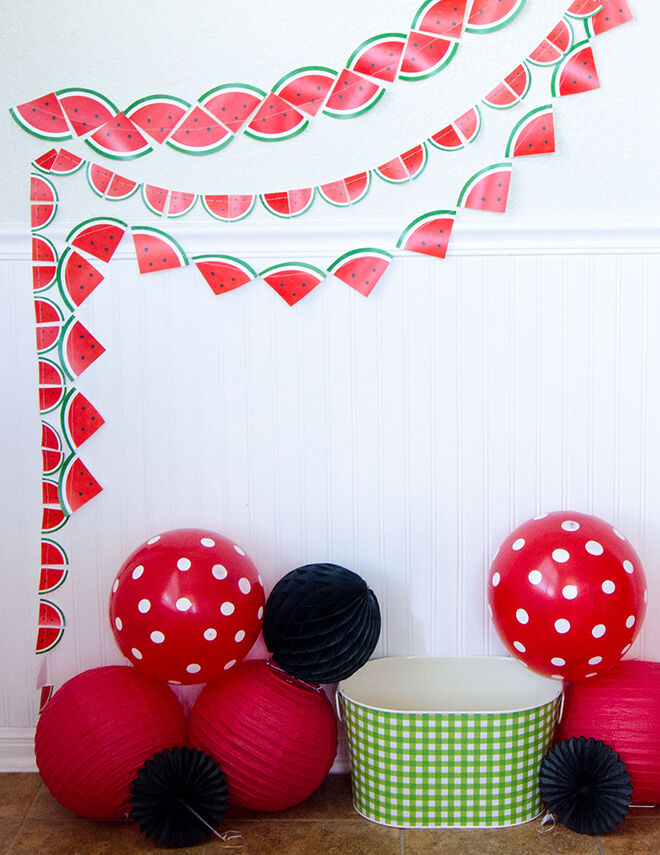 All the party guests have RSVP'd and now you have to get organised. First you need decorations and what better way to start than with a garland. Just print this watermelon garland out and sew a straight stitch through the whole thing and voila you are done. (via Love the Day)
Time to eat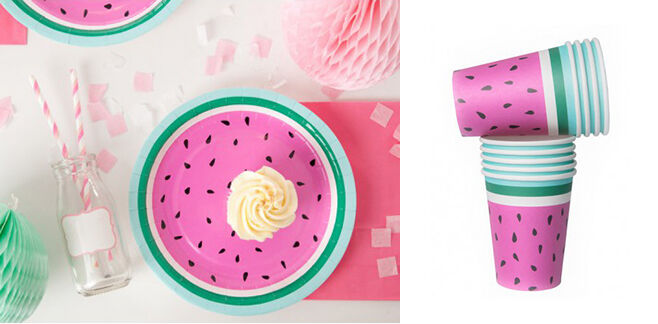 Watermelon partyware (from $6.95): Why have ordinary plates when you can have watermelons? These plates available from Lark will certainly make the food taste better as well as making the table look oh-so-cute.
Get inspired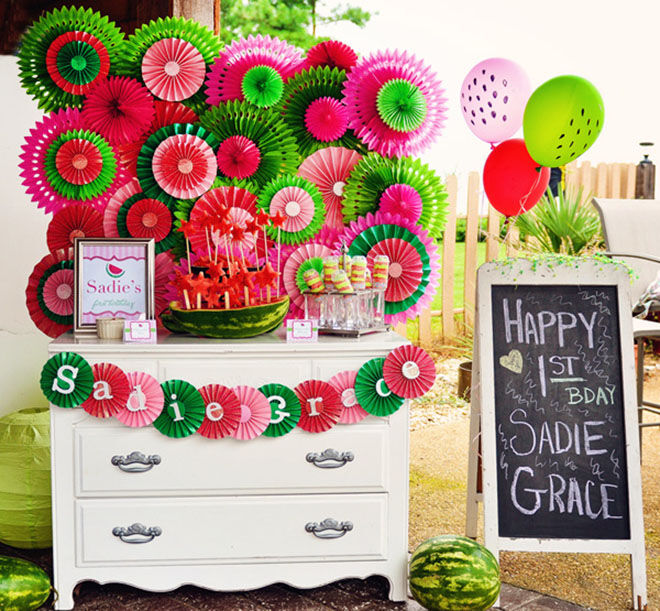 Just because you are having a watermelon party doesn't mean everything has to look like a watermelon. Use colours to make a bold statement. This is Sadie's 1st birthday party and you can achieve the same result using paper pom wheels from Etsy. (via Chickabug)
Happy hitting

If you really want to wow your guests with your DIY skills take a crack at this Watermelon piñata. With photos and instructions you shouldn't have a hard time putting it together. Just be prepared to watch the kids bash all your hard work into smithereens. (via Oh Happy Day)
Cool down with a cone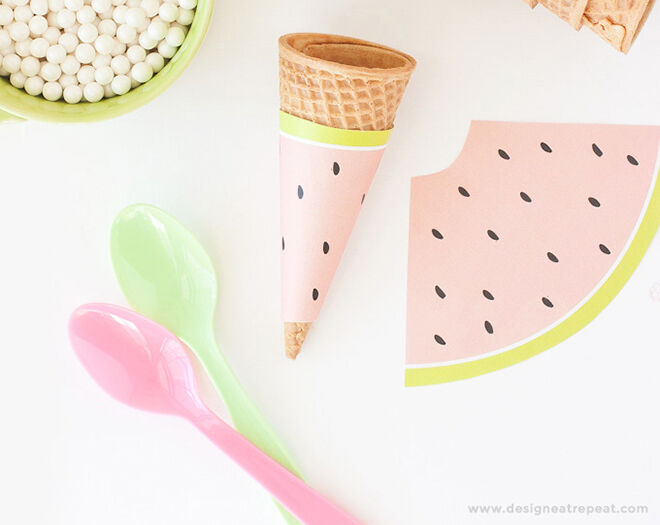 Next to watermelon, ice cream is the best thing to cool you down. These cute little cone wrappers can be printed off for free and will give your ice cream a fruity edge. (via Design Eat Repeat)
Fun and games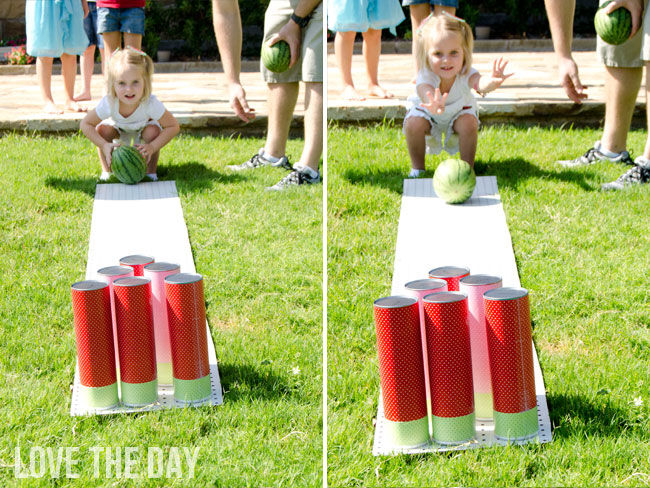 No party is complete without some fun and games. This cute DIY watermelon bowling will keep the kids active and happy the whole party long. (via Love the Day)
Anyone for a drink?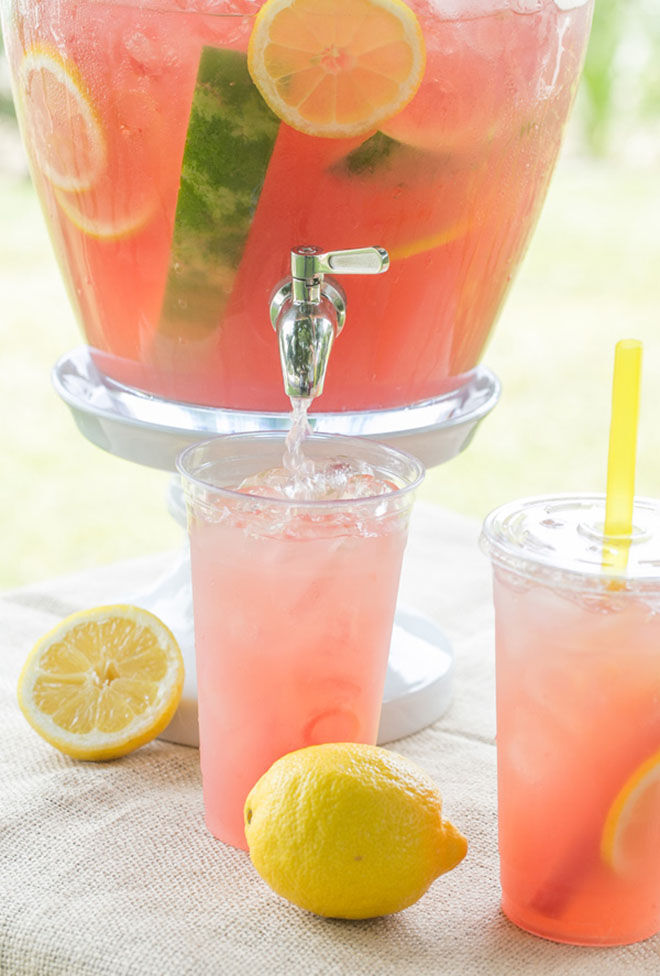 Combine the sweet taste of watermelon with refreshing lemonade. Perfect for kids because the watermelon adds a sweetness to counter the lemons. Chuck in the watermelon skins and lemons into the jug to make it look drinkably cute. (via Sugar and Charm)
Chilly treats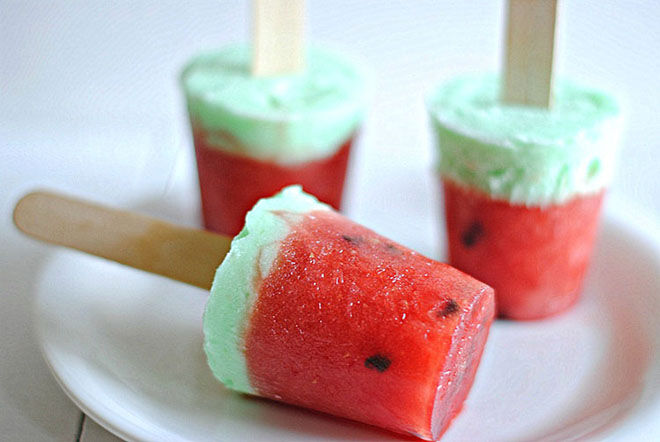 Whip up these watermelon ice creams in a flash with simple instructions from Eat Yourself Skinny. Using a a mixture of puree watermelon and lime sorbet you can create these cute little ice blocks for the kids to re-charge and re-fresh. (via Eat Yourself Skinny)
Watermelon by numbers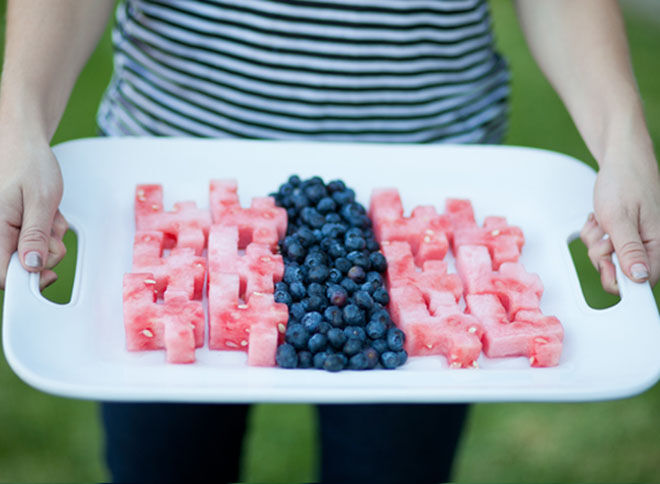 This is simple with a capital S. Just grab a cookie cutter in the age of your child and cut out the watermelon into little numbers. Put it on a plate with blueberries and you have a colourful yet fun platter for a party. (via Sugar and Charm)
Good enough to eat
Cookies….yum. Decorating biscuits isn't always easy but Glorious treats step by step instructions make these watermelon cookies achievable. Just make sure no little fingers grab them before the party. (via Glorious Treats)
Creative cupcakes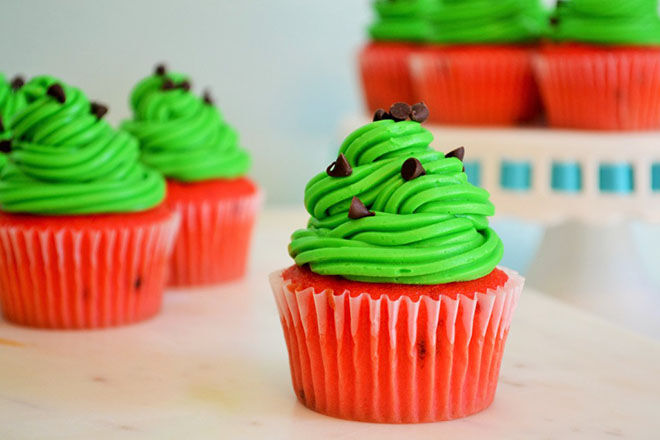 Made using a packet mix these cupcakes could even be attempted by the baking-challeneged. Just a plain cake with red food colouring and choc chips for seeds these cupcakes are going to get eaten quicker than you can say 'watermelon'. (via Pack Momma)
The perfect slice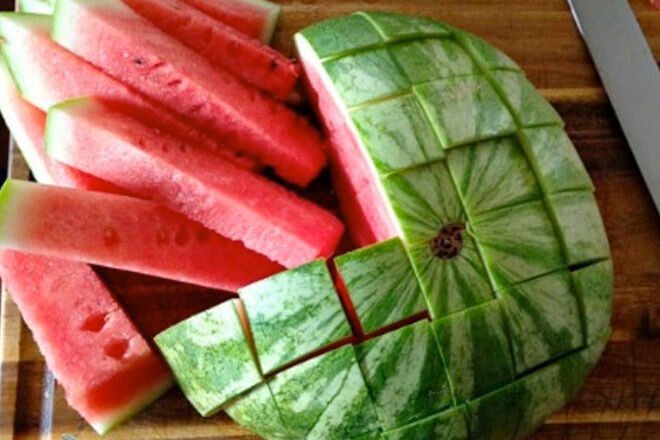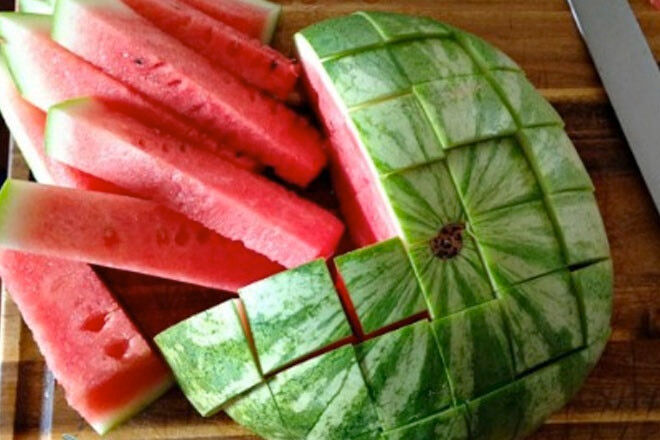 Slicing and dicing a watermelon doesn't have to leave you with a pink pile of slush. We've found the perfect way to cut watermelon for kids, and it's a ripper! (via Sober Julie)
And the cake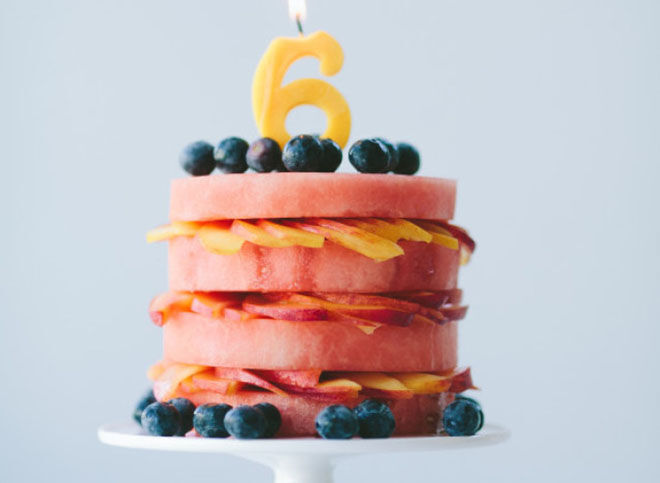 No party is complete without cake. Make a statement with a watermelon cake. Much easier to make than a real cake – you can't burn it or forget an ingredient. You may find the kids like it even more than regular cake. (via Not without Salt)
The real deal…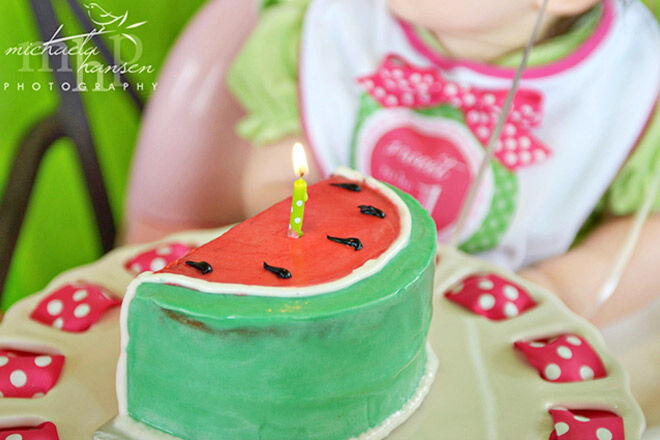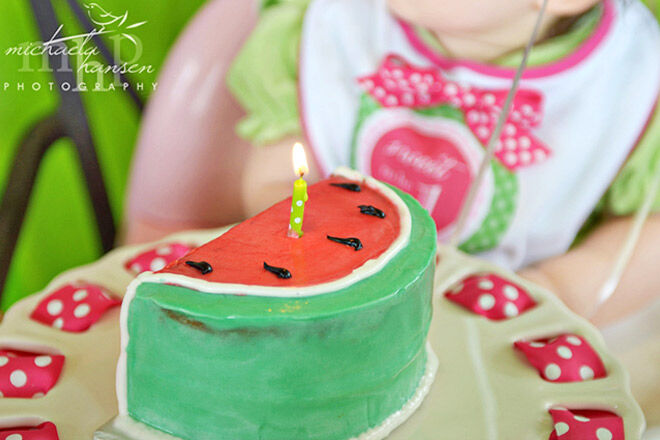 And if you (and the little teenyboppers) can't fathom a birthday party without a celebratory cake, Chickabug's got your back with this bright bake – and it's perfectly sized so everyone can get a slice of the action. (via Chickabug)
Give them a lolly bag and send them on their way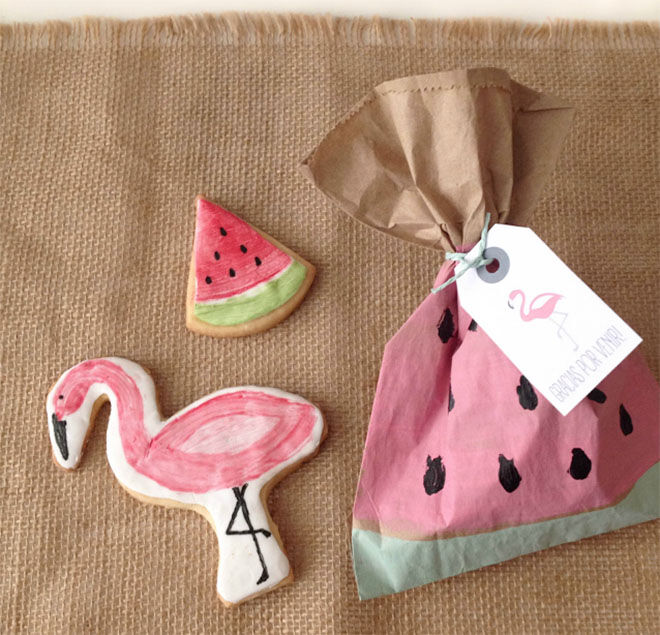 The party is over and all that is left is a cyclone of mess through your house. Send them home with a gorgeous goodie bag, a thank you note and hope they had a good time! (via A to Zebra Celebrations)