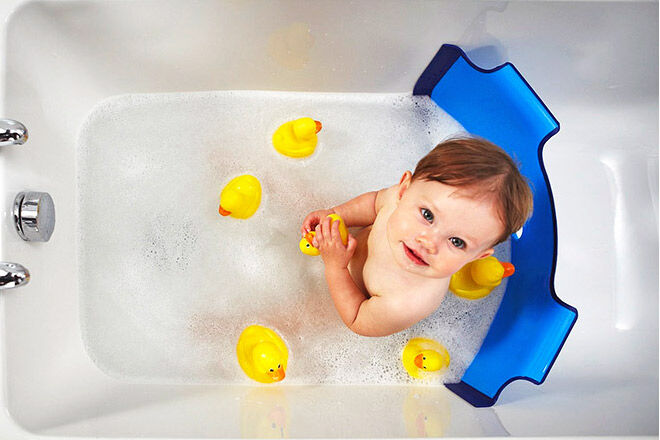 Once your baby is born having somewhere to bath them is important. What you bath them in isn't. There are loads of different options if you either don't want to buy a baby bath or don't have space.
To help get you started, Mum's Grapevine has put together some ideas to get your little mess maker clean without needing a baby bath or a bath at all!
Save water & shower together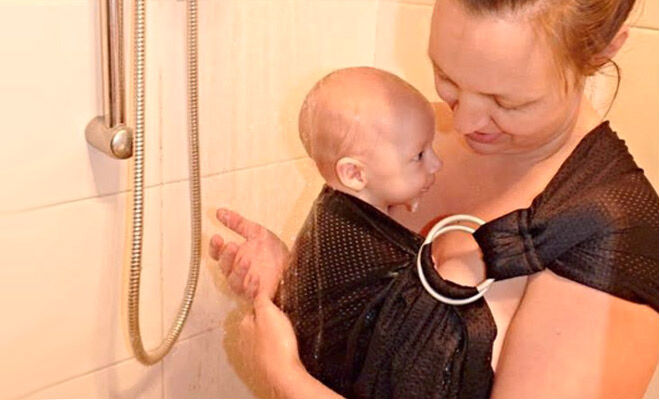 SUKKIRi Ring Mesh Sling ($54.95): We all know the benefits of carrying your baby, why not carry them into the shower? The SUKKIRi ring sling is made from a soft-touch, breathable mesh that can be worn in the water. It can be used in any water but it is perfect to carry bub into the shower with you. Bonding and cleaning in one.
Turn the sink into a bath
Blooming bath ($69.95): Turn your sink into a bath. The Blooming baths petals are shaped so they can fit into different sized sinks and the soft foam makes bath time comfy for your newborn.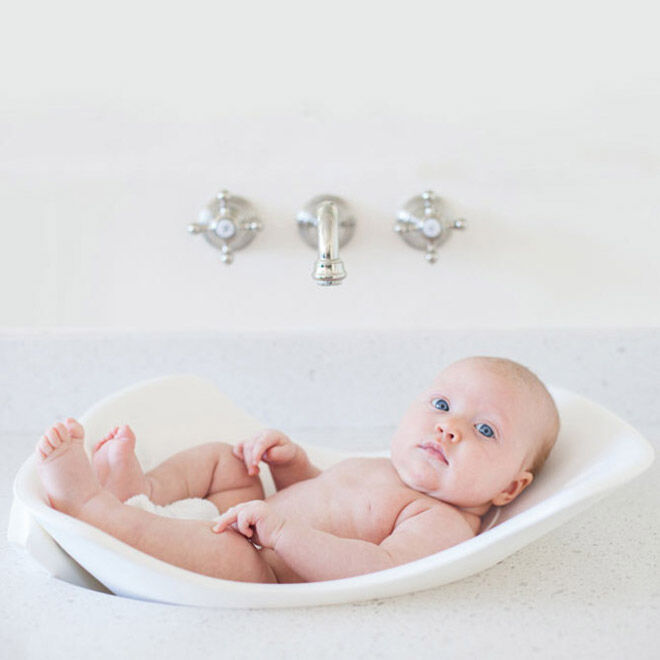 Puj Flyte Tub ($49.99): Bathing your baby in the sink is going to ease the strain on your back as there is no bending over. The Puj Flyte Tub can flex to fit into different sinks and is made from a non-absorbent material so it dries super quick.
Blow up the bath
Go-Home Jr Inflatable baby bath ($30): Add air and water and you have a soft and comfy place to bath your baby. The blow-up baby bath won't break the bank making it an affordable solution if you don't have space for a bath. If you want to keep it inflated it has a drying hook or you can just inflate when you need it. Measuring at 65cms long it can fit babies from newborn to 1 year old.
Put a dam in it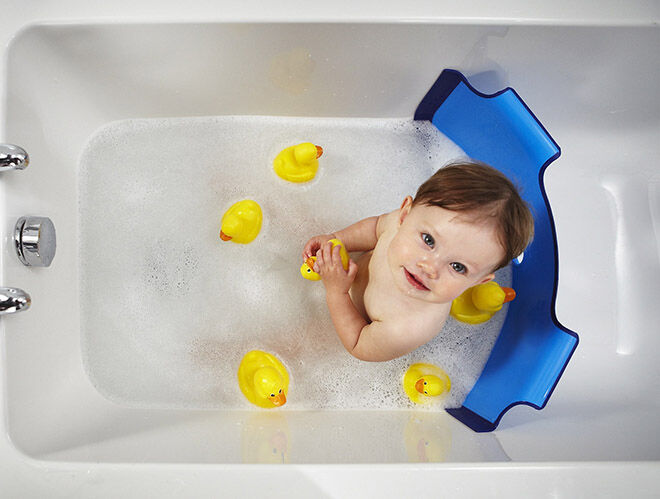 Baby Dam Bathwater Barrier ($59.00): If you want to use your own bath but waste an entire bath every night try the Baby Dam. Just pop it into the bath and your full adult size bath becomes child size. A great idea for those who are conscious about the amount of water they are wasting. It can be used up to any age and would pay you back in water savings in no time.
Sit back and relax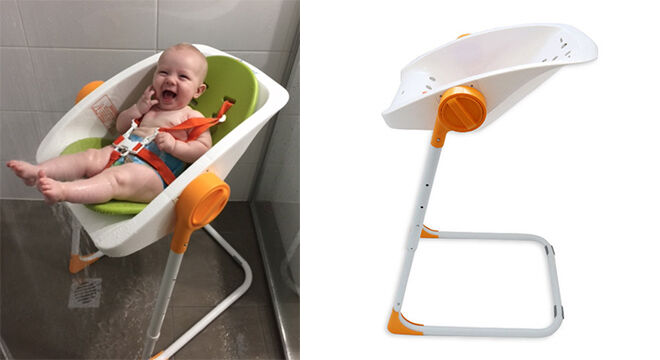 CharliChair ($119.95): You might remember the CharliChair from Shark Tank. This shower seat was developed by a Mum who went looking for a seat to help her bath her baby and couldn't find one. Able to hold up to 17kgs this will take you from newborn to toddler with ease. It's totally adjustable with different reclining and height positions and will be a saviour for anyone with a bad back.
Toys in the day and bath at night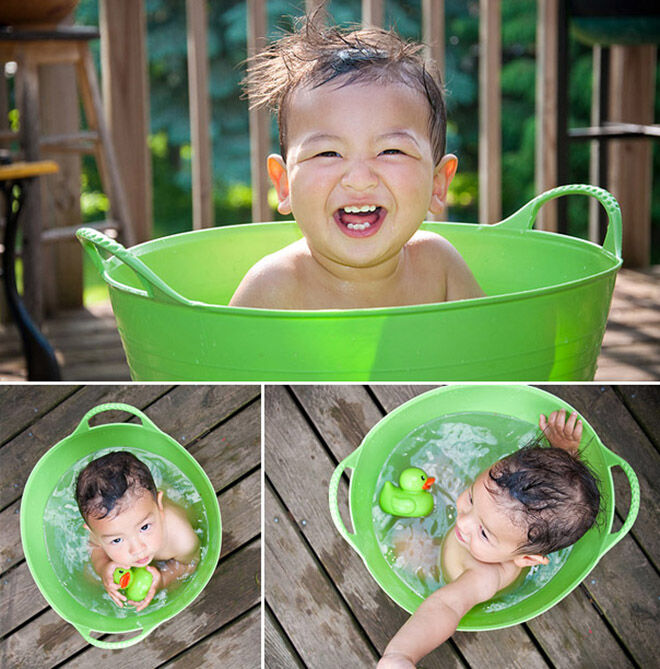 Tubtrug ($39.95): I bet you thought the Tubtrug was just for toys? Nope – it can be a baby bath too. A fantastic idea for every day or as a fun outside bath in summer. They come in a 75-litre size and are made from a virtually indestructible plastic so they will last forever. When you don't want to use at as a bath anymore you can wash it out and use it for toys.
Prefer to shower?
Lil' Luxuries Whirlpool Bubbling Spa and Shower bath ($109.99): We know we said no baby baths but we had to include this one because it is a shower! The bath has a motorised attachment that acts like a mini shower. So if you have a baby who hates to have a bath you can try giving them a shower.
Just like Mummy's tummy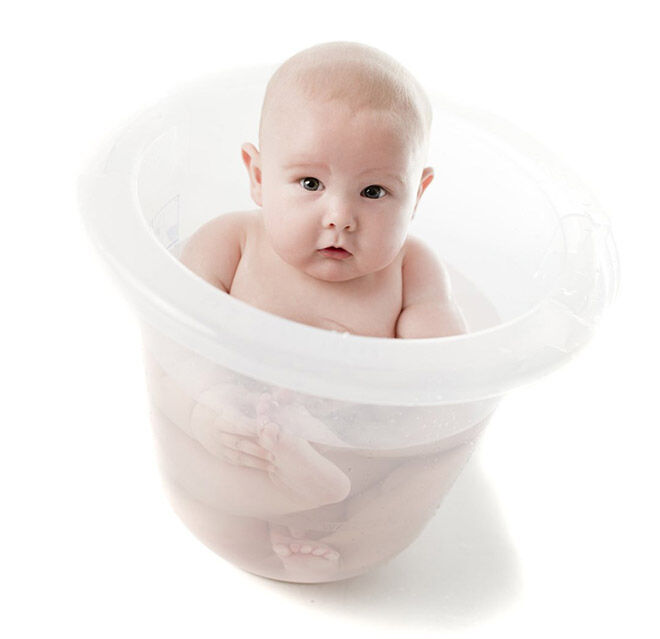 Tummy Tub ($49.95): The Tummy Tub may look a little strange but is endorsed by maternity hospitals, doctors and midwives as a wonderful way to bath your baby. It simulates the same environment as in the womb so newborns feel a sense of comfort and security in this type of bath. While it may look like a bucket it has an anti-slip base and is curved to be more comfortable for your baby. It is also made with all non-toxic products to make sure it is safe to use from newborn.
Low on space?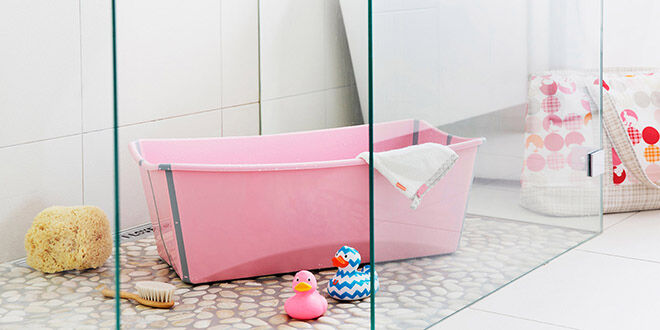 Flexibath ($59.95): If you don't have a lot of space in your bathroom the Flexibath is the answer. Able to be folded up so it is only 10cms wide it can be stored away while not in use. Not just for newborns, the bath can be used until you child is 4 years old and even fits two kids. It also has a drain hole so no heavy lifting required.
Chuck 'em in the sink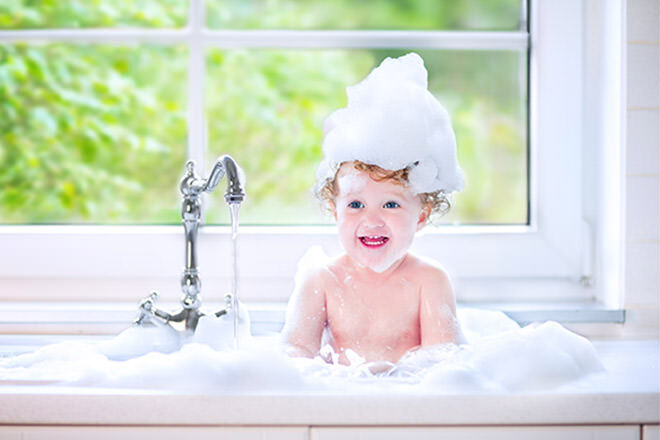 For years mothers have been bathing their babies in the sink. It is the right height for Mums to stand comfortably and the perfect size for babies to sit in. Perfect if you are a little short on space. Maybe don't do the dishes at the same time! (via Palm Press)
READ MORE:
• 13 bath dolls that can go in the tub
• 15 brilliant bath toy storage solutions
• 17 bath essentials for time in the tub