There was a man with messy hair. He liked the mess. He didn't care.
Pamela Allen has just released her 50th book! Yep, you heard us right, 50th! The Man with Messy Hair is her latest publication and it's packed with Pamela's much-loved wit and charming illustrations that make her books adored by children from around the world.
To celebrate the occasion we're giving five lucky Mum's Grapevine subscribers a copy of "The Man with Messy Hair".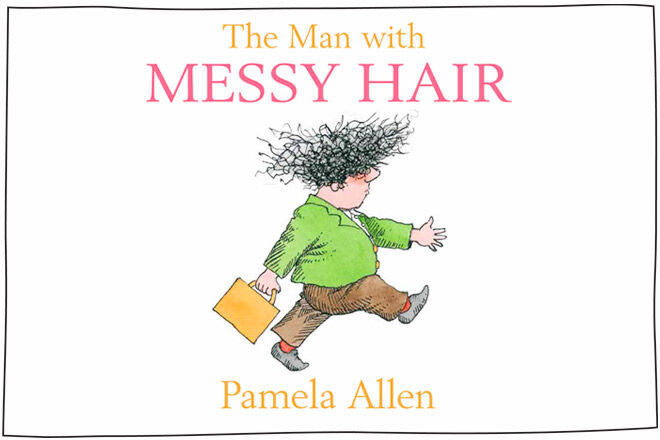 This competition is now closed and the winners have been notified. Check your email – is it you?
HOW TO ENTER Entry is open to all Australian Mum's Grapevine Sale Alert Newsletter subscribers. You must be actively subscribed to be eligible to win if selected.
Step 1. Enter your details below and tick subscribe to newsletter (even if you are already subscribed).
Step 2. From the list below, tell us your favourite Pamela Allen book.
Competition ends August 28, 2015.
More books by Pamela Allen:
A lion in the Night
, 1988
Alexander's Outing
, 1994
Belinda
, 1994
Bertie
, 2013
Bertie and the Bear
, 1990
Black Dog, 1992
Brown Bread and Honey, 2001
Can You Keep a Secret?
, 2000
Clippity-clop
, 1995
Cuthbert's Babies, 2004
Daisy All Sorts
, 2003
Doodledum Dancing
, 2010
Fancy That!
, 1989
Fat Ferdie
, 2013
Felix, 2011
Grandpa and Thomas
, 2005
Grandpa and Thomas and the Green Umbrella
, 2009 Herbert & Harry, 2000
Hetty's Day Out
, 2010
I Wish I Had a Pirate Suit
, 1991
Inside Mary Elizabeth's House
, 2001
Is Your Grandmother a Goanna?
, 2009
Mr McGee & the Biting Flea
, 1999
Mr McGee & the Blackberry Jam
, 1994
Mr Archimedes' Bath
, 1994
Mr McGee & the Perfect Nest
, 2000
Mr McGee Goes to Sea
, 1993
Mr McGee and the Big Bag of Bread
, 2007
Mr McGee and the Elephants
, 2012
Mr McGee
, 1989
My Buggy Book of Animals
, 2011
My Cat Maisie
, 1992
My First ABC
, 2008
My First 123
, 2007
Nana's Colours
, 2011
One Sunday
, 2014
Our Daft Dog Danny
, 2011
Share Said the Rooster, 2006
Shhh! Little Mouse
, 2009
The Bear's Lunch
, 1998
The Little Old Man Who Looked Up At The Moon
, 2012
The Man With the Messy Hair
, 2015
The Pear in the Pear Tree
, 2000