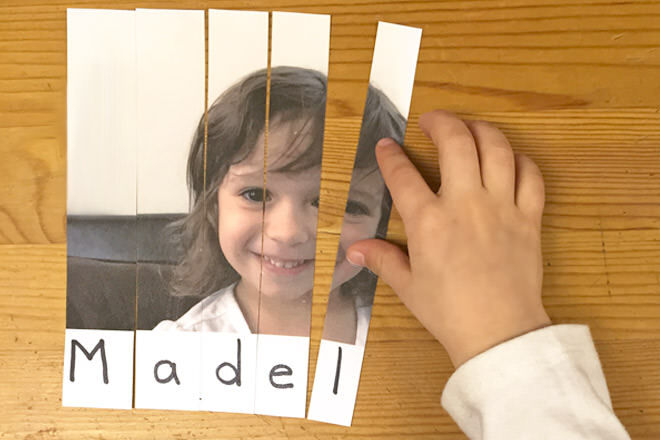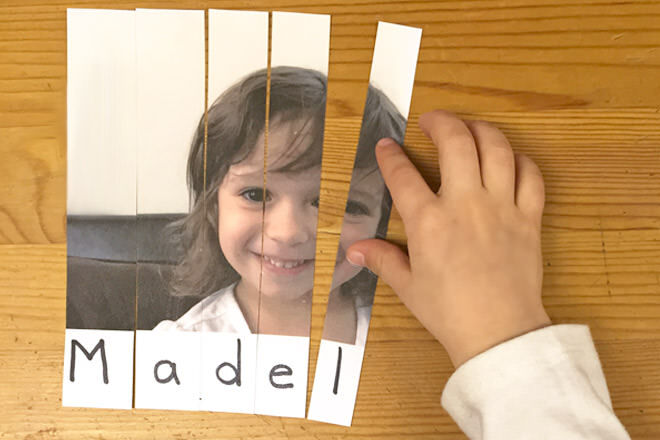 With lots of pre-schoolers preparing themselves for big school one of the most important things to recognise and write is their own name. Writing your name is not always easy, especially if you have lots of letters like Sebastian or Elizabeth! We've put together some simple ideas and fun games to get kids recognising and writing their own name.
So no matter if you are a Mia or an Alexander they will be writing their name before the bell rings on their first day at school.
Let it gel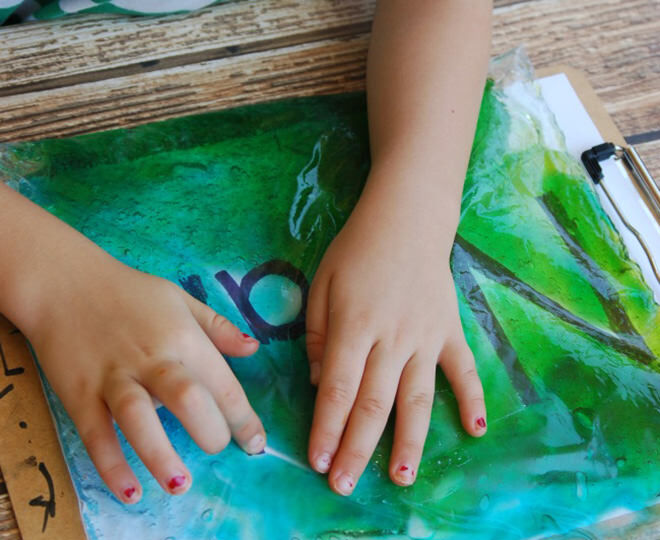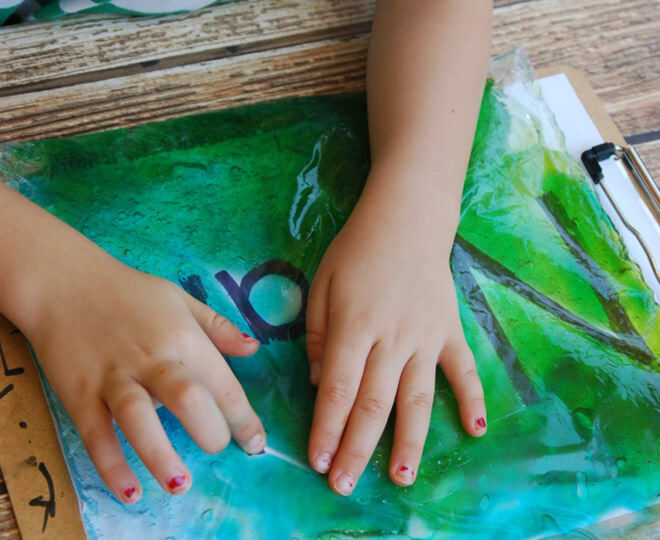 One way to get kids to learn how to form their letters is to get them tracing them with their fingers. Kids activity blog has used a snap lock bag full of gel on top of a print out of the child's name. It is squishy fun and learning at the same time.
Print it for free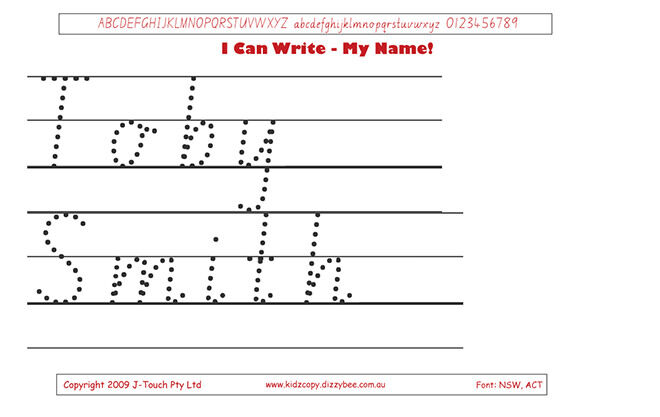 Writing takes practice and practice and more practice. Print out lots of personalised sheets for free using Kidzcopy. Just add in your name and the state you live (so you get the right font) and you can print out your child's name.
Graffiti their toys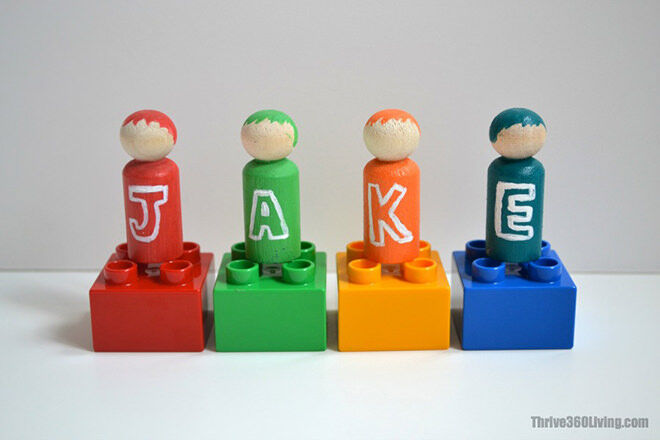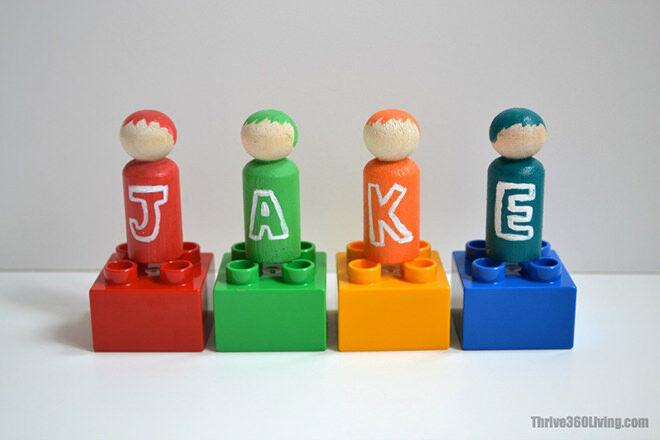 Get some acrylic paint and wooden toys and get painting. 360 Thrive used wooden peg dolls and put capital letters on the front and lower case on the back. Incorporating learning and play together. A great idea to start out with!
Spray it away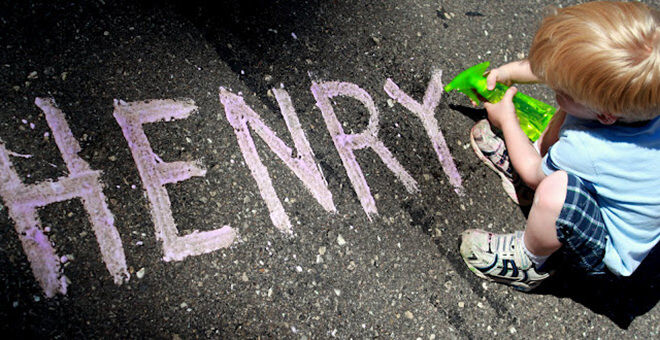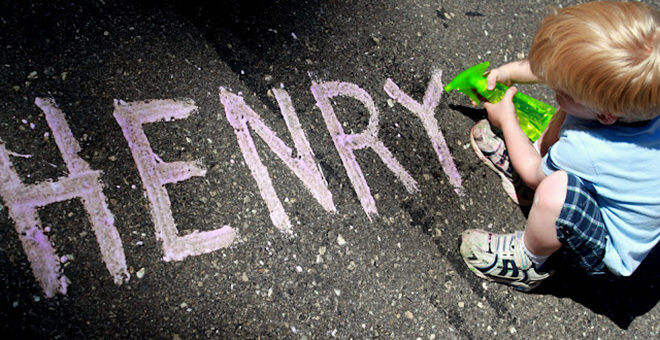 This time you would write their name and they have to spray it off. Hands on as we grow used homemade fizzy chalk with bicarb of soda and filled a spray bottle with vinegar. So when they spray their name it goes all fizzy! A cute ideas and appeals to boys who like to be active while they learn.
What a beautiful face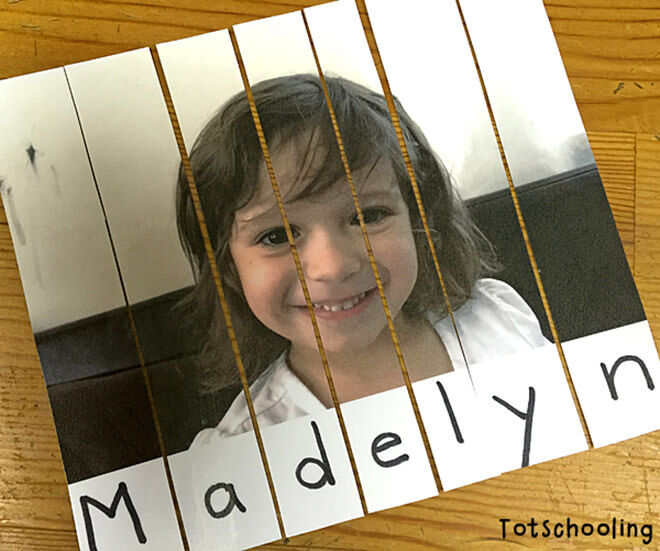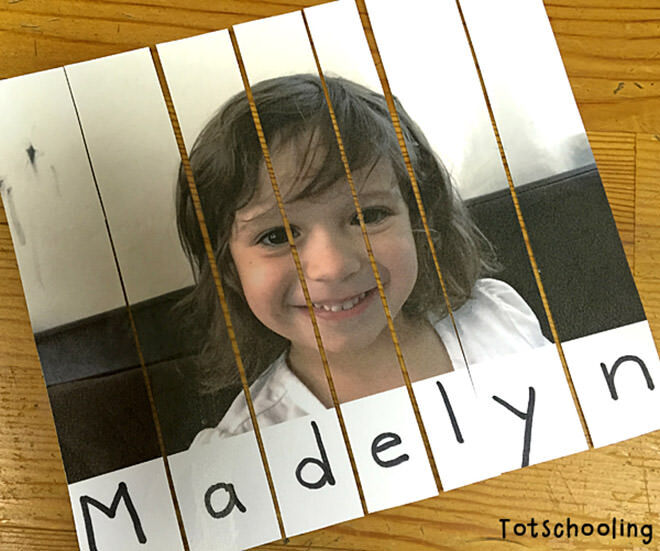 Incorporate their face and name with a photo name puzzle. Just print out a photo of your child on a piece of paper, write their name underneath and cut it up. Totschooling also laminated the photo so it can be used again and again.
Building a name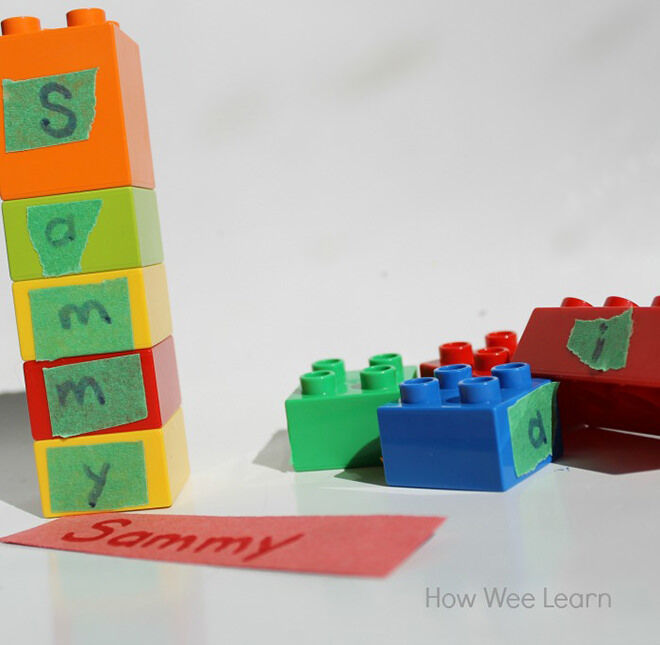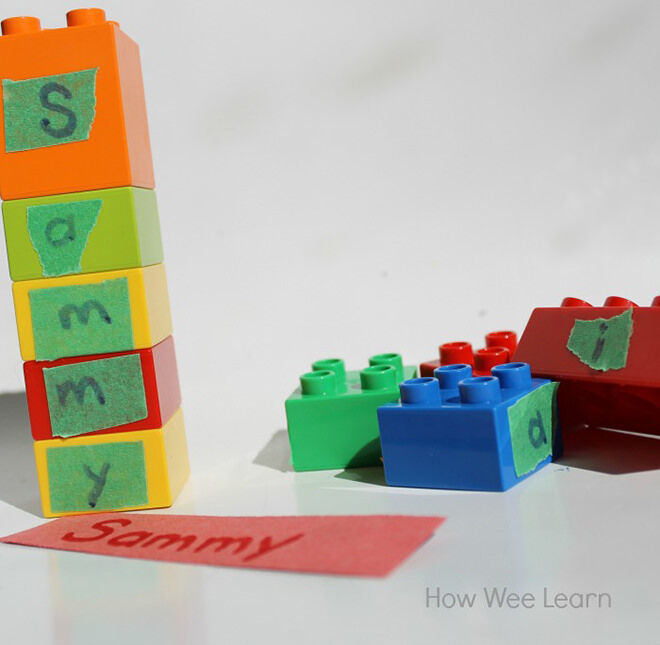 Is there anything Lego can't do? How Wee Learn added masking tape to duplo so you can build up your name. So simple anyone with duplo and tape could be doing this with their pre-schooler today.
Name-a-doodle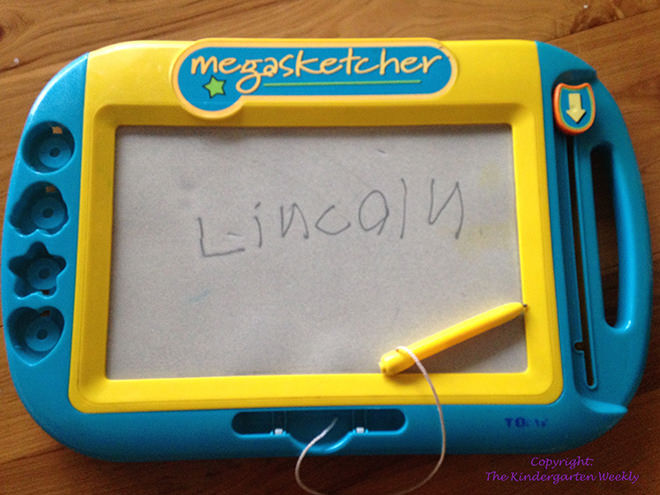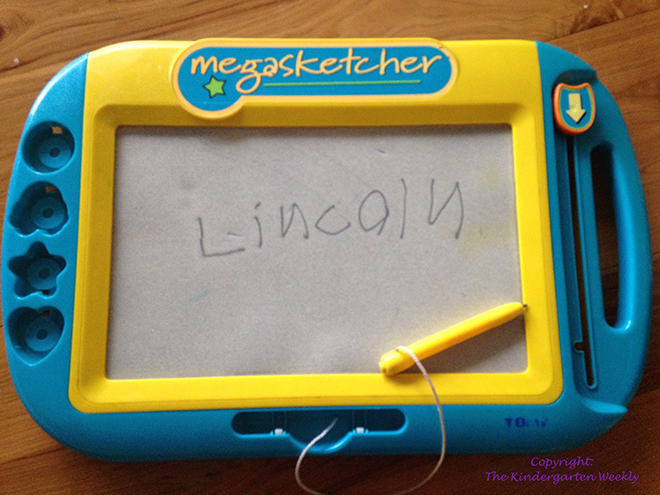 We love this idea of using the stuff you have around the house to get the kids writing. The Kindergarten Weekly use their Mega Sketcher to practice writing their name. So if you have one of these lying around get it out and get them practicing.
Bottle tops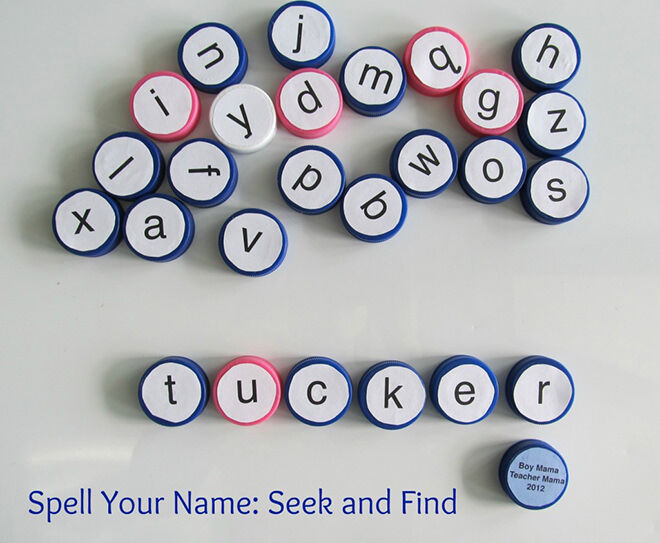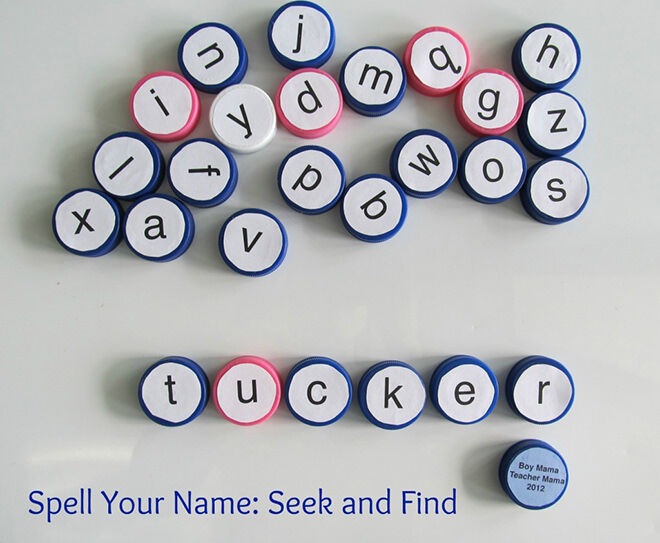 Finally there is a good reason the kids drink all that milk! Keep the bottle tops and make the alphabet. Boy Mama Teacher Mama has lots of fun games including finding your name.
Fingers in the salt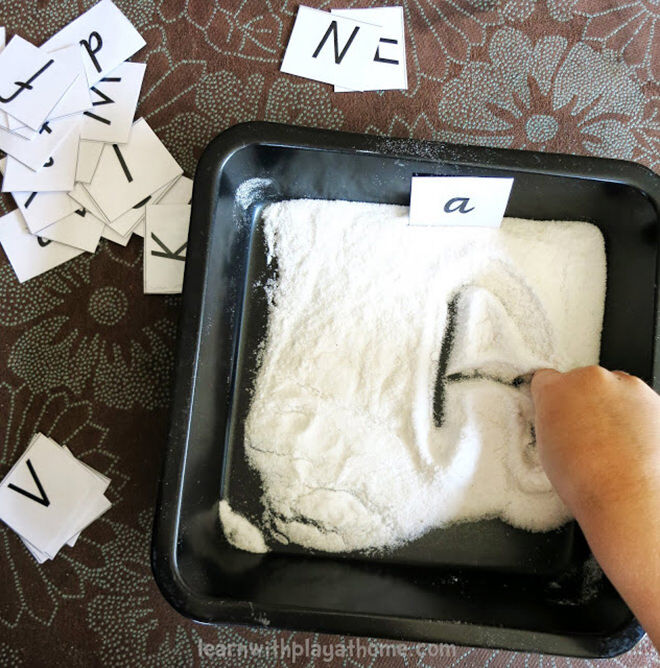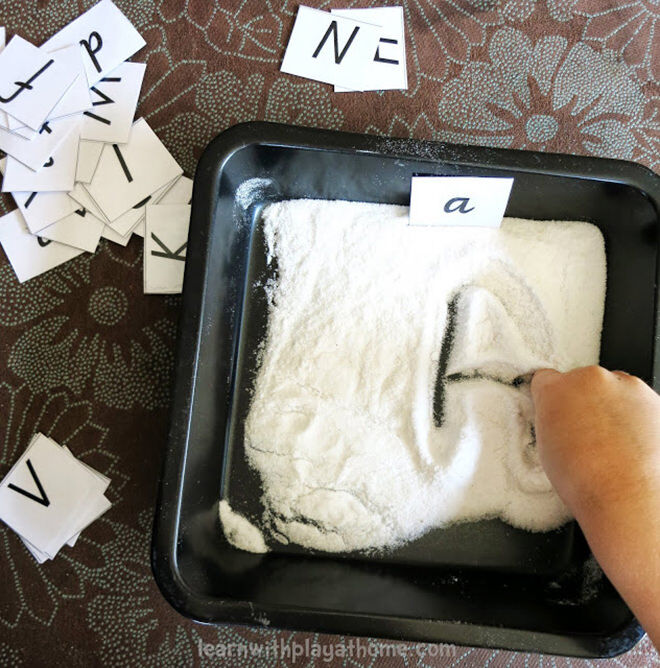 Another way to get the kids tracing letters is to get something to trace in. Learn with play at home has used a try of salt and printed out letters to get the kids practicing their name. Other ideas include shaving cream or rice.
Letter Beetles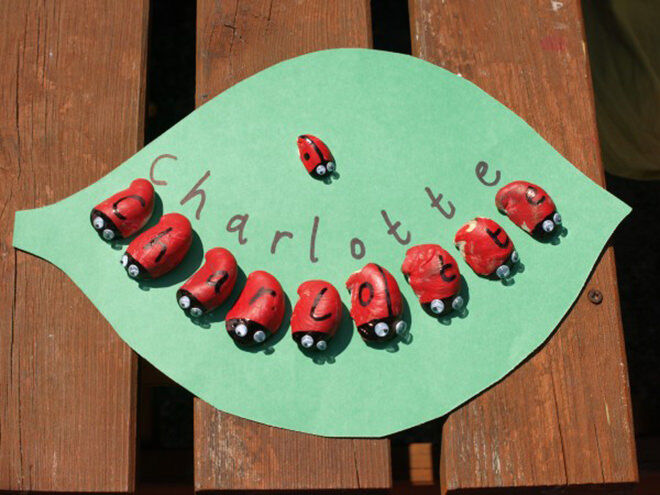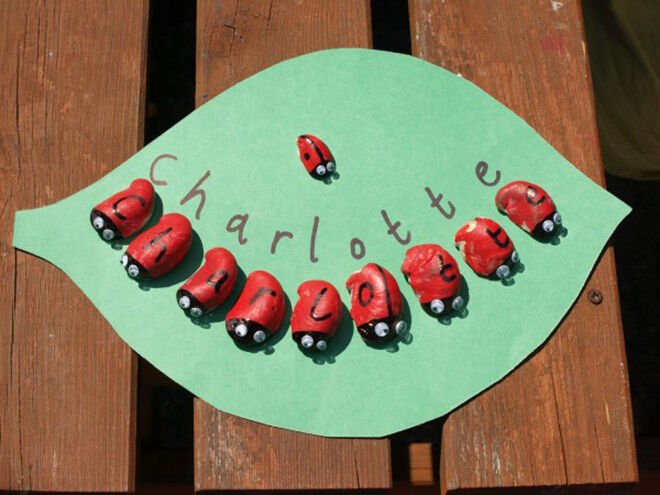 Using just some rocks Here come the girls has created ladybird letters. Just paint your rocks and then decorate them with letters and they can spell out their name. If you have any left you can decorate them like normal lady beetles.
---
FIND MORE:

ways to help kids learn
14 tips to help your preschooler learn to read
15 fun ways to learn your one, two, threes
13 creative ways to learn the top 100 sight words
---