The nursery is done, you're all set for bub's arrival and there's just one little thing left to think about—the birth! It's time to pack your hospital bag and suddenly you're faced with an unexpected fashion dilemma. What do you wear to bring your little one into this world? Gone are the days of the thread-bare hospital gown with a bum-flashing back. Feel comfy and covered on d-day with our 11 top outfits to wear giving birth.
1. Fit for a queen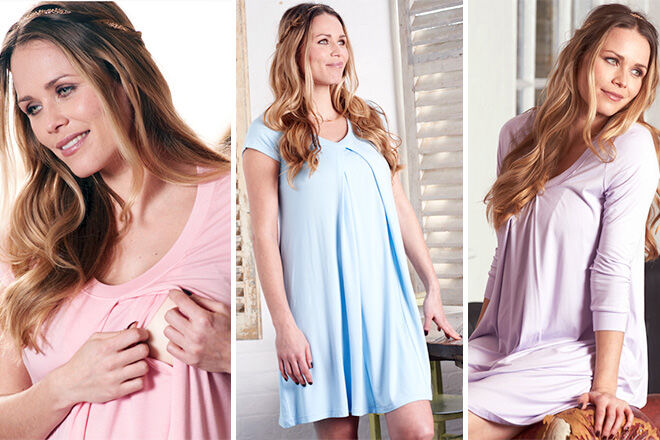 Floressa birthing gown (from $64.95): Hospital gowns are very practical for your doctor, but the Floressa birthing gown is made to suit you! The soft jersey fabric is cut for comfort with a pleated front that gives you room to move without making you feel like you're wearing a tent. And for when bub arrives, it has quick access openings for easy nursing.
2. Woah, Mama!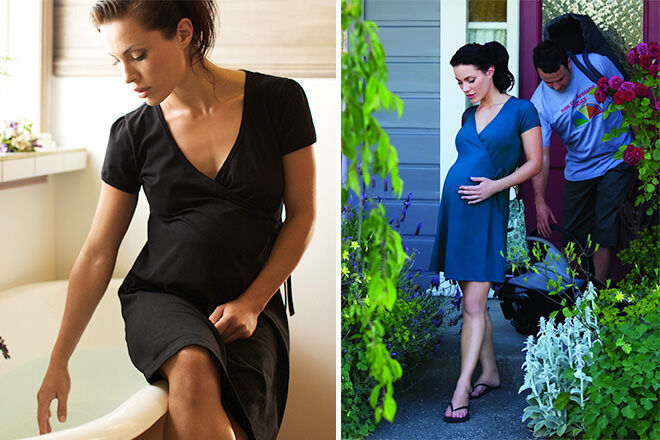 Womama Birthwrap Dress ($113.49): Bring a little luxury to your labour. Made from organic cotton, the silky soft birthwrap dress is a feminine, wrap-style dress that can be worn from your early days of pregnancy right through to nursing days after bub arrives. The wrap style not only looks great but also allows for quick and easy access in hospital for monitoring or for important skin-to-skin contact when you first get to hold your bub.
3. Designer threads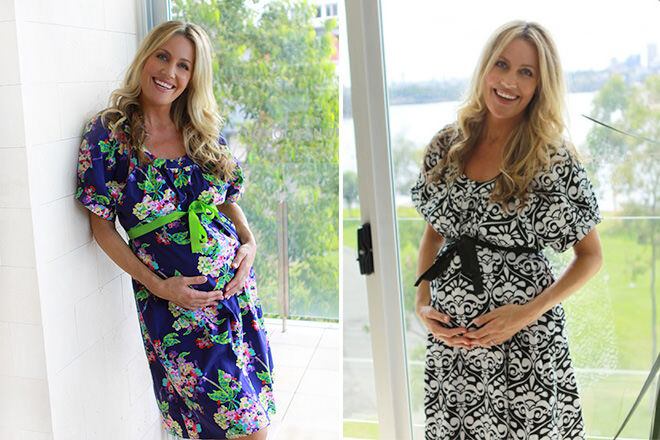 Designer Mamas Birthing Gowns (from $44.95): Birthing gowns just got gorgeous. Designer Mamas birthing gowns come in a range of bright and bold prints, offering a stylish alternative to drab hospital gowns but with the same practicalities. The sleeves unsnap for easy breastfeeding and medical access, but the back also snap locks so there's no accidental flashing!
4. Push it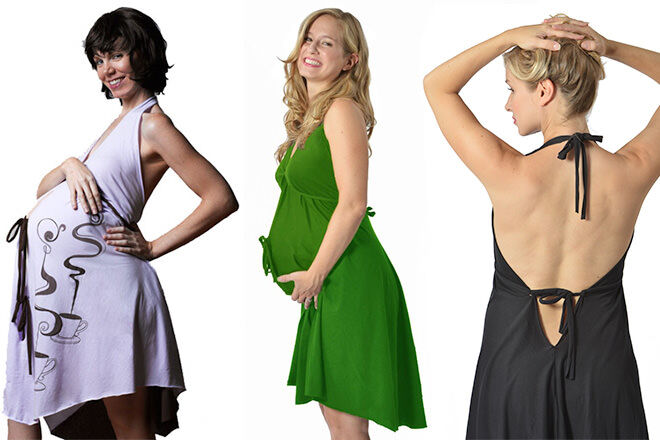 Pretty Pusher Delivery Gowns (from $49.95): Keep it simple. Designed just for labour, the gown features an easy slip-on halter neck, openings for medical access, can be worn in and out of a labour bath or shower and is stretchy to allow for the all-important first feed. And because it's made for a one off occasion, they're designed to be thrown out afterwards.
5. Gown town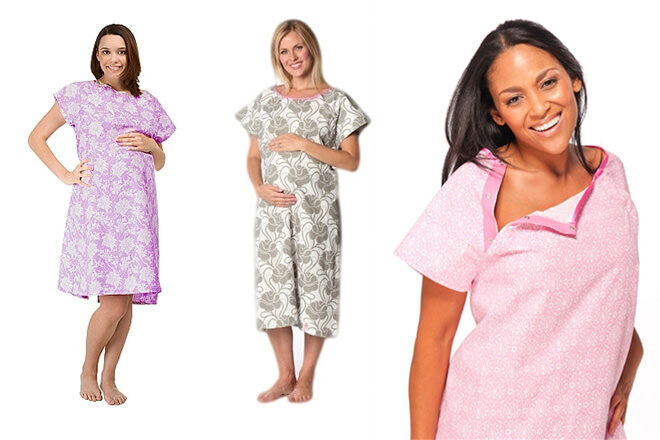 Gownies hospital gown ($49.95): A great option if you're after a no-fuss hospital gown of your own. With snap down flaps on the shoulder and snaps all the way down the back to keep you covered, they come in a range of pretty colours with a lovely satin trim.
6. Heaven sent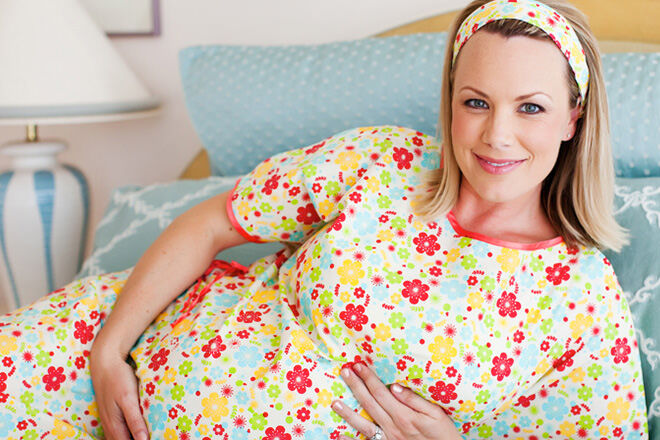 Cherub & Bliss gown ($79.95): Make a statement from top to toe with a Cherub & Bliss gown. They come in four bold designs, have adjustable ties to fit your bump, a covered back and shoulder snaps, and they even come with a matching pair of slippers and a headband.
7. Hot stuff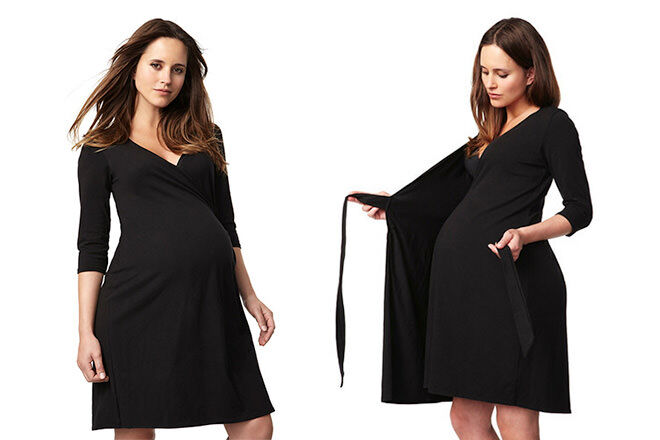 Hotmilk My Everything Birthing Robe ($59.95): The My Everything Birthing Robe can be worn by itself as a wrap-style dress or as a robe over your nightie or hospital gown for extra comfort. Perfect for slipping on and off as needed.
8. Get shirty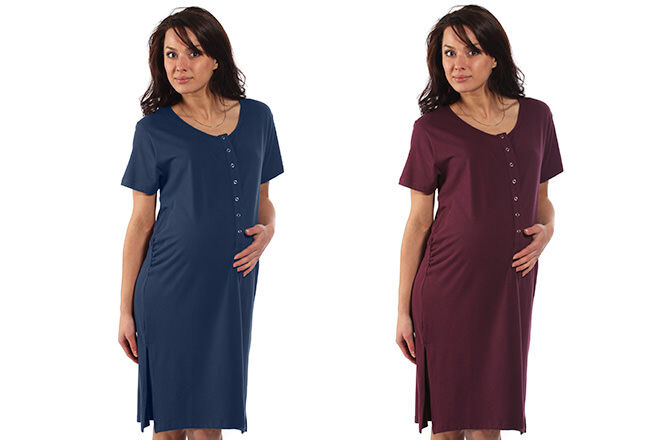 Bamboo Birthing Shirt (approx. $81.75): You could just wear a baggy old t-shirt or you could treat yourself to a deluxe Bamboo Birthing Shirt. And with what you're about to do, you deserve it! This award winner ticks all the boxes—super comfy, flattering and keeps you covered when you need but is easy to remove when you don't. Ships from the UK.
9. Tub time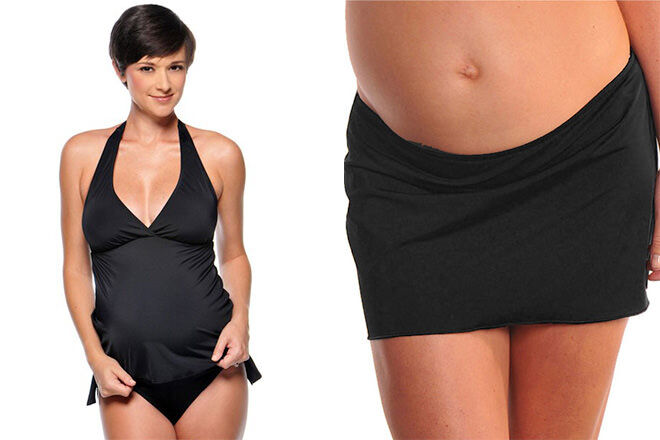 PregO Retro Maternity Halter & Bikini ($98.95) & Maternity Swim Skirt ($44.95): There's nothing like a good bath, especially during labour. It won't quite be the candles-and-a-good-book kind, but you'll probably find yourself jumping into the water at some stage for some much needed relief. If you're keen for a bit of modesty, remember to pack your swimmers. We love the PregO Retro Maternity Halter & Bikini paired with their Maternity Swim Skirt.
10. Twinkle toes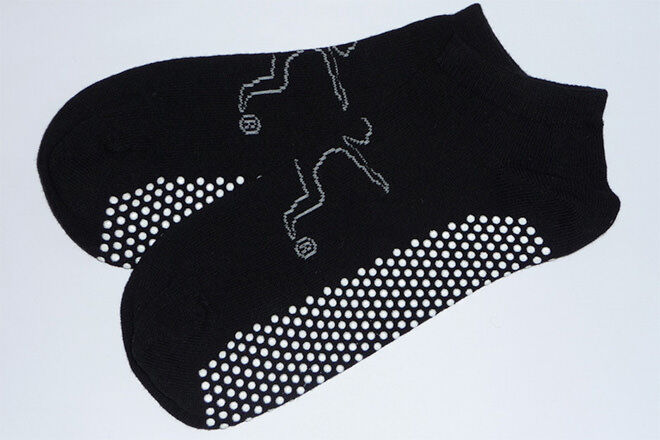 GripSox non-slip grip socks ($15): Don't forget your feet! Hospital floors can get cold, but ordinary socks are slippery, so try out the GripSox non-slip grip socks. Originally developed by an Australian physiotherapist, they use high-density grip dots on the soles to reduce the risk of slipping or falling.
11. Dare to bare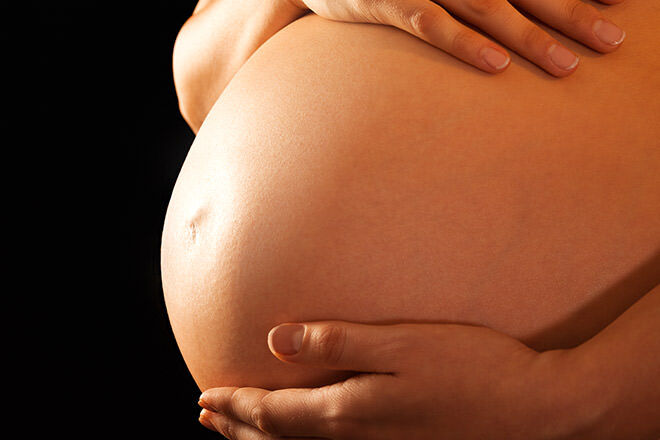 A lot of women report that, when the time comes, they don't want anything touching their skin. And we mean, nothing. So, be prepared to get bare! It might sound embarrassing now, but you can rest assured that the doctors and nurses have seen it all before, and then some.