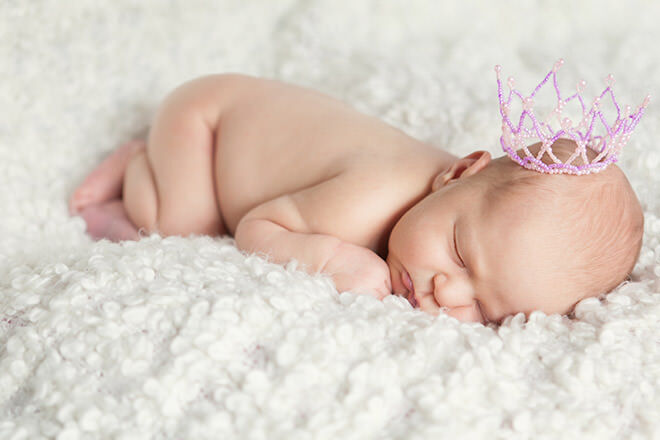 Not sure what to name your little peanut? Avoid the well-meaning suggestions from family (who all think their particular moniker is perfect for your little darling), and look to Walt Disney for inspiration instead. Disney's range of lovable characters mostly share one thing in common: a strong moral compass that ultimately help them beat the baddies and get their happy ending – perfect baby naming inspo!
Below are our top 20 Disney-inspired baby names for boys and girls; enjoy reminiscing about favourite childhood cartoon characters and we hope you settle on a name for peanut by the time they arrive.
Alice, Alice in Wonderland: If it's good manners you're after, look no further than Alice, from Alice in Wonderland. Her curiosity is balanced by a healthy dose of common sense.
Ariel, The Little Mermaid: Seen as a departure from the typical princess, Ariel, from The Little Mermaid, has a rebellious streak that many adore. We also think the name Melody, Ariel's daughter who stars in the sequel, The Little Mermaid II: Return to the Sea, has a sweet-sounding charm about it.
Aurora, Sleeping Beauty: Aurora from Sleeping Beauty is certainly one of the prettiest princess names and has experienced a recent spike in popularity. We sure wish we had a sleeping potion up our sleeves sometimes!
Belle, Beauty and the Beast: With an open mind, a love of books and a penchant for learning, Belle, from Beauty and the Beast, is the perfect name to inspire your future lil' Harvard grad.
Christopher, Winnie the Pooh: Wise, cheerful and compassionate, Christopher, from Winnie the Pooh, was said to be based on author A. A. Milne's own son, Christopher Robin Milne. The name Christopher lends well to other variations including Chris, Christian, Kris and (to borrow from another famous Disney tale, Frozen) Kristoff.
Daisy, Mickey Mouse Clubhouse: There is the obvious link to the daisy flower, but we can't forget that Daisy is also the name of Donald Duck's better half. Devoted, friendly and chatty, she is also elegant and beautiful.
Ella, Cinderella: Naming your little girl Cinderella might be a wee bit much, but Ella is the perfect shortened version for your pretty little belle of the ball.
Finn, Cars 2: A master British spy, Finn, from Cars 2, is known for being a stealthy daredevil with a load of super cool gadgets at the ready – pretty much sums up most boys we know!
Gideon, Pinocchio: If raising a villain is more your thing, look no further than Pinocchio's Gideon to inspire your little scoundrel. Although not strictly evil, he is a bit of a scallywag.
Giselle, Enchanted: A little naive to begin with, Amy Adam's version of Giselle in the Cinderella remake, Enchanted, develops some spunk as the film progresses. She becomes independent while remaining true to her convictions.
Jasmine, Aladdin: This free-spirited dreamer is both beautiful and brave, always willing to stand up for what she feels is right. Sounds like a few little possums we know!
Hamish, Harris & Hubert, Brave: In Brave, Princess Merida's triplet brothers, Hamish, Harris and Hubert, are known for their mischievous ways. They wreak the kind of havoc some little boys can only dream of.
Kiara, The Lion King: With a keen sense of adventure and more than a hint of rebelliousness, Kiara, from The Lion King, is the perfect moniker if you think you're likely to have a hair-raising little miss.
Maximus, Tangled: He might be a horse, but Maximus, from Disney's Tangled, is brave and stops at nothing to take down the baddies. Definitely a good name pick for the courageous kid, and can be easily shortened down to Max or Maxwell.
Otto, Robin Hood: Otto, the blacksmith of Nottingham (who also happens to be a dog), might not be a lead character, but he is certainly friendly, kind and helpfully hides Robin's money in the cast of his broken leg.
Penny, Bolt: Penny, Bolt the dog's human, is always getting herself into predicaments on set that require her dog to help her. Abbreviated from the longer form, Penelope, this lovely name also works for a boy, as Penn.
Sebastian, The Little Mermaid: Sebastian, the Jamaican crab tasked with protecting Ariel in The Little Mermaid, is is technically named, Horatio Thelonious Ignacious Crustaceous Sebastian. We kinda prefer Sebastian…
Tiana, Princess and the Frog: Beautiful and characterised as loyal and hard-working, Tiana is the first African American Disney princess. We think Tia makes a lovely shortened form of Tiana.
Violet, The Incredibles: Violet, from The Incredibles, really comes into her own when she shakes off the expectations of others and embraces what makes her different: her awesome superpowers. We love a girl that can be a little kickass when she needs to.
Willow, Pocahontas: Grandma Willow, from Pocahontas, is a wise old Willow tree that helps guide Pocahontas, helping her make spiritual decisions. Like the tree that inspires it, Willow is a perfectly charming name.
READ MORE:
• Celebrity baby names: the weird and the wonderful
• Last names first: 20 surname baby names
• 20 summer inspired baby names