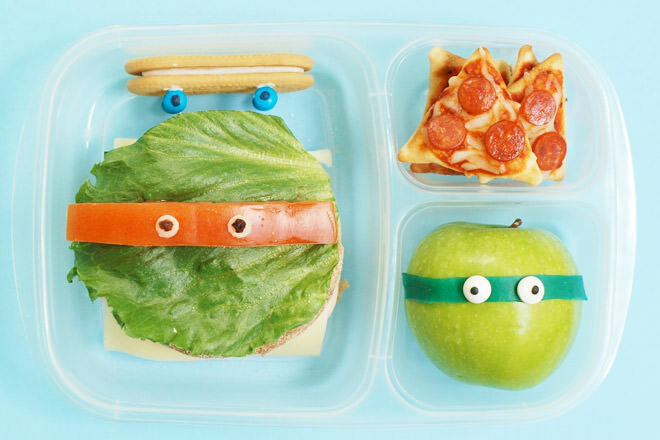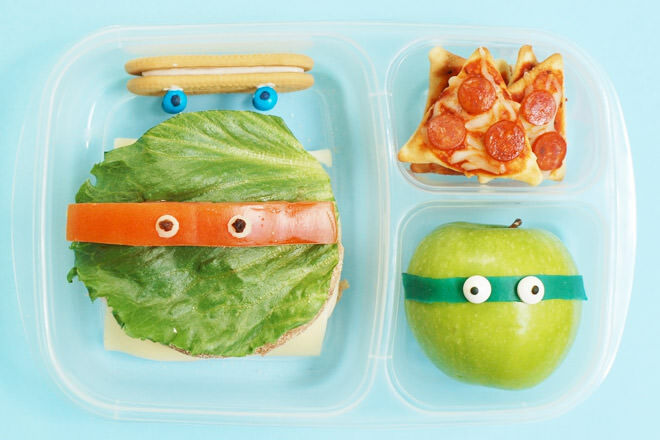 Kowabunga! Schools are back. It's time to organise the school lunches and sort out some seriously scrummy snacks. To make your life a little easier we've found stacks of fun food inspiration to put a spring in your lunch box prep!
Here are 14 school lunches your munchkin will love.
READ MORE:
• 16 lunch box ideas you can freeze in advance
• 6 simple slices for the school lunch box
• 11 school lunches too good to eat
Veggie noodles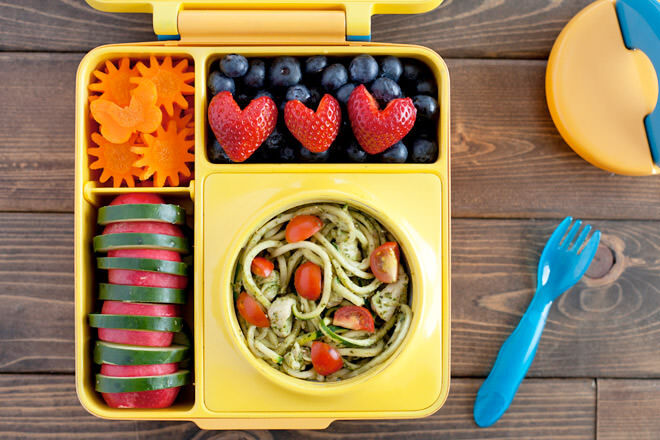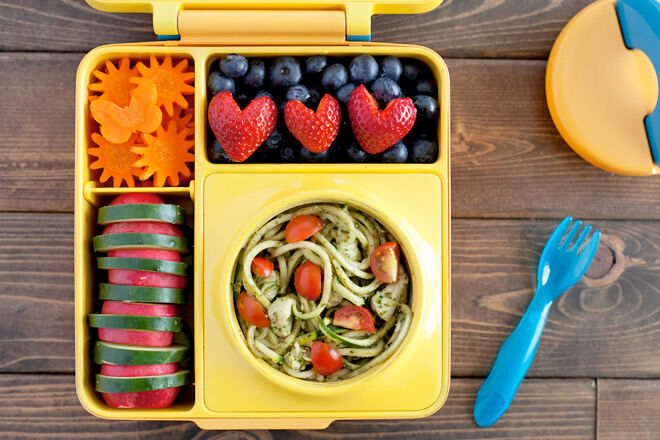 Last night's tea can make a tasty lunch too – just take a look at these chicken pesto zucchini noodles. Add in a few cherry tomatoes for a pop of colour and a handful of fresh fruit, and your little sprout will be well on their way to 5-a-day. (via Snixy Kitchen)
Stack it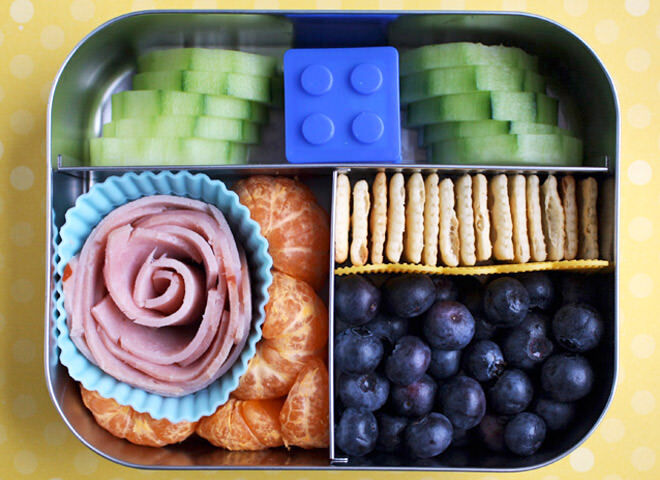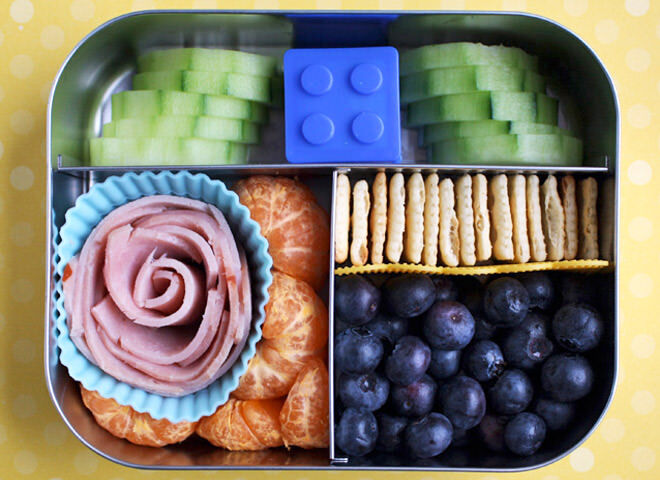 We all know kids love to pick and peck at their lunches, which is why this bento box so brilliant. Use cake cases to separate proteins like ham, chicken or turkey and stack cucumber slices together so they stay fresh until its time to eat. Yum! (via Wendolonia)
Spring surprise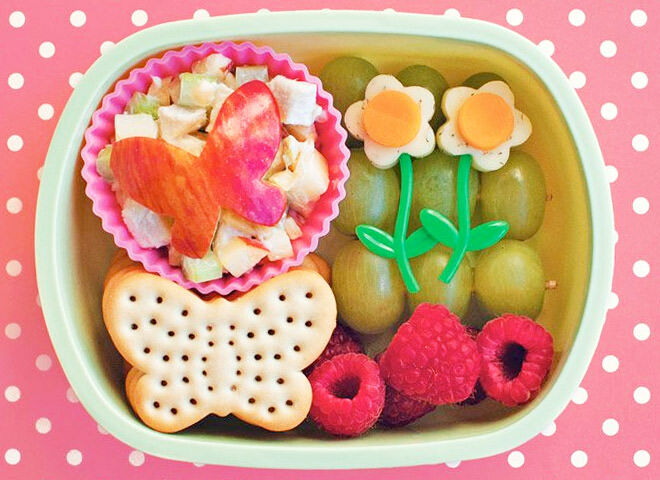 Chicken, celery and apple are a cracking combo for a scrumptious salad and its sure to keep rumbling tummies satisfied til home time. Paired with fresh raspberries and green grape skewers this butterfly bento is a tasty take on spring for your little dumpling. (via Giada)
Let's roll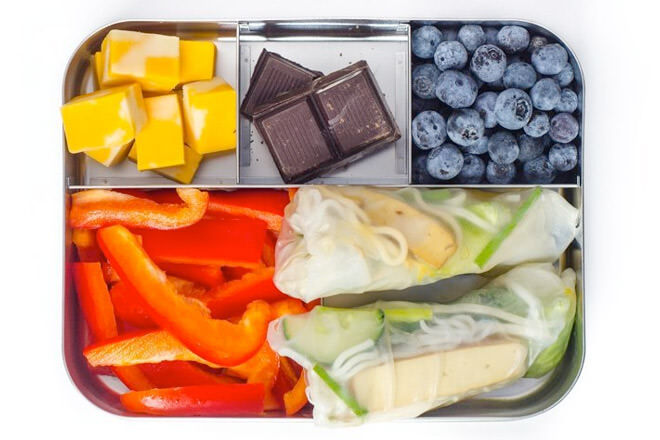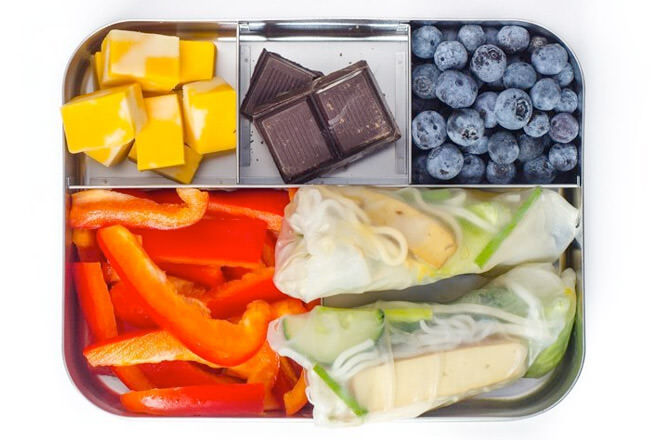 Rice paper rolls are fun for your babe to eat and taste super fresh too. Fill with whatever veggies and salad you have in the fridge and add a few of your little one's favourite herbs for flavour. Better yet, let them make their own! (The Kitchn)
Minion munch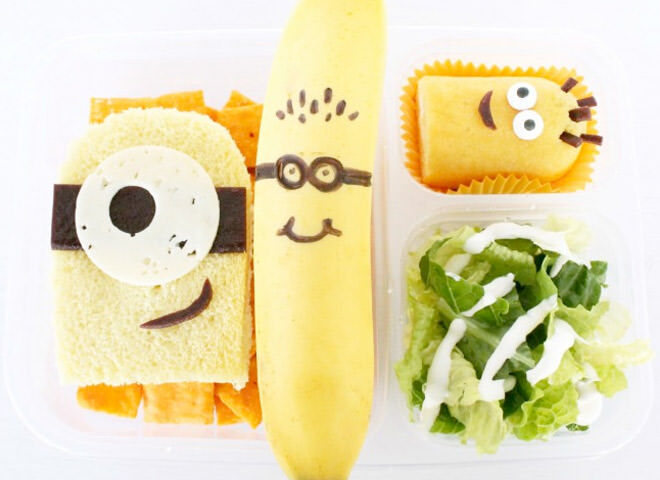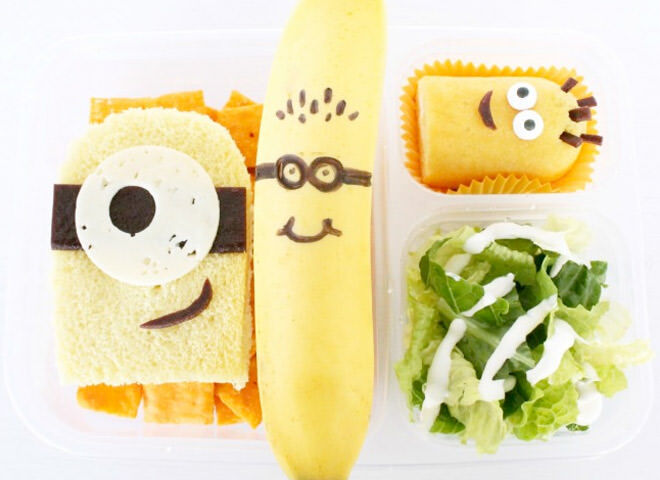 If your small fry is Minion mad then send them to school with a Minion lunch box. Not only will they get a good mix of salad and funky looking fruit, but we're pretty sure you'll be their favourite person all week long. (via Foodtastic Mom)
Dino do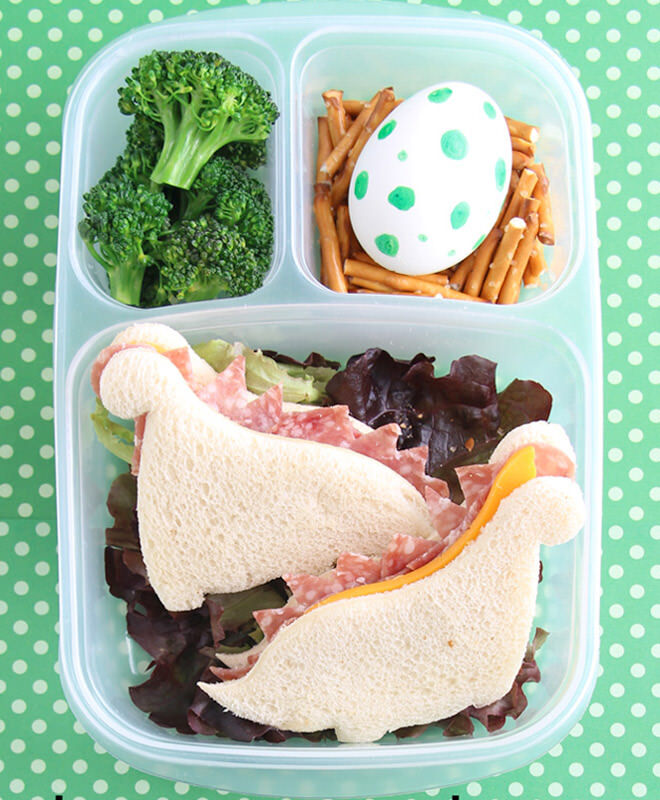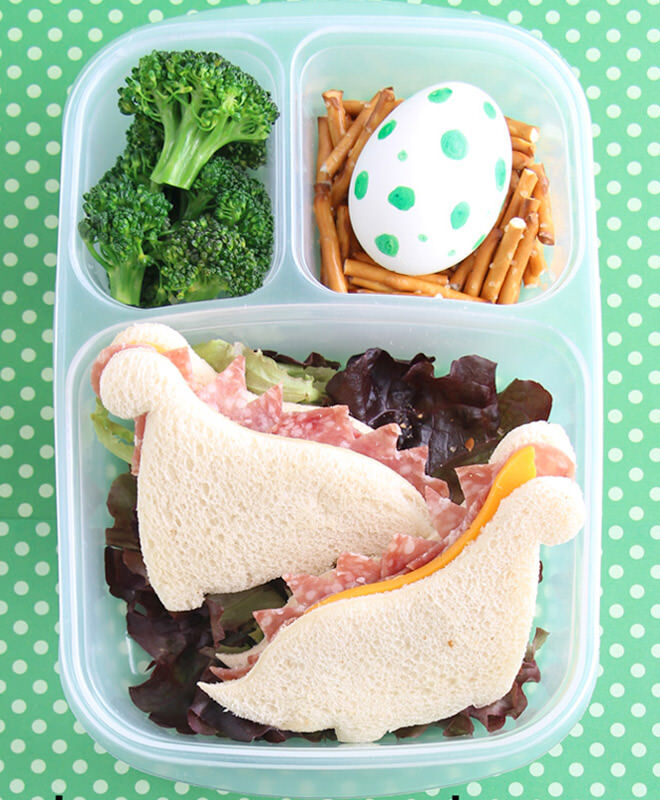 Rawwww! Little nippers will nibble away these dinosaur sandwiches in seconds. Make with any filling you have handy in the fridge and cut for effect. Boil your 'dinosaur egg' the night before and pop into their lunch box before heading out the door. Too easy! (via Wendolonia)
Stick it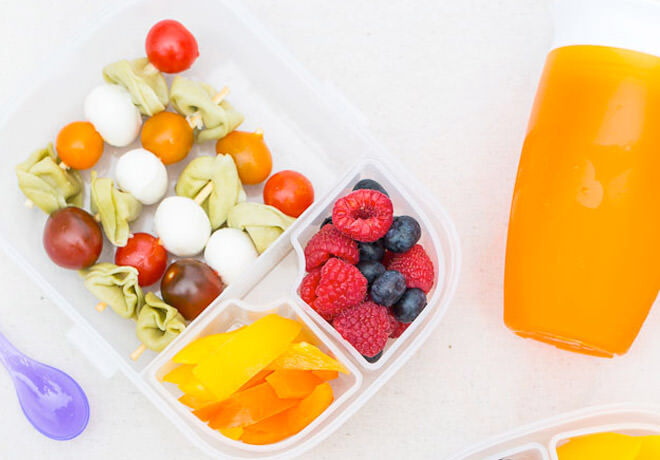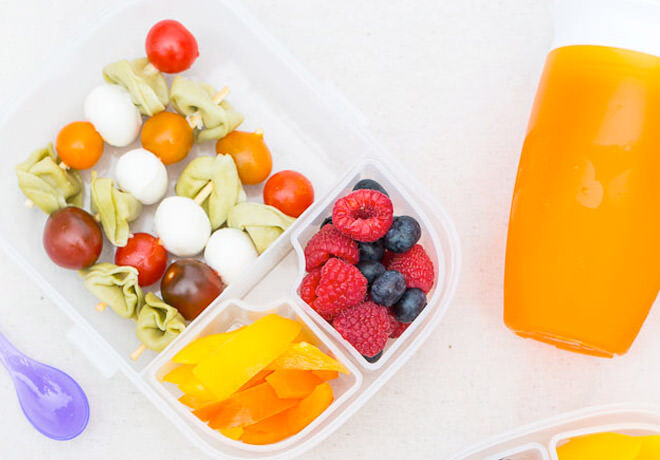 Food on sticks is always a winner when it comes to kids. Whether it be savoury, sweet or a bit of both, the little ones love to play and pick with their food. Take a few small tortellinis and pop them on sticks with cherry tomatoes and mini bocconcini. Bellissima! (via Design Improvised)
Munching monkey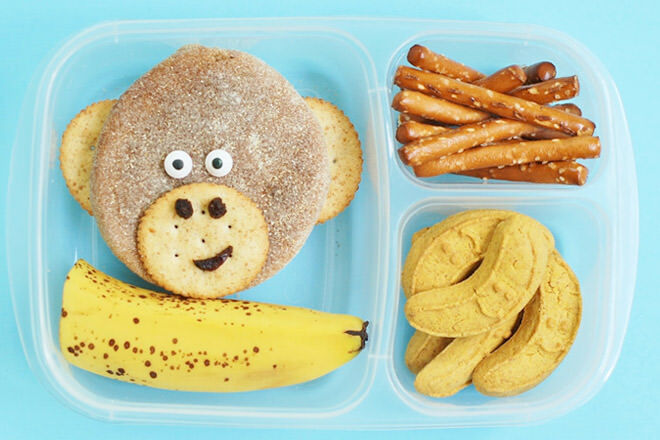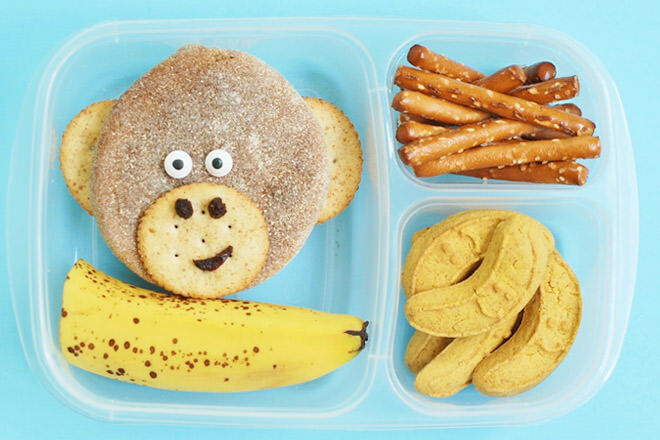 Hello cheeky! We're going ape over this monkey bento lunch box and we have a sneaky feeling your little tyke will too. Just look at that face! (via Kitchen Fun with My 3 Sons)
Sandwich stack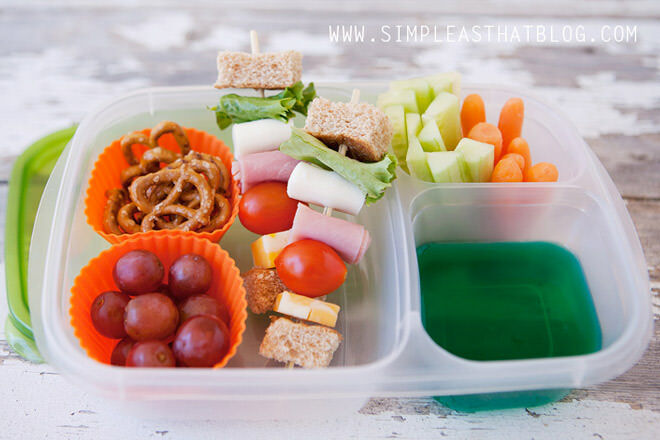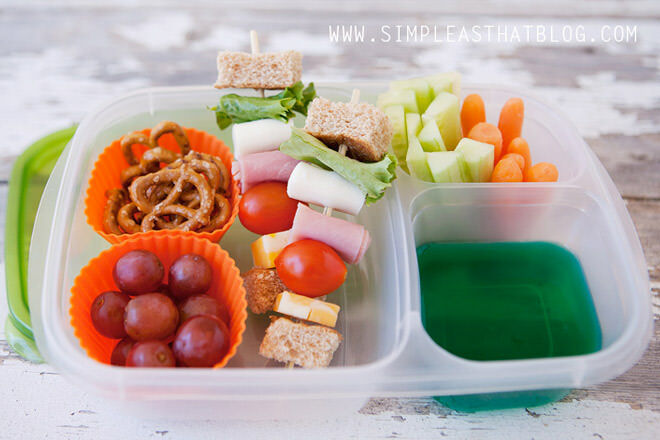 We've all seen fancy deconstructed desserts but how about a de-constructed sandwich? Turn their usual sandwich into a fun snack by chopping the elements into bite-sized pieces and placing on sticks. Simple! (via Simple As That Blog)
What's my name?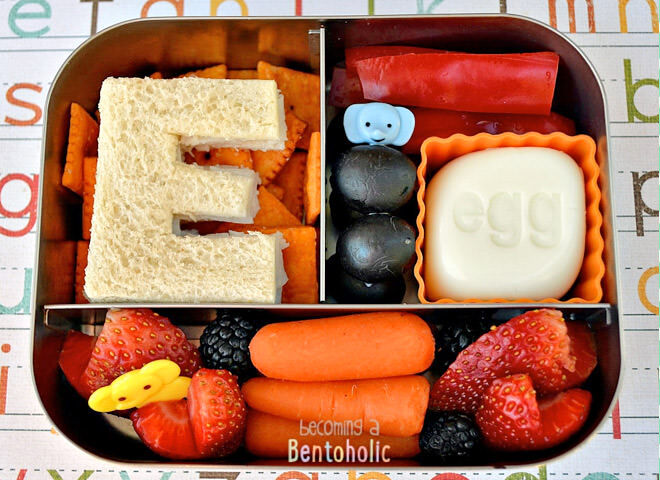 Make their lunch box extra special with a cut out sandwich in the shape of the first letter of their name. Add crackers, tiny carrots and some of their favourite fruit for a lunch box they'll know you made just for them. (via Becoming a Bentoholic)
Pac attack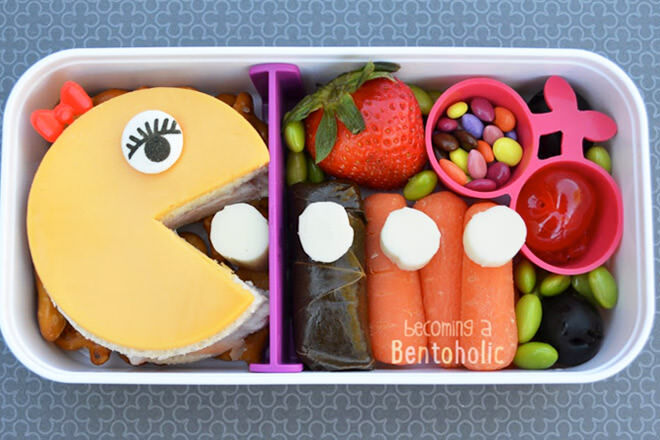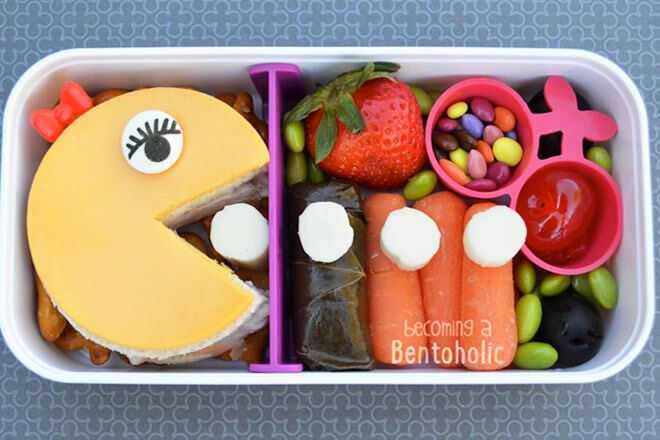 Mr Pac Man has nothing over this Ms Pac Man! Top a round sandwich with a slice of cheese to create your smiling yellow face then play around with cheese sticks or cucumber slices for when the Pac attacks. (via Becoming a Bentoholic)
It's a wrap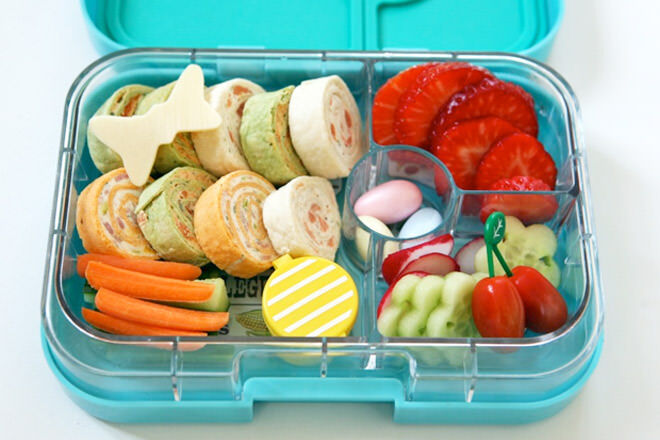 Turn that wrap into a roll! Spread wholemeal, plain and spinach tortilla wraps with your tots favourite fillings before rolling and slicing into kid-friendly sizes. The fun mix of colours and easy to grab pieces will ensure an empty lunch box when they get home. (via Yumbox Lunch)
Pickers dream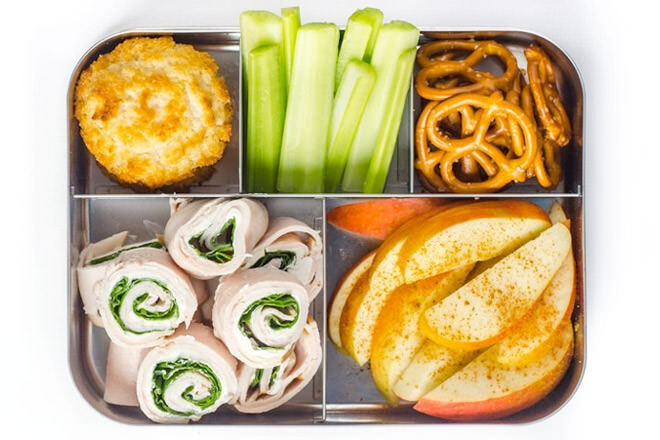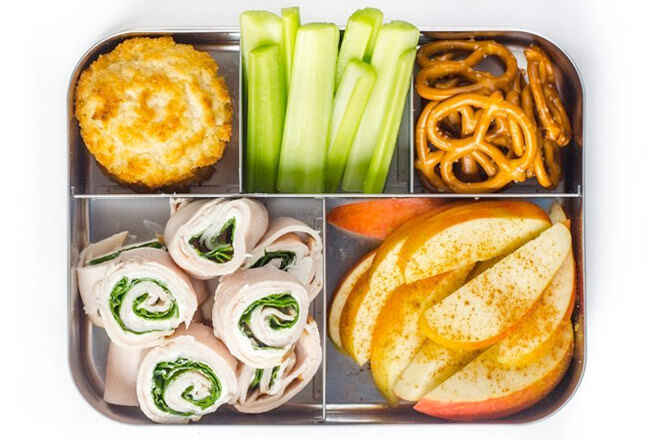 If your kiddie is a serious picker then this is the lunch box for them. Meat rolls layered with lettuce and cream cheese are a tasty way to start while apple slices dusted with cinnamon take top marks for a healthy yet sweet finish. (via The Kitchn)
Going green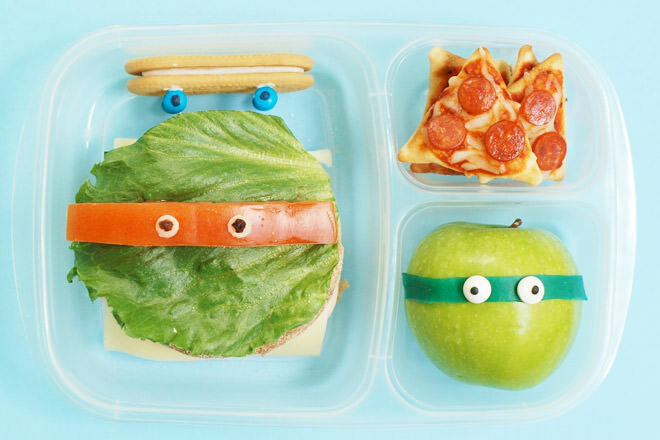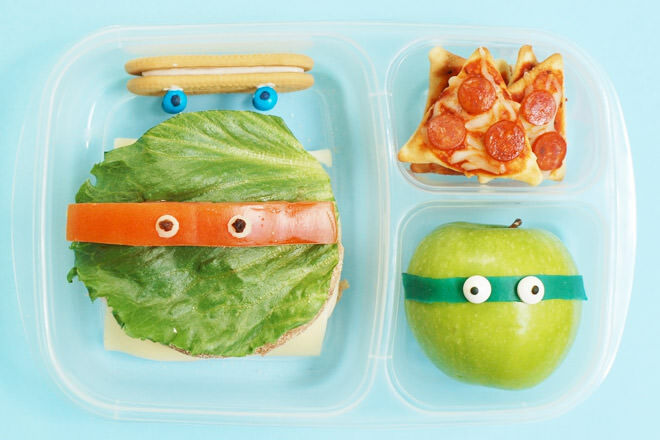 Watch out! Give them this Teenage Mutant Ninja Turtle Bento Lunch once and you may be making it all week. Mini pizza slices, an apple and some seriously creative sandwich work will leave your kiddo wanting more. (via Kitchen Fun with My 3 Sons)
READ MORE:
• 16 lunch box ideas you can freeze in advance
• 6 simple slices for the school lunch box
• 11 school lunches too good to eat