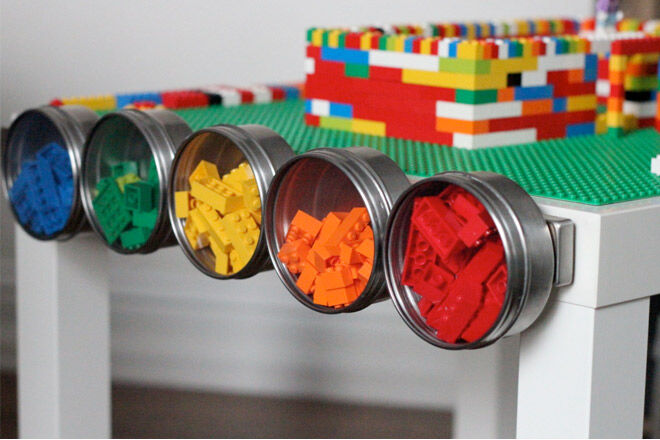 We all love LEGO. But when you've stepped on enough building blocks to make your feet blister all over it's time to get it tidy! If you're well and truly over finding LEGO in every nook and cranny, here are 15 nifty tips for storing those bright little bricks.
Easy tidy up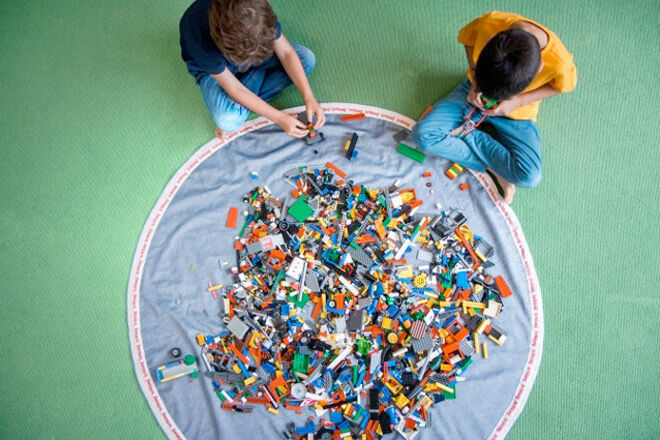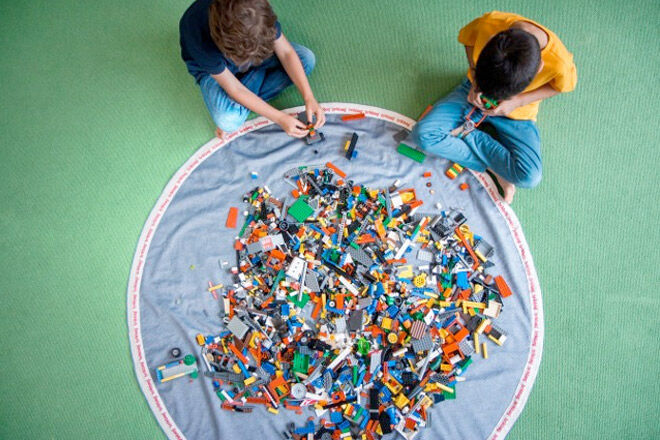 There's nothing easier than a Brik Bag. Open it up and it's a giant play mat for hours of LEGO creating and then pull the string and the whole thing comes together to keep all the LEGO off the floor and in one place.
Make it yourself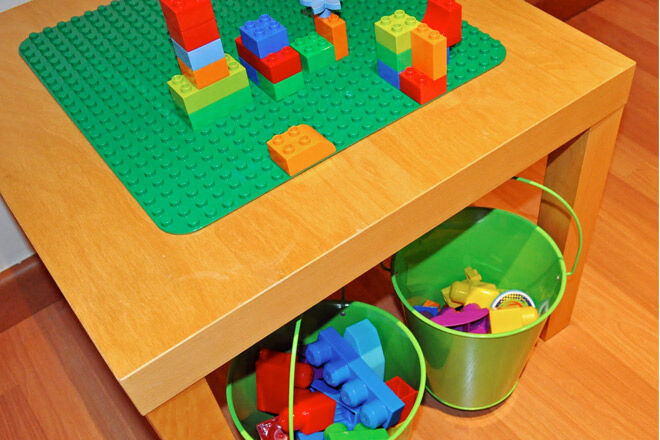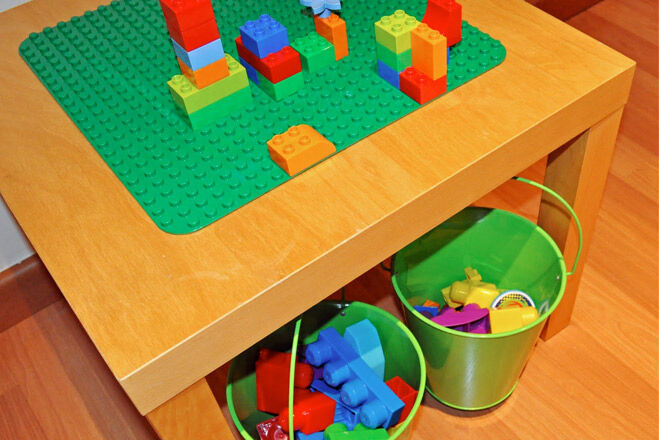 This cute little table and buckets is a DIY by Quaintly Garcia. Stick a base plate to the top of an IKEA Lack side table and add hooks for buckets to encourage kids to create and keep things tidy at the same time – winner!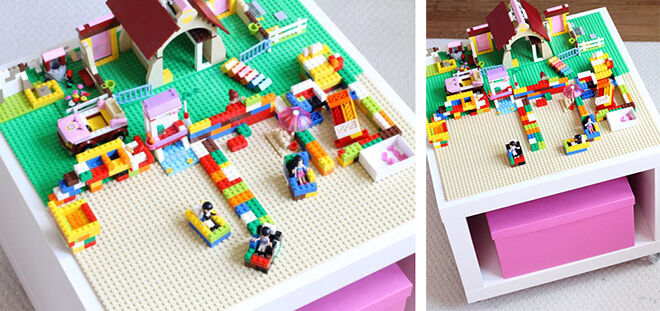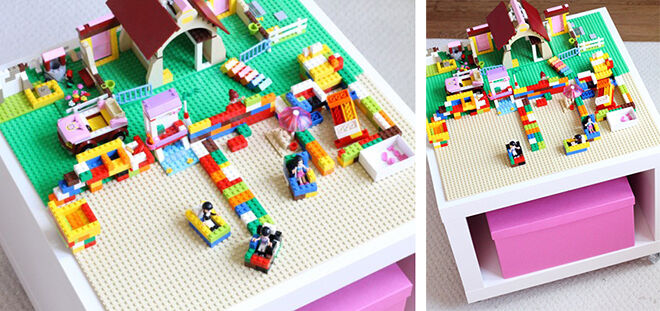 You can do this with regular LEGO and a Lack side table on castors like The Decorated Cookie has.
Take it with you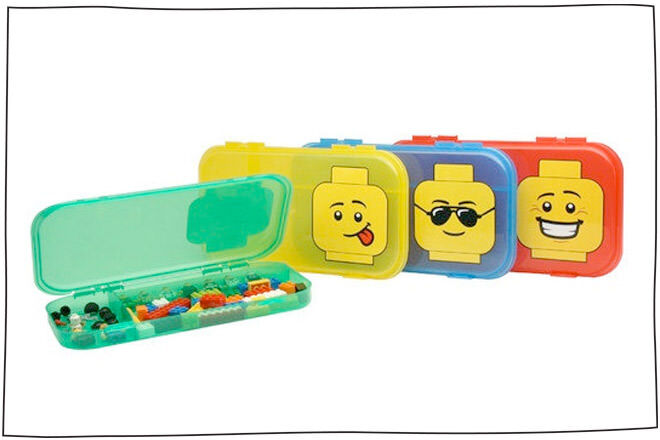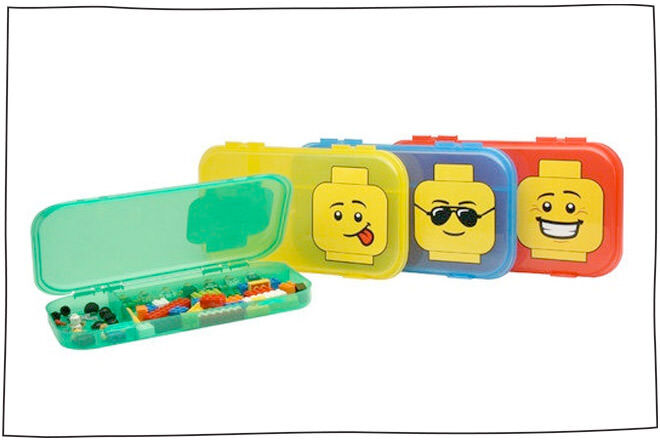 This is a great idea to keep in your handbag for those times when you're stuck waiting and the kids are bored. These storage cases from Fishpond ($34.97) will fit enough blocks to keep them entertained while you wait for the doctor or wait for your coffee. Just pack them away when the babycino comes ready for the next time!
Use magnets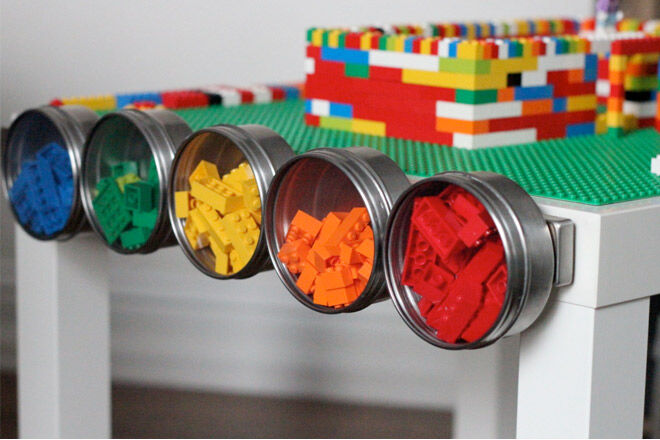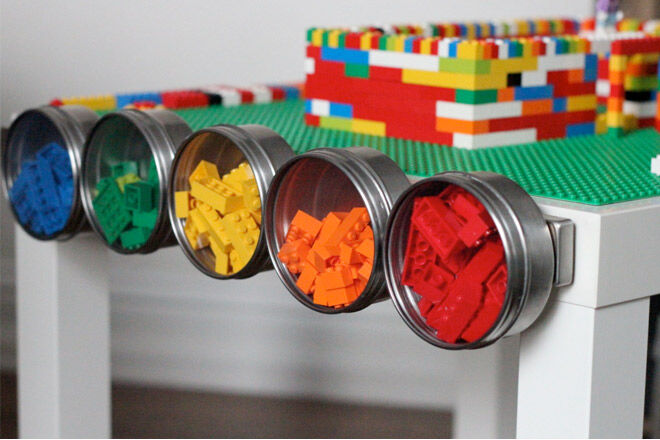 Adding a magnetic strip to her LEGO table, Kojo Designs has made a cute place to keep the kiddos bricks. The magnetic strip is on the side of an IKEA Lack side table. Simply add metal containers that will stick to the magnetic strip. It might not be able to hold your whole collection, but there will always be blocks close at hand ready to build.
Big LEGO for big collectors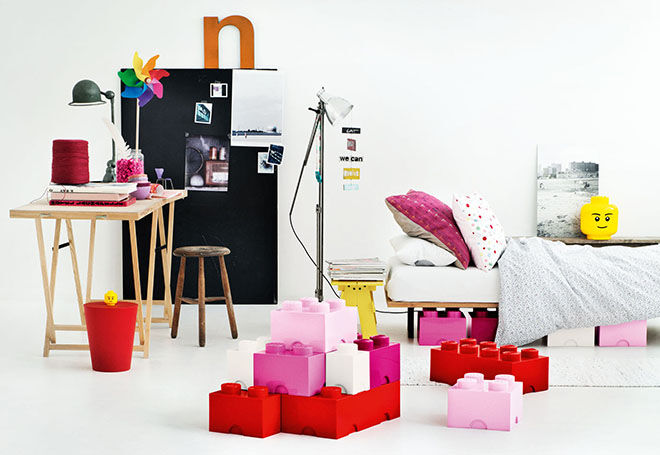 Store all the little LEGO in giant LEGO! You can buy the range at Peters of Kensington (from $16) and it comes in a variety of colours and sizes. If you are seriously OCD you could buy one in every colour – red for red bricks, blue for blue bricks, or just chuck it all in together.
For all the little men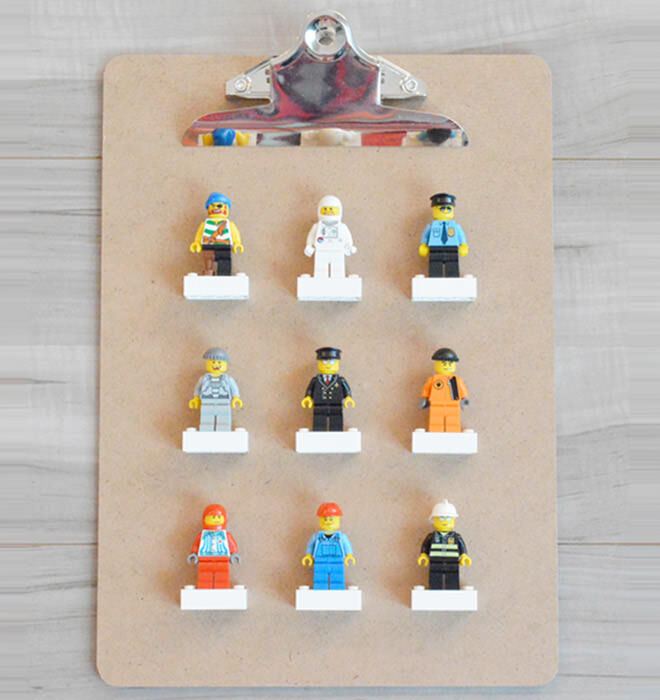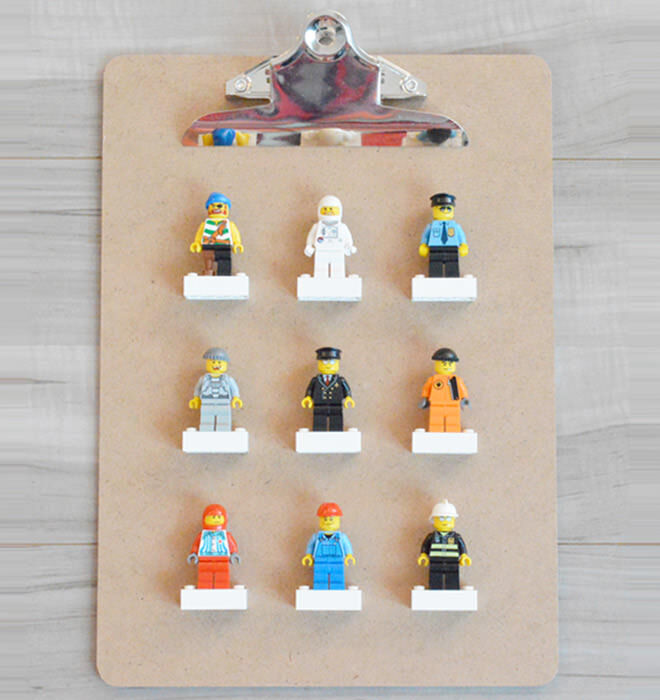 Got loads of yellow men and no where for them to live? Displaying them on clipboards makes it easy for them to be taken down and played with while adding a cool piece of art for your playroom. (via Sarah M Style)
Not just for screws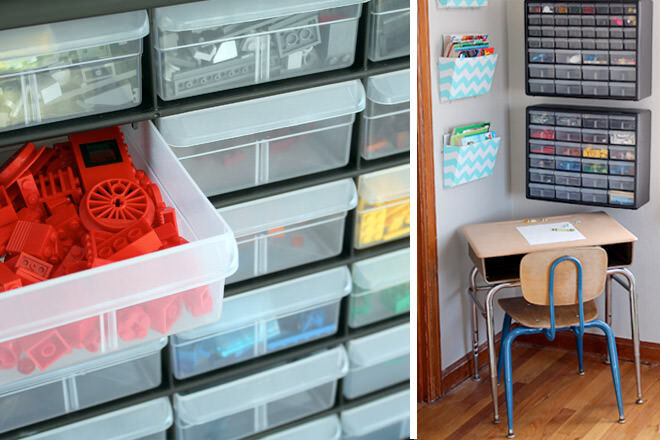 Want to try and get your collection off the floor? Try using the walls! Love Grows Wild mounted tool organisers to the wall and put each colour of LEGO into different drawers. This is an easy way for kids to get the separate colours down and put them away (hopefully!).
Travel set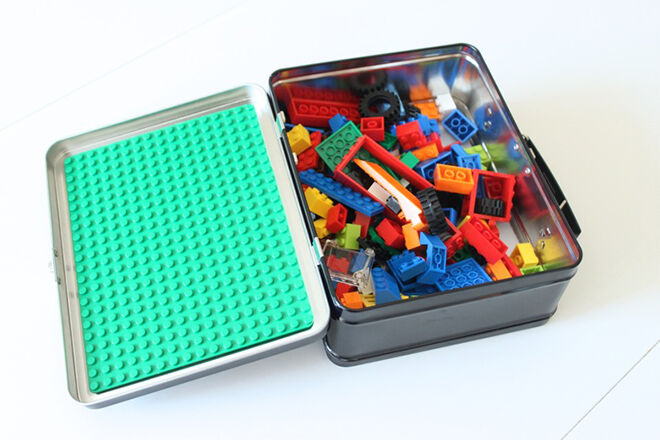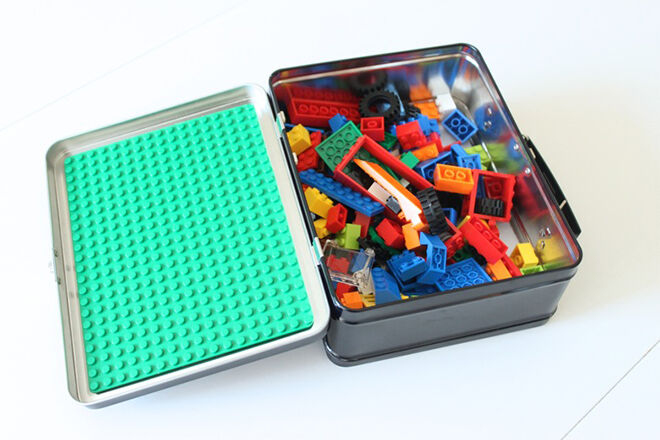 If making creations on the run is your little ones favourite pass time then why not make them their own lunch box of LEGO? Mumma.Pappa.Bubba. used a tin lunch box to create a travel set of LEGO. With a little base plate to make creations it would be perfect for a long plane or car trip!
Cheap and cheerful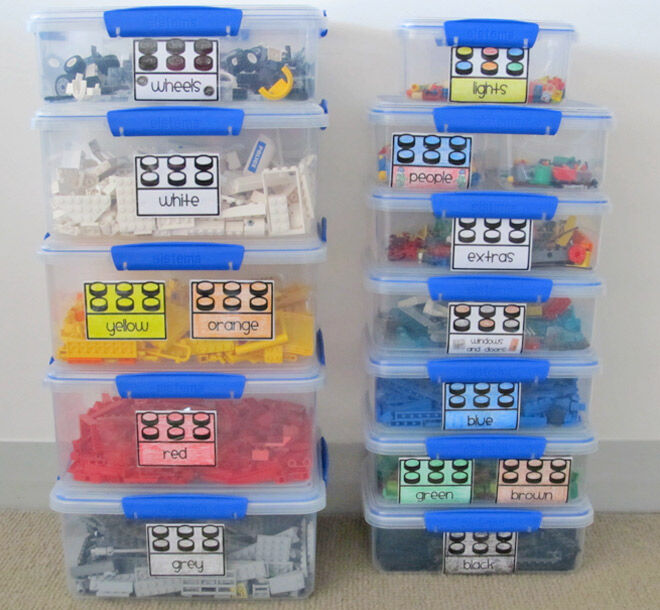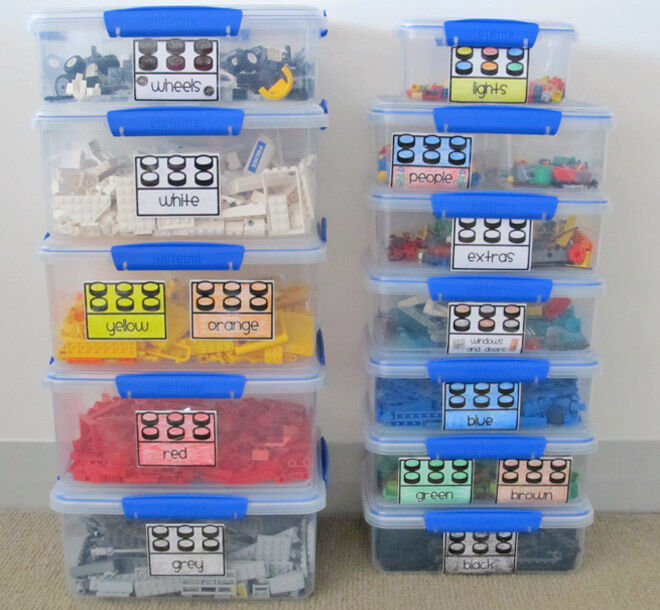 Looking for a cheaper option? Why not go for containers from the supermarket? Boy Mama Teacher Mama uses the Sistema containers to divide all their LEGO into colours. With printed labels coloured in the matching LEGO colours it's easy to know what goes where.
Box it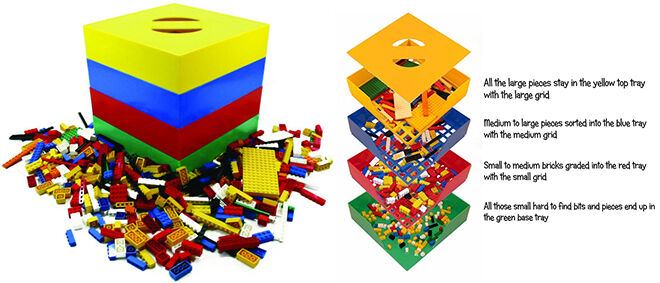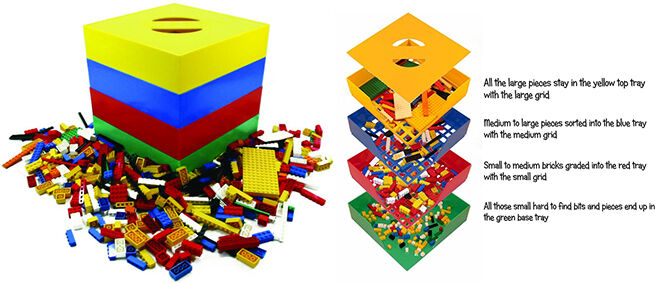 The Box4Blox was created by a New Zealand mother of four and the idea is brilliant. This layered box has grids on each level to sort LEGO into different sizes, with the larger pieces staying on top and smaller ones filtering to the bottom. It also holds up to 1,600 pieces of LEGO – that's a lot of LEGO you won't be stepping on anymore!
LEGO art and storage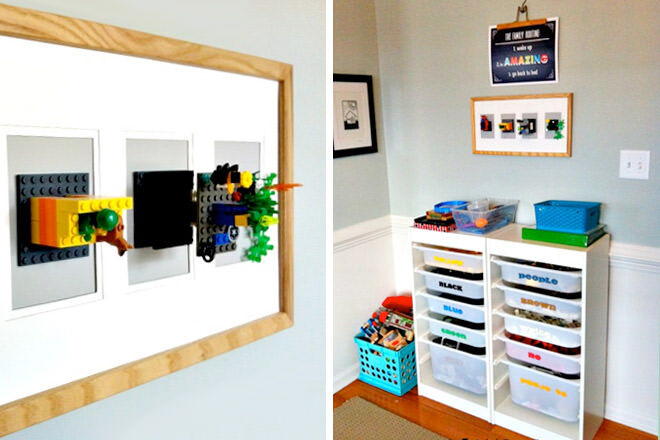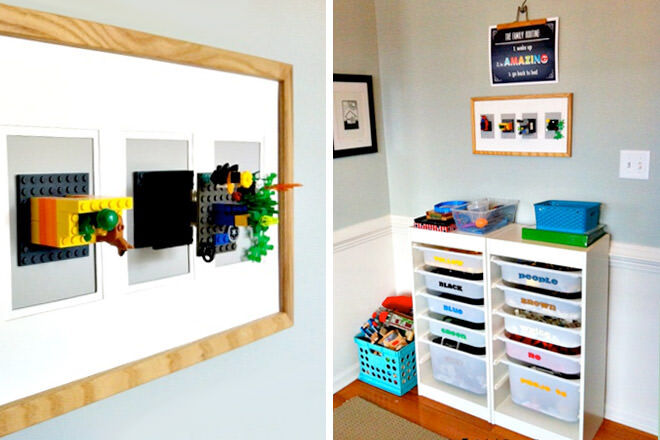 We love how 2 Little Superheroes has used the Trofest IKEA storage unit to store the family's different LEGO colours while adding a display for the kids creations. Take a look at her instructions for a simple DIY that the kids will love.
Under the bed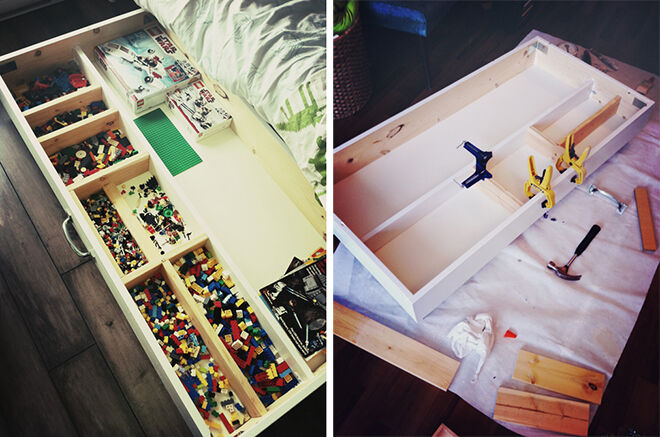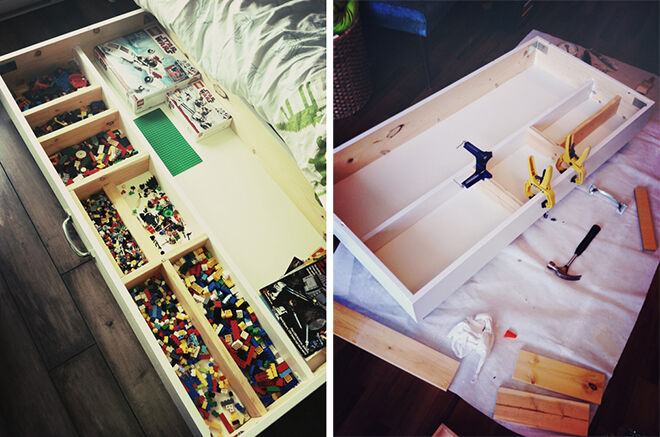 Monsters can't live under the bed if the LEGO lives there. Copy Daniel Sicolo and make a DIY under the bed box on wheels. Or you could put a bottom on a trundle box if your skills aren't up to this!
Keep it in your drawers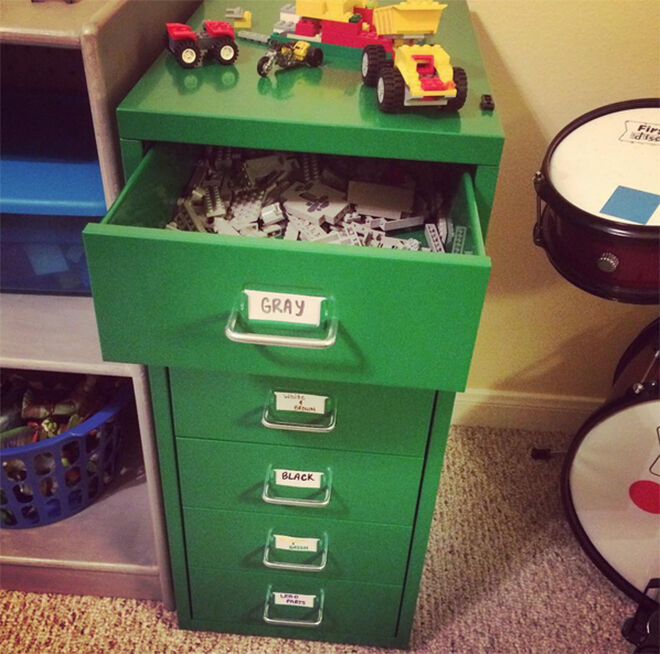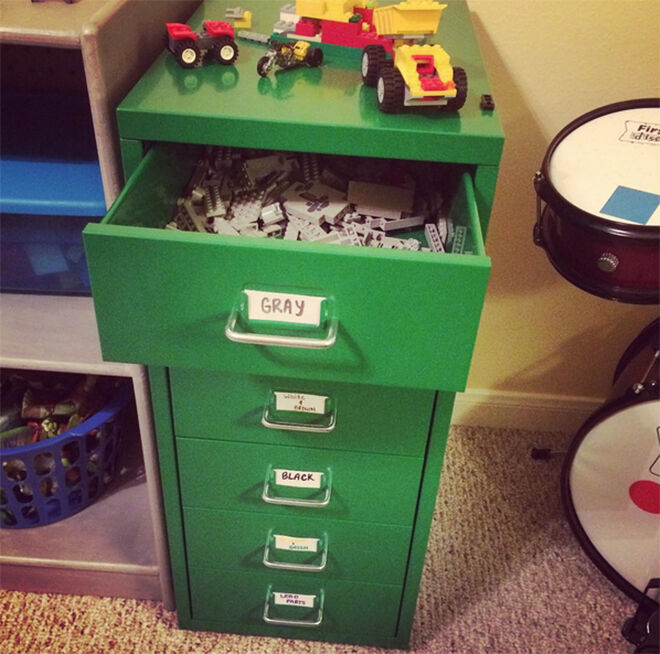 LEGO and IKEA pretty much go together like cheese and wine. Cynthia Liakos shared this awesome idea on Instagram of her LEGO in a set of Helmer Drawers. The green colour is a perfect LEGO green too!
Beautiful Butterfly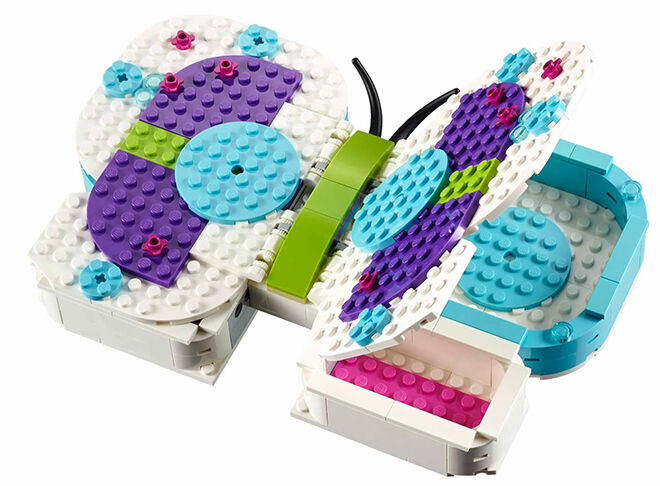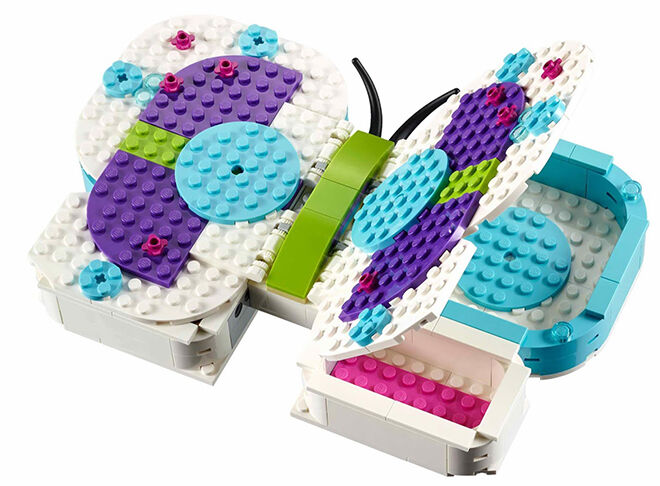 Put the bricks together and it is a beautiful butterfly. The Butterfly Organiser ($32.95) needs to built just like any other LEGO toy before it becomes a brick container. Perfect for your Little LEGO Lady.
Storage and building!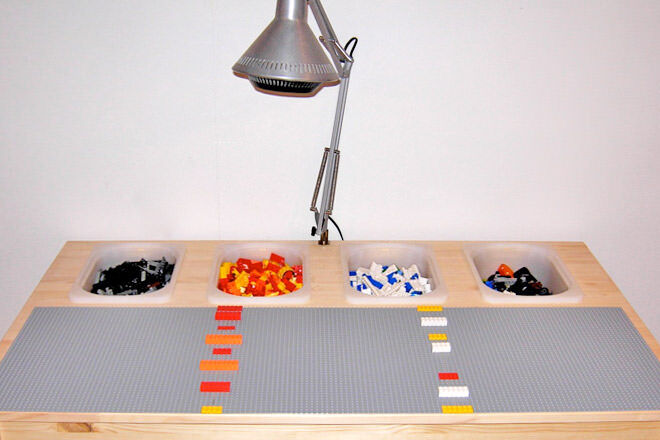 Cut a few holes into your table, add some base plates and you've got storage and a play space in one. JosiePosie made this awesome LEGO table with a centred light so budding builders can work into the night on their masterpieces.