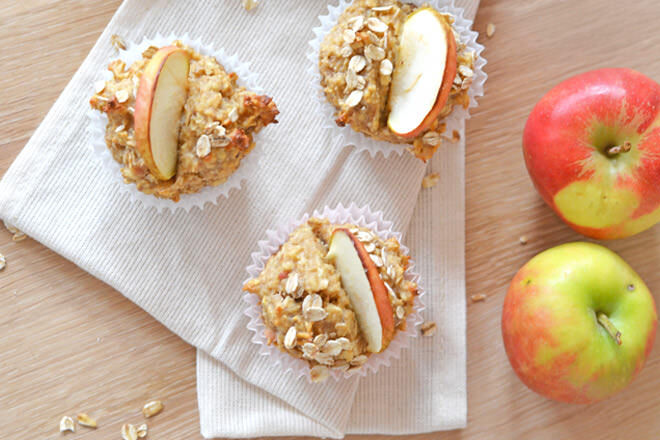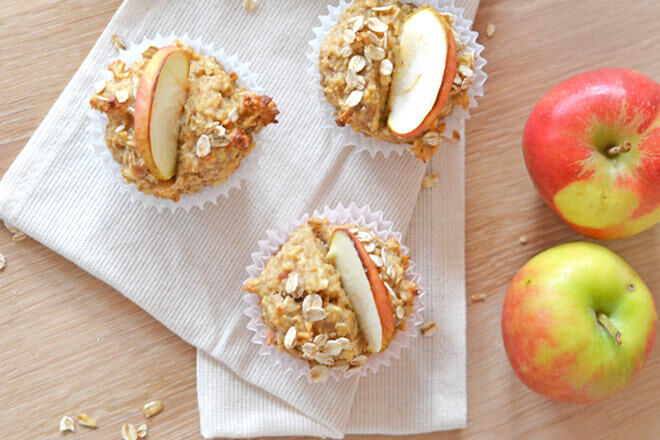 Breakfast on-the-go can sometimes be anything from a cold piece of toast to the squidgy banana left from yesterday's lunch (and that's if you're lucky!). Running out the door doesn't have to mean that your poor tummies have to go hungry.
We've hunted down six simple breakfasts you can make the night before and grab in the morning as you run out the door.
Overnight oats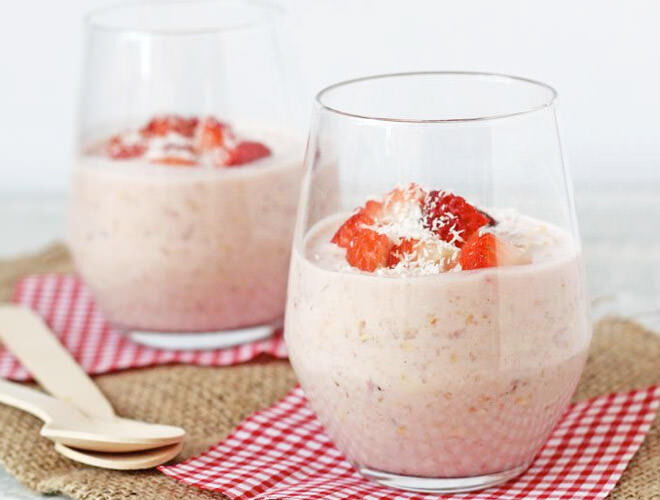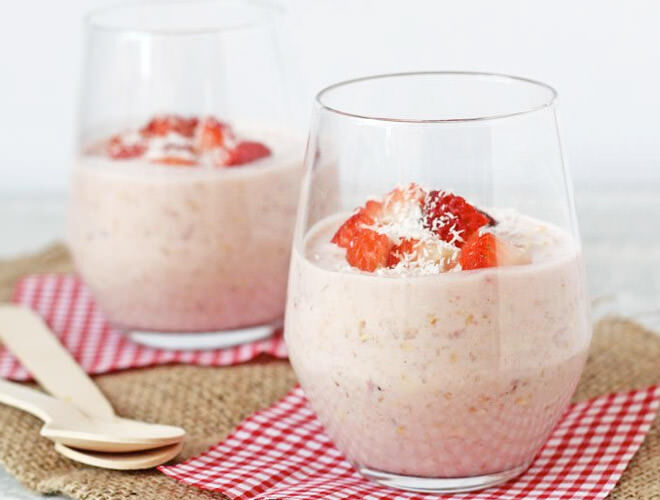 Overnight oats are hearty, filling and incredibly delicious!
Mix rolled oats with your preferred milk, yoghurt or perhaps a mixture of both, sprinkle with a few of your favourite nuts, seeds and super foods then leave to soak overnight in the fridge. Add a little fresh fruit in the morning and your oats will be the perfect texture for mouths big and small to tuck into. (via My Fussy Eater)
Chia pudding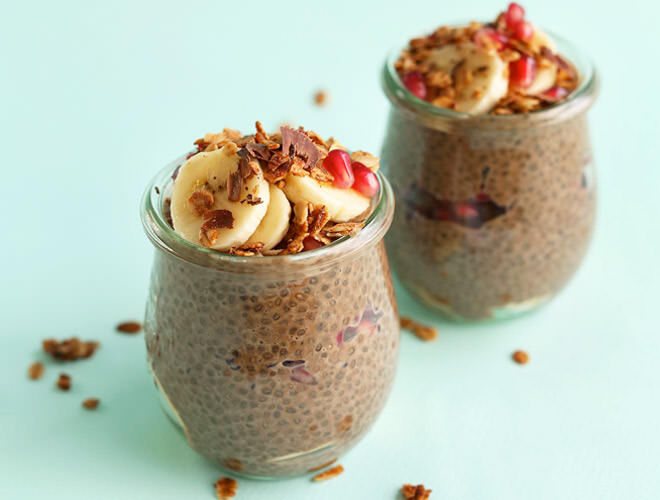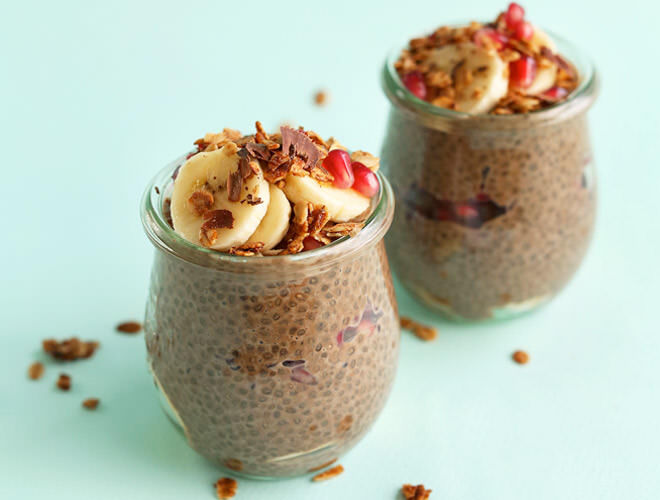 Chia pudding is one of the best new breakfasts we've chomped on. Not only does it give you a bit of 'get up and go' in the early hours, but the protein packed chia seeds will keep everyone going well into late morning.
Mix chia seeds with your choice of dairy/non dairy milk and leave over night for the seeds to plump. We love the combo of chia seeds, raw cacao, almond milk and mashed banana – Dreamy! (via Minimalist Baker)
Breakfast muffin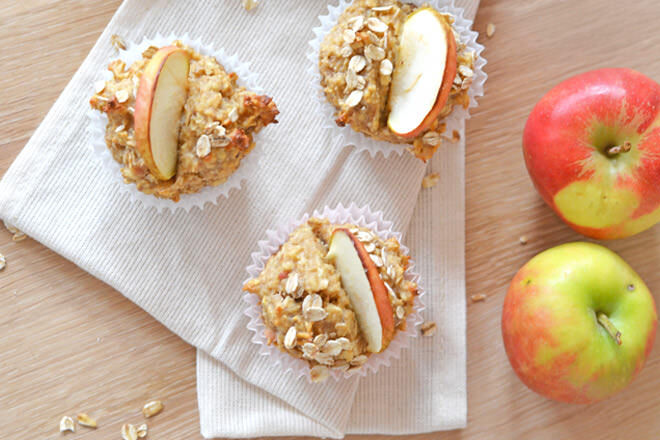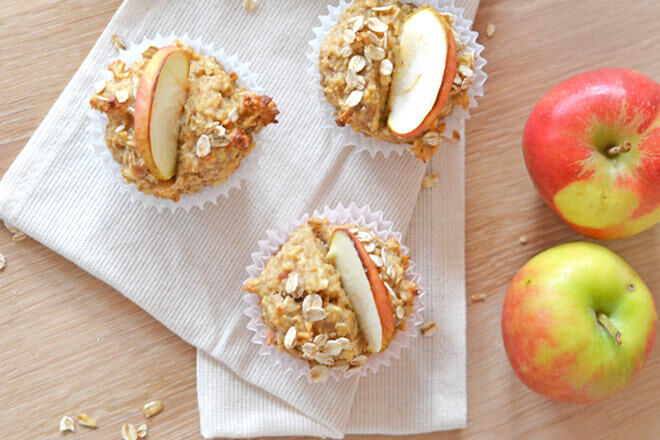 Breakfast muffins can be baked on Sunday ready for the hectic week ahead.
These tasty little morsels will win everyone over with the wholesome and yummy combination of yoghurt, rolled oats and grated apple – a great way to kick start the day for you and the tribe. Keep in an airtight container for two to three days and that's your on-the-go breakfast sorted! (via The Taste Revelation)
Fruit salad
Fruit salad is cool, colourful and feels like the freshest breakfast going. But no matter how organised you are (and we're definitely not), mid-week mornings are not the best for copious amounts of peeling, coring and chopping.
Here's a handy tip – next time you stock up on the good stuff, peel and chop each fruit into bite sized pieces, mix and cover with a little lime juice before placing a handful of everything into mason jars. It's great to know there's a healthy breakfast ready and waiting when the morning madness takes over.
Super quick green smoothie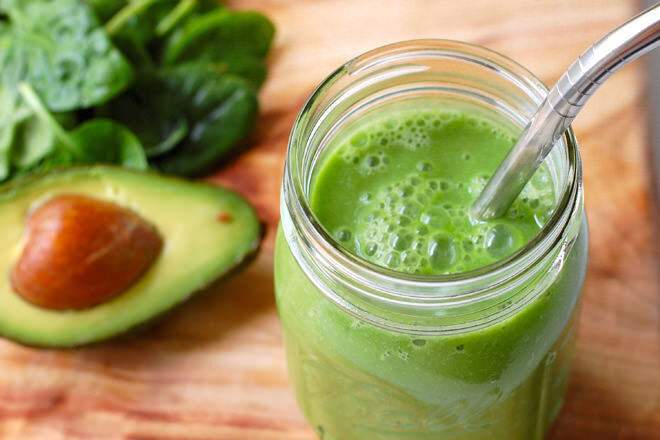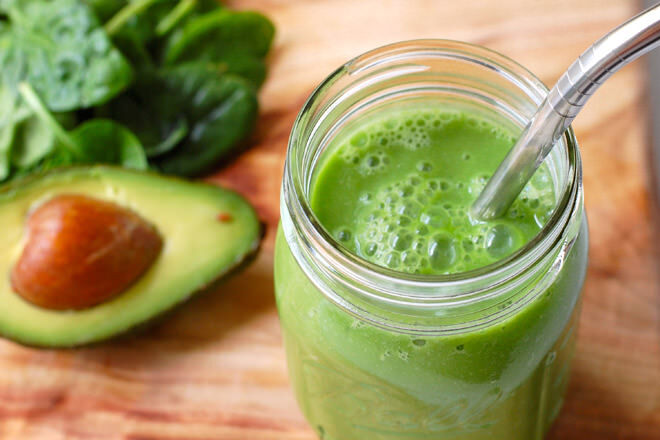 Green smoothies are packed with nutrients, vitamins and everything your little nipper needs to fuel their ever-growing body.
Avoid having to get the blender out in the morning by making your green goodness at night and adding a few blocks of ice once mixed. Keep the smoothie in the fridge over night, give it a good shake when you wake and you're good to go! (via Thermomama)
Breakfast parfait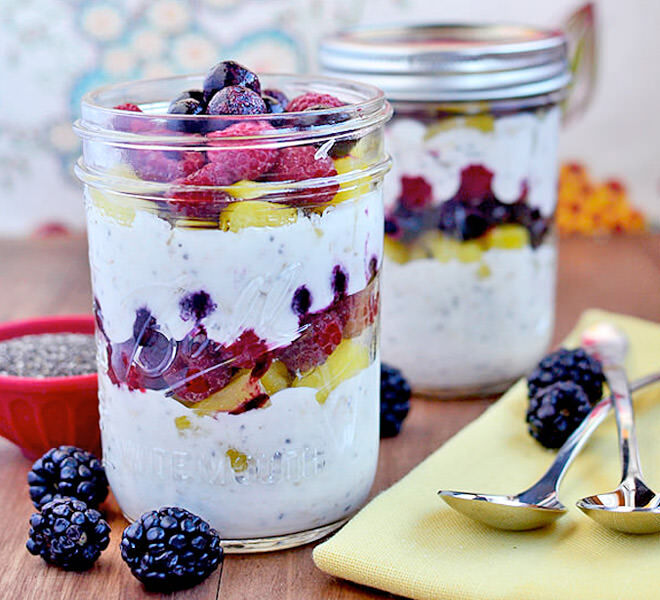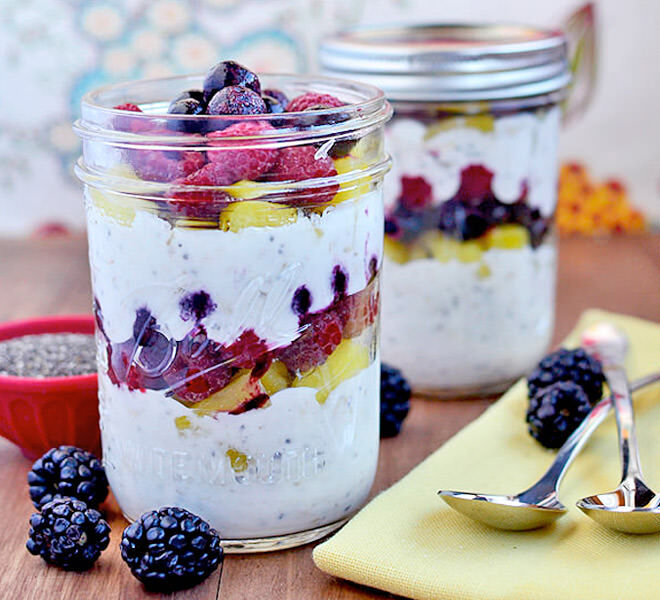 Think a lovely layered trifle, but good for you. Breakfast parfaits look as good as they taste and the best bit is that you can make the recipe up as you go along. Have favourite granola? Sprinkle it in there. Craving summer berries? Add them in too. Love a dollop of yogurt? Well, there's your topping!
Make your dream combo in a jar before you hit the hay then simply grab a spoon in the morning. One of our favourite on-the-go breakfasts by far. (via Iowa Girl Eats)