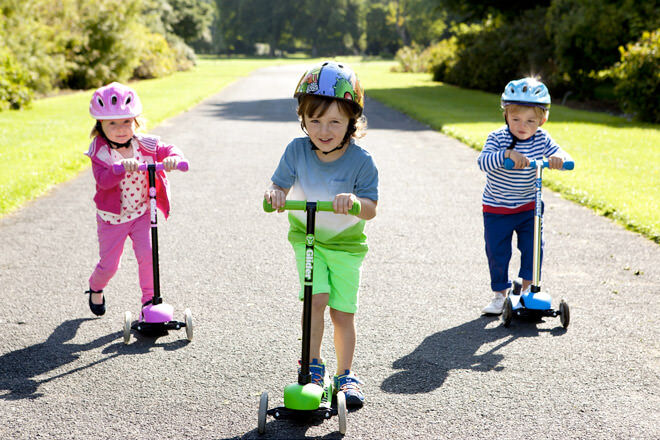 There isn't a child alive that doesn't want to run, jump, climb or do anything that stops them from sitting still. Keep your sprout active and moving fast with their very first scooter. When shopping for a first scooter you need to look for stability, good brakes and manoeuvrability.
We've found 10 of the easiest to ride scooters set to turn your child into a skater dude as soon as they hit the park.
READ MORE
• 21 balance bikes to teach kids how to ride
• Sweet ride: 19 ride-ons for cool cruising fun
Colourful choice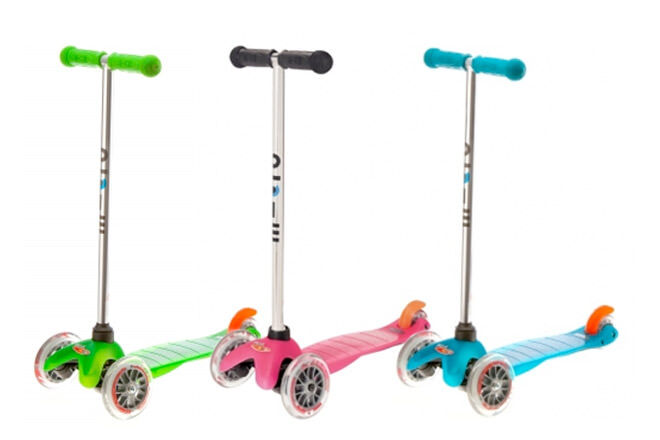 Mini Micro 3 wheel scooter ($139): Head to your local park there's a big chance you'll see one of these Mini Micro scooters being ridden around. They have a wide non slip deck, three wheels for stability and non-marking PU wheels so it can be ridden indoors or out. Suitable from 2 years.
Keep a handle on things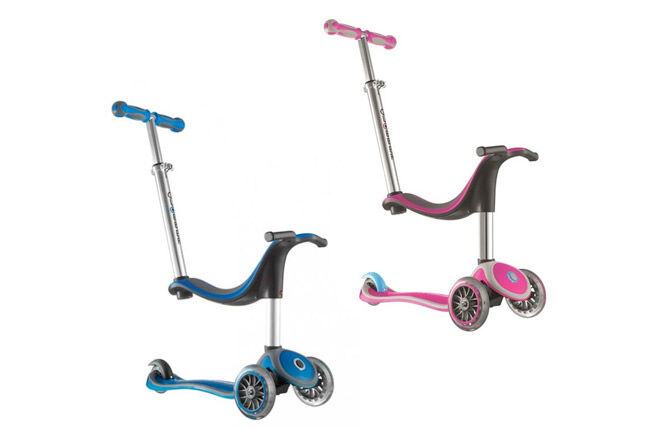 Globber My Free 4-in-1 Kids Scooter ($149.95): This scooter is perfect for younger siblings jealous their older brothers or sisters get to scoot out and about. To start your mini you can sit on the seat while you push them using the handle. Then take the handle and your little rider can use the seat to finally scoot on their own. Suitable from 12 months when being used with the handle or from 3 years as a standard scooter.
Big wheels for big fun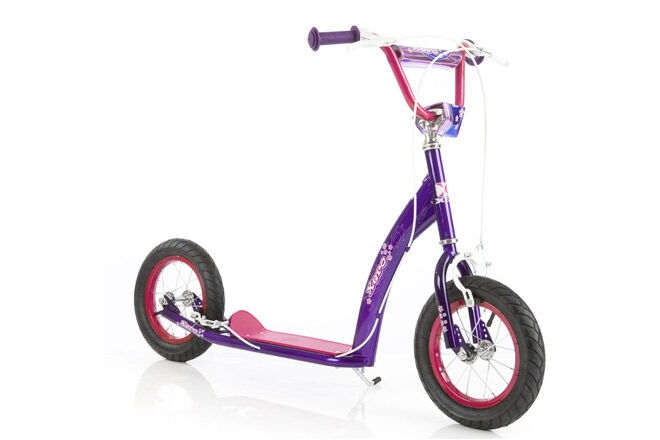 Eurotrike Xero 12″ Pneumatic Tyre BMX Scooter ($199.95): The big wheels give kids a stable and smooth ride while the steel frame won't fade or chip. There's also handbrakes for extra stopping power. Suitable from 3 years.
A razing good time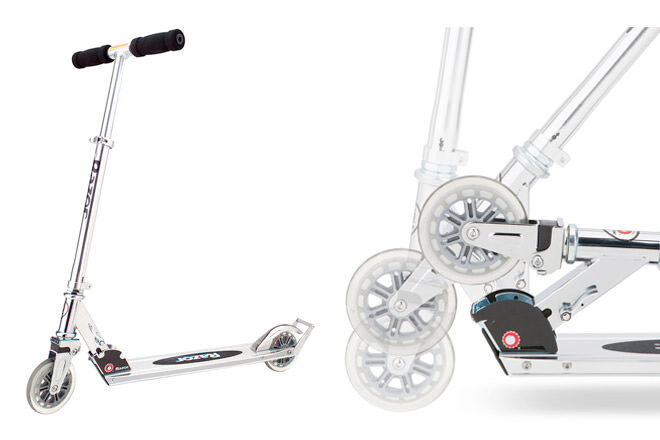 Razor A Kick Scooter Clear ($69.99): If your child is ready for a two wheeled scooter this is perfect for first timers. The Razor Scooter A was the first scooter produced by Razor and is perfect for those starting out on two wheels. Suitable from 5 years.
For beginners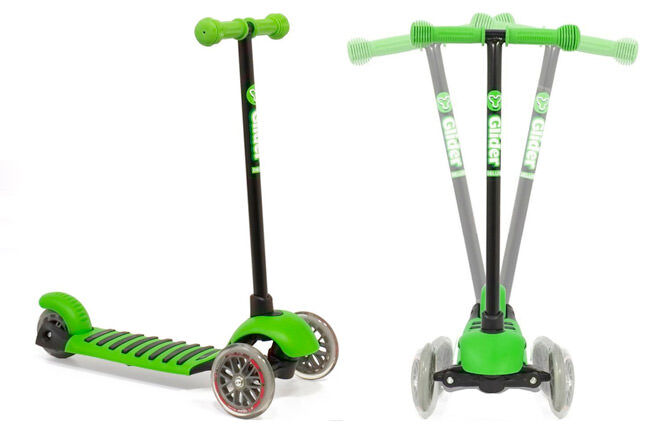 Yvolution Y-Glider Deluxe Scooter ($99): With built in 'learn to steer' technology, the kids will literally learn to scoot the more they ride. With a step-on back brake and strong aluminium handle bars, this is one tough ride. Suitable from 3 years old.
Built for speed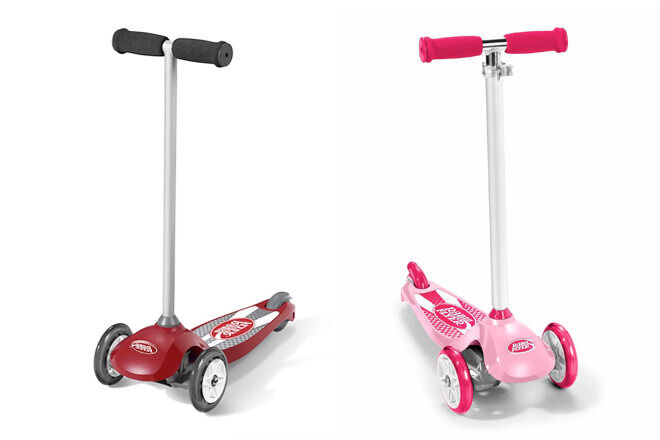 Radio Flyer Pro Glider ($99.95): If you're looking for a scooter that will have your speed demon taking corners like a pro – this is the scooter for you. With Premium E-Z Glide wheels your kiddo will get a faster ride but with the stability of three wheels. Suitable from 3 years old.
Precision Steering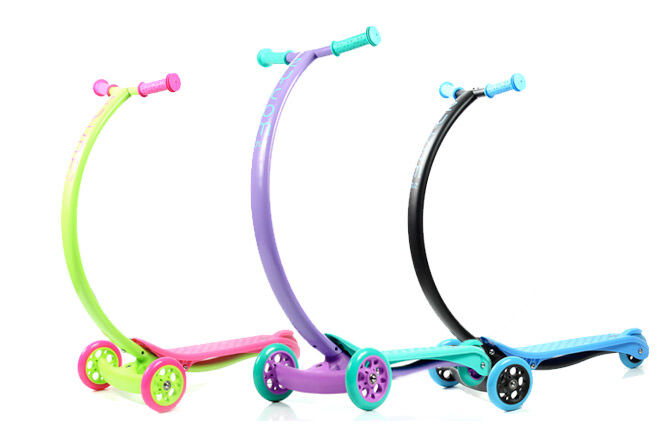 Zycom Cruz Mini 3-Wheel Scooter ($115): With patented steering design your tyke will be steering to success with the Zycom Cruz. The funky, cutting-edge design means there won't be any mistaking their scooter at the park either. Suitable from 3 years old.
Z for ZOOM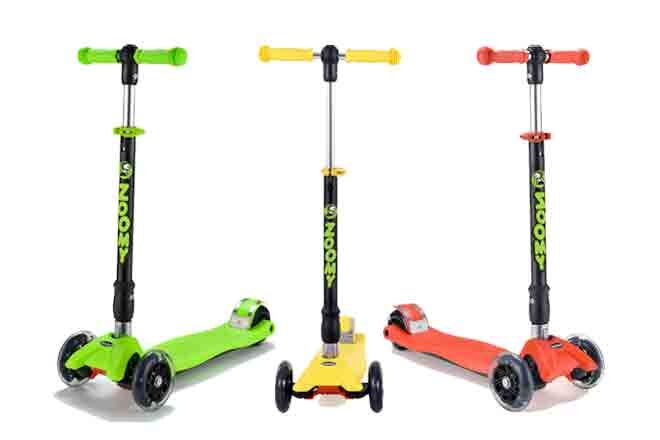 Zoomy Leisure Kids Maxi Scooter with Flashing Wheels ($74.95): Suitable for kids 4 years and older this is a robust scooter, perfect for rascals and more advanced riders. The Zoomy also has flashing lights and that means AWESOME in kid language.
Built tough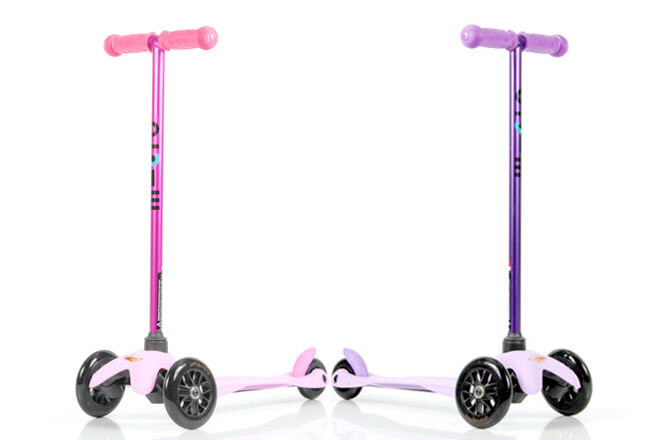 Mini Micro Sporty Edition ($149.95): If you're after a scooter that's built as tough as your child then take a look at the Sporty Mini Micro. Built with the same great design features as the original, but with more responsive steering and a stronger brake, it comes in fun colours to please every scooter fan. Suitable from 3 years old.
Something different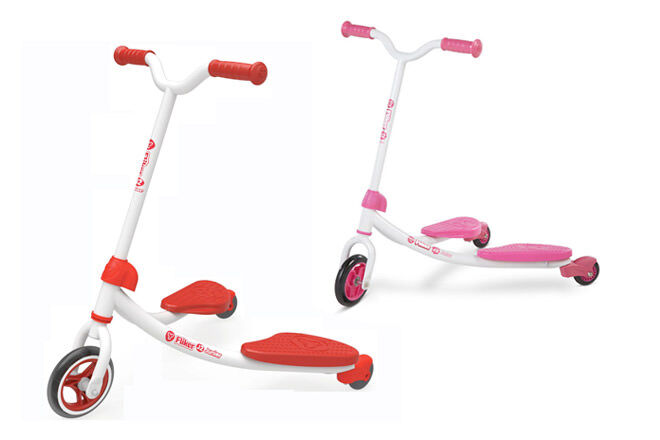 Y Volution Y Flicker J2 Junior Scooter ($129): Looking for something a little different? Try a flicker scooter. Whippersnappers simply wiggle from side to side to make this beauty go. The Y Volution can be used indoors and out and the centre bar gives extra stability for young riders. Suitable from 3 years old.
READ MORE
• 21 balance bikes to teach kids how to ride
• Sweet ride: 19 ride-ons for cool cruising fun