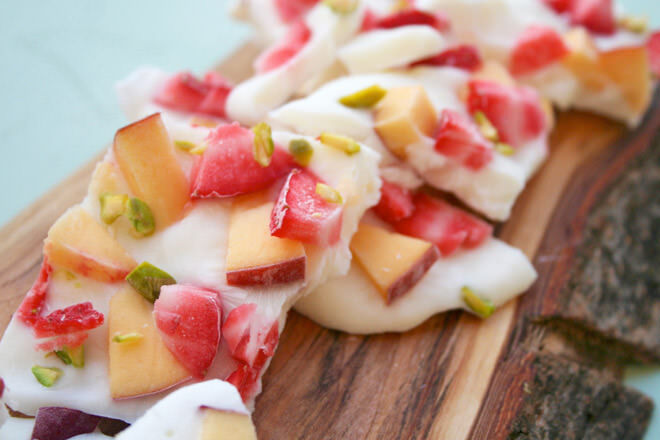 Move over ice cream, there's a new frozen treat in town! Frozen yoghurt bark is the ultimate summertime treat – it's refreshing, great for those sweet cravings and you can even make your own at home.
Cram it with summer fruits, winter berries or a medley of your favourite trail mix and we guarantee you'll have the entire family smiling all summer long.
Here are 8 tasty yoghurt bark recipes for ultimate froyo feast!
Strawberry delight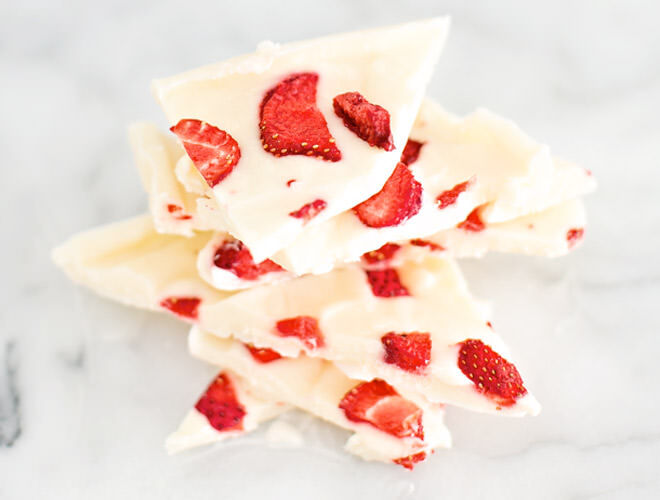 Made from just two ingredients (yep, we said two!) this easy strawberry bark is refreshingly delicious and pretty darn tasty too.
Simply line a baking tray with greaseproof paper, spread with Greek yoghurt and add freeze dried strawberries for a fun, crunchy texture. Yummo! (via Hello Wonderful)
Choco-block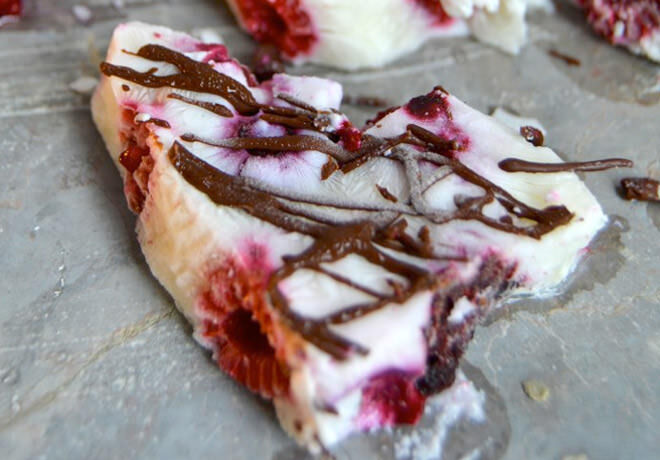 On those scorchio summer days when you think only an ice cream will suffice, head right this way. A slice of berry bark with a drizzle of chocolate will satisfy everyone's ice-cold cravings and take you all to frozen fruity heaven. Win-win! (via Wholesome Slice)
Summer days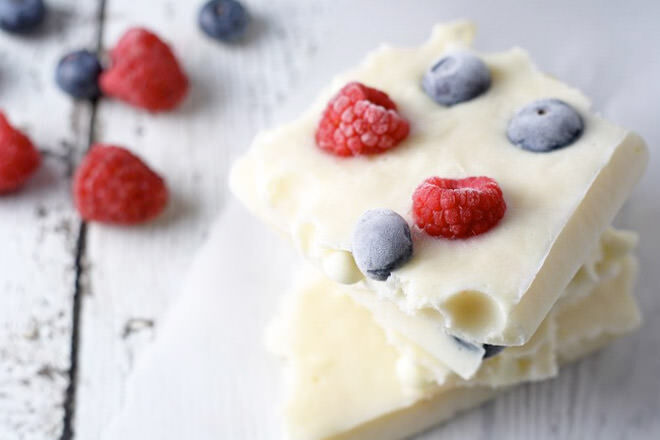 You'll need the wet wipes at the ready when the tribe dig into this red, white and blue frozen yoghurt bark.
The tartness of natural yoghurt is sweetened with a drizzle of honey while a handful of white chocolate chips make it that little extra special. Freeze for 2 hours (if you can wait that long), break and serve. (via Honey and Birch)
Beautiful blueberries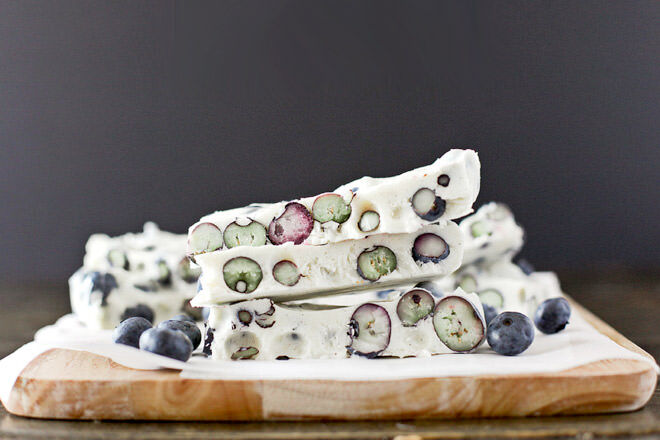 Frozen blueberries are little purple pockets bursting with summer flavour, making this yoghurt bark an absolute crowd pleaser. Hints of honey and vanilla take the yoghurt up a notch while the purple power fruit does its thing. (via Dash of Butter)
Pop goes the pomegranate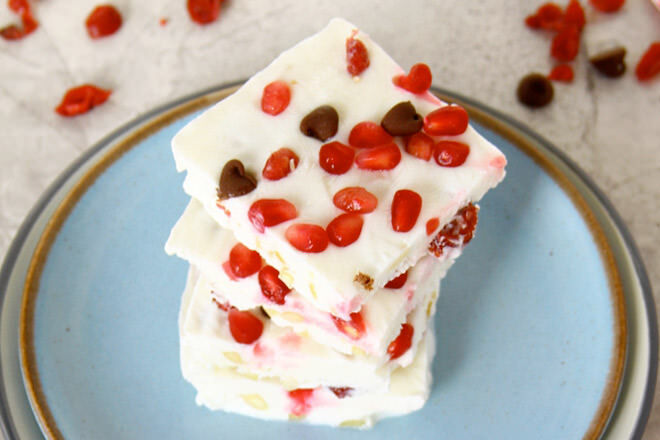 Pomegranate arils and dried cranberries take this frozen Greek yoghurt bark to a whole new level of froyo goodness. With pops of juiciness and a yummy chewy texture try keeping their sticky mitts off this one! (via Happy and Harried)
No dairy? No problem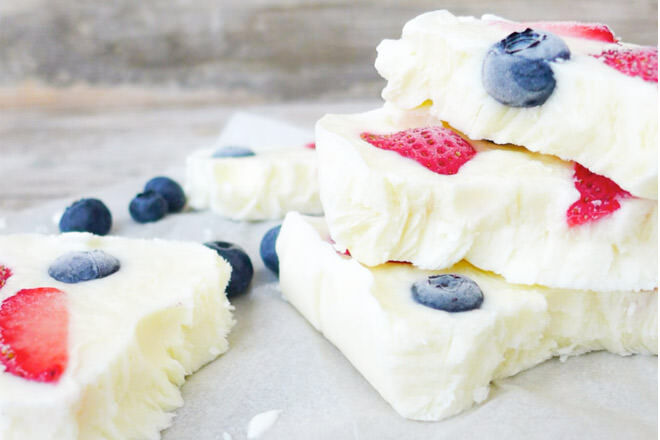 Coconut yoghurt makes everything delicious. FACT. And for people wanting to avoid dairy, a tub of the good stuff means you can enjoy a slice of homemade yoghurt bark too. Hurray! Add your fave summer fruits, freeze and you're good to go. (via Project Sunny)
Just peachy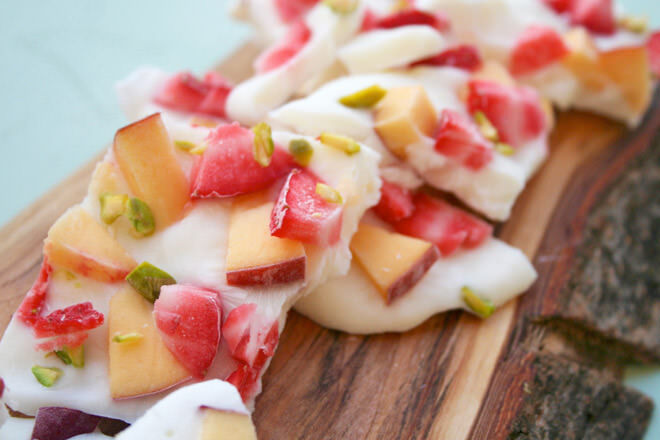 There's something about the sweet combination of strawberries and peaches that always has us salivating. Maybe it's the beautiful bright colours or the punchy flavours, or the fact that they're both so flaming tasty! Either way we think this combo is one to keep making all summer long! (via Crumbs Above Gold)
Good morning sunshine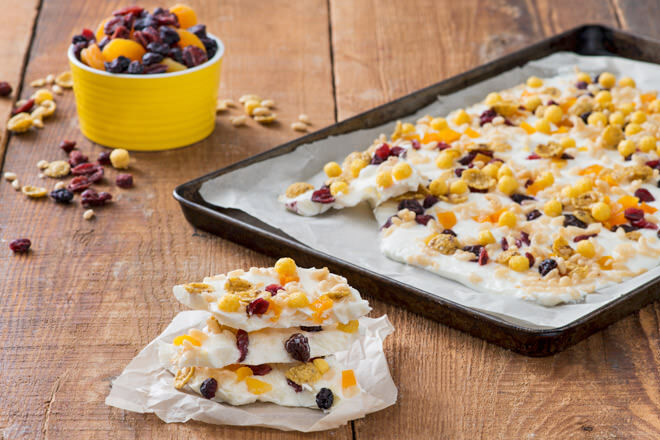 If you want to add a little crunch to your frozen yoghurt bark then here's a recipe to make your mouth water.
Mix Greek yoghurt and honey until smooth, add dried fruits and 1/2 cup of cereal before popping in the freezer. Once firm, break into pieces, or take the whole slab – we won't tell! (via Natures Path)