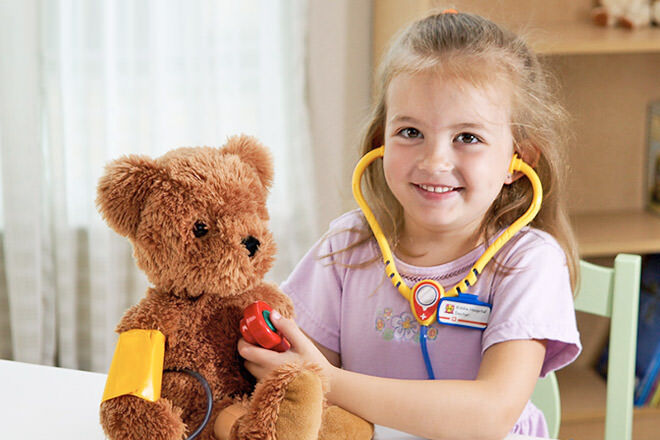 Call the Doctor – we have an emergency. Kids love to play doctors and nurses. A kids doctor kit is not only lots of fun, it helps prepare them for if they ever do have to take an emergency trip to the doctors or hospital.
We've rounded up 19 doctor playsets and cool costumes for hours of medical-themed fun.
1. Full Doctors kit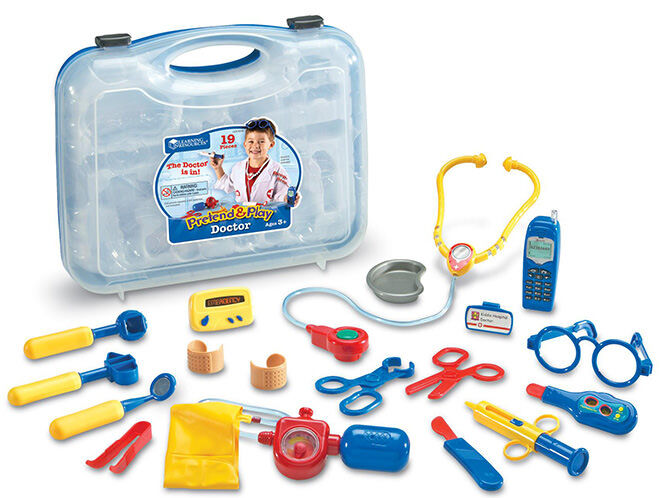 The Pretend and Play Doctor set ($59.99) has everything you need to conduct a thorough check-up. From giving needles to check your blood pressure your mini medico will be able to take on any emergency. If the situation gets too critical, don't worry they can phone an ambulance!
2. Take a deep breath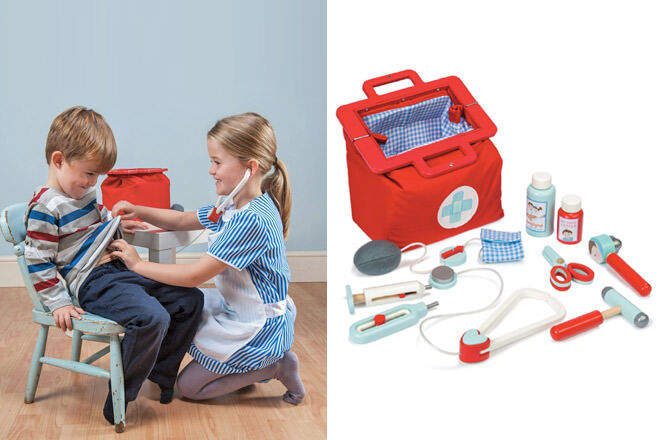 Can you tell me what hurts? The Le Toy Van Doctor's set ($64.95) is beautifully made and will fix any of those "hurters" or pretend illnesses. From checking patients blood pressure to administering antibiotics this set has it all covered.
3. Little nurse lovely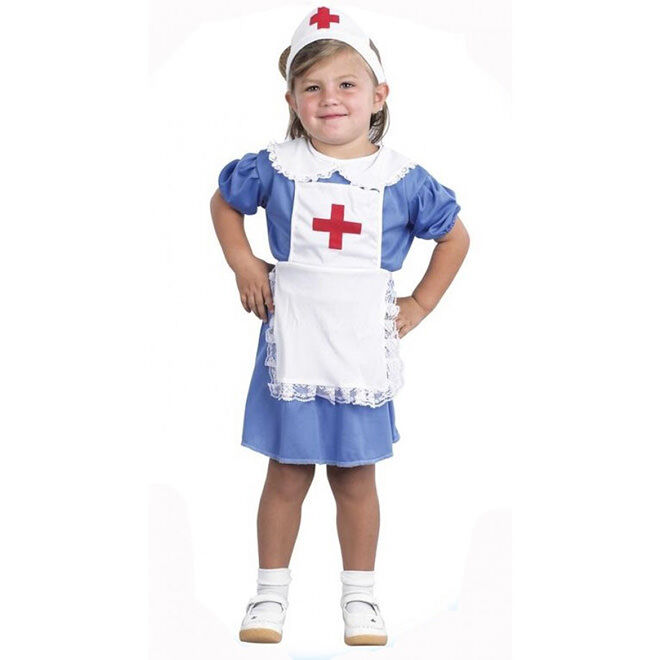 Quick someone, call the nurse! This patient needs you! If your child likes their play a little old-fashion why not try this nurses costume ($17.90). With just the right amount of frill, she will be ready for any medical emergency that comes her way.
4. Call the ambulance!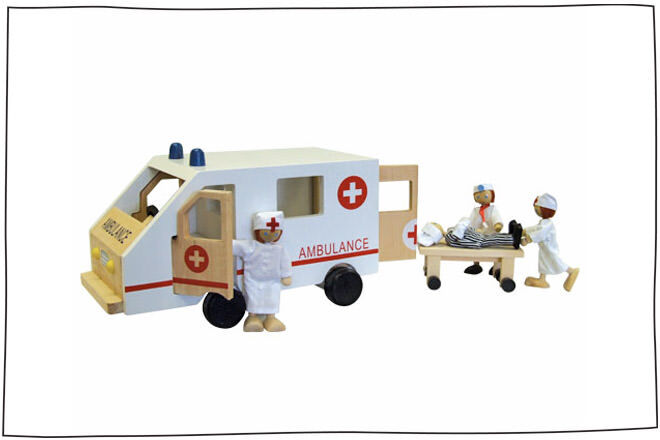 Call the Ambulance Barbie has fallen over! Let the kids get immersed in some medical imaginary play with the Timber Top wooden ambulance ($34.95). The perfect size for little hands and with a mini stretcher, it is just like the real thing.
5. Just for you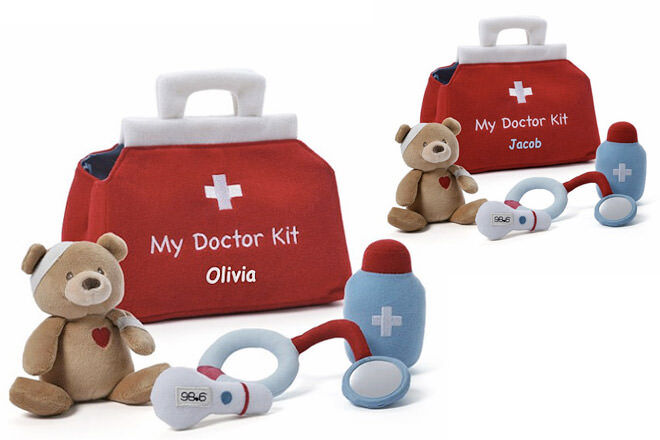 Perfect for babies this Personalised My First Doctor Kit ($40.25) is soft and cuddly making it perfect for the littlest doctor. Able to be personalised it makes a great first birthday or christening gift.
6. You make the story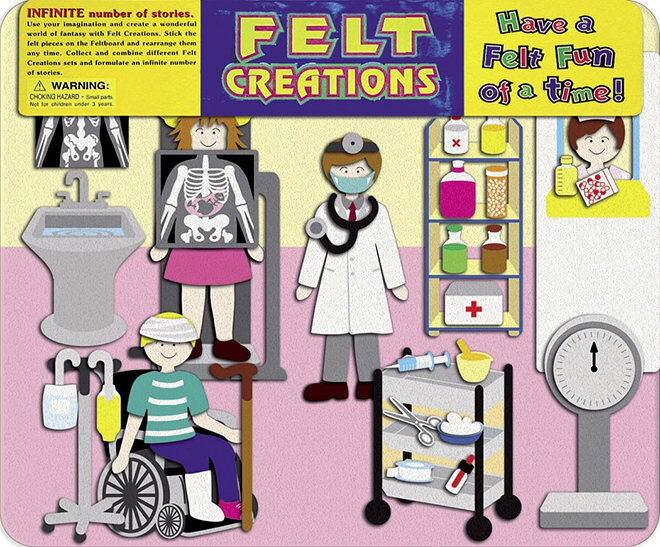 Felt boards are a great way to kick start your child into an imaginary world where they make up the story. With the Felt Creations Hospital ($9.90) will take them into a hospital where the doctor is busy with everything from x-rays to IV drips. Let's just hope things don't get too serious!
7. Strawberry sweet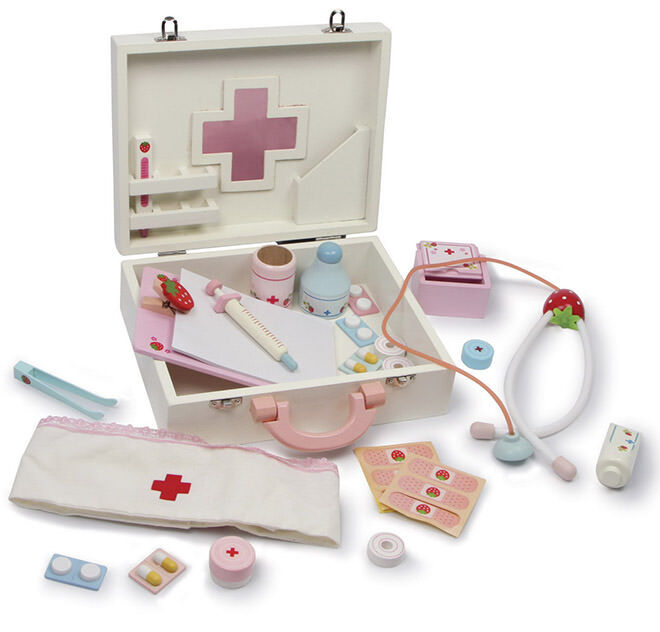 For a super sweet playtime why not try the Mother Garden Strawberry Doctor Trunk ($32.95). With lots of little accessories including pills and band-aids you will be fixed up and ready to go in no time.
8. Dress Up Scrubs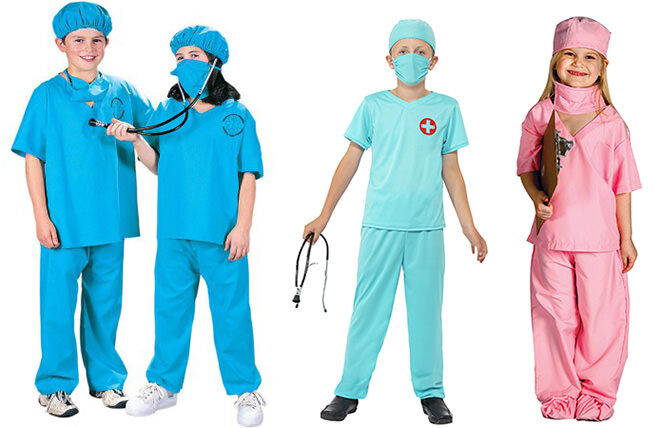 As anyone who has had the misfortune of visiting the ER knows, the white lab coats are on the out and scrubs are in! Costume Box ($26.99) and Halloween Costumes (from $14.99) have just the dress-ups for wannabe surgeons, ER staff or EMTs.
9. Nurse Dolly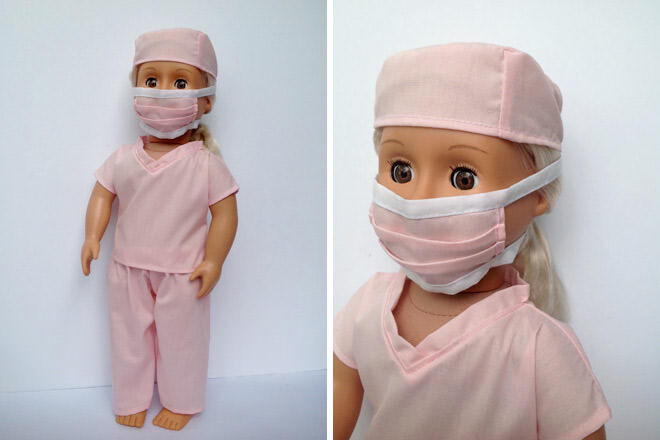 If having their own set of scrubs is just not enough you can get a set for dolly too. Doll Nurses Scrubs ($21.53) will fit an 18-inch doll and make her into the perfect assistant in a hospital emergency.
10. Dolls House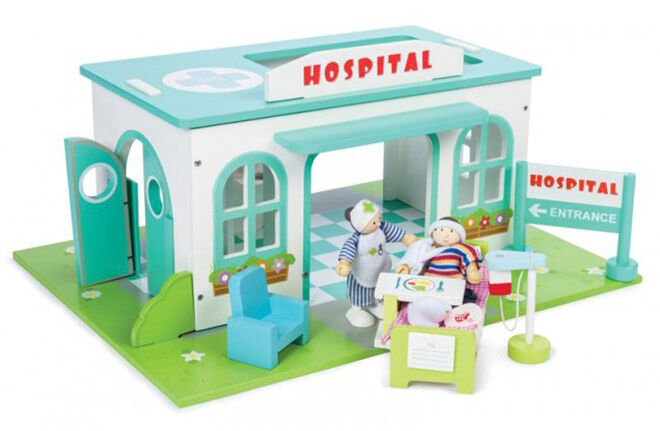 Beautifully made everyone will want to visit Le Toy Van Hospital ($63.60). The nurse will provide you with the best care and three meals a day.
11. Doctor on Call Play Set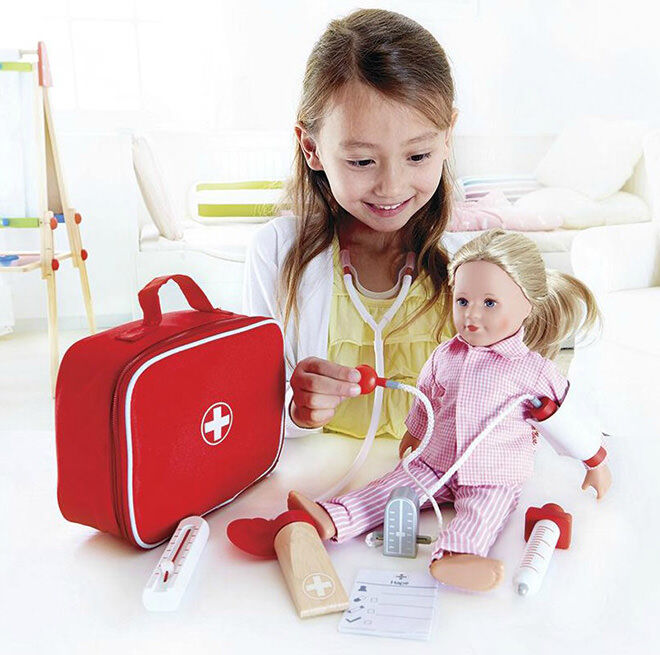 Is there a Doctor in the park? Wherever an emergency may strike your Doctor in training will be able to help. The Doctor on Call Playset ($28) is made with all sustainable materials and come in a portable travel bag. We love the real looking pressure monitor!
12. Make it yourself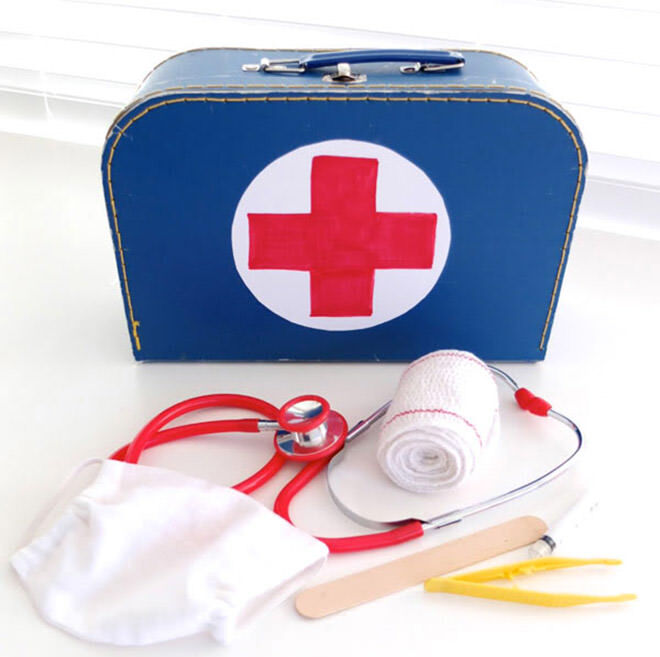 If you want to have a go at making it yourself follow the instructions from My Poppet Makes. With a homemade surgical mask, there won't be any germ sharing in your house.
13. Bandaid addicts anonymous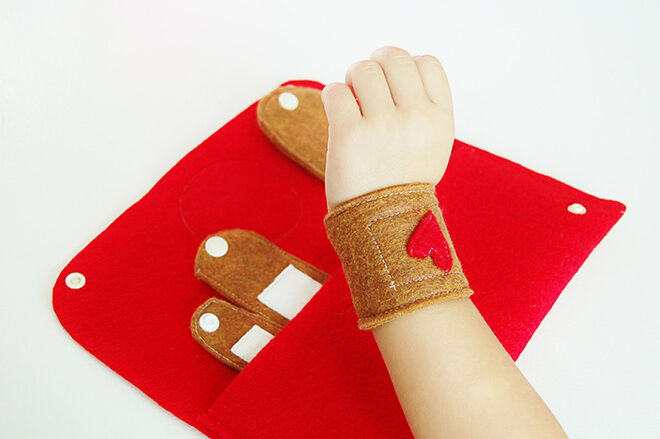 Is your child covering themselves in bandaids regardless of whether they are hurt or not? Save your money and get some re-usable play bandaids. Boo Boo be Gone Pretend Bandages ($23.76) are all the fun of the real thing but can be used over and over again.
14. All in one case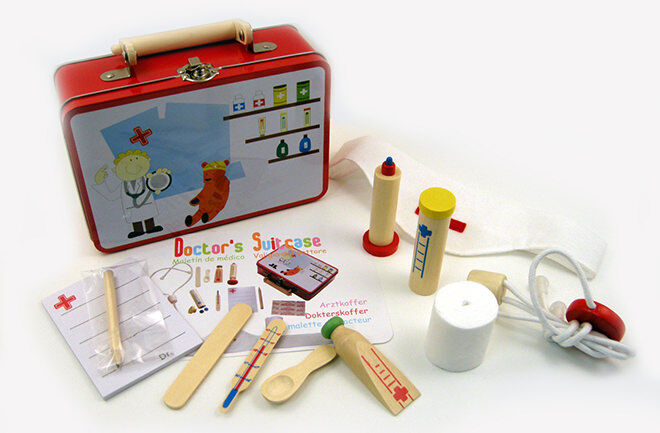 All the bits and pieces you need to handle even the biggest boo-boo are in the Wooden Doctors Set in Case ($23.99). No little pieces either so it's as safe as if you really are at the Doctors.
15. Cutest Doctor EVER!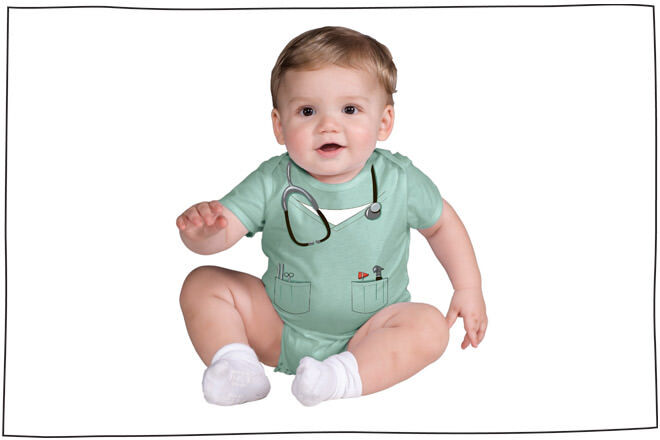 We all know Doctors can be cute, but none can be as cute as your baby in a Doctor Onesie ($16.99).
16. Say cheese!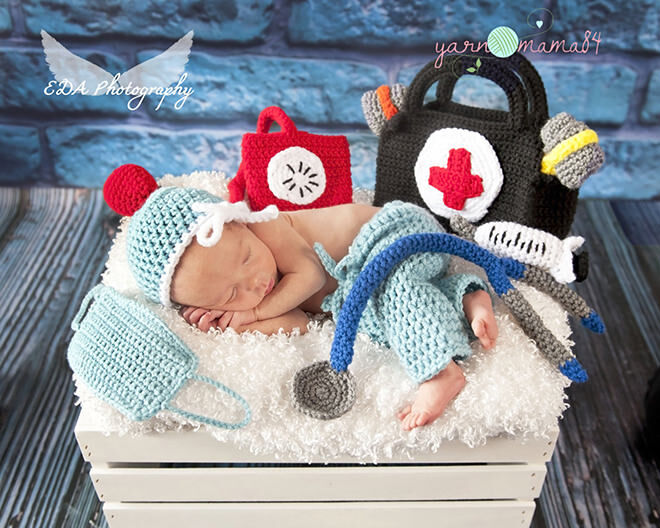 Getting that gorgeous newborn photo is a must. Add something special with this Crochet Photo Prop Doctor Kit ($43.20). A perfect gift for Doctors and nurses who are about to have a baby!
17. Handmade for emergencies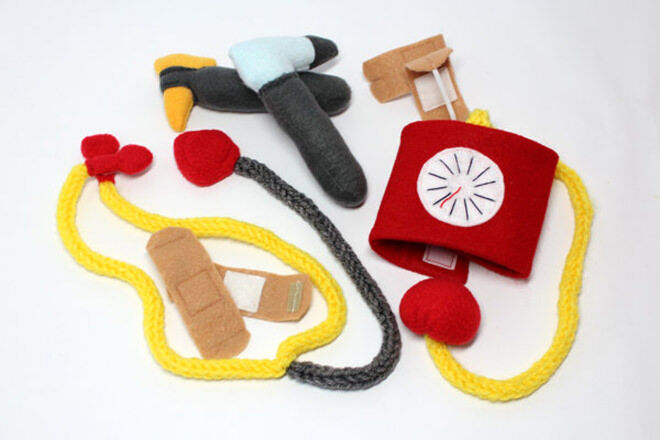 If you love toys that are homemade but struggle with the 'making' part this is the kid's doctor kit for you. Beautifully handmade the Pretend Play Doctor Set ($66.24) is hours of diagnosing fun.
18. Take them to surgery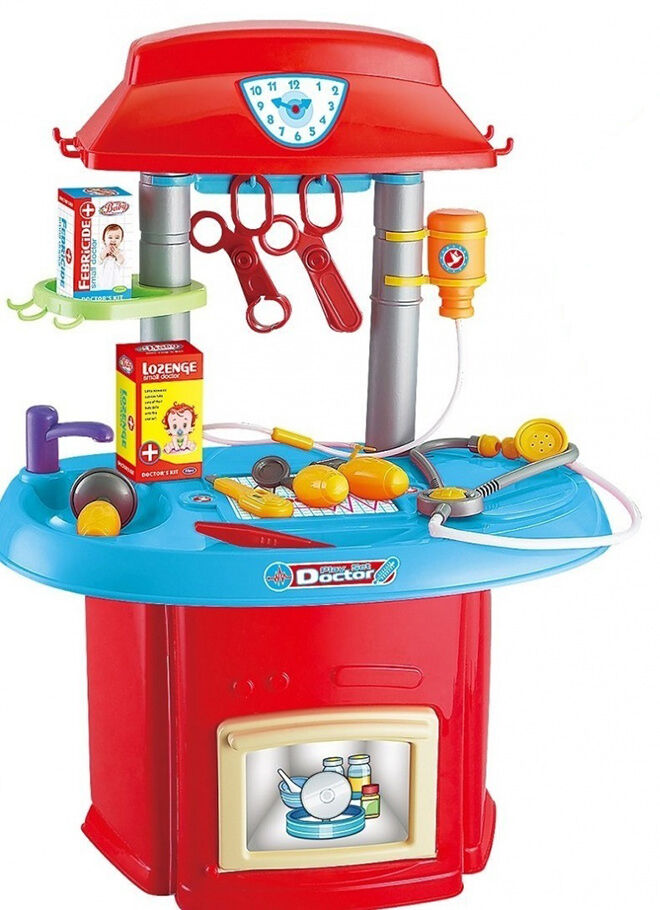 If playing doctor is a bit of an obsession with your children why not take it to the next level with the Doctor and Nurse Medical Surgery ($76.40). With everything you could need to perform life-saving operations, there won't be a sick doll, barbie or stuffed toy in your house.
19. My First Doctors Kit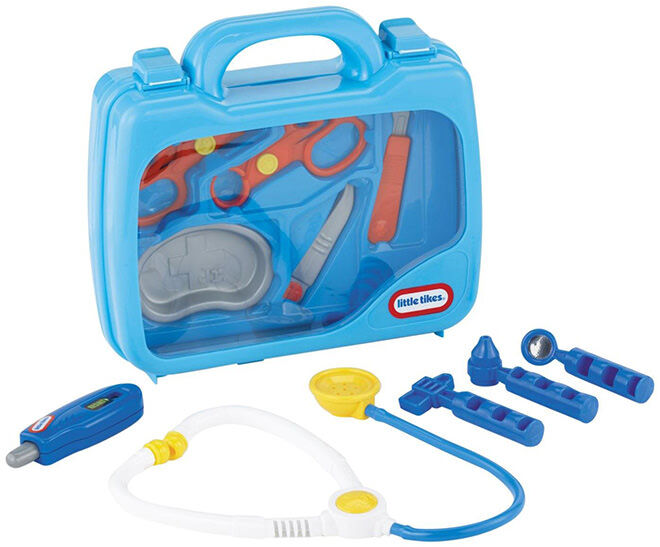 My First Doctor's Kit ($25) Made big and solid for those rough and tumble toddlers. Little ones will be able to fix anything from an ear infection to a high temperature with this mighty kids doctor kit. Being plastic also means when it gets grubby you just sanitise it just like a real hospital.
---
Read next …
Looking for more ways to extend their imaginary play? From gorgeous doll accessories to swoon-worthy play kitchens, here are a few articles that you might like to read next: