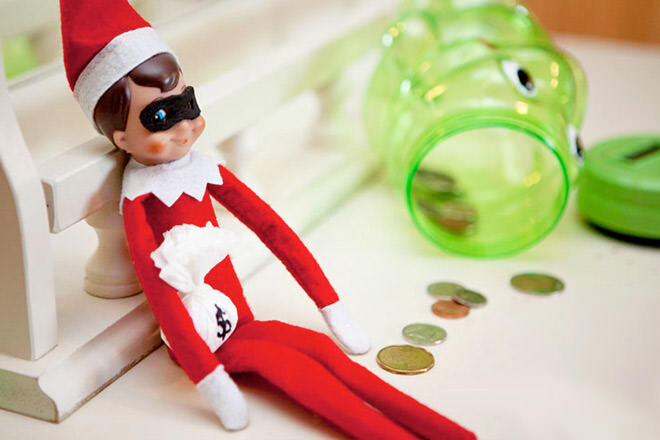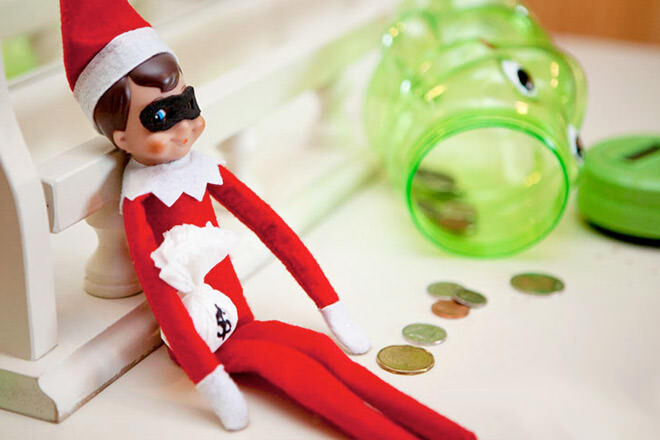 Elf on the Shelf is all about creating magical Christmas memories for our kiddies. You see, elves arrive at their host families in December, with a special book explaining that these magical messengers are visiting to provide a daily report back to Santa on how well (or not!) your little poppets have behaved.
Each morning, after Elf has arrived back from reporting duties at the North Pole, he (or she) can be found in a different spot, often up to a little mischief of their own.
Here are 16 (more) fun-tastic Elf on the Shelf ideas to get you on your merry way…
Catching some rays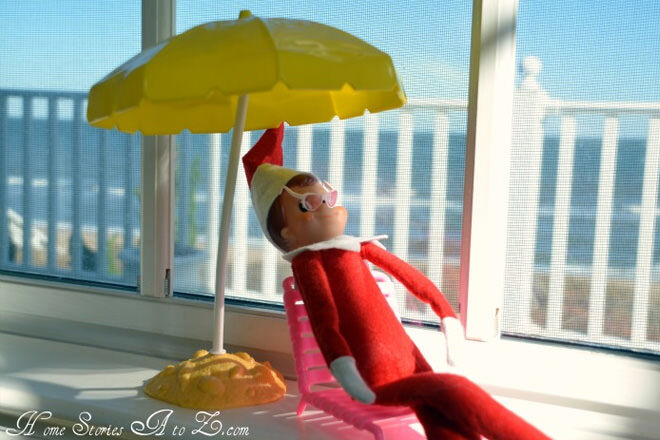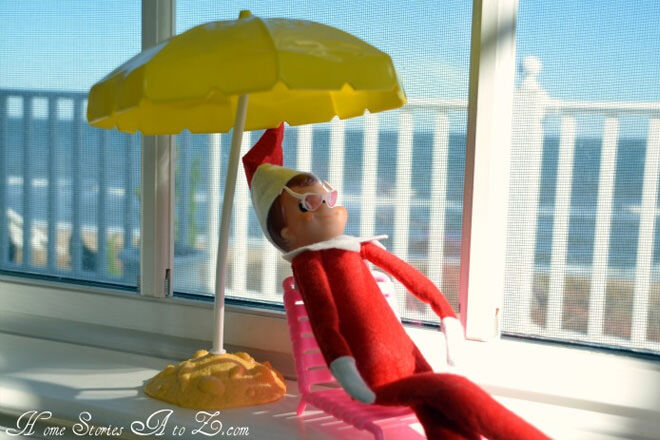 While the kids are at school, this Elf is making he most of his much needed 'me' time. (via Home Stories A to Z)
Play the game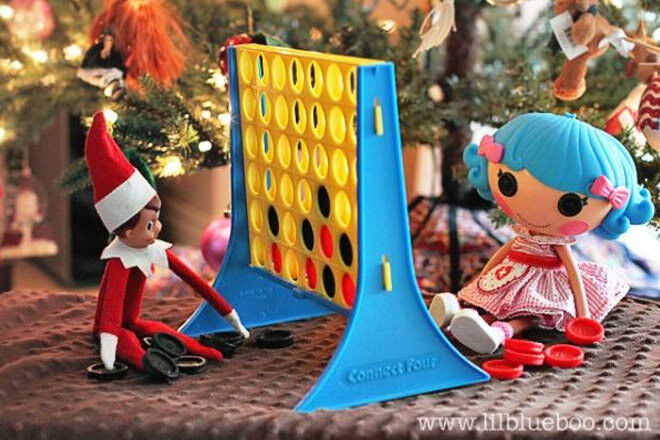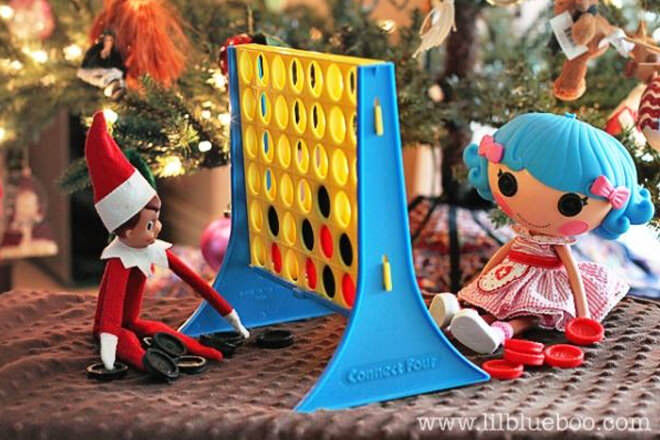 When he isn't dating Barbie, he is busy shmoozing Lalaloopsy. Some elves are such players. (via Lil Blue Boo)
---
---
Round of golf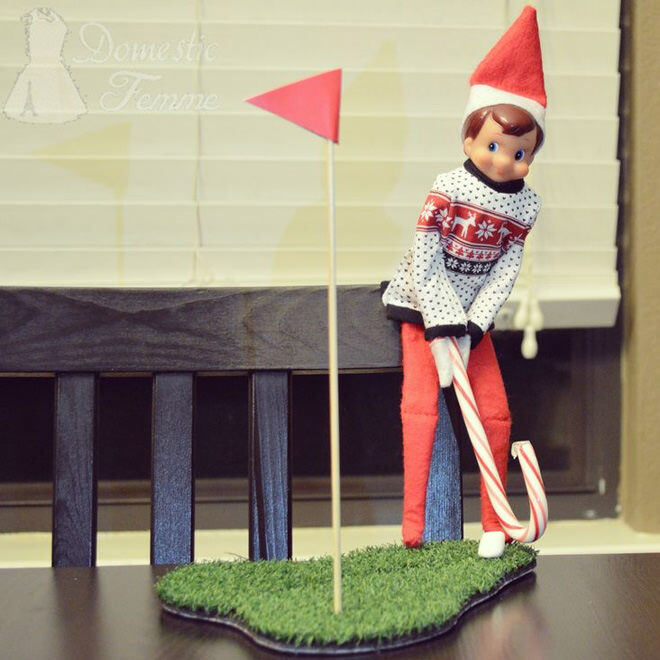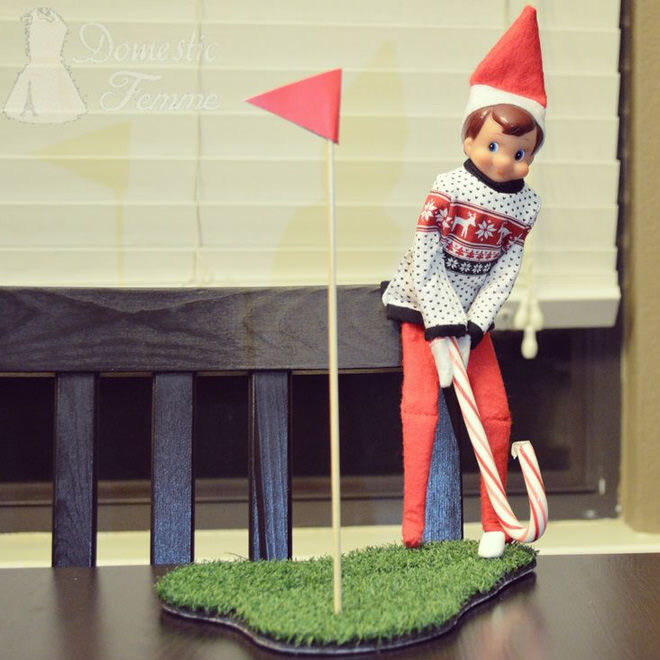 Elf does his best networking down at the golf course. (via Domestic Femme)
Personal Assistant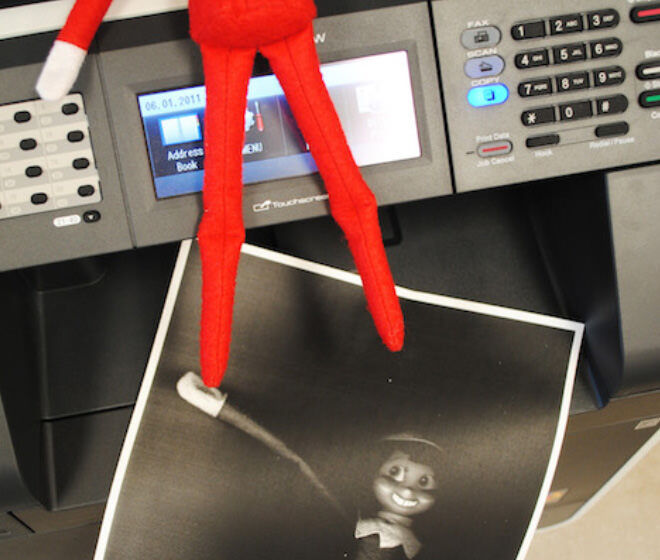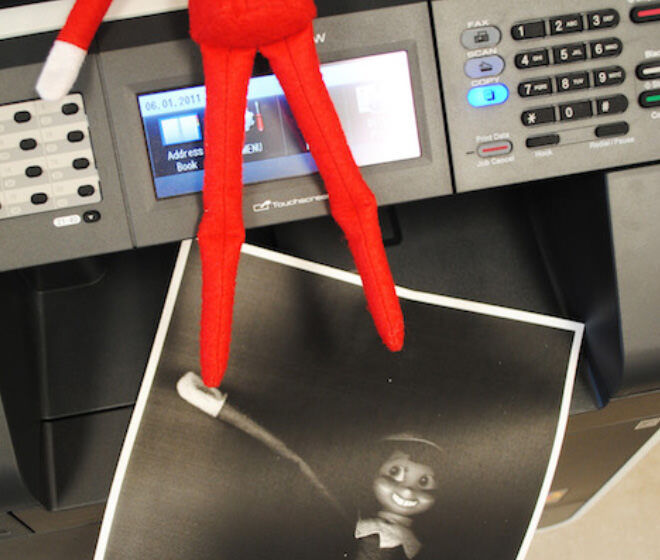 Santa had a feeling that giving Elf a chance to photocopy 'Santa's News' was going to lead  to mischief… (via Des Moines Children's Dentistry)
Day at the beach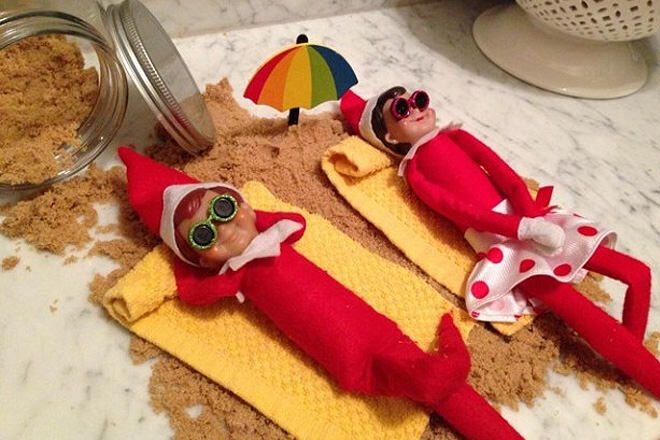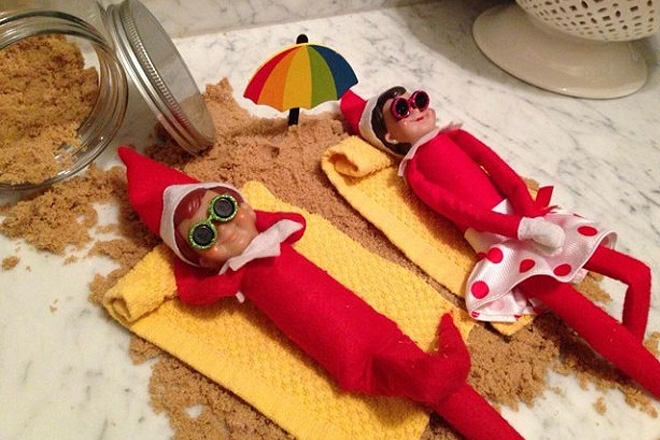 These elves are looking a little, ummm, reddish. (via The Daily Meal)
One Elf a-pooping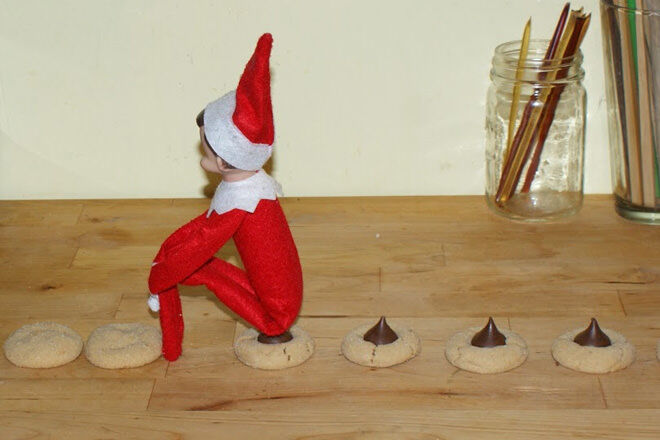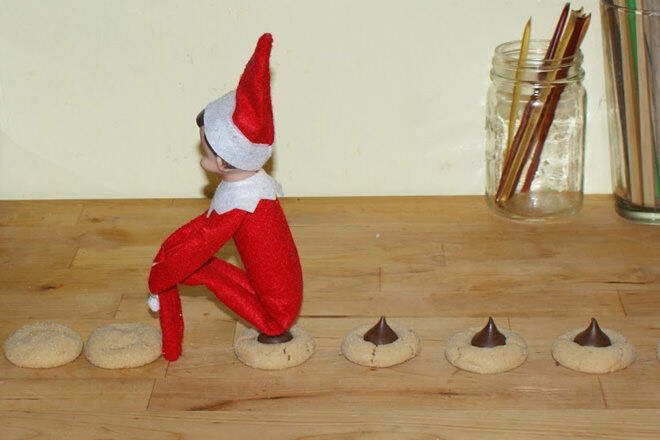 It's positively gross, but this Elf wants to let you in on a secret… that's exactly why your kids will think it's funny and LOVE it. (via From Ashley To Awesome)
Twister fun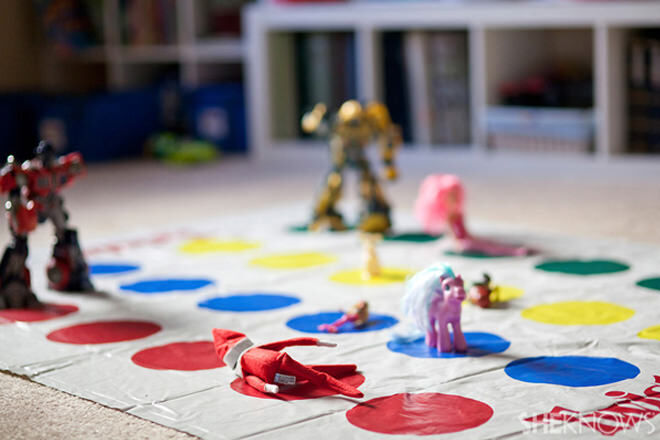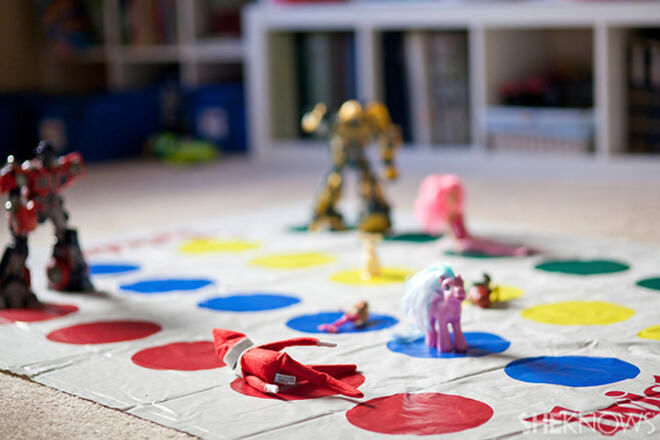 Elves have been known to be up for a spot of Twister with their friends when they get back from the North Pole. (via She Knows)
Drummer boy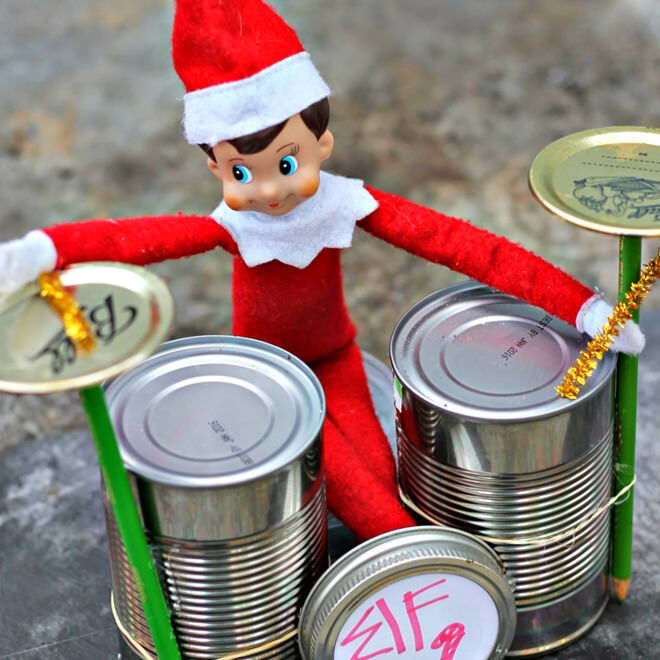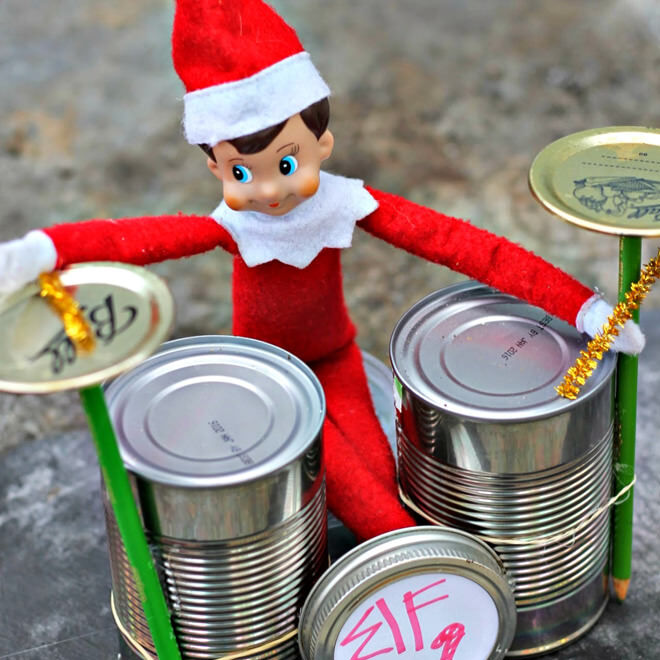 Elves are in the know: drummers get the girls. (via Frugal Living Coupon)
Treasure hunt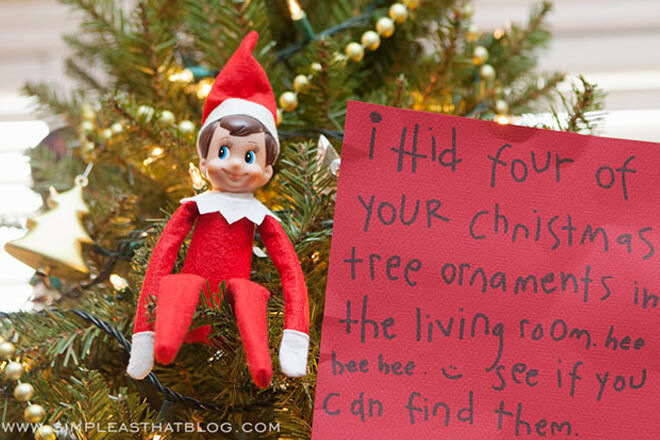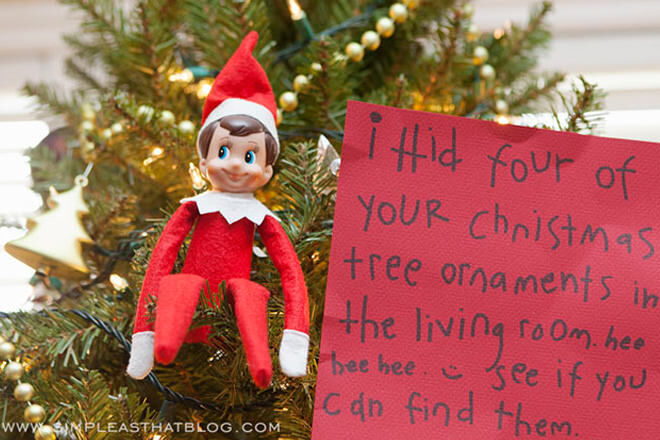 A little mischief-maker has gone and hidden things again. Ah well, the kids seem to love a treasure hunt. (via Simple As That)
Masterelf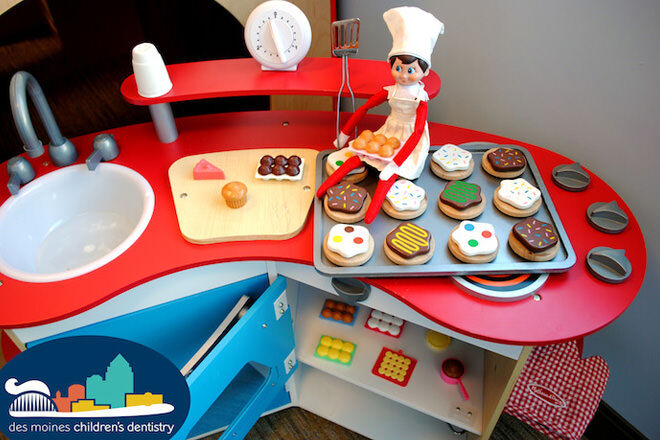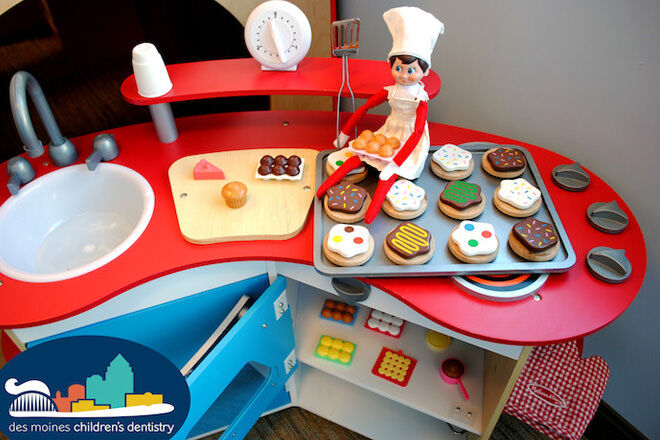 This Elf is preparing a lil' midnight snack before trekking back to the North Pole. (via Des Moines Children's Dentistry)
Elf-sized pancakes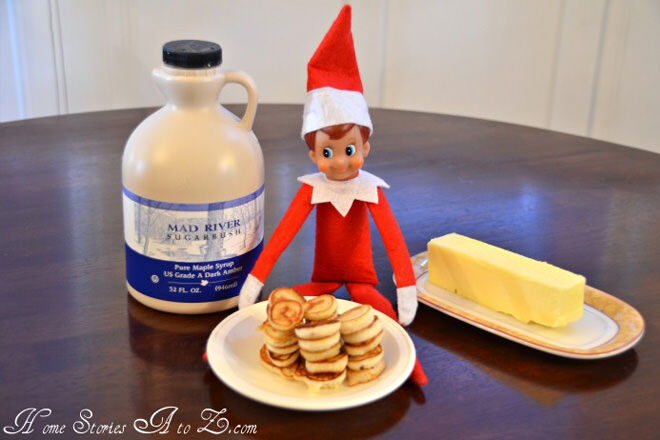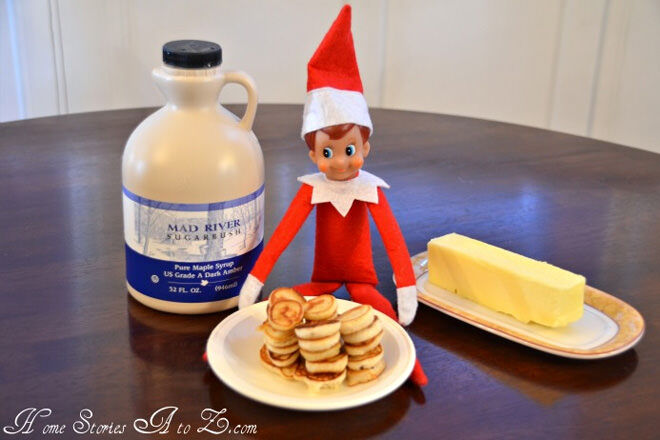 Some like to call them Dutch Pancakes, but elves know the truth about who really invented these tiny pancakes. (via Home Stories A to Z)
Spell it with cereal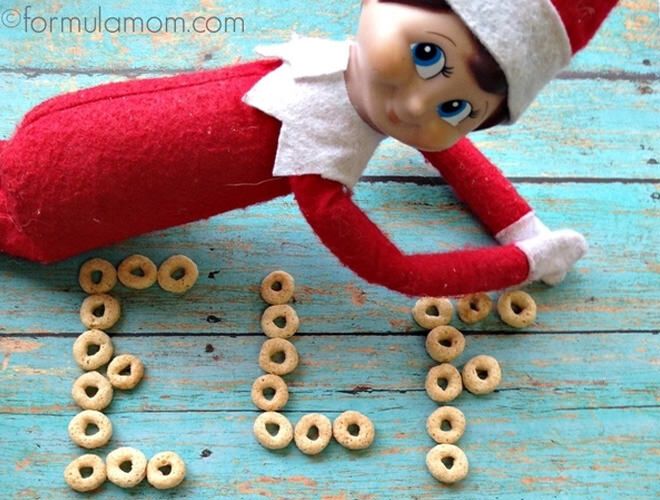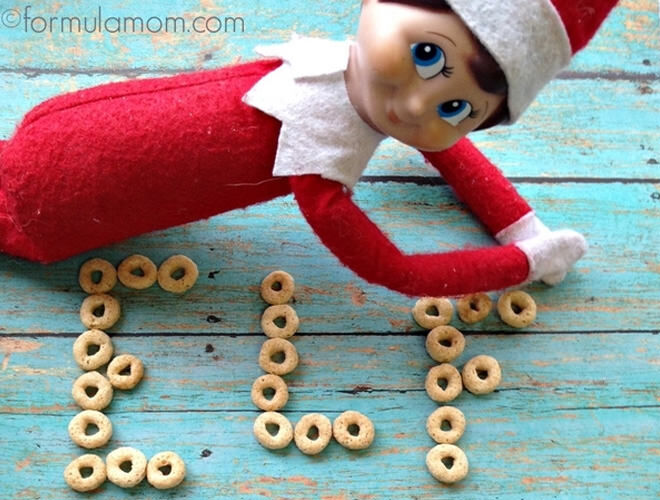 Oh the possibilities of what an Elf might spell out in cereal… eat your veggies… brush your teeth… (via The Simple Parent)
Graffiti vandal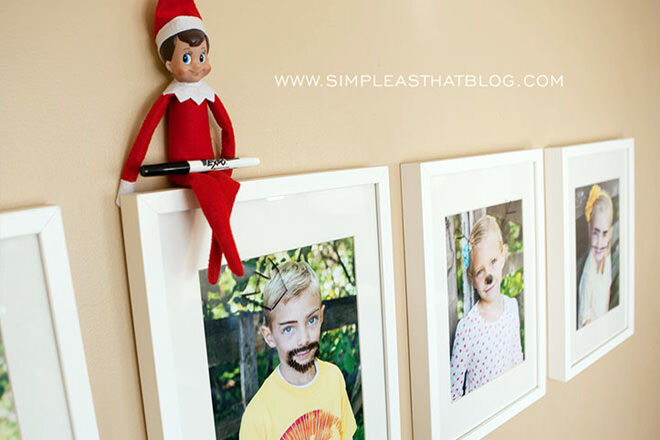 Thank goodness this naughty little Elf used a whiteboard marker when he drew all over this family's photos. Just look at that smug look on his face… (via Simple As That)
Christmas Carols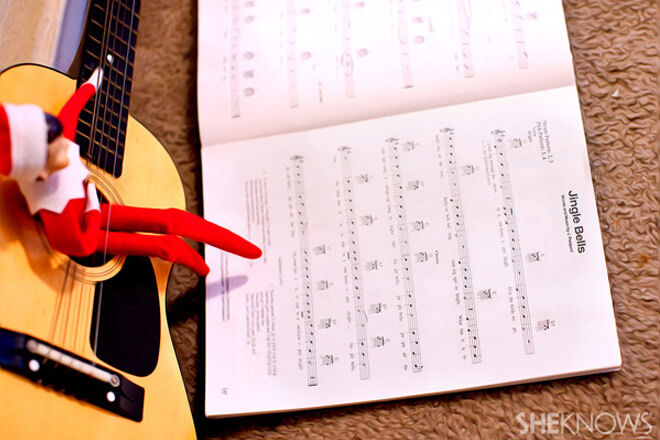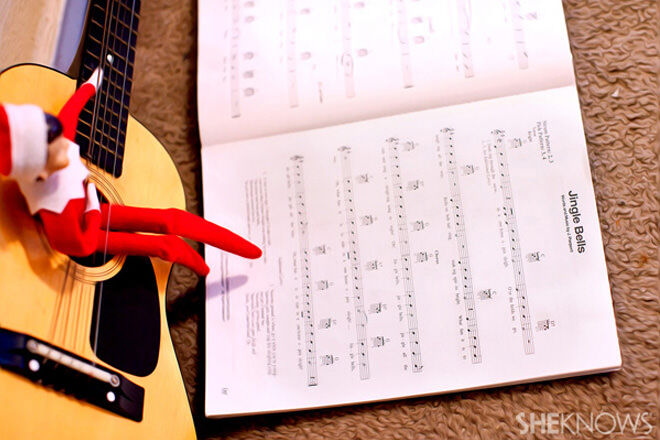 Jingle bells, jingle bells, jingle all the way! Everyone loves a Christmas Carol sing-a-long. (via She Knows)
Bungee jumping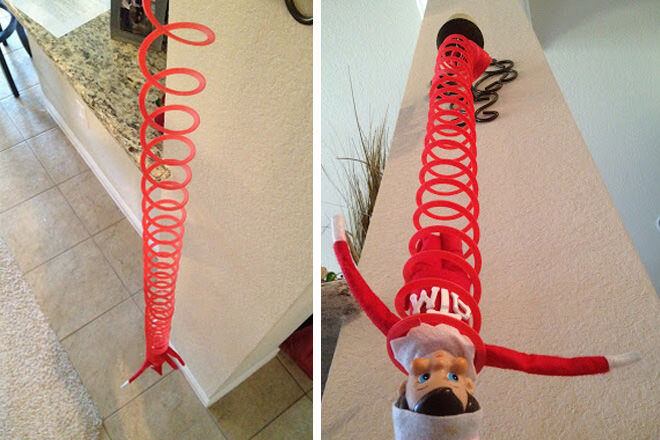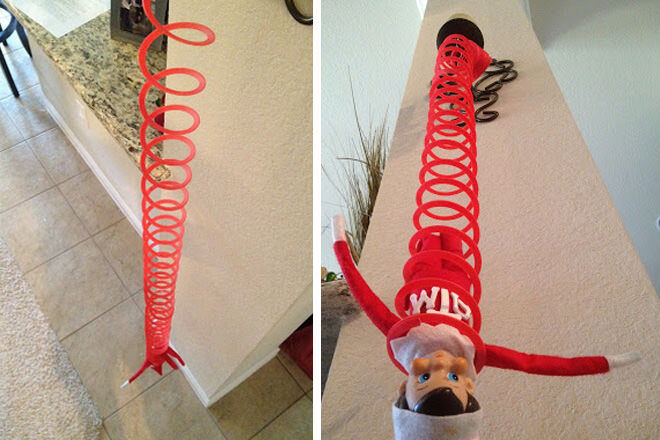 This is one for the Elf who loves their extreme sports. Bunnngggeeeee! (via Clearly Candace)
Mindful colouring-in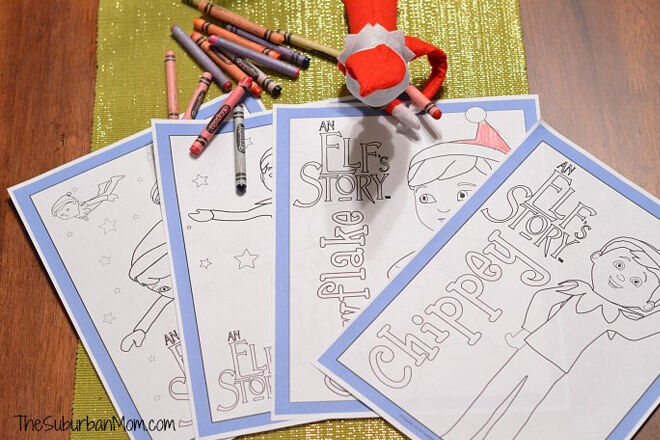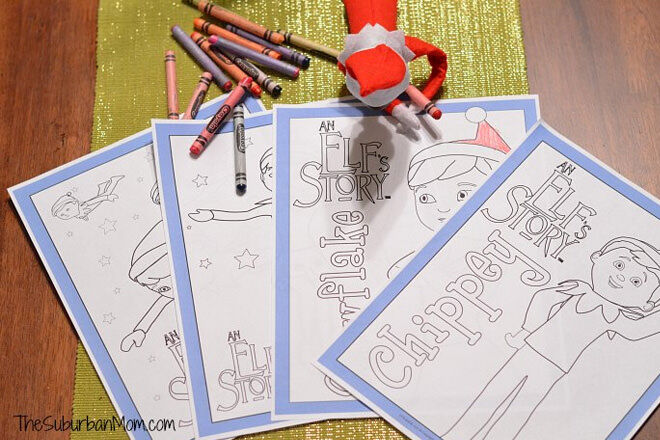 Developing mindfulness, thanks to a little colouring-in. (via One Suburban Mom)
READ MORE:
• 24 hilarious Elf on the Shelf ideas

---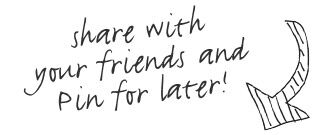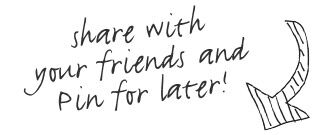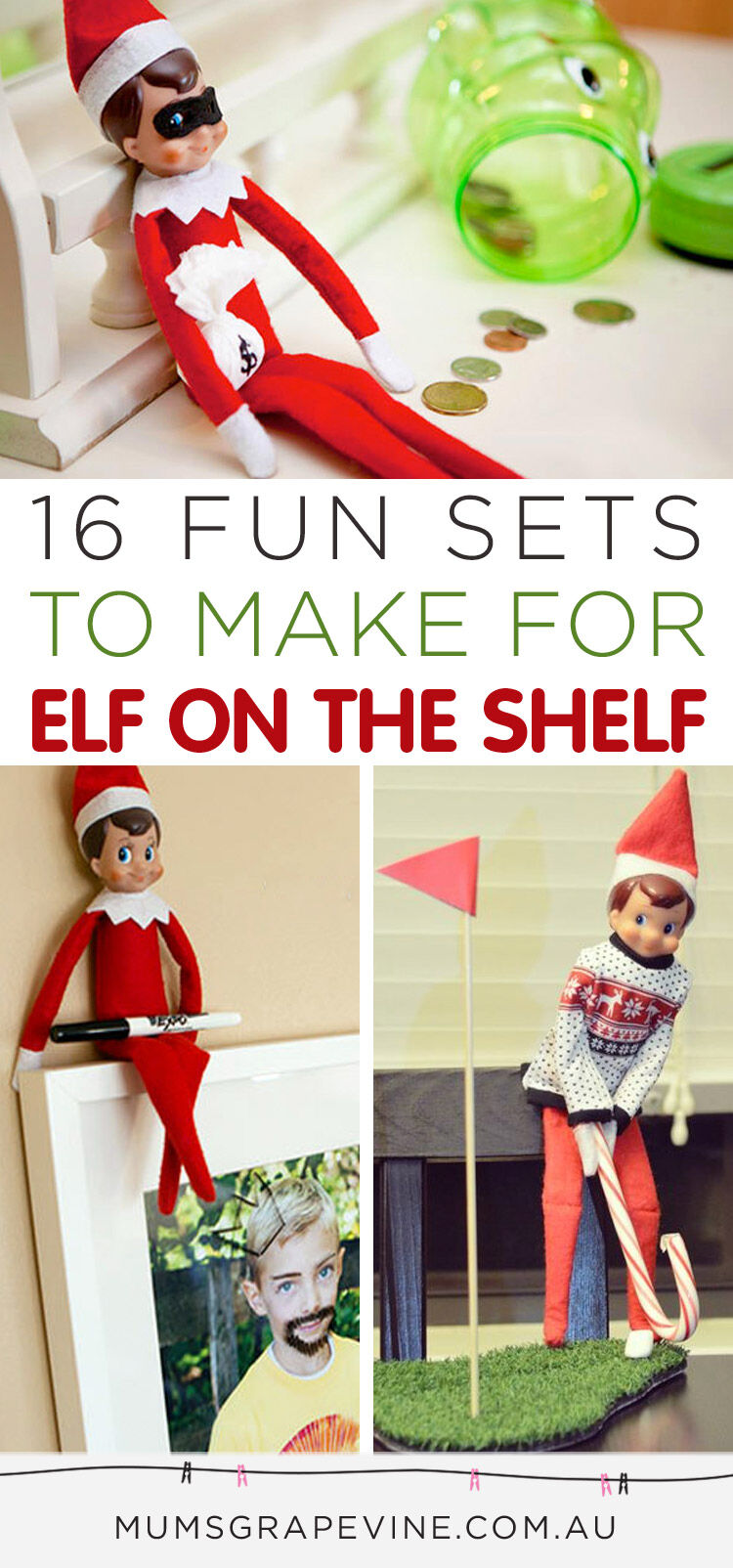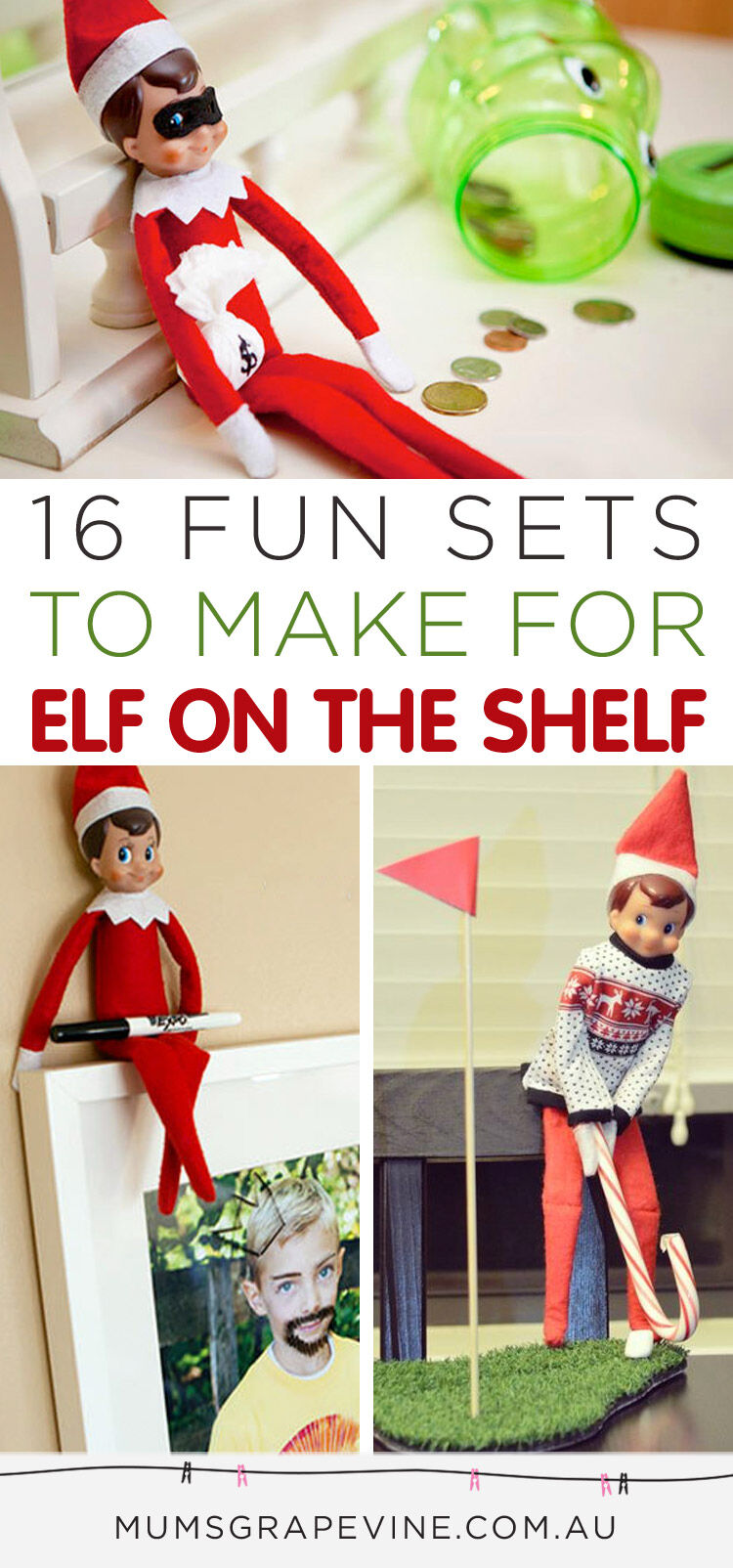 ---
Find the perfect gift
We've collected a treasure trove of amazing gift ideas, from the latest must-haves from leading brands to the quirky boutique finds. There's something for every little Piper, Noah and Charlotte.
Gift guides based on play and development, not gender.
---
WIN A $300 ELF PROPS PRIZE PACK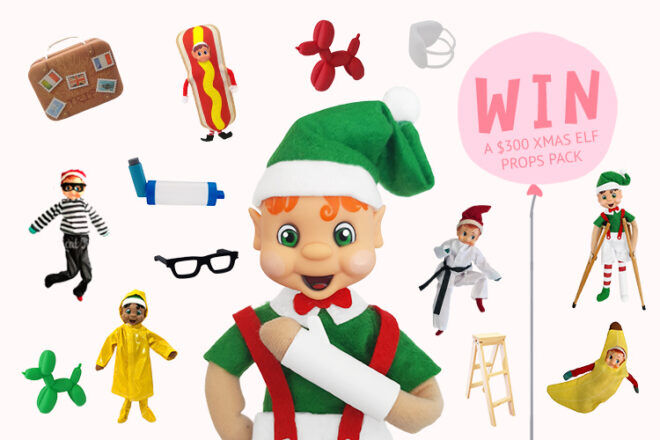 One (1) lucky Mum's Grapevine reader will win two adult elves and 24 days of Christmas Elf props and costumes valued at $300.
Competition ends October 22, 2021.