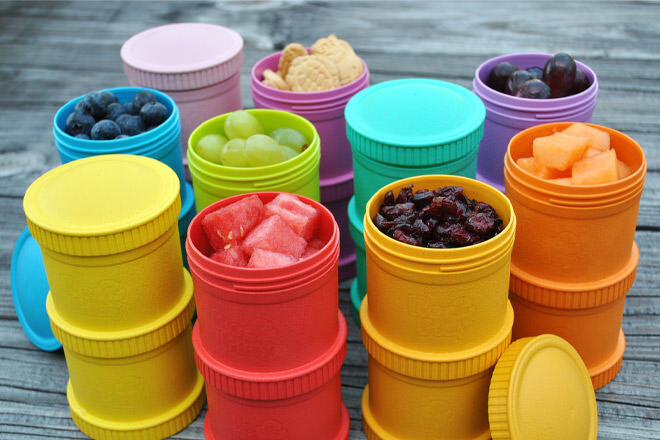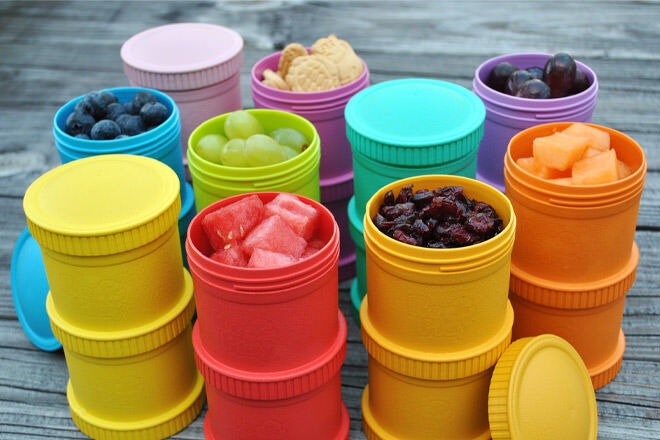 Starting solid food with your baby is such an exciting time and a huge milestone for both mum and bub. A whole new world of taste and texture opens up for your little human (who seems so much more human now they eat real food) And of course, there are the priceless facial expressions.
This new eating adventure also brings with it new organisational challenges for heading out of the house. Suddenly snacks are one more thing to remember and having containers on hand to pack (and store food in) can make life that little bit easier.
20 best snack containers for eating on the run
Here we've found 20 products that we think will be super handy for any mum and munchkin heading out and about.
1. Perfectly sized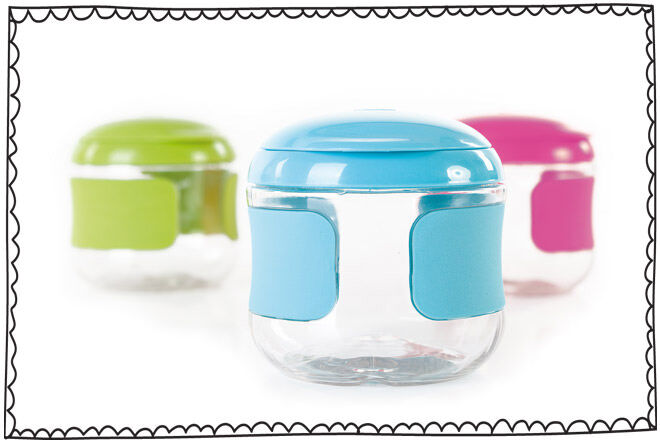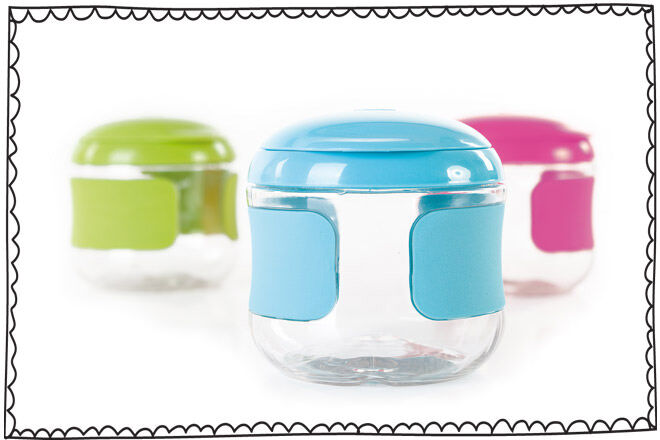 Making sure you always have a little something on hand is easy when you have a range of snack boxes. These Oxo Tot snack cups ($19.95) have large openings perfect for peckish little hands to access.
2. Stacking snacking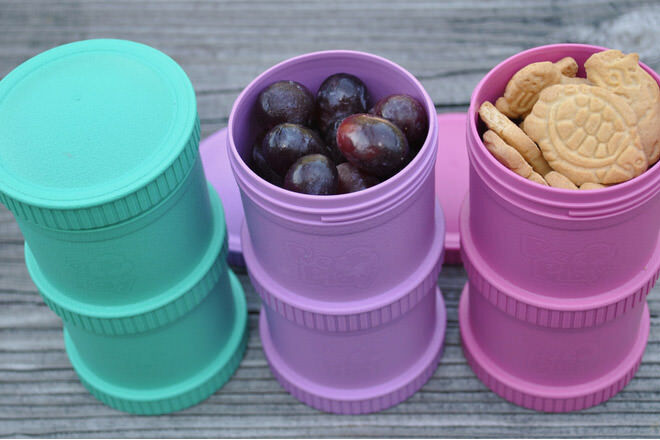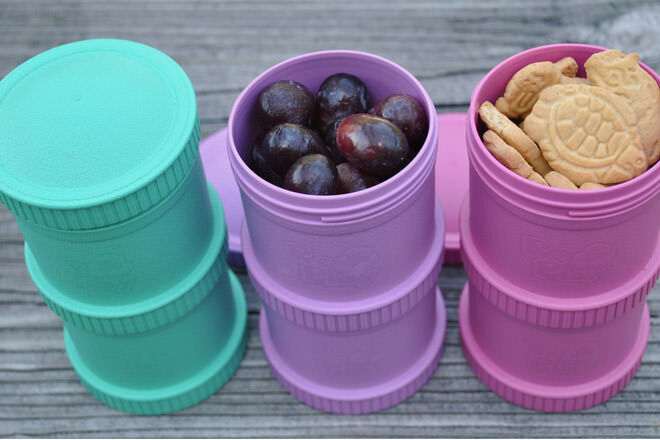 Stack those snacks! The Re-Play Snack Stacks can be screwed together to create a snacking smorgasbord that stays nice and tidy in your bag. And they are just so darn pretty!
3. Save on spills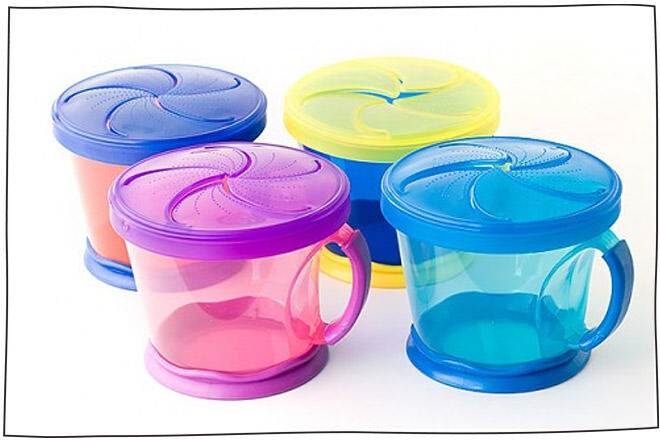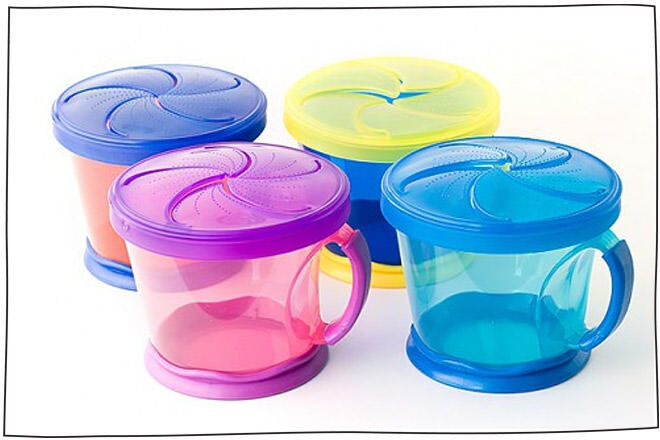 This one is a real snack saver. The Munchee Mug's super smart lid lets baby access their snacks but then pops right back into place. No more scooping up spilt snacks from the floor!
4. Dunk and dip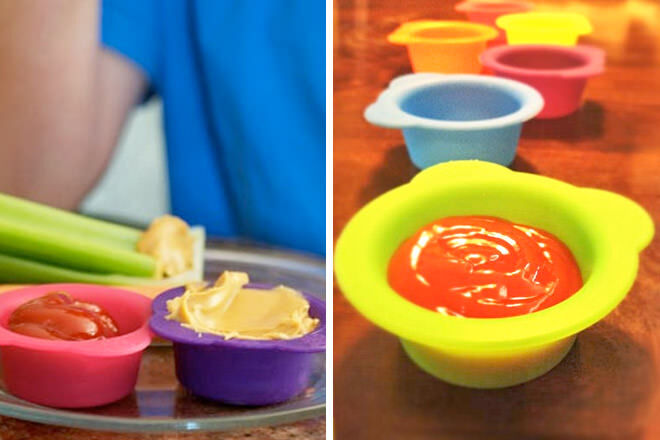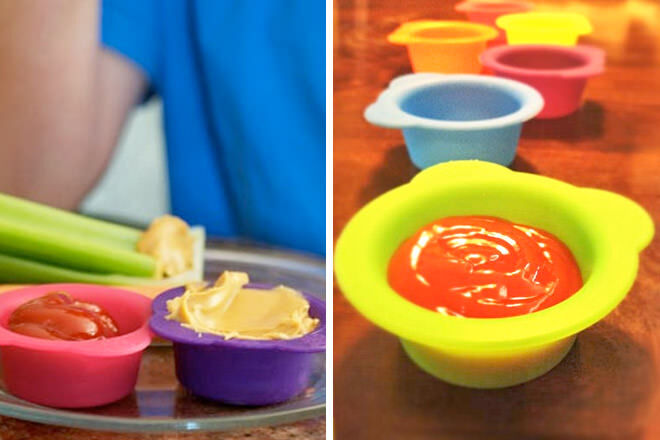 Sharing is caring! These Dippy Cups are perfect for sharing out snacks while out and about to encourage your little foodie to sample different things and share with her friends. (At home, they're great for filling up with dips for dunking those nutritious veggies!)
5. Keep cool lunch bag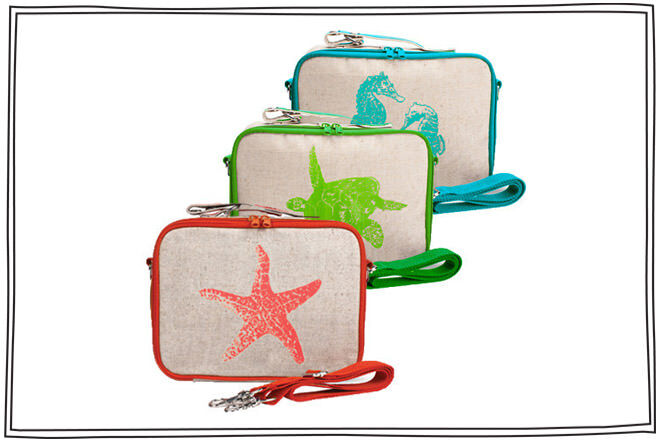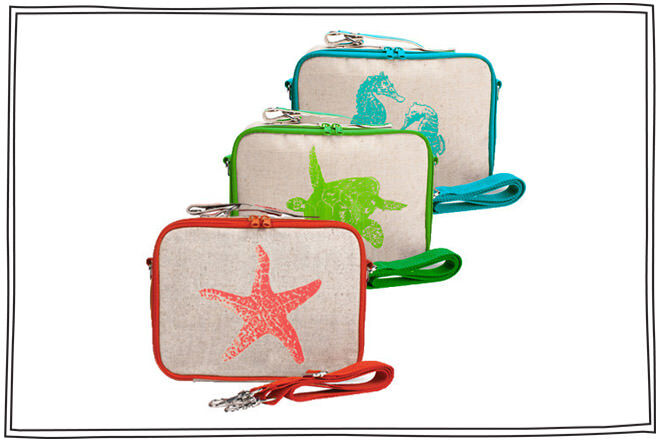 No one like warm, limp food! Keep food cool and fresh with an insulated lunch bag. We love So Young's summer range ($34.95) which comes in bright beachy prints.
6. Unbreakable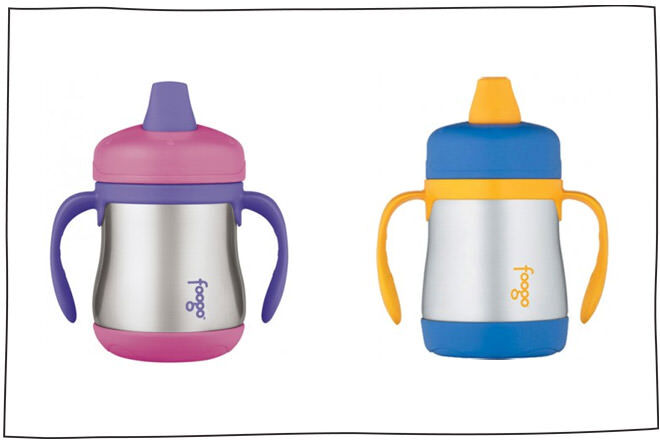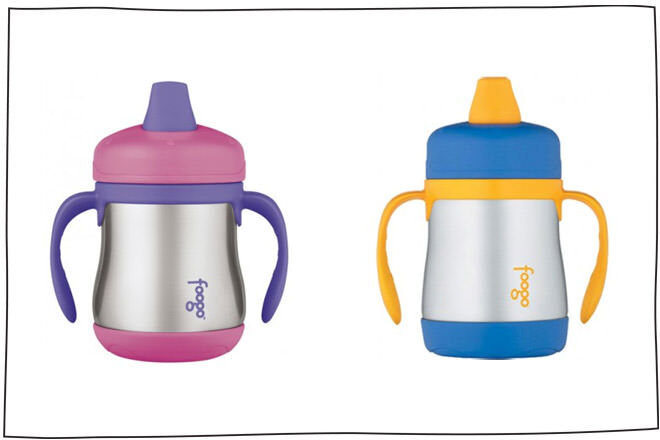 The Foogo sippy cup (from $24.95) will keep your tot's drink at the perfect temperature for six hours (it's made by Thermos after all). And it's unbreakable, perfect for when it gets piffed out of the pram!
7. Sip away!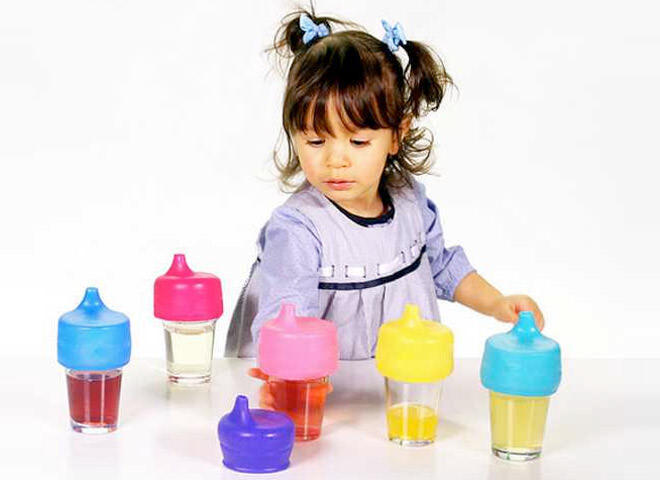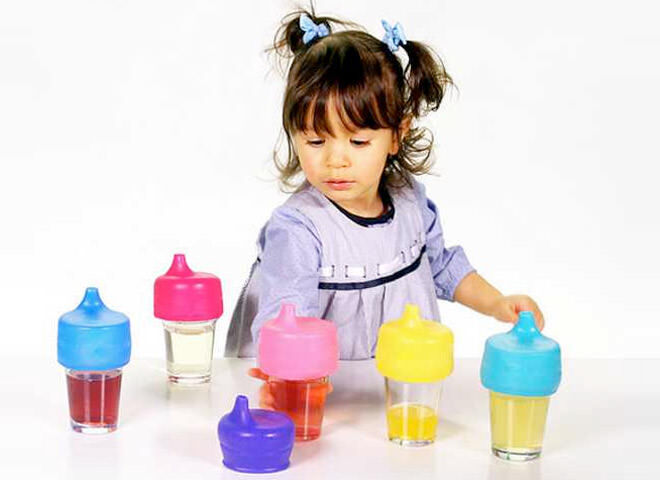 Pop one of these in your handbag and you'll always have a sippy cup on hand. The SipSnap fits over any cup and presto! turns it into a splatter proof drinking cup.
8. Green guzzling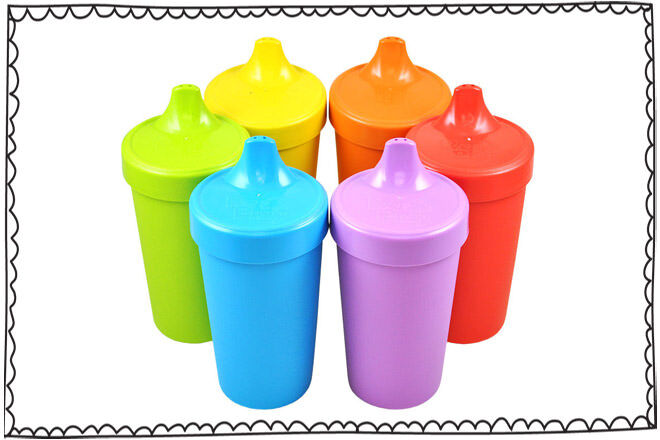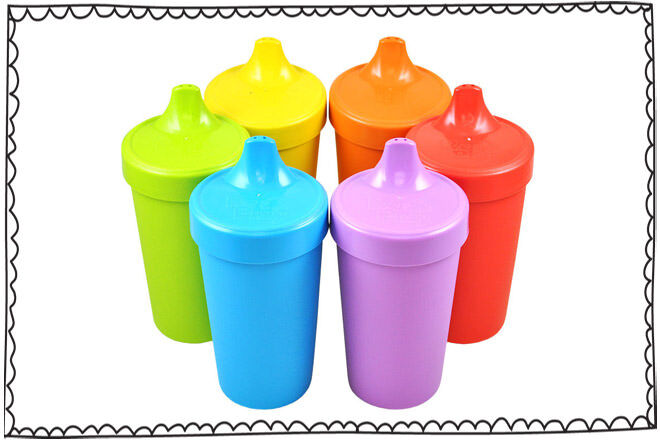 These pretty sippy cups have an easy to clean, leak-proof silicone valve – perfect for drinking on the run. Plus, they are made from recycled milk bottles so your green creds get a boost too!
19. Cool in the heat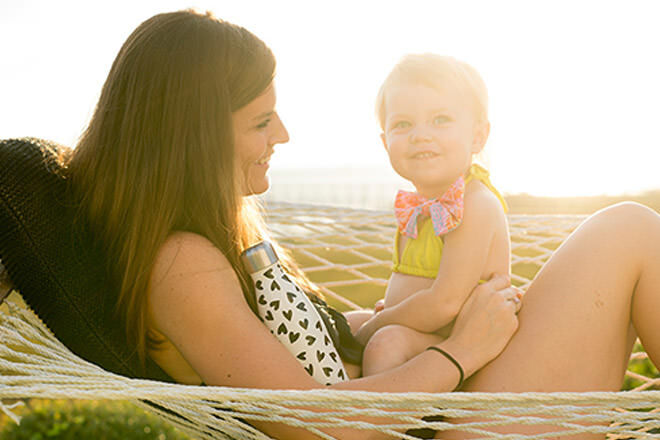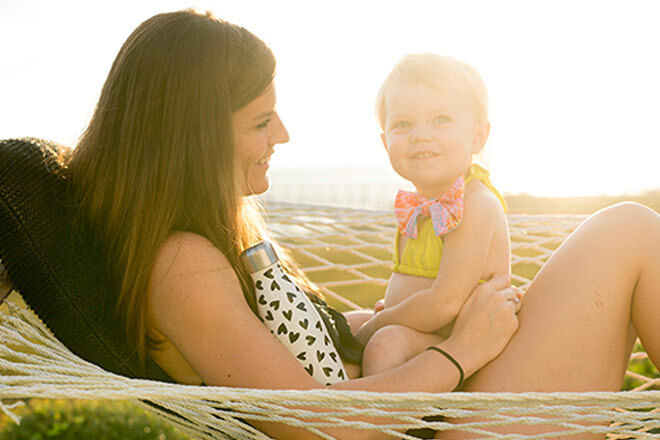 Cool water for bub on a summer day or a hot cup of tea for mum to take to the playground in winter? This S'well bottle (from $39.95) will do both! Drinks stay cold for 24 hours and hot for 12 without any condensation on the outside. Brilliant!
10. Fold that bib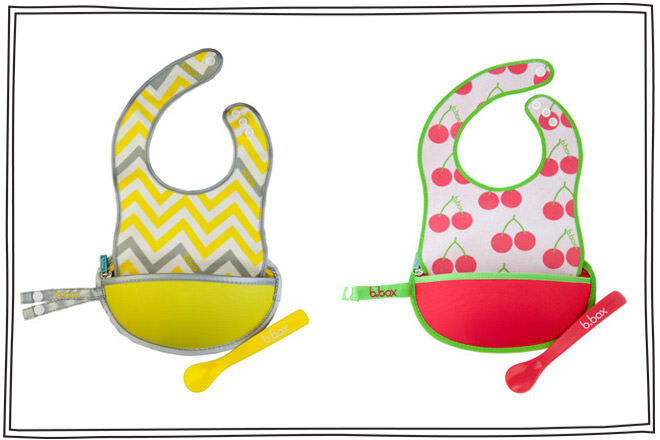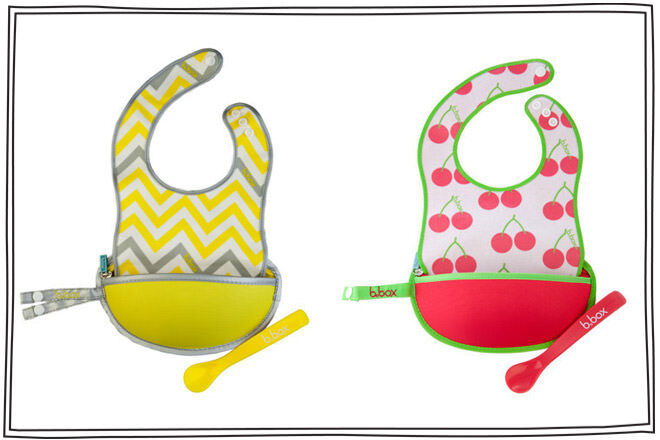 BBox's award winning bib ($17.95) makes cleaning up super simple – after lunch just pop the spoon in the pouch, fold in the bib and zip it up. Mess contained!
11. Portion perfection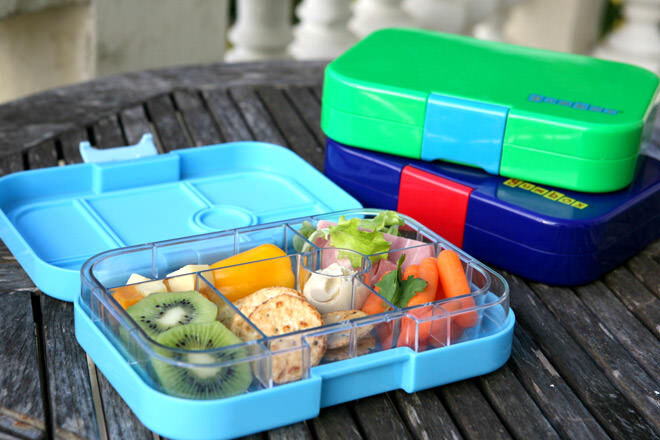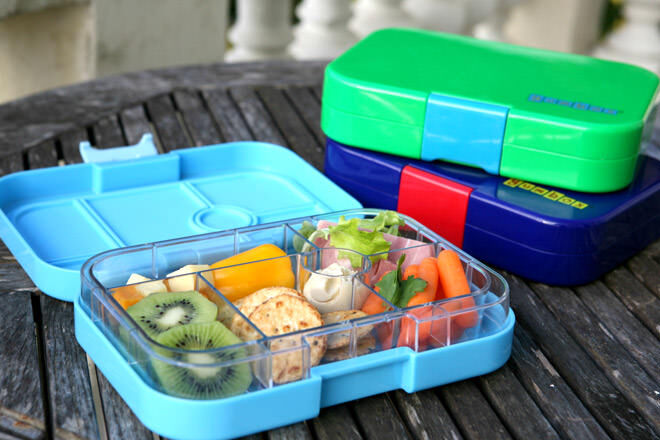 Yumbox's genius sectioned lunch boxes (from $28) make packing lunch foolproof. They are leak-proof and come with a portion guide. Hello healthy, mess-free lunches!
12. Just right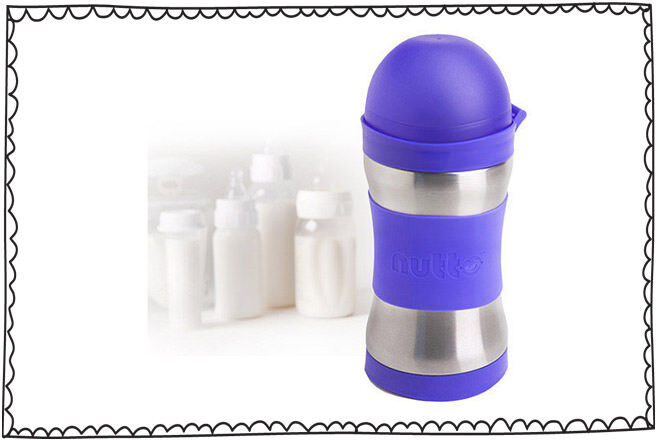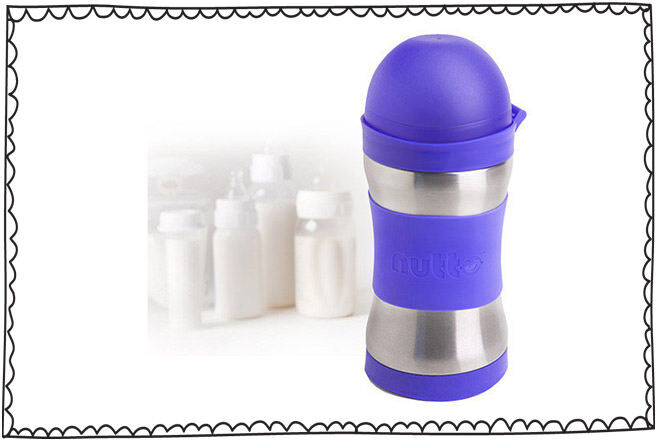 Ok, so this one is not strictly for snacking. But it is still very convenient! While bub is still loving his milk, use a Nutto milk warmer ($59.95) to heat his bottle while out and about.
 13. Freeze it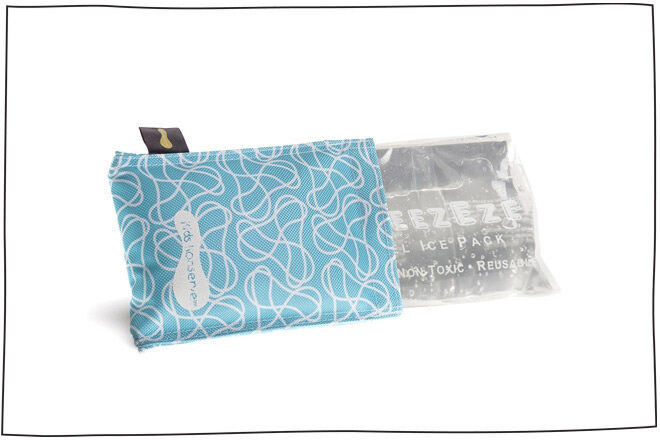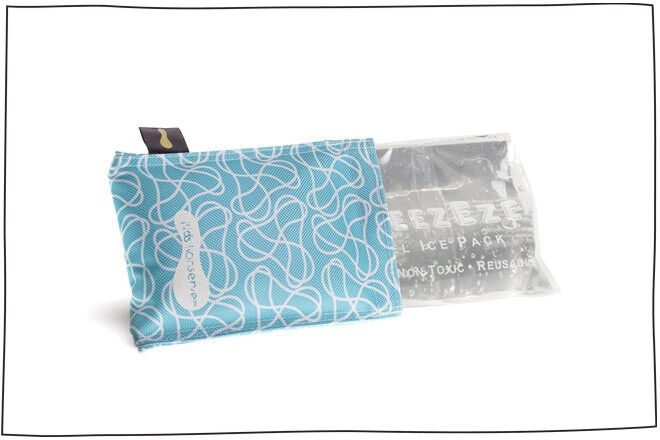 Don't you hate it when your food gets soggy from condensation? Not with these sweat free ice pack covers from U Konserve! ($13)
14. Wet / dry bag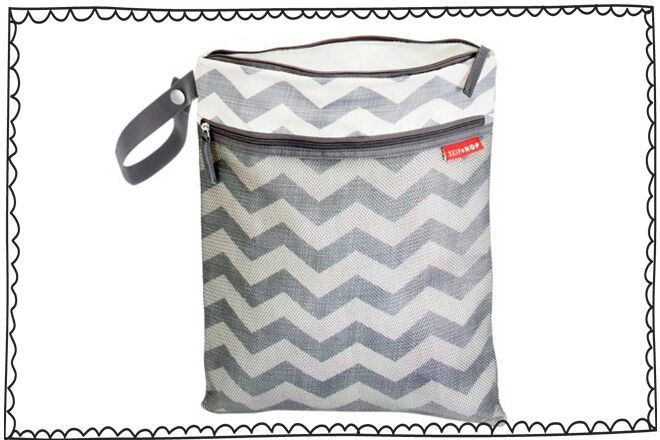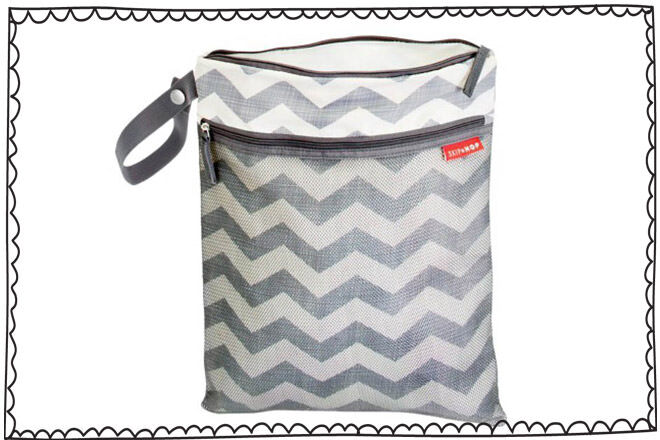 So, sometimes the mess does get out of hand. And that's where this little bag from Skip Hop ($23.95) comes in – throw soiled clothes and bibs in the wet section of the bag and worry about them later!
15. Refillable pouches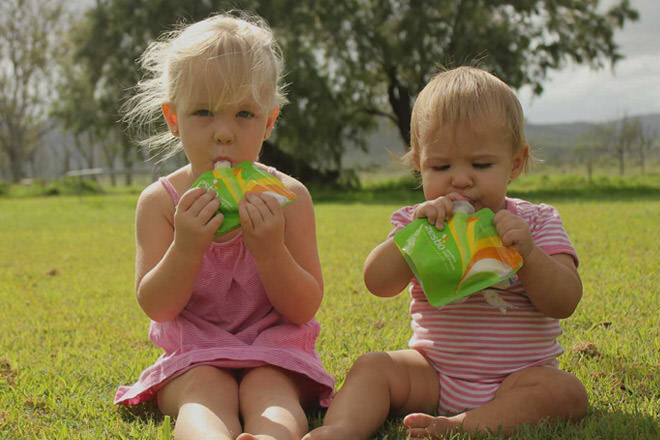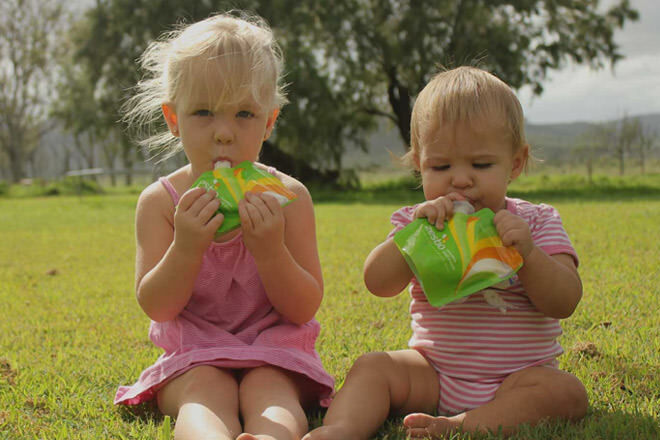 These pouches will be your best snacking friend! Perfect for yoghurt, smoothies or purees when out and about. Choose a pouch that is easy to fill and wash, like these from Zestio (from $12), and you won't look back!
16. Squirt and serve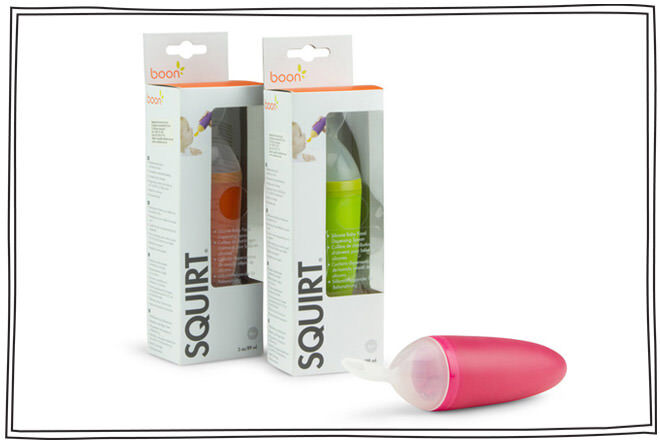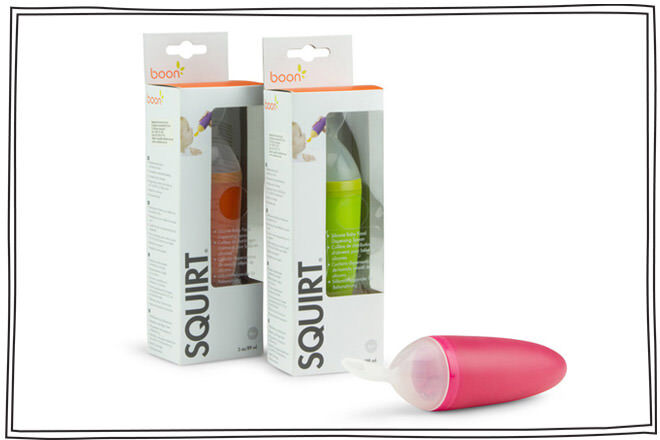 Perhaps the ultimate feeding gadget! In the early days of purees and super soft food, pre-load this Boon squirt spoon ($14.95) before you head out the door and then with one easy squeeze you can be feeding baby in a jiffy.
17. Travel high chair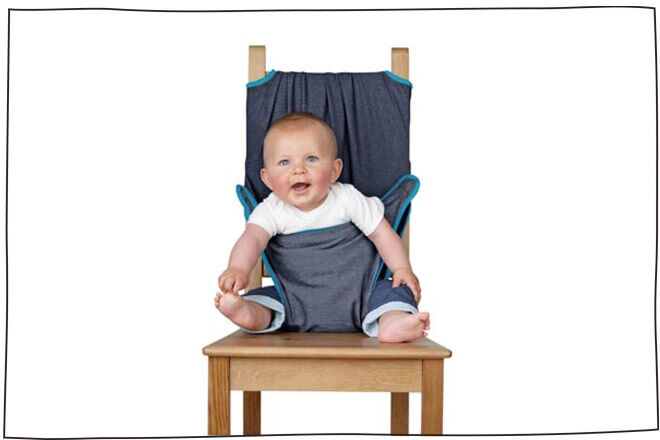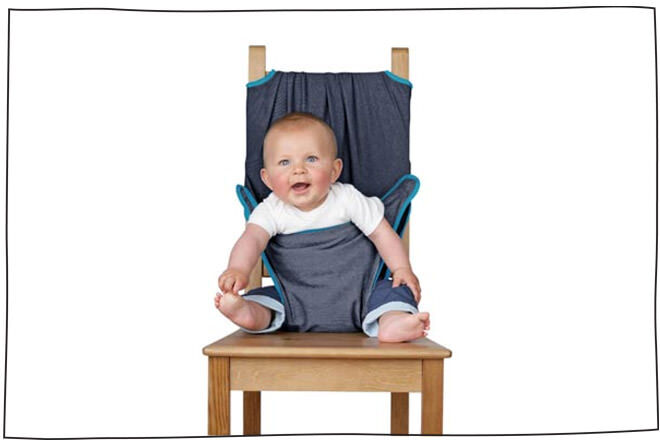 Eating out and not a high chair in sight? Pop bub in this portable fabric high chair by Tot Seat ($49.95). She will love sitting up to the table with you!
18. Supermarket sweep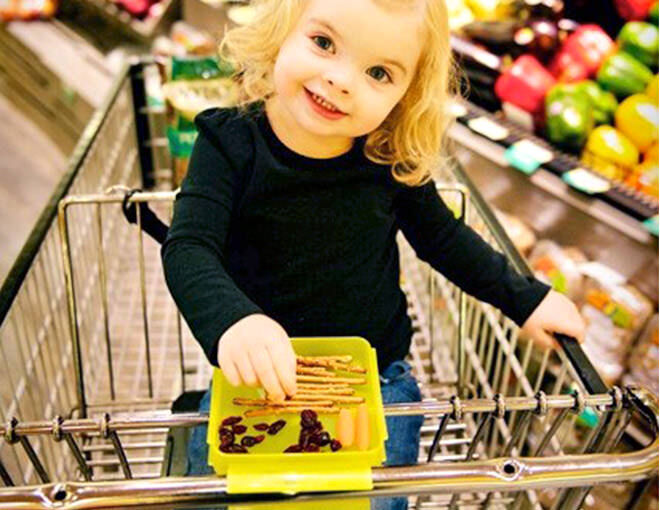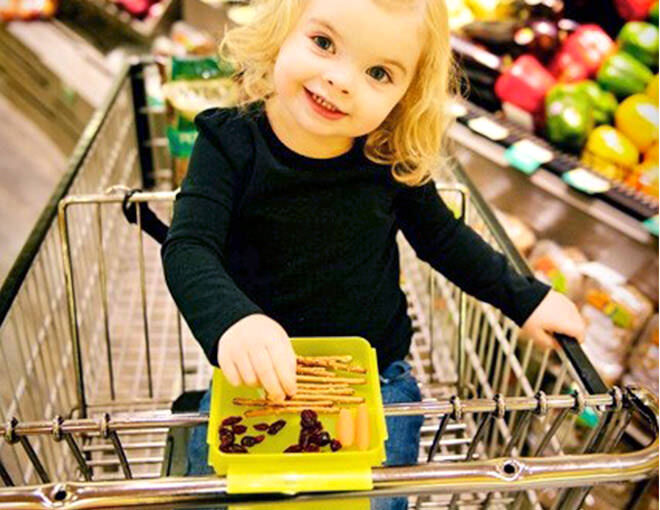 Tucker time, trolley style! The OnTray snack tray snaps onto your shopping trolley and gives your little person easy access to their snacks as you get the shopping done (in peace!)
19. Cute container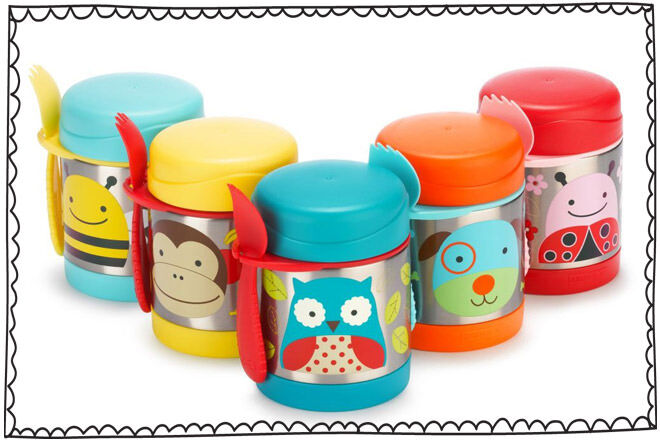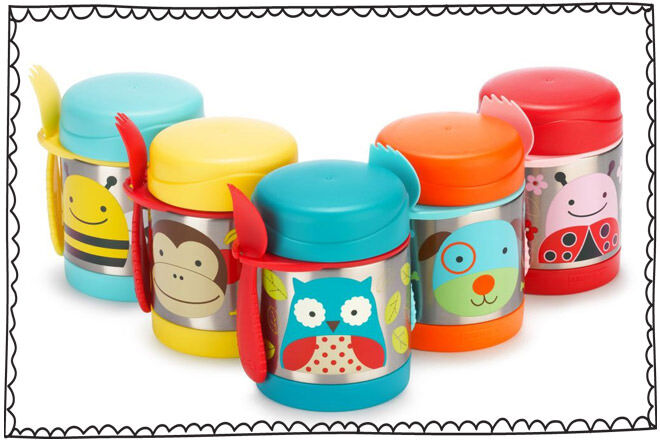 The folk at Skip Hop know how to make things look super cute and this food jar ($29.95) is no exception. It will keep food hot or cold and comes with its own spork (fork + spoon)!
20. Pram pod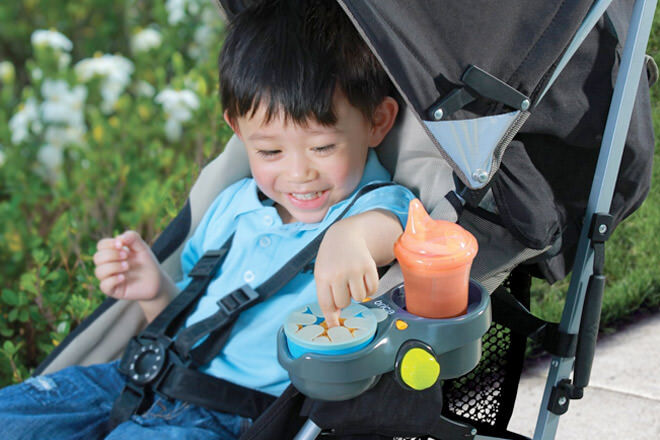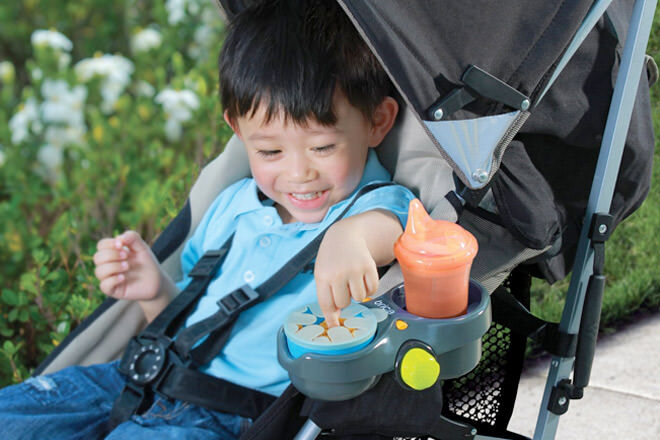 Sometimes accessibility is everything and the Brica snack pod ($14.95) makes sure that baby can always reach for a snack or a sip of water while sitting in her pram. A lifesaver when you're out running errands!