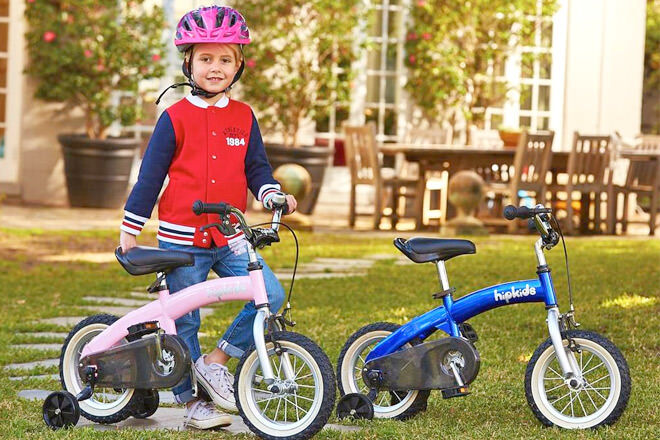 So they've finally mastered balance, steering and pedalling (which is not easy for those tiny little legs) and now it's time for their first big bike! When looking for a bike, think lightweight, easy to pedal and smooth steering.
The heavier the bike the harder it is for kids to get moving.
To give you a helping hand we've put together a round up of bikes that will have your child ripping up the track and ditching the training wheels in no time.
READ MORE:
• Zoomster: 10 rad scooters for first time riders
• 21 balance bikes to teach kids how to ride
• Sweet ride: 19 ride-ons for cool cruising fun
Made just for kids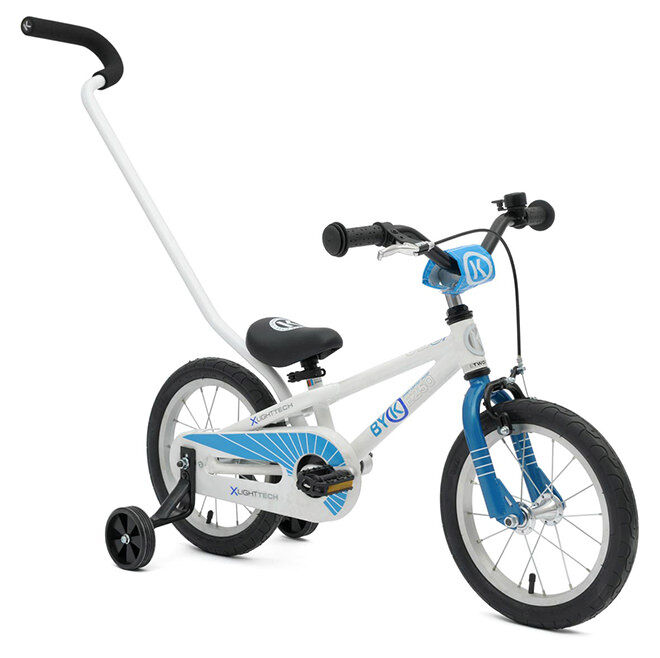 BYK E-250 Kids Bicycle ($209): Made just for kids the lightweight frame of the BYK makes this the perfect first kids bike. The tyres are designed to give a smoother ride and move faster (to take any strain off little legs). Training wheels and a nifty parent handle are included for those who might be a bit wobbly to start off. Suitable for children 85-102cm tall.
Cruising vintage style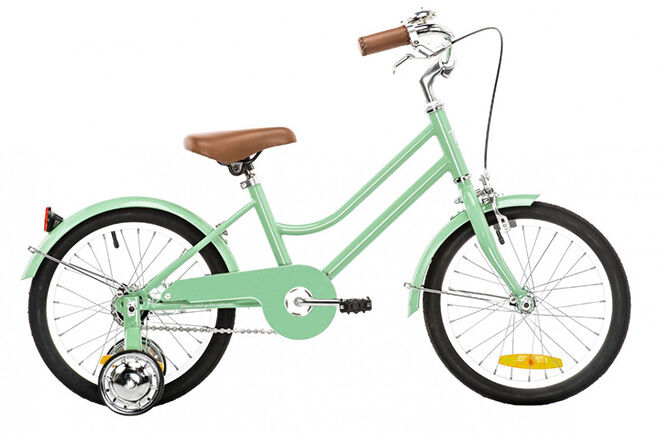 Girls Classic Vintage 16inch bike ($149.99): This vintage classic is great if you're looking for something a little bigger and with tonnes of style. The mint frame (or navy for boys) is downright gorgeous while the frame is designed for an easy ride. Suitable for children 86cm-114cm tall.
Wild thang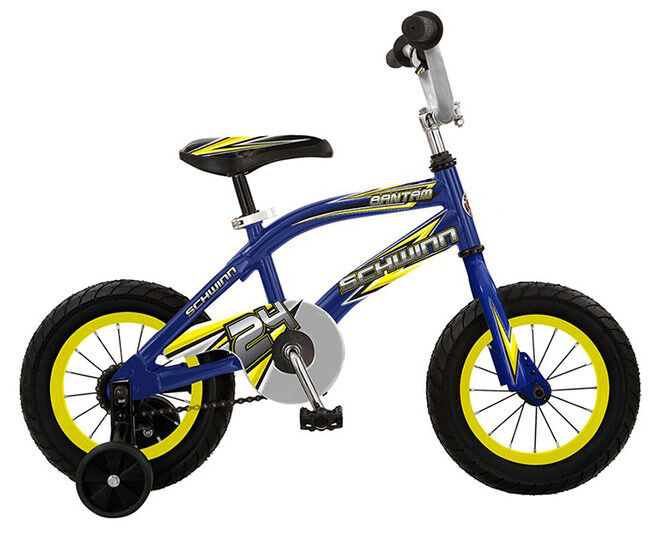 Schwinn 12inch BMX Bike Blue ($129): Your child will love taking corners and cruising the streets with this 12 inch BMX bike. Available in blue and purple, the Schwinn has a 1-piece crank making pedalling a breeze. Suitable for children from 3 years old.
Pink, pink and more pink!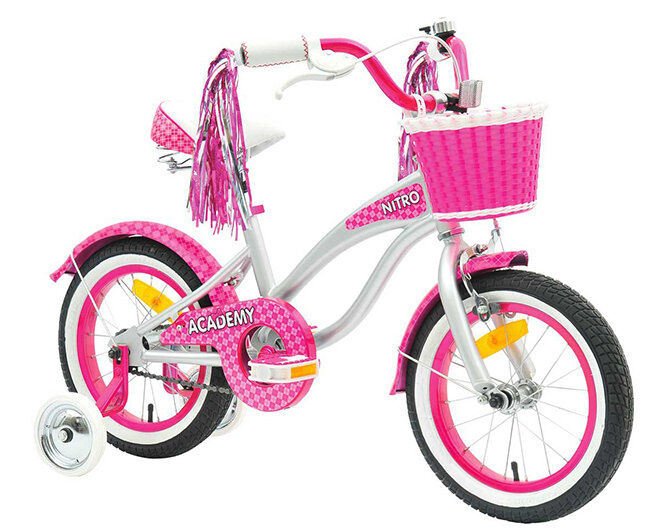 Nitro Academy Girl's Cruiser Bike ($99): If your little princess is all about everything pink then this bike won't disappoint. It has an easy to ride frame and handy mudguards to keep your princess perfect no matter where she rides. Also available in green if pink isn't your thing. Suitable for children 94cm – 110cm.
From balance bike to pedal bike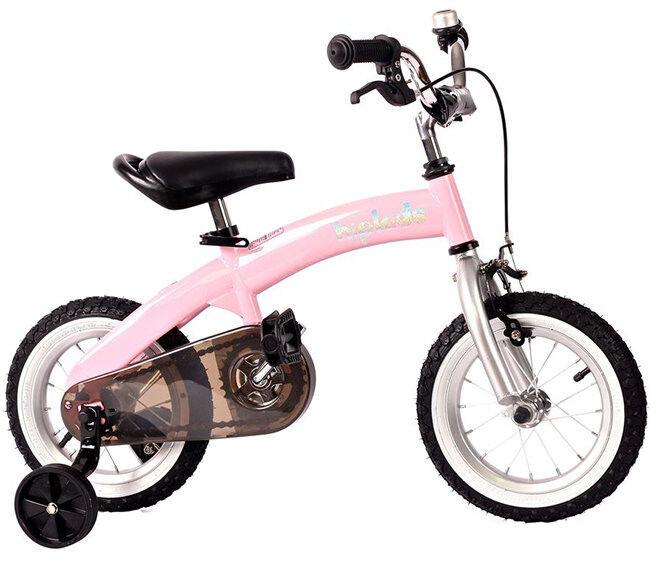 Hip Kids 2-in-1 steel Balance Bike ($139.95): If you're a little concerned that babe can't handle the pedals yet – this is the bike for you. Starting off as a balance bike you can simply add pedals and training wheels when you think the tykes are ready. Available in four different colours and with its own little bell *ting ting* the kids love it. Suitable for children from 3 to 6 years old.
ROOOAAAAR here comes the dinosaur!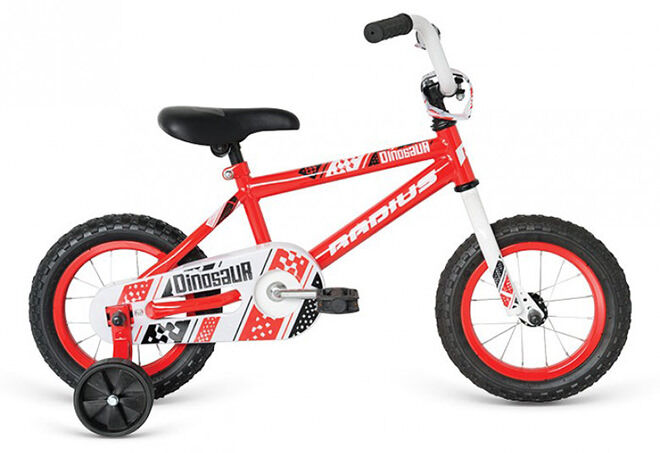 Radius Dinosaur 12inch Bike ($153): The bright red hi-ten steel frame and slick tyres will have your child roaring with excitement! The Dinosaur features a simple back pedal break so kiddos can stop for feeding time and take a breather. Suitable for children 89 to 102cms.
Take dolly for a ride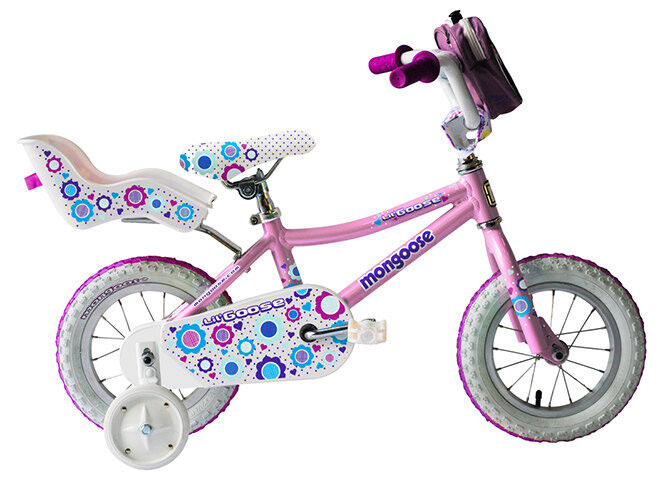 Mongoose LilGoose 12inch Bike ($173): Little ladies will love cruising with dolly in the back and her drink bottle in front! This cute little bike comes with all the must-have accessories and a 70's inspired flower design to boot. Suitable for children 89 to 102 cm.
Green means GO!

XDS X-Lite 16inch Boys Bike ($269): Made with an alloy frame this bike is an easy ride for first timers. Available in purple and green, the X-Lite features free training wheels to use until your child is confident enough to go it alone. Suitable for 4-6 years old.
Star riding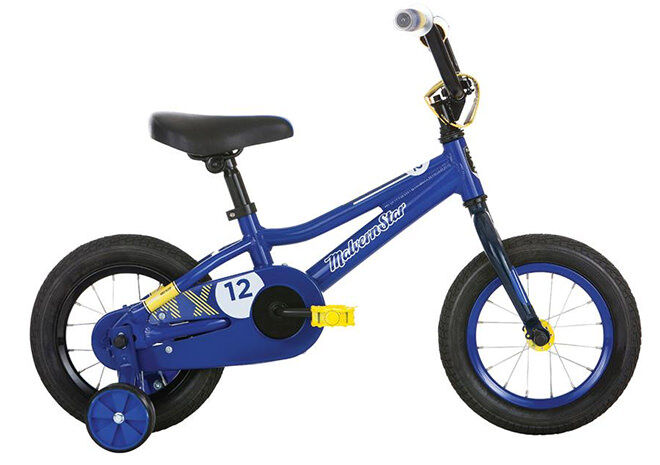 Malvern Star MX12 Boys Bike ($184): When your child is starting out on a bike there are so many things to learn – balance, steering, caution. All while concentrating on their pedalling. The Malvern Star is set at a low gear to make pedalling easier and the seat is fully adjustable so rascals are at the right height to RACE! Suitable for children aged 2-4 years old.
Australian design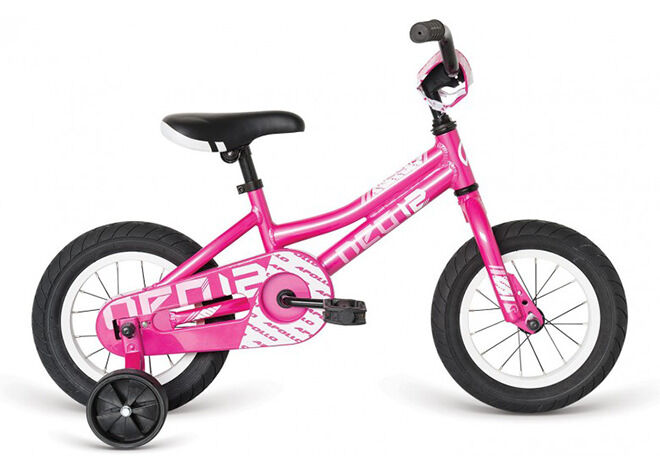 Apollo Neo 12inch ($252): Designed in Australia this bike is made just for Aussie kids. A BMX style bike with lightweight alloy frame means it won't take long for them to zoom off leaving you in the dust. Suitable for children 78-94cm tall.
Take a flight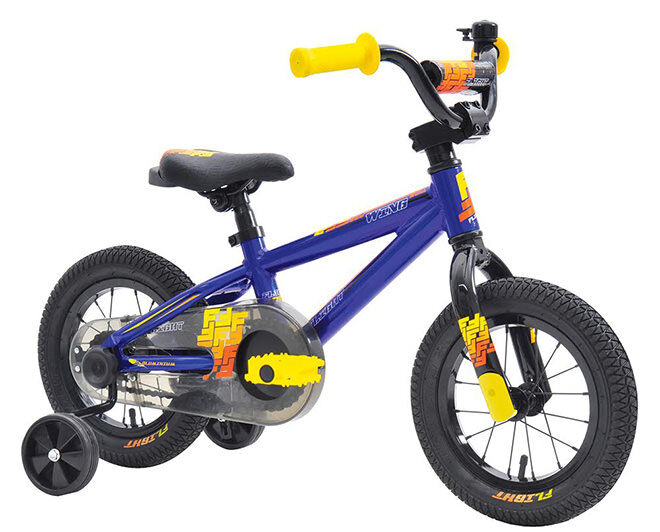 Flight F30 Wing Boy's Bike ($149): The alloy frame on the Flight F30 is not only light but keeps the bike safe from rust. The tyres have an easy tread to make the ride smoother for your little one as well as a parent handle at the back for when they first start to ride. Suitable for children from 2 years old.
READ MORE:
• Zoomster: 10 rad scooters for first time riders
• 21 balance bikes to teach kids how to ride
• Sweet ride: 19 ride-ons for cool cruising fun