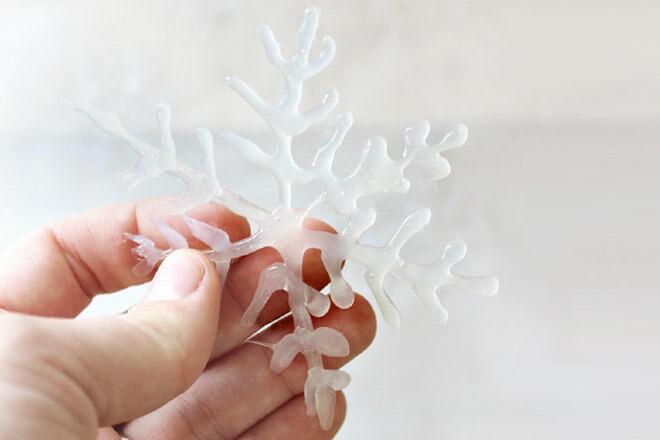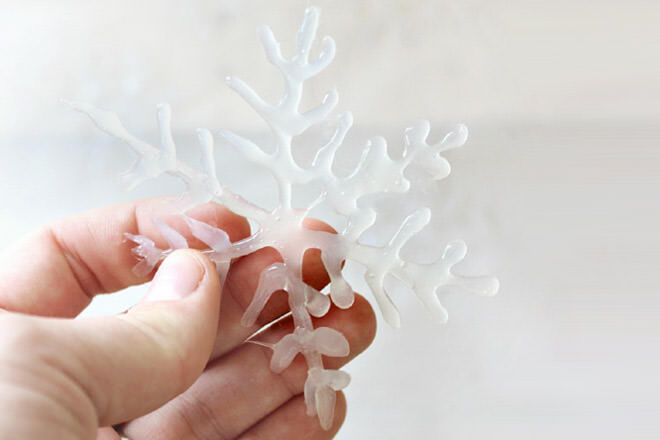 Here in the land down under it doesn't snow at Christmas time. So to have snowflakes like our northern hemisphere counterparts we have to make them ourselves. We've put our heads together to find 20 cool snowflake crafts without the need for sub-zero temperatures!
Here are 20 ways to make your own snowflakes this Christmas.
Simple paper snowflakes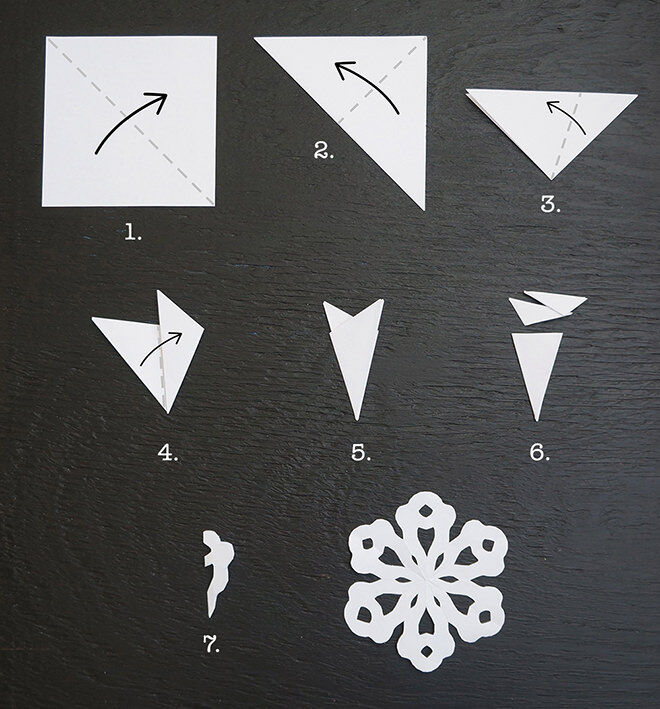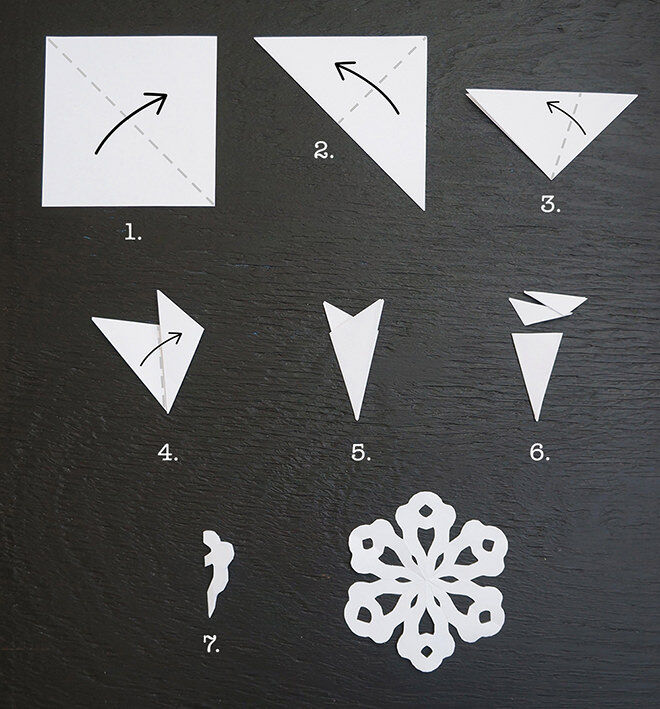 Nothing says Christmas fun like cutting paper snowflakes. The trick is to get the triangle folded just right so that when you cut it you get the perfect festive snowflake. (via Craftiments)
Everything is better in 3D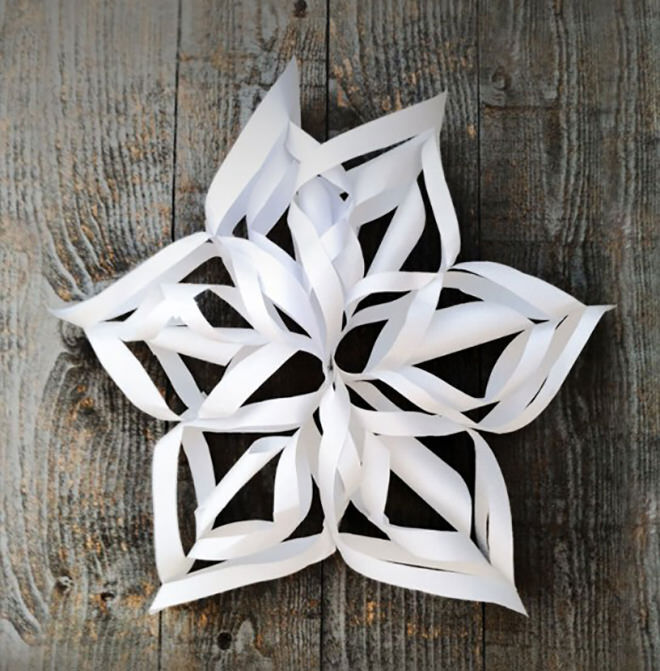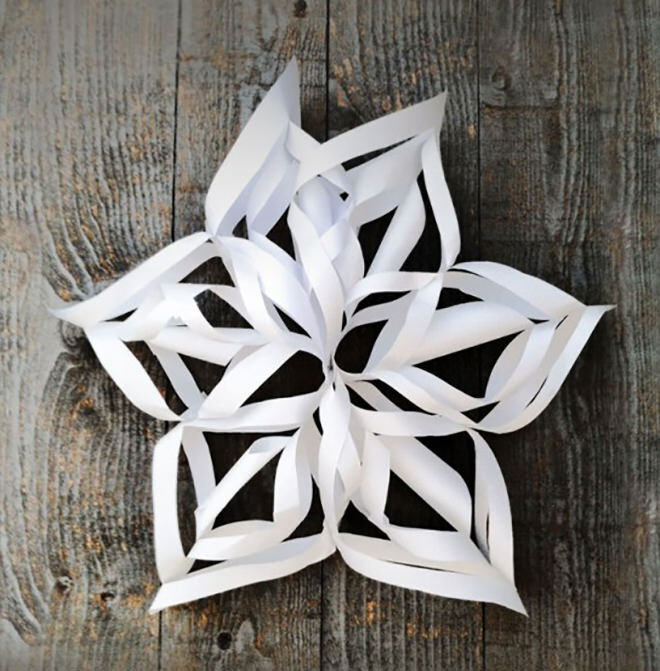 This 3D paper star may look impressive but it's very easy to do! So easy in fact the kids could do it themselves. Winner! (via Lasso the Moon)
Yummy snowflakes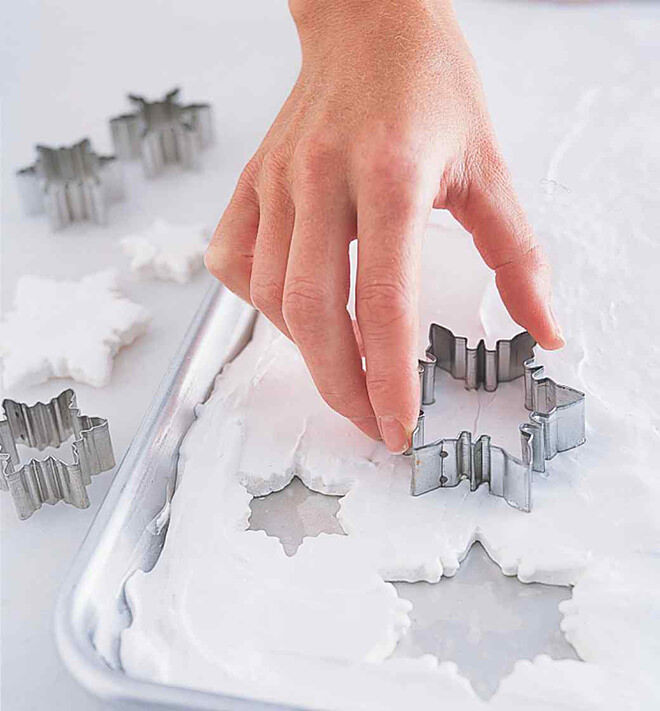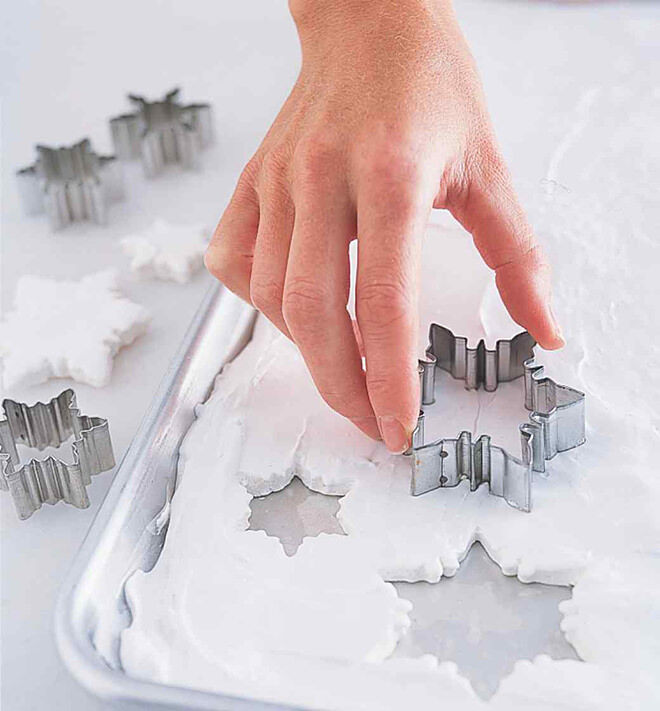 Prefer your snowflakes a little tasty? Homemade marshmallows make the perfect Christmas treat. (via Martha Stewart)
Mini stars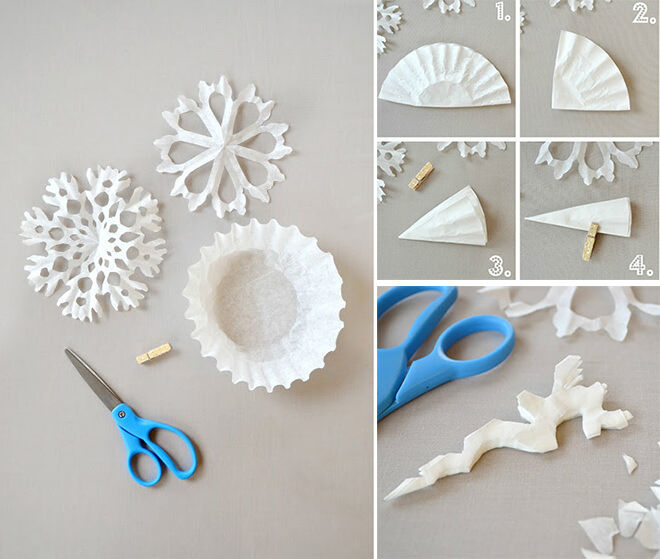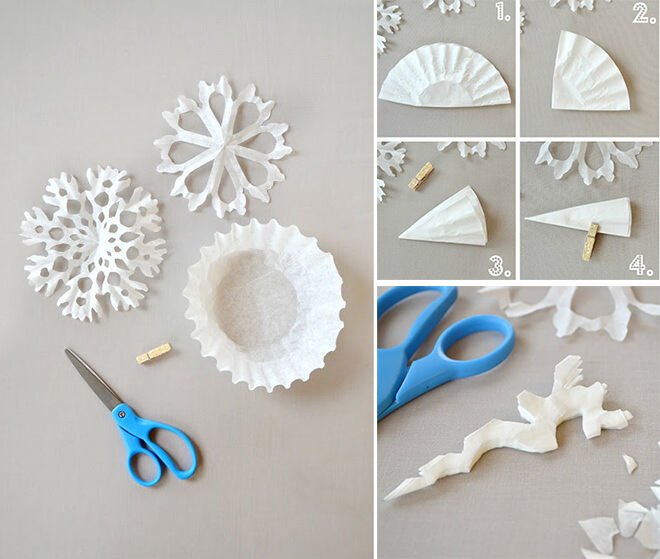 To create cute mini snowflakes use cupcake wrappers instead of plain paper. You'll get an added 'scrunch' effect too! (via The Pink Couch)
Peg it up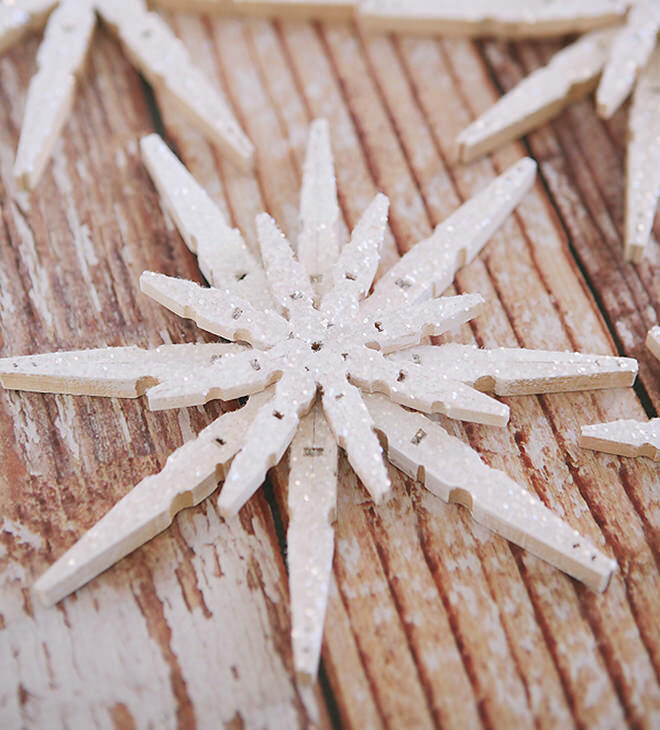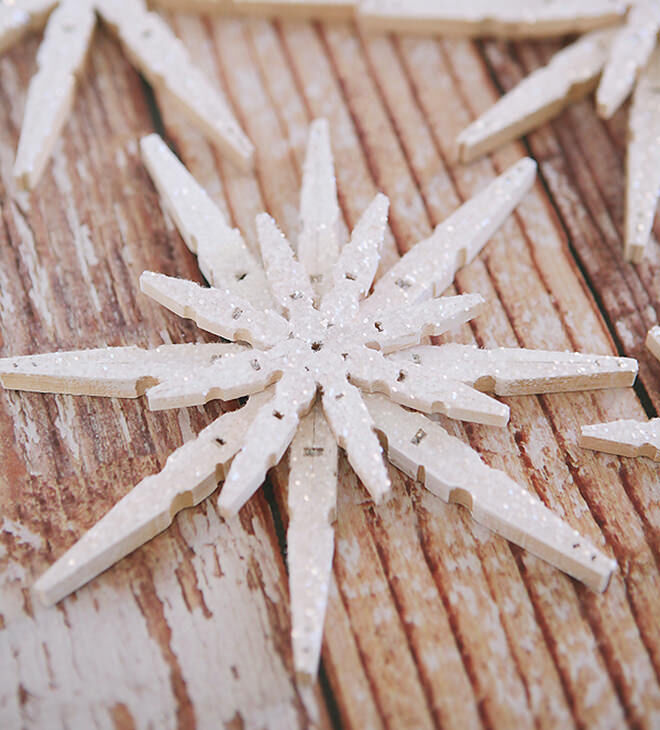 Split wooden pegs and sprinkle with some glitter. They cost next to nothing to make and look beautiful when catching that early morning sunlight. (via Eighteen25)
Six sides of beauty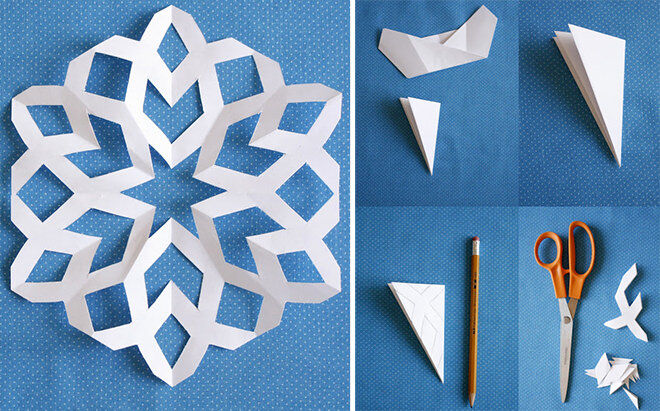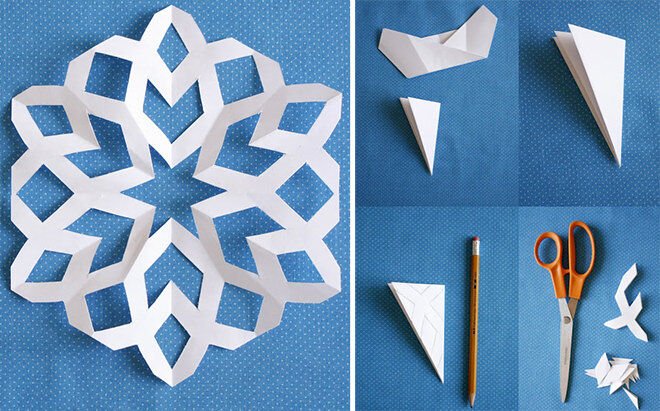 Here's a six-sided snowflake for you to master. With a snip here and a little snip there you'll have a beautiful snowflake to add to the outside of your gifts! (via Delia Creates)
Sticky snowflake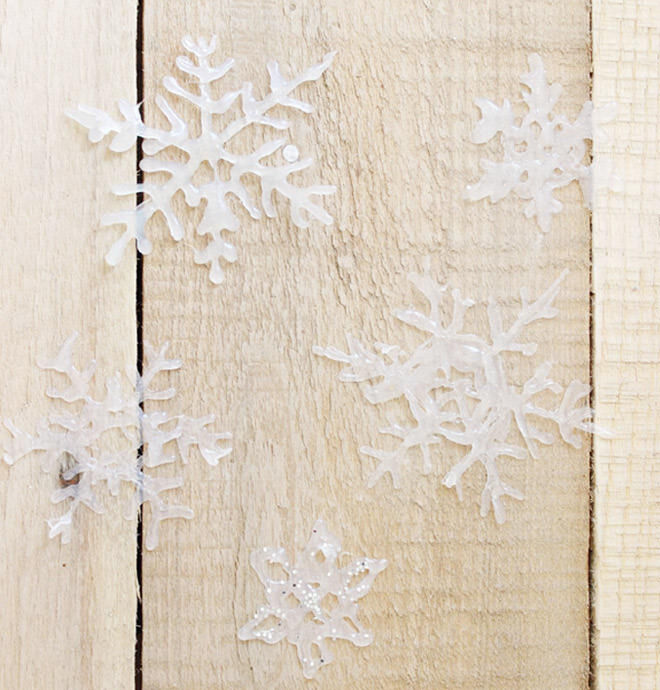 Use a hot glue gun to 'draw' snowflakes onto a sheet of baking paper. You'll end up with see-through snowflakes that are super sticky. Perfect for windows! (via We Lived Happily Ever After)
String it up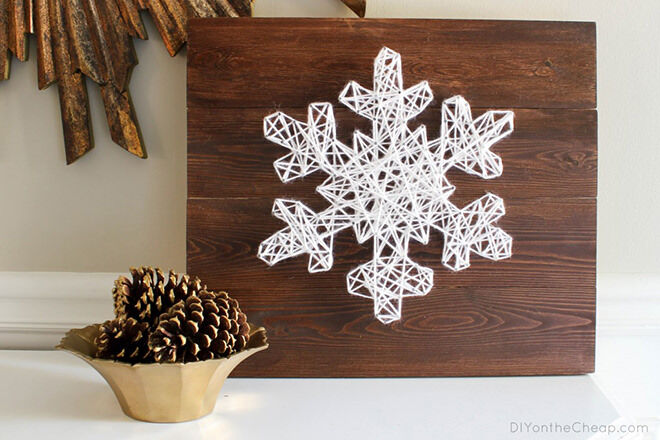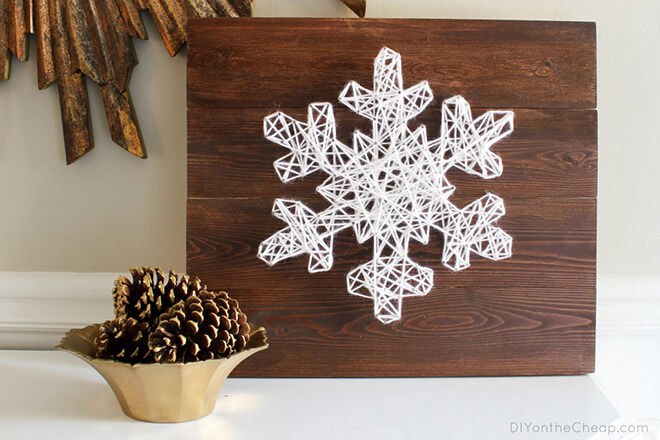 String craft is a simple idea that can look seriously stunning. Hammer nails into a board, then thread and wrap the string to create this beautiful snowflake. (via DIY on the Cheap)
A runner of snowflakes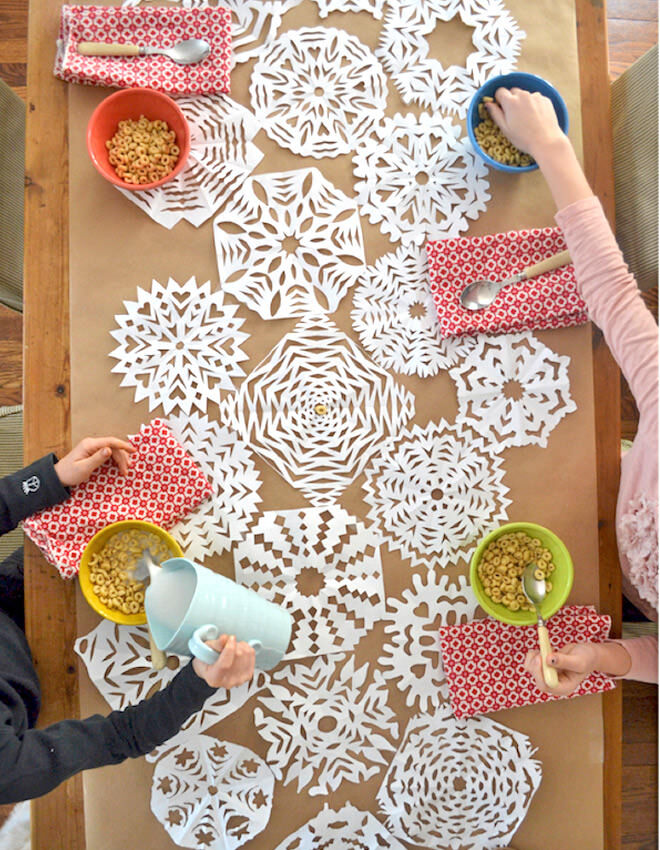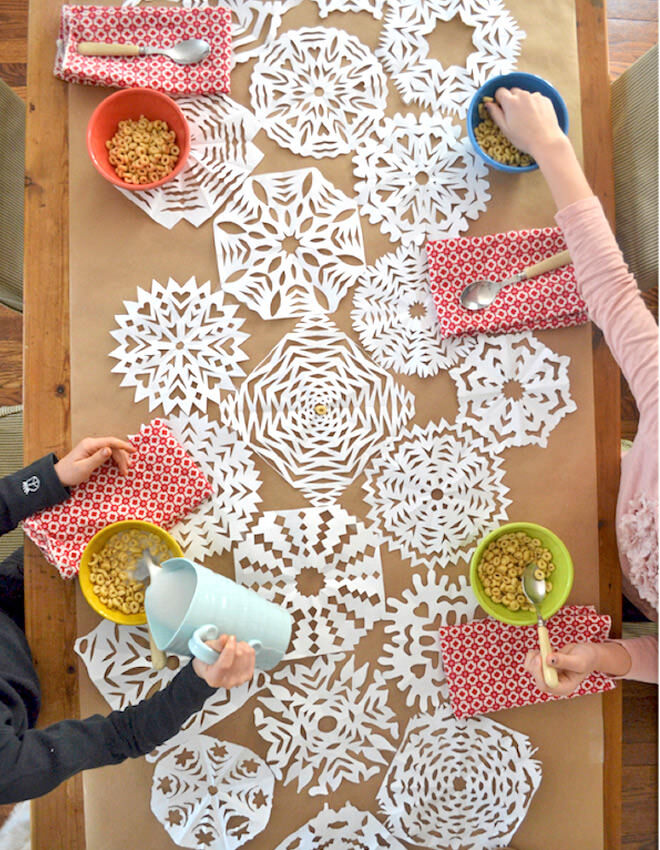 Consider yourself a paper snowflake pro? Put them all together! Using tape or glue simply stick your masterpieces onto brown paper and you'll a runner ready for your Christmas table. Brilliant! (via You are my Fav)
Turn on the lights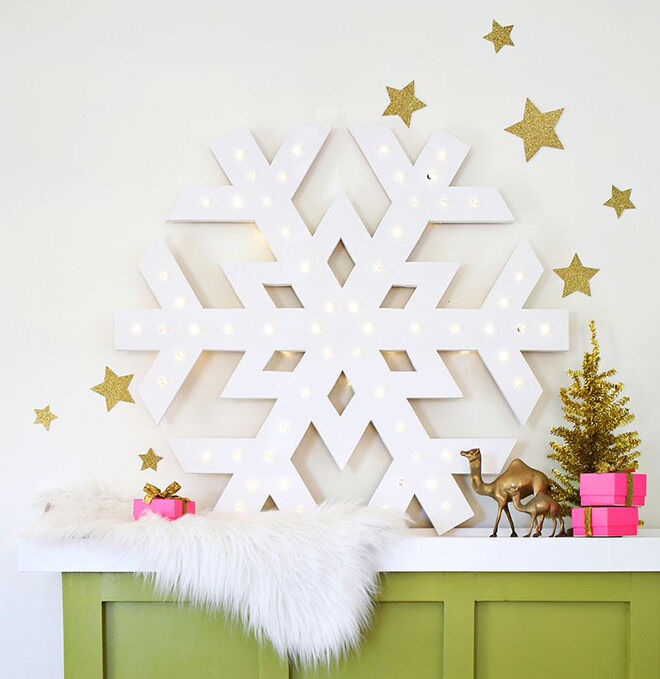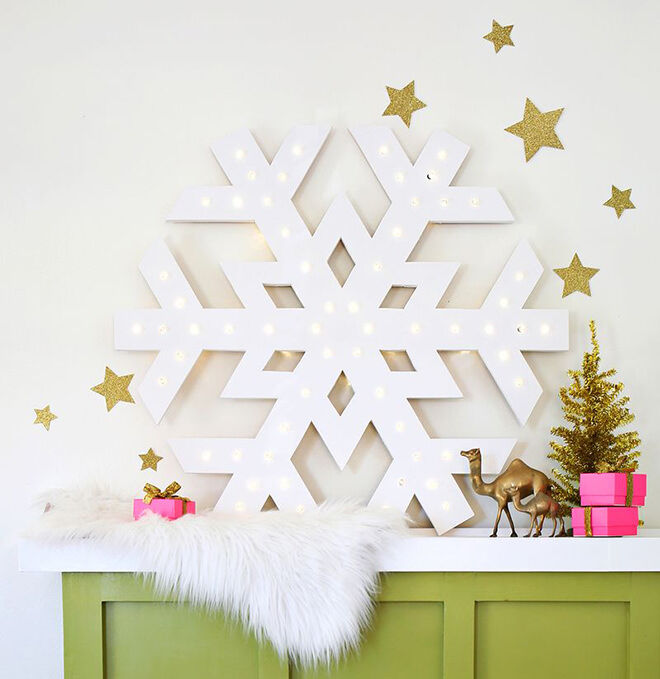 This is one seriously big snowflake! Made using plywood with lots of holes for beautiful fairy lights – If you're handy with a jigsaw it's a MUST this Christmas. (via A Beautiful Mess)
Paddle Pop craft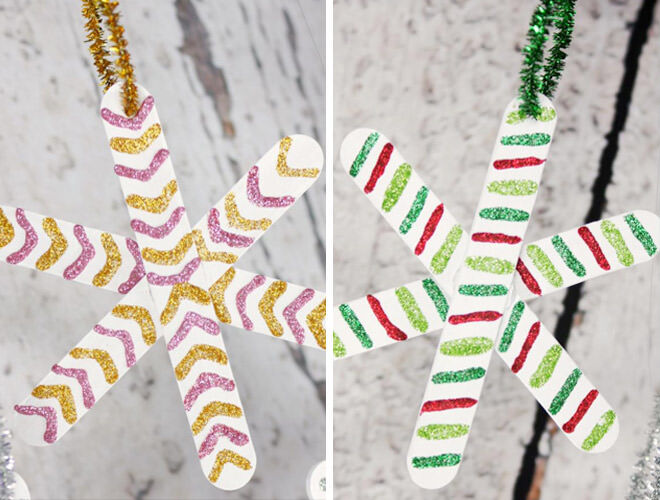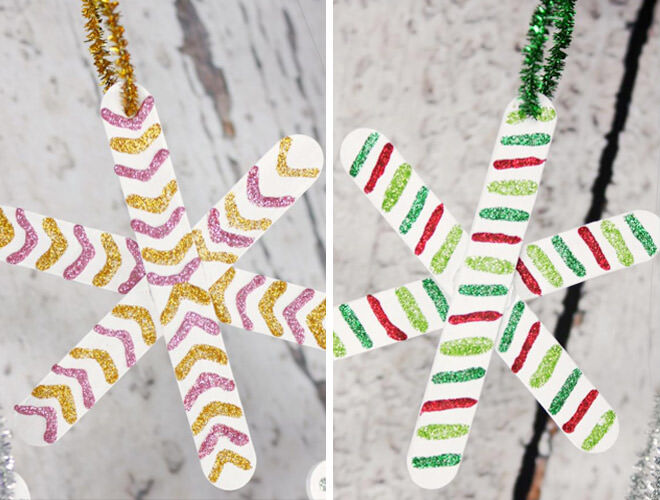 For a crafty tree ornament the kids can help you with, try this easy peasy paddle pop stick craft. (via Not So Idle Hands)
Pop open the can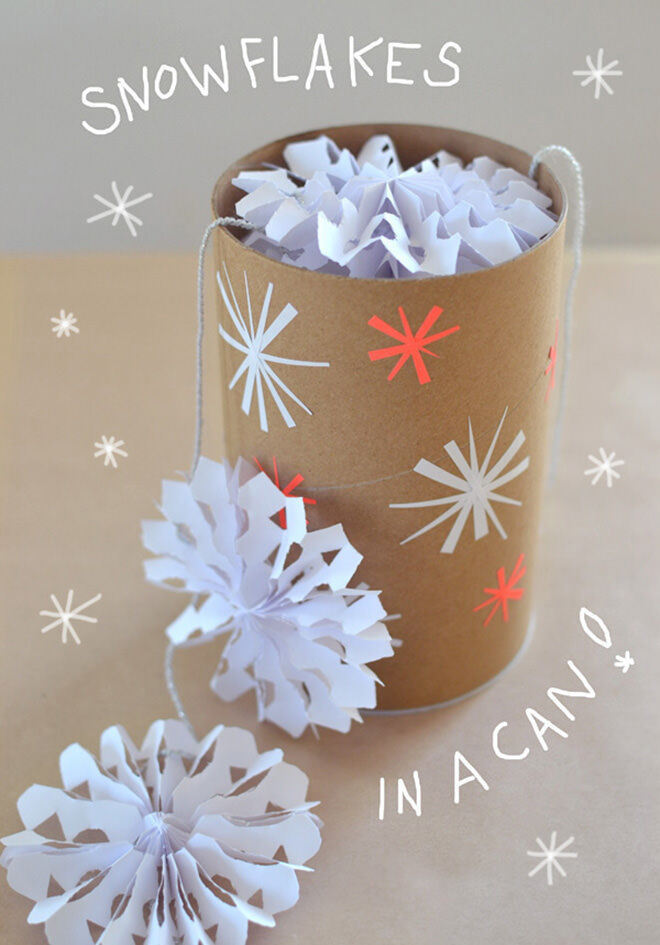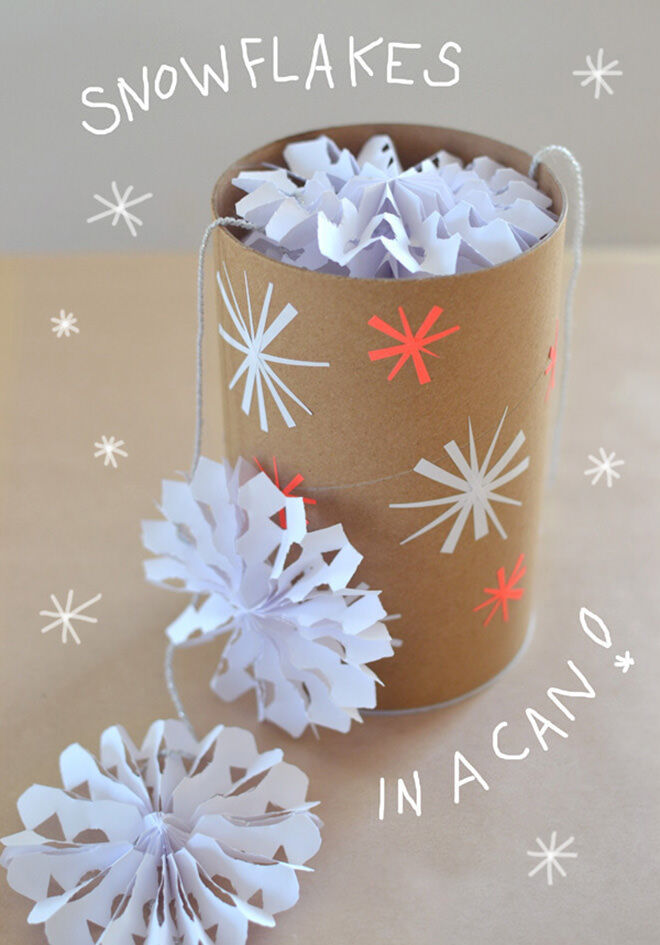 For a fun homemade gift why not make snowflakes in a can? Once you pull them out they make a cute garland! (via Art Bar)
Snip, snip, snow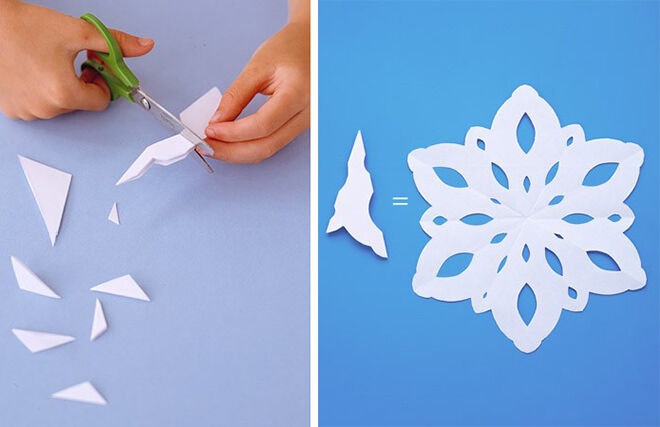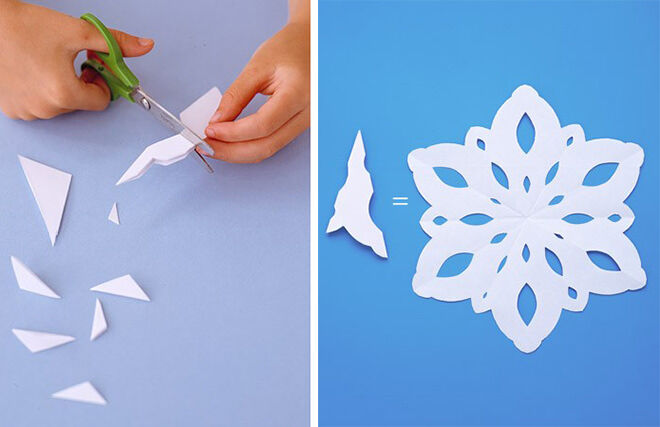 This is how The Queen of Craft Martha Stewart makes her paper snowflakes. And we trust her completely. (via Martha Stewart)
Snowflake Wreath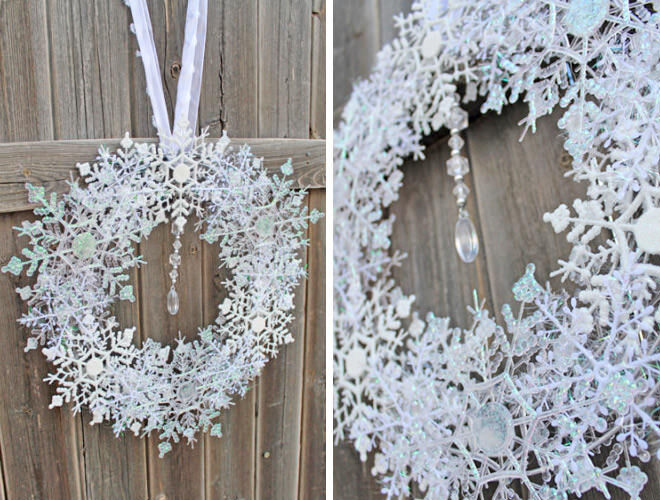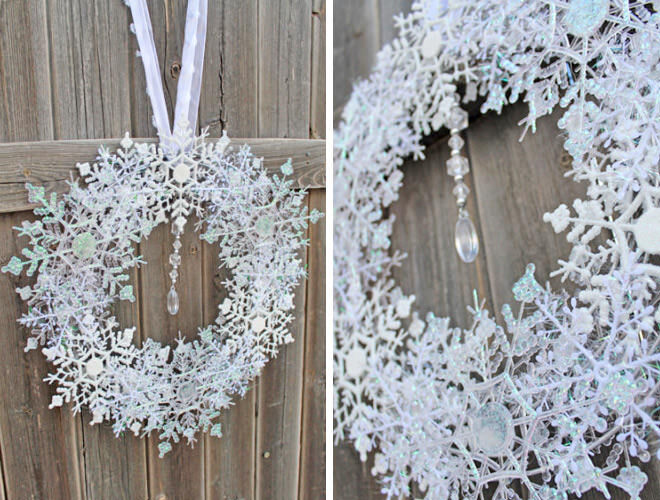 The snowflakes will be falling at your front door this Christmas. Get your hands on a pack of plastic snowflakes and simply layer them onto a wreath. (via Laura's Crafty Life)
Twinkle Twinkle Christmas Lights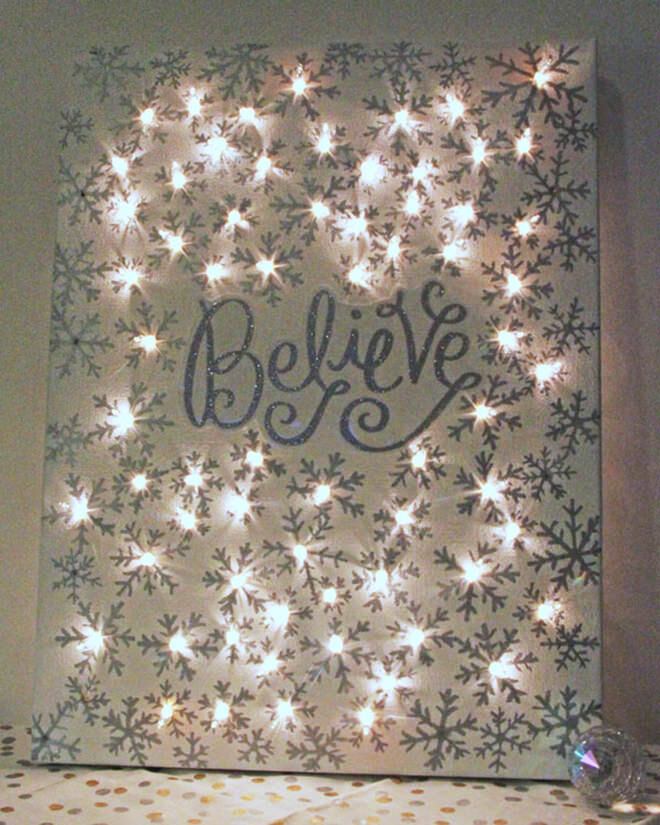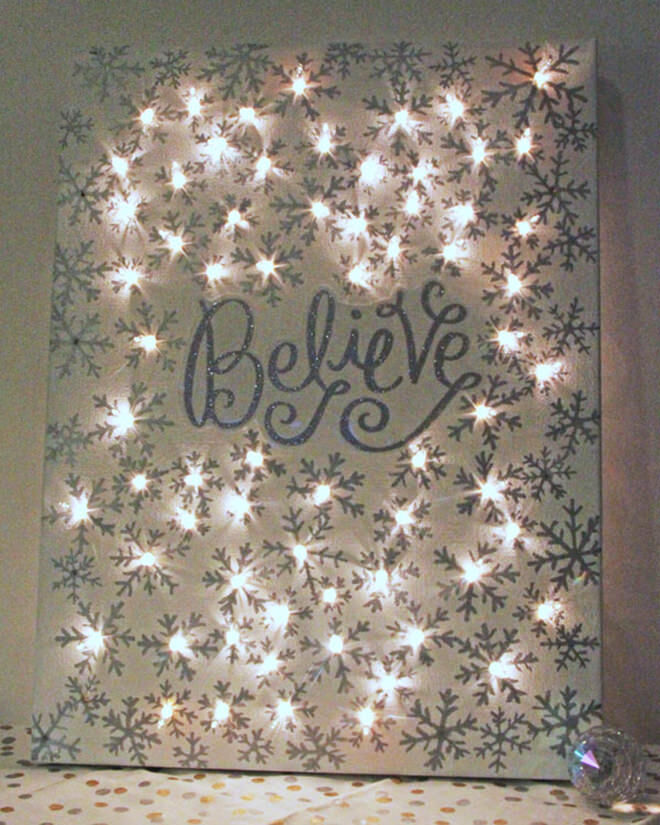 If you like your snowflakes to twinkle then this is the art work for you. An easy DIY project that will make your lounge room sparkle with Christmas cheer. (via Rhapsody in Rooms)
Grow your own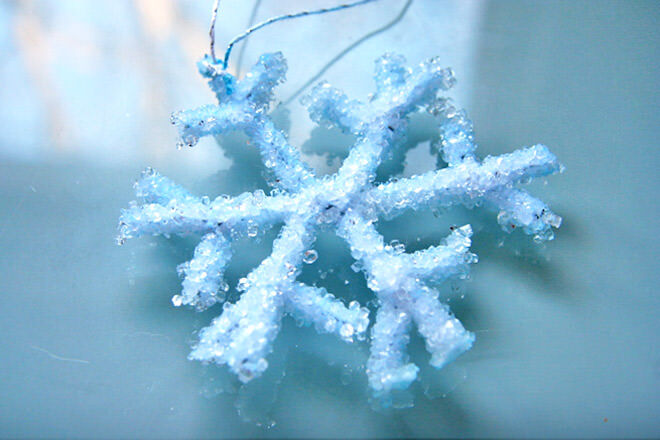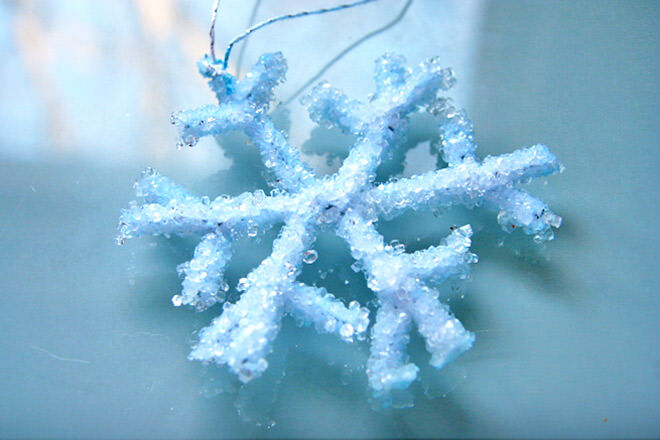 Combine your Christmas decorating with a little science experiment. Placing pipe cleaners into borax and water will create a reaction to form these sparkling crystals. Science and decorating all rolled into one! (via Glitter Soup 101)
Give me cookies!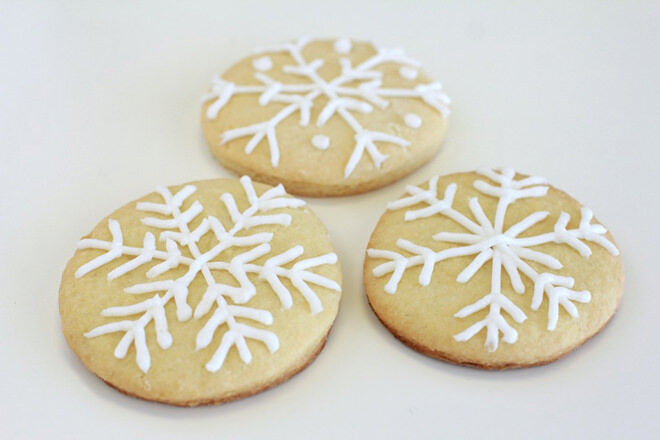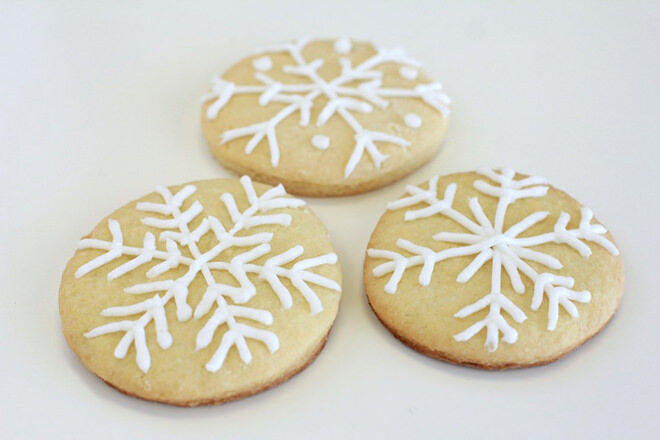 Feed those cookie monsters a batch of freshly baked snowflake cookies. Santa would love a couple of these on Christmas eve too!. (via Pear Salad)
Falling snowflakes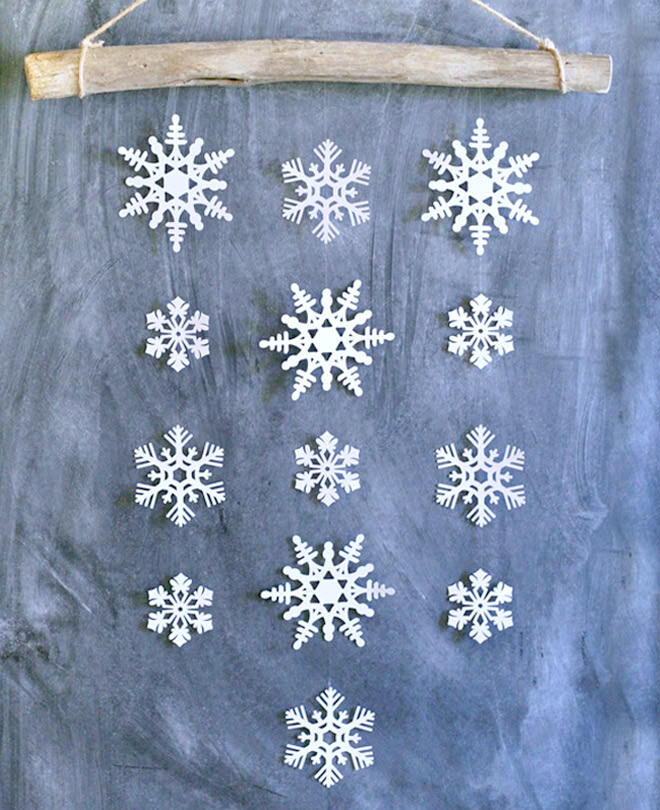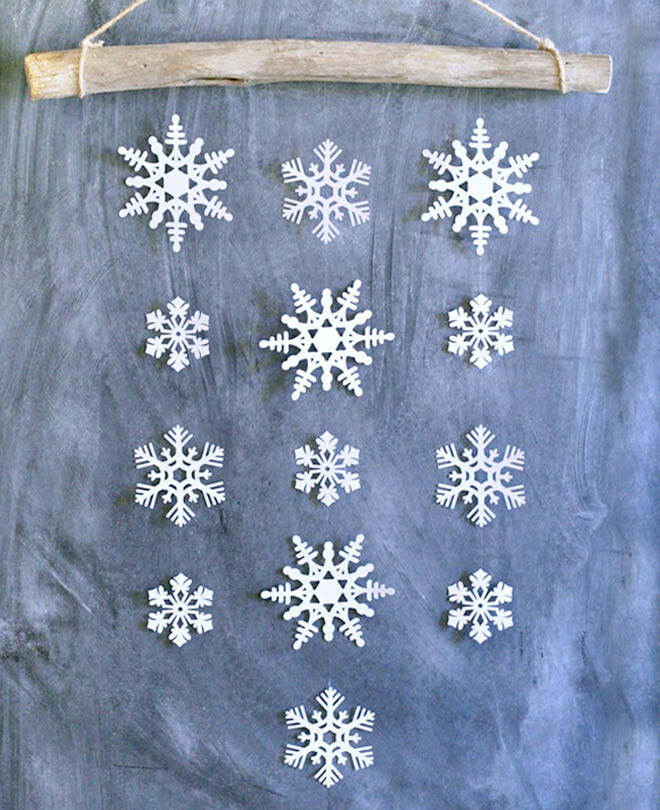 If you've gone a little crazy on the paper snowflakes why not make a wall hanging? Use a stick with string and some fishing wire to hold the snowflakes in place. Awesome! (via The Crafted Sparrow)
Easy peasy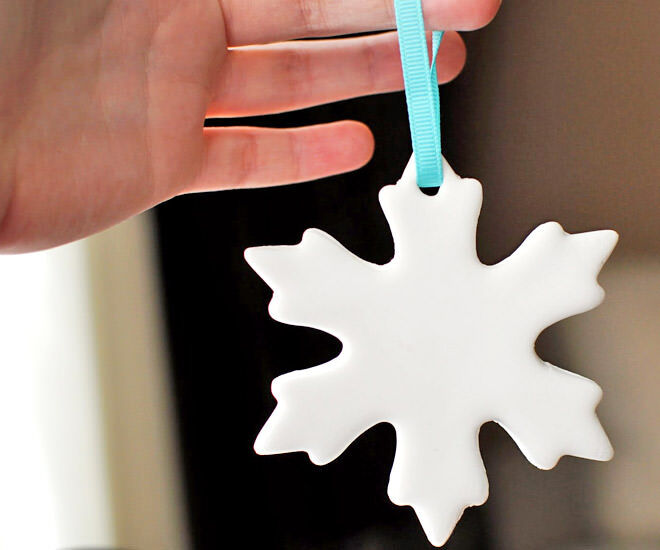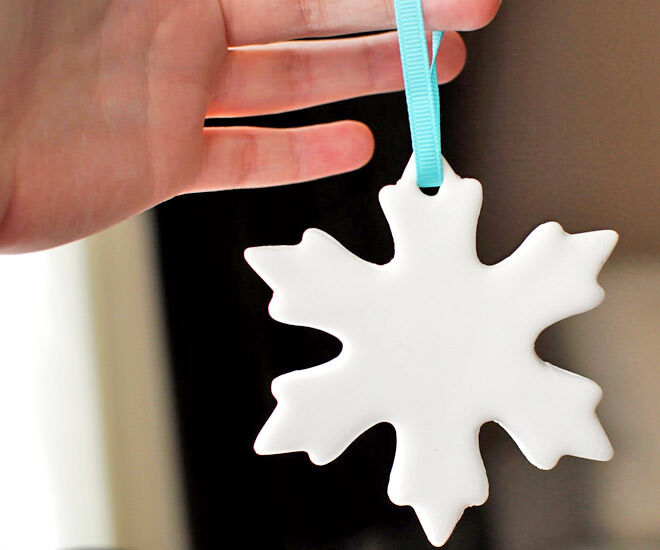 This activity is so easy and would make a perfect craft project for your toddlers. Make up some clay and grab a cookie cutter to make the snowflake shape. Easy and no mess! (via Meet the Dubieus)
Lego man star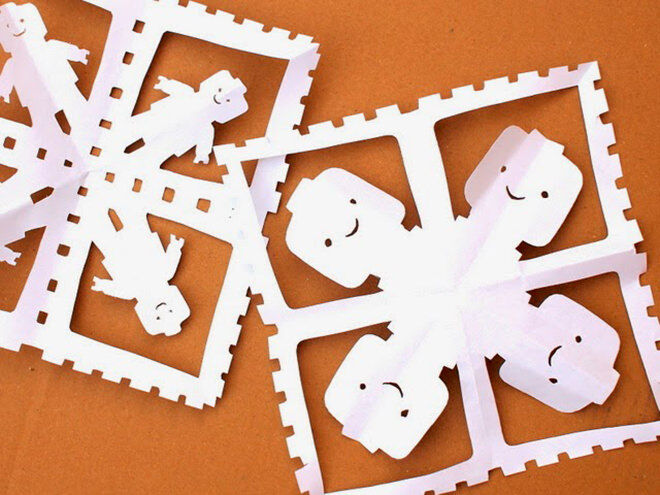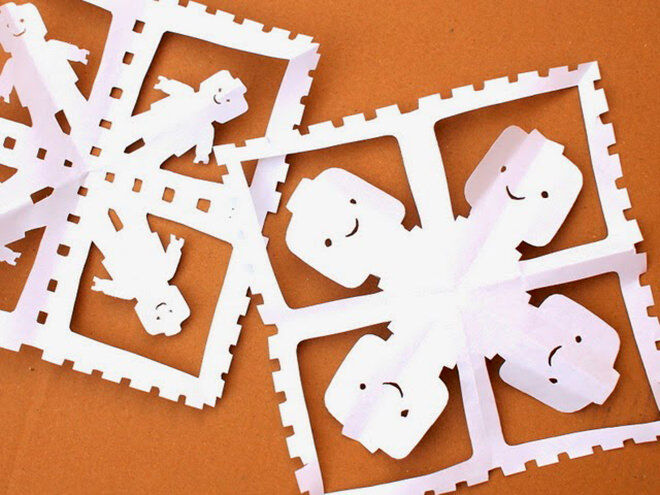 You'll be singing 'Everything is Awesome' while you make these LEGO paper stars. (via Pink Stripey Socks)