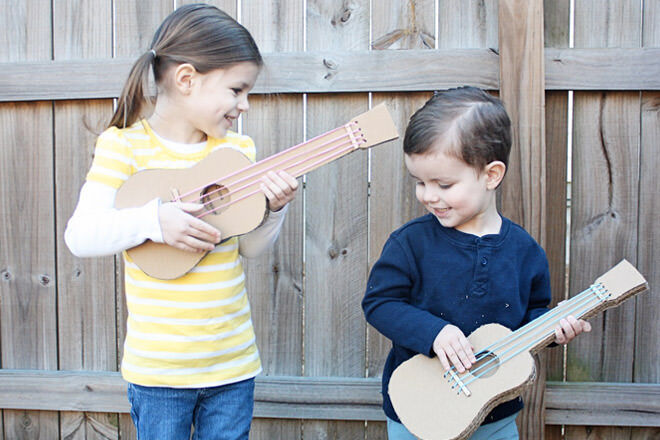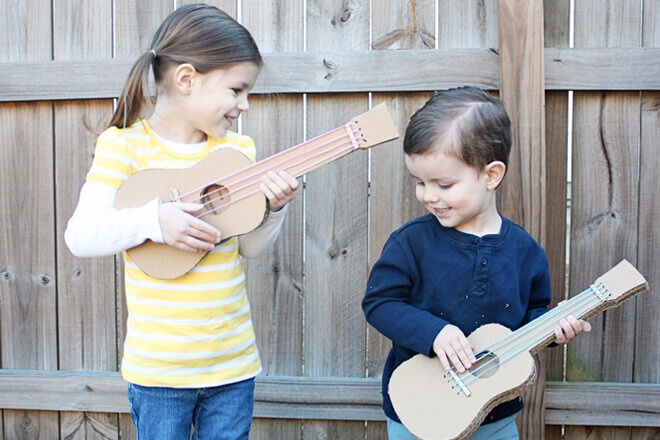 Keeping the kids entertained at home without spending a penny or reaching for the remote is no small feat. But, getting a little creative with our good old friend Mr. Cardboard can go a long way (trust us!). From small shoeboxes to old toilet tubes, we've gathered our favourite cardboard crafts to keep the kids entertained.
Here are 21 cardboard activities for you and the tribe to make at home.
READ MORE:
• 20 ways to recycle Christmas packaging
• Plate it up: 15 craft projects to make with paper plates
• 20 things to do with … toilet paper rolls
Get stamping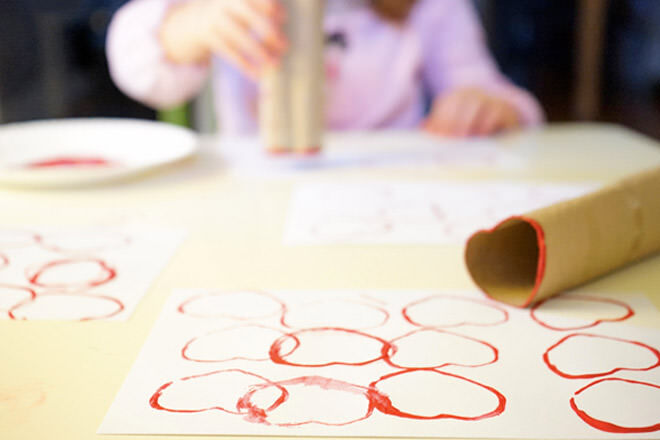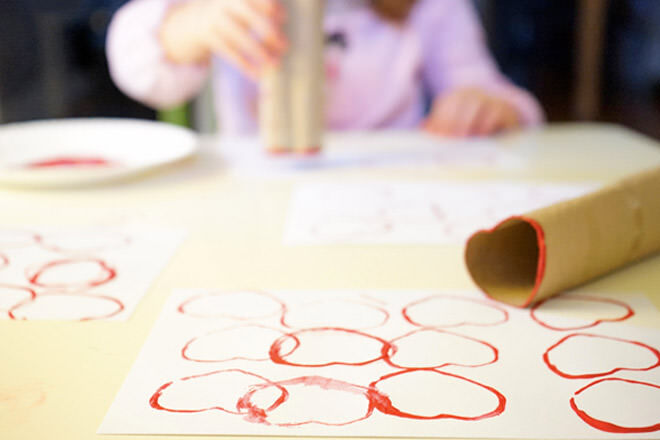 Simply and cute – just the way we like it. Two firm creases transform this paper towel roll into a heart shaped stamp for tiny hands. (via Tinker Lab)
Hats off to you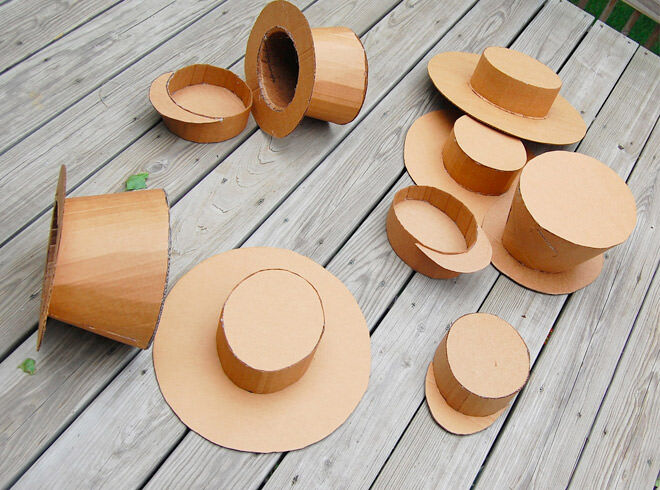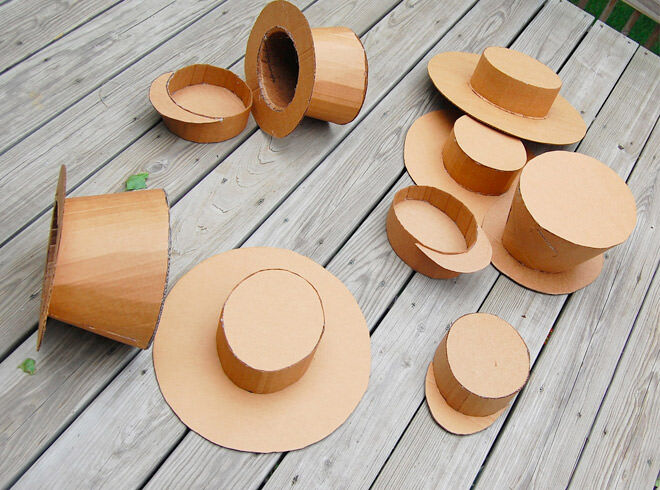 Turn the morning snack into a mad hatters tea party with a range of creative headgear! Measure your kiddies noggin with a bendy piece of wire and use that as your starting point. Fancy! (via Ikatbag)
Make music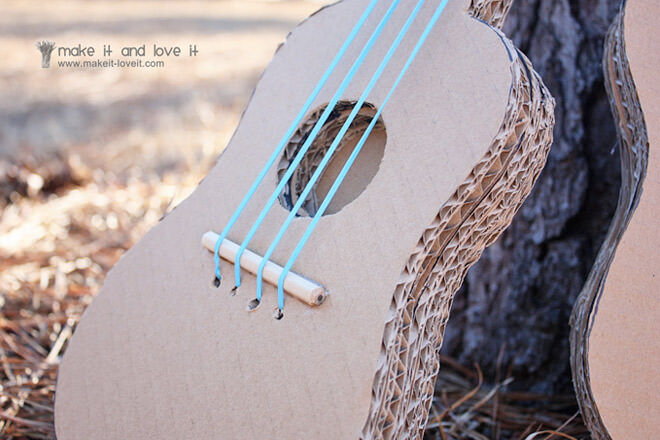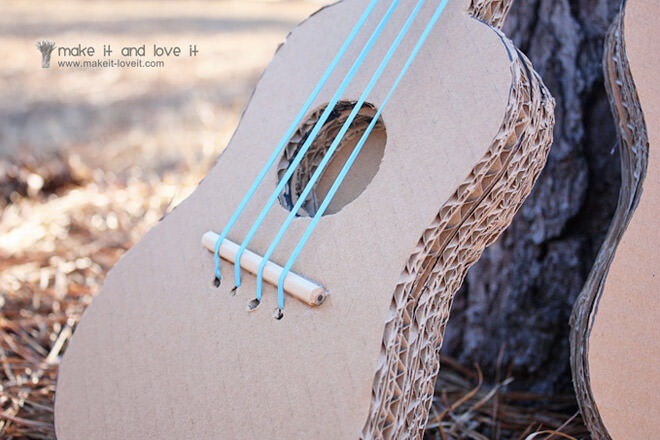 You'll need a large sheet of cardboard, pencils, rubber bands and a paper clip to make this musical masterpiece, and once the making fun is over your little rocker can strum away all day long. (via Make It Love It)
Nature play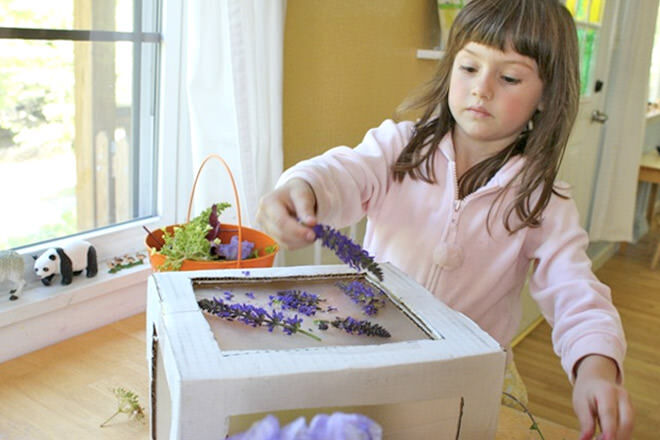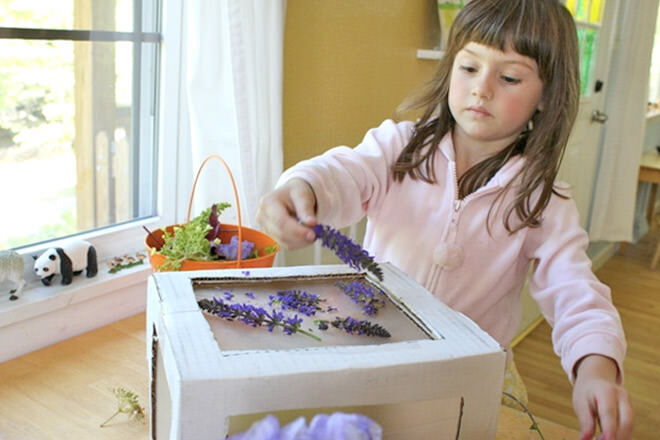 This 3D nature sun catcher is fantastic for getting the kids right into nature. Take them exploring in the garden, pile everything you find onto a table before carefully placing onto the sticky-back plastic. Easy. (via Artful Parent)
Get them buzzing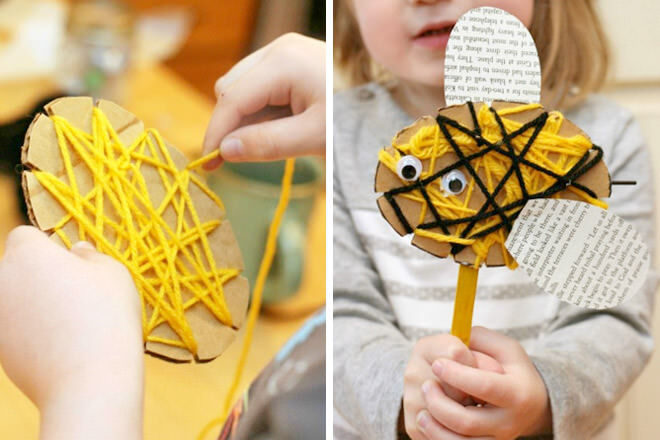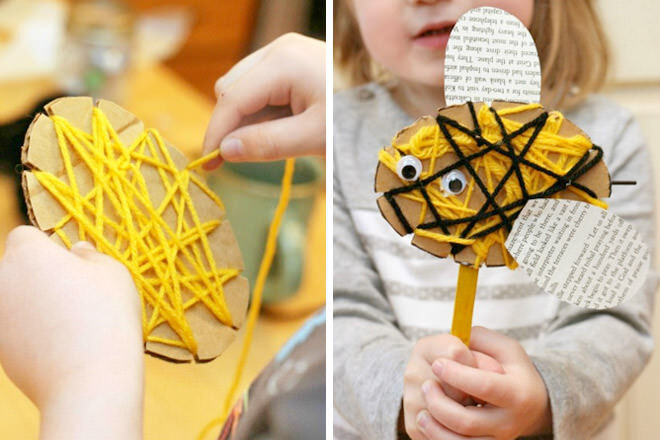 It's amazing what you can make with a small piece of cardboard and a few balls of wool. These sweet little puppets are BEE-autiful! (via Housing a Forest)
Find a friend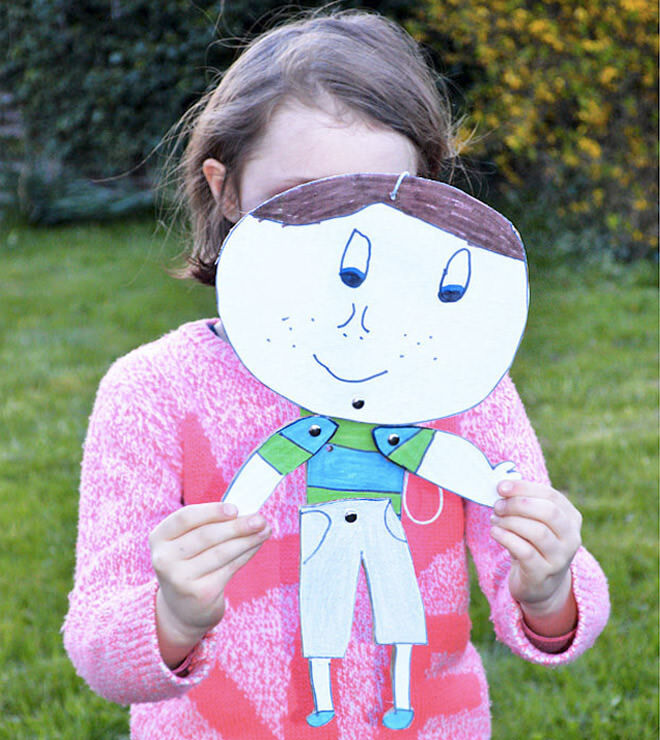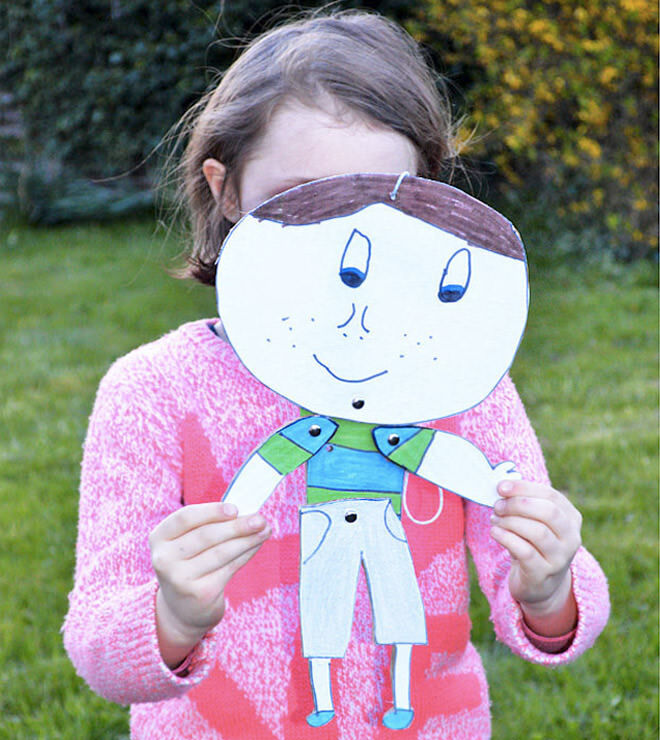 Turn their favourite drawings and doodles into new found friends by simply gluing paper sketches to cardboard. It's quick, easy and a cool way of keeping some of their latest artwork. (via Kids Activity Blog)
A sweet little playhouse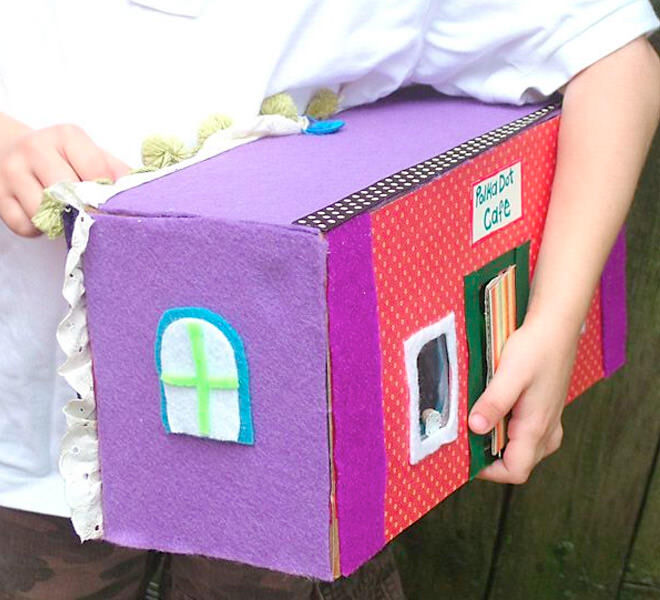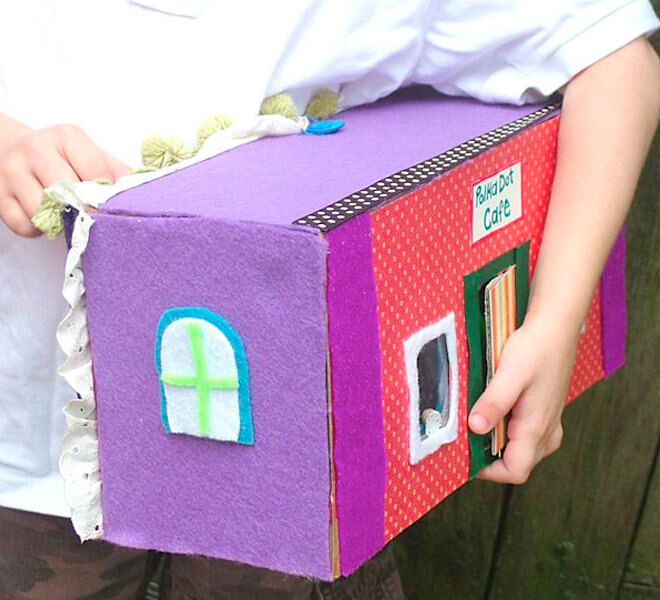 A portable playhouse to take to play dates and more. What a brilliant idea! We love everything about this polka dot bakery. (via Small World Land)
Seeing double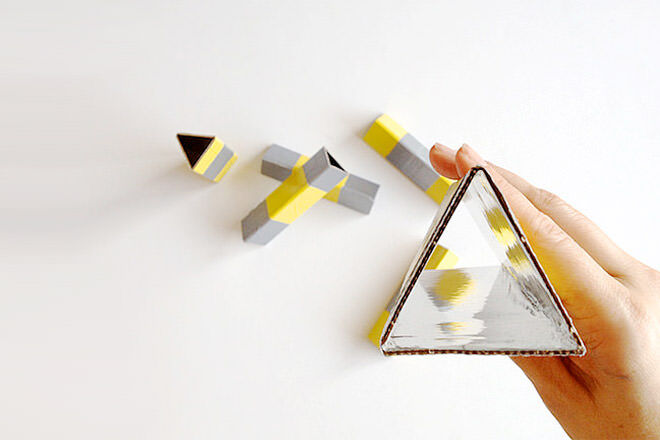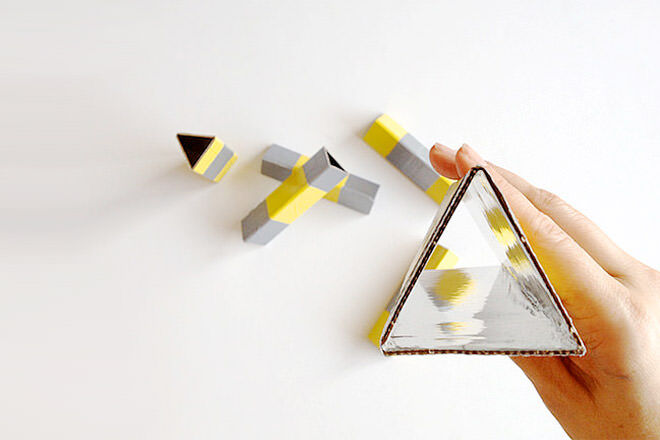 Let your little ones get lost in colourful reflections with a fun and mesmerising kaleidoscope. Once you've mastered making a small one try one slightly bigger! (via Handmade Charlotte)
Cardboard construction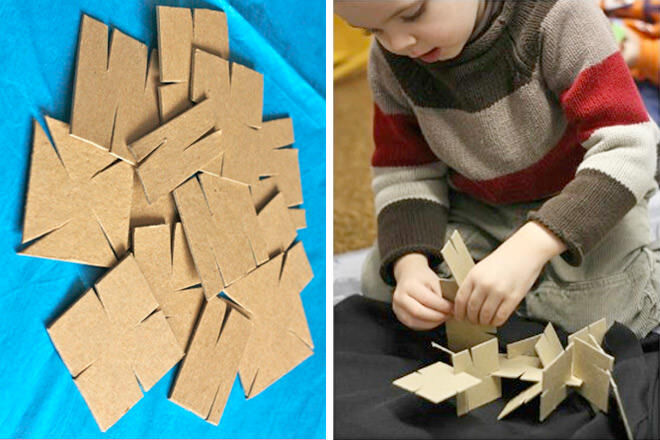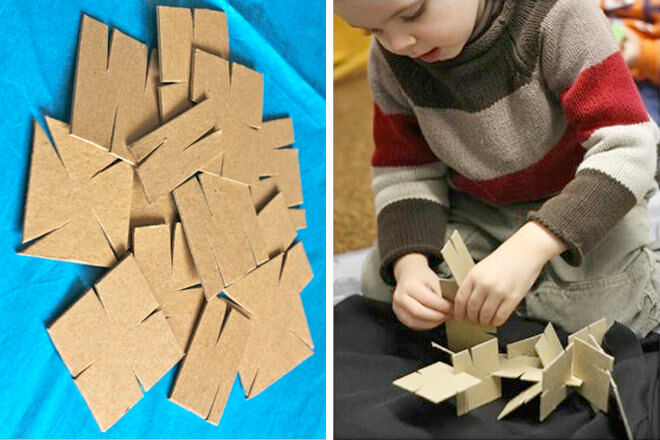 Kids like to build things. A lot. This simple construction activity will get their minds thinking while working those fine motor skills too. (via Happy Hooligans)
Curtain call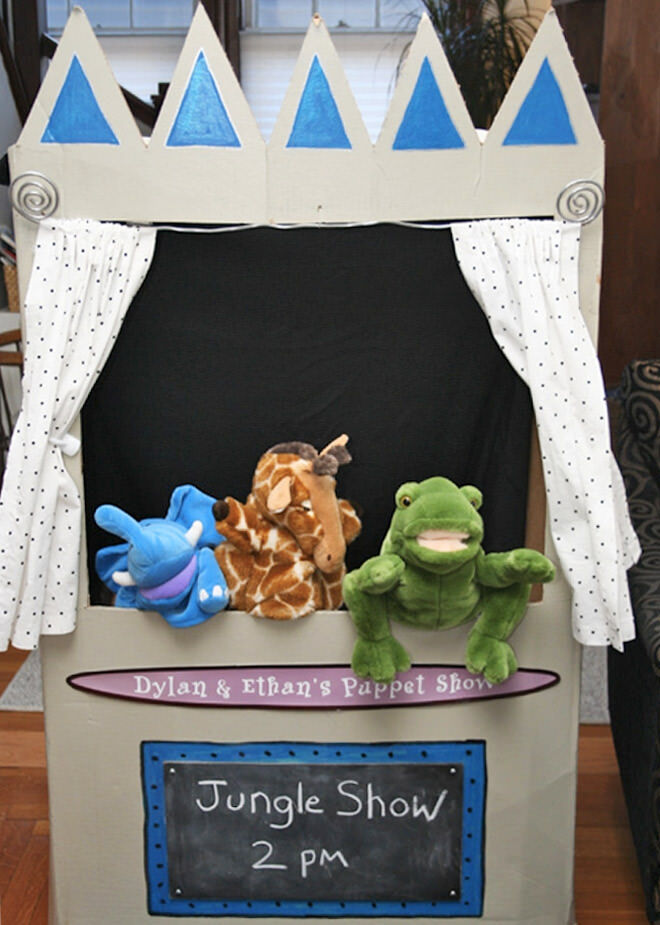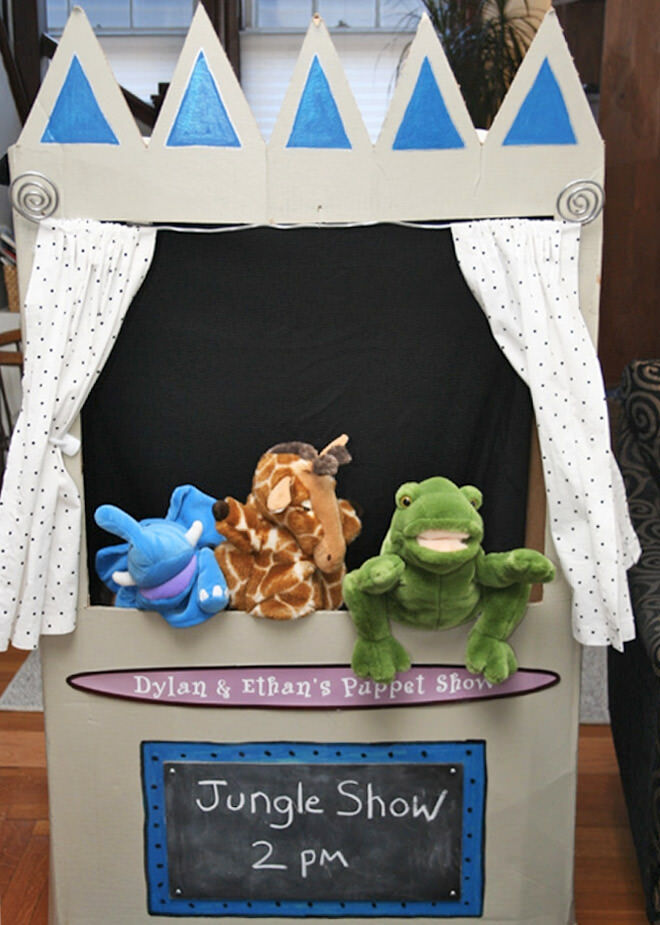 A homemade puppet theatre is something the kids will use time and time again. Alter the curtains, add a new lick of paint and even mix up your puppets – there's no end to indoor fun with this one! (via Kido Info)
A fun place for fairies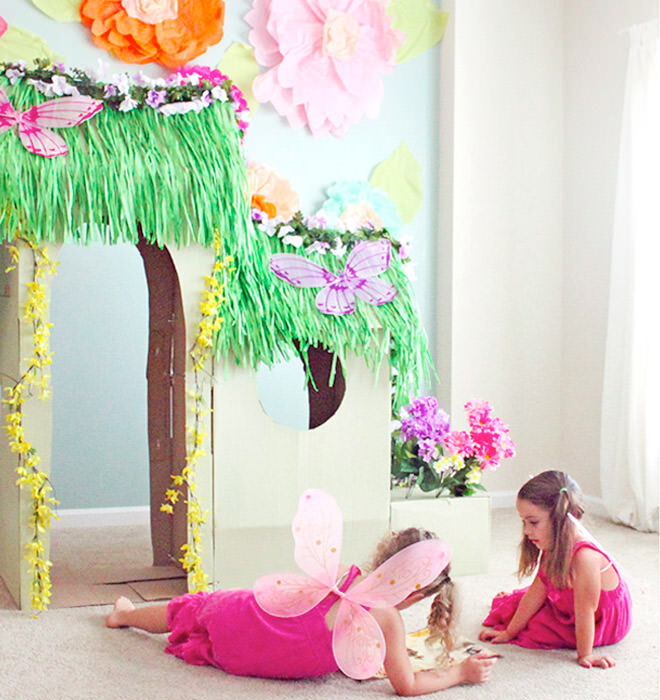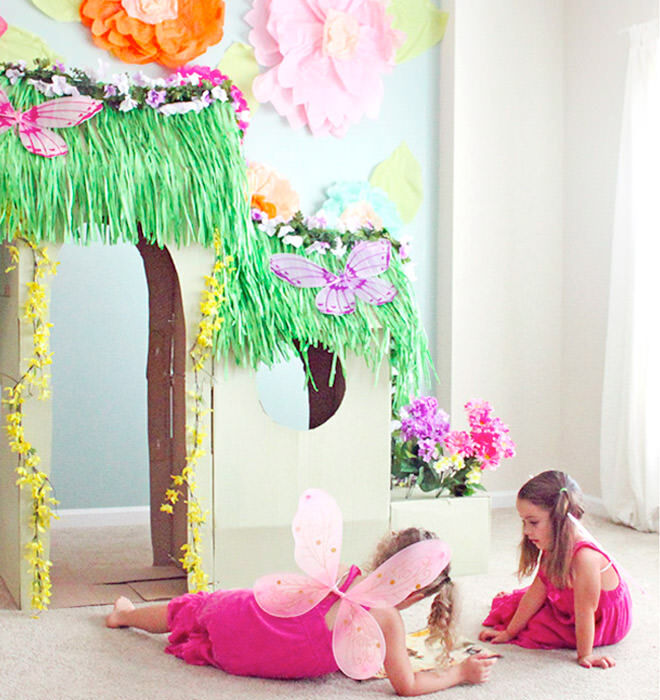 For fairy parties, play dates or something fun for the playroom, this adorable fairy house will enchant the kiddies and keep them entertained for hours. (via At Home With Natalie)
Play group gathering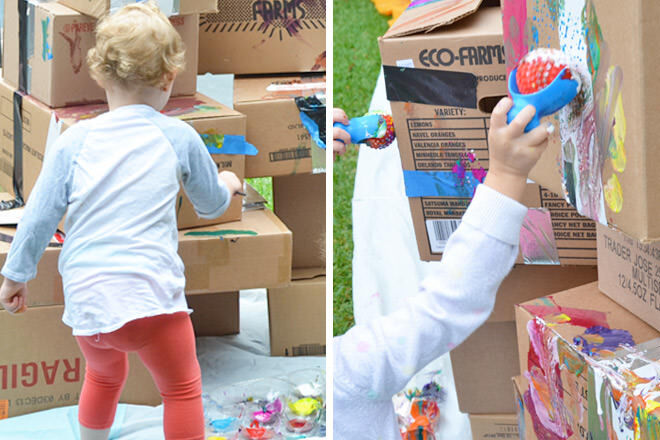 Here's an awesome idea to take to your next playgroup. Tell everyone to bring along any spare cardboard boxes, sticky tape them together and stack them high. With a plastic sheet underneath, let the rascals decorate the boxes with paints, crayons and more. Messy but SO FUN! (via Meri Cherry)
George of the jungle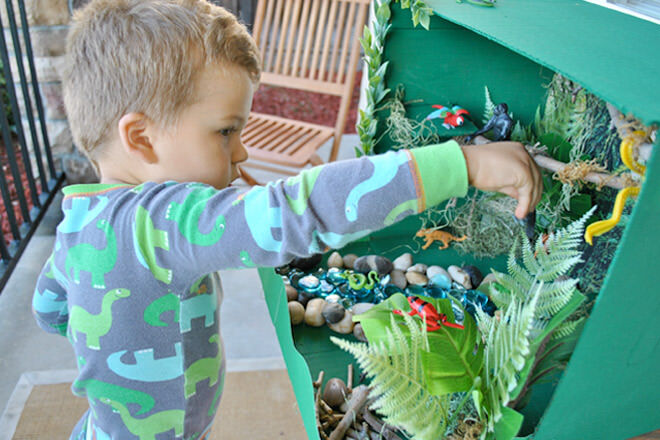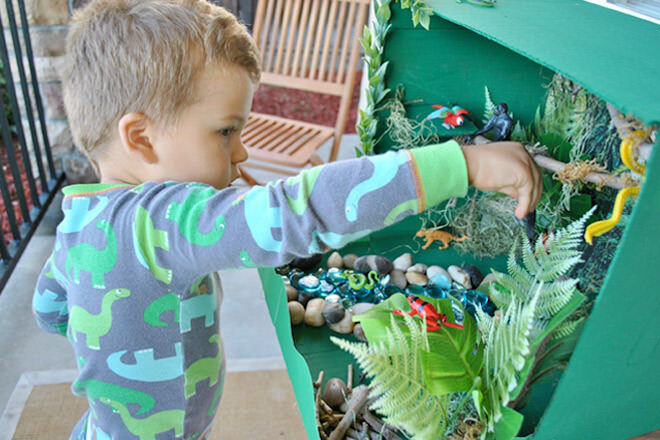 Brimming with trees, plants, moss and a variety of colourful creatures, this sensory rainforest is wonderful for encouraging imaginary play. (via Crayon Box Chronicles)
Launch!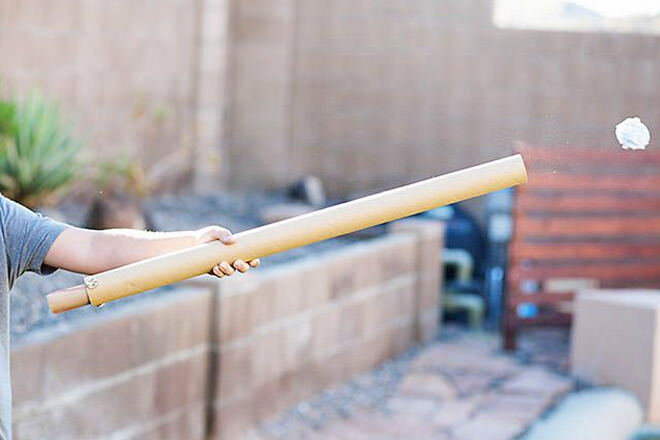 One for the older kids – Two tubes (one smaller than the other) join forces to become the best paper snowball launcher EVER! (via All for the Boys)
Grab refreshment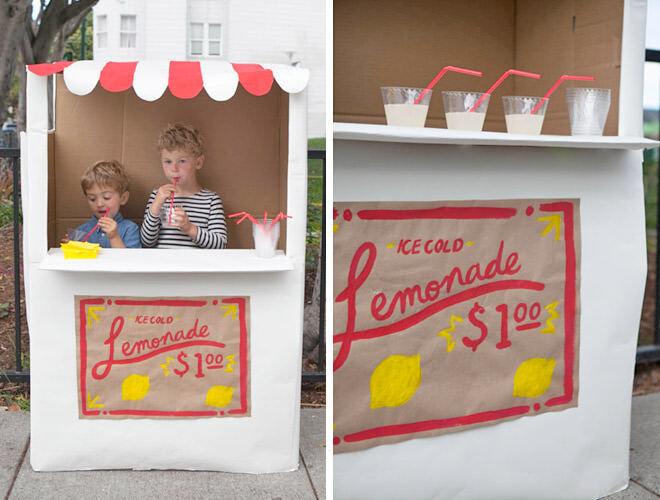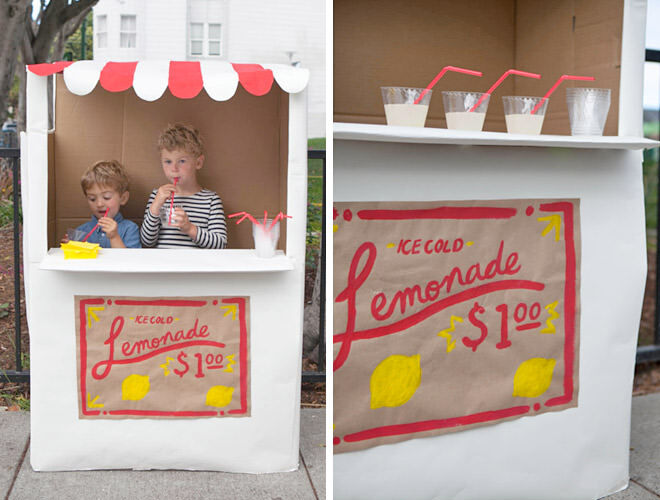 Get creative on summer days and cool down with a funky lemonade stand. The kids can help to make their sign too! (via Oh Happy Day)
Rinse and tumble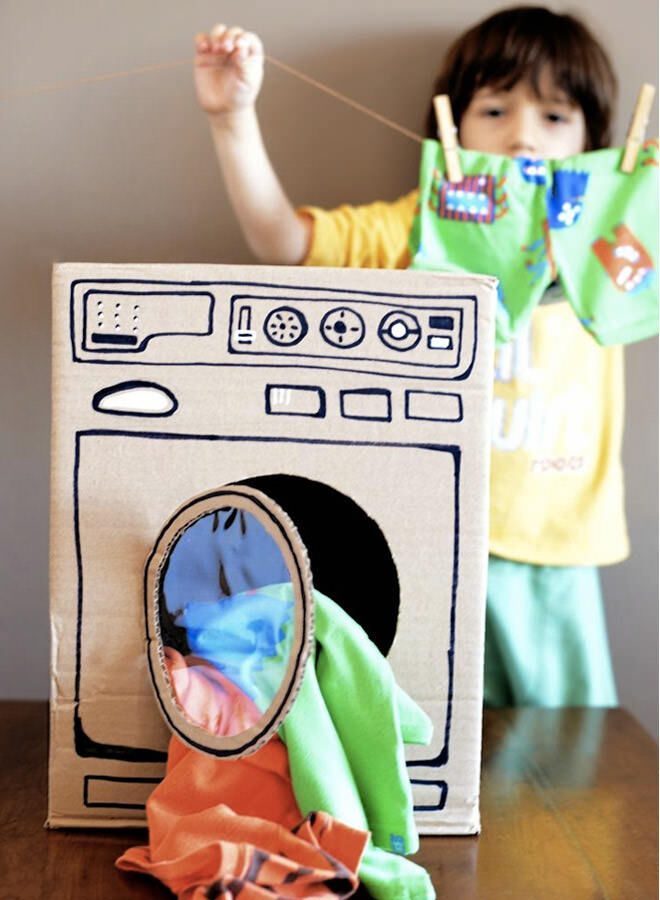 Teaching them how to do the laundry will encourage them to do it when they're older. Right? Erm… maybe not. But a play washing machine will be a nice little addition to the toy room. (via Estefi Machado)
Horsing around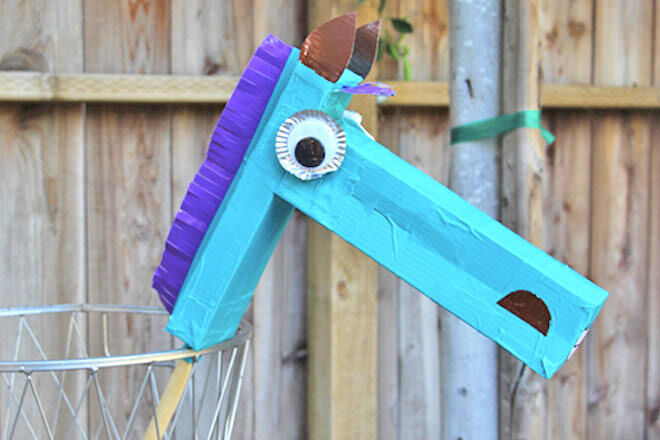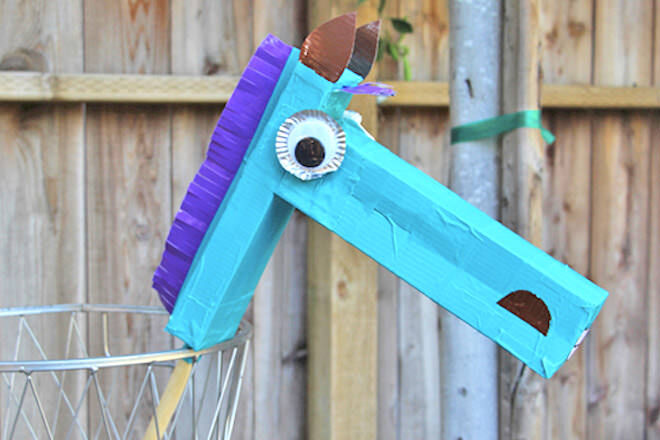 Coloured tape is a fab little find, as there's no paint, no mess and no tidying up! This bright blue fella is a brilliant toy for outdoor summer antics. (via Housing a Forest)
A box of crayons and…a box…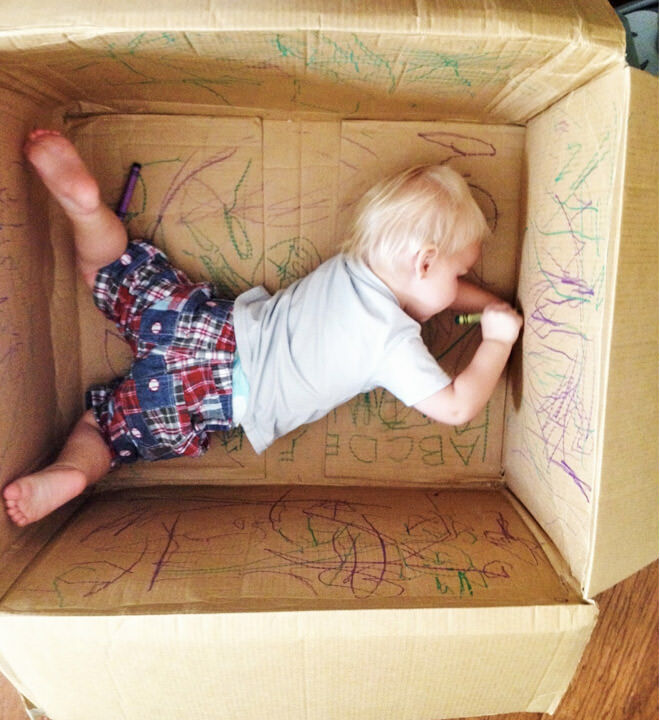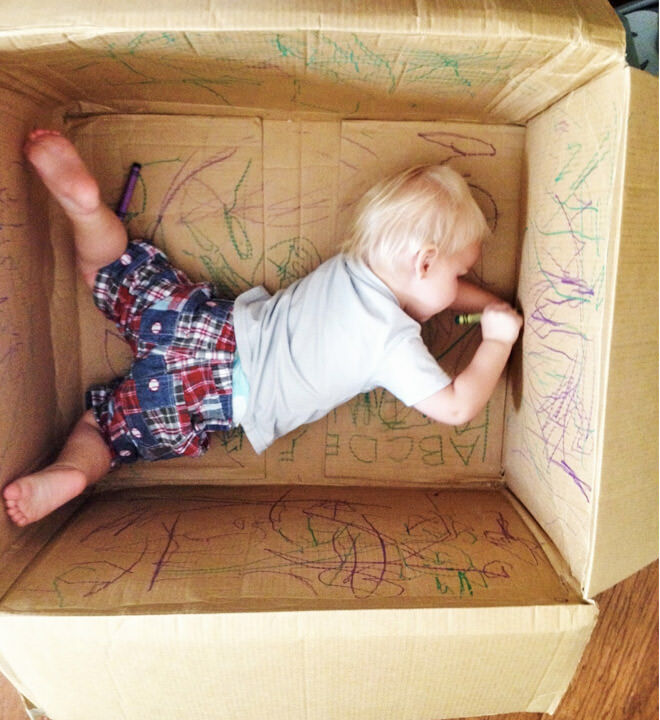 Know a child who loves colouring in? Give them a box to climb into and a crayon, then sit back and relax. (via Berry Sweet Baby)
Ready, steady, sort!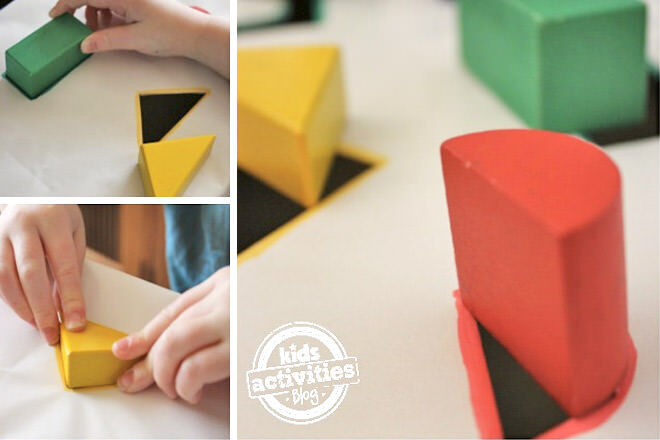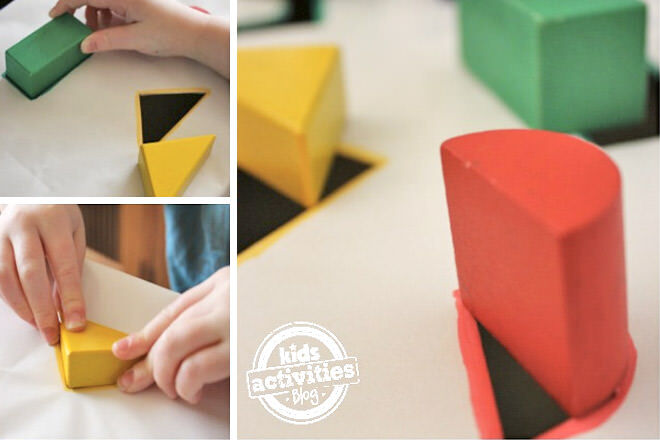 Shape sorters see kiddos problem solving and organising from an early age – it's a great toy to have around the house. Make your own with a cardboard box and some coloured markers. (via Kids Activity Blog)
It takes a village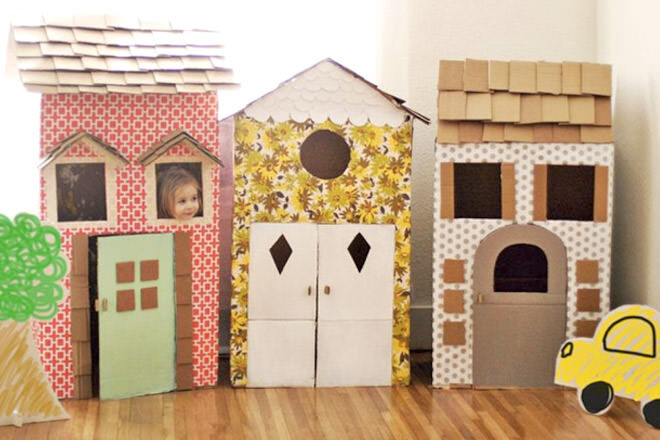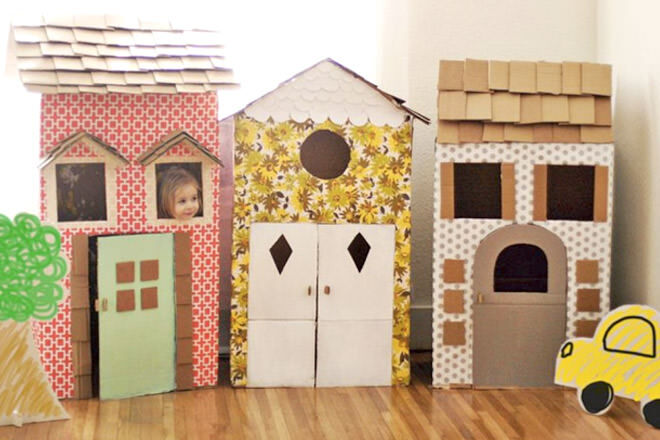 This cardboard village is so cute we'd like to live here too! Playful doors and bright wrapping paper work wonders on these tiny playhouses. (via A Beautiful Mess)
Under the sea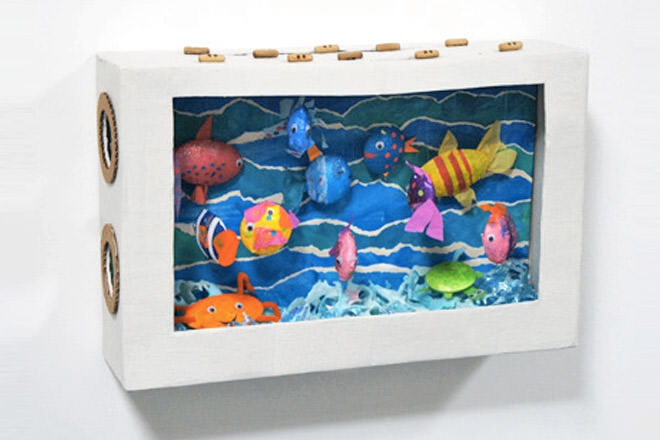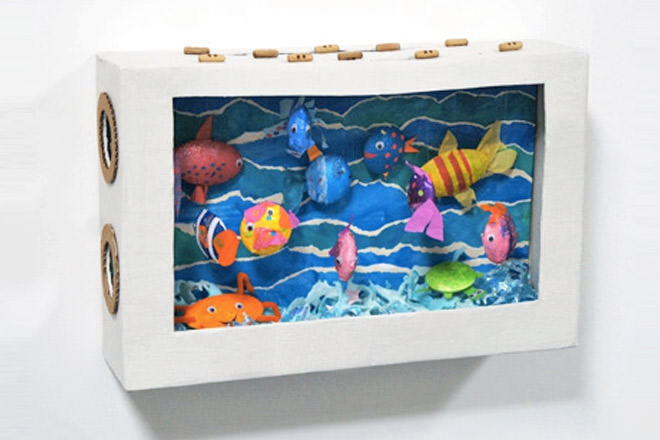 Bring the aquarium to you by making an underwater world full of colourful sea creatures. Painted paper forms the 'deep sea' backdrop and textured blue fabric becomes the seabed. (via Molly Moo Crafts)
READ MORE:
• 20 ways to recycle Christmas packaging
• Plate it up: 15 craft projects to make with paper plates
• 20 things to do with … toilet paper rolls