I scream, you scream, we all scream for ICE CREAM! The delicious frozen treat is a favourite with the youngsters and a super simple party to put together. To help plan your next party we've gathered our favourite games, sweets, treats and decorations to get you ready to party!
Here are our 21 essentials for an unforgettable ice cream celebration.
Come party with us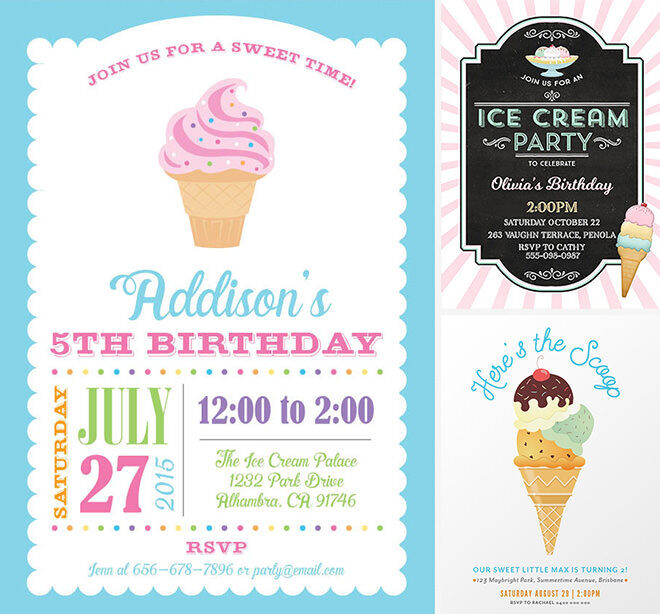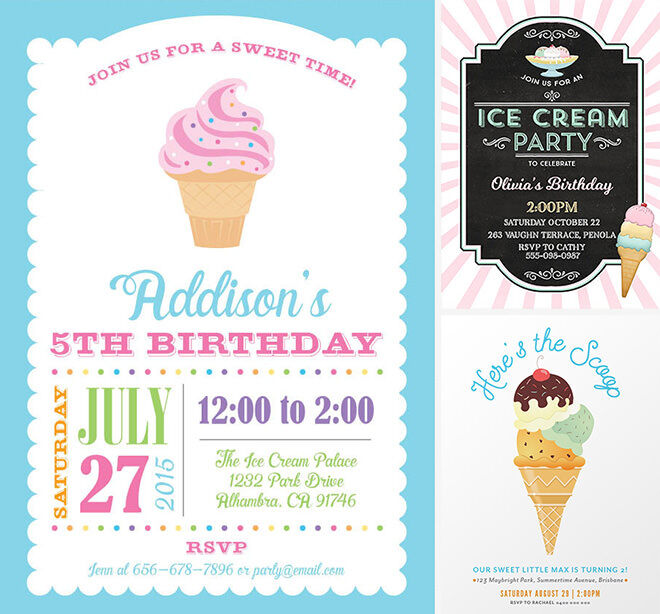 Download one of these personalised invites from ETSY for a sweet way to let your guests know where the party's at. Ice Cream Party Invitation ($17.68) Ice Cream Parlour Invitation ($20.00) Here's The Scoop Party Invitation ($17.19)
Hanging around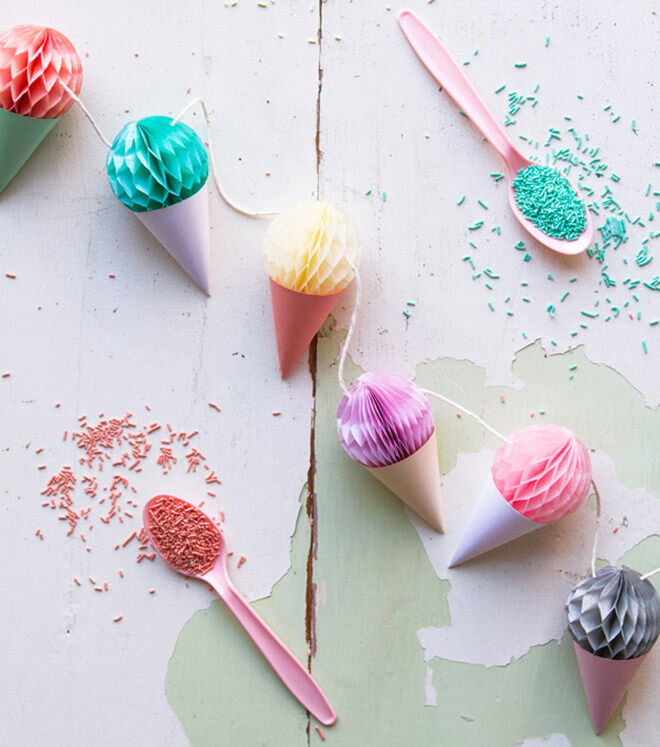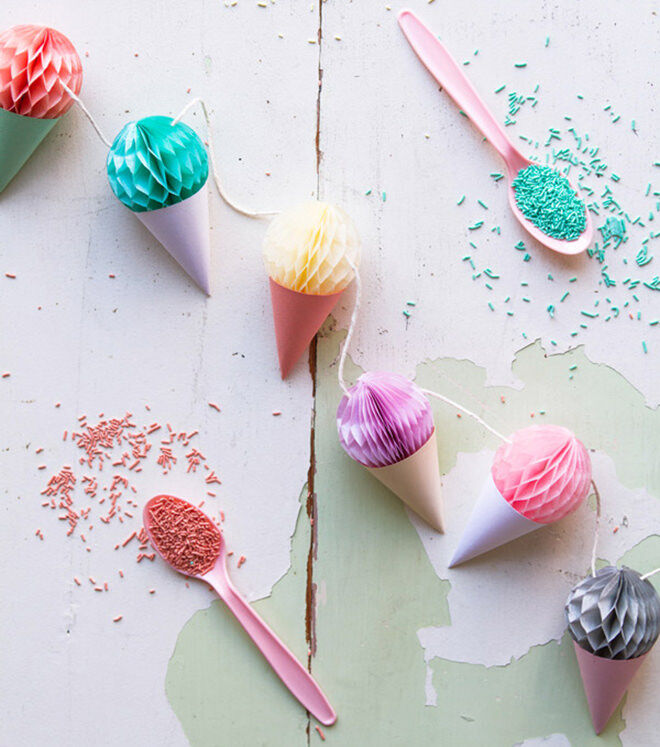 Don't just serve ice creams. Hang them from the walls! (via Oh Happy Day)
Party central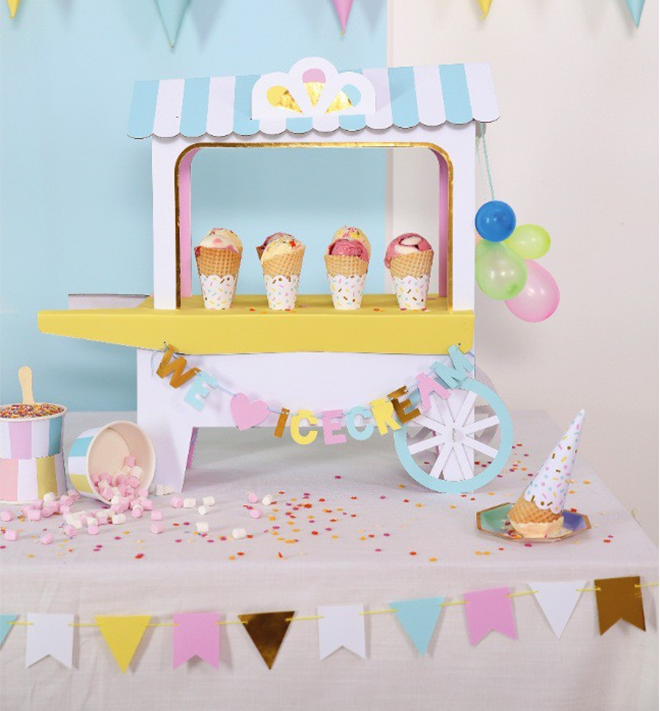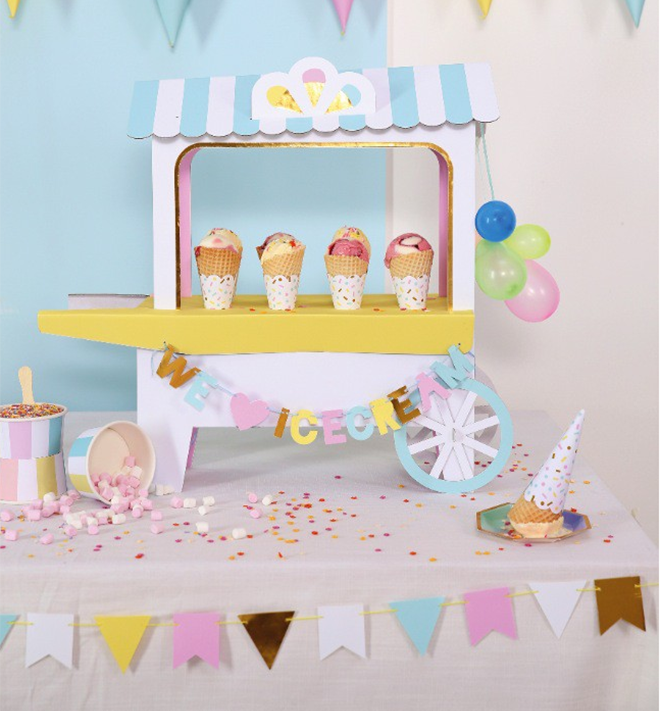 Need a cutesy centrepiece? This pastel ice cream cart ($69.99) can serve the ice creams too. Win-win!
With a cherry on top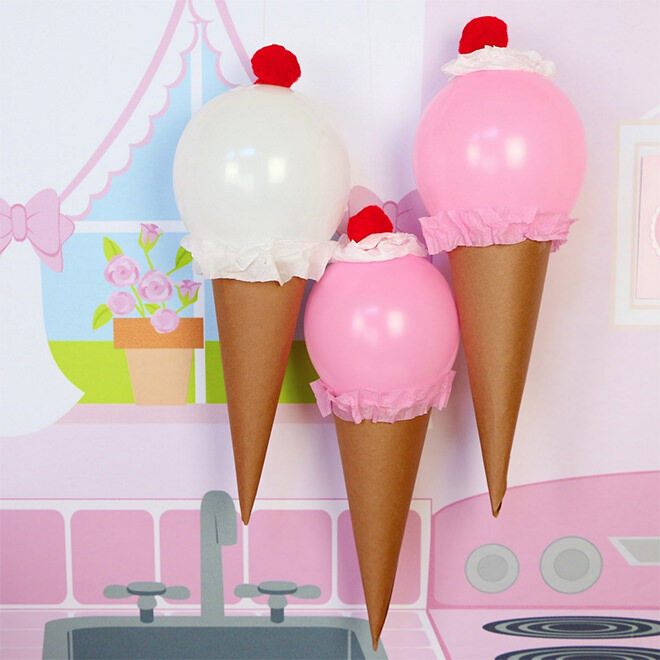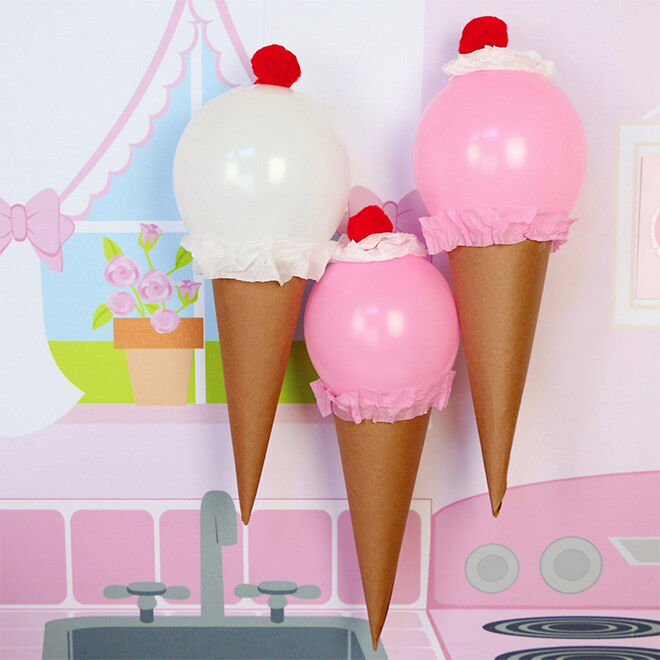 SUPERSIZE your ice creams with giant balloons hanging from the ceiling. They may not taste that great, but they look amazing! (via Lindsay Ann Bakes)
Honeycomb flavour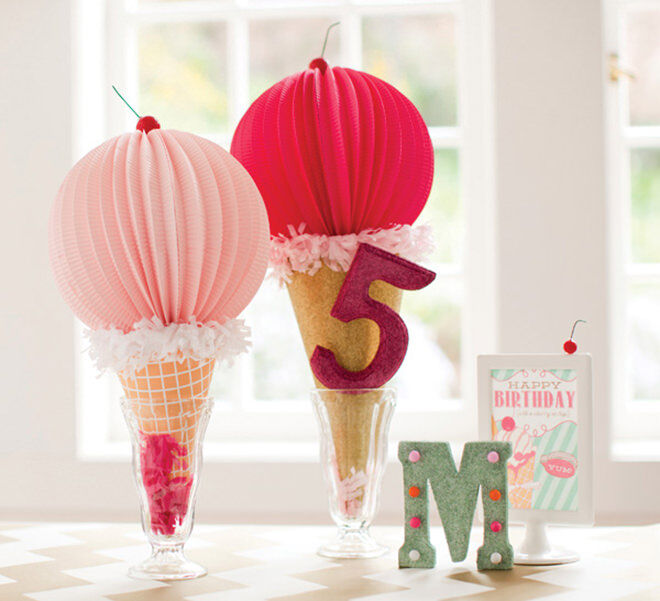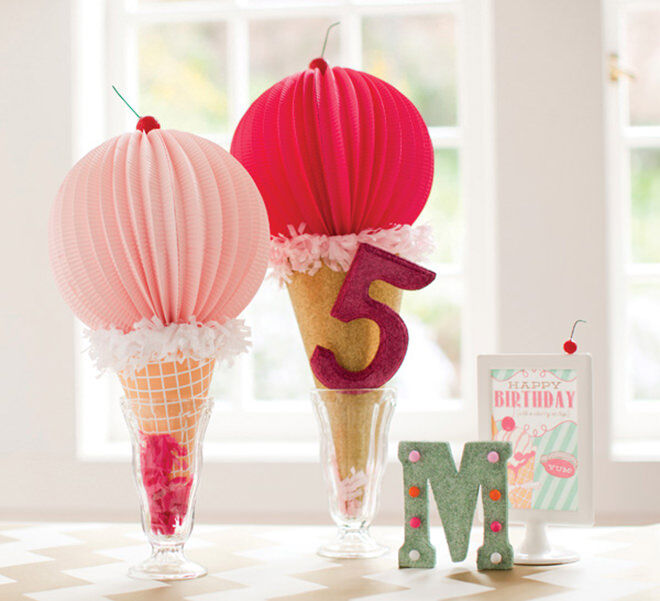 Transform paper honeycomb decorations ($5.50) into sweet scoops and decorations for the table. Simply roll glitter paper into a cone and attach a strip of fringed tissue paper for extra pretty! (via Pottery Barn Kids)
Coneheads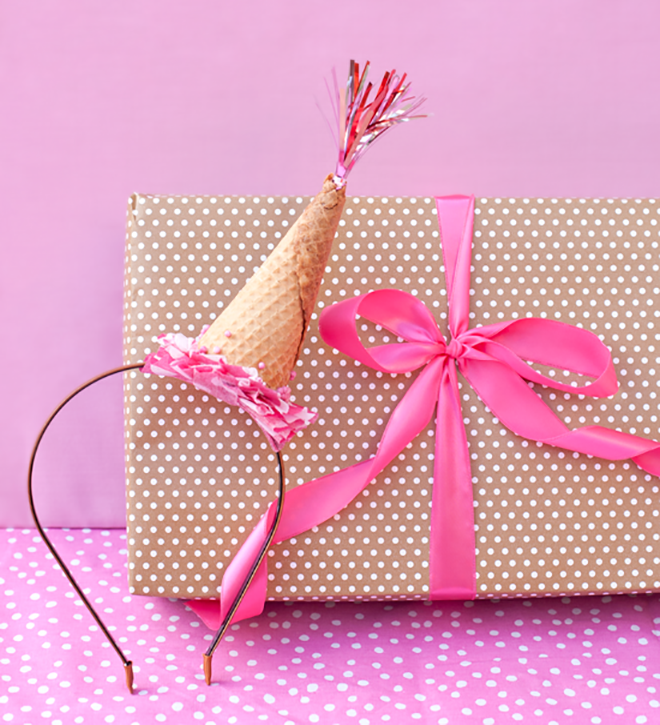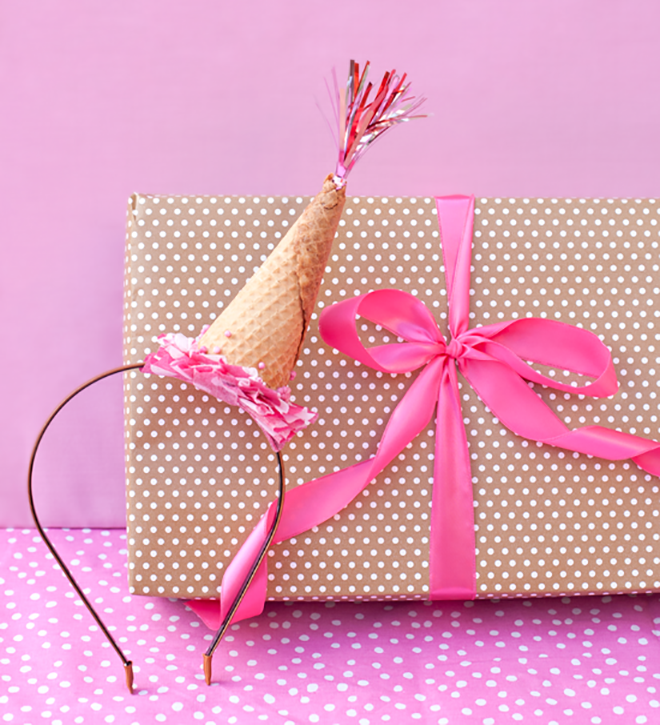 Every birthday girl needs a party hat or crown, and this little number is perfection! (via Once Charming Party)
Tower of fun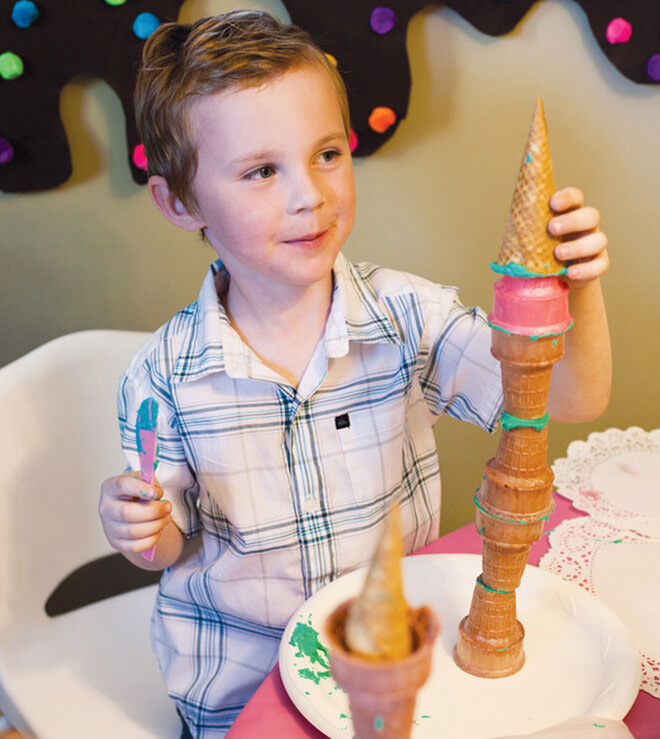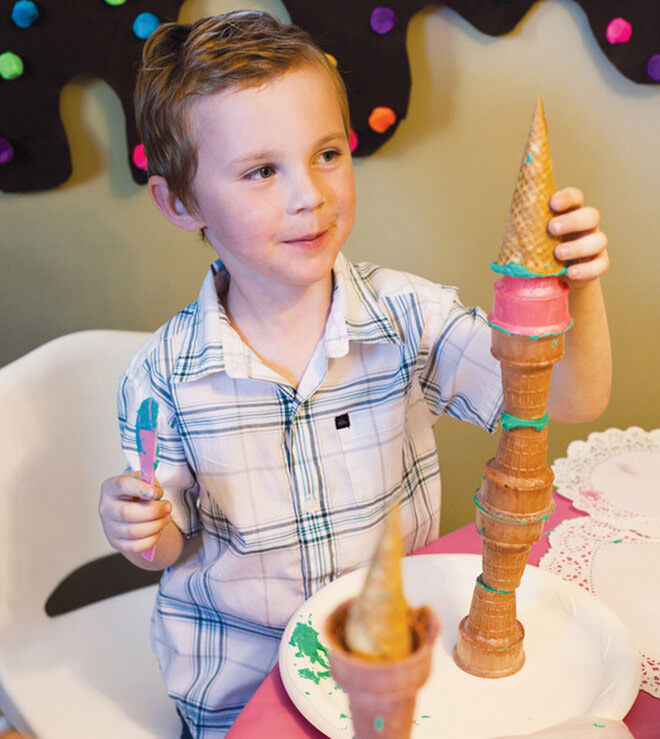 Keep the ice cream eaters busy between frozen treats by playing a game of 'build a cone castle'. Use cake frosting as glue and see how tall they can go. (via Catch My Party)
Scoop and cone race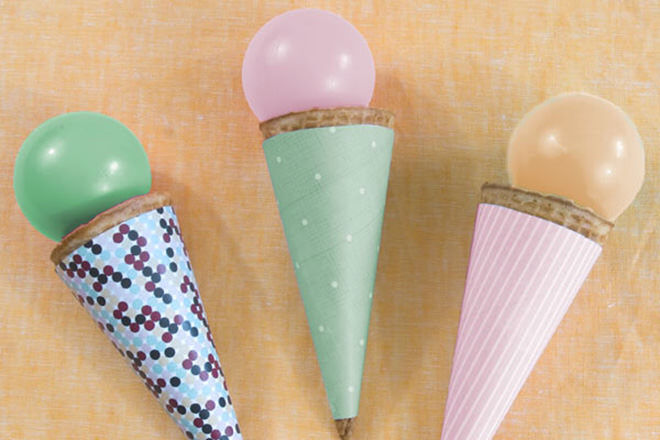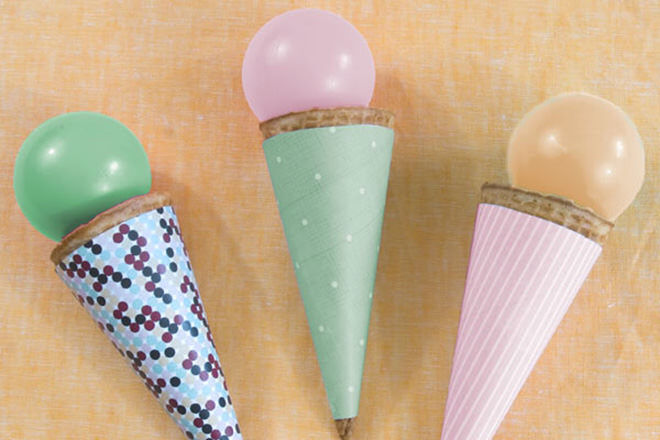 Think egg and spoon race but ice cream style! Pop the ball (ice cream scoop) on top of a cone and off they go! (via Confetti Sunshine)
No peaking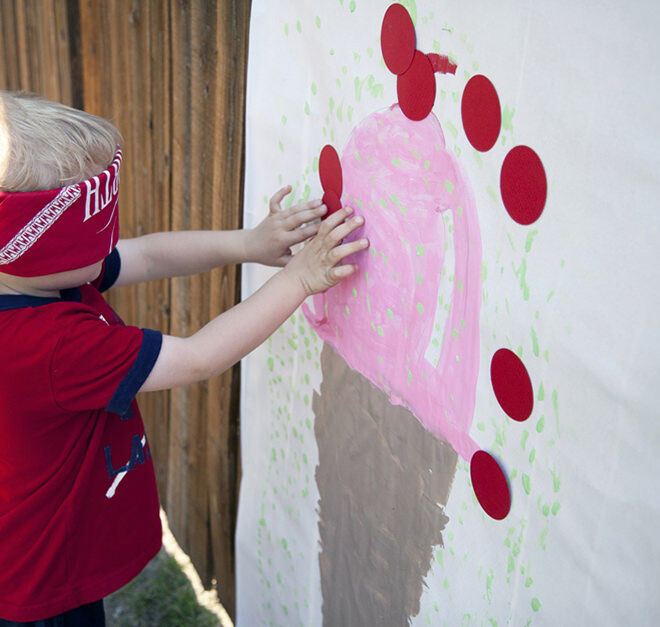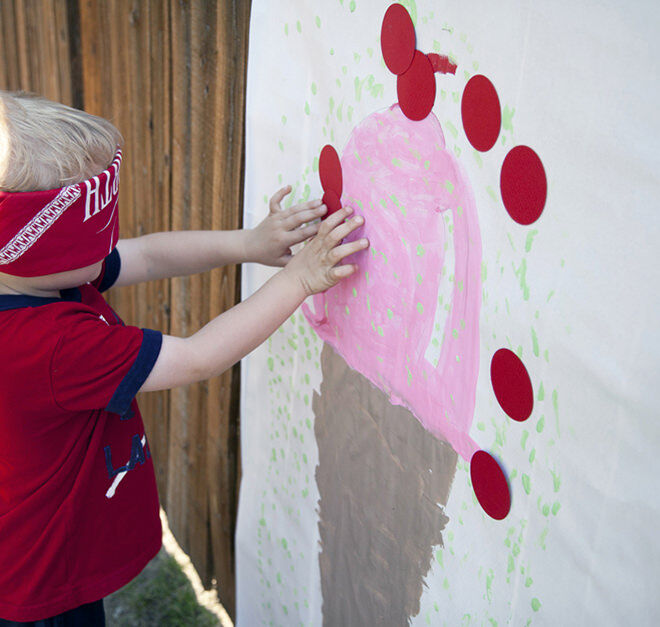 Can they pop the juicy cherry on top of the ice cream without taking a look? (via Pretty Prudent)
A whacking good time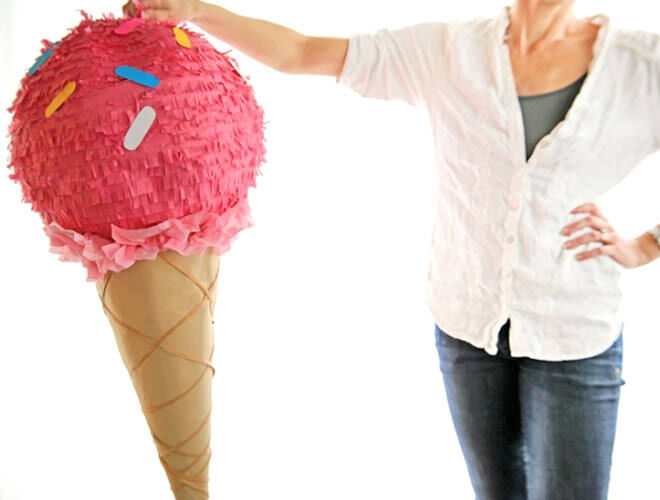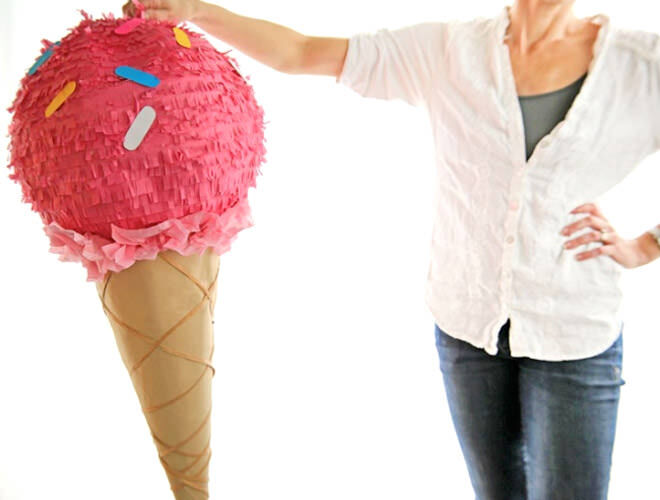 No party is complete without letting the kids loose on a piñata. Make this delicious project at home and fill it with lots of tasty treats. (via Everyday Dishes)
Choose your toppings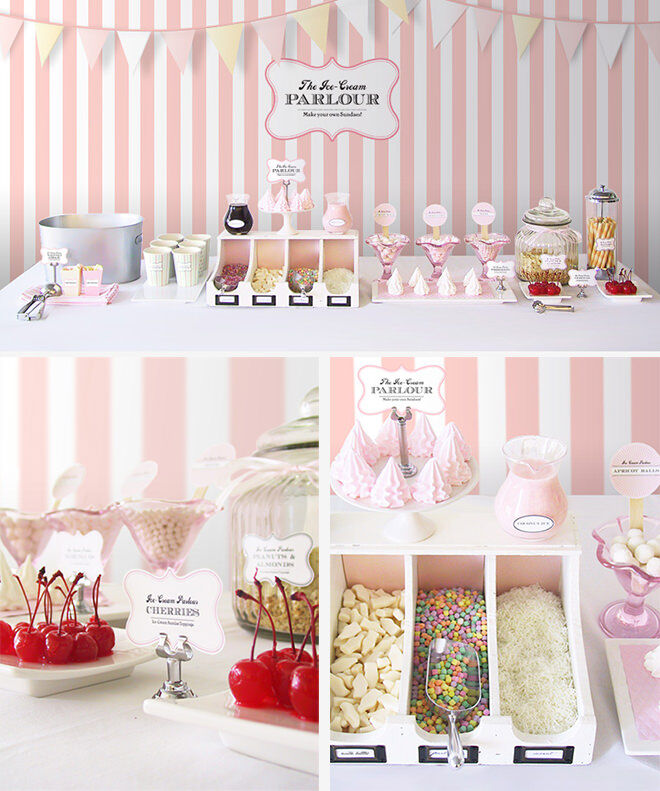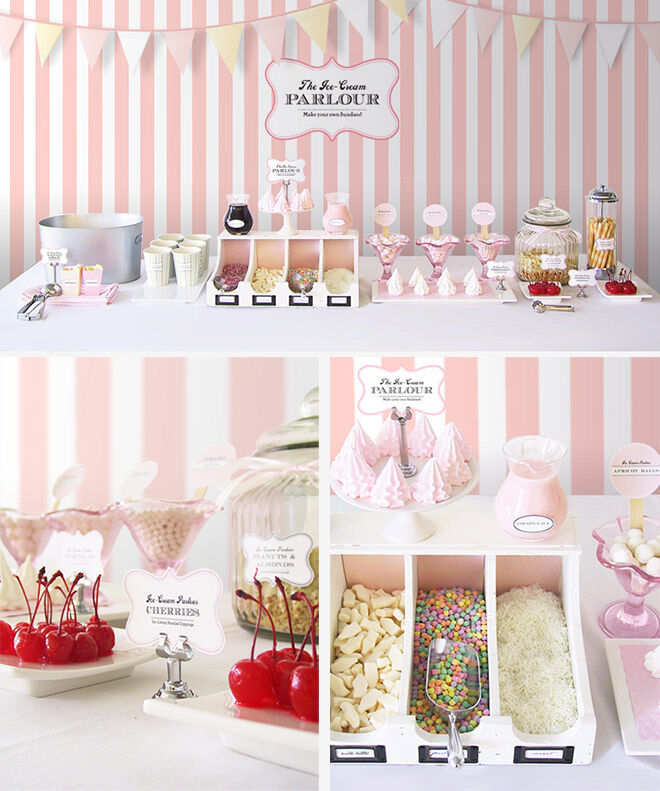 Take their ice cream from ordinary to extraordinary with a sundae bar they'll never forget. (via Eat, Drink, Chic)
Homemade cones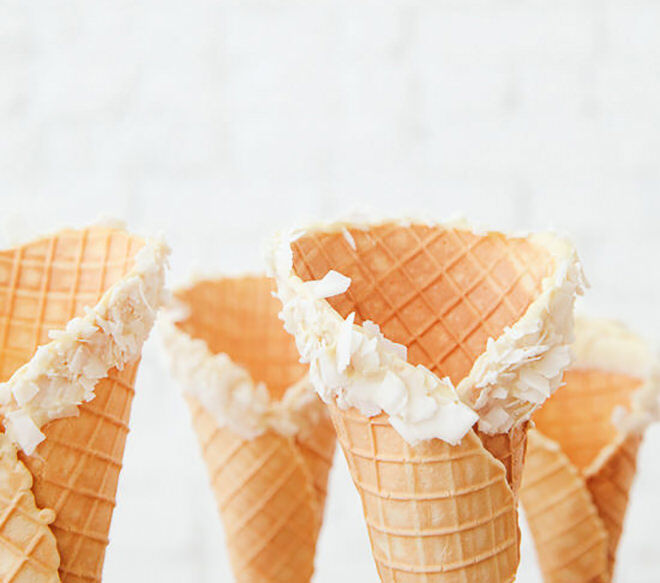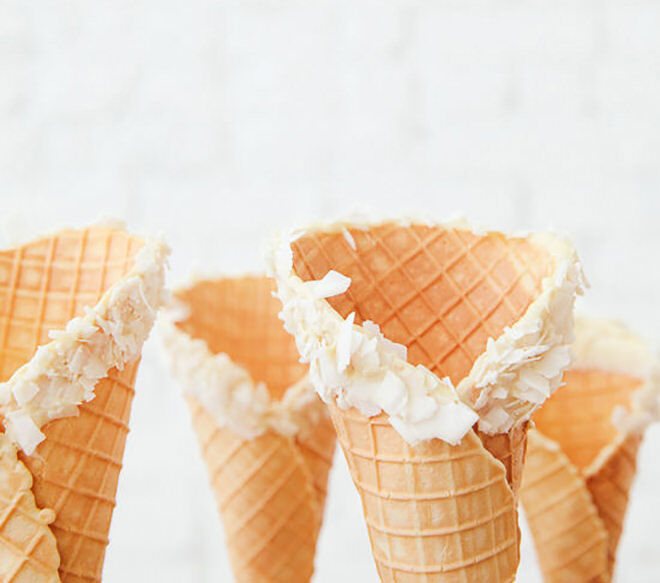 Feeling a little fancy? Try making your own waffle cones at home. It's actually really easy! (via Design Love Fest)
Rainbow in a bowl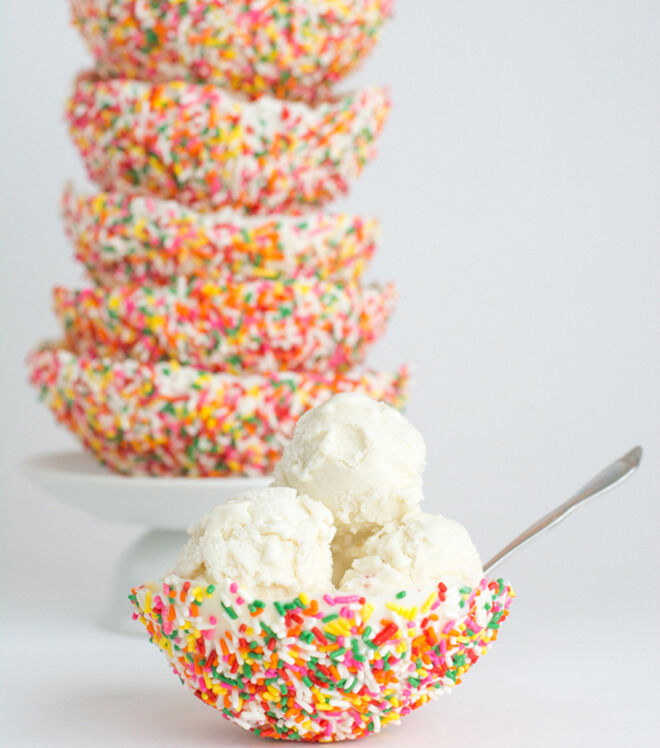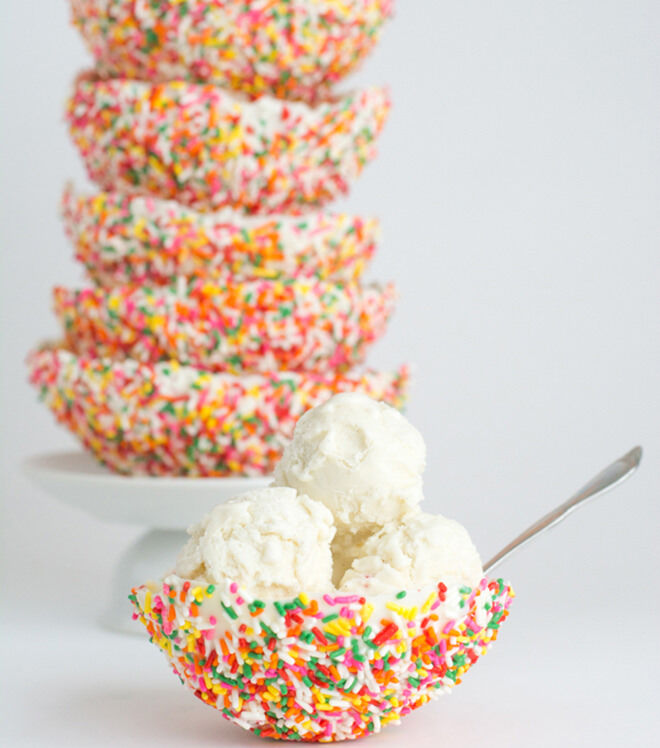 There's no boring bowls at this party. Step the tableware up a notch and go sprinkle crazy with edible bowls. (via This Heart of Mine)
Ice cream?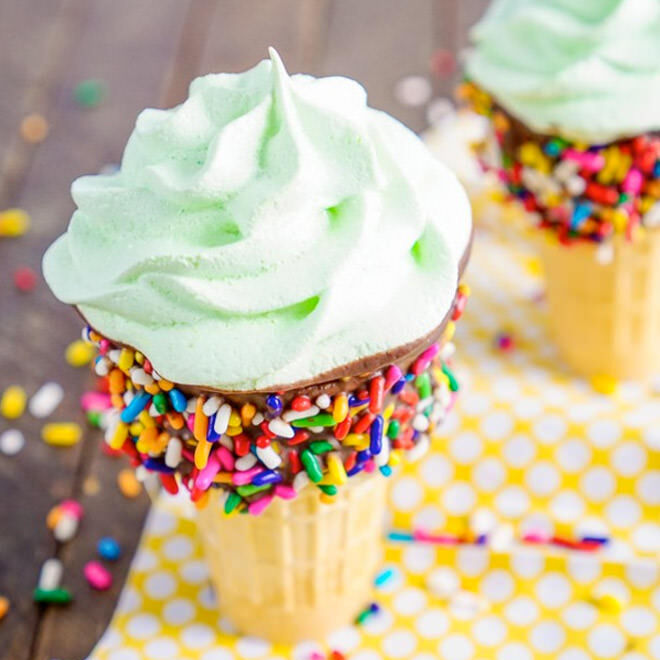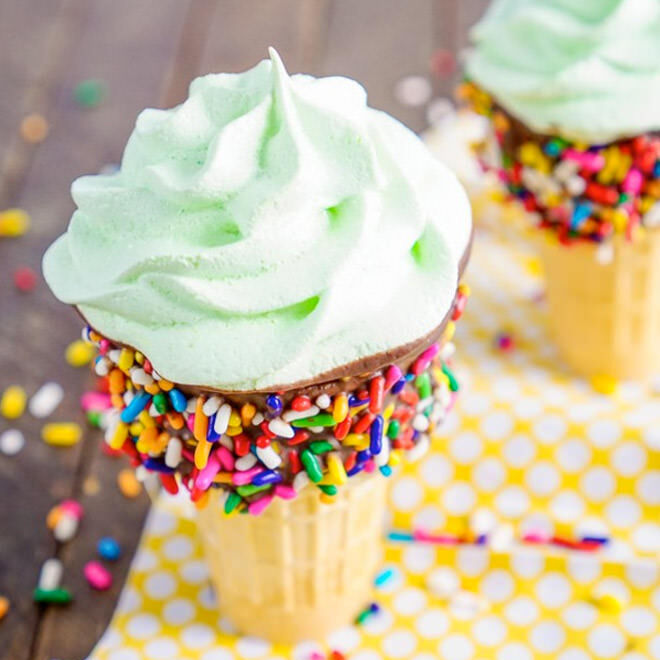 They may taste just like ice cream and look just like ice cream, but these gorgeous green treats aren't cold at all. Make mini meringues and place them on top of cones for a surprising party treat. (via Oh Sweet Basil)
Fairy fabulous floss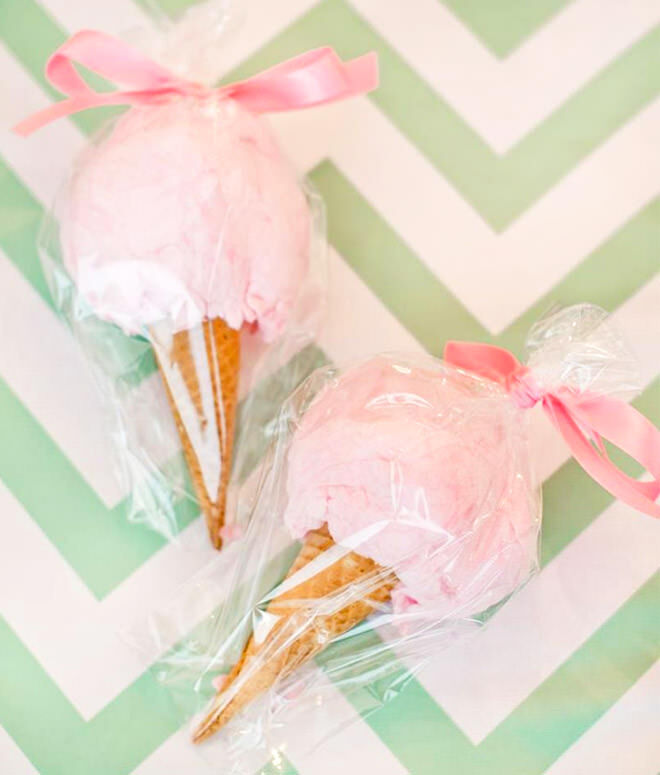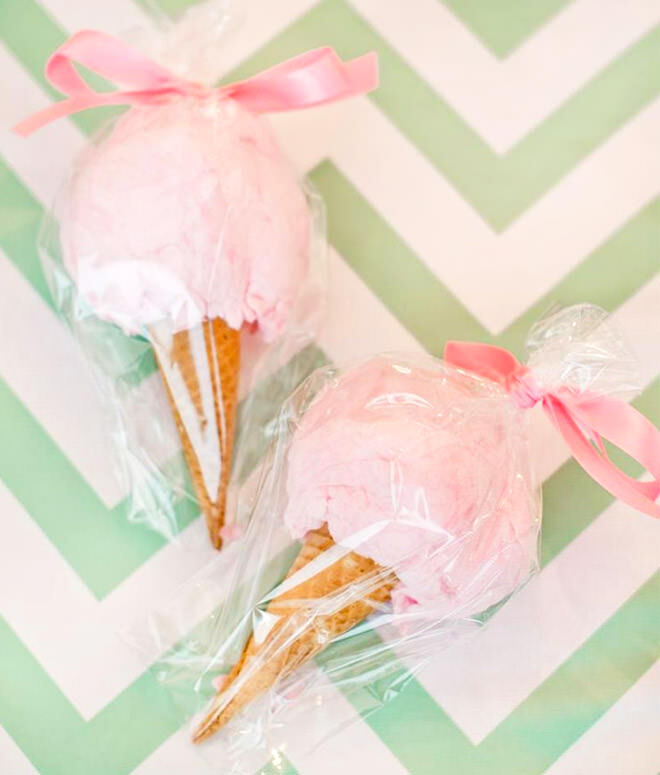 Turn ordinary fairy floss into fabulously large ice cream cones for when your guests have had their fill of the frozen stuff. (via Style Me Pretty)
Popalicious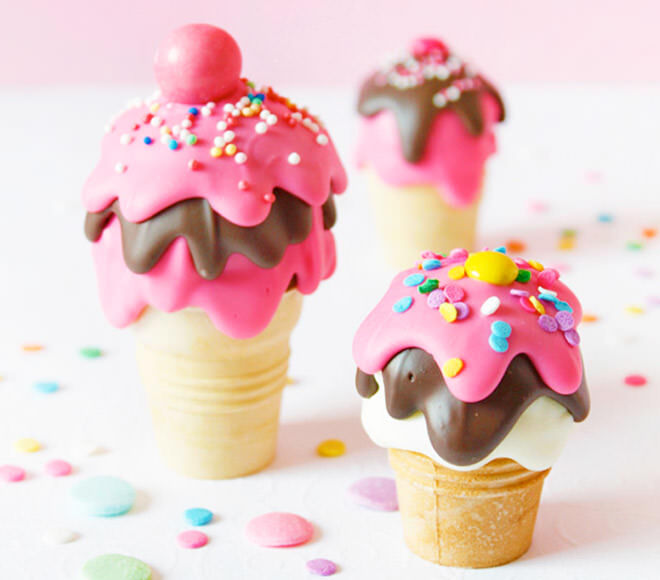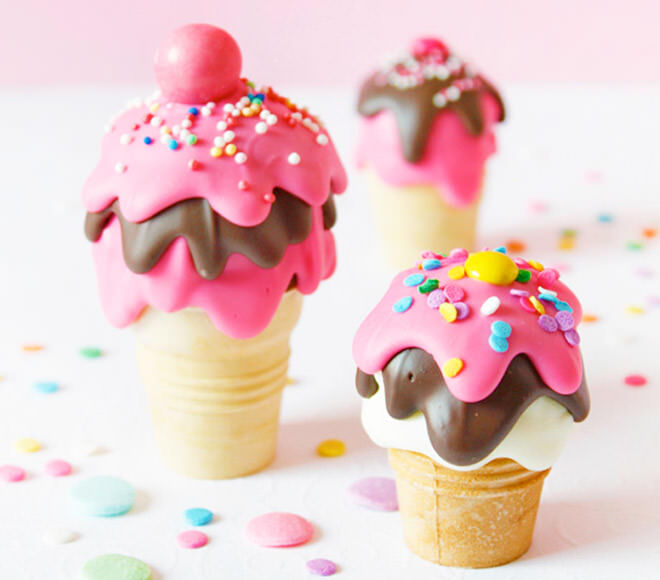 Cake pops that look like ice creams – adorable! Follow the step-by-step instructions and you will WOW your guests with your baking prowess. (via Niner Bakes)
Tutty fruity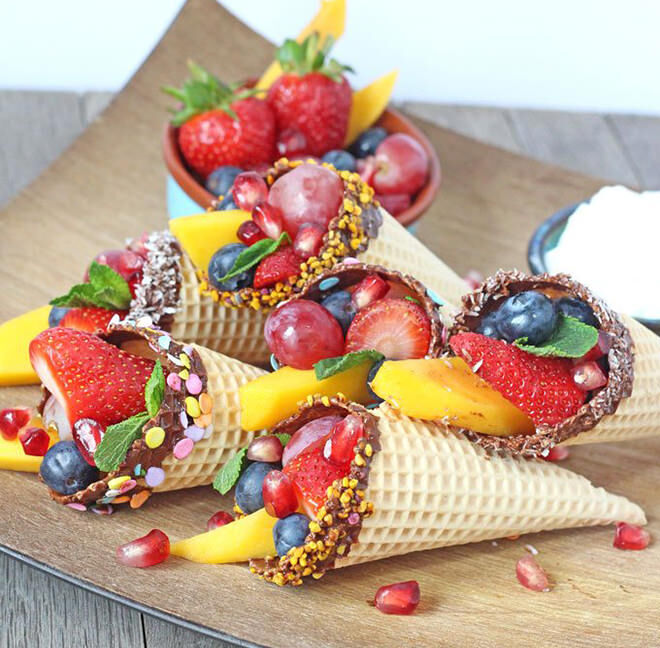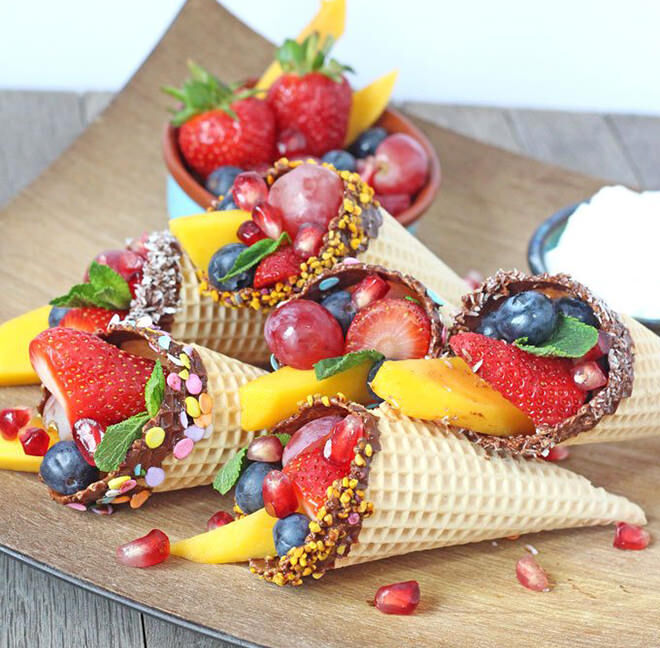 With all those sugary treats about it's important to fill them up with the good stuff too. Hand out fun fruit cones to give the kiddies a break from the party foods. (via My Fussy Eater)
Sundae funday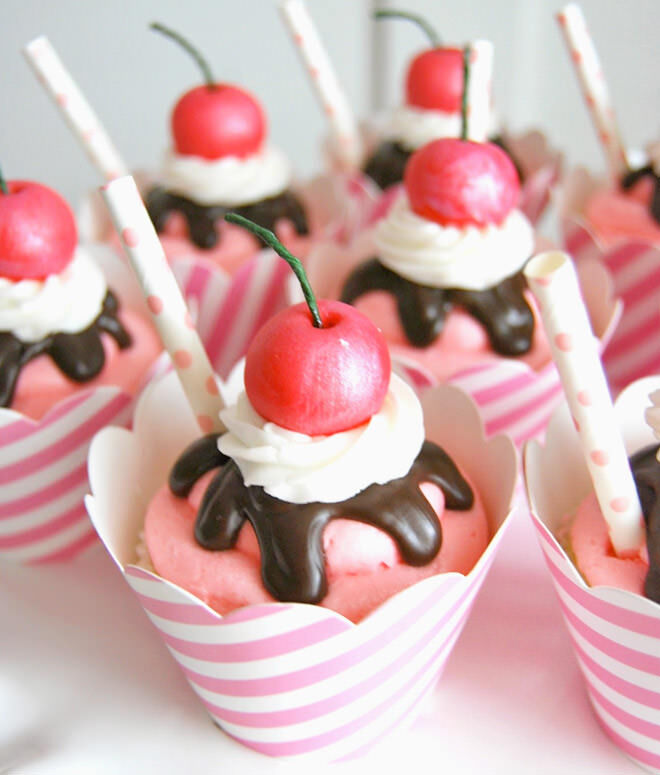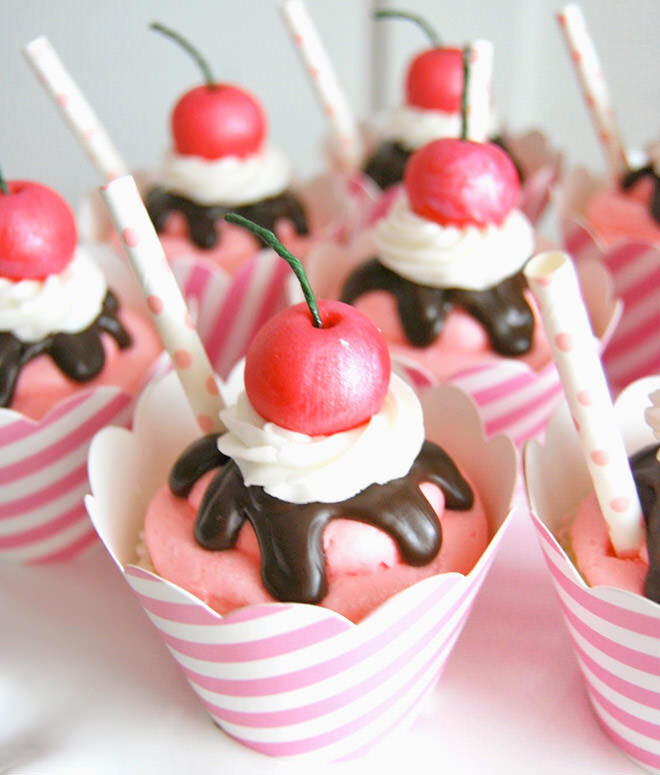 Even your cupcakes can look like ice creams. (via Home by Heidi)
To take home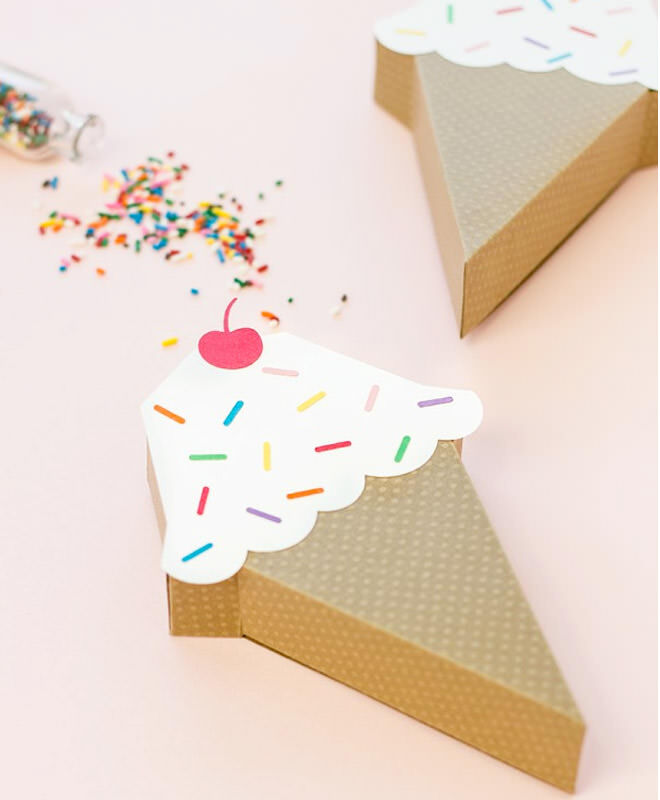 Send the munchkins home with a cool reminder of the party. These ice cream boxes can be printed at home and filled with whatever goodies you (or they) like! (via Studio DIY)
Three scoops please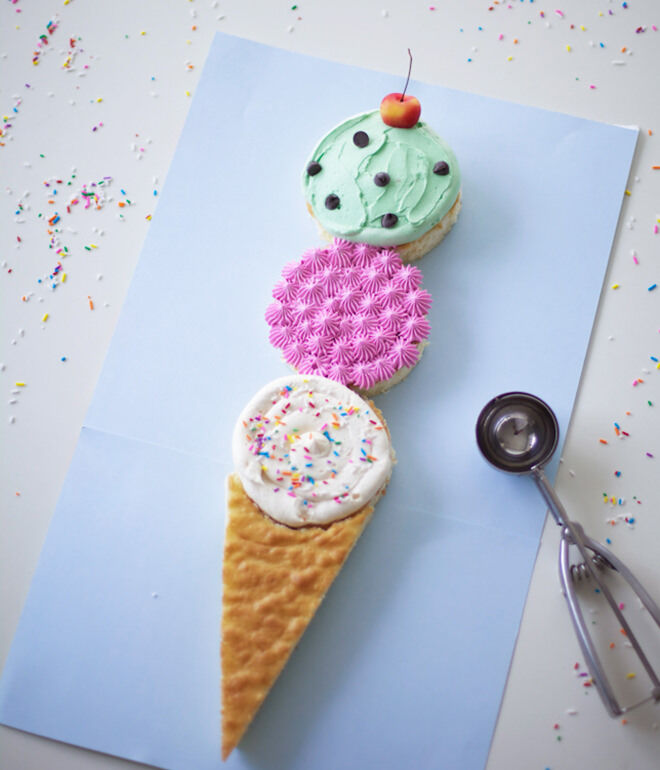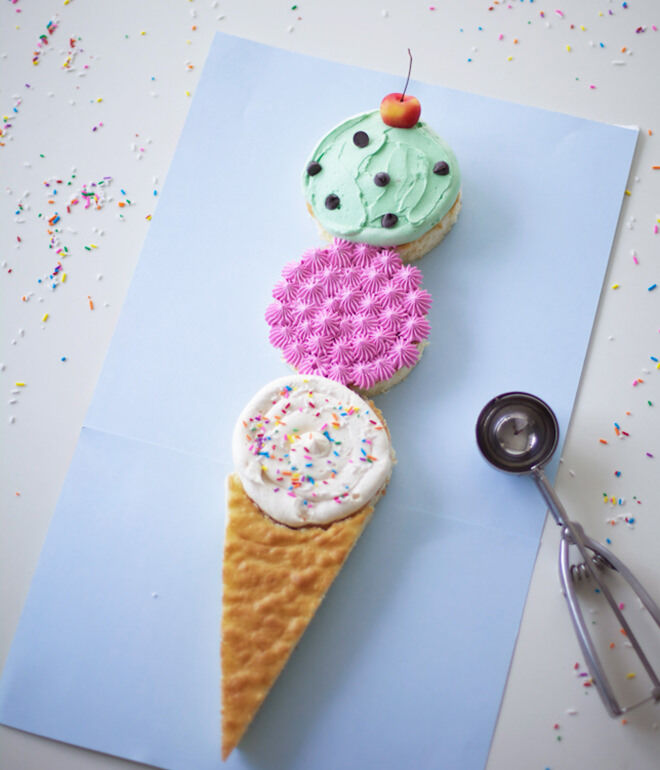 One scoop is never enough! This cone cake is the perfect way to end your ice cream party. With step-by-step instructions it's a brilliant bake, even for those who find cakes a challenge. (via Coco Cake Land)
Blow your guests away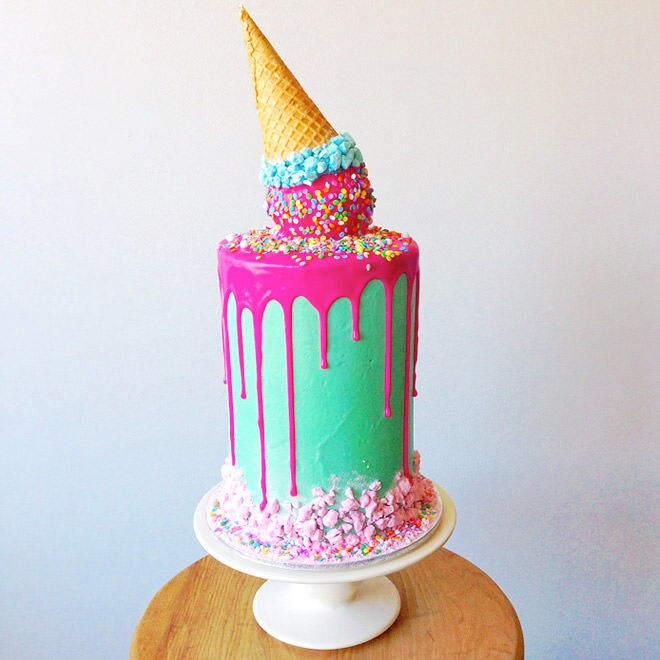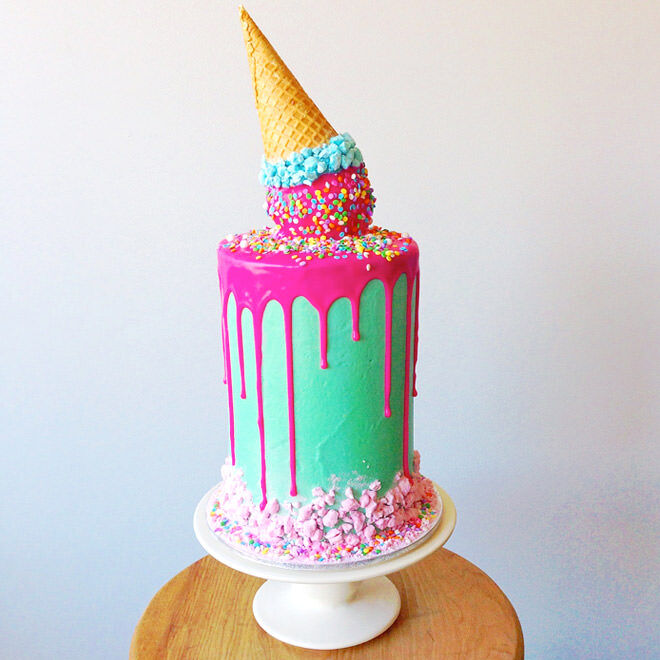 Queen of cakes Katherine Sabbath shows us how it's really done with one of her most well-known creations. Stunning on the outside and crammed with six layers (yes, six layers!) of cake-y goodness on the inside. Yum!