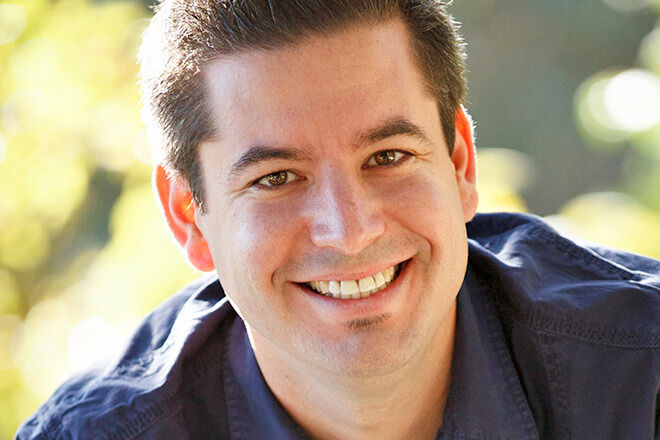 Beau Coffron is the king of the lunch box. Known as the LunchBox Dad, Beau creates lunches that look more like a work of food art than a sandwich.
Every Sunday he creates a surprise lunch for his 5 year old son and 9 year old daughter so that when they open their lunch boxes they know that their dad is thinking of them. And when we say surprise lunch, we mean surprise! Think rocket ships, super heroes and every Disney character getting around.
His Chewbacca will impress even a non-Star Wars fan!
Mum's Grapevine chatted with this lunch box luminary to get the low down on how we can easily and quickly make fun and interesting lunches that will give our kids the warm and fuzzies when they open them. And ensure they get eaten too!

Q. What is the one ingredient you use the most in you lunch box creations and why is it your favourite?
Whole-wheat bread. It is easy to make things out of and my kids enjoy sandwiches. For my kids and my family it works really well. I try and use lots of fresh fruit and vegetables too.
Q. We are all about efficiency at Mum's Grapevine. What helps you make lunch prep easy?
For making fun packed lunches, one of the easiest things you can do is use cookie cutters on sandwiches. A lot of people already have cookie cutters in fun shapes, so the first thing I tell parents is to just start off that way and make whatever type of sandwiches your kids like and just cut them out with the cookie cutter.
Also, I encourage parents to prep as much as they can at the beginning of the week. There are many fruits and vegetables that you can cut up for lunches a few days in advance so that you aren't trying to cut up fresh fruit or vegetables every night. You only need to do it once or twice a week.
Mum's Grapevine Tip: Try Lunch Punch Sandwich cutters ($12) to make easy lunch time sandwich surprises!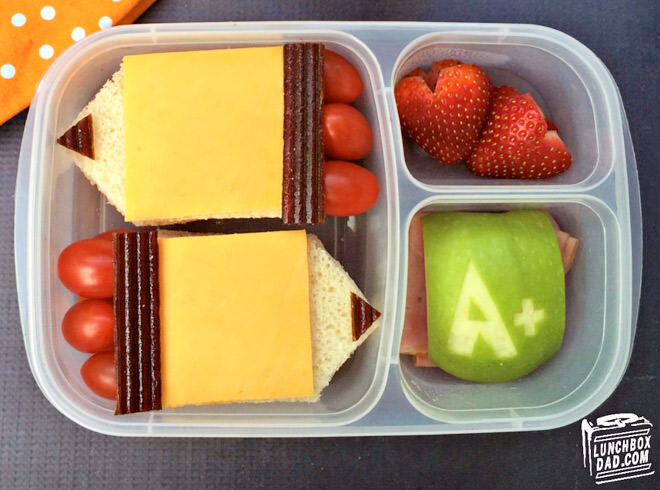 Q. What tips would you give to someone who has decided they are going to take lunches to the next level and try some bento creations like yours?
Start off with a really good bento lunch box. It doesn't have to be super expensive, it just has to be whatever works well for your family. I like EasyLunchboxes a lot and they are available in Australia. They work really well.
From there, I would say have a look at my blog LunchBox Dad. I post all my ingredients and directions on there. I include simple lunches and more complicated lunches like my Chewbacca.
You can also try lunch notes. I love lunch notes! One of the reasons I started my blog and started doing these lunches for my daughter was that I just wanted her to know that her dad was thinking about her during school and that her dad loved her.
One of the things we are doing is the Lunchbox Love Note Campaign. Sunraysia has put these incredible lunch notes on their Facebook page.  Anyone can download them for free and put them in their kids' lunch boxes. It's really easy to print them off, cut them up and put them in the kids' lunch boxes and let them know you are thinking about them.
Mum's Grapevine Tip: Get yourself an EasyLunchbox ($30) or try the Yumbox ($39.95)
Q. If your child is one of those picky kids who will only eat broccoli every third Wednesday, what is your advice for keeping lunches interesting?
My daughter will try almost anything and that is one of the rules we have in our family: you have got to at least try it. So if you try and it and don't like it, that's ok, we aren't going to make you eat it!
My son is more of a fussy eater, so I try to give him choices. I might ask him: do you want grapes or apples in your lunch? Would you like snap peas or broccoli? It helps him to feel he's part of the process. It also makes him feel like he has a choice here and he is choosing the food. It can be foods that we really want them to eat and try and that works really well for my son. I know other parents who have tried that as well and it works great for them.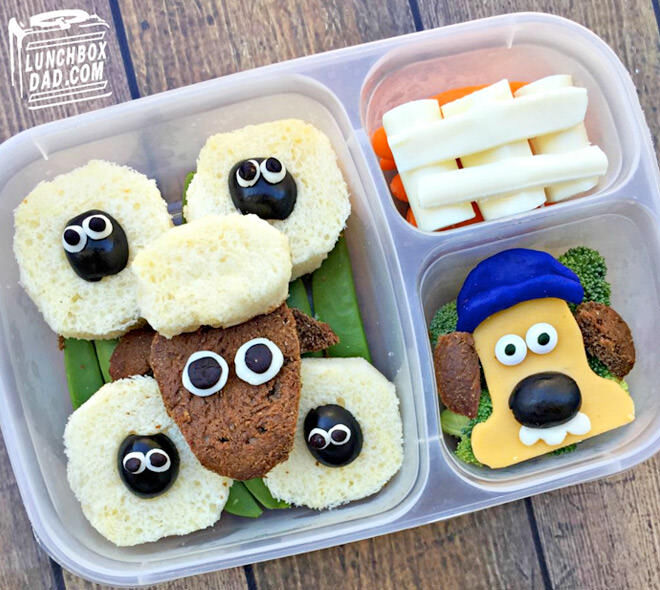 Q. Do you let your kids get hands-on in helping you prepare their lunch box?
I get them involved in choosing their food as much as I can. With the fun lunches, I make once a week, those are a surprise.
On the other days of the week we will give them a choice and get them involved because that helps them know they have chosen a healthy option. Then when they get older and are making their own lunches they will choose the healthy option.
Q. One thing parents always complain about is when we spend time making a wonderfully healthy and balanced lunch and they take two bites! Have any of your creations ever come home?
You know, they do generally get eaten by my kids but every once in a while there will be things left. With my lunch boxes, I really try and introduce new food to them and sometimes they will try it and just don't like whatever it was. That's ok as long as they have tried it.
A lot of times they will eat it because it's presented in a fun way. My daughter will tell you she has tried things that she would never have tried otherwise because it was presented in a fun way.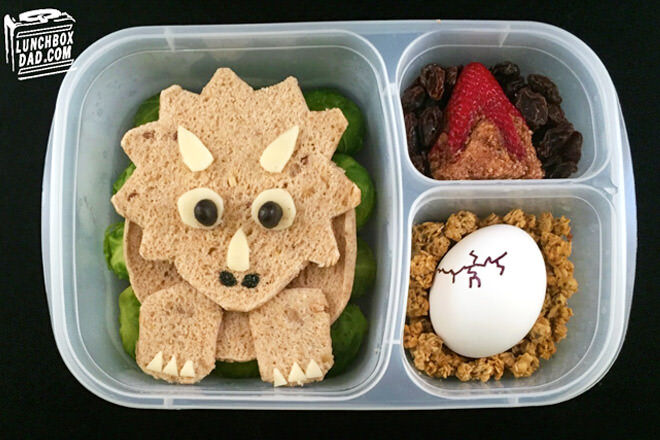 Q. Your lunches look amazing in your photos but how do you keep them looking fantastic when they are bounced around in the school bag?
I get that all the time and there a few tips and tricks I use. I use toothpicks to keep things together and I pack the lunch boxes pretty tight so there is not a lot of room for them to move around.
Sometimes I will use a little food paste which is basically a little bit of cream cheese or a little bit of honey (depending on what would taste better) to paste things down and that works really well too.
Q. What products are your absolute favourite and can't do without?
Honestly, I use a lot of simple things. Toothpicks and a good set of sharp knives. Other than that, I use regular stuff around the kitchen. I don't want parents to have to re-invent the wheel, so I hope to give them a recipe or directions that will make things a lot easier for them.
Q. If you could make lunch for one famous person, who would it be and what would you make them?
That's a good question! My family is really into Star Wars, so I think Harrison Ford. He is probably a bit old for a bento lunch box but you never know. I would make an Indiana Jones or Star Wars theme for him.

Make your own: Under the sea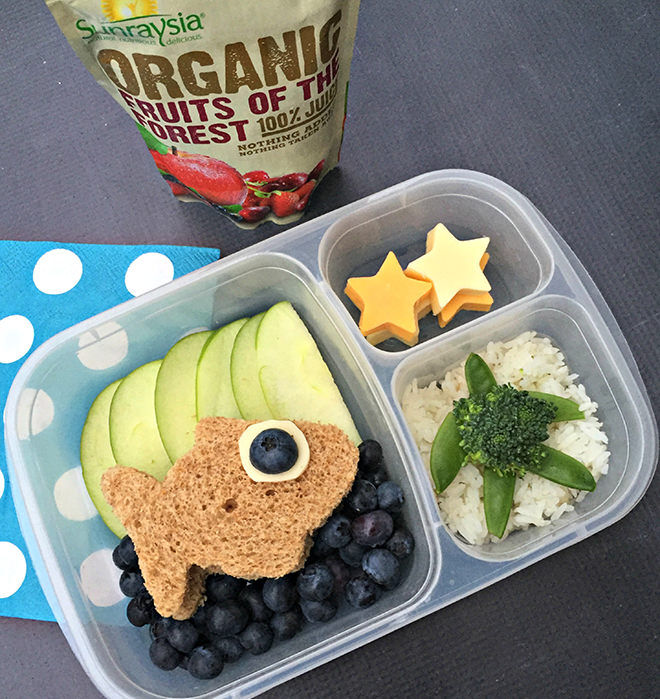 The how to: 
Use a fish shaped cookie cutter on two slices of bread. Place sandwich filling on top of one piece and place second piece of bread on top. Cut small circle from Mozzarella cheese. Put toothpick in blueberry, then through circle of cheese, and through the top of sandwich. This makes the fish's eye.
Drop blueberries in the bottom half of main dish and arrange apple slices in the top half as shown. Rub apple slices with lemon wedge to help prevent browning. Place fish sandwich on top of the blueberries.
Cut cheese into starfish shapes. Using a vegetable cutter makes this a snap! Place in side dish.
In second side dish, put rice or quinoa. Slice three snap peas in half. Place them in the rice in position to be flippers and a head for a turtle as shown. Place a floret of broccoli on top for the shell.
Make your own: Happy face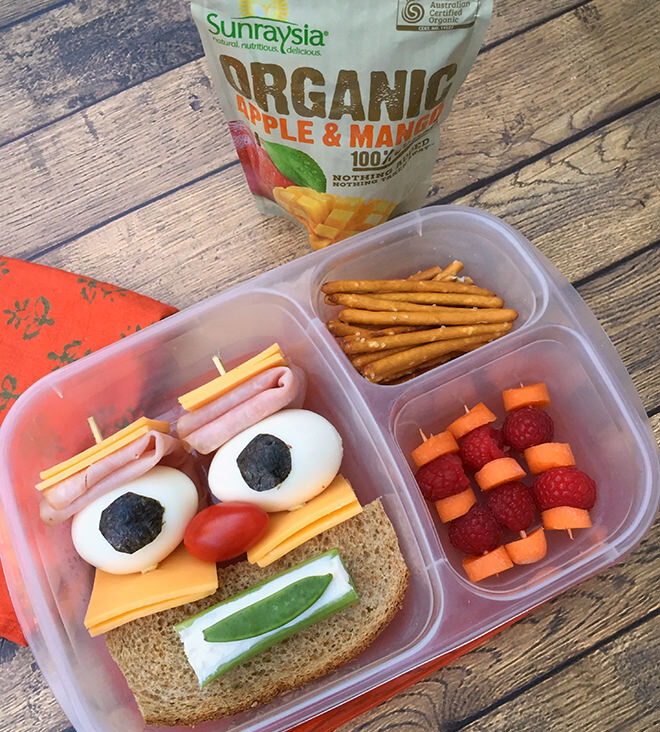 The how to: 
Make sure kabob sticks fit into lunch box. If they don't, break off the ends to fit. Slide cheese, meat, egg, and another piece of cheese, in that order, onto kabob stick. Repeat with second stick. Lay both sticks vertically in main compartment of lunch box.
Cut two circles from roasted seaweed. Place on top of eggs to make the eyes.
Underneath the kabob sticks, lay half a slice of bread along the bottom of lunch box. Then, spread cream cheese on celery. Top celery with snap pea. Place celery stick horizontally on top of the bread.
Put grape tomato above celery and between eggs to make a nose.
Cut carrot into slices. Alternate sliding raspberries and carrot slices onto toothpick. Repeat with two more toothpicks. Place in side container.
In second side container, put pretzel sticks.