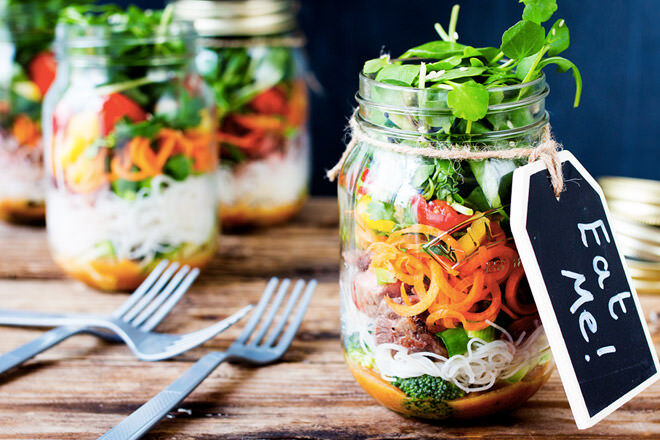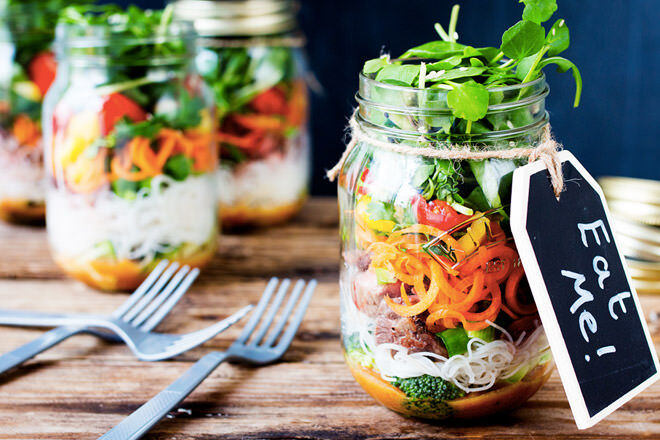 Looking for some lunch time inspiration for your work days? Say farewell to the #saddesklunch and embrace the salad jar phenomenon! Yes, it's been around for a while now (hello, Pinterest), but that's because it is just so good!
With a little bit of preparation, the salad jar can answer all of your lunch time prayers. They are nutritious, filling and they look incredible. And we all know that we eat with our eyes first!
We've found the answers to your salad jar 101 questions to arm you with the knowledge to create your own salad masterpieces. And we couldn't help including 13+ amazing recipes to get you started as well.
1. What is the point of putting my salad in a jar?
The joy of the salad jar is that you can pre-prepare your salads a few days ahead and everything is in the one jar – including your dressing! No more carting around 16 different containers to keep ingredients separate and crossing your fingers that things won't leak in your bag.
2. Why go glass?
They just work better for this little salad venture. You need a sturdy container to keep your layers in order and a really good seal to keep everything fresh. Glass jars just generally do this better than plastic containers.
Aim for a jar with a wide mouth (for easy salad layering access) and a quality lid to create a good seal.
3. How long do salad jars keep?
This is the genius of salad jars! Once they are properly constructed and nicely sealed up, you can pop them in the fridge and they'll keep for a good few days – 2-3 definitely and some people claim up to 5-7! If you really want to go crazy, you can use a vacuum sealer to really lock that freshness in.
4. But won't everything go soggy?
Not if you layer, layer, layer! This is the secret to success. It's all about keeping the dressing separate from the ingredients that will go soggy (because soggy = salad jar fail).
These layering rules are really for when you are preparing your salads in advance. So if you are thinking of lining a few of these babies up in the fridge to see you through the week, then we suggest sticking with the rules. Otherwise, go crazy!
Layer 1: Pour 2-3 tablespoons (depending on jar size and your preference) of your choice of dressing into the bottom of your jar. Try not to get it on the sides of the jar – the idea is to create a little dressing pool that is isolated at the bottom.
Layer 2: This is the money layer – it needs to act as a barrier to keep the dressing at the bottom of the jar. Aim for hard, chunky vegetables like carrots, cucumber, capsicum, beetroot or broccoli.
Layer 3: Next come your grains, beans or legumes. There is so much choice here – short pasta, couscous, black beans, chickpeas, lentils – you name it, this layer is up for it!
Layer 4: This layer is for the veggies that need a little more tender loving care – mushrooms, zucchini, sprouts and peas can all find their home here.
Layer 5: Add your nuts and seeds at this point for a bit of crunch. Softer, more absorbent grains like quinoa also hang out in this layer so they don't absorb too much liquid from down below.
Layer 6: Finally, your greens gather on top, far, far away from that dressing which turn them into a soggy mess. Think lettuce, spinach, rocket.
If you are making your salads in advance, then we recommend a last minute layer which you add on the day of eating. This includes any cheese (like crumbled feta, ricotta, soft mozzarella or grated cheddar) and protein (like tuna, chicken, eggs, tofu). Otherwise this layer can sit happily on top of layer 3 – let's call it 3A!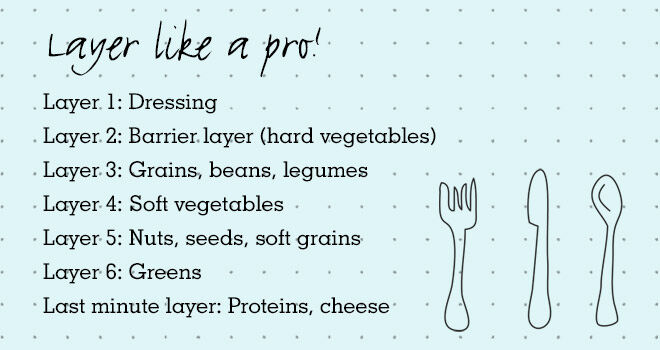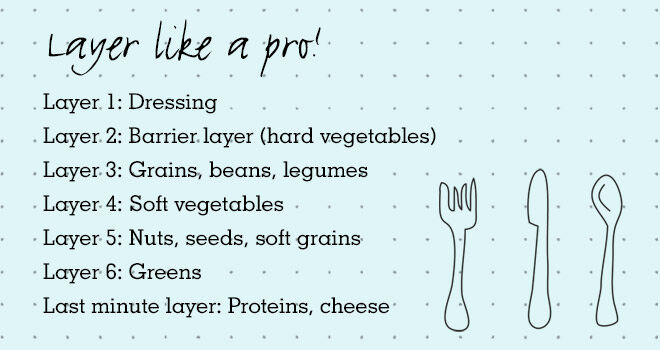 5. Do I eat it from the jar?
Well, that's really up to you. But our preference is to get a nice big bowl and tip everything out. That way the dressing can be mixed through the salad and you won't feel like you're on an archaeological dig each time you try and stick your fork into the jar.
Salad jar 101 sources: the kitchn; Organize Yourself Skinny

Recipe inspiration
Ready to take on the salad jar? Here are 13+ recipes to get you started. Some of these break the layering rules, so just keep in mind that they will definitely need to be eaten on the day.
A touch of mint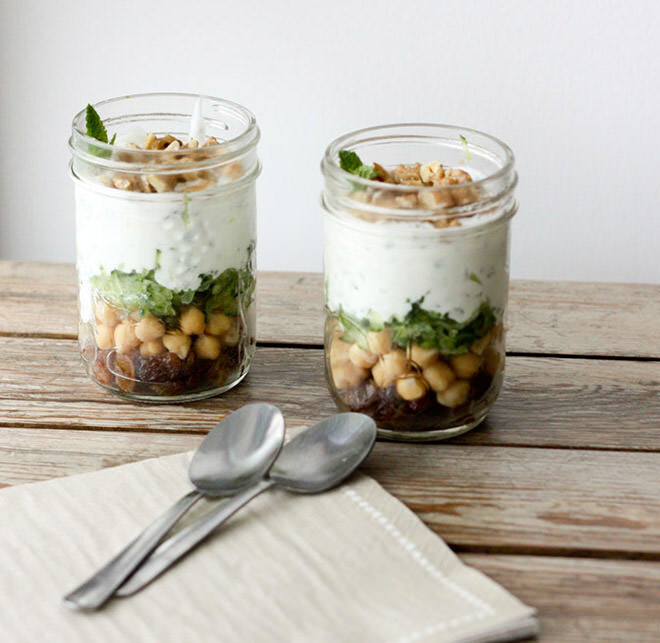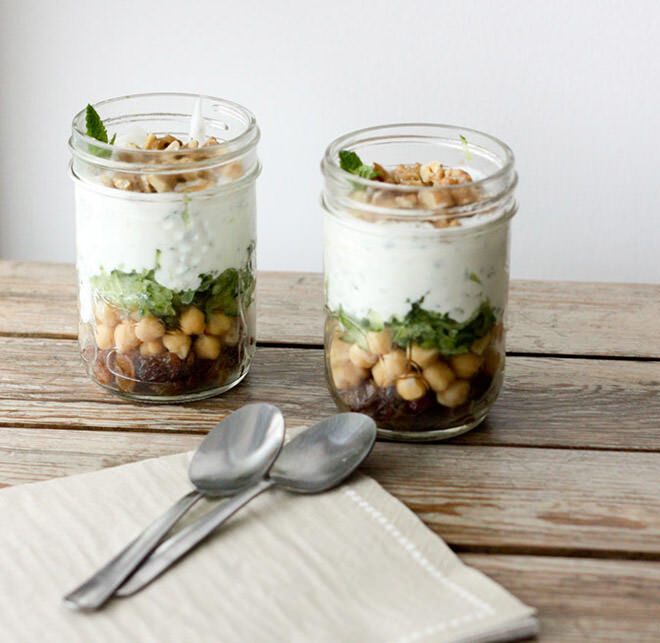 The classic yoghurt, cucumber and mint combo becomes a salad party with the addition of chickpeas, raisins and walnuts. (via From the Land we Live On)
Satisfy the sweet tooth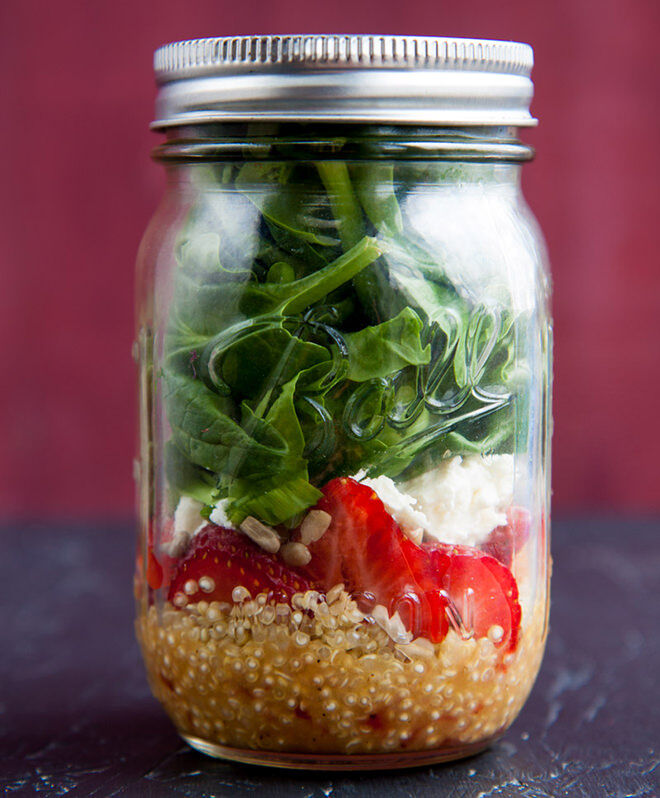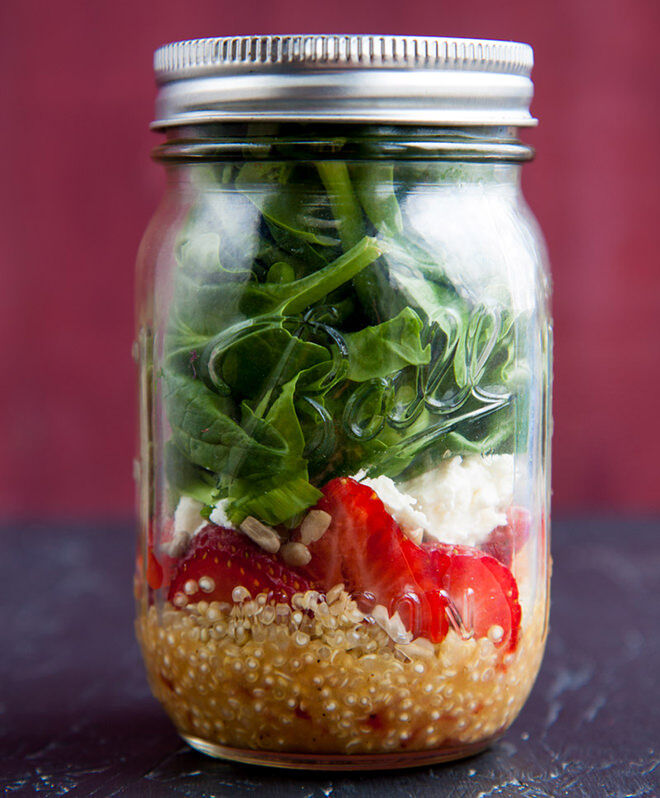 Fancy something a little salty-sweet? This one marries strawberries and feta with quinoa and greens in a yummy vinaigrette. (via Back to Her Roots)
A twist on greek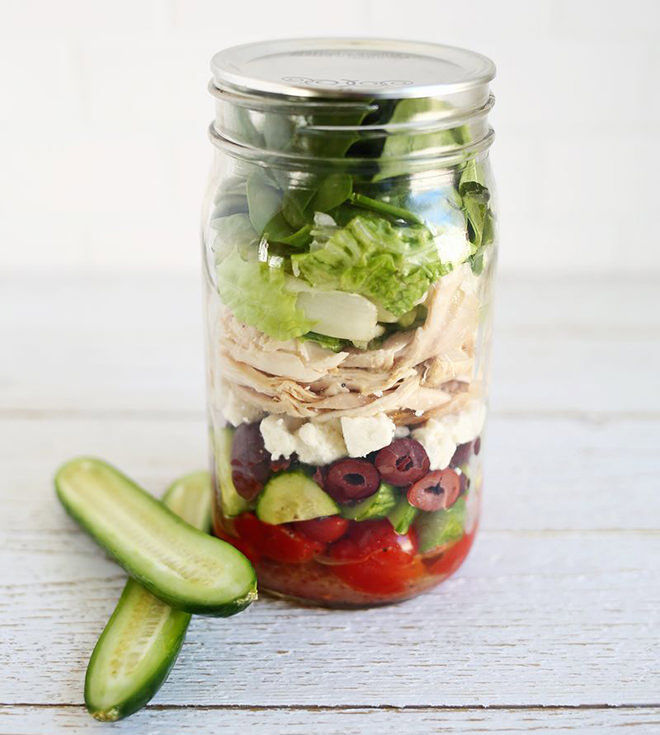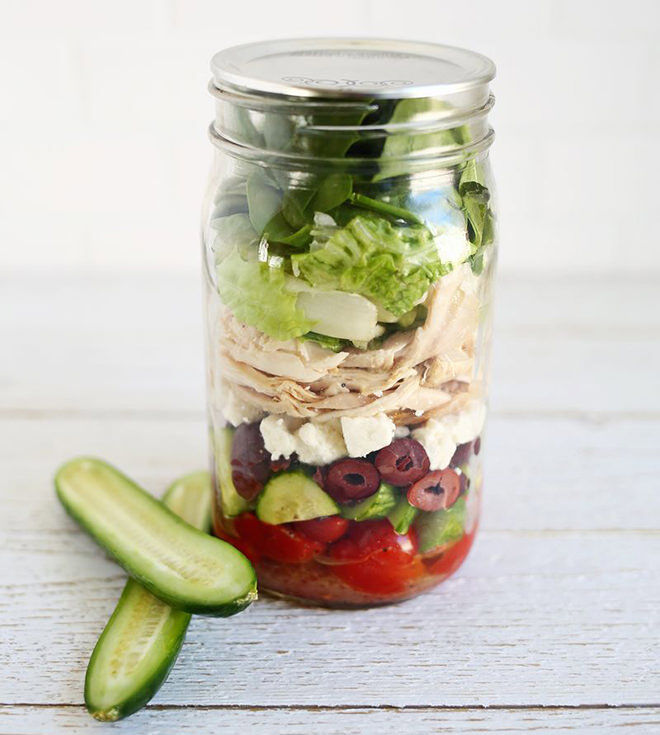 Add some chicken to your classic Greek salad and you'll sail through the afternoon without having to worry about the 3pm munchy attack. (via A Beautiful Mess)
For the love of blue cheese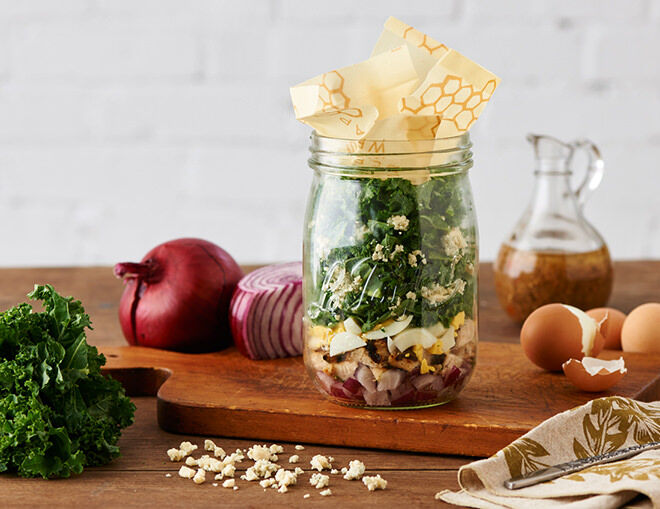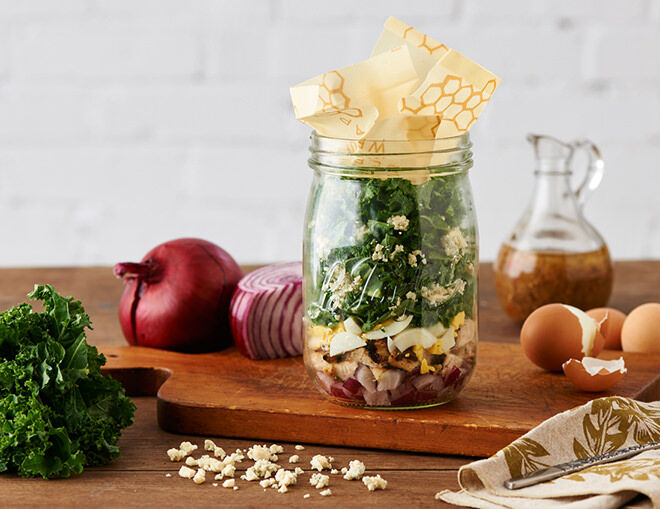 With blue cheese taking a starring role in this jar, you'll need to consider your colleagues' olfactory sensitivities! (via Rodale's)
Add some crunch to your lunch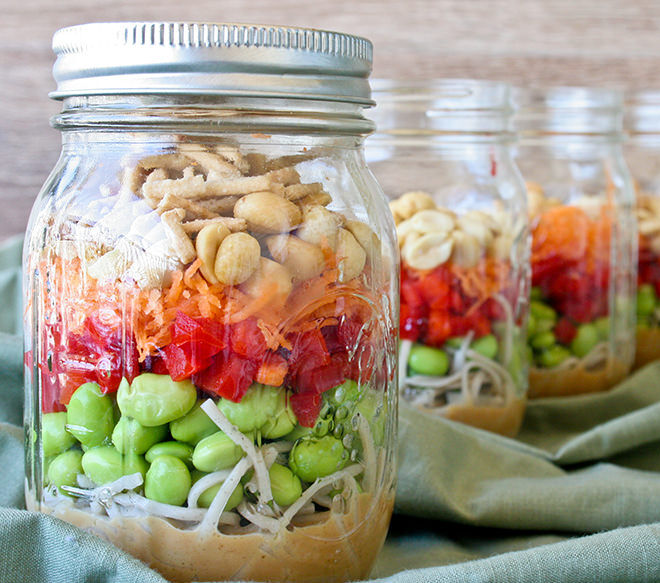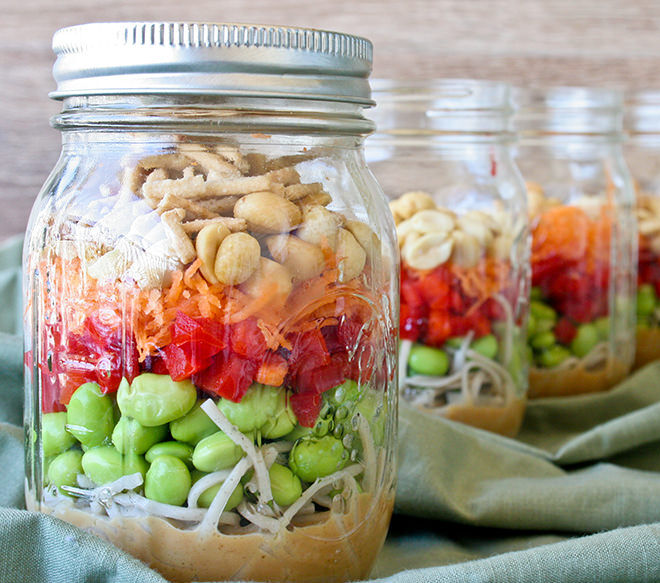 This glorious combination of soba noodles and nutritious veggies gets a textural boost from a layer of crunchy nuts and noodles on top (definitely a last minute layer!) (via Pocketful of Thyme)
Tasty Tuna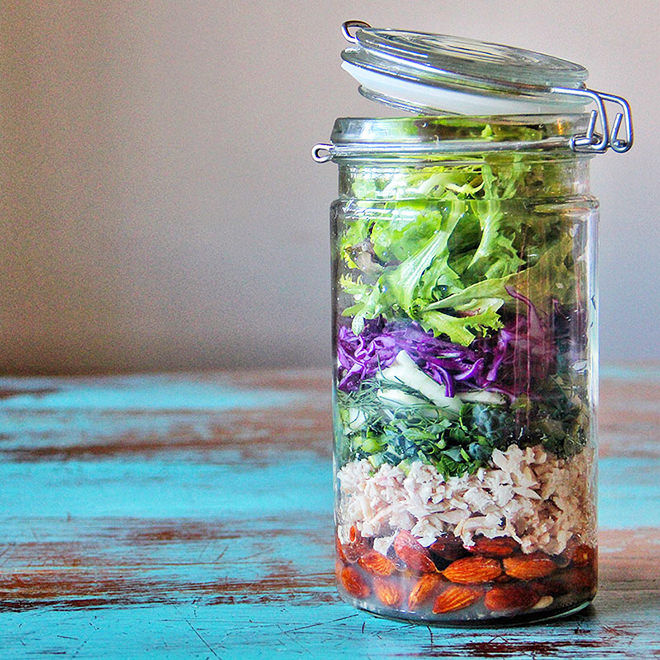 This one certainly ticks the pretty box, but it is super good for you too, with tuna, purple cabbage and almonds giving this salad nutritional grunt. (via That Sugar Film)
Jar your snacks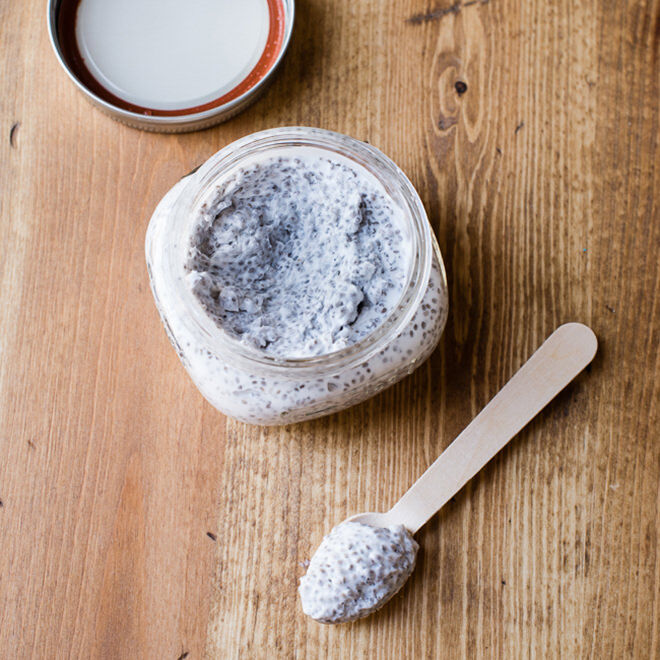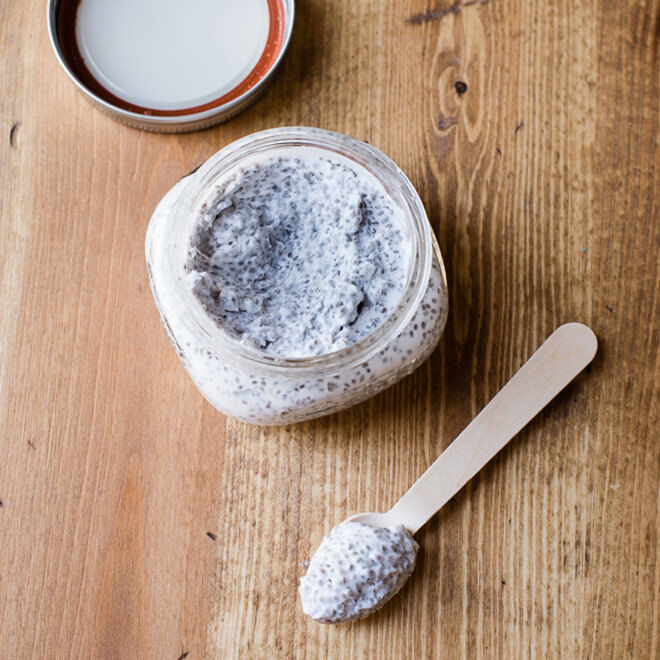 Let's break from salads for a minute to consider what else can be popped in a jar. This chia pudding is perfect for a snack attack at your desk. (via Hello Glow)
Thai twist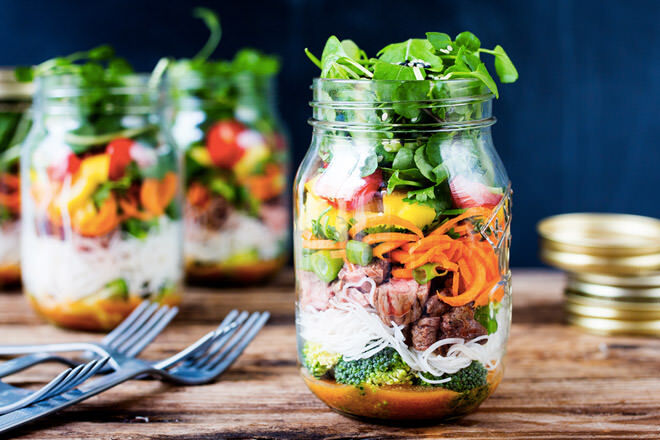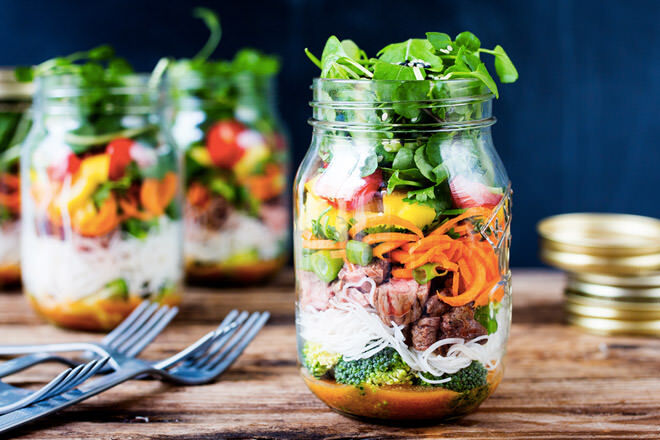 This rainbow-like lunch is sure to make you smile! Using leftover beef (or other protein) will cut your prep time and make magical use of last night's dinner. (via Brit + Co)
On the ranch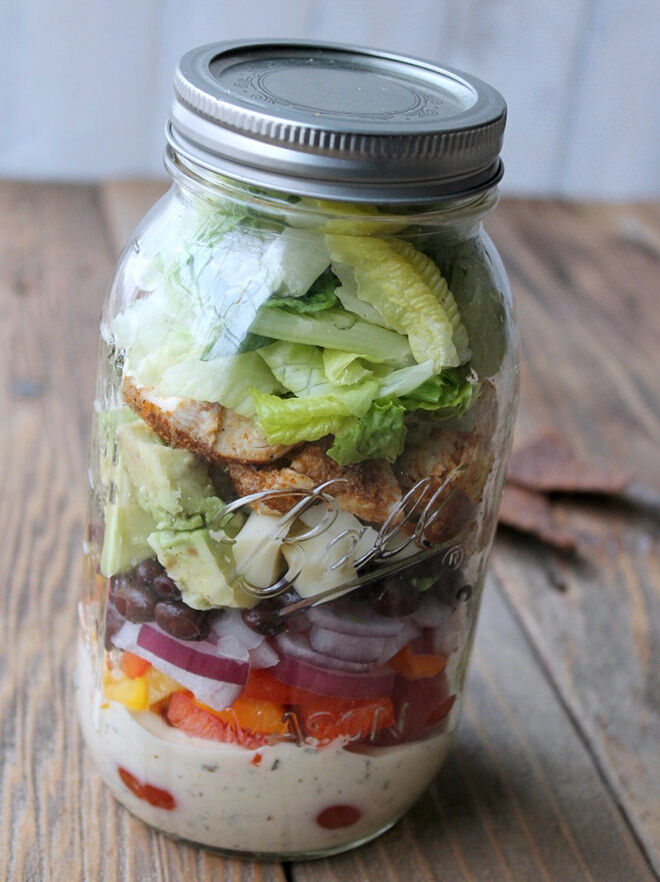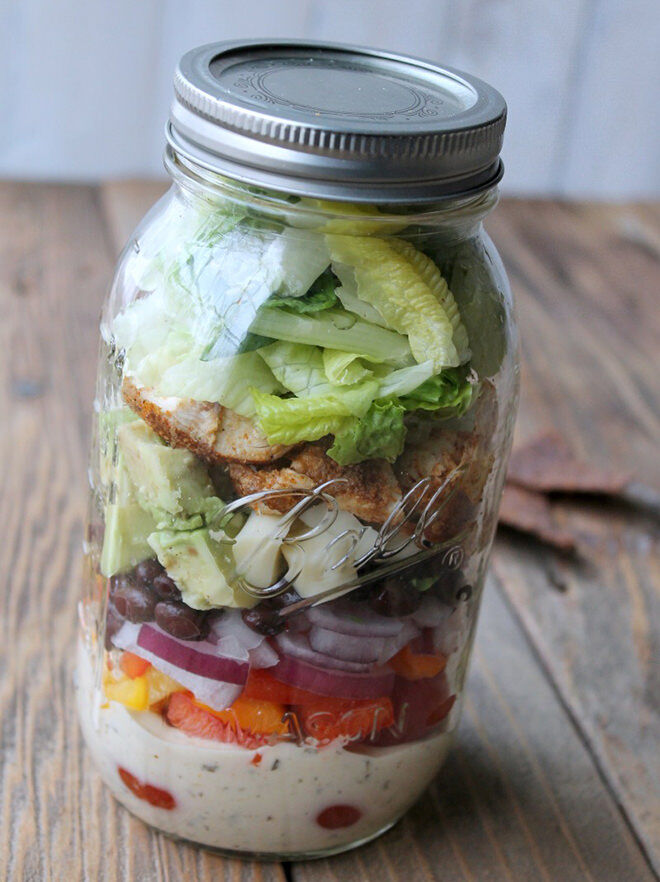 Add a little southern tang to your salad with ranch dressing and spicy chicken. Yummola! (via Organize yourself Skinny)
Super Burrito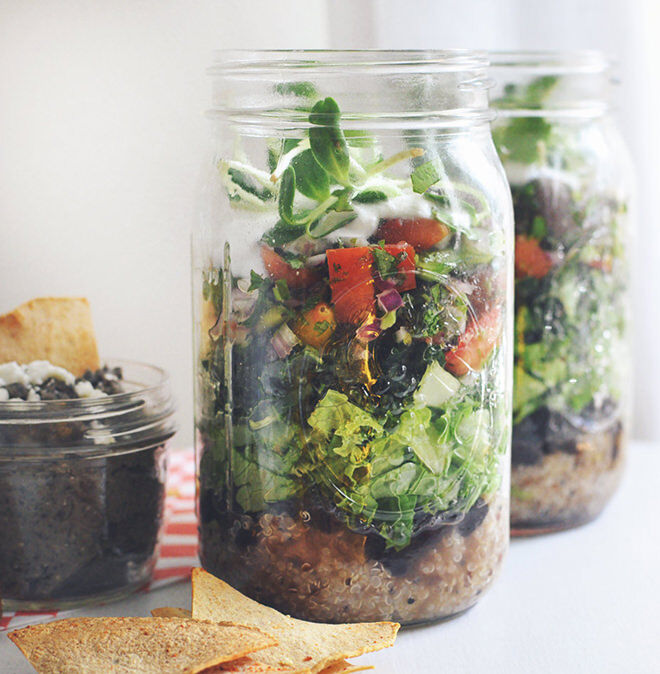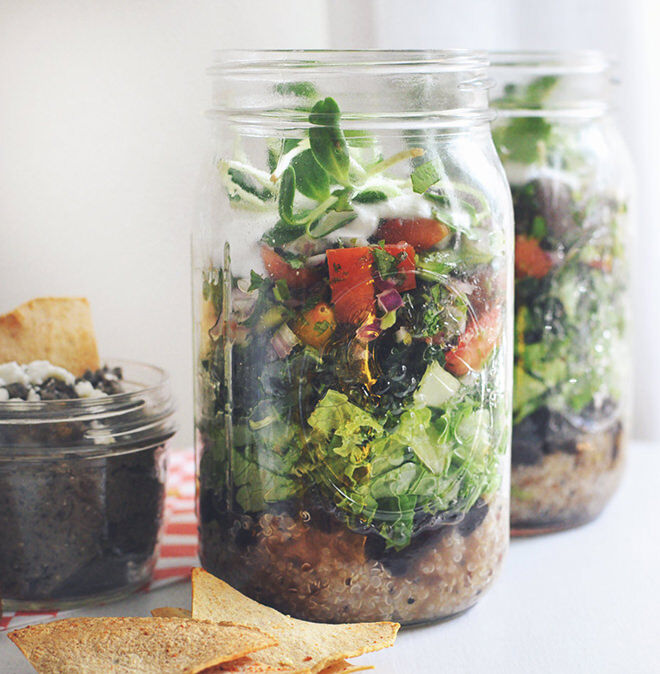 This superfood laden burrito takes a bit of extra prep, but the zesty black beans and cherry tomato salsa are 100% worth your time! (via Wake the Wolves)
Oodles of zoodles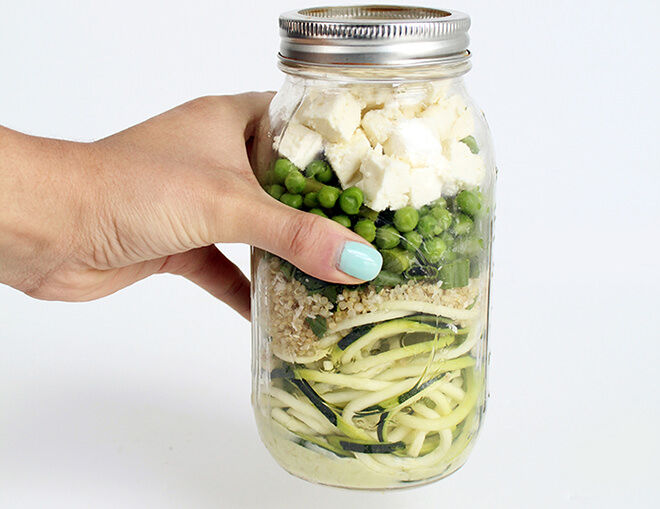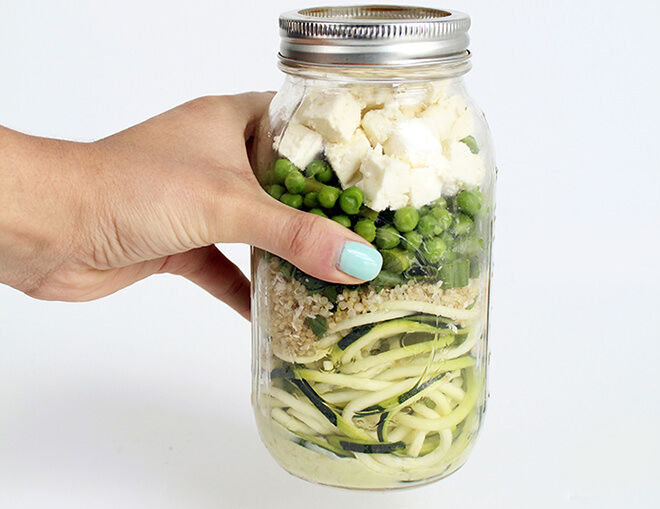 Two food trends combine! Crack out your spiralizer and add zucchini noodles to your jar for a super star salad. (via Inspiralized)
Sushi jar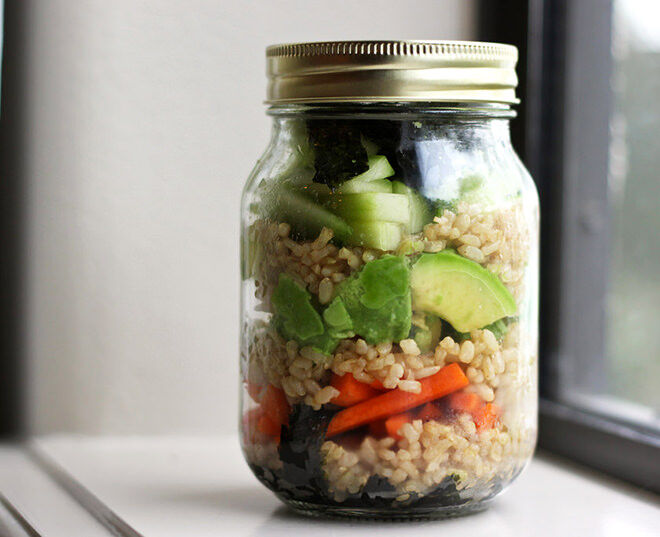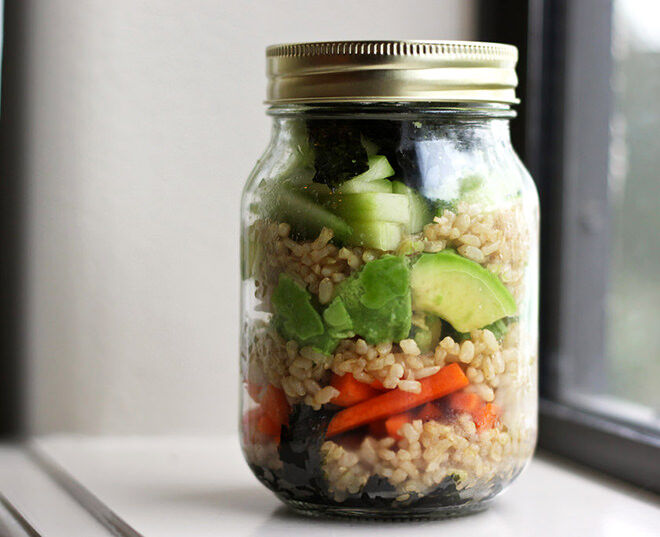 Brown rice trumps white rice every time, giving this deconstructed sushi jar an extra healthy boost. (via Spoon University)
It's a jam jar for Jamie
Yep, even Jamie's onboard!
READ MORE:
• 6 on-the-go breakfasts for families on the move
• 20 brilliant things to make in a jar
• 5 clean treats you'll want to make more than once