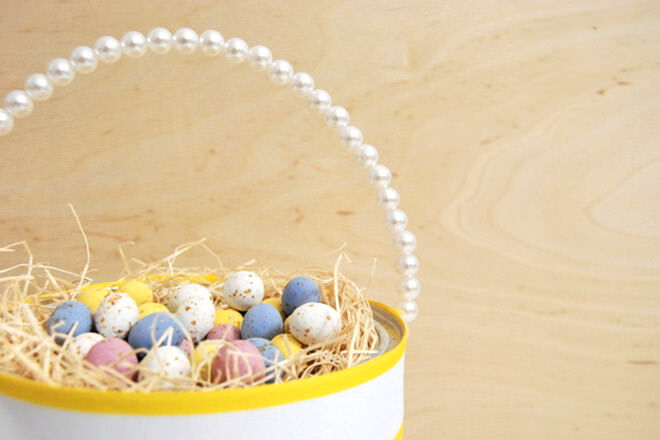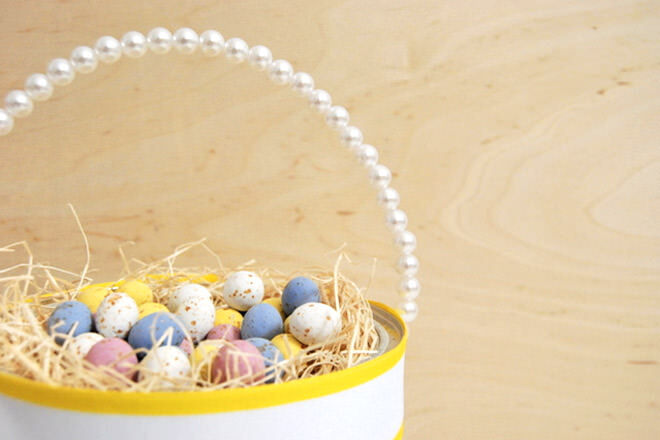 It's no secret that we're hopping mad for quick and easy DIY projects. And Easter is no exception. Whether you're making something sweet for Easter brunch or need baskets at the ready for the Easter bunny loot, we've found 31 fun DIY Easter baskets for you to fill.
Tastes good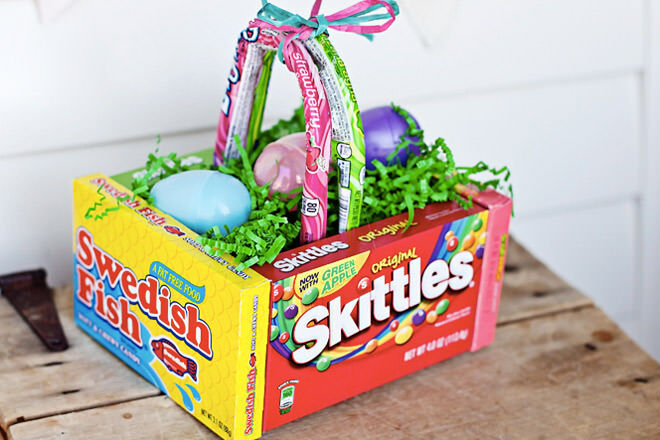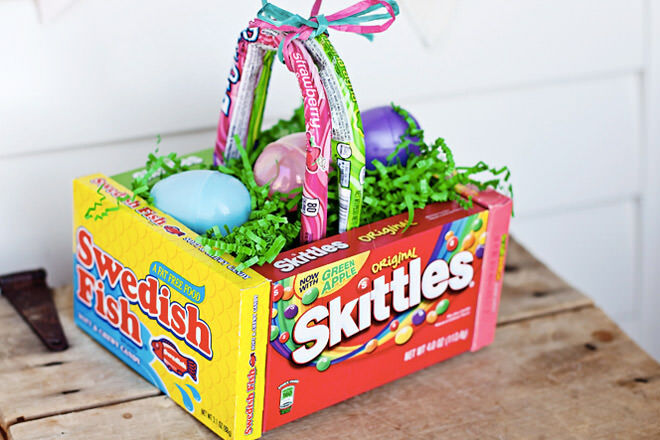 Put all their eggs in one basket this Easter, and make it an edible one. (via The Crazy Coupon Lady)
The perfect pouch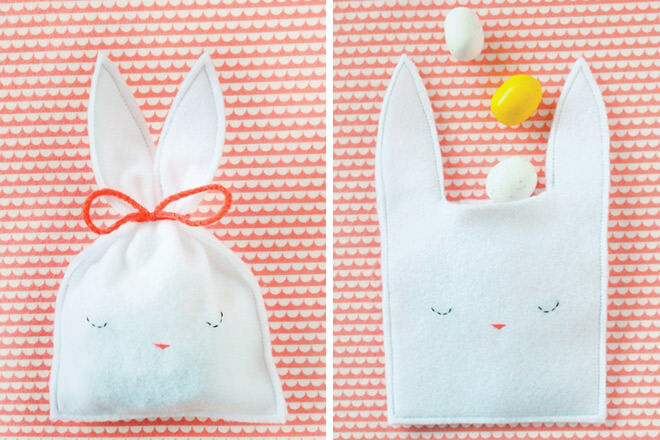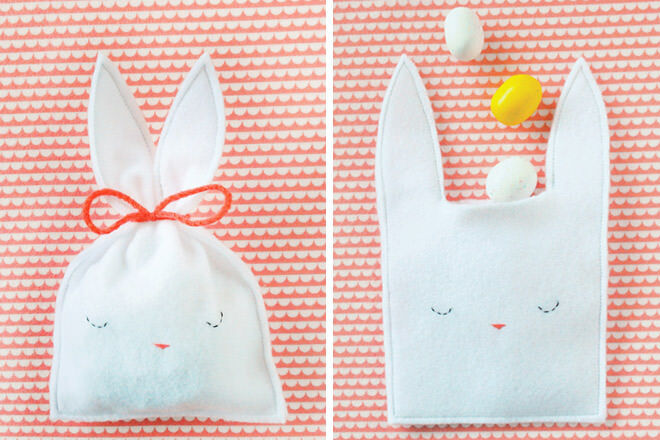 Use two pieces of felt to create cute little pouches perfect for your kiddo's Easter hunt. It's a nice keepsake for them to hold on to afterward too! (via MerMag)
Stitch and sew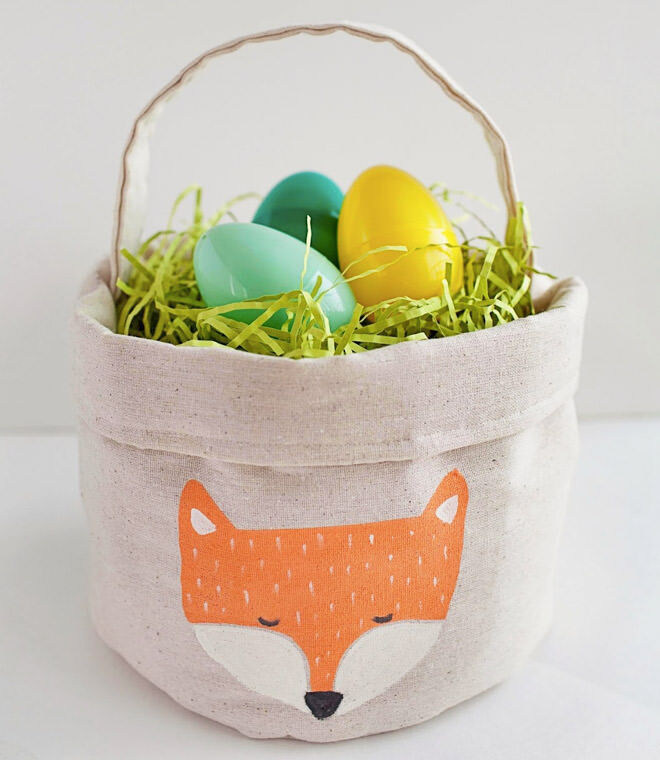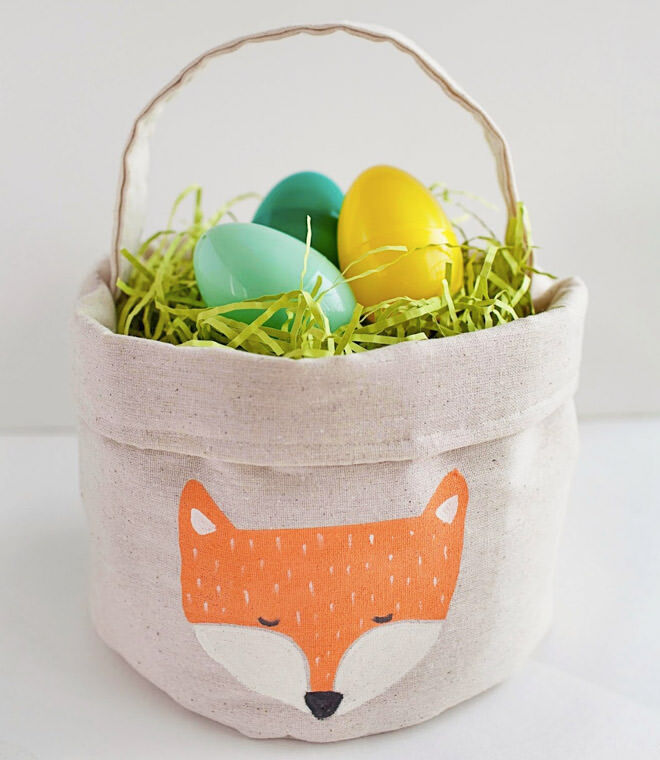 Here's one Easter craft we'd happily use all year round! Seriously, could that fox be any cuter? (via Tell Love and Party)
Tiny tape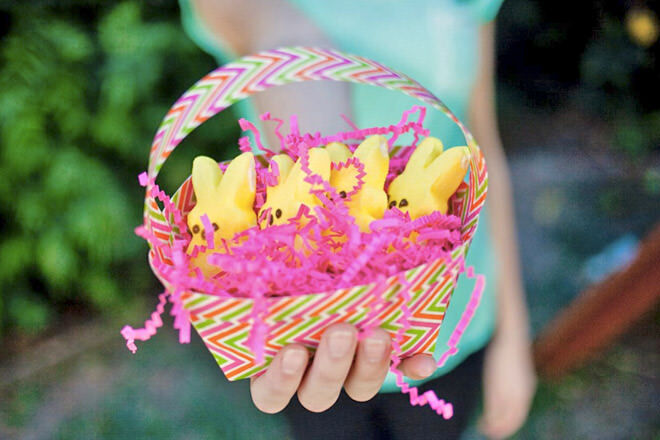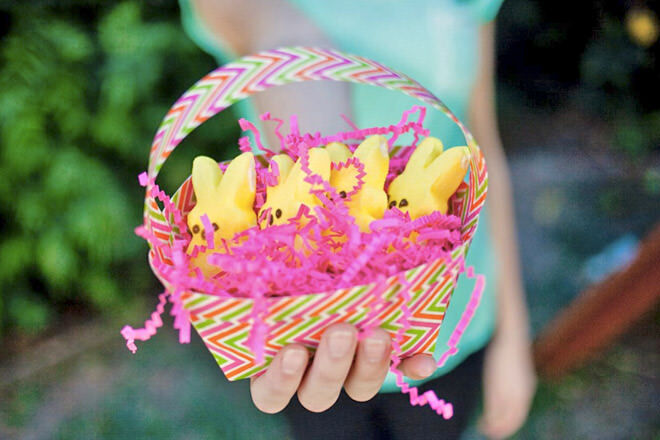 Believe it or not this teeny tiny Easter basket is crafted from duct tape. Yep, duct tape! Find yourself some colourful duct tape, print out the template at home and get sticking. (via HGTV)
Keep on rolling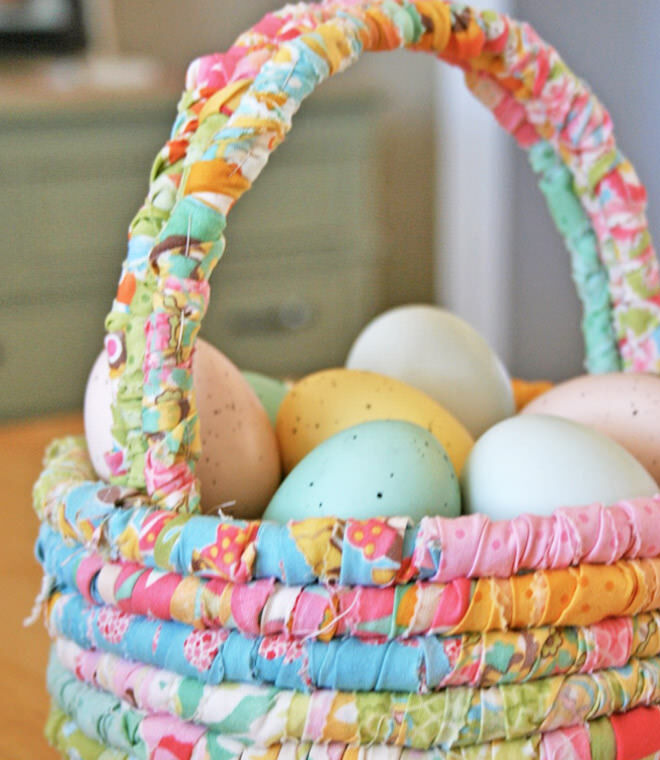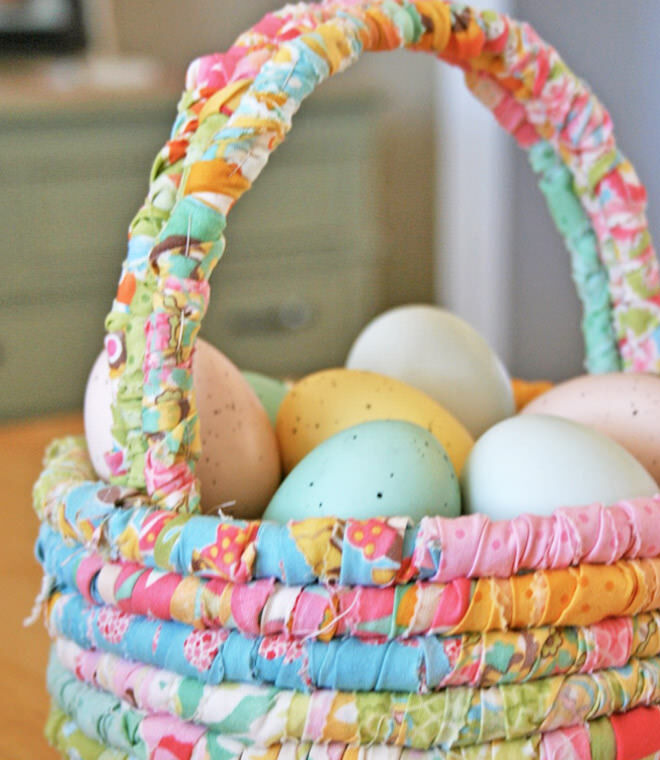 There may be a bit more work involved with this one, but the dainty design and whimsical fabric mean it is sure to be used year after year. (via Moda Bakeshop)
It's a Disney day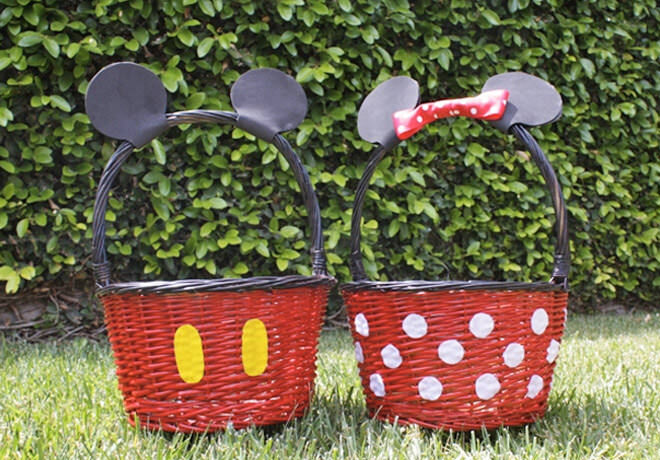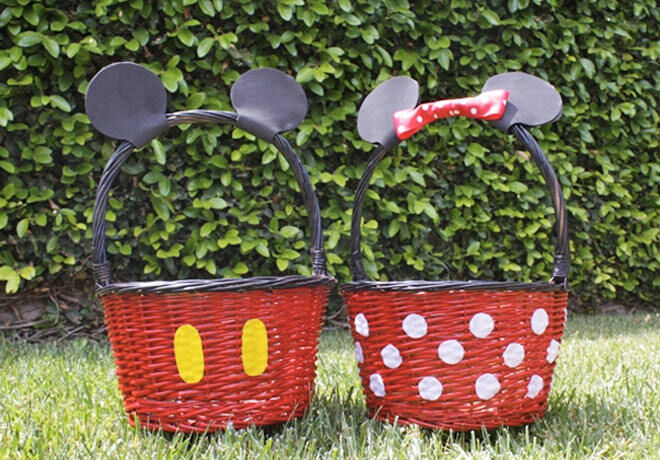 If your little ones are mad for Mickey and Minnie they'll love these Disney inspired Easter baskets. Let the hunt begin! (via This Fairytale Life)
No sew, no worries!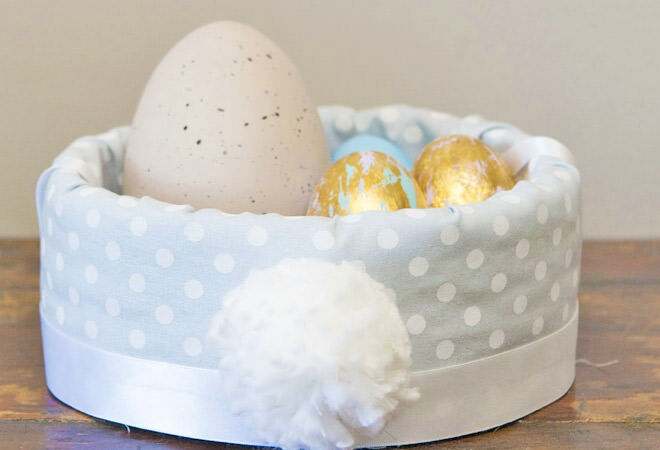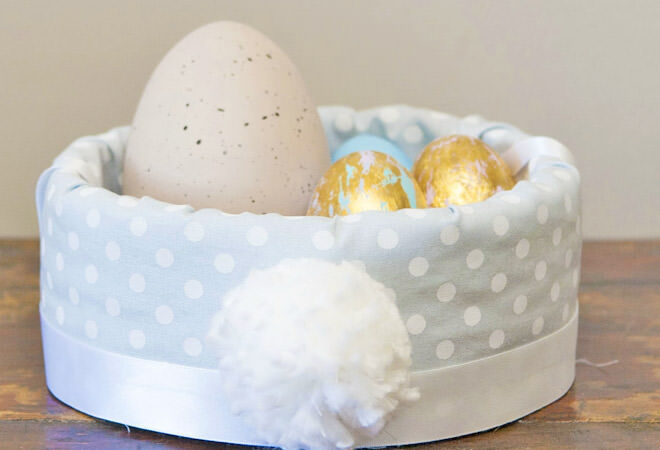 Not up for a sewing challenge? No problem! Grab your trusty glue gun, a kraft box and your favourite Easter fabric for this easy-peasy project. (via Max and Me)
Bring the outside in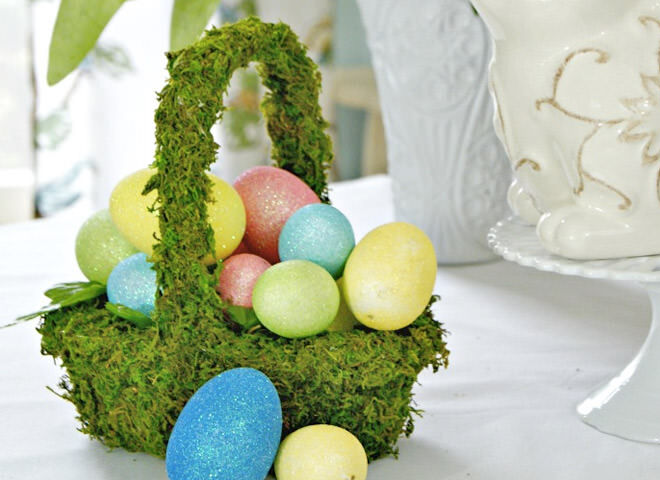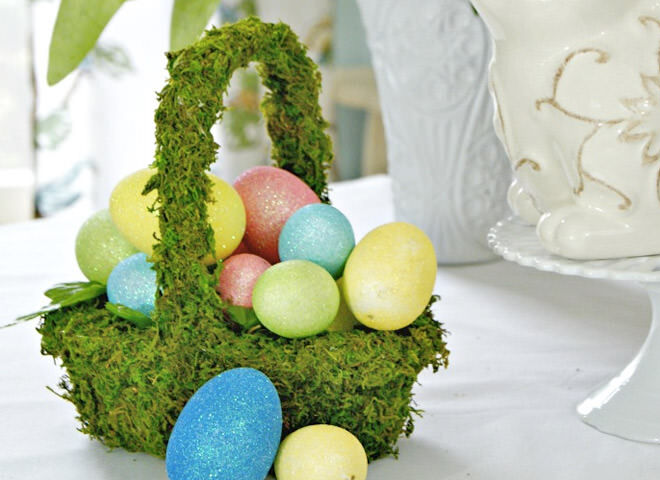 Rally the kids and get them ready for a craft egg-travaganza! With mum in charge of the glue gun and the kids in charge of the moss, there's lots of fun to be had with this mossy-make. (via 3 Little Greenwoods)
A basket of beauty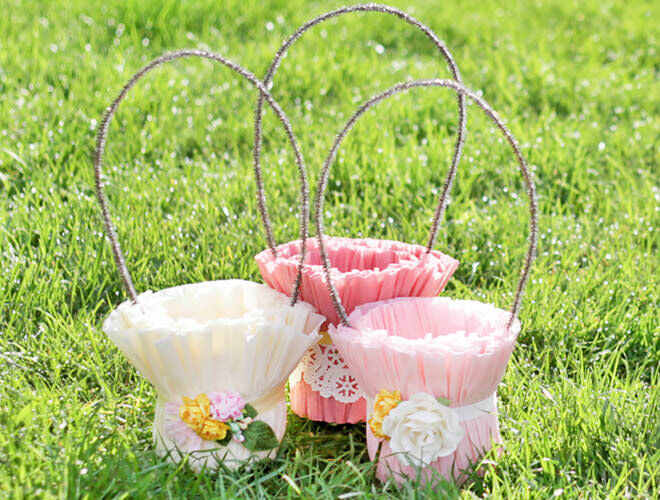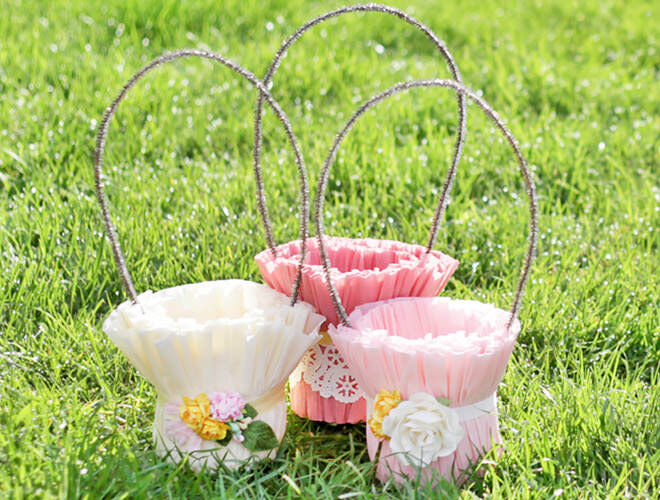 These darling baskets look the part and are easy on the purse strings too.  Simply cover paper cups with pretty crepe paper and get ruffling. (via Smile Mercantile)
Recycled and ready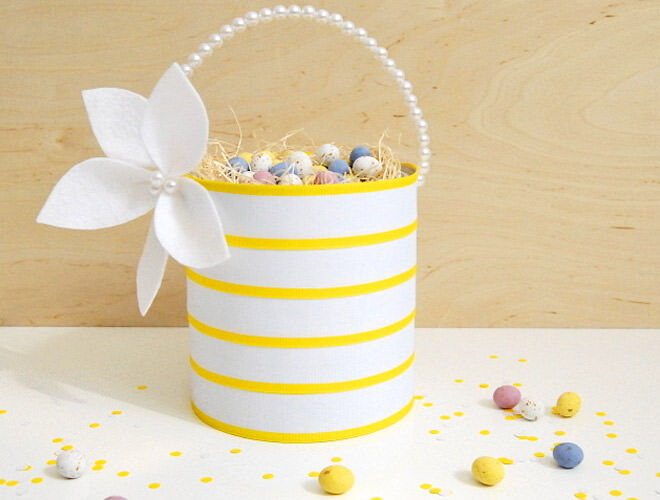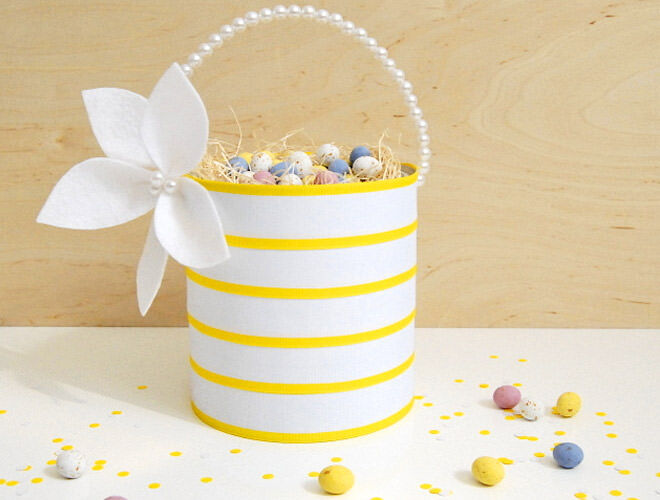 Upcycle an old tin using duct tape, ribbon and a shimmering beaded handle. Easy DIY Easter basket – done! (via Northstory)
Felt fantastic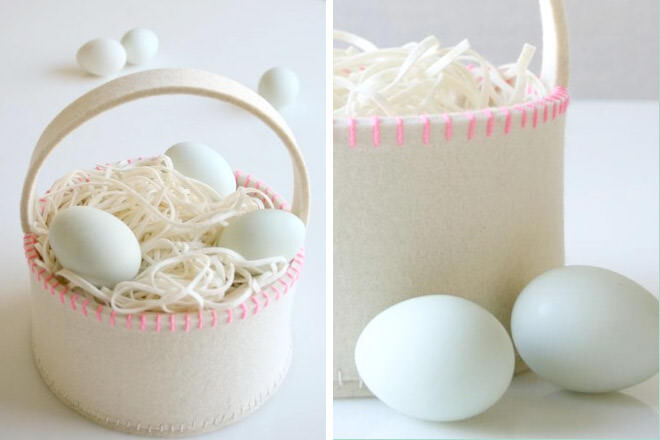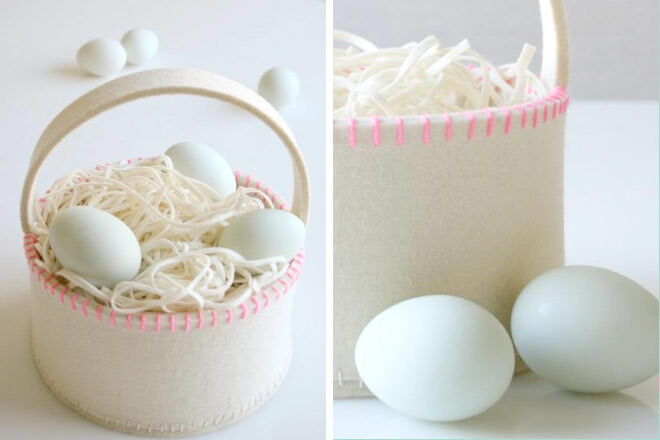 Creamy wool felt is lifted into the stylish stratosphere with pretty pink stitching. LOVE! (via Purl Soho)
Small and sweet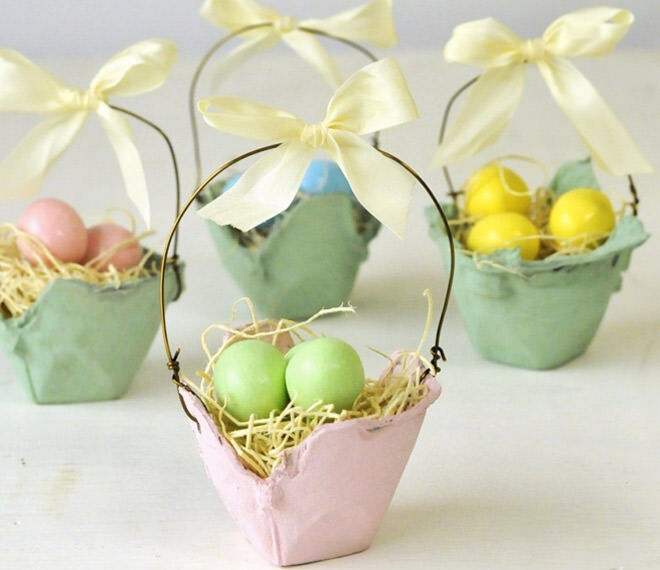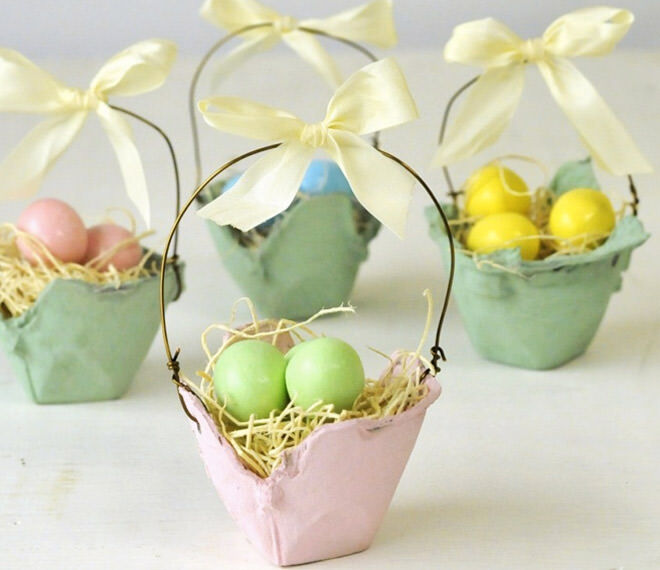 Possibly the smallest and sweetest Easter baskets we have ever laid eyes on, these little egg carton cuties are perfect for tiny hands going a-hunting. (via Somerset Place)
Cardboard cuteness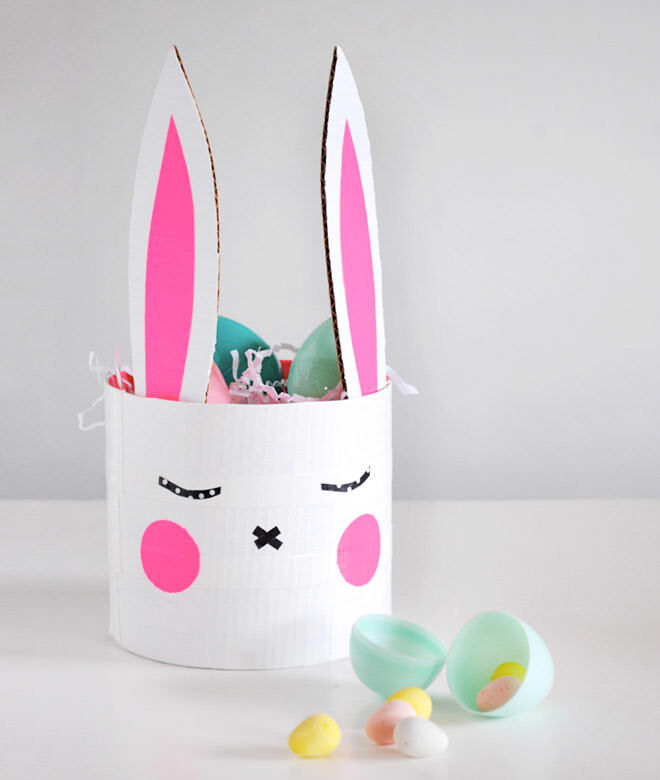 If you're looking for an Easter project the kids can join in with, this one's a winner. Cut a cardboard cylinder to size, fashion some bunny ears, tape in place and voila! (via Mer Mag)
Breakfast basket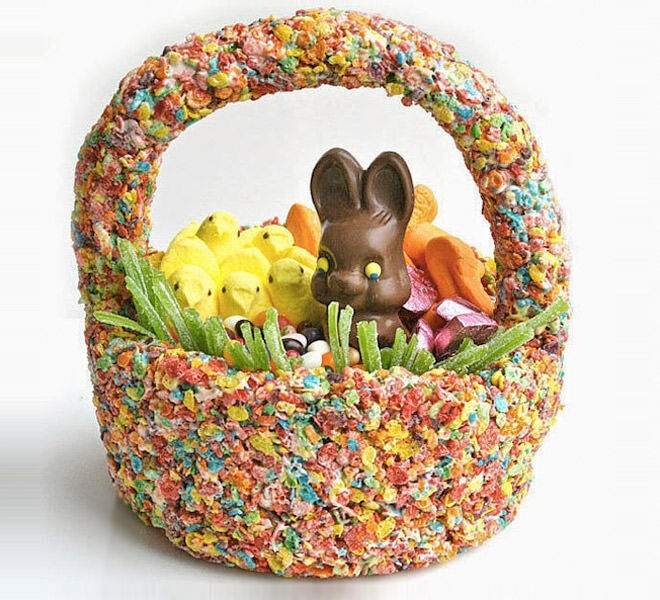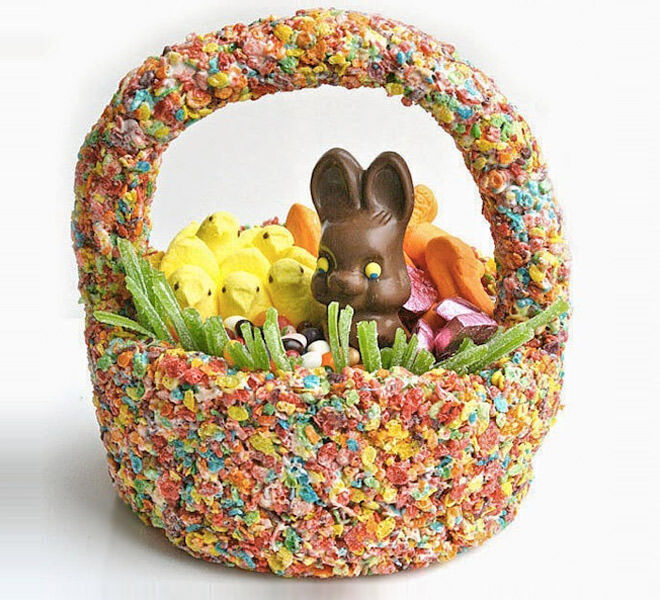 Ok, so just in case you wanted something else to do with cereal and marshmallows besides eating them, this edible basket is just for you. Good luck! (via Delish)
Pint-sized pretty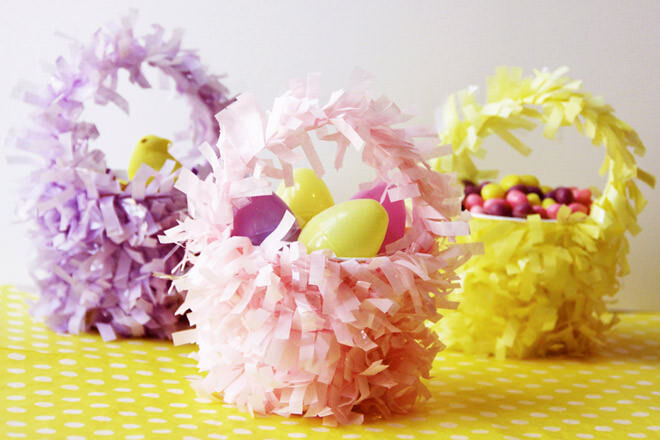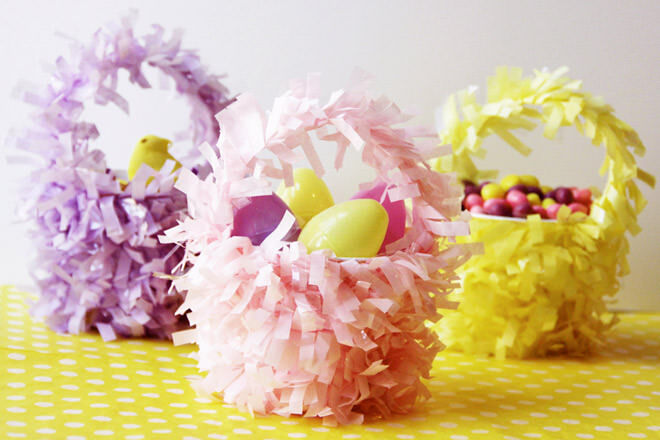 We love a good bit of fringing and these mini Easter baskets make us love it even more. Hello cuteness! (via Studio DIY)
Big bunny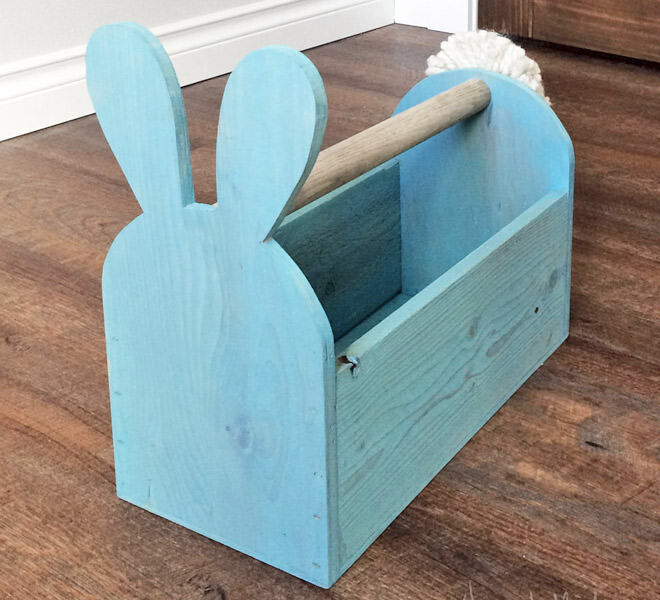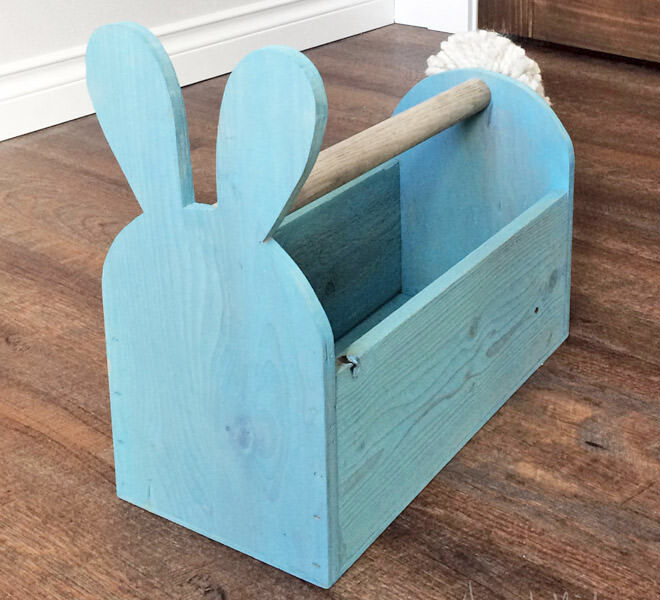 A big group of kiddies are going to need a big basket for all those eggs. We reckon this big bunny with his extra fluffy tail is just the ticket. (via Anna White)
Oh, origami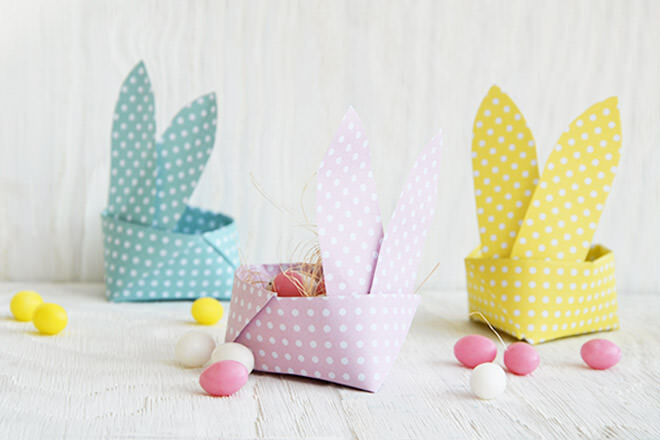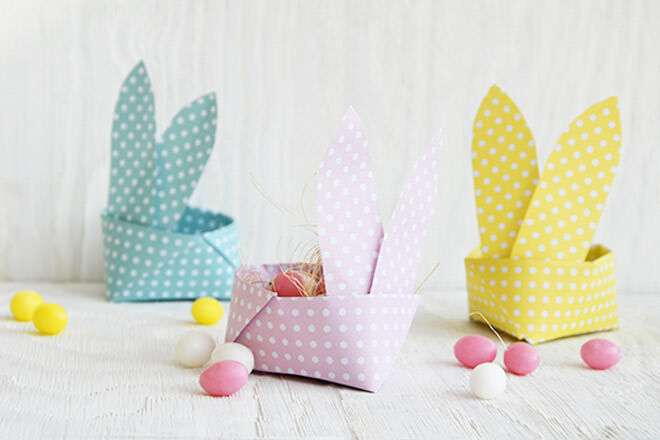 Take your origami skills to the next level with these paper Easter Bunny baskets. Polka dot perfection! (via Mini Drops)
Milk jug make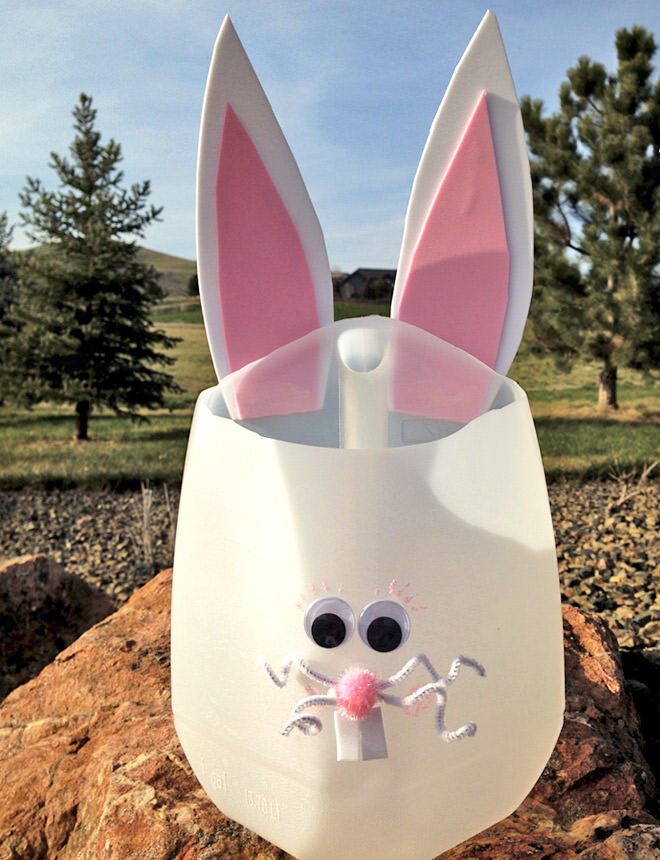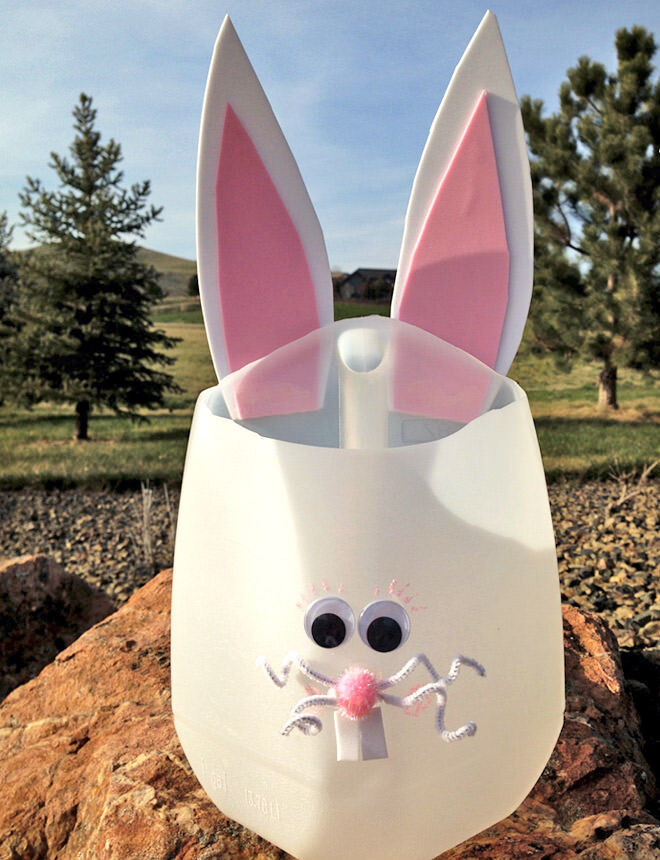 Save your milk jugs from the recycling bin with this ridiculously easy creation. A genius re-purposing of the milk bottle handle! (via She Saved)
Treats inside and out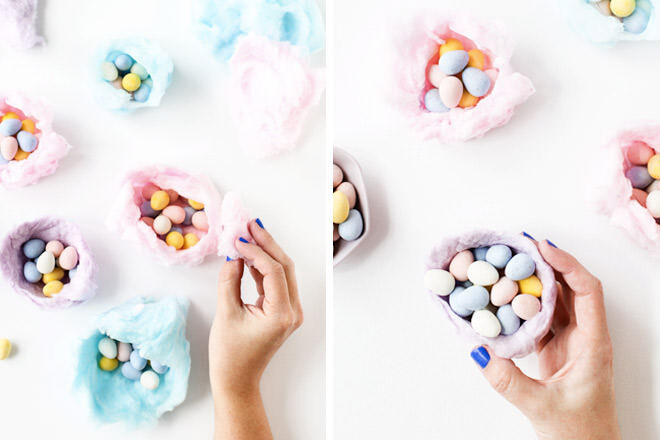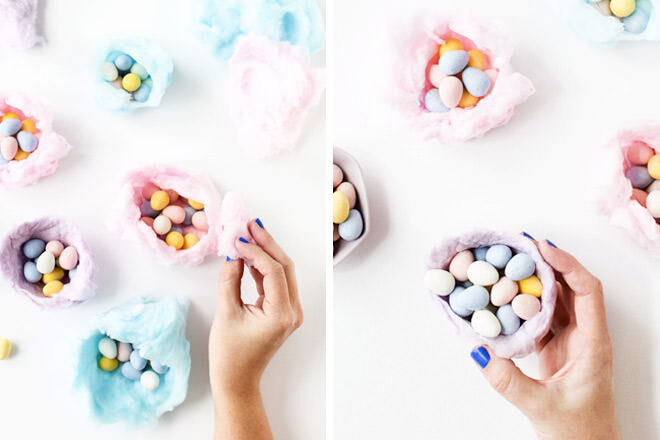 For a real treat this Easter make your fluffle of bunnies these edible fairy floss nests for their Easter hunt treats.  Oh my! (via Paper & Stitch)
Simple silhouette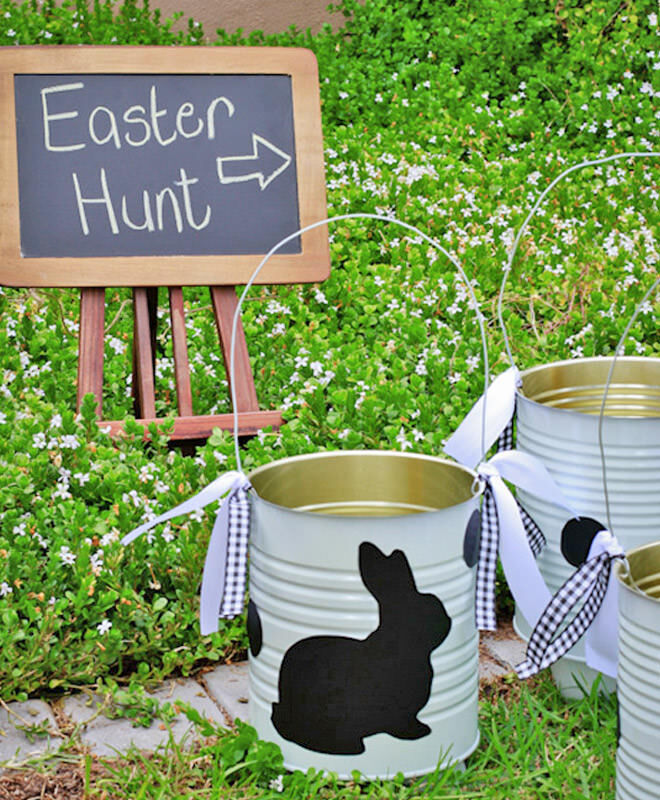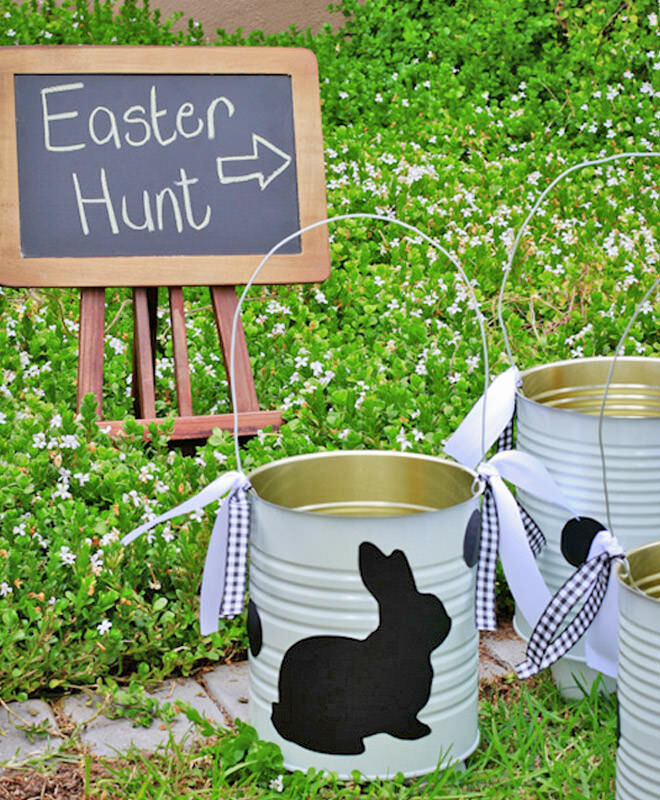 This idea is so simple but striking. And the best news? You can adapt the idea easily to suit the size of your basket. (via Rhodes Quality)
Sweet!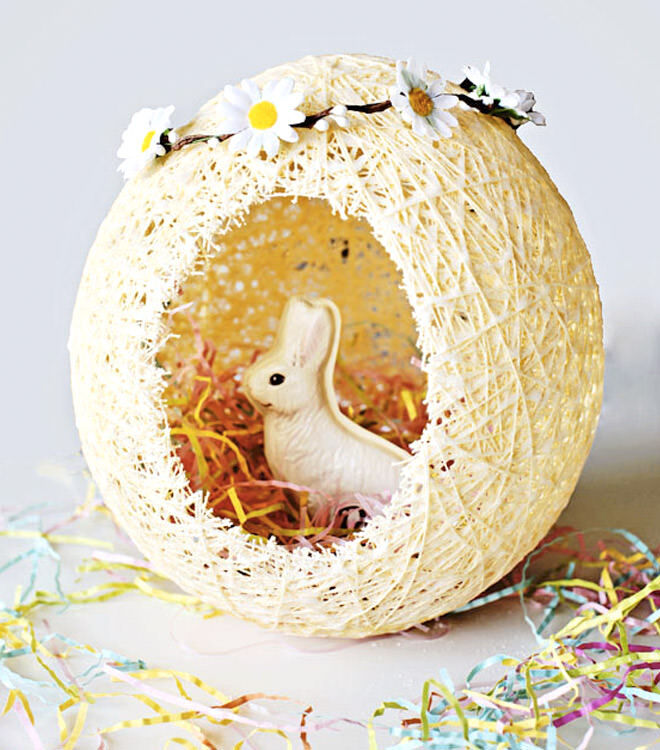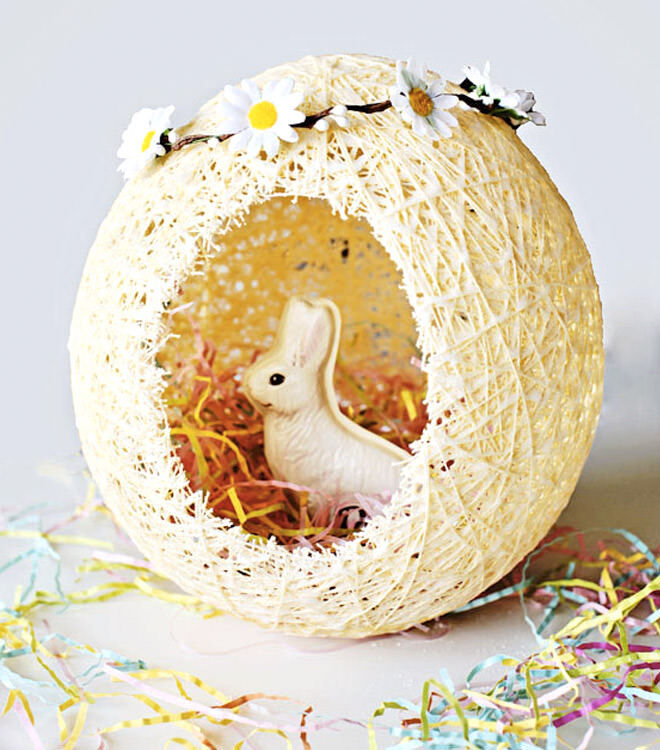 Easter often brings with it lots of sugary goodness. And it turns out the sweet stuff is the secret ingredient to these string baskets! Who'd have thunk it. (via Melodrama)
Fold and fill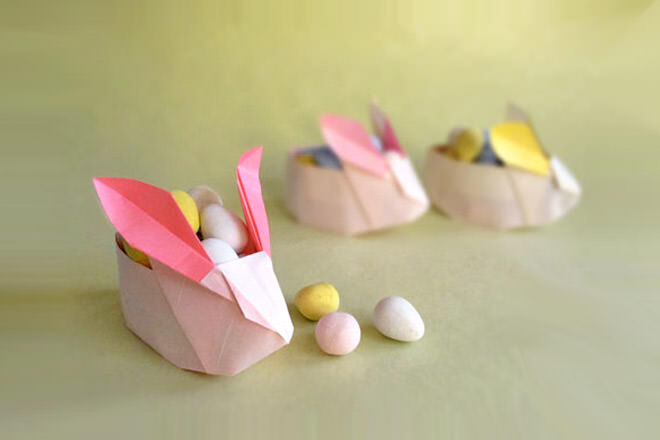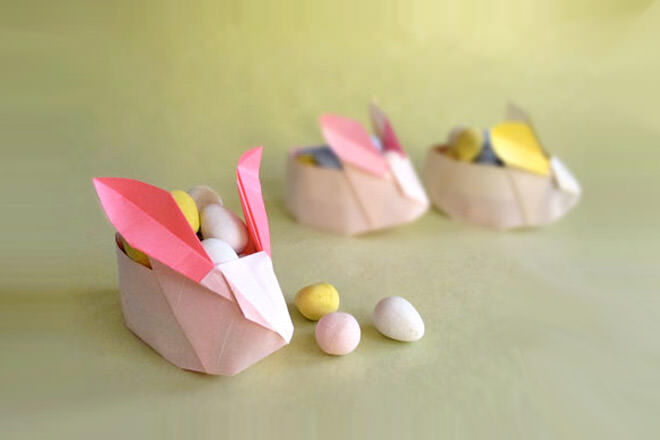 Imagine a row of these pretty paper bunnies waiting for your kiddos to find them on Easter morning. Super cute! (via BonBon Break)
Under and over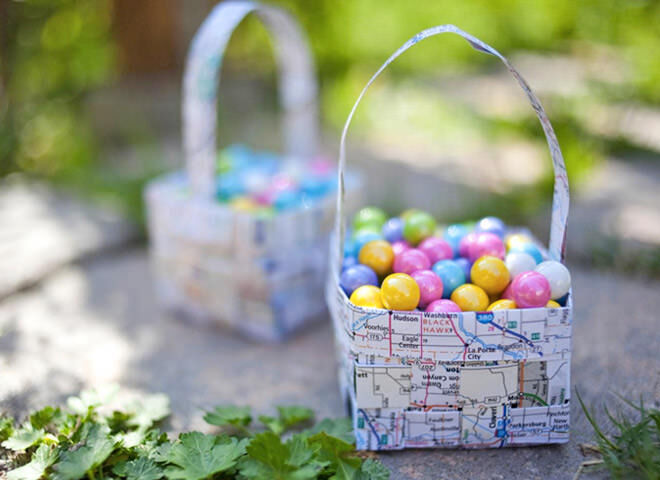 Put old maps to good use with these clever woven baskets. You never know, they may help the munchkins find their Easter eggs! (via HGTV)
Catch that candy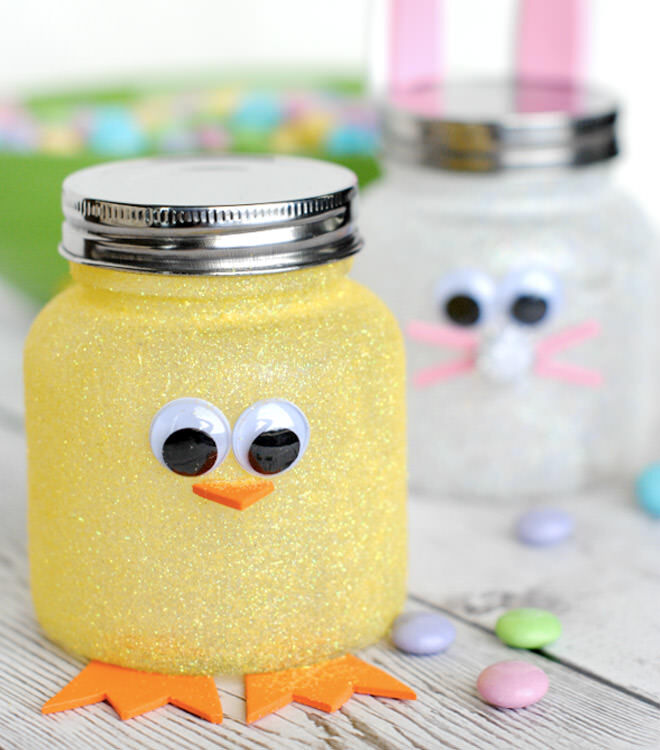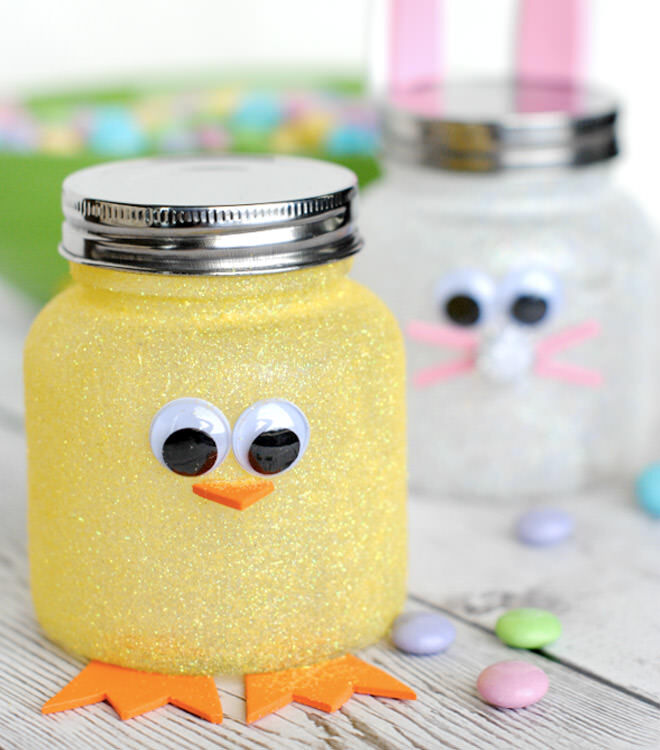 Short on time for basket making? These adorable candy jars can be whipped up in under 30 minutes. And they sparkle too! (via Crazy Little Projects)
Easter is served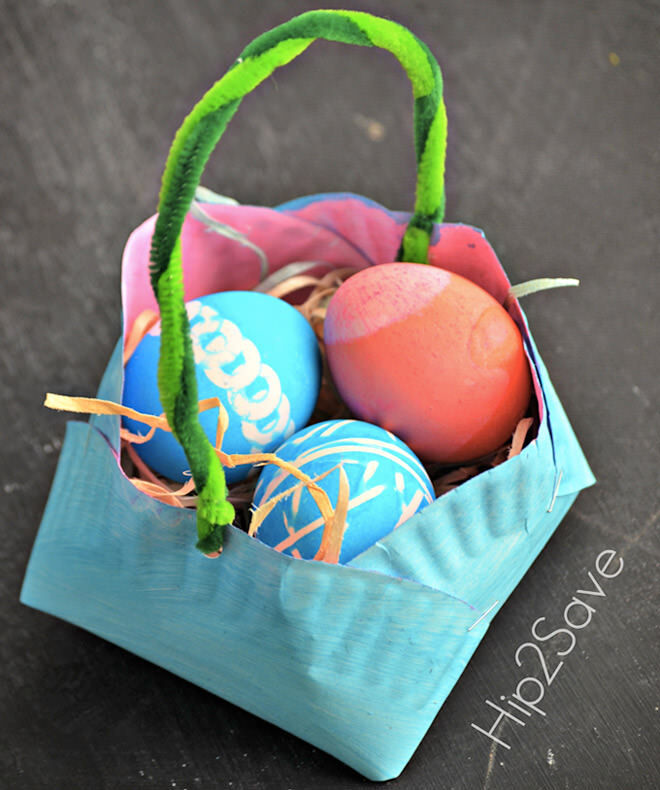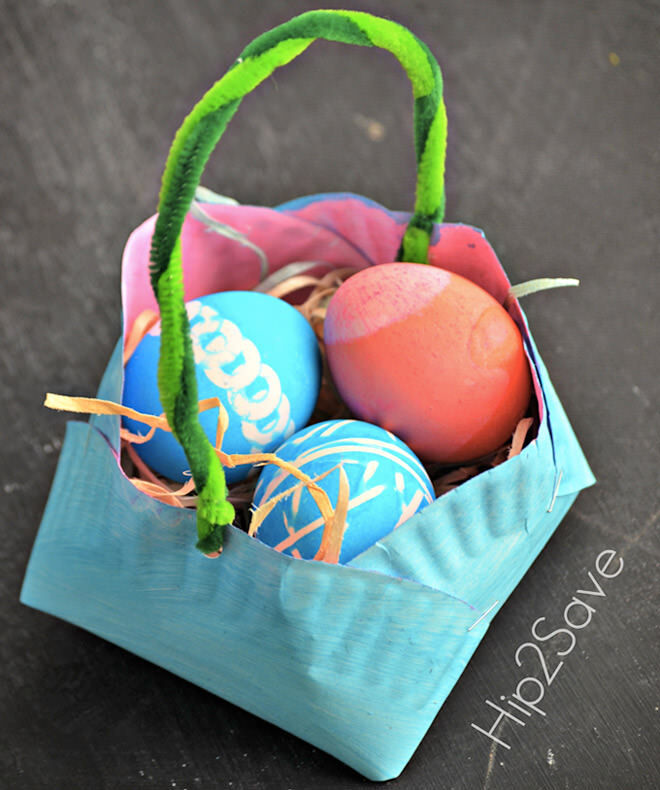 The paper plates and pipe cleaners reign supreme in this kid-friendly Easter craft. (via Hip 2 Save)
Quick fix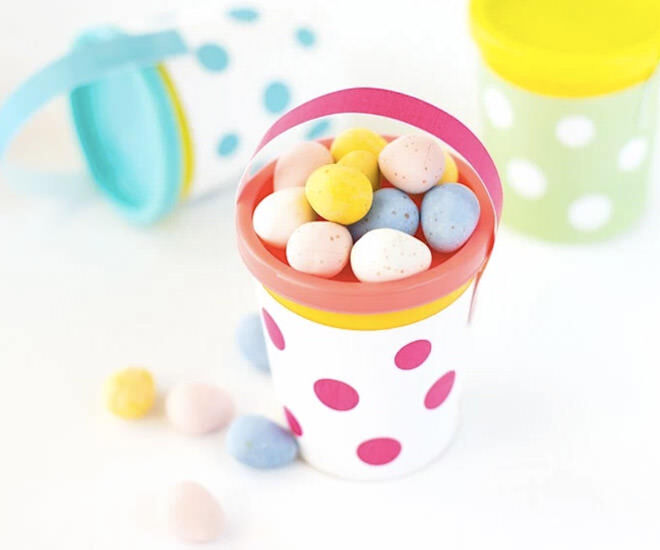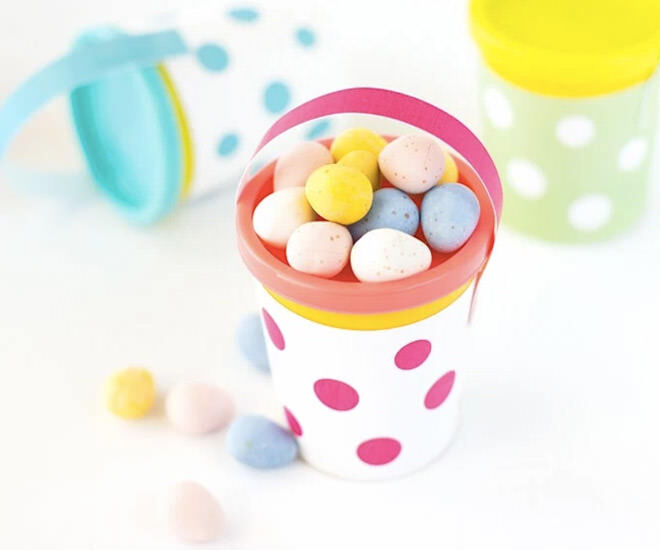 For a real last-minute fix, these wrappers will do the trick. Simply take the polkadot printable and wrap around empty play-doh containers. Win! (via Design Eat Repeat)
Bunny hug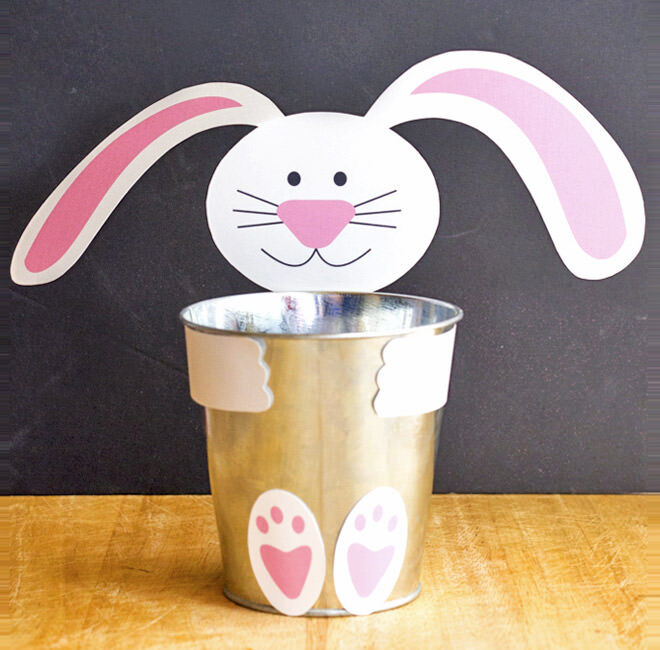 Attach this printable to a tin or bucket and let the scavenger hunt begin! (via Tried and True)
Fresh and fancy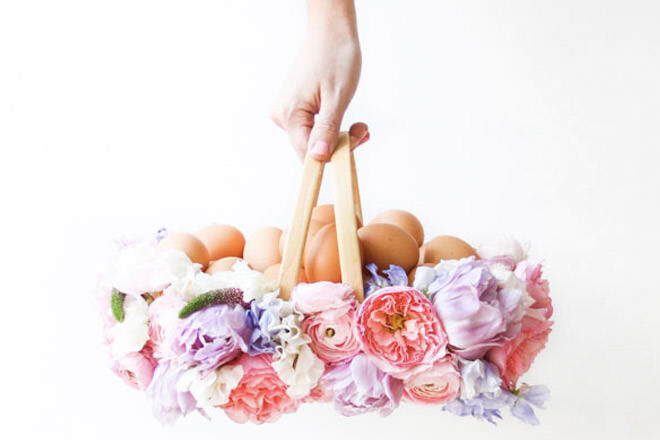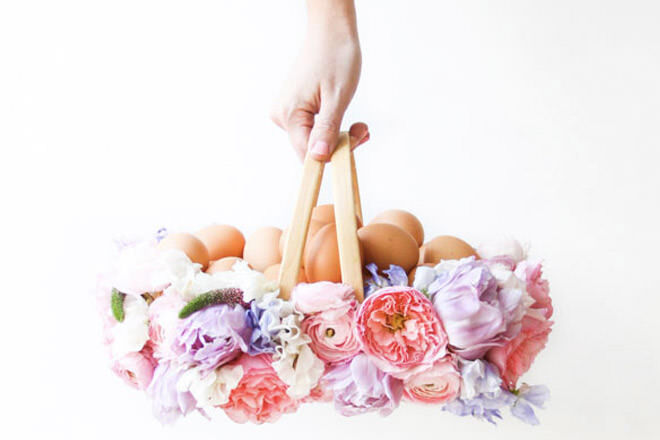 While you're in the crafting mood, why not make an Easter basket just for you? This basket festooned with fresh flowers is simply stunning! (via Paper & Stitch)
Cracking cups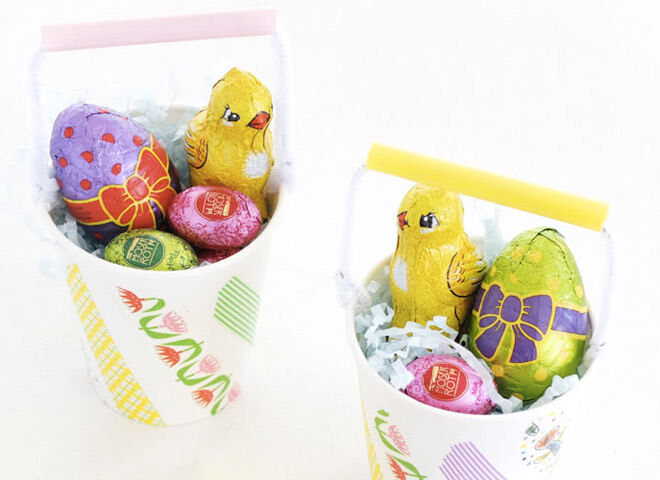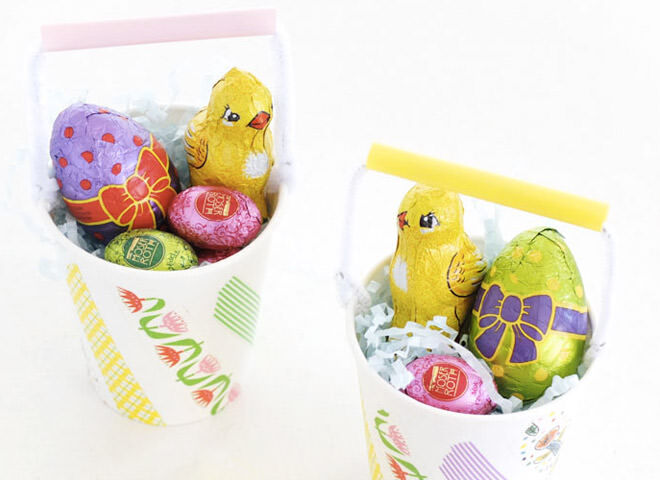 Washi tape, paper cups, plastic straws and pipe cleaners are all you'll need to create these fun Easter cups. (via My Poppet Makes)
Cute cones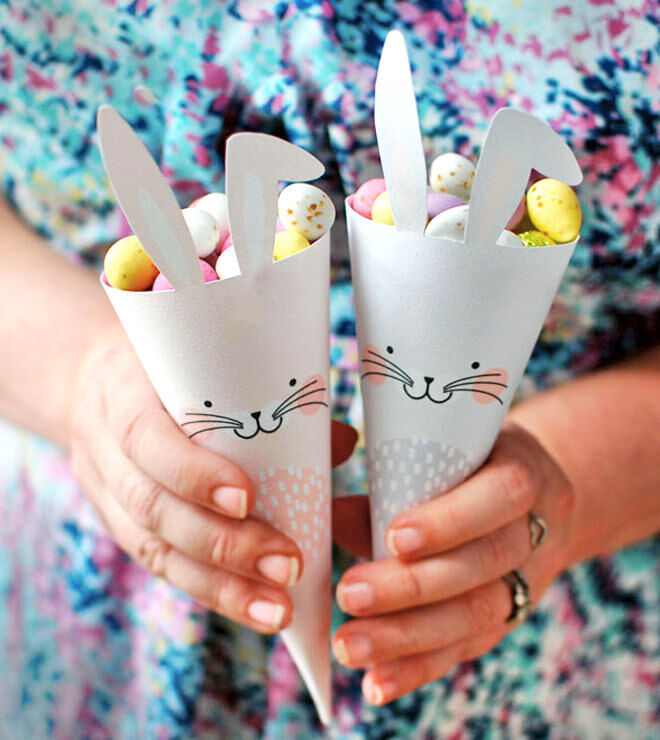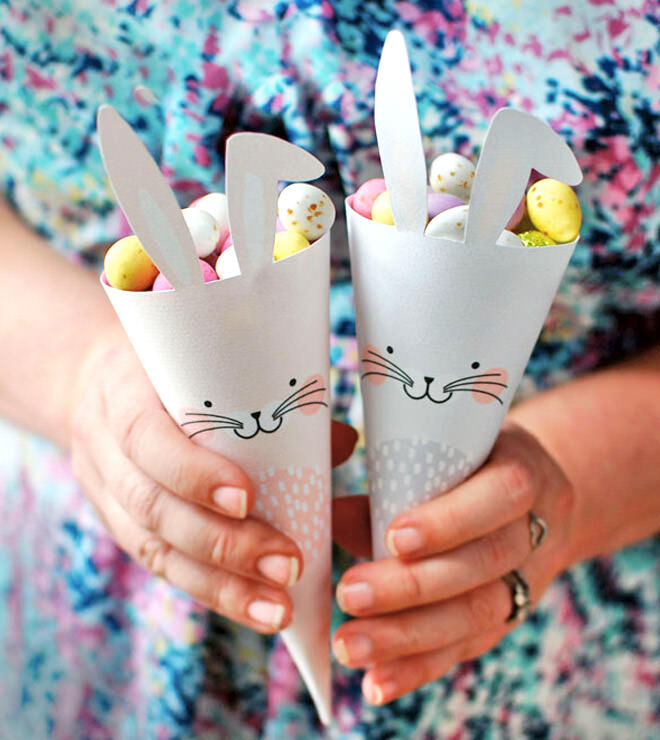 These printable bunny cones make the perfect little handful for collecting tiny eggs or perhaps presenting a special Easter gift or two. (via We Are Scout)
Floral filters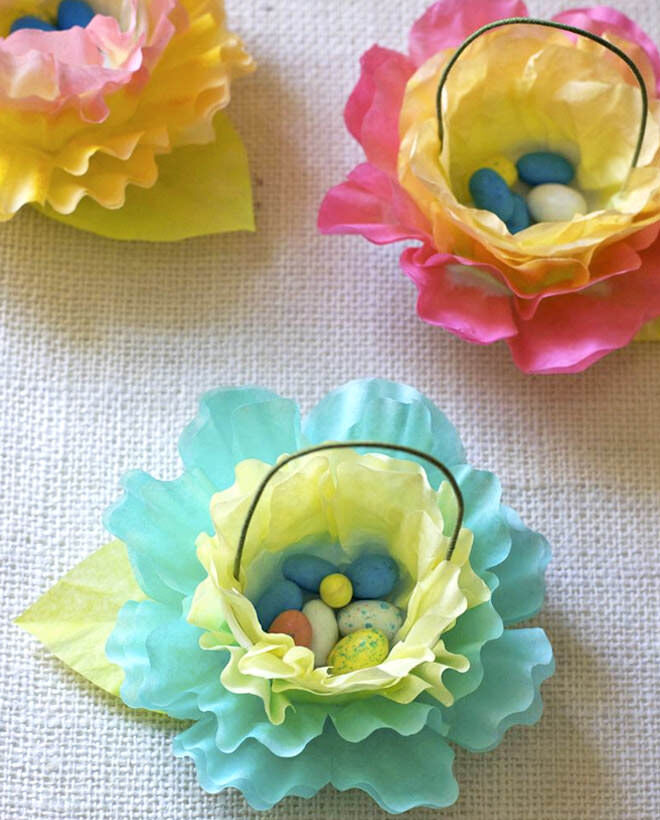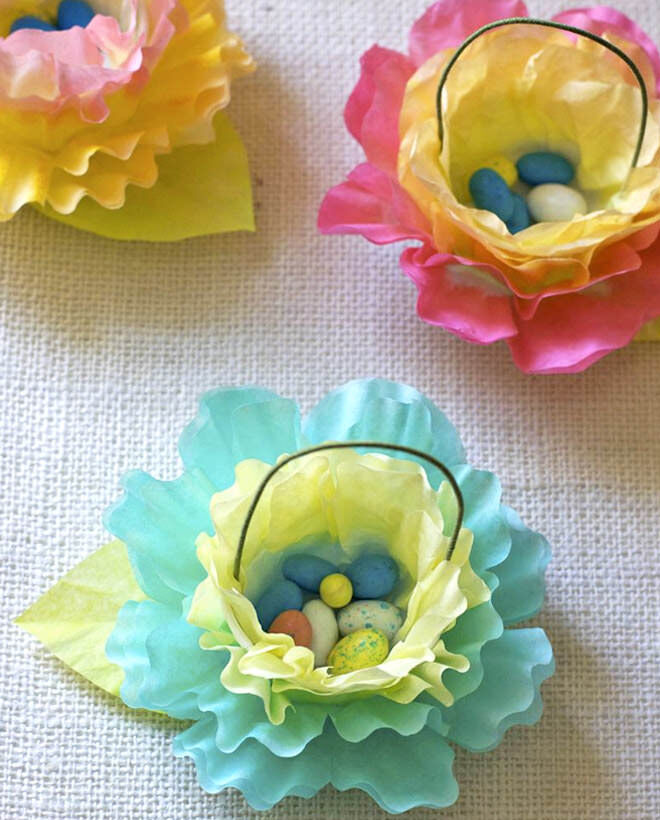 Use any spare coffee filters to create these colourful DIY Easter baskets for your little ones. They're a cinch to put together and will brighten up your Easter table in an instant! (via Urban Comfort)
---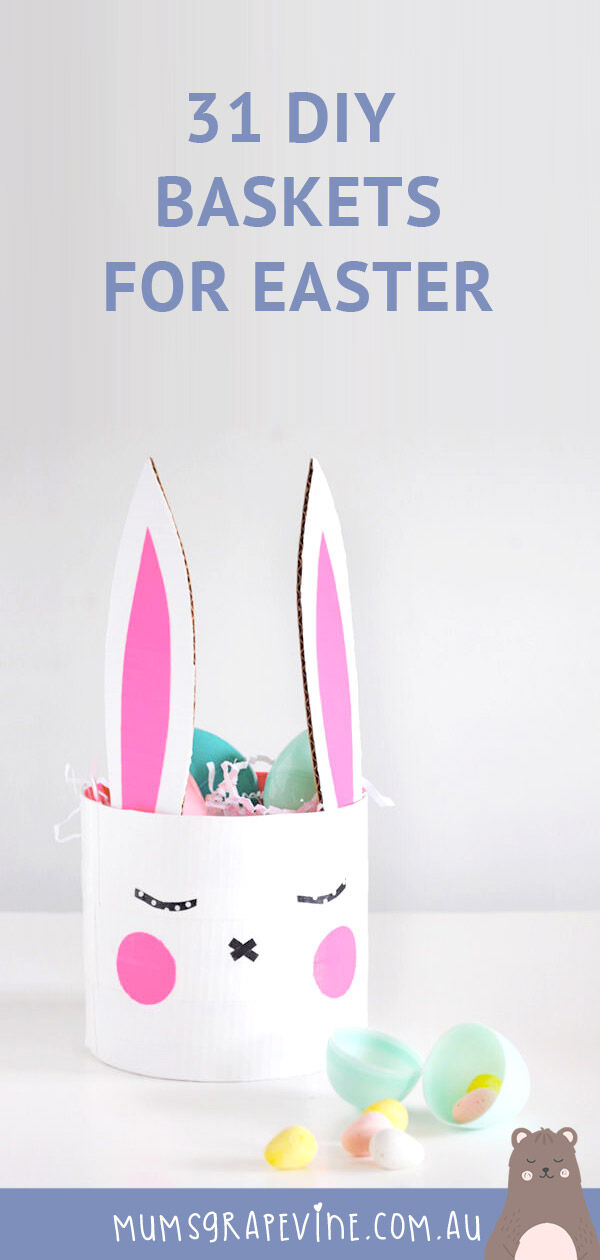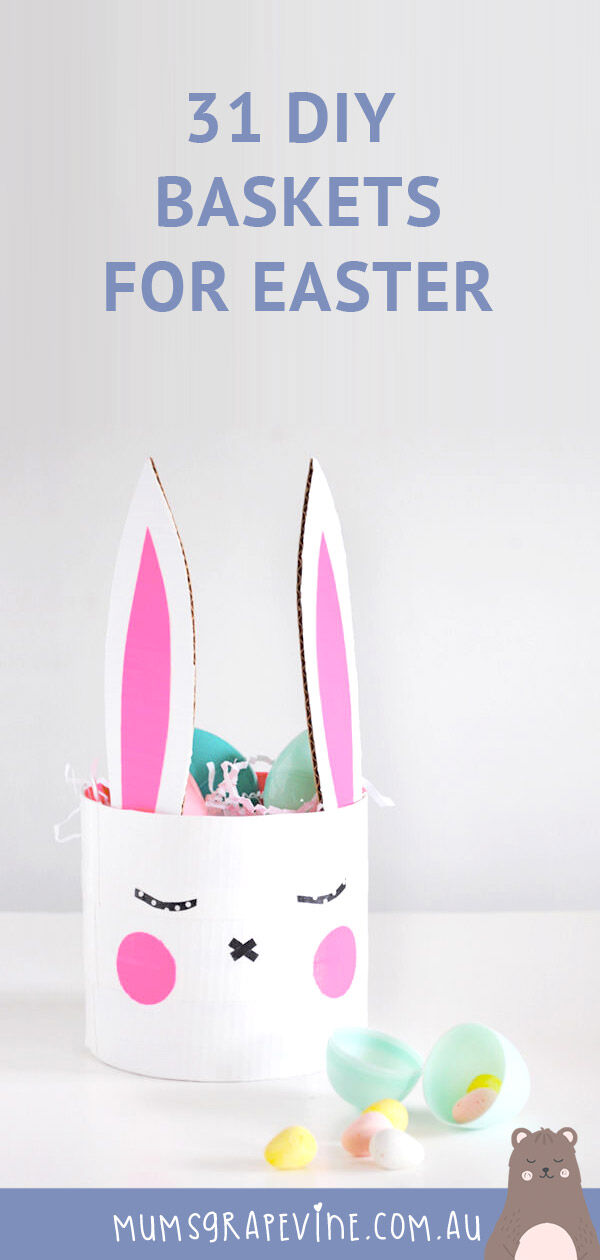 Read these roundups next …
Find more crafty Easter ideas in our groups
Looking for more ways to make Easter extra special for your little ones? Join one of our Facebook Groups and ask thousands of other mums what they recommend.
Click here >> Mum's Grapevine Facebook Groups << to join your group today!