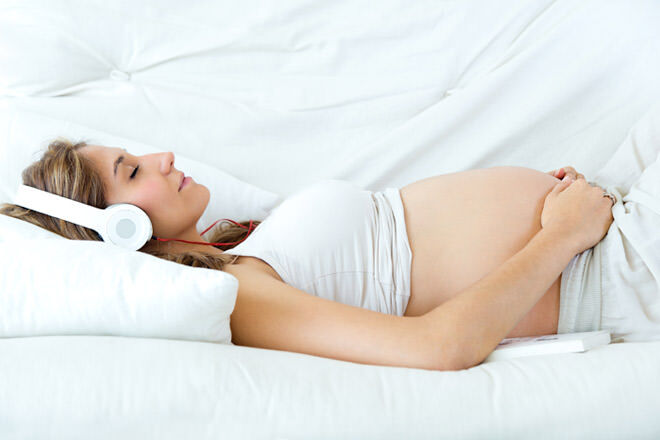 Take P!nk into the delivery room but leave Salt-N-Pepa at home!
That's the advice of American obstetrician, Dr Jacques Moritz, who has partnered with streaming service Spotify to create the ultimate playlist for the birthing suite.
Music influences how our bodies manage fear and pain, so it makes sense that playing music during labour can help women cope with contractions.
Not just any music will do, though. Dr Moritz recommends different tunes for the different stages of labour and says music should be 'empowering' and not too slow (120 beats per minute should do it).
And if you think 'Push It' by Salt-N-Pepa is the perfect choice, then think again. Dr Moritz gives this song the thumbs down for birth. Instead, he recommends Coldplay's 'Don't Panic', P!nk's 'Try' and 'Under Pressure' by David Bowie and Queen. Go figure!

Dr Moritz's ideal birthing playlist:
Pearl Jam: Just Breathe
James Bay: Let It Go
Regina Spektor: Don't Leave Me
Sigur Rós: Festival
Death Cab for Cutie: Transatlanticism
The Lumineers: Ho Hey
Norah Jones: Sunrise
Craft Spells: After the Moment
Xavier Rudd: Follow the Sun
Lucinda Williams: Fruits of My labour
John Lennon: Beautiful Boy (Darling Boy)
Colbie Caillat: Capri
D'Angelo: Really Love
Milton Nascimento: Nos Bailes Da Vida
Coldplay: Don't Panic
Fleet Foxes: Your Protector
Yeah Yeah Yeahs: Maps
Kygo Maty Noyes: Stay
P!nk: Try
Muse: Starlight
John Legend: All of Me – Tiesto's Birthday Remix
David Bowie, Queen: Under Pressure
U2: With or Without You
Wilco: Impossible Germany
Arcade Fire: Wake Up
R.E.MNightswimming
Patty Griffin: Heavenly Day
Iron & Wine: Naked As We Came
Beyoncé: Blue
Johann Sebastian Bach, Yo-Yo Ma: Unaccompanied Cello Suite No. 1
(via News)